We partner with bada$$ companies that offer products that help our readers achieve their goals! If you purchase through our partner links, we get paid for the referral at no additional cost to you! Read our disclosure for more info.
Fatherhood has changed significantly over the last few decades, with dads taking a more active role in parenting and household duties. This shift is reflected in the growing number of dad bloggers who share their stories and experiences online!
Dad bloggers provide an honest look into fatherhood, offering advice on everything from parenting tips to healthy recipes to home renovations.
Just so all you dads know, you don't have to have a parenting blog either. Many dad blogs also feature topics on tech, entertainment, career, and other fun dad stuff.
For each of these best dad blogs, we will provide some insight into how they make money and which social media platforms they leverage to grow their audiences.
Let's take a look at some of the best dad bloggers out there right now and how they earn a living online.
How Dad Blogs Make Money
Dad blogs make money in a variety of ways. Some of the most popular methods to make money blogging include advertising, sponsored content, affiliate programs, ebooks and online courses, and subscription services.
Advertising
Advertising is one of the most significant sources of income for dad blogs.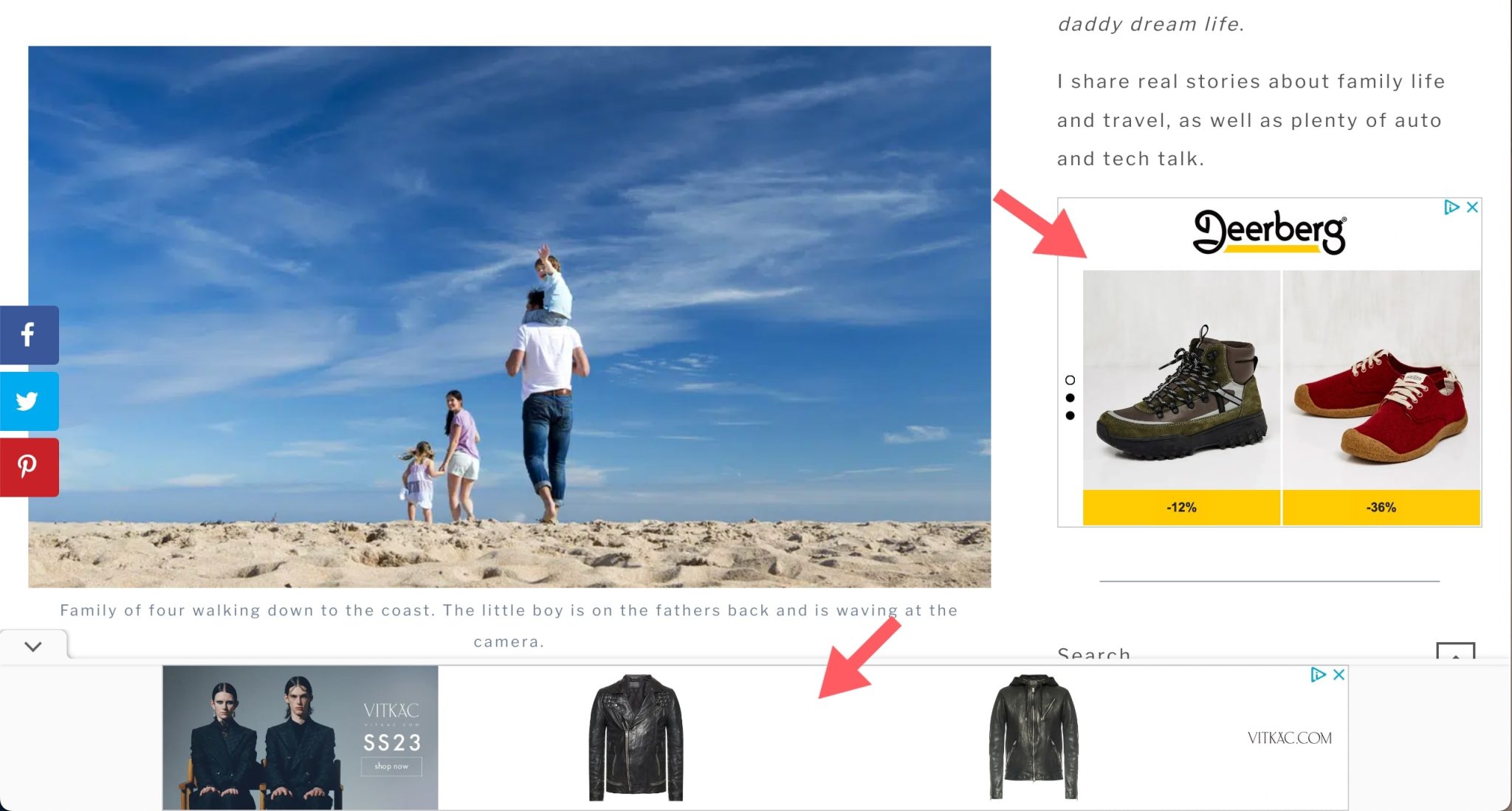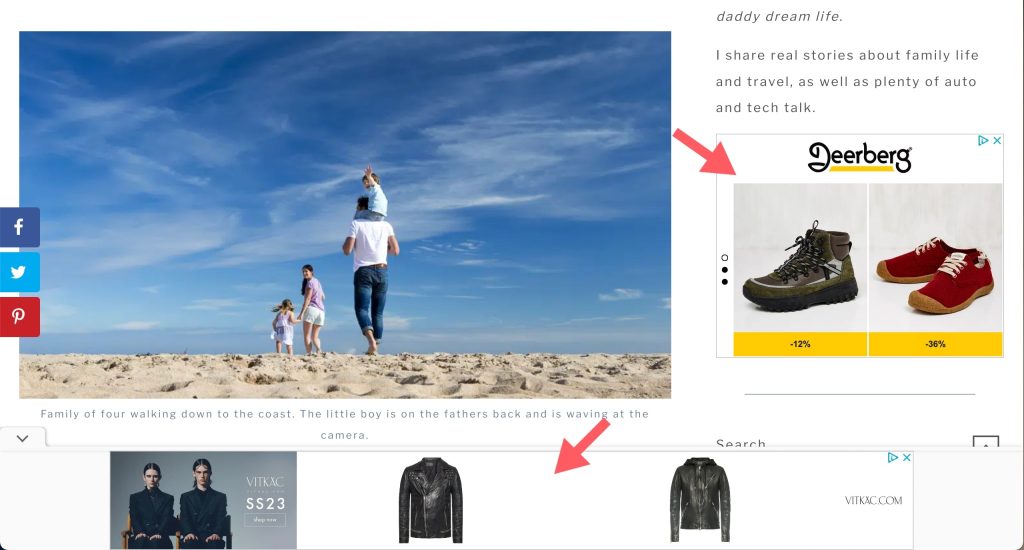 Bloggers can place ads from companies and organizations directly on their sites or through a third-party ad network like Google AdSense or Mediavine.
You can generally earn more money and get your ads optimized when you partner with a better ad network.
Our favorite ad network to partner with once you reach 10,000 sessions is Ezoic.
Sponsored Posts
Sponsored content is another lucrative option for dad bloggers as many companies are looking to work with influential dads to promote their products and services.
When a company or brand sponsors content on your blog or other platforms, they pay you to feature their company or product.
In the case of sponsored blog posts, you can get paid to write a post about a particular brand or product on your website.
Here is an example of a sponsored post by Daddy Style Diaries: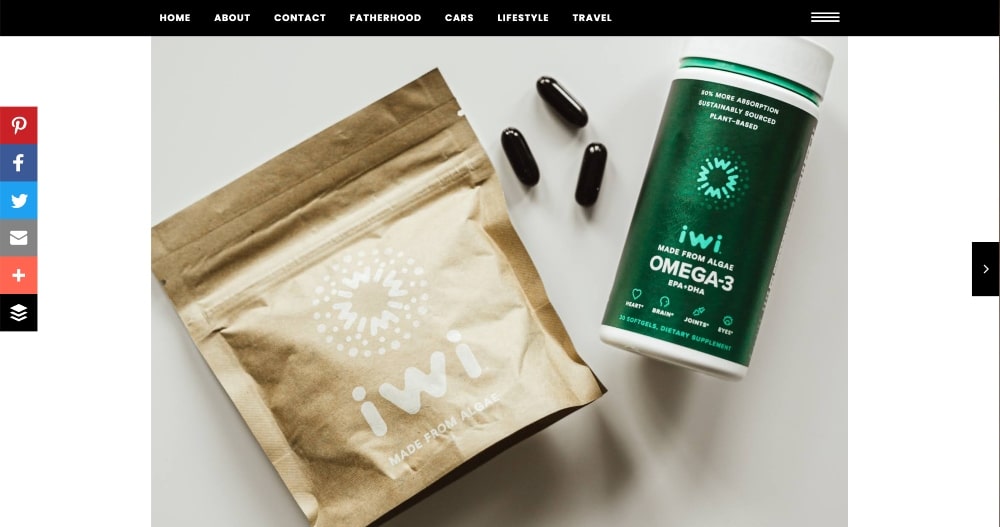 Affiliate Marketing
Affiliate programs are also great ways for dad bloggers to make money. With affiliate marketing, you can earn a commission when someone purchases something through your link.
Amazon Associates is one of the most popular affiliate networks used by dad bloggers because they offer many products that parents might be interested in purchasing.
Many of our favorite dad blogs on this list monetize through affiliate marketing, especially through product reviews: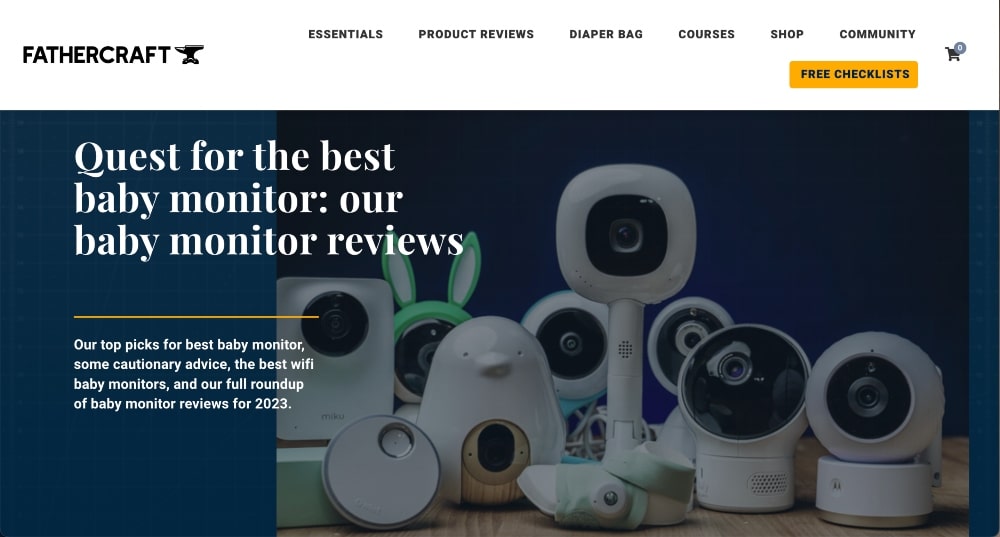 Selling Products
Creating ebooks or online courses based on your blog topics is another great way for dad bloggers to monetize their content.
By creating an ebook or course related to parenting topics such as potty training or sleep training, dads can provide valuable resources for other parents while also earning extra income from selling it on their site or other digital platforms like Udemy or Skillshare.
You can also sell your courses on your own platform, like we do, with learning platforms like Teachable.
A few of the dad blogs on this list monetize by selling products, especially books:
Subscription Services
Finally, some dad bloggers have opted for subscription models where readers pay a monthly fee that gives them access to exclusive content not available elsewhere online.
These subscription models allow dad bloggers to earn recurring revenue instead of relying solely on ad-based income which can be unreliable at times.
12 Best Dad Bloggers to Inspire Dads Everywhere
The best dad blogs below are listed in no particular order! Stay tuned until the end to find out how you can start a dad blog too!
1. Lunchbox Dad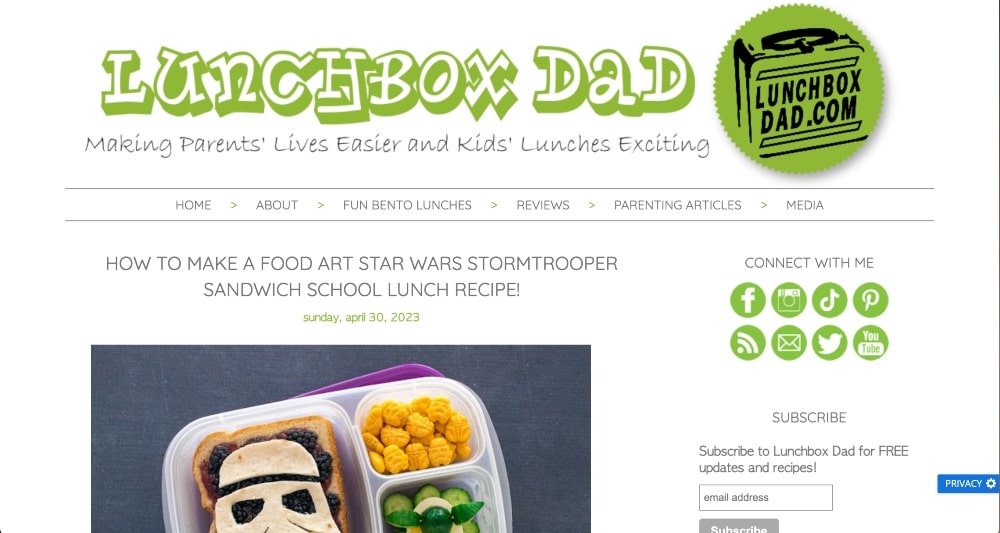 Lunchbox Dad is one of the top dad bloggers in the world and has been featured on Good Morning America, The Steve Harvey Show, and other television programs.
Founded by Beau, a married dad blogger with three kids and a full-time job living in Oklahoma City, Lunchbox Dad offers creative recipes, funny pictures, and parenting advice.
They have appeared on TV to demonstrate how to make creative lunches for families, and have conducted classes on healthy and enjoyable eating for Whole Foods Market.
Beau is also a writer for The Huffington Post and another dad blog, Life of Dad.
Topics: Bento lunches, product reviews, parenting journey
Monetization: Sponsored posts and affiliate marketing
Why It Stands Out
Beau's focus on creativity goes to show how in-tune he is with his children and how to be a great dad. If you look at some of his Bento lunches, it's very apparent that he puts in a lot of creative effort to make them special for kids.
2. The Fatherhood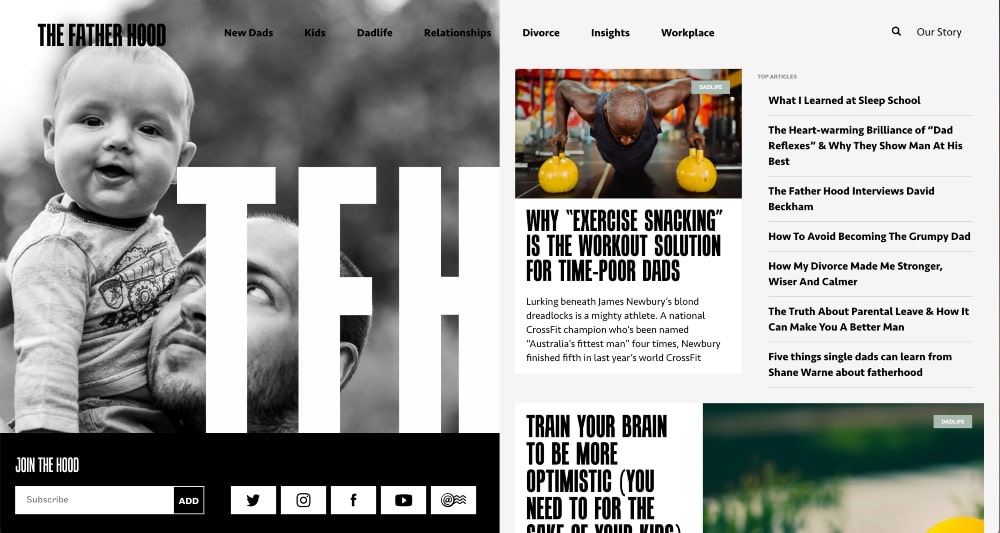 The Fatherhood is more than just a successful dad blog. It's a "movement for modern dads to help them survive and thrive in the only job that really counts."
Founded by 3 dads, they consider themselves a "virtual neighborhood" that can provide advice, support, and inspiration for fathers everywhere.
Topics: New dads, kids, dad life, relationships, divorce, insights, workplace
Monetization: Affiliate links, workshops for companies
Popular Post: What I Learned at Sleep School
Why It Stands Out
The Fatherhood is committed to supporting the movement of modern dads and changing gender roles. Men now spend a lot more time at home with their kids while women spend a lot more time in the workplace.
The Fatherhood is there to provide helpful blog posts for dads during this important time of change and transition.
3. SwaggerDad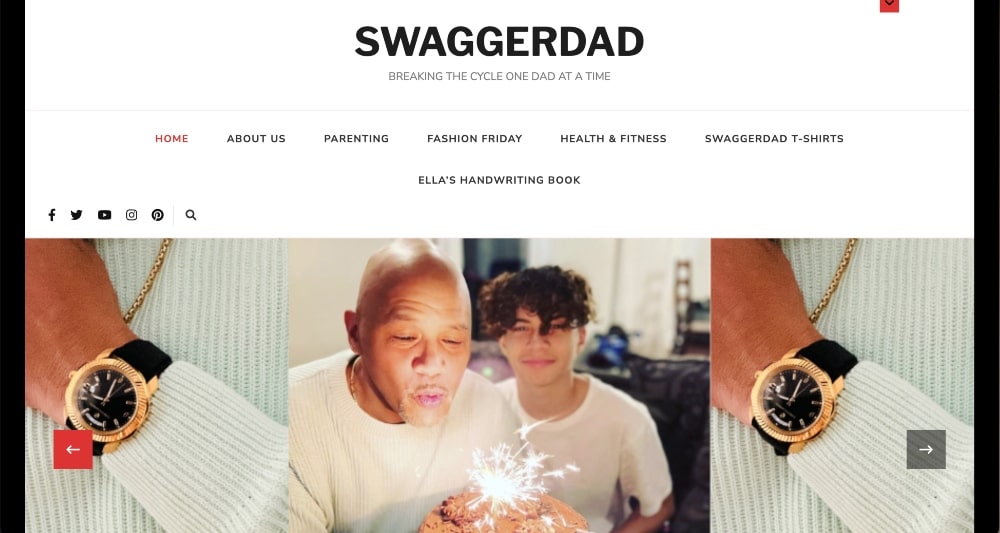 SwaggerDad is a top dad blog founded by Danny "Moya" Reyes that provides an informative guide to being an active Dad, while still maintaining your swag. It covers reviews on the latest in music, tech, style, and health as well as helpful parenting resources and cool places to take your kids on the weekend.
Topics: Parenting, fashion, health and fitness
Monetization: Affiliate links, T-Shirt sales on Amazon, book sales
Popular Post: Teach Your Child How to Read
Why It Stands Out
SwaggerDad offers an alternative look into fatherhood, one that encourages dads to be stylish and have fun. It's refreshing to see a fatherhood blog that takes an active approach to parenting while staying hip and fashionable at the same time.
SwaggerDad is proof that you don't have to choose between being a great dad and looking cool – you can still do both!
4. 2 Dads with Baggage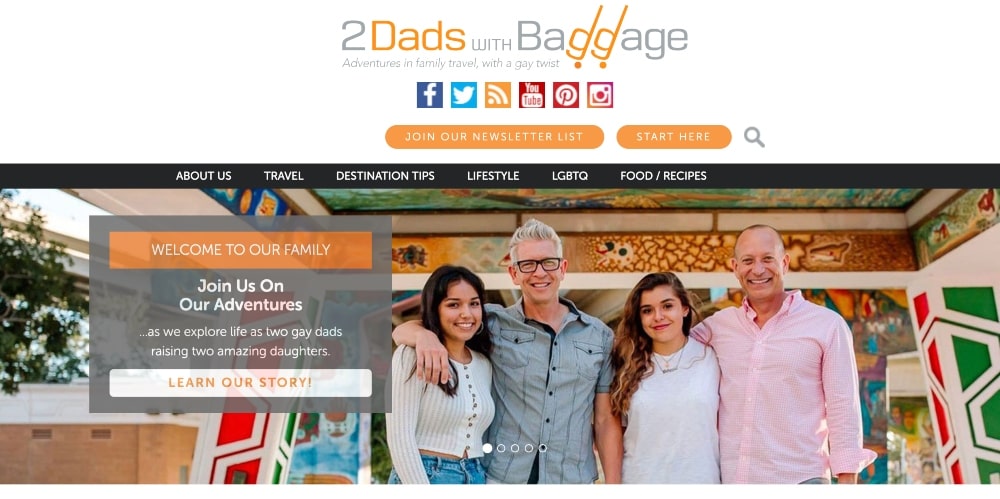 2 Dads with Baggage is an award-winning family lifestyle and travel blog founded by dads Jon and Triton, and teen daughters Sophia and Ava.
Since the start of the blog in 2017, they've been dedicated to creating meaningful content that inspires others to explore the world through their own eyes.
The blog provides a unique perspective on travel, culture, and lifestyle topics and they have been featured in major publications such as The Guardian and New York Times.
Why It Stands Out
These dad bloggers are making worldwide waves in the LGBTQ+ community. At only 10 years old, their daughter, Sophia, wrote a letter to President Obama during the time that he spoke out in support of gay marriage.
The President wrote a personal letter back to Sophia and it made worldwide news.
These two incredible dads are using their dad blog as a medium to support gay rights and to show insights into their personal lives with their family.
5. Days of a Domestic Dad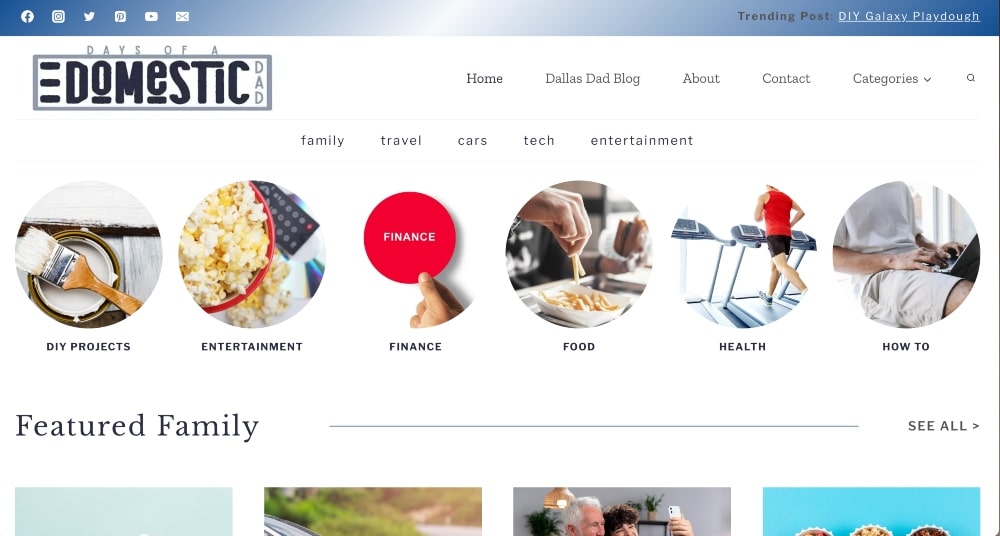 Days of a Domestic Dad is a great dad blog that has been successfully providing helpful parenting tips, product reviews, and lifestyle advice since 2012.
The blog was founded by Colby, a stay-at-home dad who left the corporate world in order to focus on raising his five children (4 daughters and 1 son) with his wife, Staci.
Why It Stands Out
As Colby explains, the gender roles in his household are very thin and they look at traditional tasks like household chores as group projects.
We like the Days of a Domestic Dad perspective on domestic dad life and we think it's an important one to share.
6. All Pro Dad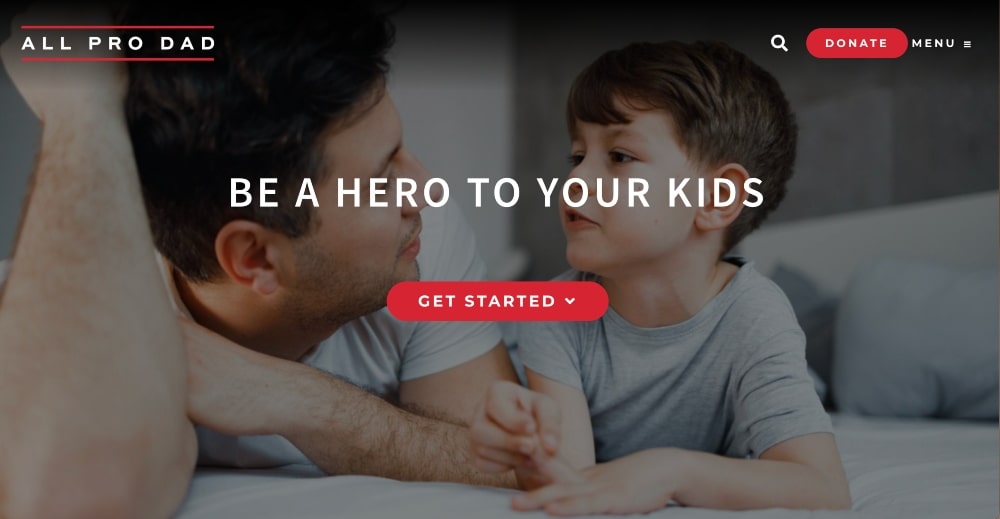 All Pro Dad is a wildly successful dad blog dedicated to providing parents with valuable advice and resources for raising successful children. The blog has become one of the most trusted sources of parenting information and support for dads worldwide.
All Pro Dad covers a wide range of topics, from how to build healthy relationships with your children to tips on being a better dad.
Topics: Parenting, marriage, work life balance and lifestyle, activities
Monetization: Ad placements, affiliate marketing, seminars and programs, other brand partnerships
Popular Post: 7 Things Dads Do That No One Notices
Why It Stands Out
What sets All Pro Dad apart from other dad bloggers is their dedication to building strong relationships with children. They provide a wealth of resources, from fatherhood training to parenting seminars, and they also offer an online course for dads who are looking to become better fathers.
7. Skint Dad
Skint Dad is a hugely successful financial blog founded by husband-and-wife team Ricky and Naomi Willis in 2013.
With its mission to empower people struggling with their finances, Skint Dad has become one of the most-read money blogs in the UK, attracting over 300,000 readers every month.
The blog has also been acknowledged for its success, being named the Financial Blog of the Year at the prestigious Headline Money Awards.
Why It Stands Out
What sets Skint Dad apart from other dad websites is its focus on money and its mission to make personal finance easier and more accessible.
The blog aims to show people how they can become financially better off without having to make huge sacrifices or go into complicated schemes. Their no-nonsense approach makes them stand out in this crowded space.
8. Dad or Alive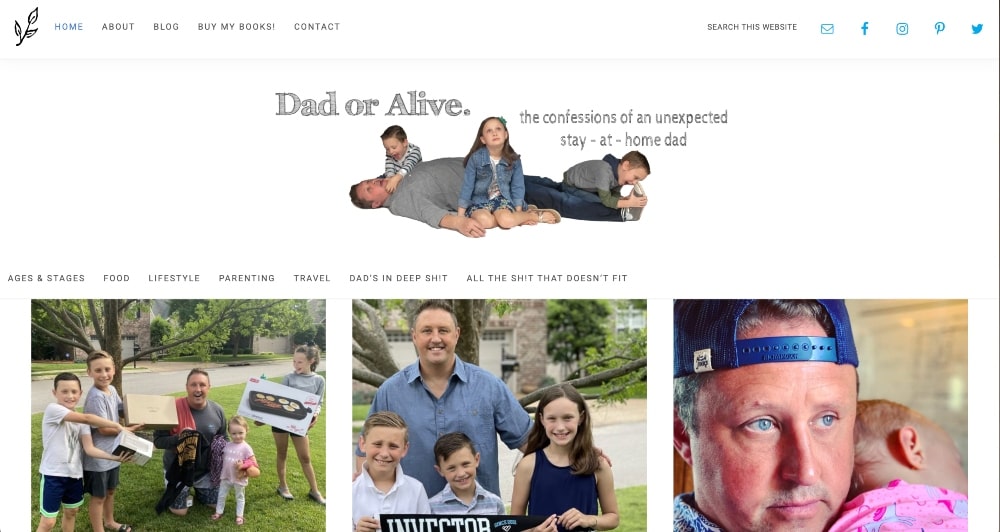 Dad or Alive was founded by Adrian Kulp, father of four and husband to his wife, Jen. This dad blogger documents his fatherhood journey through "confessions of an unexpected stay-at-home dad."
Why It Stands Out
Adrian has had a colorful career in media. Over the last few years, he's written and published a comedic memoir for Penguin Publishing, produced 'Modern Dads' for A&E, and has written 5 books on surviving pregnancy and parenting.
He also had his blog optioned for TV once before by Happy Madison & Sony Pictures.
9. FatherCraft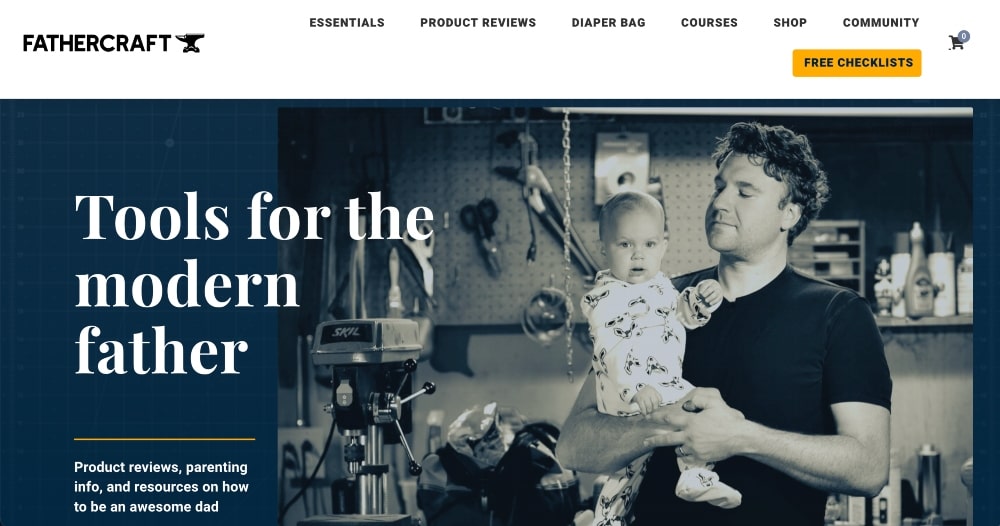 Fathercraft is a popular dad blog founded by brothers-in-law Paul and John, who have shared the journey of fatherhood over the past 6 years. The blog provides invaluable resources and advice for modern dads navigating the complexities of parenting. It also offers a unique perspective on how to manage various aspects of domestic life as a father.
Mark, a.k.a. Uncle Shark, is Paul's brother and an active contributor to the blog. A contributor, Annika has also joined the Fathercraft family with her Dad jokes and feminist perspective, ensuring the blog covers topics relevant to all members of today's families.
Topics: General life, parenting, product reviews
Monetization: Affiliate marketing and selling parenting courses
Popular Post: A diaper bag for the modern dad
Why It Stands Out
This is the first on the list of best dad websites that monetized their blog by selling digital products (online courses). This is one of our favorite ways to monetize a blog and how we make a lot of money on our own blog.
10. HighTechDad
HighTechDad, founded by Michael Sheehan, is one of the most successful dad blogs in the world. It stands out from other dad blogs for its unique take on technology and gadgets, providing product reviews, fix-its, how-to's, tips and tricks articles and videos.
Through the blog, Michael has also become an ambassador and influencer for many brands.
Topics: Technology, mobile, tech companies, family
Monetization: Ads, sponsored posts, and other brand partnerships
Popular Post: Head-to-Head iPad Keyboard Cases
Why It Stands Out
HighTechDad is one of the few dad blogs that focus solely on technology and gadgets, providing its readers with an original take on tech and how to use it for parenting.
Michael also has extensive corporate experience in the tech and gadget world, working for AppDynamics, which is part of Cisco. He has also worked for companies such as HP and Intel in the past.
11. Daddy Style Diaries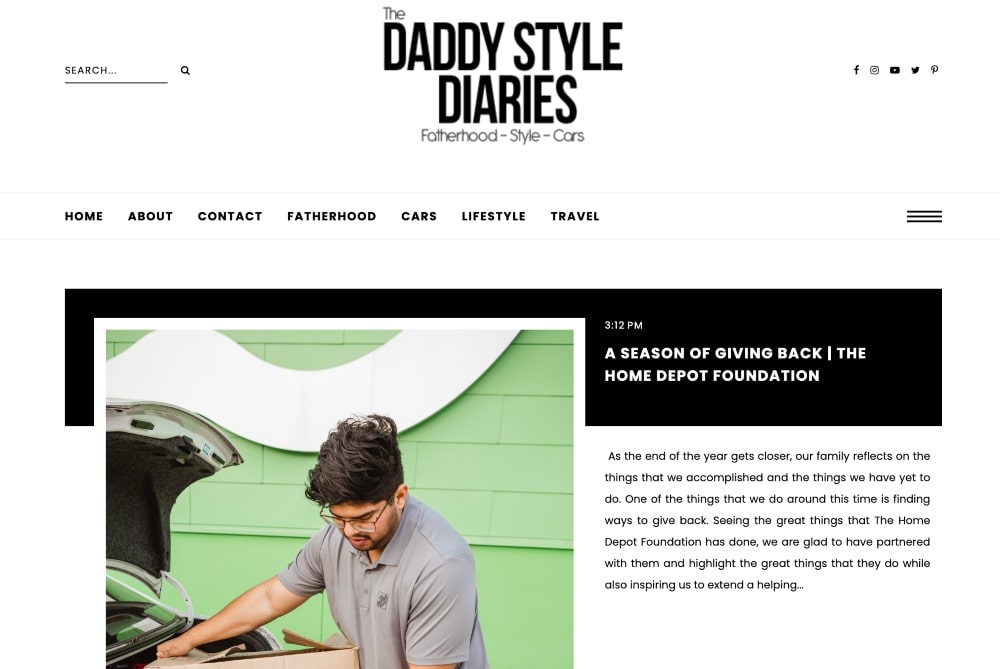 Daddy Style Diaries was founded by Jeffrey Eduardo Segura. American-born but with Guatemalan heritage, he has two kids and shares "mastering the art of fatherhood, fashion, and enjoying the lifestyle" in his blog.
Jeffrey runs a very honest blog that sheds light for fellow dads on what it's like raising kids.
Topics: Fatherhood, Cars, Lifestyle, Family, Travel
Monetization: Sponsored Posts
Why It Stands Out
Jeffrey shares his entire life story on his About page, which we think is pretty great.
Writing a great About page is so important to your blog because it's what can connect you with your audience and with potential brands and sponsors.
12. Mr. Dad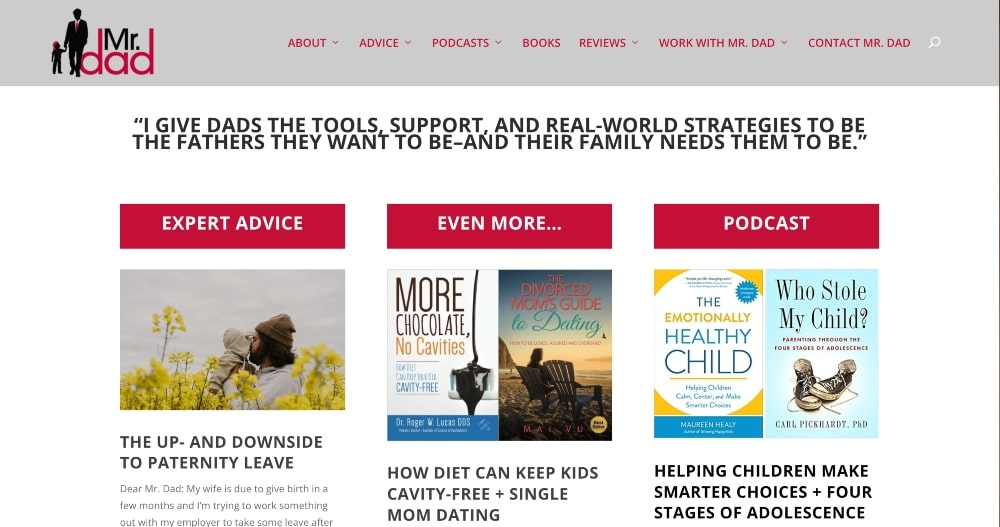 Mr. Dad is an award-winning dad blog founded by Armin Brott, a leader in the field of fatherhood and parenting.
With 8 bestselling books on fatherhood, he's helped millions of fathers around the world become the dads their children need them to be.
Mr. Dad has been featured in Time Magazine, The New York Times, The Chicago Tribune, and many other publications.
Topics: Expectant fathers, first-year dads, dads of toddlers, fathers of school kids, military fathers, single dads, grandfathers, just for moms
Monetization: Books, podcast, affiliate marketing, coaching, brand consulting, speaking engagements
Popular Post: The Ups and Downs to Paternity Leave
Why It Stands Out
Mr. Dad stands out because it is one of the few dad blogs which has been featured in major publications and also has an extensive library of books and courses to offer fathers looking for help.
Armin Brott himself is well known as "the superdad's superdad" and is a pioneer in the field of fatherhood, sharing expert parenting advice for dads everywhere.
FAQs About Dad Bloggers
What is a dad blogger?

A dad blogger is someone who writes and shares content related to fatherhood, parenting, and family life through a blog. Dad bloggers often focus on personal stories, tips and advice for other parents, product reviews, or fun activities that involve their children. Many of the best dad blogs feature honest writing and parenting humor, which can be highly relatable to readers with similar lives and experiences.
How much do dad bloggers make?

Most dad bloggers make an income from a variety of sources including sponsored content, affiliate marketing, selling products, and donations. The amount of money made will vary greatly based on the amount and quality of content, traffic to the blog, and any additional streams of income that might be generated. Some of the best dad blogs make tens of thousands of dollars a month.
How to Start a Dad Blog
Are you ready to start your own dad blog!? Here are a few steps to get started.
If you want the complete step-by-step guide, check out our free tutorial on how to start a blog.
This tutorial will walk you through the more detailed steps to get your blog set up.
1. Decide on Your Blog Topics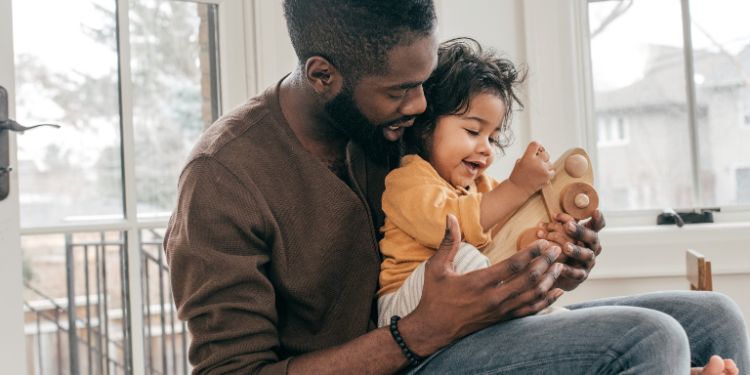 Identify your target audience and consider what kind of content is relevant to them. Here is a list of popular blog topics for dads:
Family life
Parenting advice
Fatherhood journey
Mental health
Fashion
Career
Tech
Entertainment
Additionally, consider what kind of dad you are! Here are a few specific blog focuses you could consider based on your personal situation: single dad, adoptive dad, gay dad, new dad, geek dad, travel dad, stay-at-home dad, etc.
2. Choose Your Platform and Host
The next step is to choose the blogging platform you want to use for your dad blog (e.g., WordPress, Blogger).
What is a blogging platform?

A blogging platform is a service or application that enables users to create and manage their own blog. Popular examples of such platforms include WordPress, Tumblr, Blogger, Medium, Ghost and Squarespace. Many blogging platforms offer free and paid plans with varying levels of features and customization options.
WordPress is what the vast majority of successful bloggers use to run their websites. You'll also need a great hosting company to take your blog online.
Bluehost is our favorite hosting company. You can read more about why we love Bluehost and how to set up your blog with Bluehost in our full tutorial on how to set up your blog.
3. Design Your Website
Your website should be esthetically-pleasing site with an organized navigation and layout structure that makes it easy for visitors to find what they are looking for on your blog quickly and efficiently.
4. Write Quality Content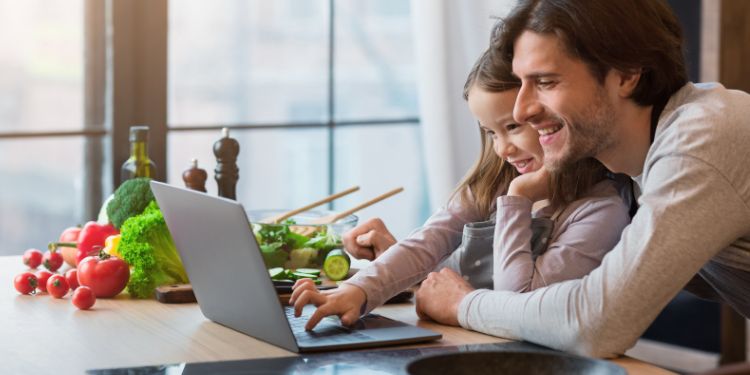 The next step is to create engaging, informative content that readers can't help but follow and share across social media.
Growing a dedicated audience is more about building relationships and connections than it is about social likes or follows.
5. Promote Your Blog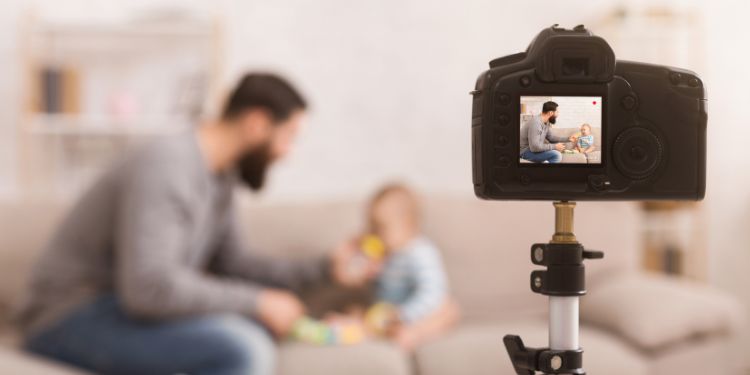 Finally, promote your blog content to get more traffic to your blog posts and start earning money. Focus on building relationships with other bloggers in the dad blogging industry as well as promoting your blog through social media, email marketing, and other platforms.
We hope you enjoyed this list of our favorite dad blogs online! Leave us a comment below if you have any questions!