We partner with bada$$ companies that offer products that help our readers achieve their goals! If you purchase through our partner links, we get paid for the referral at no additional cost to you! Read our disclosure for more info.
As technology continues to evolve, Software-as-a-Service (SaaS) is growing in popularity. By 2023, an estimated $101 billion will be generated from SaaS websites and businesses, a dramatic increase from the $45 billion generated in 2017.
The use of SaaS websites is becoming increasingly popular with businesses due to the convenience they provide. They allow businesses to access a range of services without needing to invest in any hardware or software purchase.
This makes them cost-effective solutions for companies looking to optimize their operations while reducing overhead costs.
SaaS websites also allow businesses to quickly scale up or down depending on their changing needs, without needing to worry about the time and effort associated with setting up new systems or having to upgrade existing ones.
These essential tools for business owners include project management, customer relationship management, cloud storage, collaboration tools, and so much more.
Each of these websites has something unique to offer that helps their users manage their business needs in an efficient and effective manner.
With an ever-growing list of competitors who are all vying for customers' loyalty, having a Saas website design that stands out from the crowd is key to success.
So let's look at what some of the best SaaS websites are and how they are leading the industry with their innovative designs and features.
This list covers everything from cloud storage solutions to customer relationship management and project management tools.
Each website offers something unique and provides users with an innovative way to manage their business needs.
What Makes a Good Saas Website?
Great SaaS websites have a variety of key features that make them easy to use and navigate for customers while also driving conversions.
Intuitive and Responsive Designs
Intuitive and responsive designs are key for any website, but especially for SaaS websites. When visitors come to a site, they should be able to easily navigate where they need to go, whether that is checking out additional features, viewing pricing, or taking other actions.
The design should also be optimized for all devices, especially mobile devices, so that customers can access the website no matter what device they are using.
This will help to maximize customer engagement and user experience as well as drive sales.
Creating a user-friendly experience is essential for every web page on your site.
Comprehensive Knowledge Base
A comprehensive knowledge base is essential for any SaaS website. These free resources should include FAQs, helpful articles, instructional videos, and other resources to help customers easily find answers to their questions or problems.
You can write a blog post on why your software is useful and what it does.
Having this information readily available will give potential customers the confidence they need to make a purchase from your website.
Case Studies
Case studies are also an important part of demonstrating the value of your product or service.
Case studies are customer testimonials that serve as real-world examples and proof that your product works as advertised. They are also great at showing potential customers the applications of your software.
By showcasing success stories from satisfied customers, you'll be able to showcase the value of your product and highlight why it is a great choice for businesses looking to optimize their operations.
Transparent Pricing Page
A SaaS website should also have a transparent pricing page that allows customers to easily compare the different tiers of service and quickly understand how your pricing model works.
SaaS pricing should always be readily available to consumers so that they can make an informed decision before investing in your product.
Seamless Onboarding Experience
Another important element of a great SaaS website design is having a seamless onboarding experience.
The process should be quick and easy, allowing customers to get up and running quickly without needing any technical support.
This will ensure that more potential customers stay on the site and use the product or service they are signing up for, as well as that existing customers remain engaged and satisfied with their experience.
Optimized Landing Pages
Finally, one thing you'll notice about the best SaaS websites in this article is their optimized landing pages, which are key to driving conversions from potential customers.
Having an eye-catching design that features the benefits of your product or service will help to increase engagement and encourage users to take action.
By using clear headlines and graphics with compelling call-to-actions, you can significantly boost your conversion rate and generate more revenue from your website.
Best SaaS Website Designs
Below are some of the best Saas website examples that showcase how Saas companies are using certain design elements to convert website visitors.
1. Salesforce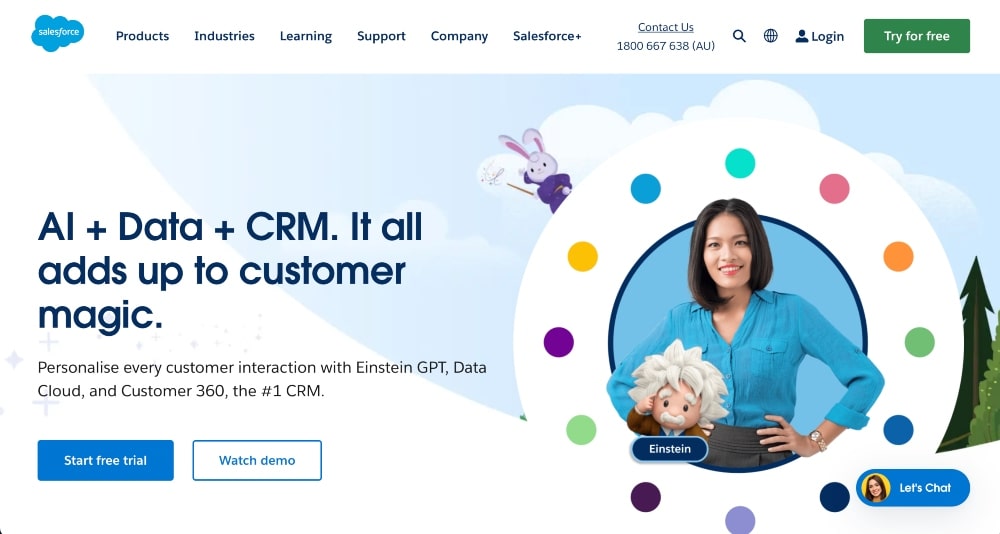 For those who want to efficiently manage their customer relationships, Salesforce offers its cloud-based CRM software.
It offers automated features and customizable solutions that make managing customer data easy and efficient.
This successful SaaS website has one of the best landing pages on this list.
Standout Features
SaaS products and solutions are featured prominently on the homepage and linked the in nav bar
Major areas that the company covers in the headline
Bold free trial button above the fold
Chat button for easy questions
Bright and visually appealing website design using white space well
Demo video featured prominently
2. Shopify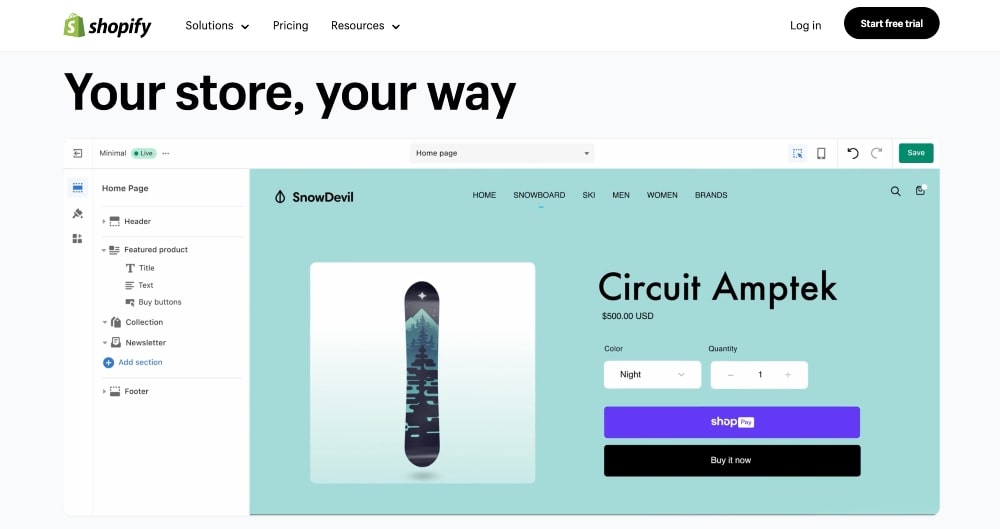 Shopify is an eCommerce platform that provides users with the tools they need to start and grow their online business.
It offers a variety of features, including payment processing, inventory management, and analytics tools.
Shopify is one of the best Saas websites on this list that really focuses on customer conversions through testimonials and social proof.
Standout Features
Top banner with a link to convert customers with a free trial
Statistics on the number of uses that choose Shopify
Free resources highlighted on the homepage
Bring the user's attention to the product with the website templates featured on the homepage
Additional product features on homepage
3. Jasper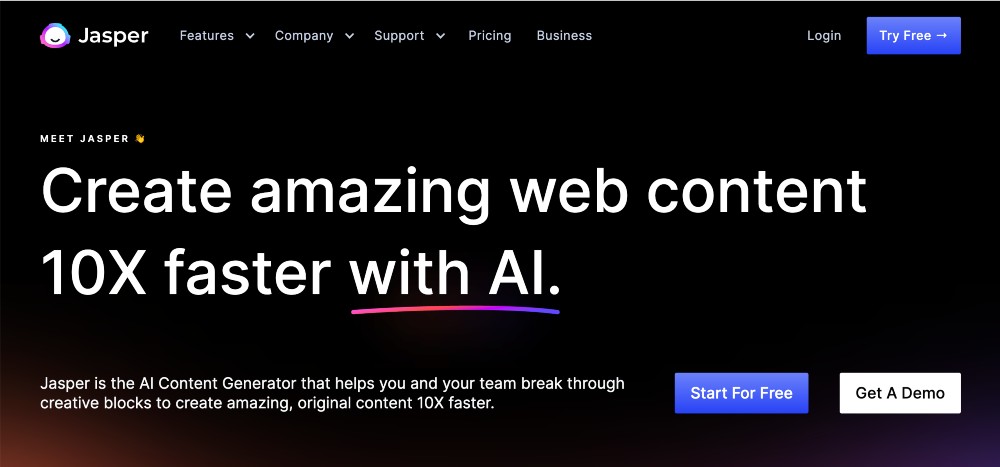 Jasper is an AI-powered writing tool that helps brands create high-quality content quickly and easily.
Its AI engine provides users with intelligent suggestions to improve the quality of their content, while its automated features make it easy to manage distributed teams.
Jasper's web design is one of the more basic designs but it's also the newest SaaS company on this list at the time of writing.
Standout Features
Consistent branding colors
Customer testimonials featured prominently
In-depth explanations on product features
Simple nav bar with most important web pages
4. SurferSEO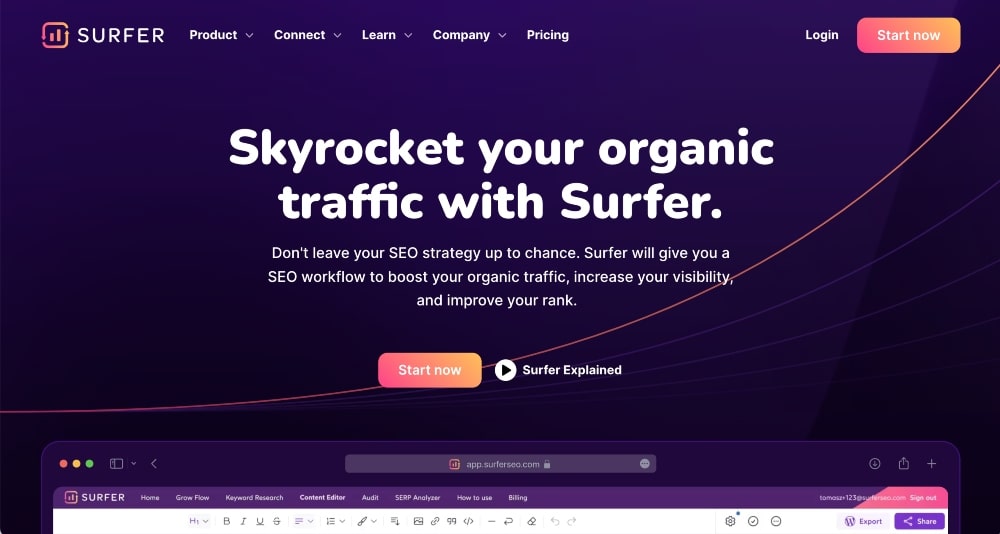 SurferSEO is a powerful SEO software tool designed to help businesses optimize their websites for better visibility on search engines.
It also features keyword research tools, link-building tools, and other optimization functions.
SurferSEO is a great example of an effective landing page for a SaaS website because it features a quick video of the user dashboard right on the homepage, making it easy to see exactly what customers can expect from the product.
Standout Features
Product demo video showing how the product works
Conversion button and video demo are linked above the fold
Main products are featured in detail with images
Free resources to learn more are highlighted on the homepage
Customer logos for major companies they work with
5. Basecamp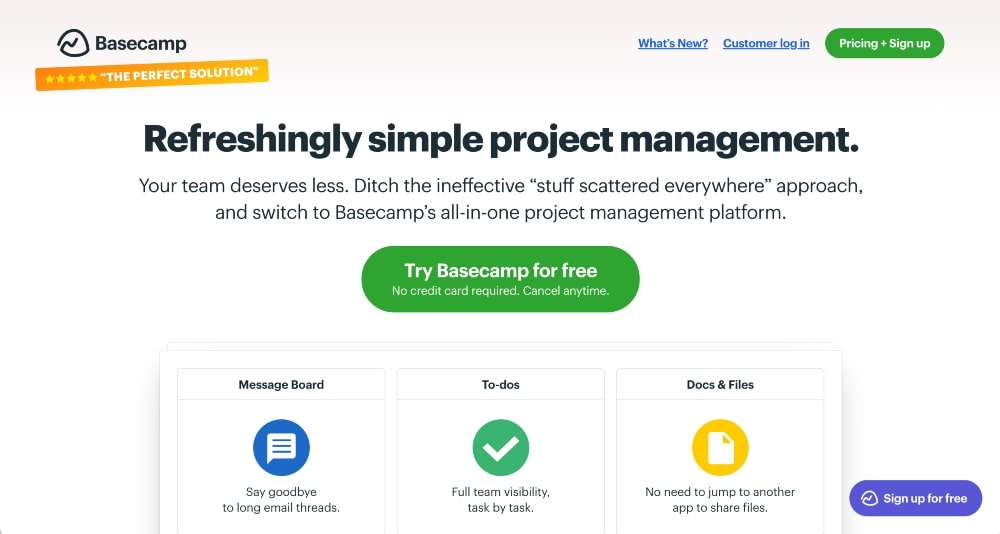 Basecamp is an effective project management tool with an intuitive user interface and powerful features that allow teams to collaborate effectively online from anywhere in the world.
It offers features such as file sharing, messaging, and task management that help teams stay on the same page.
Basecamp's website features a simple design that quickly explains the product's features and its benefits to potential customers.
Standout Features
Clear headline and subheadline about what the product does
Navigation bar at the bottom of the page keeps users engaged
Large call-to-action to try the product for free to convert visitors
6. Slack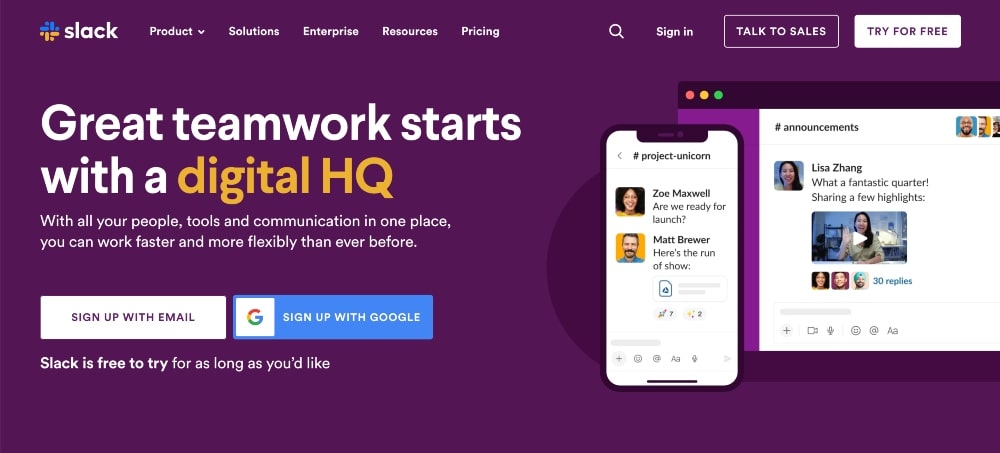 Slack is a popular messaging platform and collaboration software that allows teams to communicate and collaborate more efficiently by providing an easy-to-use interface with customizable options.
It's an essential tool for teams to stay connected and organized.
The Slack website stands out for its use of simple colors – mostly white with one main branding color (purple).
Standout Features
Product features are listed right away with helpful videos
Blog posts to educate potential customers
Statistics and feedback from paying customers
Straightforward pricing page with detailed graphs and FAQs
7. Dropbox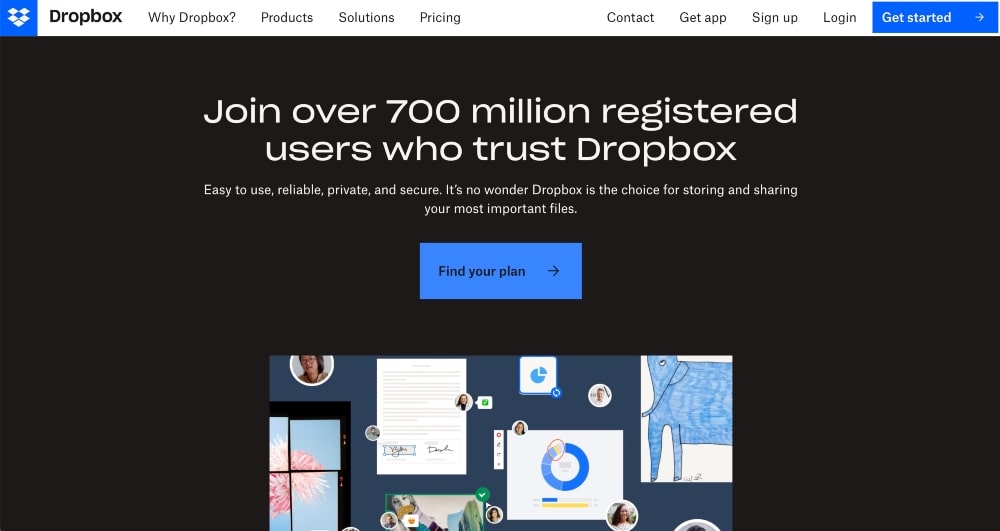 Dropbox is a cloud storage solution that allows users to store, access, and share files from any device or location in the world.
It also provides users with powerful collaboration tools to make it easy for teams to work together on projects.
This SaaS company is using rather old-school sharp, block-style buttons on their landing page, but the content is still great.
Standout Features
Consistent branding colors
Customer logos for supported third-party integrations
Customer testimonials
Clear distinction between potential user bases (business vs. personal)
8. Zoho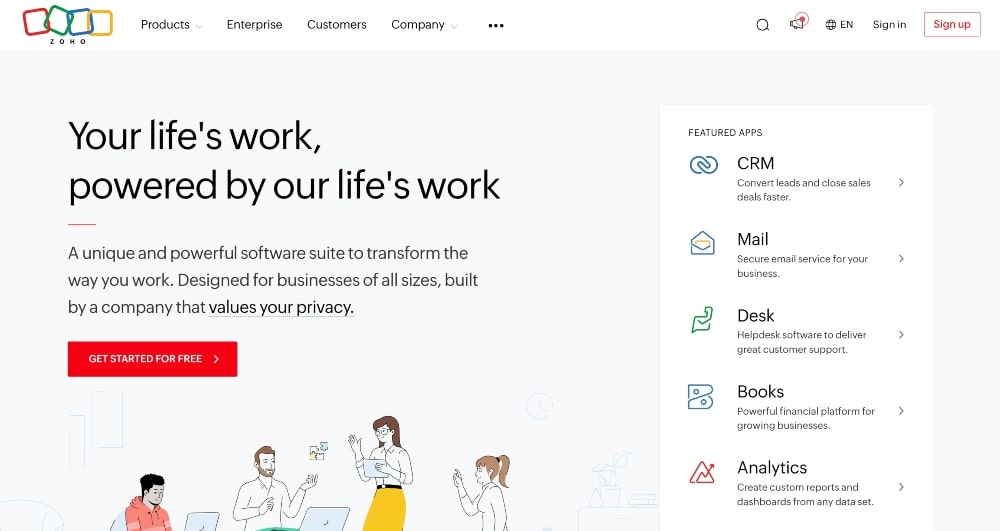 Zoho offers a suite of software solutions for businesses of all sizes, including CRM, accounting and finance, HR and payroll, project management, and more.
The platform also supports integration with other third-party applications for maximum flexibility.
Zoho offers a variety of SaaS tools and has different pages for each of these tools. Despite that potential for overwhelm, their main landing page is still very user-friendly and easy to navigate.
Standout Features
Effective use of white space keeps the design from getting cluttered
Transparent statistics on user base and operations
Organized presentation of the variety of products that they offer
Core values and principles are written transparently
9. HubSpot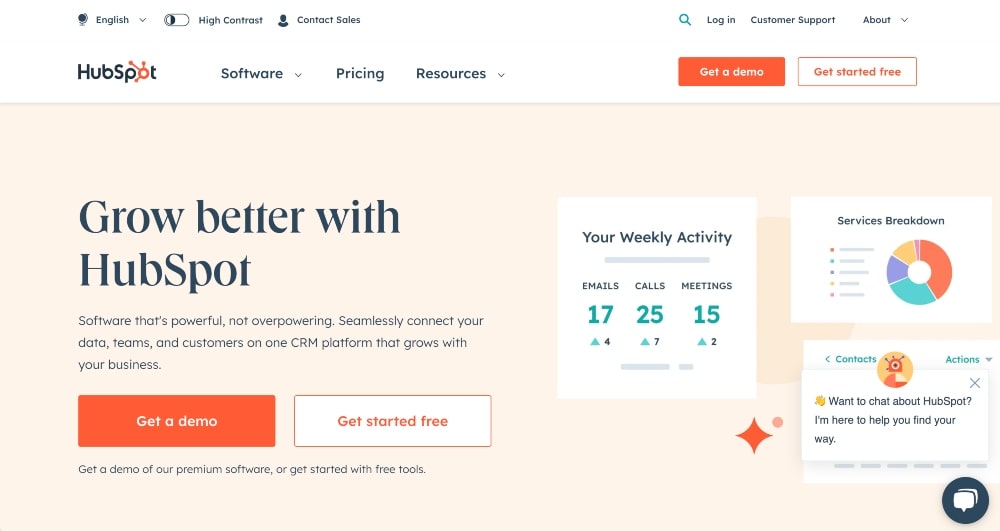 HubSpot is an all-in-one platform for marking automation that streamlines customer communication and simplifies the process of creating and tracking campaigns.
It also offers a variety of analytics and reporting tools to track the success of campaigns.
This SaaS homepage is short and simple and designed to be a straightforward user flow to the different products that the company offers.
Standout Features
Great use of the main brand color
Statistics on customer community
Very easy for customers to demo the software or get started for free
Helpful price calculator on the pricing page to help customers determine what total costs to expect for their businesses
10. Trello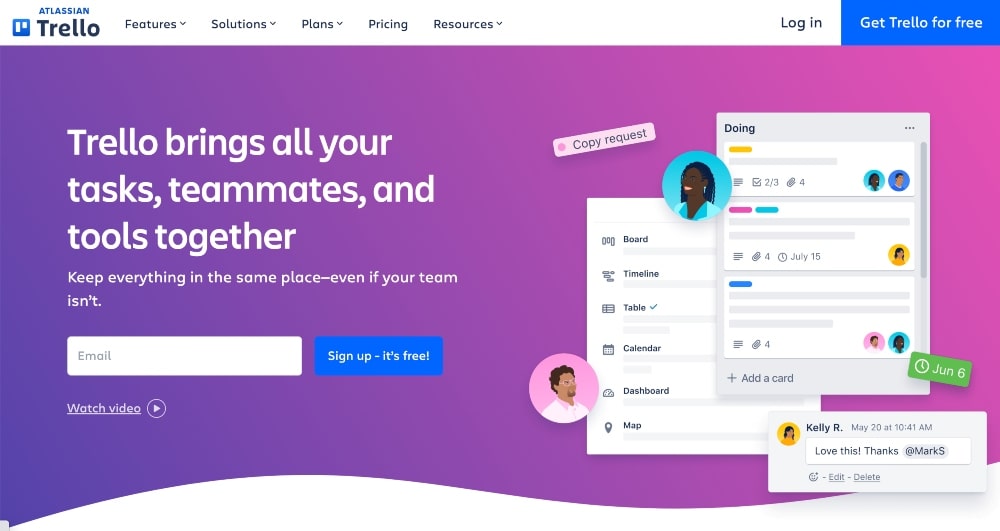 Trello is a popular task management tool that helps teams organize their tasks in an intuitive way with drag-and-drop boards, lists, and cards.
It's a great tool for teams to collaborate on projects and keep track of progress.
Trello has a very visually appealing page and is a great example of a website that knows how to speak to its target audience.
Standout Features
Great use of alliteration (Trello, tasks, teammates, and tools)
Vibrant colors speak to a younger audience
Bold call-to-action button
Use cases outlined clearly
Detailed and user-friendly pricing page
11. Asana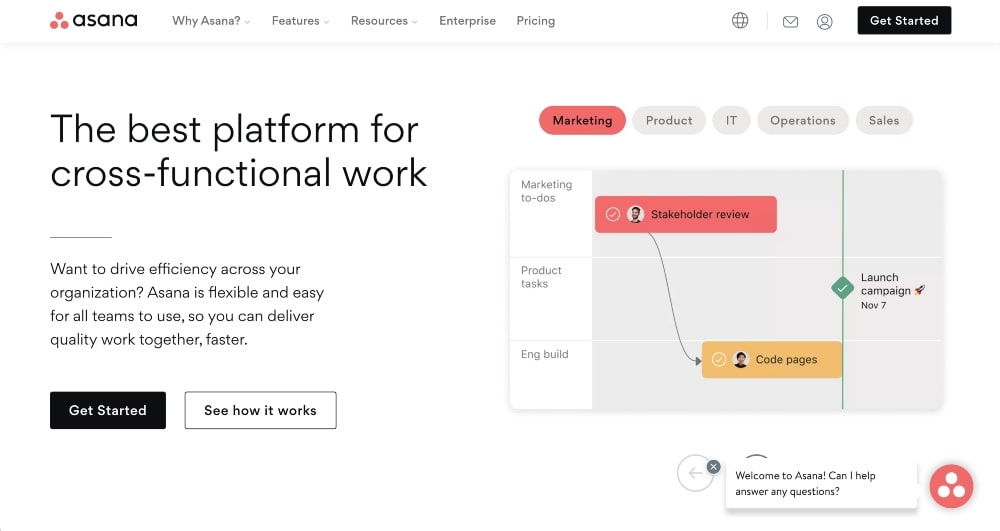 Asana is a cross-functional work platform that offers powerful project templates along with features like calendar views and workspace customization to make managing projects easier.
It also offers automation features to simplify the workflow and ensure tasks are completed on time.
One thing to pay attention to with these SaaS website examples is what content is above the fold, which means what content is displayed when you land on the page without scrolling down.
Standout Features
Most important applications are displayed immediately and above the fold
They automatically draw users down the page with the smooth scrolling effect
Simple design elements that are very functional
12. Mailchimp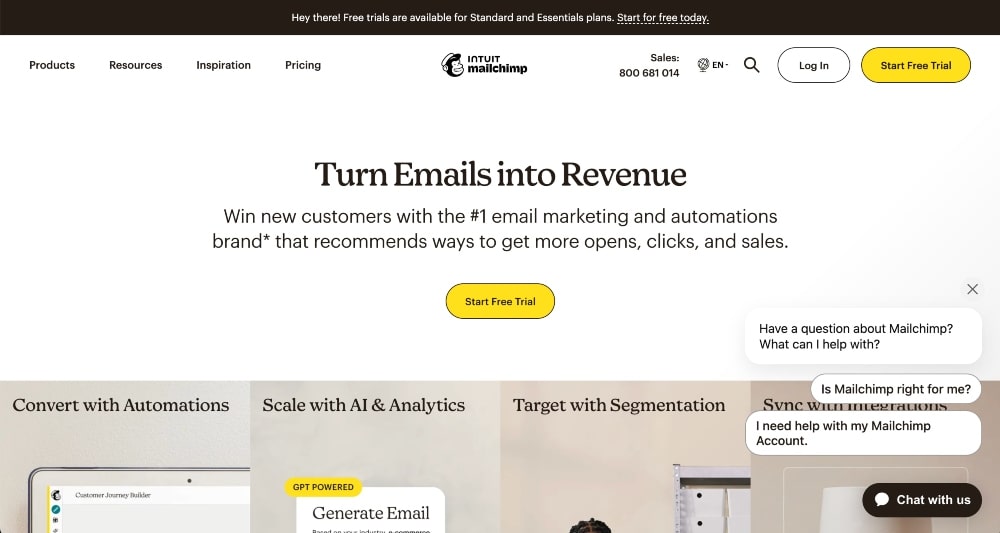 Mailchimp is a popular email marketing platform that offers an easy-to-use drag-and-drop interface with various ready-made templates.
It also supports integration with other third-party applications like Google Analytics and Shopify for enhanced functionality.
Many SaaS websites, like Mailchimp, use another SaaS tool integration on their websites to communicate with and convert visitors: a chatbox.
Standout Features
Chatbox with question prompts to help customers get questions answered
Free trial buttons are visible on the page and in the menu and in a banner on the top of the page
Convenience pricing model information right on the landing page
13. Typeform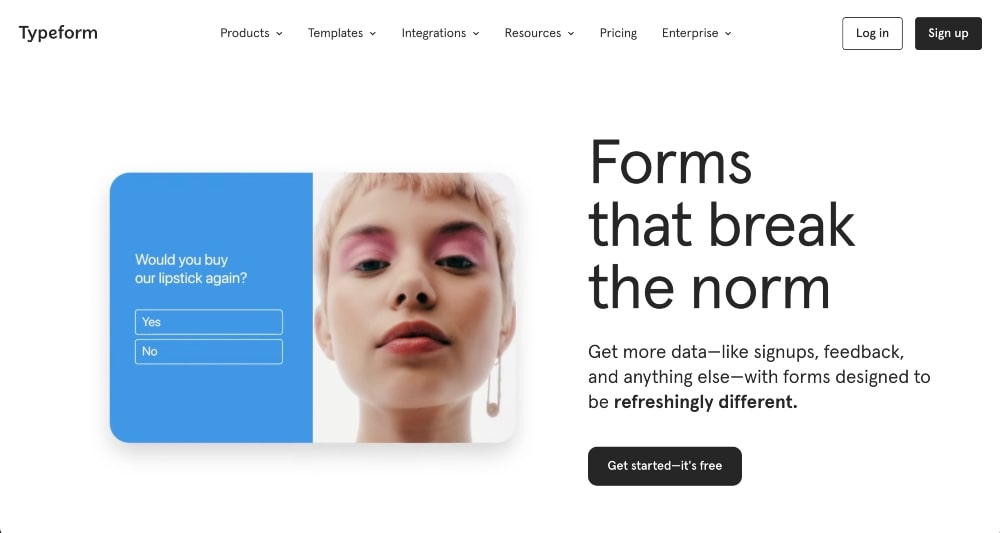 Typeform is a powerful online survey platform that helps businesses easily create and distribute surveys to collect data from customers or employees.
It also provides features like conditional logic and real-time response tracking to help make data analysis easier.
Standout Features
Simple web design with smooth scrolling and effective use of white space
Embedded video tutorials showing product applications
Simple and easy-to-navigate menu
14. Docusign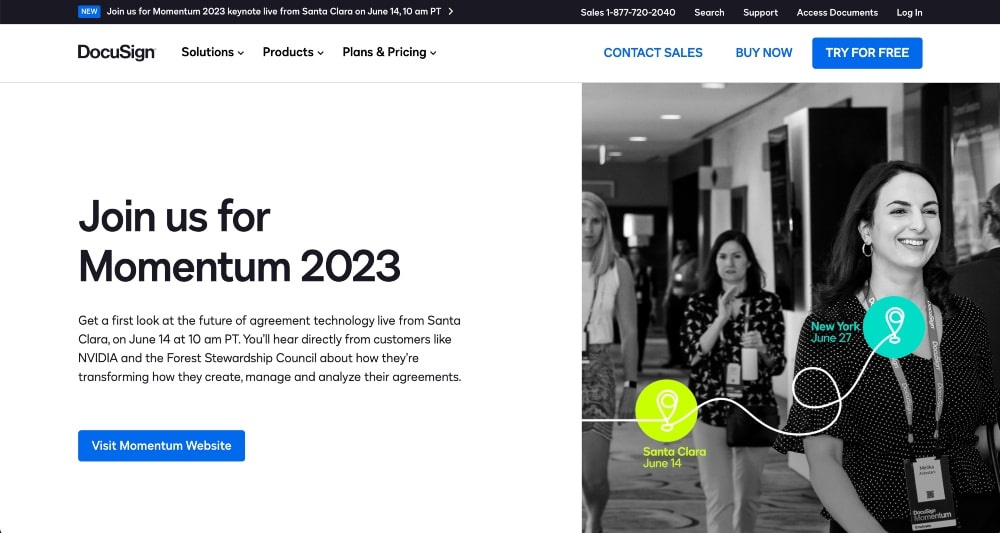 Docusign is a popular eSignature solution designed to streamline the process of signing documents electronically while maintaining security and compliance standards.
It offers features like templates, multi-party signing, and secure document storage.
The fact that Docusign is showing a current event that they are participating in makes this SaaS website stand out from others. It shows that the company is involved in their industry.
Standout Features
Current event highlight before product information
Statistics on performance and customers
Branded logos for integrations with other popular SaaS websites
Simple pricing page with frequently asked questions
15. Zapier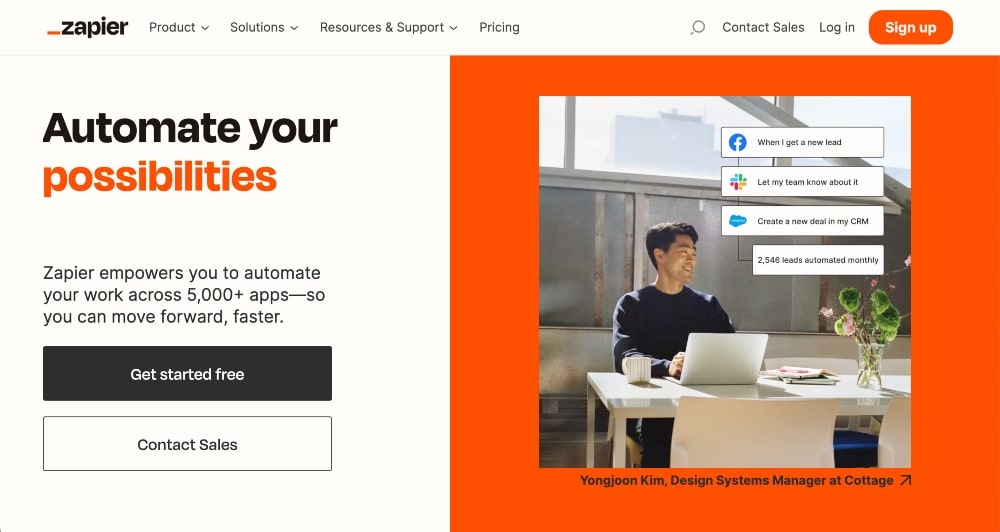 Zapier is a SaaS website that allows users to connect different apps together so they can automate tasks without writing any code.
It's an easy way to save time by automating tedious manual processes between web services.
Standout Features
Simple color scheme with 1 main, branded color
Big call-to-action buttons to get started for free
Slides showing each target audience they are trying to reach with their automation
Social proof showing customer satisfaction
16. ClickUp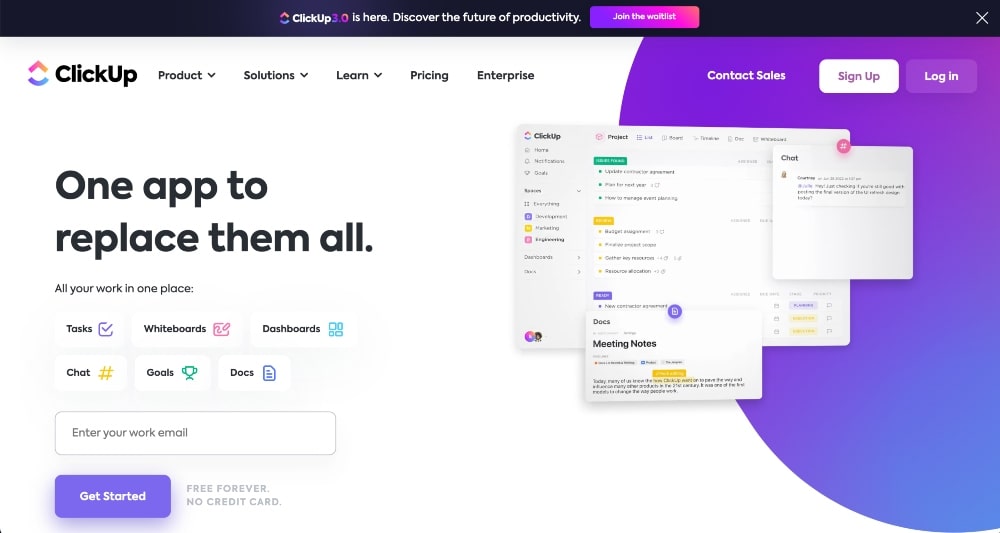 ClickUp is a popular all-in-one task management tool that offers powerful features like task lists, timelines, and collaborative workspaces to help teams stay organized and focused on their goals.
It offers custom workflows, automation features, and real-time notifications to keep teams on track and productive.
Standout Features
Several video demos demonstrating the product on the homepage
Highlights team communication and collaboration, an important feature in the SaaS industry
Video testimonial
Highlights customer service support
17. Wrike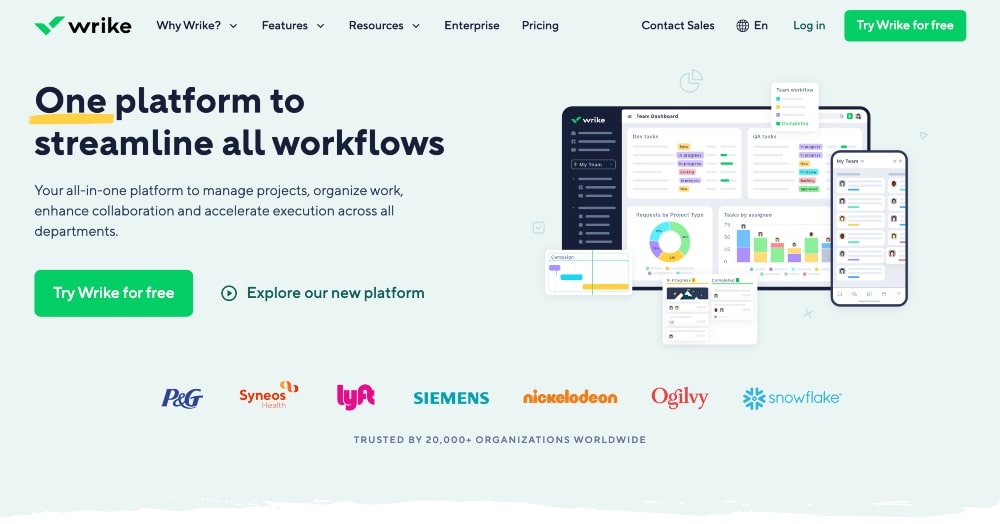 Wrike is a SaaS website and project management software that provides visibility into team performance and progress to help ensure the successful completion of projects on time.
It also offers collaboration tools such as file sharing, real-time editing, comments, and more.
What makes this SaaS homepage really shine is not only showcasing the key features but doing so in a way that really highlights the benefit to the potential customer.
Standout Features
Fun color scheme
Focus on the benefits to the customer or company
Knowledge base of articles on use cases for different types of customers
18. Wix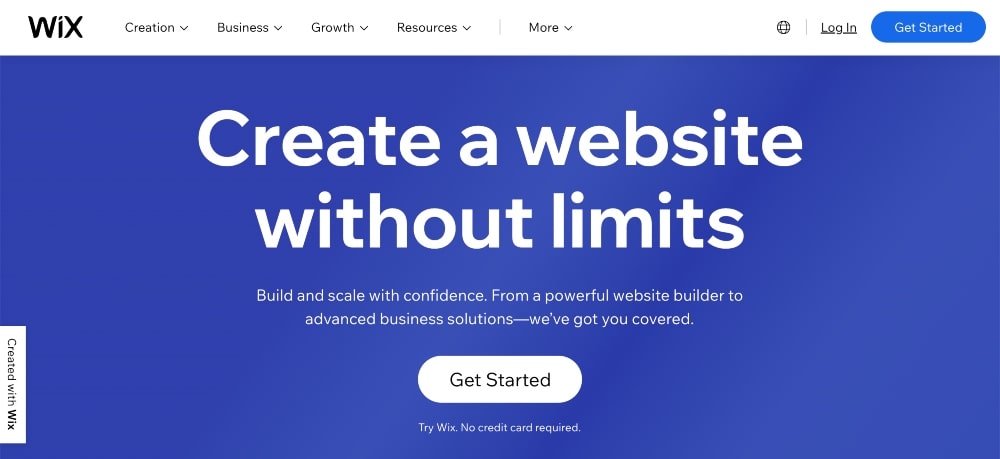 Wix is an easy-to-use website builder for starting blogs and creating websites without any coding knowledge.
This blogging platform also provides hosting services so you can get your website up and running quickly.
Standout Features
Huge, powerful headline that speaks volumes
Banner on top of the website shows support for Ukraine, which makes you feel better about supporting the company
Slideshow of visually appealing websites that you can design with the product
19. Teachable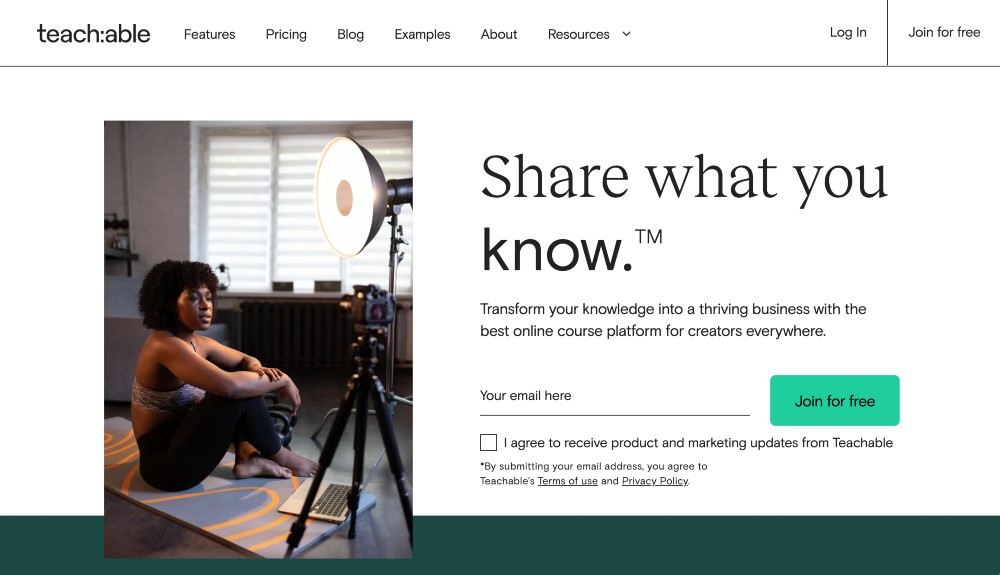 Teachable is one of the most popular SaaS companies that provides online course creation and hosting services
It also offers features like student dashboards, analytics, and customizable site designs to make the user experience more enjoyable for both instructors and students.
Teachable is a great example of a SaaS website that goes the extra mile to make their customer feel like they are in the right place.
Standout Features
Photos of people working on building their own courses
Relatable to their target audience by demonstrating people creating online courses in real life
Well-designed pricing page with a comprehensive list of key features
20. Freshbooks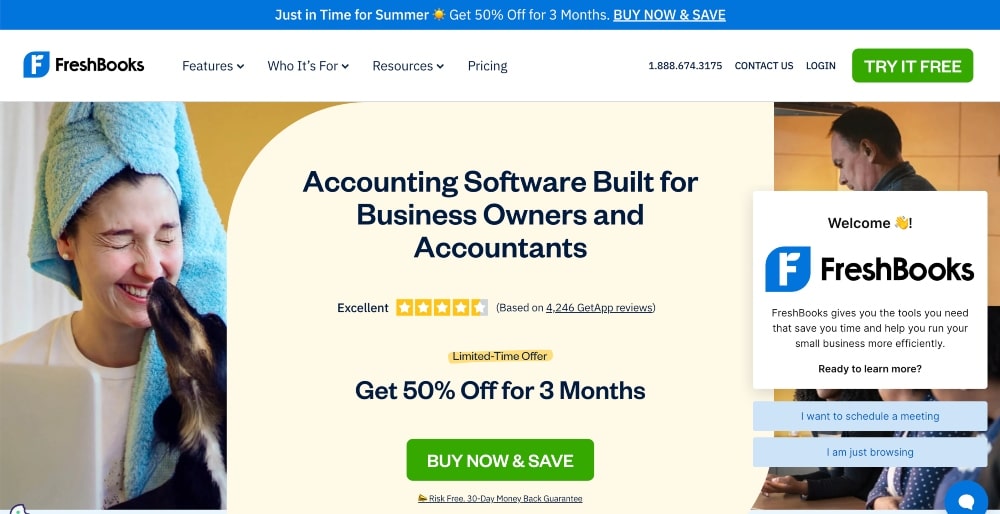 FreshBooks is a SaaS website that offers intuitive accounting software with features such as invoicing, time tracking, and expense management.
It allows businesses to streamline their workflow and get the most out of their financial data.
Standout Features
Customer ratings
Discount for 3 months with a link for a money-back guarantee
Key features listed in an easy-to-navigate format
Use cases for different businesses
Social proof from customers
Frequently asked questions are very visible
21. Webflow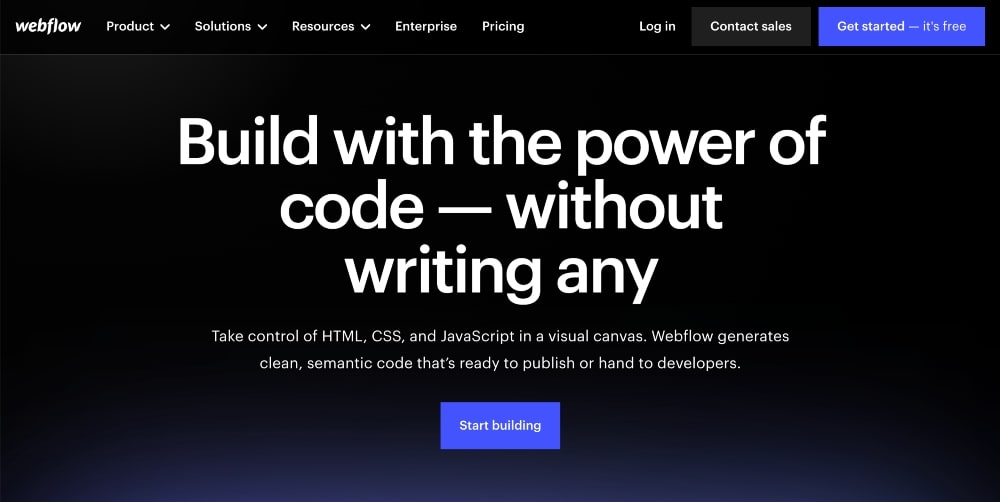 Webflow is a powerful website builder that enables users to create custom websites without any coding knowledge.
It also offers hosting services so you can get your web projects up and running quickly.
Weblow's website is a great example of how SaaS companies can better show customers exactly what the inside of their product looks like and how it works.
Standout Features
Huge video demo display to show how the product works
Good mix of product features and customer testimonials
Call-to-action buttons to get started for free
22. Tailwind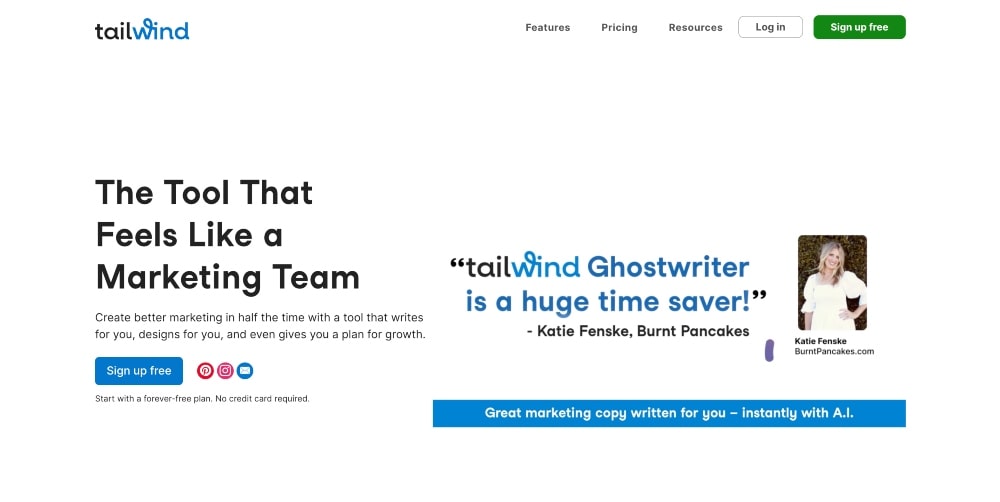 Tailwind is a popular Instagram and Pinterest marketing tool that offers features such as scheduling, analytics, and engagement tracking to help businesses maximize their presence online.
It also provides tools to help you create social media content, including images and AI writing.
This marketing platform does a great job of showcasing its newest feature prominently on its homepage.
Standout Features
Highling new the feature of AI tool
Social proof of business logos that use Tailwind
Outline the applications in a customer journey format, which lets customers know they will have all of their needs taken care of — from start to finish
23. RiversideFM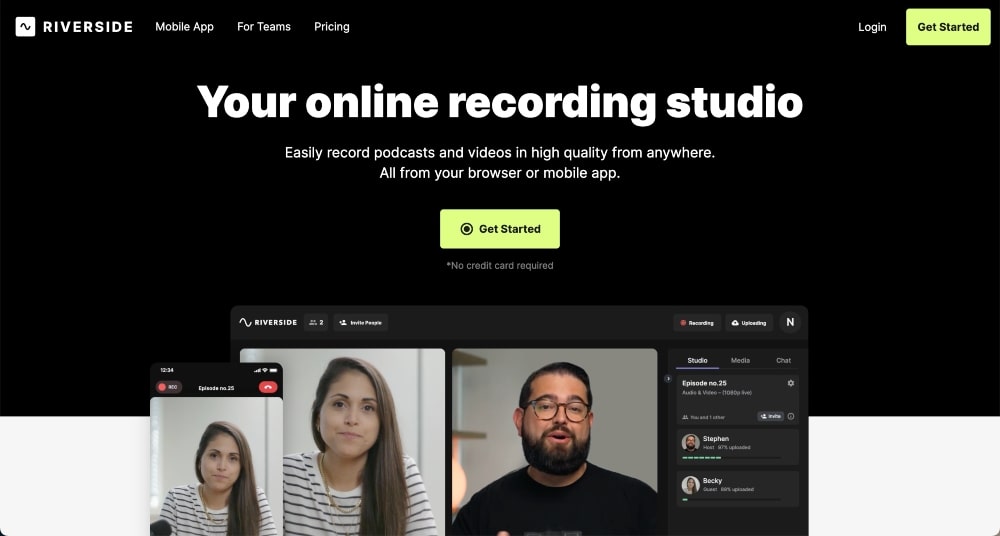 RiversideFM is a streaming software and podcast hosting and distribution platform that allows podcast creators to upload, publish and distribute their episodes across multiple channels.
It also provides features such as audio editing, analytics, and more.
Standout Features
Video demo
Great social proof with multiple video demonstrations with industry leaders like Michelle Obama and Mark Zuckerberg
Simple navigation menu and SaaS pricing model
24. Github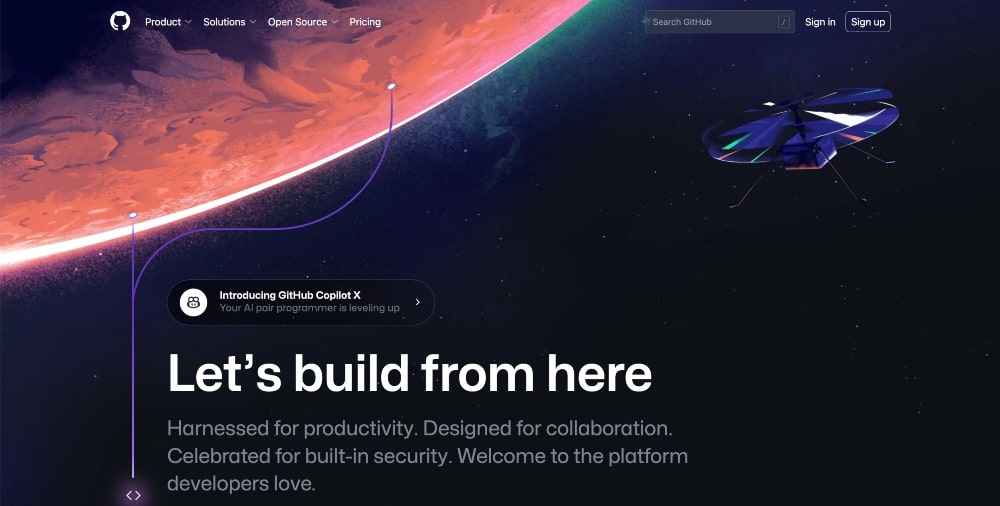 Github is a SaaS website that offers a popular version control system used by developers all around the world for managing code repositories and collaborating on software projects.
It offers features such as issue tracking, code review, and tools to manage projects.
Standout Features
Black background makes this web design stand out against competitors
Comprehensive and detailed pricing page
25. Intercom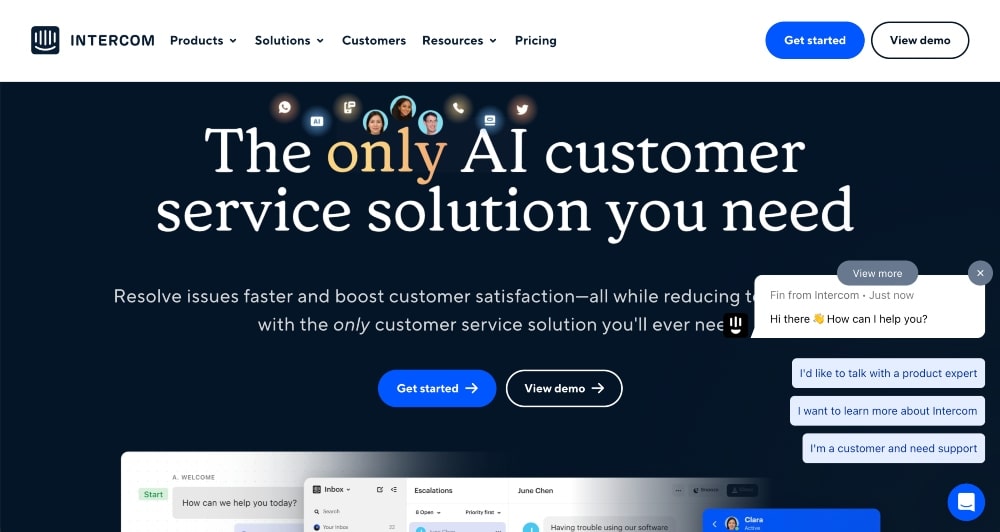 Intercom is a customer engagement platform that enables businesses to communicate with customers in real-time across various channels such as email, live chat, and push notifications.
It also provides powerful tools for customer segmentation and personalization.
Standout Features
Very detailed product descriptions and images on the homepage
Chatbox with suggested prompts
Entire page dedicated to customer success is linked in the nav bar
26. Figma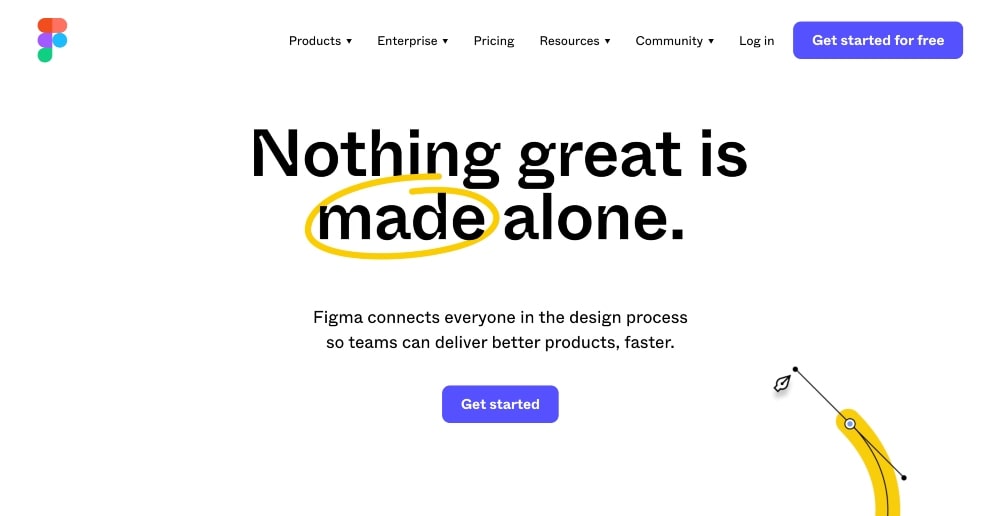 Figma is a cloud-based design tool used by UX/UI designers all over the world for creating interactive prototypes and designs for websites or mobile apps.
It offers features like version control, collaboration tools, and a library of design elements.
Standout Features
Bright, colorful designs of the product
Community-designed images
Simple pricing page
27. Zendesk
Zendesk is a SaaS website that offers customer service software used by businesses of all sizes to provide fast, personalized support.
It offers features such as ticketing systems, knowledge base creation tools, automation workflows, and more. It also supports integration with many third-party applications so businesses can customize their customer service experience.
Standout Features
Free trial button above the fold
Statistics on cost and time savings of using the service
New features highlighted
Customer experience testimonials
28. Kajabi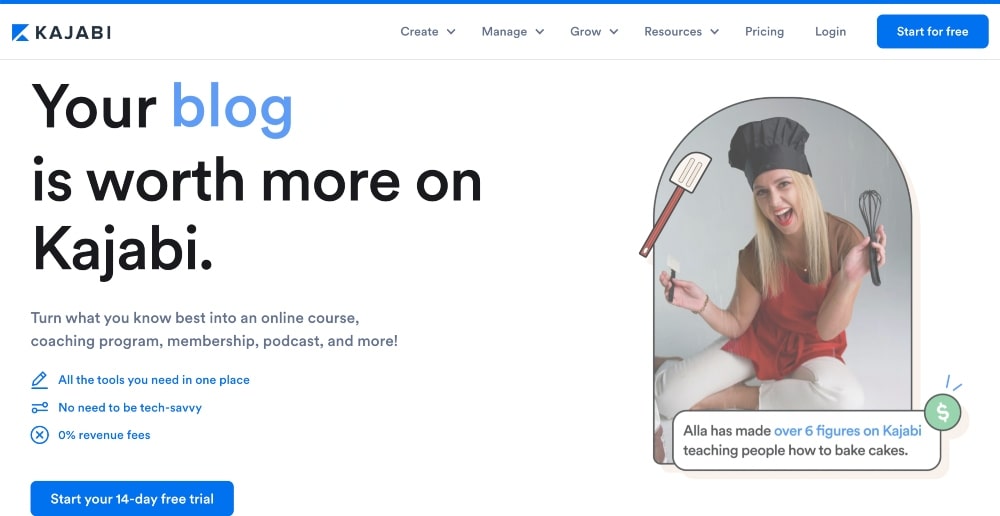 Kajabi is an online course-building platform that allows users to create and host courses on their own websites.
It also provides features such as automated email marketing, payment processing, and more.
Standout Features
Effective use of brand color
Income estimator to show customers how much they can earn with the product
Free resources to learn more
29. Airtable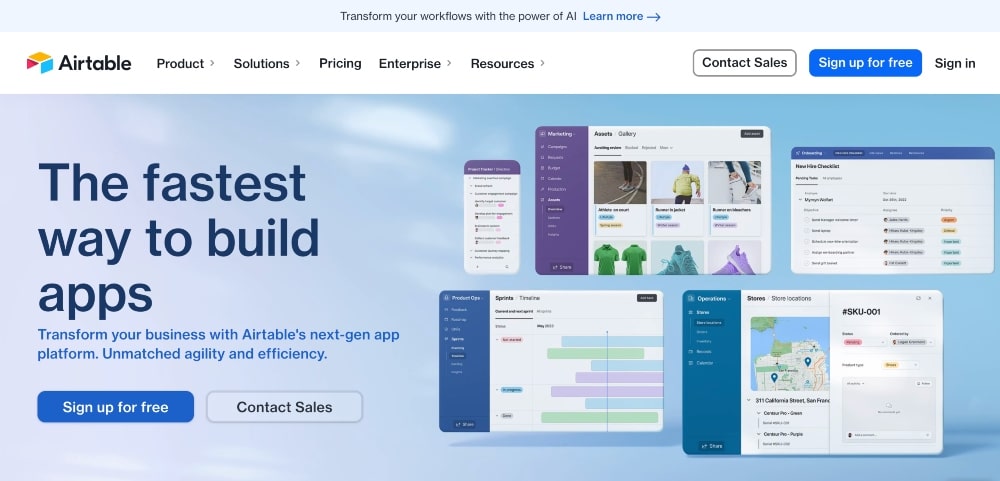 Airtable is a SaaS website selling a powerful database management tool that allows users to create custom databases and spreadsheets with features such as sorting, filtering, and collaboration tools.
It can be used to manage data for a variety of applications such as CRM, inventory tracking, and more.
Standout Features
Dedicated landing pages for each type of solution
Clean web design that highlights products and solutions
30. Stripe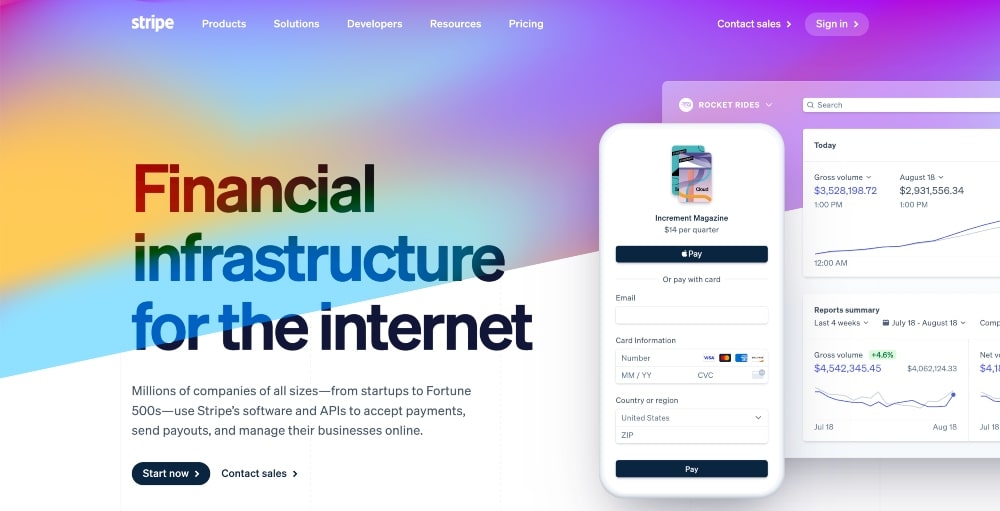 Stripe is an online payment processing solution that allows businesses of all sizes to securely accept payments from customers around the world.
It offers features like fraud protection, recurring billing, and automatic invoicing to make managing finances easier.
Standout Features
Dynamic color design in background
Seamless scrolling on homepage
APIs clearly demonstrated
Case studies from large enterprises like BMW
31. Zoom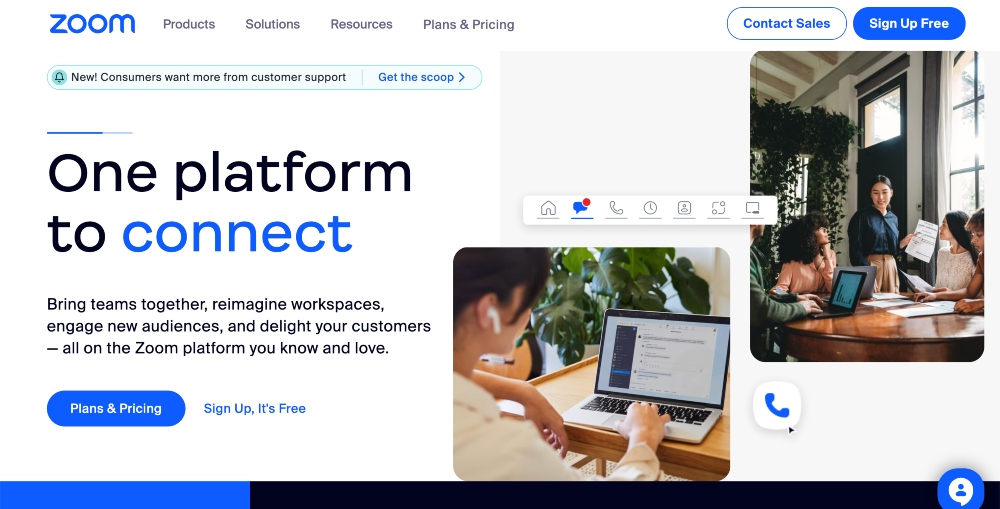 Zoom is a popular online meeting and video conferencing platform designed to help teams stay connected no matter where they are.
It supports screen sharing, collaboration tools, and more.
Related: The Best Zoom Alternatives for Online Meetings
Standout Features
Photos of real people using the product
Highlights different industries the product is suitable for
Featured blog posts on what's new in the company
Case studies from major companies like Capital One and Forbes
Transparent reviews from different rating companies
32. Calendly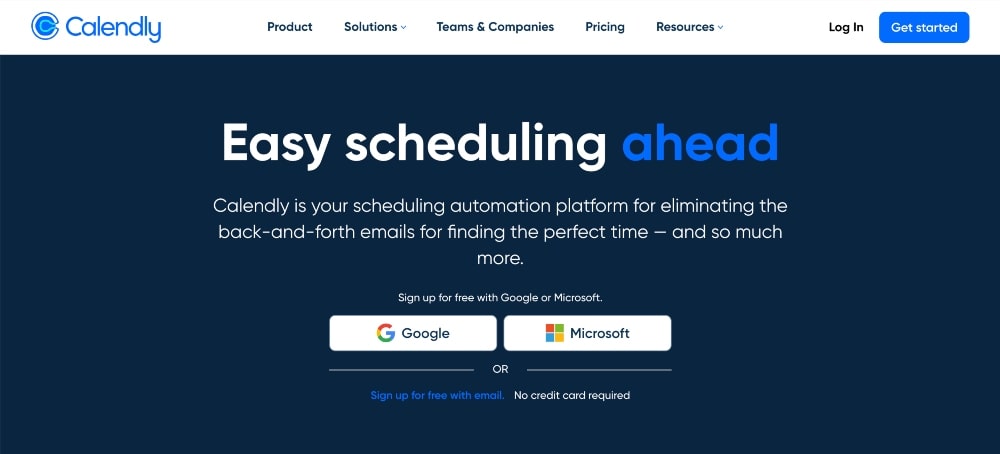 Calendly is a scheduling software tool that helps businesses automate their scheduling processes by providing an easy-to-use interface that allows users to select dates and times for meetings or events with ease.
It also offers features such as real-time notifications and automated reminders.
Standout Features
Benefits of using the software
Easy-to-use pricing page with FAQs
Separate landing page for teams and companies
33. Adobe Creative Cloud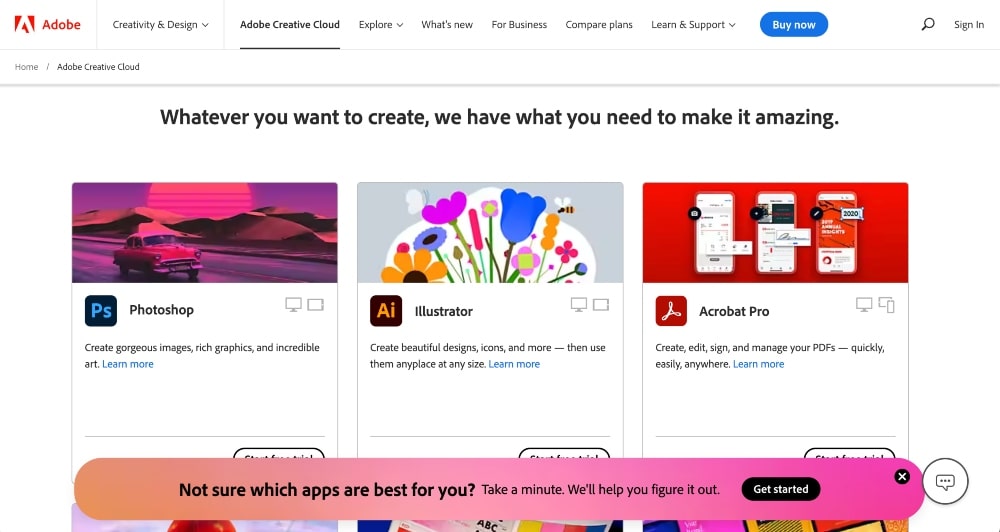 Adobe Creative Cloud is a SaaS website offering a subscription service that provides access to the full suite of Adobe's creative applications such as Photoshop, Illustrator, Premiere Pro, After Effects, and more.
Applications for Adobe products include photo editing, video editing, animation, and so much more.
Adobe is a great SaaS example for any website that has a lot of different products to feature and isn't sure how to prioritize them.
Standout Features
Big banner showing website visitors how to get started
Individual product landing pages linked up toward the top of the page
Frequently asked questions at the bottom of the page
Easy-to-find links to the pricing page
34. Hootsuite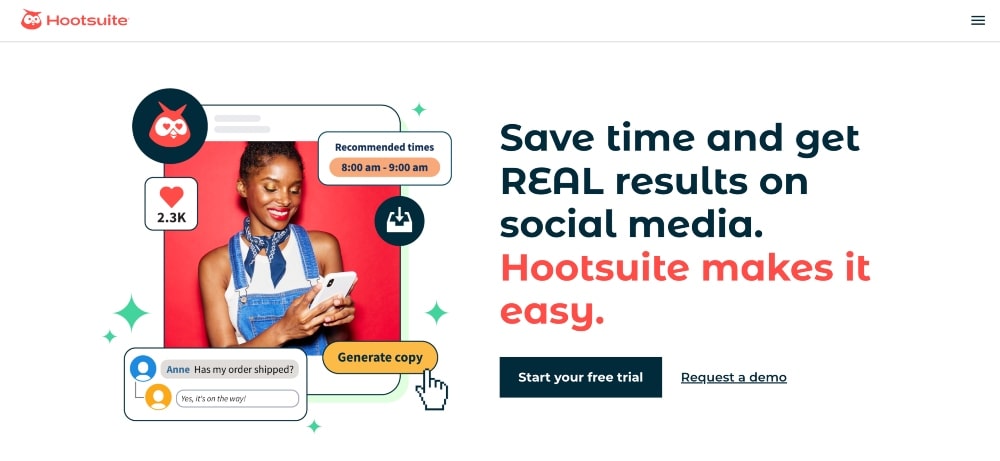 Hootsuite is a powerful social media management tool that helps businesses manage their accounts across different platforms in one place.
It also offers reporting capabilities to track performance over time.
Standout Features
Main image speaks directly to their audience
Useful statistics on how the software can help
Brand logos for existing customers
New features and case studies
Customer reviews
35. Survey Monkey

Survey Monkey is an online survey software that makes it easy to create surveys, polls, and questionnaires to capture feedback from customers or employees.
It supports integration with popular third-party applications like Google Analytics and Shopify and offers real-time survey analytics and insights to help businesses make informed decisions.
Some of the best SaaS designs have a scrolling text feature that types out different words or sentences to show the different applications of the product. Survey Monkey is a great example of a website using this particular design element.
Standout Features
Scrolling text slides to show different applications
Number of active users displayed (in the millions)
Pricing plan listed right on the homepage
36. Buffer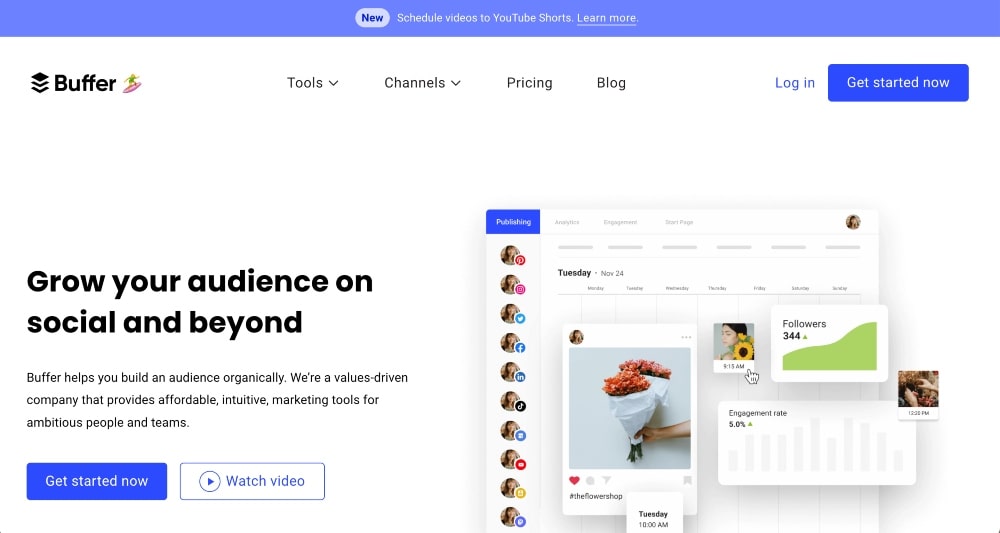 Buffer is a social media management platform that helps teams manage their presence across multiple channels such as Twitter, Facebook, and Instagram.
It also offers analytics and reporting tools to help businesses track their performance.
Standout Features
Specific percentages on how customers have used Buffer to grow their businesses
Blog with helpful articles linked on the main menu
Customer help center featured
37. Zuora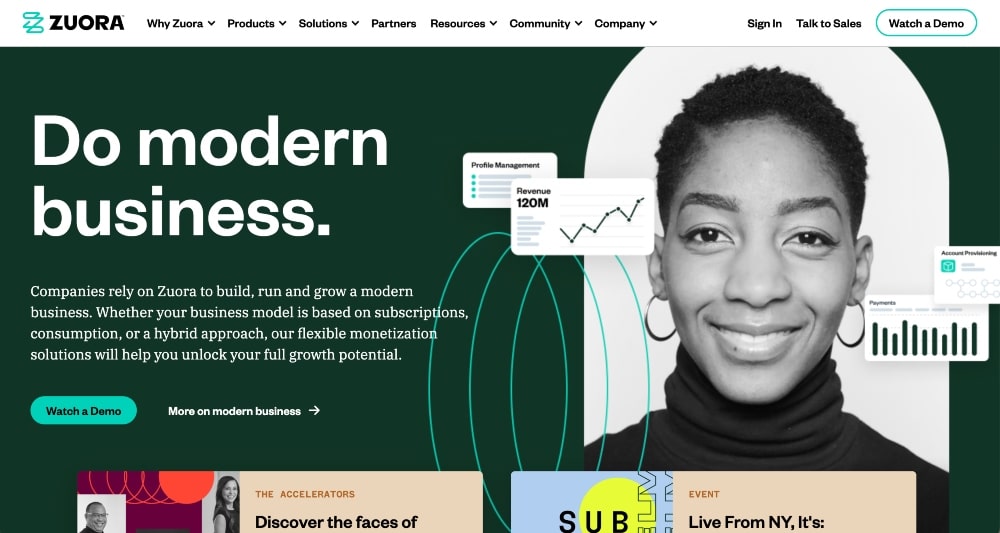 Zuora is an enterprise-grade subscription billing platform designed to help businesses manage subscriptions, customer lifecycles, and revenue recognition in one centralized system.
It also offers powerful analytics and reporting tools to help make data-driven decisions.
Standout Features
Variety of clickable business model applications to learn more about your specific case
API information easy to find
Customer experience page with reviews, statistics, and testimonials
38. Canva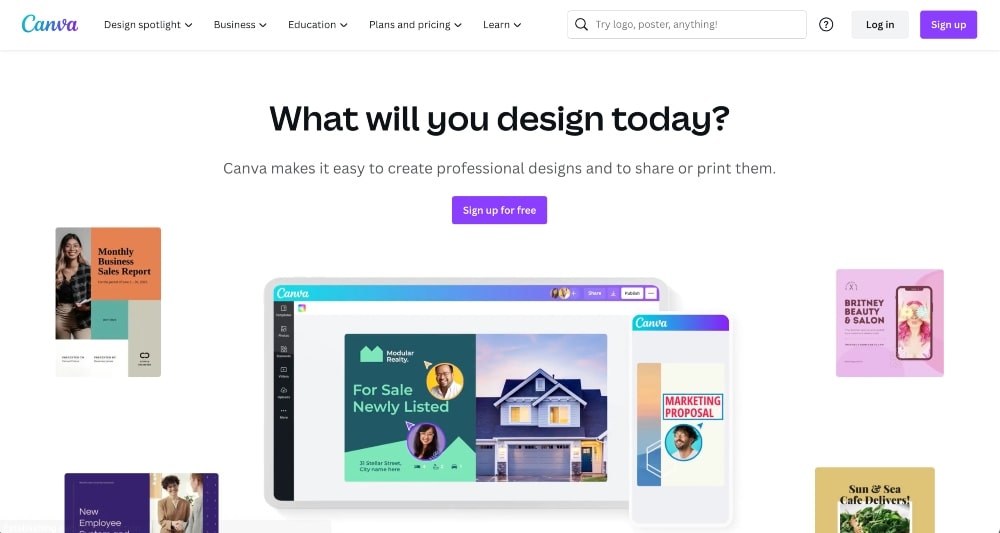 Canva is an online graphic design platform that provides some of the best tools and templates for bloggers and businesses to create stunning visuals for social media, websites, and other projects.
It also offers a library of assets such as photos, illustrations, and icons so you can easily customize your designs.
Standout Features
Free trial buttons
Canva templates are displayed right on the homepage to see what the software offers
Education button on the menu to explore blog articles
39. Capterra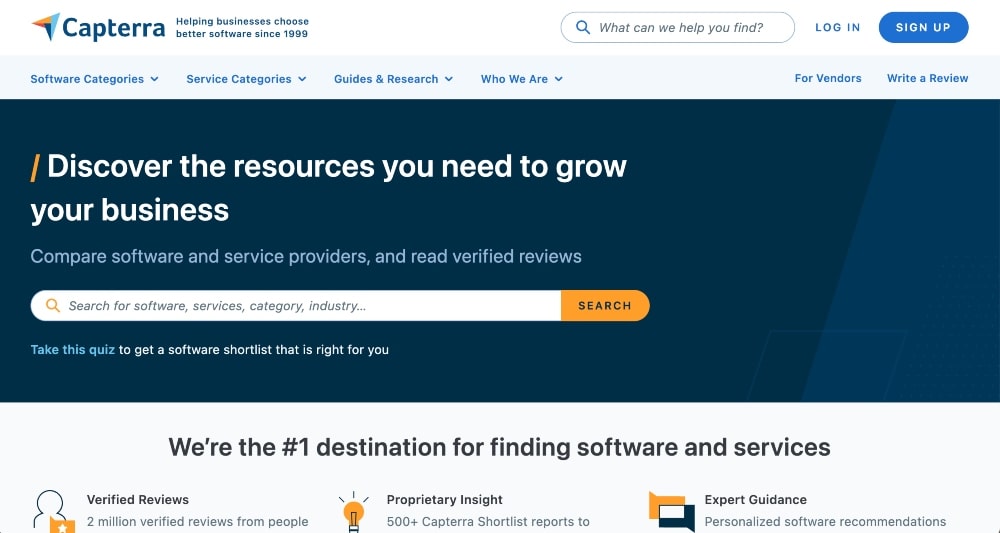 Capterra is an online directory of business software solutions designed to help businesses find the right applications for their needs.
It offers comprehensive information on more than 500,000 software products and services from a variety of vendors.
Standout Features
B2B SaaS design
Search bar to find exactly what you're looking for
Quiz to help you get personalized software suggestions
40. Help Scout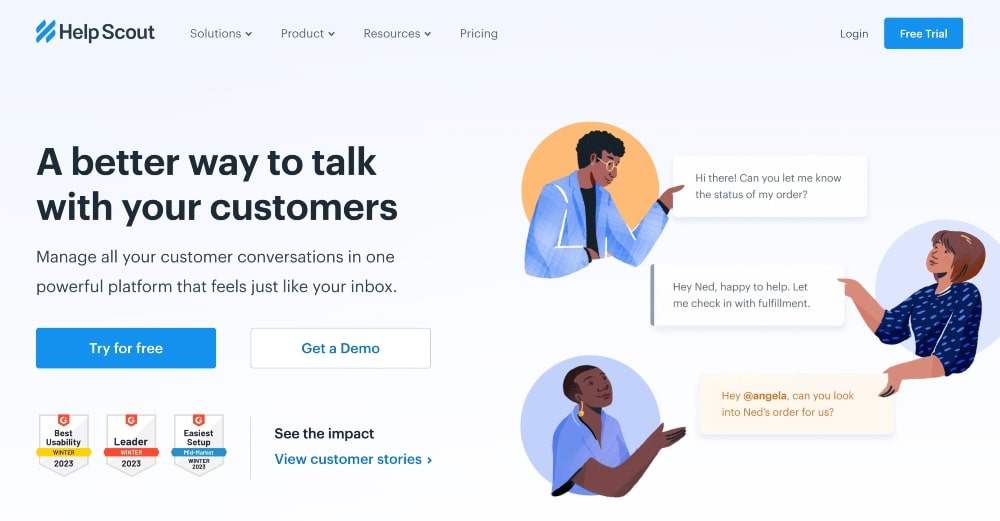 Help Scout is a customer service support platform that makes it easy for teams to provide fast and effective support to customers via email, phone, or chat.
It features an intuitive inbox, automation capabilities, and powerful search functionality to help teams stay on top of customer inquiries.
Standout Features
Expandable menu bar makes it easier for potential customers to navigate to the information they are looking for
Call-to-action to start for free
Badges for achievements the software has earned
FAQs on the Best SaaS Websites
What are SaaS websites?

SaaS websites are web-based applications that offer a subscription service to users, allowing them to access products and services online. These can be anything from software programs to web hosting services. They are usually cloud-based, meaning the data is stored on remote servers rather than locally on a user's device. Examples of SaaS websites include Salesforce, Dropbox, SurveyMonkey, and Slack.
What are the must-haves in a SaaS website?

When designing a SaaS website, there are several must-haves that will ensure it is effective and attractive to users. These include an intuitive user interface that makes navigation easy, a simple yet engaging design with high-quality visuals, well-written content to explain the features and benefits of your product and clear calls to action. Additionally, having engaging examples of other successful SaaS websites can help you create an attractive website for your business. Examples of some of the best SAAS websites include Shopify, Salesforce, Stripe, and Zendesk.
What are the 2 main varieties of SaaS?

The two main varieties of SaaS are web-based software and cloud computing. Web-based software is hosted on a remote server and accessed by users through any device with an internet connection, while cloud computing services store data and applications in the cloud. Examples of best SaaS websites include Salesforce, Zendesk, Workday, and Slack. These websites offer a wide range of enterprise-level services such as customer relationship management (CRM), analytics, data storage, and workflow automation.
What is a B2B SaaS website?

A B2B SaaS website is a software-as-a-service (SaaS) platform designed to help companies streamline their business operations and facilitate communication between clients, partners, and employees. Some of the most popular examples of B2B SaaS websites include Salesforce, Slack, G Suite, Zoom, and Microsoft Dynamics. These SaaS websites have been designed to enable businesses to collaborate, communicate, and manage data remotely with ease.

The best SaaS websites allow companies to customize their services according to their specific needs while providing a range of features such as automated customer onboarding processes, enterprise-level security protocols, and integration capabilities.
Key Takeaways for the Best Saas Websites
Ultimately, having a website design that stands out from the crowd and showcases your product or service is key to success.
Each of the best SaaS websites mentioned above has unique features that make them stand out in the SaaS market and help them drive conversions.
The most popular SaaS websites are easy to navigate, feature a simple yet engaging design with high-quality visuals, and provide well-written content to explain the features of the product.
By using intuitive designs, comprehensive knowledge bases, case studies, transparent pricing pages, and optimized landing pages, you can create a website design that will appeal to potential customers and encourage them to take action.
When it comes to creating a great SaaS website for your business, there are many factors and design elements to consider.
Taking these into account, you can create an attractive website that will attract more customers and increase your ROI.