We partner with bada$$ companies that offer products that help our readers achieve their goals! If you purchase through our partner links, we get paid for the referral at no additional cost to you! Read our disclosure for more info.
Are you looking for the best animation software to help bring your creative ideas to life?
With animation software, you can create stunning animations for games, movies, television shows, web projects, and so many other applications.
But with so many options available, it can be difficult to know which is right for your project.
Whether you're a beginner or a professional animator, there are plenty of animation software programs that can help you create stunning visuals quickly and easily.
From free plans to premium packages, we've rounded up some of the top animation software in 2023.
Here is a summary of our top picks for the best animation software:
Here's what each one offers, plus our opinion on why they could be great choices for you.
What are the Factors to Consider in Animation Software?
The choice of excellent animation software is dependent mainly on its application. This is an essential consideration when selecting animation tools.
Some animation software programs are better suited for 2D animation, while others are best for 3D animation or stop motion.
Additional features such as character rigging, lighting tools, or special effects can make life easier for animators.
Price and experience level are also factors to consider when deciding on the best animation software for you.
One animation software might be the best but also the most expensive and better suited for professionals. That will differ greatly from the best animation software for beginners, which could even be a free version.
And these are all things we cover in this post.
Why Should You Put Animation in Your Videos?
Adding animation to your video can be a great way to make it stand out, especially for short and engaging pieces.
Animations can add an interesting element of creativity and movement to videos that may not be possible with other visual elements, such as photographs or static images.
Animations are much easier to work with than live-action footage or special effects, making it a great option for those who are just starting out in video production.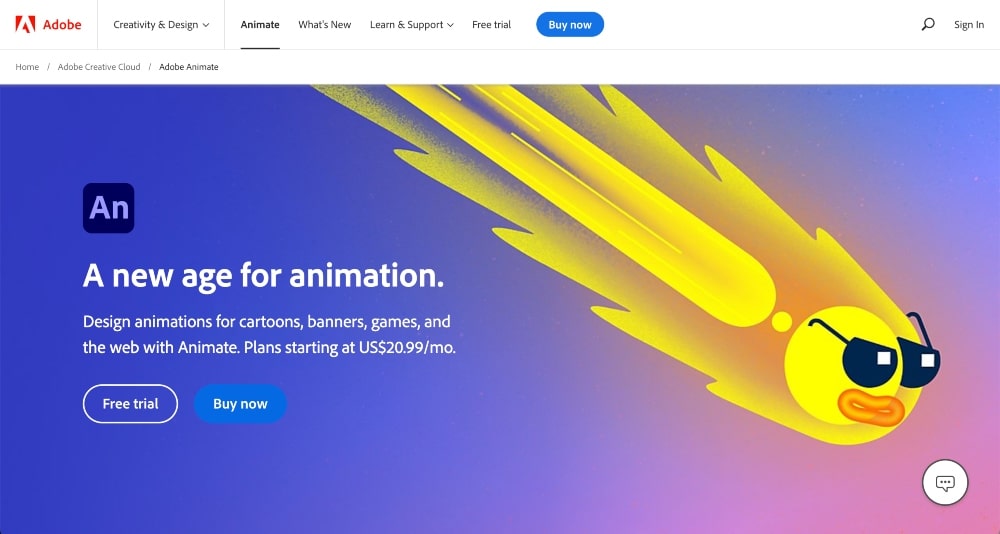 Adobe Animate is a powerful animation software that proves its worth time after time as an effective and efficient tool for creating high-quality animations that can easily be integrated into film projects or other creative works.
It offers a range of tools to help bring your ideas to life, such as vector graphics, audio tracks, and even 3D animation.
One of the standout features of Adobe Animate is its integrated graphics engine that allows users to apply effects with minimal effort and time consumption.
These effects range from simple blurs and color adjustments to realistic motion blur and particle simulations – all while remaining CPU friendly and fast-running even on low-end machines.
Additionally, Adobe Animate has built-in libraries of characters, props, and backgrounds which saves animators valuable time when creating stories with pre-made elements.
It also has numerous timeline features that offer a vast array of keyframes which gives animators total control over every aspect of their project's timing.
Adobe Animate boasts a library of scripts called Actionscript 3 (AS3), which allows users to build interactive elements into their projects – such as buttons that take viewers to different scenes or simple games like memory cards.
It also provides tools for rigging characters with bones so they become easier to animate in 3D space without having to learn complex 3D modeling techniques.
With a range of pricing plans available, you can find the perfect option that fits your budget while still getting the quality results you need to bring your ideas to life!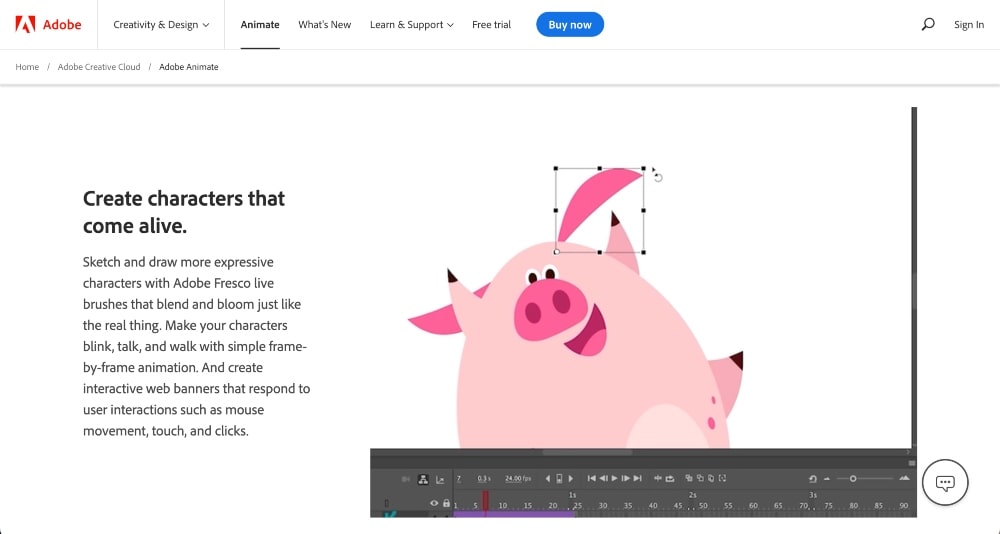 Key Features:
Supports exporting animations into various formats such as GIF, SWF, and HTML5 formats for use on other platforms or devices
Creative tools such as inverse kinematics (IK) rigs for creating complex character movements
Integrates with Flash projects or other creative works without any additional coding needed
Add extra effects such as filters, shadows, and blurs to enhance its appearance
Timeline in Adobe Animate allows you to set keyframes so that you can control the exact timing of your animation easily
Specialized drawing tools enable you to draw vector graphics directly within the software itself instead of having to use external programs like Adobe Illustrator or Adobe Photoshop separately
Pricing:
Creative Cloud (All Apps): $54.99/month
Students and Teachers: $19.99/month
Business: $84.99/month per license
Our Opinion:
Adobe Animate is our top overall choice for best animation software for both beginners and professionals.
For beginners, Adobe Animate offers an intuitive user interface that makes it easy to create basic animations with minimal effort.
There is also a comprehensive library of video tutorials and help documents available to ensure users can get up and running quickly.
For professionals, Adobe Animate provides advanced features for creating complex and detailed animations.
Best for: Professionals and advanced users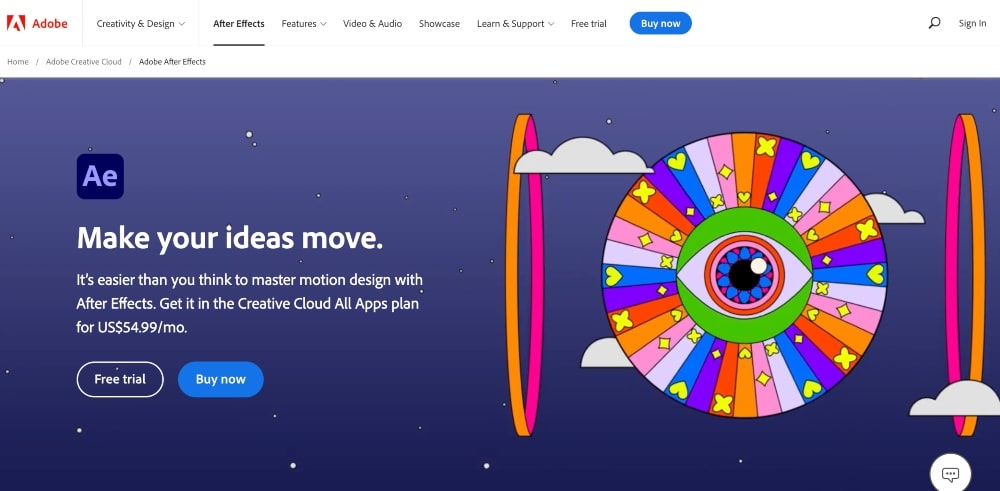 One of the most notable features of Adobe After Effects is its ability to create stunning motion graphics. You can generate dynamic animations and add complex movement to your compositions.
Another great feature includes 3D modeling capabilities, allowing you to work with 3D objects directly within the program itself.
As well as creating objects from scratch, you can also bring in existing models created with programs such as Autodesk Maya or Blender, giving you complete control over the 3D environment inside After Effects.
You can also animate and render 3D images along with 2D objects, making it easy to create highly detailed projects.
One of the most useful features of Adobe After Effects is its particle system, which allows you to create stunning effects in videos such as smoke, fire, and explosions.
Particles are simulated using fluid dynamics or calculations based on physics principles which enable users to produce amazing imagery with realistic movements, textures, and shadows.
This tool is incredibly powerful for creating special effects shots for film and television productions.
Adobe After Effects also offers powerful layer-based compositing tools that you can use to combine multiple elements into one image or video sequence quickly and easily without having to use other external applications such as Adobe Photoshop or Premiere Pro.
This makes it easy for filmmakers and animators working on tight schedules to quickly put together complex visuals without wasting time switching between different programs.
It also provides powerful features such as inverse kinematics (IK) rigs and drawing tools to make animation easier – all with flexible pricing.

Key Features
Intuitive user interface
Powerful drawing and animation tools
Inverse kinematics (IK) rigs
Audio synchronization and lip sync capabilities
Flexible pricing plans for individuals, teams, and businesses
Educational discounts available for students and teachers
Has a lot of room for growth in skills and capabilities
Pricing:
Creative Cloud (All Apps): $54.99/month
Students and Teachers: $19.99/month
Business: $84.99/month per license
Our Opinion:
Adobe After Effects is a powerful animation and motion graphics software used by professionals in the film, TV, and advertising industries.
With it, you can create stunning visuals using 3D tracking, particle simulations, color grading tools, rotoscoping capabilities, and more.
While Adobe After Effects is a powerful tool, it also has a steep learning curve and is generally a better choice for professional animators or anyone with more experience in video editing software.
Best for: Free animation software
If you're someone looking to create compelling animations without breaking the bank, Blender is your best option.
Not only does it come with no monetary commitment, it houses a wealth of features such as rigging and modeling that opens up endless possibilities for those on a budget!
Blender is a powerful and free, open-source 3D animation software that has become hugely popular in recent years among animators of all levels.
It is incredibly versatile, allowing you to create detailed animations with realistic materials and textures, simulate characters with physics-based rigging, build complex worlds with modeling tools, and even render complete projects from start to finish.
Key Features:
3D modeling, animation, and rendering
Professional tools for realistic simulations
High-quality real-time viewport display
Advanced particle system with collision detection
Fast reactions to changes in the scene
Photo realistic rendering engine
Subdivision surface support
Animation curve editor for editing movements and timing in animations
Nonlinear video sequence editor for creating cinematic effects
Integrated node-based compositing application
Pricing:
Blender is a free animation software that is also open-source.
Our Opinion:
Blender is a great free animation software that offers a ton of features. It's best suited for beginners or anyone who is looking for a budget-friendly option.
For anyone who wants more from their projects, Blender has plenty of room for growth in terms of capabilities and skills.
Best for: iPad users and digital art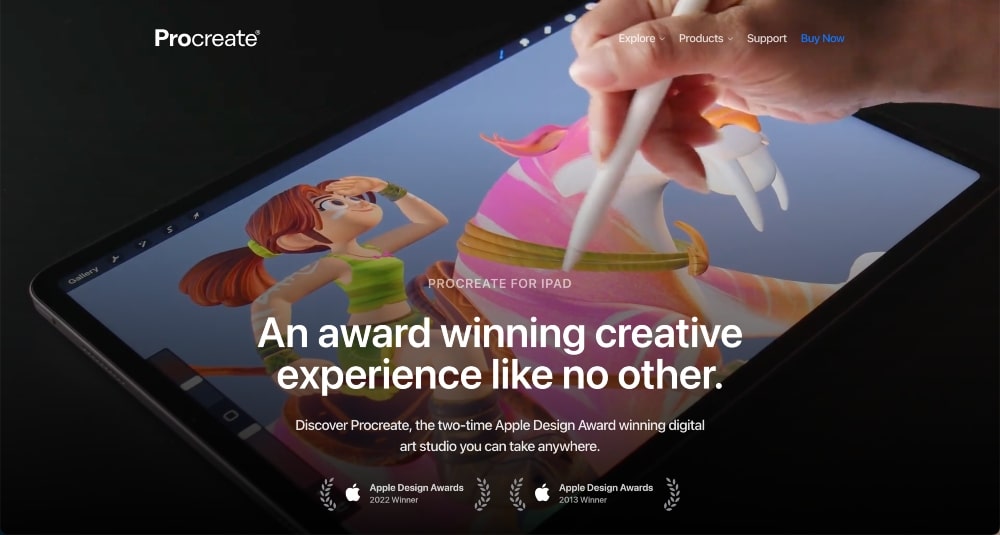 Procreate is an app developed by Savage Interactive that offers a comprehensive suite of digital painting and drawing tools for creative professionals, illustrators, graphic designers, concept artists, and animators looking to bring their work to life.
It features a wide range of brushes and textures, each with customizable brush settings such as size, opacity, and flow.
It also integrates with the Apple Pencil which provides an even more naturalistic feel when sketching or painting on the iPad screen.
Procreate also includes advanced drawing tools such as symmetry options and perspective guides.
You can adjust the canvas to your desired size and resolution, allowing you to create works on par with traditional animation techniques.
Layering options also allow for greater flexibility when creating artwork.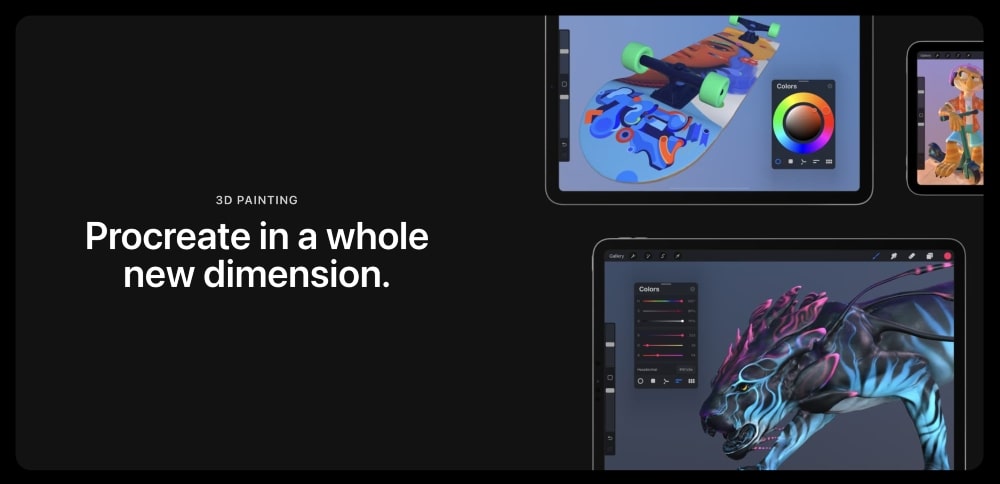 Key Features:
Powerful brush engine
Multi-layer painting tools and drawing tools
Video animations, GIFs, and time-lapse recordings
Export to popular file formats (PSD, PNG, JPG)
Multiplane cameras for 3D effects
Ability to add effects to your artwork
Share animations online
Pricing:
You can purchase Procreate from the App Store for a one-time payment of $12.99.
Our Opinion:
Procreate is the best animation software for iPad users because it has lots of different features that make it easy to draw, paint, and create animations with precision.
It's great for those who are just getting into animation as well as professionals looking to create stunning artwork on the go.
Best for: Creating cartoons and 2D animations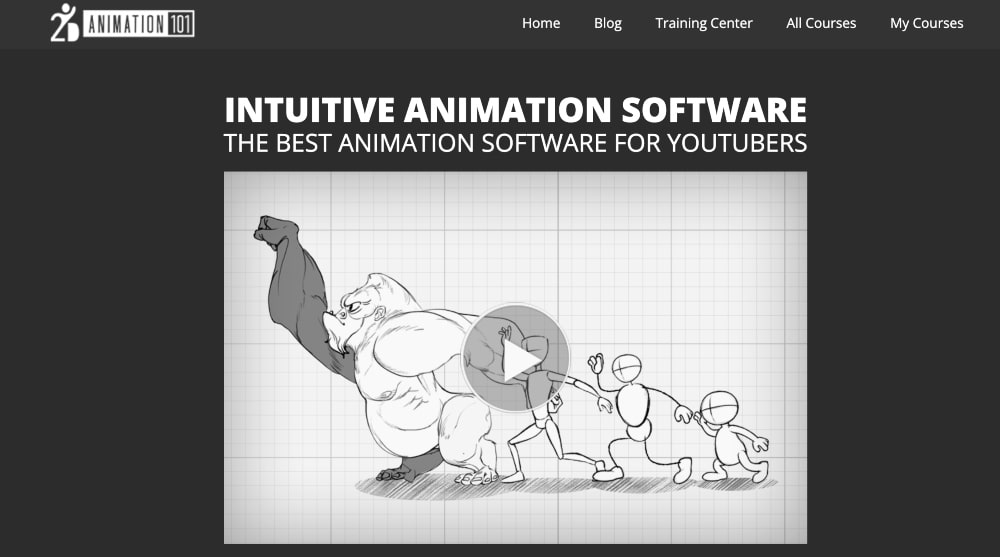 Cartoon Animator 4 is an animation software that you can use to quickly and easily create stunning cartoon-style animations.
It comes with advanced tools for creating both 2D and 3D animations, including editing objects, rotating, mirroring, warping, and much more.
One cool feature is the auto lip-sync technology to automatically sync the character's mouth movements with any audio clip you import into the program.
Other features include facial puppet controls to add expression and subtle nuances to your characters, facial tracking to track the faces of real people in order to create more lifelike 3D avatars, a powerful physics engine that adds naturalistic movements like gravity, collisions, forces, and more, and simple animation layering.

Key Features:
User-friendly interface
Body rigging to create complex movements
Physics-based facial rigs for greater control when crafting intricate expressions
Interactive cloth simulator that simulates natural fabric draping
Particle effects for adding dynamic special effects
Camera lens effects to manipulate the composition of scenes on the fly
Basic scripting capabilities to write custom commands in Lua or JavaScript languages
Support for After Effects plugins that extend Cartoon Animator's capabilities even further
Free tutorials for fast learning
Pricing:
Pipeline Training Bundle: $229
Pipeline Facial Focal Bundle: $299
Our Opinion:
Cartoon Animator 4 is a great choice for 2D animators who are looking for easy-to-use powerful animation software.
It has lots of features to help them make amazing animations, like tools that make it easier to draw and add effects.
Best for: 3D animation software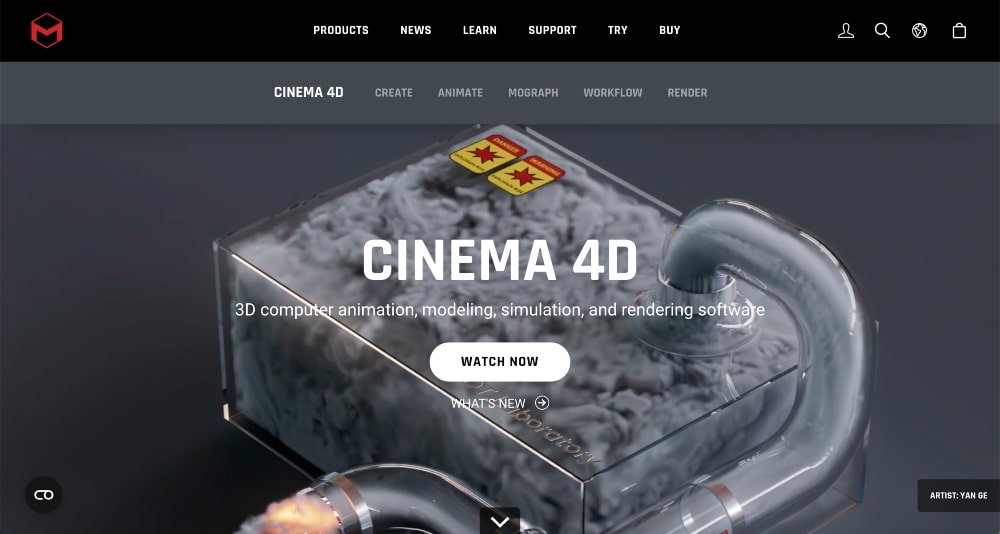 Cinema 4D is a powerful 3D rendering and animation software suite designed by MAXON Computer GmbH.
It's used in many industries, including film, television, motion graphics, architecture, industrial design, and video game development.
It offers an easy-to-use interface that provides complete control over the animation process with comprehensive tools and features.
The renderer in Cinema 4D is top-notch, with Global Illumination (GI) solutions like Physical Renderer or V-Ray RT being available as compatibility plugins.
This helps ensure that your renders look realistic with accurate light sources and shadows that reflect the real world faithfully.
Not only that but it also supports multi-pass rendering which allows you to tweak individual elements of your image separately for maximum control over the final result.
The animation capabilities provided by Cinema 4D are another area where this animation software stands out from the others.
You can set up keyframes, splines, and other parameters easily, allowing you to create smooth animations without any hiccups along the way.
The Motion Camera tool also allows you to add camera movement effects while still keeping everything within frames so that nothing looks out of place or unnatural when rendered later on down the line.
Finally, with tools like MoGraph and Dynamics at your disposal, creating complex scenes with multiple elements interacting with each other in realistic ways has become easier than ever before!
This makes Cinema 4D an incredibly versatile choice when it comes to anything from creating motion graphics to detailed architectural renders.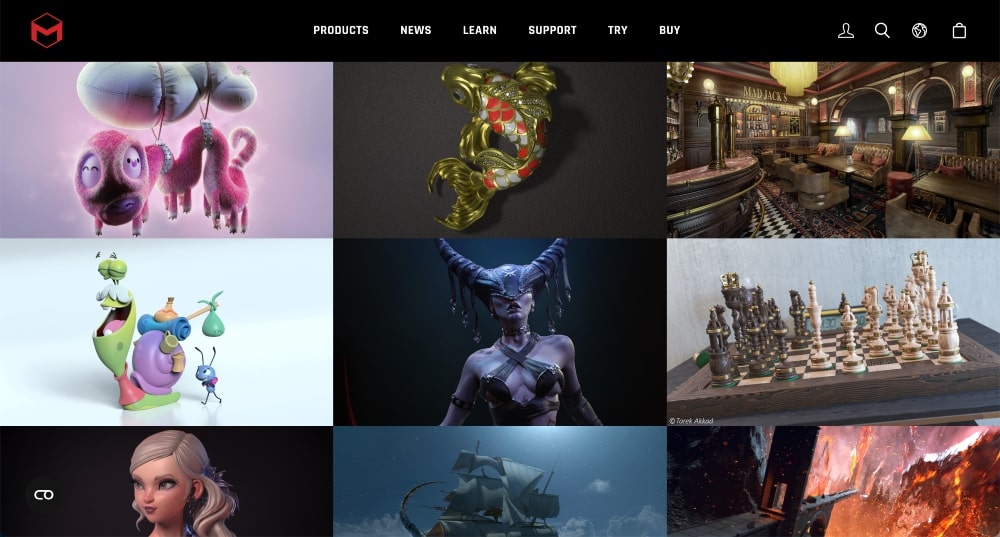 Key Features:
Nonlinear animation workflow
Advanced camera sequencer and motion tracker
Comprehensive modeling toolsets including sculpting, painting, splines, and polygonal modeling
Physically based rendering engine with advanced features such as Global Illumination, Ambient Occlusion, and more
Ocean Simulation system for creating realistic ocean effects in 3D scenes
Completely customizable node-based material system for creating complex materials
Texture baking to generate normal maps from high-detail models onto low poly ones.
MultiPass rendering support for composing complex images out of multiple render elements.
Pricing:
Maxon One: $99.91/month
Cinema 4D: $59.91/month
They also have additional software and plugin add-ons for an additional cost.
Our Opinion:
Cinema 4D is an excellent choice for 3D animators and designers who are looking for powerful software to create stunning models, scenes, and animations.
Best for: Character animation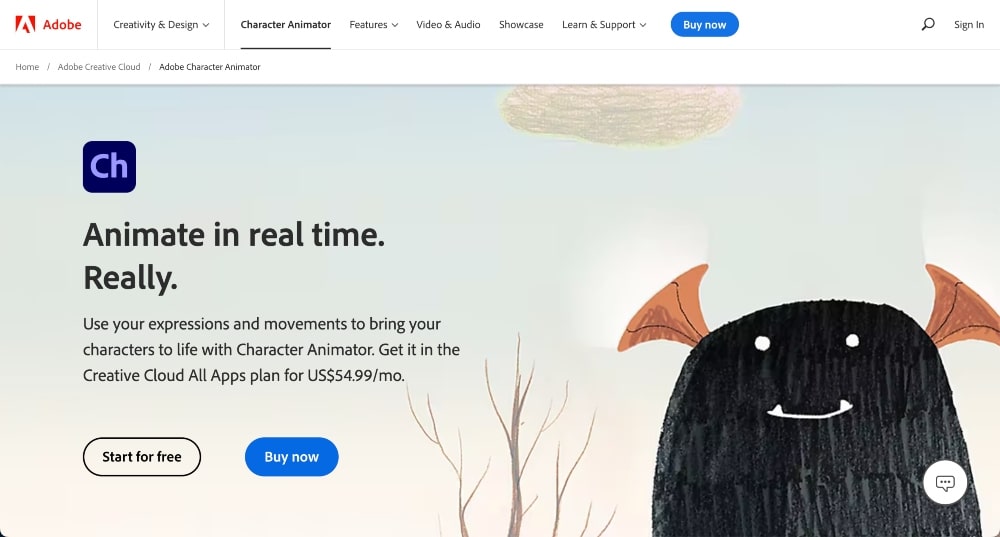 Adobe Character Animator is an animation tool from Adobe Systems used to create interactive animations for a variety of animated characters.
With intuitive controls and an array of options for customizing your character's look and movement, you have full control over every aspect of the process.
You can change hair color, eye size and shape, body type, clothing style, accessories – even expressions!
You can also record audio dialogue or lip-sync existing audio recordings directly within the program.
You can also add interactive elements such as buttons or triggers that will make your characters react or move when clicked on.
These interactive elements are great for creating games or interactive experiences using your characters as avatars.
Additionally, Character Animator offers powerful rigging tools which allow you to quickly rig up characters with properties like arms and legs so they can walk around in their environment.
Character Animator is one of the most versatile animation programs out there – allowing users of all skill levels to bring their projects to life with ease.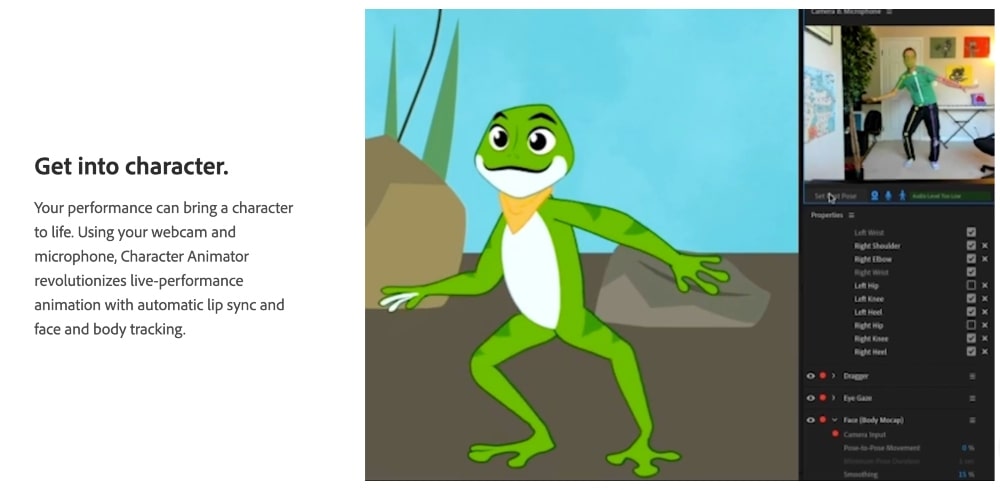 Pricing:
Creative Cloud All Apps: US$54.99/month
Students and teachers: US$19.99/month
Business: US$84.99/month per license
Key Features:
Real-time facial motion capture using your webcam
Record audio narration and lip sync dialog in real time for natural-sounding characters
Create reusable character rigs with layers, groups, transform control handles, and animation triggers
Animate complex scenes with multiple characters by linking poses to master controllers
Use physics effects to apply realistic movements to layered artwork like fabric or hair blowing in the wind
Control settings like gravity, bounce, and inertia on objects in a scene
Preprogram behaviors via AI Markers that allow you to direct a character's behavior without scripting or keyframing
Design custom puppets from 2D artwork using built‑in templates or create 3D artwork for dynamic depth-of-field effects.
Our Opinion:
Adobe Character Animator is an excellent choice for anyone looking to create and animate characters.
Best for: Beginners and budget-conscious users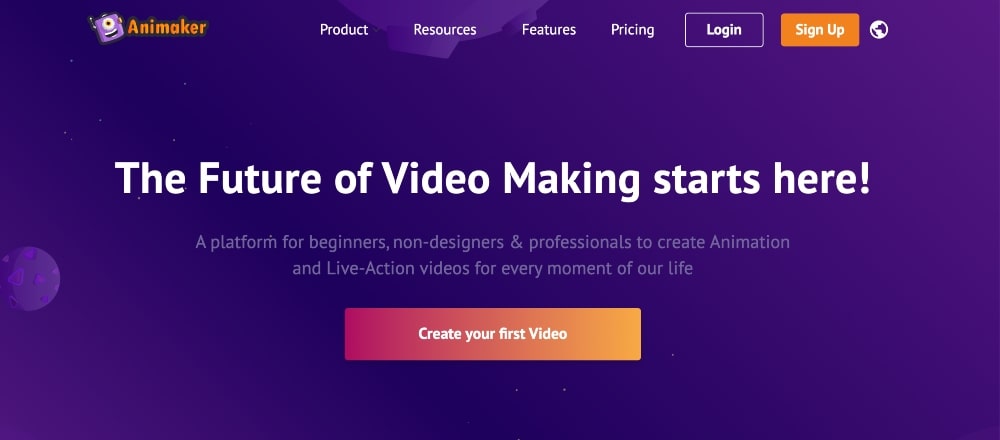 With this video animation software, you can quickly and easily create animated videos in a variety of styles, including 2D and 3D animations, whiteboard animations, explainer videos, typography animations, kinetic typography, and more.
Animaker provides the creative spark you need to make your video with professionally made templates, and customize it further with over 15 facial features and 10 accessory slots – giving you complete control of building the character that will help bring your videos to life.
For starters, Animaker offers a wide range of video templates that you can customize by adding your own logo, soundtracks, and graphics.
There are also highly detailed character designs at your disposal which make it easy to bring any story or concept to life
In addition, Animaker allows you to add custom transitions between scenes for a smooth flow.
With the music library provided in Animaker, you can add relevant background music to your project as well as voice-overs in multiple languages – making your work truly multilingual.
Another great feature of Animaker is its ability to incorporate photo slideshows into your project.
You can also add charts, diagrams, and special effects such as snowflakes or fire sparks in order to grab attention visually.
The built-in animated elements give you access to over 200 pre-animated objects that will help you get the job done faster without having to start from scratch each time.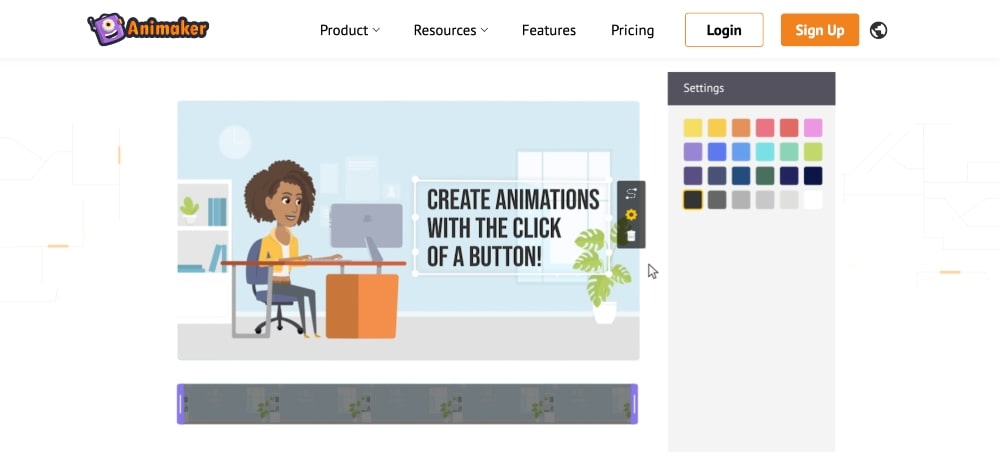 Key Features:
Easy-to-use, drag-and-drop video editing
Hundreds of professionally designed templates to choose from
Access to royalty-free stock images, videos, music, and sound effects
Watermark your content
Record your own voice
Text-to-speech facility for creating voiceovers and subtitles
Collaboration tools for team projects
Variety of export formats (MP4, GIFs, HTML5)
Cloud support for project backup and collaboration
Pricing:
Basic: $10/month for up to 5 minutes of video length
Starter: $14/month for up to 15 minutes of video length
Pro: $49/month for up to 30 minutes of video length
Enterprise: Custom pricing for unlimited video length
Our Opinion:
Animaker is a great choice for those on a budget looking to create simple animations. It's very beginner friendly but probably not comprehensive enough for experienced professionals.
For people just starting out with animation, Animaker is a great choice.
Conclusion
Finding the right animation software can be a difficult task, but it is important to make sure you get one that meets your needs.
Here is a summary of our top picks for the best animation software:
We hope this article has provided you with all the helpful information so that you can choose the best option for you.
No matter what type of user you are, we're confident that with these options in mind, you'll find the perfect animation software to fit all of your needs!