We partner with bada$$ companies that offer products that help our readers achieve their goals! If you purchase through our partner links, we get paid for the referral at no additional cost to you! Read our disclosure for more info.
Photo scanning software is really useful for anyone that wants to transition their old, analog photos into a new, and even enhanced, digital format.
Some people wish to do this to preserve older photos or store additional copies of photos in the cloud.
The cool thing about photo scanning software is that it does so much more than just scanning, including editing and enhancing photos, color correction, collages, slideshows, gifs, and more.
There are a lot of factors to consider when you're choosing the best photo-scanning software and it really boils down to your purpose.
If you need more bells and whistles, make sure to select software that comes with a lot of added features.
In this article, we'll cover the best photo scanning software, including special features and who each software is best suited for.
Here is a summary if you want to jump ahead to the best photo-scanning software:
What is the Best Photo Scanning Software?
Best for: Overall top choice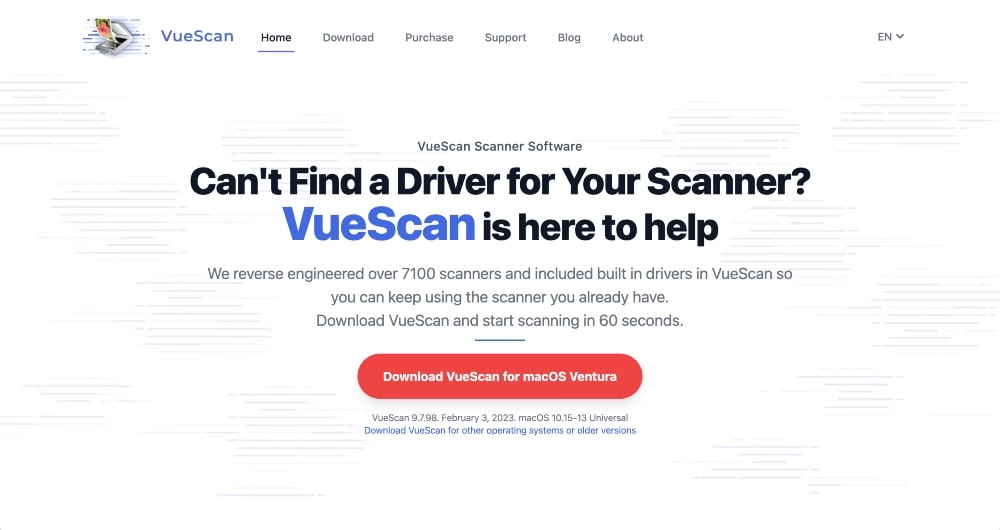 VueScan is a powerful photo-scanning software with features such as automated scanning, multi-image scanning, image correction, color management, multiple file format support, batch processing, and more.
It supports over 7100 scanners from 42 manufacturers, including Canon, Epson, HP, Kodak, Fujitsu, and others.
The key features of VueScan include advanced Auto Scanning mode, which allows you to quickly scan multiple photos at once by automatically detecting borders and cropping them while maintaining their original size and orientation.
You can also add customized labels to each photo during the scanning process.
Additionally, the software has an image correction tool that can help improve the quality of scanned images by correcting exposure issues such as over-exposure or under-exposure.
Color management tools allow you to adjust hue and saturation levels in order to achieve accurate colors when printing out photos or sharing scans online.
VueScan also provides support for batch processing, which allows you to quickly apply changes on multiple images simultaneously rather than having to edit each one separately.
The software comes with several presets for various tasks such as creating thumbnails for web use or creating sharpened prints from digital copies.

Key Features:
Support for over 7000 scanners
Output to multiple file formats including PDF, TIFF, and JPEG
High-resolution scanning with built-in OCR engine
Comprehensive image adjustment tools
Easy color correction tools and options
Built-in RAW image support
Multi-page document scanning options
Works with Windows, Mac, and Linux systems
Supports both flatbeds or film/slide scanners
Pricing:
The following are one-time payment costs for VueScan:
Basic Edition: $24.95
Standard Edition: $49.96 + Document Feeders and save as PDF/TIFF
Professional Edition: $99.95 + Film/Slide Scanners and saving in additional formats
You can also choose monthly payments of $9.95 for the Standard Edition or $19.95/month for the Professional Edition.
Our Opinion:
VueScan is our top choice for the best photo scanning software. If you want quick and reliable results with a lot of options for editing and exporting, VueScan is where it's at.
It's easy to use and affordable, so it's really a no-brainer.
Best for: Scanning documents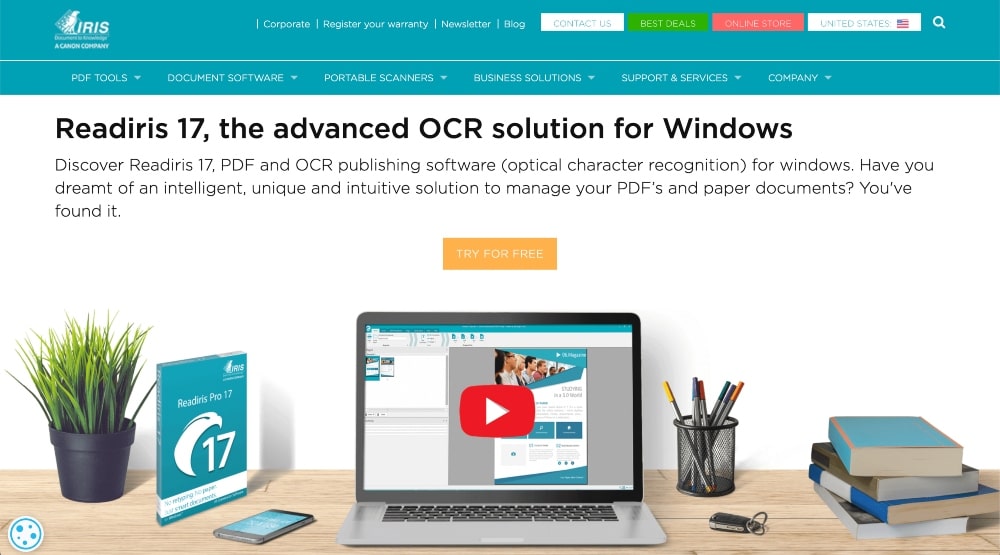 Readiris 17 is the latest version of a highly acclaimed photo scanning software developed by I.R.I.S.
With its advanced document recognition technology, Readiris 17 allows users to quickly and accurately scan large quantities of images in multiple formats, including JPEG, TIFF, PNG, and PDF.
Using Readiris 17's scanning wizard tools, you can easily select multiple photos from your digital cameras or memory cards, specify settings such as image size and resolution, choose an output format (PDF or image), and start the conversion process.
Readiris 17 also offers a wide range of editing features including crop and rotate, resizing/resampling, red-eye removal, and color adjustment as well as other document transformation options such as page splitting or page merging.
Documents can be exported directly to popular cloud storage services such as Dropbox or Google Drive for safekeeping or easily shared via email attachments or social networks.
Thanks to its advanced OCR capabilities – Optical Character Recognition – you can easily extract text from scanned pages for further editing within common text editing applications such as Microsoft Word or Apple Pages.
This makes it especially useful for businesses that need to store sensitive information in a secure but accessible format.
You can also find tons of helpful tutorials on their website!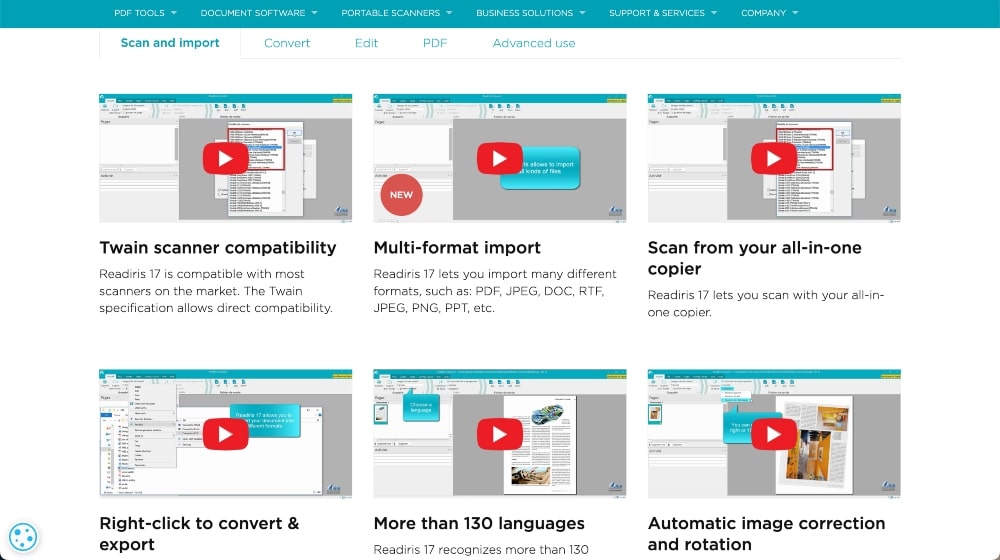 Key Features:
Automatically converts scanned documents into text
Edit and modify your PDFs with ease
Create searchable PDFs from paper documents
Recognize multiple types of formats (PDF, Word, Excel, etc.)
Organize files in desired file format for quick access
Highlight important elements within a document
Easy-to-use, drag-and-drop interface
Advanced OCR technology for improved accuracy and recognition speed
Supports over 130 languages
Pricing:
Readiris Pro 17: $99
Readiris Corporate 17: $199 + includes PDF splitting, password protection, batch processing, and more
You can also download a free trial from their website.
Our Opinion:
Readiris 17 is a great document scanning tool that makes it easy for anyone to digitize their physical documents. This is our top choice if you're working with a lot of documents because it also comes with options to modify, organize, and protect your files.
Best for: Budget-friendly beginner option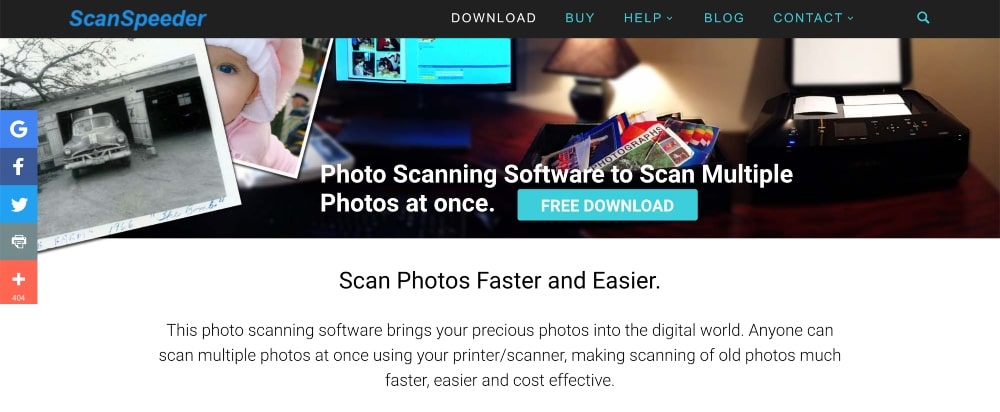 ScanSpeeder is a photo scan software that will help you quickly and easily scan, edit, and manipulate images without having any specialized knowledge or skills.
ScanSpeeder provides various tools for improving both quality and clarity when it comes to scanned images such as color adjustment options, image sharpening techniques, and more.
It also makes use of advanced Optical Character Recognition (OCR) technology which recognizes text from scanned images and converts them into editable formats such as Microsoft Word, PDF or HTML.
This enables users to quickly search for information, copy text from scanned documents, make corrections or additions to existing text, add bookmarks, and other annotations, etc.
Another great feature included with ScanSpeeder is its wide range of scanning options. Depending on your individual needs, you can select specific areas of a document to scan or set up automated batch-scanning processes for high-volume tasks.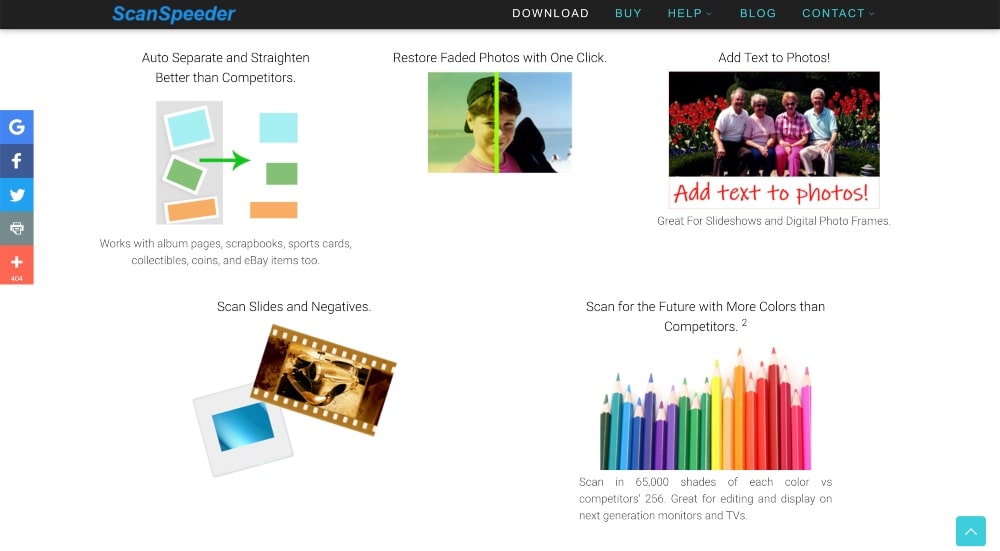 Key Features:
Automatically scan multiple photos in a single pass
Enhanced image quality and color accuracy with ICC profiles
Auto crop and straighten feature for full photo scans
Intelligent Photo Recognition to detect faces, edges, and orientation of each frame
Advanced software tools such as red eye removal, dust reduction, etc.
Scan directly to cloud services like Dropbox, Box, or Google Drive
Compatible with Mac OS X 10.7+ and Windows 7/8/10
Pricing:
Standard Edition: $29.95
Pro Edition: $39.95 (includes document processing)
Our Opinion:
ScanSpeeder is an incredibly budget-friendly software for scanning photos. Even the pro edition is super affordable, with no monthly fees.
Not only does it save users time by automating certain tasks but it also produces superior results thanks to its advanced OCR technology and powerful post-processing tools.
Best for: Use on mobile devices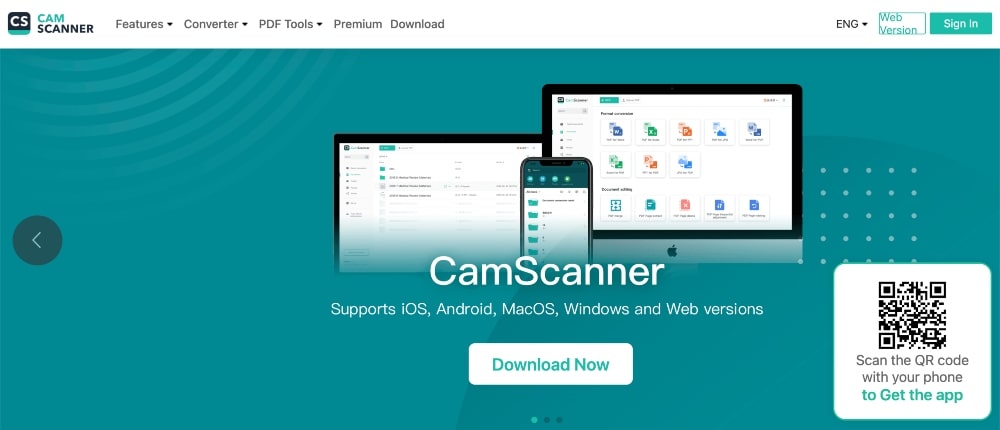 CamScanner is a popular mobile scanning software used to convert documents and images into digital formats.
It has a simple and intuitive user interface that makes it easy to scan and store files such as photos, ID cards, invoices, receipts, business cards, and more.
The app uses advanced algorithms to detect document edges, auto-enhance the quality of images for clear visibility, and enhance the readability of text.
It also comes with features such as Magic Color, Shadow Removal, Smart Cropping, and Image Enhancement that help improve image quality.
Additionally, it supports OCR, so you can extract text from images and save them in either PDF or TXT format for further editing.
CamScanner also has a great customer service team available 24/7 that is always willing to answer any questions or inquiries users might have while using their product.
The app also has multiple language support including English, Spanish, Chinese, and French.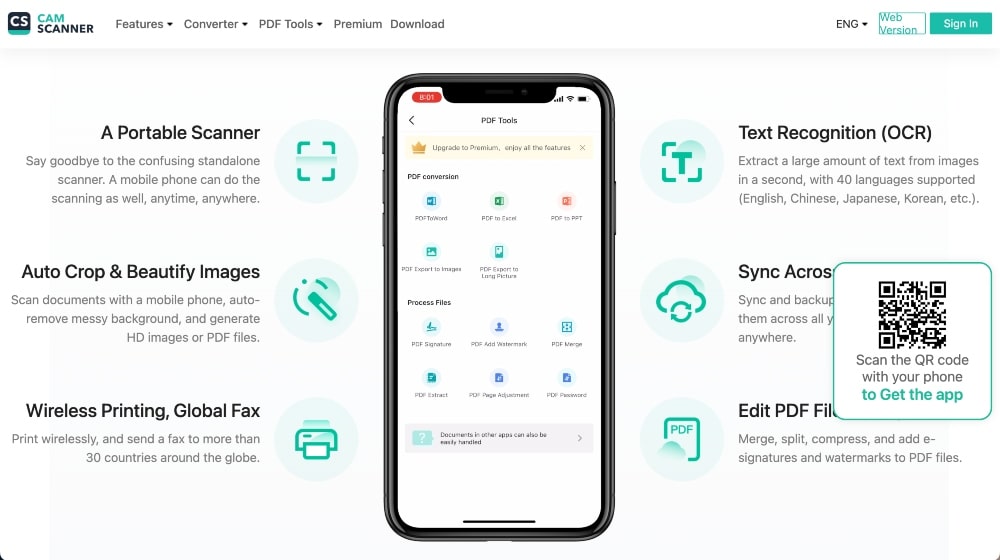 Key Features:
Image modification and enhancement tools
Collaborative features like annotation tools for adding signatures or notes on scanned documents
Sharing options via many different platforms such as email, Dropbox, or Evernote
Password protection for secure sharing
Batch download mode for multiple files
Best view option to fit document in the device's display
Instant uploads to cloud storage services such as Google Drive and OneDrive
Set up automated backups of scan documents to maintain an organized library
Automatic backup of all scans before deleting them
Auto-sync feature that allows users to access data across multiple devices simultaneously
QR code scanning capabilities to quickly obtain information from various sources
Pricing:
Basic: Free version with up to 3 folders and 200MB of cloud storage
Premium: $4.99/month with unlimited folders and up to 10GMB of cloud storage
Business: $6.99/month/user with additional features
Our Opinion:
CamScanner is an incredibly useful and versatile application that can be used for a variety of tasks ranging from document scanning to converting photos into digital formats with ease.
It's our top pick for use on mobile devices because of the easy-to-use smartphone app with the free version!
Best for: Scanning old photos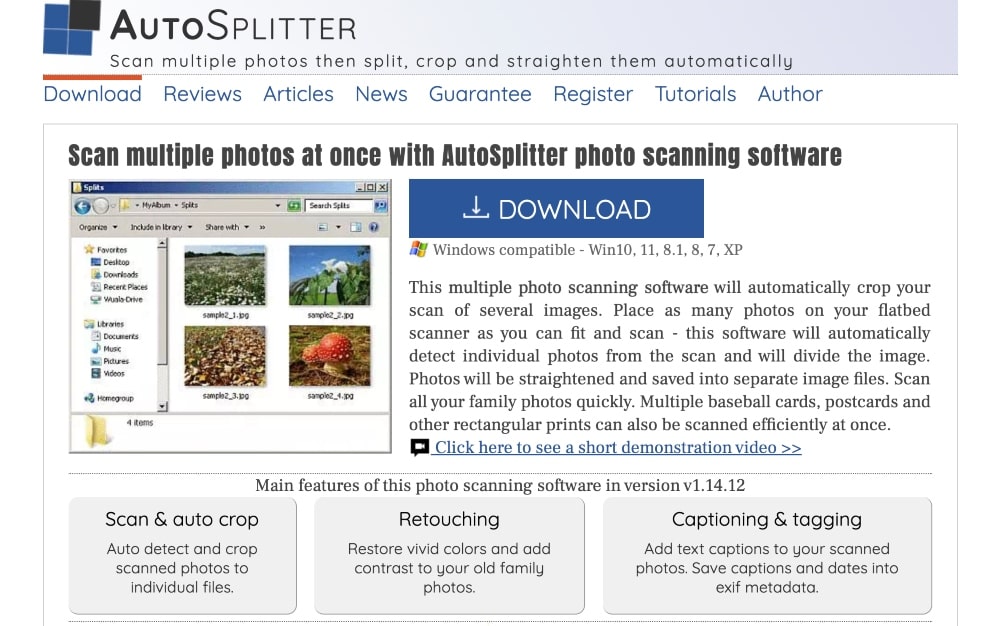 AutoSplitter is a comprehensive photo scanning software that helps users quickly scan, crop, and rotate individual photos and documents.
This software uses advanced algorithms to detect edges accurately, which makes the process easier than ever before.
AutoSplitter offers several image enhancement features such as sharpening, contrast adjustment, and color balance control.
The latest version of AutoSplitter also includes support for OCR to recognize text within your scanned images for easy editing or archiving purposes.
AutoSplitter also comes with a host of other useful tools such as red eye correction for improving digital photos and a variety of other tools for general image manipulation tasks such as cropping or resizing images.
Other features include the ability to scan photos in batches for large collections of images as well as automated archiving tools for organizing images.
Additionally, the software includes an automatic rotation feature that automatically rotates scans based on the orientation of each individual photo or document.
In addition to its convenience and speed benefits, AutoSplitter also offers advanced security measures that ensure the integrity of images is maintained during processing sessions.
It allows users to set up password protection to restrict access to specific folders containing sensitive data such as confidential documents or banking records.
The program also enables you to store scans securely in cloud storage services like Dropbox or Google Drive so they can be accessed remotely.
Key Features:
Automated photo splitting and batch processing
Automatic edge detection for easy cropping
Advanced settings for customizing the scanning process
Compatibility with multiple types of scanners
Support for a variety of file formats (JPEG, TIFF, PNG)
Ability to adjust brightness and contrast levels in images during scanning
High-speed performance with multi-threaded processing
Real-time preview to ensure accuracy before saving scans
Compatible with Windows, Mac OS X, and Linux platforms
Accessible user interface optimized for ease of use
Pricing:
Basic: $19.99 with free updates for 30 days
Gold: $29.99with free updates for 2 years
The features on the two plans are the same. The only difference is the length of time you have access to free updates and upgrades for the software.
Our Opinion:
AutoSplitter has a wide range of editing and modification tools, which makes it a great scanning tool for old photos.
Best for: Professional Enhancement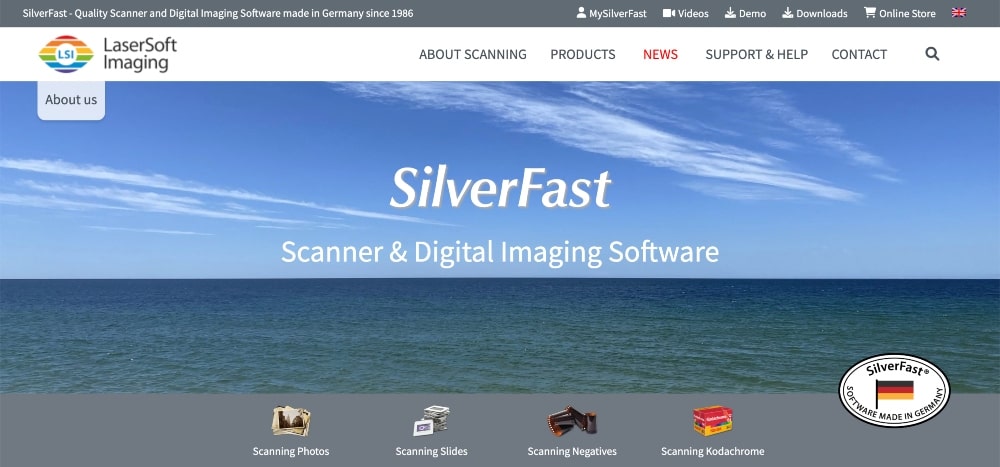 SilverFast is a photo scanning software designed to provide an automated workflow, which makes the process of digitizing photos fast and easy.
It supports both color negative and positive film formats, as well as slides and other types of material.
SilverFast includes intuitive controls for adjusting brightness, contrast, exposure levels as well as color balance settings.
In addition to regular scanning modes such as 35mm slide/film scans or single page documents, SilverFast offers many more advanced options including batch scanning mode for multiple images at once or Multi-Exposure mode for increased dynamic range in the scanned image.
When using Silverfast's dust/scratch removal tool you can easily clean up any dust marks on your scanned image without having to manually retouch it in photo editing software afterward.
This feature works by analyzing the image data and identifying areas where scratches or dirt are present before automatically removing them from the scanned image with minimal effort from the user.
You can also use this tool to reduce general noise in your scans if needed by using its Noise Reduction functionality.
SilverFast also includes ICC color profiles support which enables you to apply various color spaces such as sRGB or Adobe RGB when scanning multiple photos or slides into a digital format while maintaining their true colors precisely and accurately.
It also provides a variety of tools that let you adjust tonal values in highlights and shadows separately in order to achieve better printing results when outputting your scans.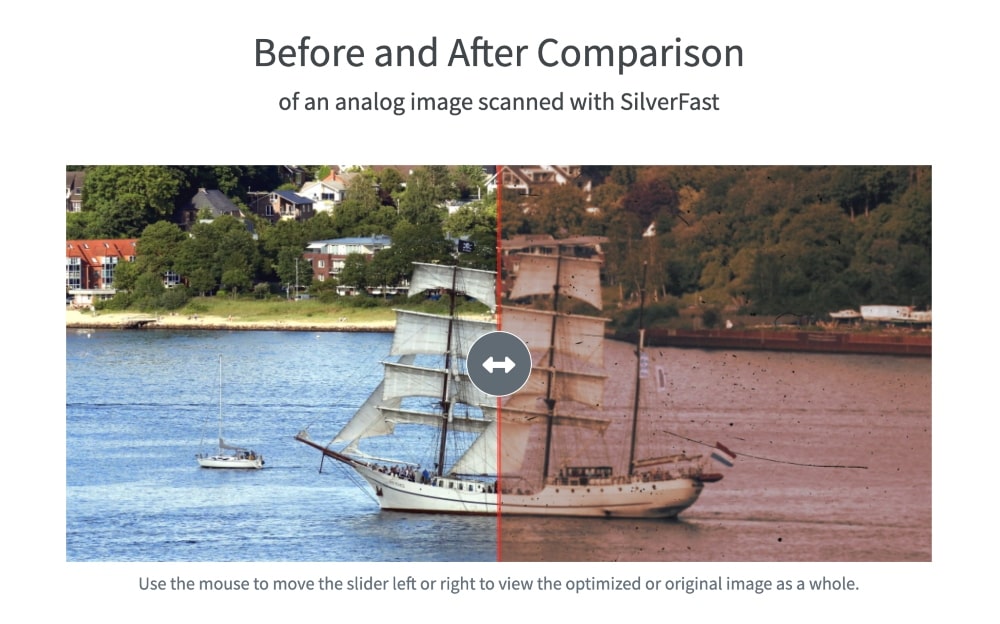 Key Features:
Automated image optimizations
Scanner calibration and profiling
Support for various scanners, cameras, printers, and media types
Image correction tools including histogram manipulation and tone curve editor
Color management system with ICC Profiles support
48-bit color depth mode to preserve color information more accurately than the standard 24-bit mode
Multi Sampling feature to reduce noise
Selective Color Correction Adjustment tool
HDRi High Dynamic Range Imaging technology for creating higher dynamic range images from several exposures of the same scene.
Pricing:
The pricing for this software depends on the type of scanner that you own.
Our Opinion:
SilverFast has professional-level photo editing tools built into its software that make it our top choice for anyone who wishes to do a lot of enhancement after they scan photos.
Best for: Batch scanning photos
Scanitto Pro is an advanced photo scanning software that also has features such as batch scanning, cropping and rotating images, as well as creating thumbnails, albums, and other types of digital scrapbooks.
You can apply effects such as brightness adjustment, contrast adjustment, gamma correction, or color balance, as well as use the advanced auto-correct feature to automatically correct errors.
With Scanitto Pro, you can also create PDF documents from your scanned photos and easily share your photos or docs via email or online through social channels.
One of the most useful features of Scanitto Pro is its Photo Restoration Tool which helps users improve old photographs by restoring faded colors and repairing damaged areas.
This tool can be used to fix red-eye caused by flash photography or even remove dust particles from prints.
Scanitto Pro also provides a unique feature called Photosync, which synchronizes changes made in the scanned photo with its original version so that any updates made will be reflected on both versions simultaneously.
Key Features:
Scan photos or any type of document with support for over 200 scanning devices
Automatic color detection and image rotation
Adjustable resolution settings (from 100 to 600 dpi)
Automatically create multi-page PDF files from separate scans
Batch scan multiple documents at once with built-in scanner feeder support
Filter separate image files by color, size, orientation, and more
Share and store your scanned documents directly with cloud services such as Google Drive or Dropbox
Save time on tedious tasks with powerful editing tools including copy/cut/paste & drag & drop options
Quickly process large volumes of data using the automated OCR engine for text recognition
Compatible for Mac and Windows
Pricing:
$29.95 for a single license
$199 for multiple licenses
Our Opinion:
One of Scanitto Pro's best features is batch-scanning your photos to save time. In addition to that and the rest of its comprehensive features, it's also a really solid budget-friendly option.
Best for: Shared networks and remote scanning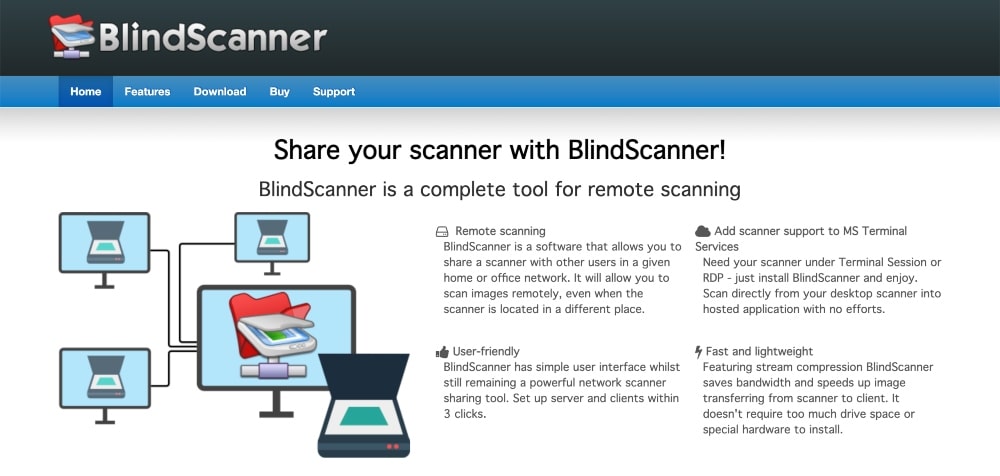 BlindScanner is an advanced scanning software designed to that can connect to scanners on your local or remote network (i.e. home office or office away from home).
It can also scan both local and remote networks for various threats, vulnerabilities, and malicious software.
The software utilizes a variety of techniques in order to thoroughly scan the network for all possible threats, including port scanning, packet sniffing, and active reconnaissance.
It can also detect malware or spyware that may be present on the system.
In addition to detecting threats, BlindScanner also provides users with detailed reports about their networks' overall health. These reports contain information such as which ports are open or closed, how many computers are connected, what type of traffic is flowing through each port, as well as detailed information about every device connected on the network.
This allows you to ensure that your networks remain secure at all times.
With BlindScanner, you can scan and upload photos and documents to your shared networks (for personal or home use).
It also comes with many of the other common editing and modification tools mentioned in this list.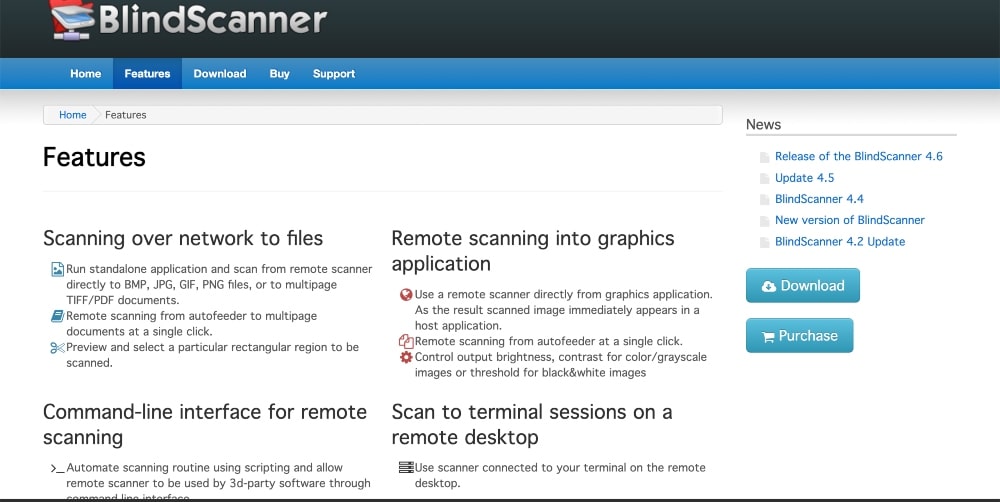 Key Features:
Scanning documents, images, and text quickly and accurately
Automatically detect single or double-sided documents
Adjustable scanning resolution up to 600 dpi
Support for multiple file types (PDF, JPEG, TIFF, etc.)
Customizable document scanning settings
OCR capabilities to convert scanned files into editable formats (Word, Excel)
Automatic cropping for scanned documents with uneven borders
Supports wireless printing from mobile devices & tablets
Compatible with Windows and Mac operating systems
Pricing:
Client License: $29.99
Server License: $249.99 (multiple computers)
Terminal Server License: $279.99 (multiple computers and servers)
Our Opinion:
BlindScanner is best suited for individuals or businesses looking for photo-scanning software for local or remote access in share networks.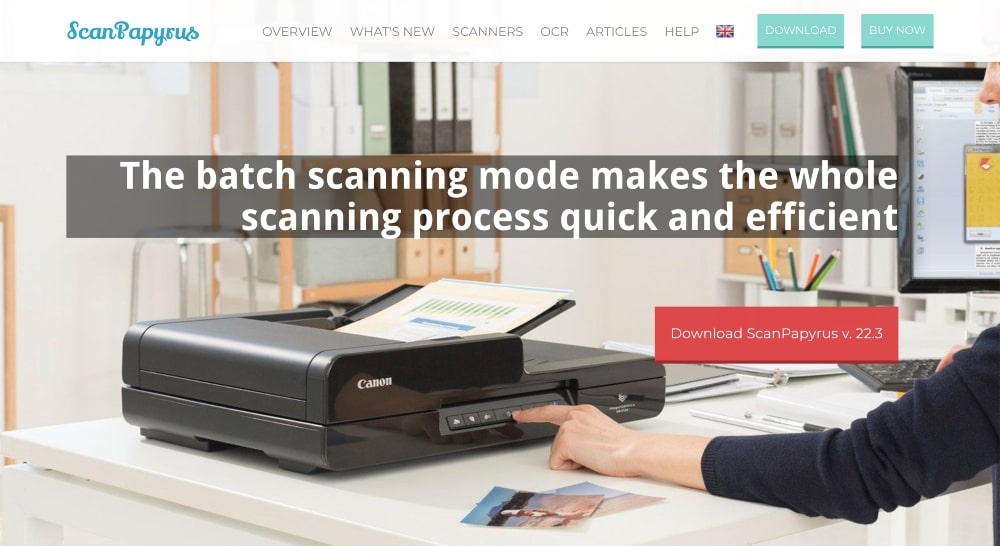 With ScanPapyrus, you can do more than just scan images – you can also quickly convert images into popular image formats like JPEGs and PNGs, as well as PDF files.
You can create multiple versions of the same file with different settings (e.g., sizes, resolutions, etc.), or perform basic editing such as cropping or rotating your scanned documents.
Like many of the other software for scanning photos on this list, it also has OCR technology to accurately text from document scans or photograph scans for easier editing or archiving.
There are several options available when you scan images in ScanPapyrus, including color correction, brightness/contrast adjustment, de-speckling tools, cleaning tools, and more.
ScanPapyrus is great to use when you need to scan books because you can scan two pages at once and therefore cut down on scanning time. The software automatically splits the pages in two for you.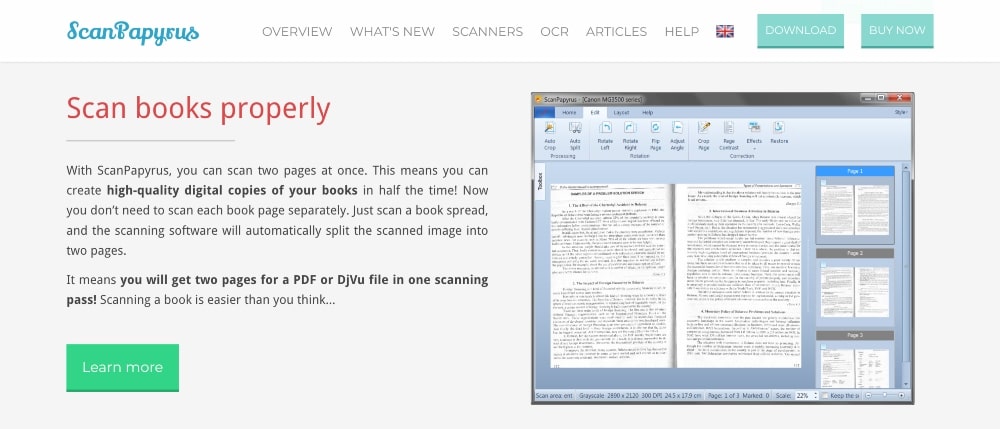 Key Features:
Automated scanning of paper documents
Easy 3 steps to digitalize any document
Scan multiple pages at once and in color or grayscale
Automatic image recognition and sorting of content
Ability to save scanned documents as PDF, JPEG, or other formats
Securely store and share files online
Create folders to store your scanned documents
Customize settings for optimal-quality scans
Pricing:
ScanPapyrus is $34.90 for home use.
Our Opinion:
Overall, ScanPapyrus is a really useful photo-scanning software for creating digital copies of any photos or documents, including books.
The double-page scan feature makes this software an ideal option for anyone that wants to create a digital copy of their books.
Best for: Smaller projects on mobile devices with access to cloud storage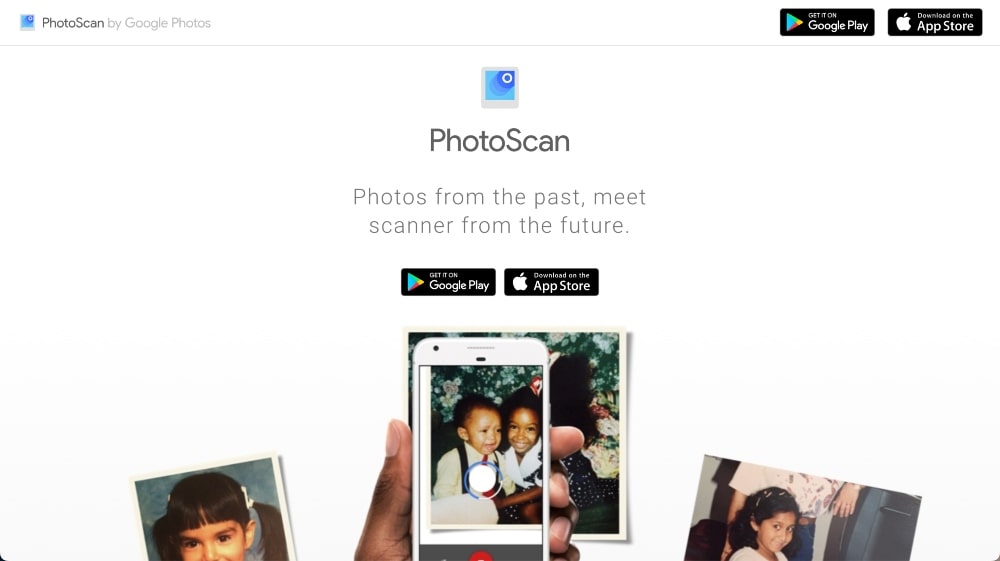 PhotoScan by Google Photos is an amazing photo editing app that can be used to quickly scan physical photos with your phone or tablet cameras and turn them into digital images.
With just a few taps, you can digitize your beloved physical photos and easily put them into a digital album or share them on social media.
PhotoScan also allows you to make minor adjustments to your scanned images, such as cropping, rotating, adjusting the exposure level, and adding filters.
The app also utilizes advanced facial recognition technology to detect faces in the photo so that they can be edited more accurately.
Additionally, PhotoScan's AI-powered Smart Enhance feature will automatically enhance your scanned photos using its auto-tone mapping feature while keeping all of your original details intact.
Another great feature of this app is that it comes with easy access to storage for all of your photos in Google Photos, which can be accessed from any device at any time.
If you run out of space in Google Photos on your device you can always back up your photos directly to Google Drive for safekeeping.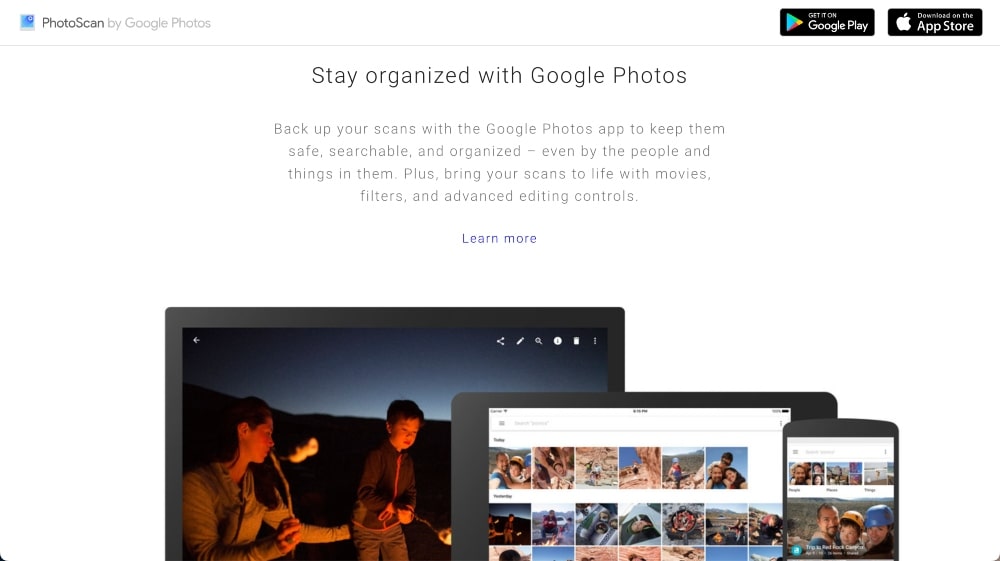 Key Features:
Automatically identify and remove glare
Easily share with friends and family
Create enhanced photos from existing physical photos
High-quality scanning of both color & black & white prints
One-click editing tools to enhance your scan results in real time
Save scans as digital photo albums or keep them on your device
Automatic cropping, rotation, contrast adjustment, and more
Batch scanning mode for quickly digitizing large collections
Pricing:
PhotoScan is a free photo scanning software to use for both Apple and Android.
Our Opinion:
PhotoScan is a great option for anyone who wants to preserve old physical photos in digital format with a phone app.
It has tons of features to help you edit your features and easy upload and access to your preferred cloud storage.
What is Photo Scanning Software?
Photo scanning software is a computer program that allows users to digitize analog photographs in order to preserve and share them digitally.
It works by moving a digital camera or scanner across the surface of the photograph, capturing small segments of the entire picture.
These images are then compiled into one digital file, which can be shared with others or stored for future access.
In addition to preserving memories digitally, photo scanning software also helps individuals restore old faded photographs back to life by creating high-definition versions of grainy prints.
By adjusting brightness levels and color saturation settings within the program's editor mode, you can enhance details in even the most damaged pictures—bringing out faces in once-blurred images and extracting long-lost memories from seemingly forgotten prints.
How to Use Photo Scanning Software
The first step in using photo scanning software is to select the photos you want to scan.
Some programs allow you to transfer your photos directly from their original paper format into the computer, while others require that the photo be placed on a flatbed scanner before it can be scanned.
Once your photos are loaded and ready for scanning, many programs will automatically adjust color balance and brightness levels to create optimal image quality.
Photo editing tools allow you to crop, rotate, sharpen, resize, or otherwise alter your images to achieve desired results.
You can also use photo scanning software to create collages and scrapbooks out of multiple images.
Additionally, some programs enable users to save images as GIFs (graphics interchange formats) or JPEGs (joint photographic experts group) for easy sharing with friends and family through social media networks such as Facebook or Instagram.
Summary of Photo Scanning Software
Photo scanning software has become increasingly popular over recent years due to its convenience and ability to help people restore and preserve their old photos.
Thankfully, with modern technology, we can also do so much more with our old memories.
Photo scanning software can be used to create digital prints, collages, slideshows, presentations, and so much more.
Here is a summary of our top choices for the best photo-scanning software: