We partner with bada$$ companies that offer products that help our readers achieve their goals! If you purchase through our partner links, we get paid for the referral at no additional cost to you! Read our disclosure for more info.
Are you looking for the best marketing books to help your business grow? From digital marketing and SEO to copywriting and sales strategies, these books will have you covered at every stage of your marketing career – from beginner to seasoned professional.
Whether you're looking to help your business grow or become an expert in the field of marketing, there is something for everyone here.
In this article, we will take a look at some of the best books on marketing that can give your business a boost in the upcoming year.
Each book is full of powerful marketing tips on a variety of subjects that can help you create a more successful marketing campaign or just improve your overall business strategy.
Whether you're just starting out or have been in your marketing career for years, you will find invaluable advice and insights on how to succeed in today's competitive market.
Make sure to also check out our list of top marketing courses if you're looking to up your marketing game!
30 Best Marketing Books
1. Hooked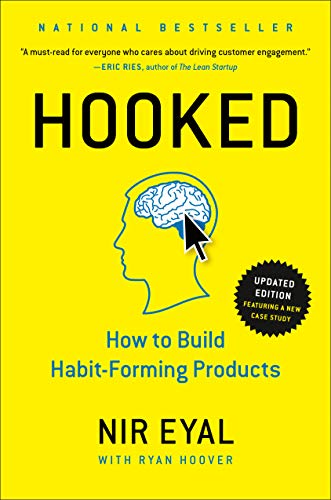 Hooked: How to Build Habit-Forming Products by Nir Eyal is one of the best marketing books available today on how to build habit-forming products and use them effectively.
It explains why certain products become so successful, and what makes users come back to them again and again.
This book helps you understand customer behavior, allowing you to build highly addictive products that keep customers hooked.
Hooked also dives into the psychology of persuasion, giving readers valuable insights into how people make decisions and why certain tactics work better than others.
By following Eyal's advice, marketers can create powerful products that foster brand loyalty and drive sales.
"With concrete advice and tales from the product-development trenches, this is a thoughtful discussion of how to create something that users never knew they couldn't live without."

—Publisher's Weekly
2. Contagious: Why Things Catch On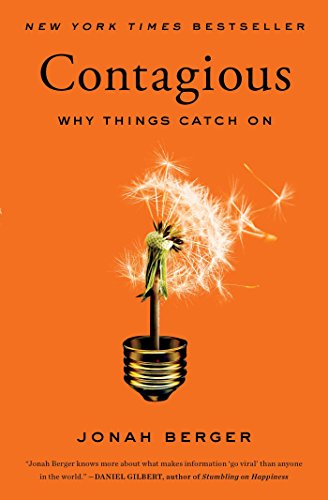 Contagious: Why Things Catch On by Jonah Berger is another great book on marketing that helps you understand why certain products and messages spread virally.
Berger dives into the six key principles of contagiousness—which he calls STEPPS – to explain how a product can go viral.
He explains how marketers can use social influence, emotion, triggers, practical utility, stories, and public visibility to create content marketing campaigns that resonate with potential customers and get shared widely.
Using insights from this book can help marketers create compelling campaigns that generate massive buzz for their products or services.
Overall, Contagious offers valuable insights into the science of social transmission that will help any marketer unlock the power of word-of-mouth advertising.
"Why do some ideas seemingly spread overnight, while others disappear? How can some products become ubiquitous, while others never gain traction? Jonah Berger knows the answers, and, with Contagious, now we do, too."

—Charles Duhigg, author of The Power of Habit
3. The Lean Startup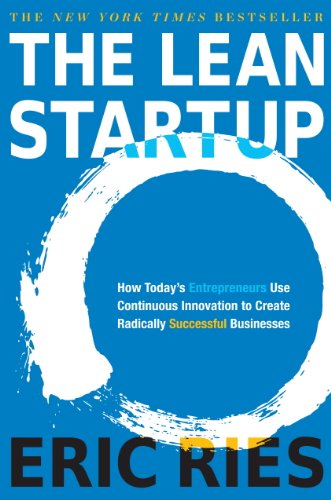 The Lean Startup by Eric Ries takes a fresh approach to product development and explains how startups can use "lean" principles to develop products that are launched quickly and iterated upon based on customer feedback.
Ries explains why it's often better to launch an imperfect product quickly, receive feedback from customers, make changes, then relaunch – rather than spending months perfecting a product before releasing it into the market.
He emphasizes the importance of testing, learning, and adapting as essential elements for any business to succeed, especially in today's uncertain environment with rapidly changing customer needs.
It also outlines key principles such as entrepreneurial leadership, customer feedback loops, and MVP (minimum viable product) strategies that can help reduce risk and maximize speed-to-market.
Ultimately, this book helps readers develop insights about their customers, products, and markets so they can create profitable businesses with lasting value.
Related: Best Business Books of All Time
"The Lean Startup isn't just about how to create a more successful entrepreneurial business, it's about what we can learn from those businesses to improve virtually everything we do. I imagine Lean Startup principles applied to government programs, to healthcare, and to solving the world's great problems. It's ultimately an answer to the question 'How can we learn more quickly what works, and discard what doesn't?'"

—Tim O'Reilly, CEO O'Reilly Media
4. Growth Hacker Marketing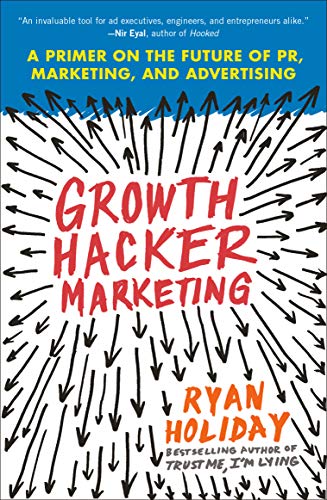 Growth Hacker Marketing by Ryan Holiday is one of the best marketing books out there for anyone looking for an efficient and innovative approach to marketing.
This book focuses on using creative inbound marketing strategies to reach target audiences in order to create maximum impact with minimal resources.
It explains how small companies can use "growth hacking" principles to propel their products into the spotlight, without spending a fortune on traditional marketing tactics.
Holiday dives into topics such as product design, user experience, analytics, email marketing, content marketing strategy, social media campaigns, and more.
It also provides detailed instructions on how businesses can develop effective campaigns that generate real results while maintaining a high level of customer satisfaction.
This book provides practical advice that marketers can immediately apply to their own campaigns – making this an invaluable resource for any growth hacker or marketer in need of guidance.
"An invaluable tool for ad executives, engineers, and entrepreneurs alike."

—Nir Eyal, author of Hooked
5. Purple Cow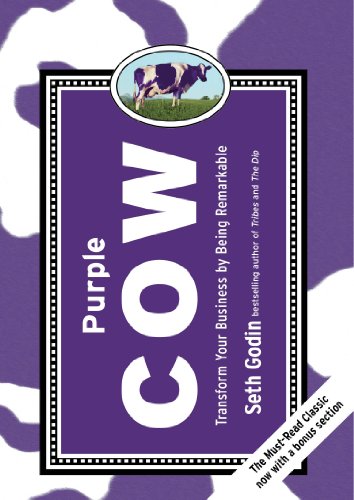 Seth Godin is the author of a few of the best marketing books on this list. The first is Purple Cow: Transform Your Business by Being Remarkable, which explains why businesses need to go beyond the ordinary and create something truly remarkable in order to stand out.
Godin's advice focuses on creating products or services that are so far removed from what's already out there, that they become "purple cows" – things so special, customers can't help but notice them.
He challenges small business owners to think outside the box and produce something revolutionary – offering advice on how to make it happen in this inspiring read.
"I love this book! Part wake-up call, part action plan, Purple Cow shows organizations how to add distinction—and avoid extinction."

—Tom Kelley, author of The Art of Innovation
6. The 22 Immutable Laws of Marketing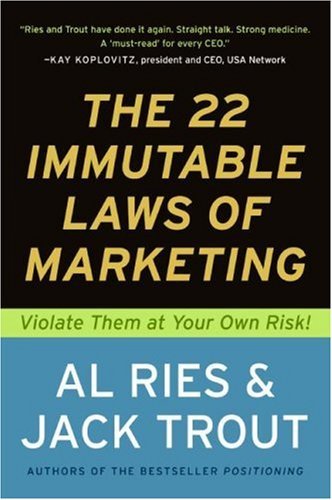 The 22 Immutable Laws of Marketing by Al Ries and Laura Ries explains the principles behind successful advertising and product launches, as well as offers advice on how to avoid common pitfalls along the way.
Al Ries and Laura Ries are a father-daughter, business partner duo that are also world-renowned marketing consultants.
This marketing book breaks down 22 laws of marketing into easily digestible chunks and provides practical examples of how they apply to actual businesses to help you apply them to your own campaigns.
"Ries and Trout, authors of some of the most popular titles in marketing published during the last decade, continue the same breezy style, with lots of anecdotes and insider views of contemporary marketing strategy…The book is fun to read [and] contains solid information."

—Library Journal
7. Building a StoryBrand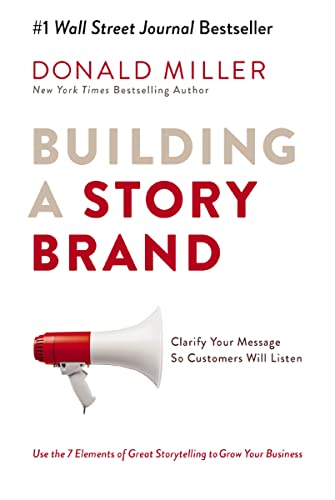 Building a StoryBrand by Donald Miller provides a seven-step framework that you can use to build stories around your products and services in order to connect better with customers.
Your story and unique experiences are what make you different than everyone else. They are also what often makes you relatable to others.
This book offers actionable advice on how to build an effective story brand and create compelling content that resonates with customers.
Through specific examples, Miller explains why creating stories, rather than just pitching products or services directly, is much more effective when it comes to marketing.
"A seminal book built around an idea that will clarify, energize, and transform your business."

—Seth Godin
8. The Brand Gap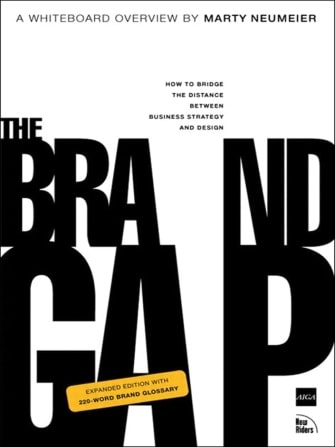 The Brand Gap by Marty Neumeier provides an overview of brand strategy and explains how businesses can use it to create a powerful identity that sticks in the minds of consumers.
Neumeier dives into topics such as positioning, innovation, identity, and more – giving you valuable insights into how to build a successful brand from the ground up.
Unlike other marketing books about branding that focus only on strategy or creativity, this book presents a unified theory on how to combine both approaches to create a "charismatic brand" that customers perceive as essential to their lives.
"Finally, a book that cuts to the heart of what brand is all about―connecting the rational and the emotional, the theoretical and the practical, the logical and the magical to create a sustainable competitive advantage."

―Susan Rockrise, Worldwide Creative Director, Intel
9. The 1-Page Marketing Plan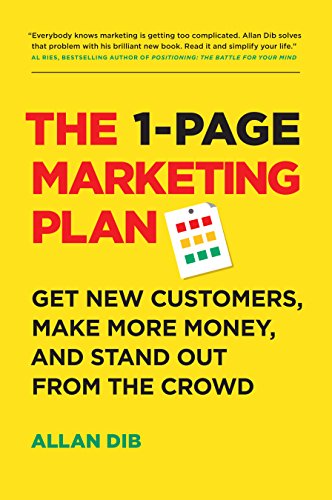 The 1-Page Marketing Plan by Allan Dib great marketing book for any entrepreneur or marketer looking to create and execute a focused digital marketing strategy.
This book provides a step-by-step framework on how to develop an effective marketing plan in just one page – making it easy to follow and understand.
Dib also explains why having clarity around your objectives is essential, as well as the important role that goals, tactics, tracking, and measurement play in determining the success of any marketing campaign.
Overall, the 1-Page Marketing Plan simplifies the often overwhelming process of creating a comprehensive marketing plan into understandable steps that can be implemented quickly and easily.
"Everybody knows marketing is getting too complicated. Allan Dib solves that problem with his brilliant new book. Read it and simplify your life."

―Al Reis, author of Positioning
10. The Tipping Point
The Tipping Point by Malcolm Gladwell is one of the most well-known marketing books in the business world.
Gladwell explains how a small change can have a huge impact – and why some products or services become hits overnight while others fail to gain any traction at all.
The key lies in understanding what he calls "the tipping point" – the moment when an idea, product, or trend reaches critical mass and goes viral.
Gladwell dives into topics such as word-of-mouth advertising, network effects, and the power of influencers to explain why certain products become contagious.
This book will teach you how to create a successful marketing strategy that is more likely to spread like wildfire and capture people's attention.
"Malcolm Gladwell proposes a fascinating and possibly useful theory in "The Tipping Point"…what makes his book so appealing is the way he approaches his subject…he follows the precept of his subtitle and explores the little things that make a big difference…"

―New York Times
11. Buyology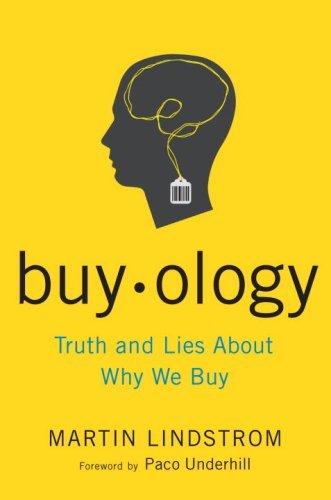 Buyology by Martin Lindstrom is a fascinating look at the science behind consumer behavior.
Lindstrom dives into topics such as neuromarketing, behavioral economics, and sensory marketing to provide an in-depth exploration of why people buy what they do.
He explains how marketers can create powerful messages that appeal to customers' emotions, rather than just their rational decision-making processes.
By better understanding shoppers' motivations behind buying certain products or services – marketers can craft more effective campaigns that have a greater impact on sales.
The book also gives you insight into the subconscious effects of branding and advertising, allowing you to craft campaigns with maximum impact.
"Lindstrom's research should be of interest to any company launching a new product or brand."

—USA Today
12. This Is Marketing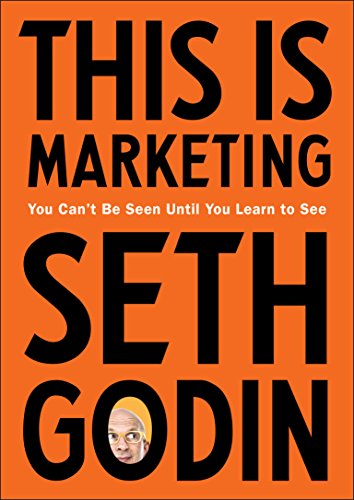 This Is Marketing: You Can't Be Seen Until You Learn to See by Seth Godin is a must-read for any marketer looking to stay ahead of the curve.
Godin explains why traditional marketing tactics don't work anymore and provides an alternative approach that focuses on connection, trust, and empathy.
He teaches readers how to reach their target audiences more effectively and create campaigns that are tailored specifically to them – ensuring success in today's ever-changing digital landscape.
Godin's ideas are thought-provoking, inspiring, and full of helpful advice that can help any digital marketer take their campaigns to the next level.
"This Is Marketing is a very accessible way into Godin's thinking…. Godin writes in pacy, jargon-free prose and this book is interesting and useful for anyone who wants an insight into how, and why, we buy things or change our habits in any way."

—The Financial Times
13. The Psychology of Persuasion
The Psychology of Persuasion: How to Influence Human Behavior by Robert Cialdini dives deep into the science behind why people are influenced to take certain actions and provides advice on how you can use these principles in your own successful marketing campaigns.
He covers topics such as social proof, authority, consistency and commitment, liking and familiarity, scarcity, and urgency – all essential elements when it comes to creating effective persuasive messages.
This book will help you better understand human behavior so that you can use this knowledge in your content marketing strategy for your own target market.
"This is the most important book ever written about the science of persuasion, and it just keeps getting better. I can't imagine a more fascinating, more practical read."

—Adam Grant, author of Think Again and Originals
14. Pre-suasion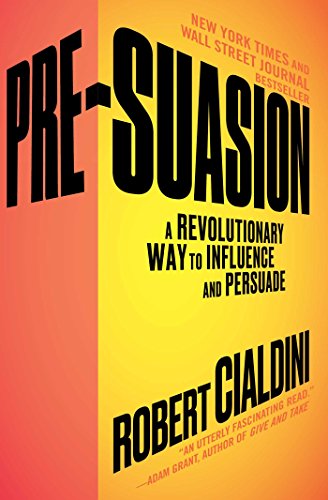 Pre-suasion: A Revolutionary Way to Influence and Persuade by Robert Cialdini is a marketing book about the power of persuasion.
It explores the science behind successful communication and how to use this knowledge strategically in online marketing to potential customers.
The book examines the psychology of pre-suasion—how subtle signals can influence people's emotions, thoughts, and behaviors—and provides concrete strategies for using them effectively.
Cialdini explains why certain words, images, and concepts have a greater impact than others when trying to persuade people and how to craft persuasive messages that hit their targets precisely.
He reveals numerous examples of companies who have used pre-suasion tactics successfully as well as helpful tips on adapting these tactics for different scenarios.
"Robert Cialdini is perhaps the foremost expert on effective persuasion….Cialdini' s latest book, Pre-Suasion, builds on that work, arguing that the best persuaders aren't merely eloquent charmers with well-crafted, finely-tuned arguments; they're also creative preparers who focus on finding the best ways to launch their offers and ideas….The book provides a vast catalog of research and techniques, many of them marketing related."

—Harvard Business Review
15. One Million Followers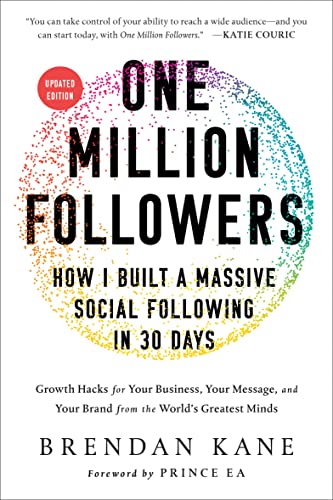 One Million Followers by Brendan Kane is a book about marketing designed to help businesses grow and succeed by leveraging the power of social media.
It provides readers with concrete steps on how to create an effective social media strategy, optimize content marketing strategies for maximum reach, engage followers, leverage influencers, measure success, and more.
The book also covers topics such as Instagram marketing, Facebook Ads, YouTube marketing strategies, Twitter strategies for business growth, and even Snapchat campaigns.
With step-by-step guidance from Kane himself, entrepreneurs can learn to effectively market their brands on social media platforms and gain real results in terms of engagement and audience growth
One Million Followers is written with both aspiring entrepreneurs and business owners in mind—it's filled with tips that anyone can use to improve their digital marketing skills.
"While it may be true that no one can predict what content will go viral, there is a tried-and-true formula experts use to maximize reach and stand out from the rest—and it will work for you, too. Brendan Kane gives you all the tips, tools, and insider secrets you need to make that happen."

—David Oh, chief product officer at FabFitFun
16. All Marketers Are Liars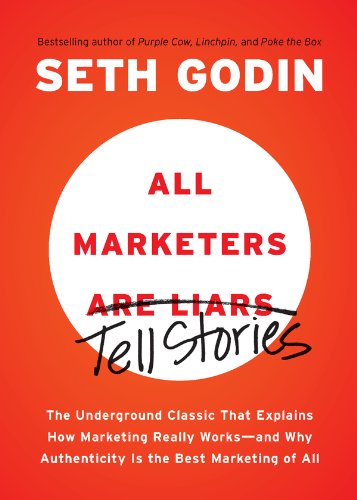 All Marketers Are Liars is one of the many marketing books by Seth Godin that provides valuable advice on how to market a product or service in today's digital landscape.
This book focuses on the concept of storytelling and how it relates to marketing; it explains how stories can be used to create an emotional connection with an audience and build trust.
Godin also delves into topics such as positioning, brand personality, and creating content that resonates with consumers.
It's an essential read for any business owner wanting to grow their online presence and provides insight on consumer behavior and how to develop effective marketing strategies and campaigns.
"Godin is endlessly curious, opinionated, and knowledgeable on a wide variety of subjects. He is a relentless marketer…and also a clear-eyed visionary."

—Miami Herald
17. Blue Ocean Strategy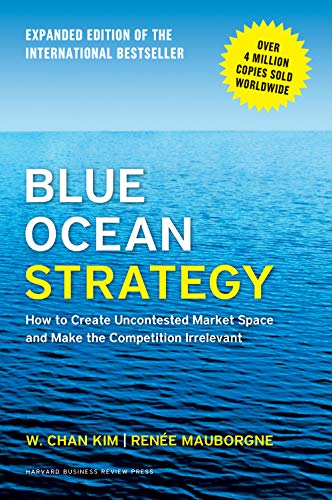 Blue Ocean Strategy by W. Chan Kim and Renée Mauborgne is an acclaimed marketing book that has changed the way businesses think about competing in crowded markets.
It encourages organizations to find "blue oceans" away from the bloodied waters of competition by creating uncontested market spaces and distinct value propositions.
The authors explain how companies can break away from the traditional focus on beating competitors, and instead create new customer needs that are unmet in the existing market.
They outline analytical tools and frameworks to help organizations develop successful business strategies for creating blue oceans.
This book provides readers with a comprehensive guide for understanding what it takes to chart a course to success in competitively contested markets.
"After reading Blue Ocean Strategy, you will never again see your competition in quite the same light. Kim and Mauborgne present a compelling case for pursuing strategy with a creative, not combative, approach. Their emphases on value innovation and stakeholder engagement alone make this book a must-read for both executives and students of business."

—Carlos Ghosn, President and CEO, Nissan Motor Co., Ltd.
18. INSPIRED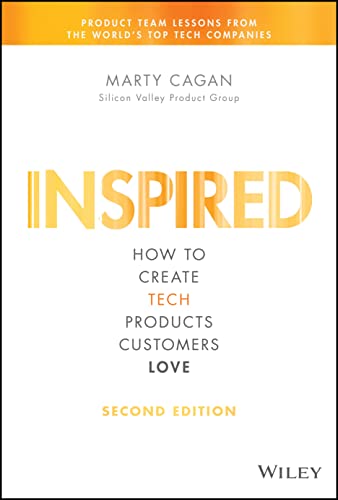 INSPIRED: How to Create Tech Products Customers Love by Marty Cagan is a must-read for anyone in the tech industry.
It outlines an effective and repeatable process for creating successful tech products and services.
The book covers every step of the product development process—from idea generation to launch—and offers practical advice on how to maximize success at each stage.
Cagan explains why it's important to focus on customer needs and stay true to your vision, as well as how to effectively manage teams, create inspiring product roadmaps, and make data-driven decisions.
INSPIRED also includes examples from leading companies such as Apple, Google, Facebook, Amazon, Netflix, Twitter, and more. It's an invaluable resource that can help any tech business succeed.
"It is rare to find someone like Marty who has impacted early founders, high-growth startups, and multi-billion dollar companies over decades through his product leadership. So when he decides to distill his knowledge in a book, it becomes a must-read!"

―Avid Larizadeh Duggan, General Partner, GV (Google Ventures)
19. 80/20 Sales and Marketing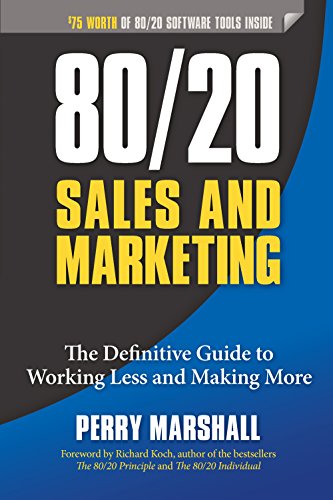 80/20 Sales and Marketing by Perry Marshall is a comprehensive guide to leveraging the power of the 80/20 principle for business growth.
The book covers everything from setting up an effective sales funnel to developing marketing strategies that focus on high-value customers to optimizing online campaigns for maximum ROI.
It provides readers with actionable advice on topics such as content marketing, brand strategy, optimizing pricing strategies, and leveraging technology such as email automation and A/B testing.
Marshall also offers guidance on how to identify customer segmentation opportunities for targeted campaigns, as well as tips for building relationships with potential buyers.
80/20 Sales and Marketing is essential reading for any entrepreneur looking to maximize their sales and marketing efforts.
"I've read well over 1,000 business books and 80/20 Sales and Marketing is among the top ten for actionable strategies to fast impact your bottom line. Every business person should own a copy–highlighted, dog-eared, and underlined."

―Bill Harrison, CEO, Bradley Communications Corp.
20. The Greatest Salesman in the World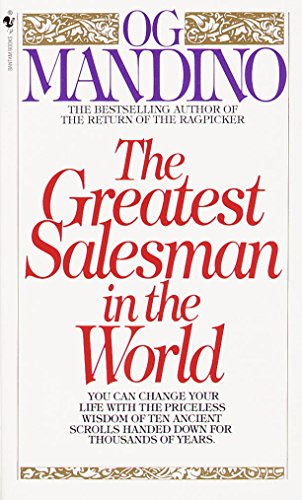 The Greatest Salesman in the World by Og Mandino is widely considered one of the best books on marketing for over a decade.
The book consists of 10 scrolls that contain motivational words and principles that help readers become successful as salespeople.
It encourages readers to practice positive thinking, build self-confidence, and overcome obstacles in order to achieve success.
It also provides guidance on how to create successful sales strategies, close deals effectively, and maintain relationships with customers.
This book has had a lasting influence on the world of marketing and continues to be popular among many business professionals today. It's an inspiring read for anyone looking to improve their selling skills or gain insight into the world of marketing.
"Every sales manager should read The Greatest Salesman in the World. It is a book to keep at the bedside, or on the living room table—a book to dip into as needed, to browse in now and then, to enjoy in small stimulating portions. It is a book for the hours and for the years, a book to turn to over and over again, as to a friend, a book of moral, spiritual, and ethical guidance, an unfailing source of comfort and inspiration."

—Lester J. Bradshaw, Jr., Former Dean, Dale Carnegie Institute of Effective Speaking & Human Relations
21. Dotcom Secrets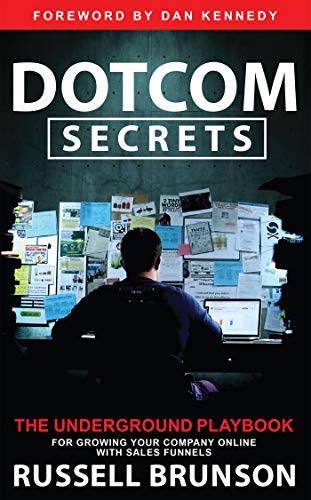 Dotcom Secrets by Russell Brunson is a must-have marketing book for any aspiring online entrepreneur.
In it, Brunson dives into the strategies and tactics he has used to build his own successful businesses.
He covers everything from creating effective sales funnels to setting up websites that convert visitors into loyal customers.
He also offers plenty of tips on how to take advantage of emerging trends in digital marketing so you can maximize your profits and stay ahead of the competition.
Whether you're just starting out or have been running your business for years, Dotcom Secrets will provide invaluable insights that can help you succeed.
"You can create all the content you want, but if you don't have a funnel in place, you're just blowing in the wind. Dotcom Secrets was instrumental in helping me create the funnels that I needed (and that I currently use), in order to generate over $250k in revenue every month."

―John Lee Dumas, founder and host of "Entrepreneur on Fire" podcast
22. The Win Without Pitching Manifesto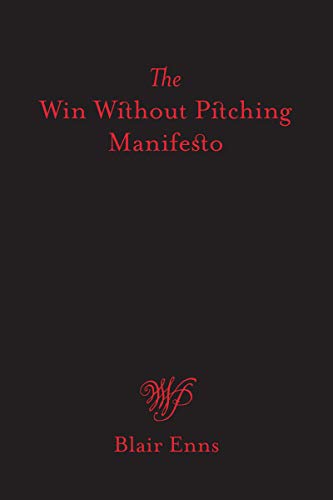 The Win Without Pitching Manifesto by Blair Enns shows you how to create relationships with new customers and close more sales without relying on traditional pitching strategies.
Enns explains why it's important to focus on building trust and creating value before asking for the sale, as well as provides tips on how to develop effective proposals that resonate with customers.
The Win Without Pitching Manifesto also covers topics such as pricing strategies, using storytelling in sales, and leveraging customer feedback to drive better results.
It's a must-read for anyone looking to refine their sales approach and take their business to the next level.
"Few books I've read can match the positive signal-to-noise ratio of Blair Enns' The Win Without Pitching Manifesto. Bravo!"

―David Allen, author of Getting Things Done: The Art of Stress-Free Productivity
23. Influencer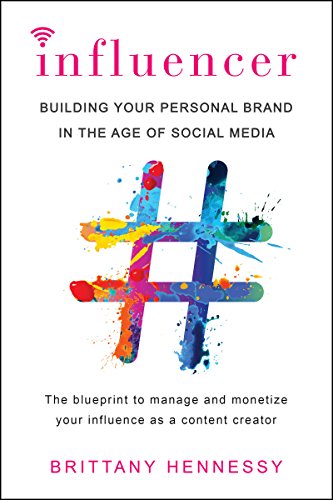 Influencer by Brittany Hennessy is about understanding how to market your business online using social media marketing.
It offers an introduction to influencer marketing and gives readers practical tips for creating successful campaigns.
Hennessy provides examples of successful campaigns from companies such as Taco Bell, Disney, Nike, and Starbucks that have successfully used this type of marketing.
She also covers topics like identifying and targeting the right audience, developing an effective content strategy, tracking progress, measuring success, and more.
She also provides in-depth advice on working with influencers and the importance of developing mutually beneficial relationships that are authentic and meaningful.
With her helpful advice on leveraging Instagram, YouTube, Snapchat, and other popular platforms to reach new customers quickly and cost-effectively, this book is a great resource for anyone interested in modernizing their marketing strategy or learning about new marketing tools.
Related: AI Marketing Tools to Help You Write More and Better
"Grammers who need help on monetizing and understanding the business side of the platform would be well-served by reading "Influencer: Building Your Personal Brand In The Age of Social Media."

―Forbes
24. Made to Stick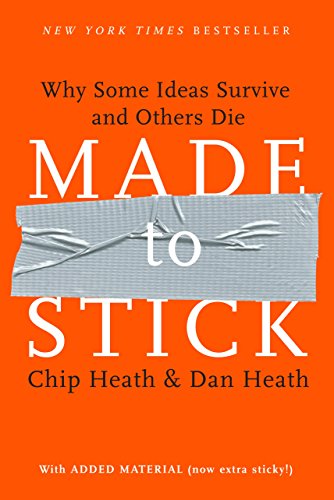 Made to Stick: Why Some Ideas Survive and Others Die by Chip Heath and Dan Heath is an influential book in the marketing world.
It takes a deep dive into why some ideas, stories, and messages catch on while others do not. The authors studied hundreds of success stories to gain insights into how to create memorable content that sticks with consumers.
They have identified six principles for making ideas 'sticky' — Simplicity, Unexpectedness, Concreteness, Credibility, Emotional Impact, and Stories.
Each principle is explored in detail with copious examples from both corporate campaigns and everyday life.
Made to Stick provides useful advice on how marketing executives and business leaders can make their messages more memorable to reach the right audience for maximum impact.
With its relatable stories and practical application, this book has become essential reading for modern marketers to create messages that stand out in today's crowded marketplace.
"Anyone interested in influencing others—to buy, to vote, to learn, to diet, to give to charity or to start a revolution—can learn from this book."

—The Washington Post
25. To Sell is Human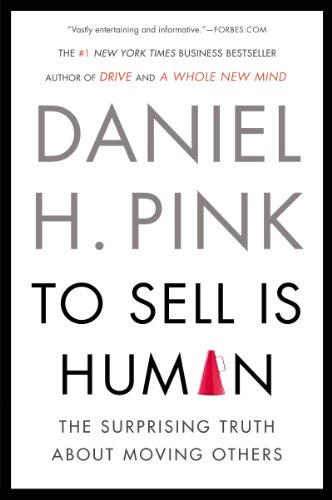 To Sell is Human by David H. Pink is an inspirational marketing book about modern selling. It was written to help salespeople, entrepreneurs, and anyone interested in understanding the human side of marketing.
It provides insightful advice on how to craft effective communications, create meaningful relationships with customers, and develop successful customer service strategies that will increase sales.
David Pink also outlines creative methods for making presentations and using technology to increase conversion rates.
He also explains why traditional techniques like cold calling are often ineffective in today's business environment and discusses novel ways to create lasting connections with buyers.
Ultimately, To Sell is Human aims to provide readers with the tools they need to become better communicators and more successful brand marketers.
"A fresh look at the art and science of sales using a mix of social science, survey research, and stories."

—Dan Schawbel, Forbes.com
26. Hacking Growth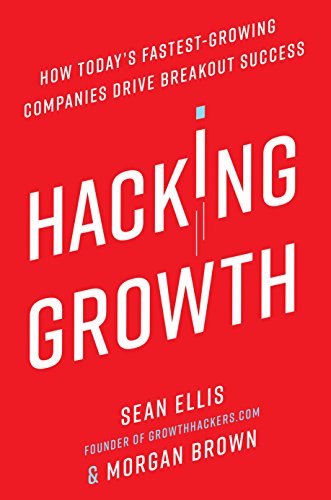 Hacking Growth by Sean Ellis and Morgan Brown is a comprehensive go-to guide to the rapidly changing world of growth marketing.
The book covers topics such as customer acquisition, content marketing, product design, and optimization, A/B testing, data-driven decision-making, scaling strategies, and more.
It provides detailed case studies from iconic brands and companies like Airbnb, Dropbox, Twitter, and Uber that have implemented successful growth hacking strategies in order to grow their businesses quickly and sustainably.
Along with actionable advice on how to use these same tactics for your own business, this book also offers insights into why certain strategies are successful and when it is best to experiment with different methods.
"In an increasingly erratic business landscape, where new competition can emerge overnight, customers' loyalties can shift unexpectedly, and markets are constantly being disrupted, finding growth solutions fast is crucial for survival. Hacking Growth provides a compelling answer to this urgent need for speed, offering companies a methodology for finding and optimizing new strategies to increase their market share and quickly."

—Eric Ries, bestselling author of The Lean Startup
27. Crushing It!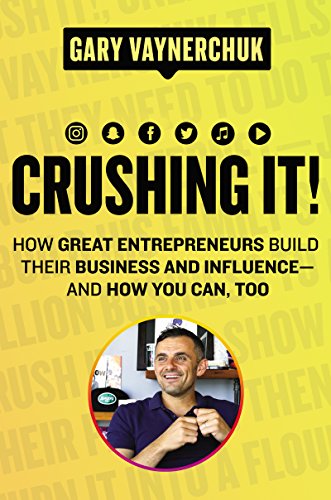 Crushing It! by Gary Vaynerchuk is a must-read book for anyone wanting to learn the ins and outs of modern marketing.
It includes advice on how to use social media marketing and content marketing, including promoting blogs, video content, and other digital tools to grow a business or brand.
Vaynerchuk focuses on showing entrepreneurs, business owners, and content marketers the power of using online platforms as an effective way to expand their reach.
Crushing It! provides readers with practical steps they can take to build a successful presence online, create meaningful relationships with customers or followers, and develop strategies that generate tangible results for businesses.
With plenty of case studies, tips, tricks, and actionable advice throughout the book – Crushing It! is an essential resource for those looking to reap the rewards of mastering digital marketing today.
"Gary is a masterful entrepreneur with a gift for communication that cuts through all the bullsh*t that can often hinder one's success. We share the same simplistic business philosophy which is why we've become good friends: Be willing to put in the hard work. And always be grateful. Crushing It! is a must-have for all individuals who want to be the best at what they do."

—Dwayne "The Rock" Johnson
28. Positioning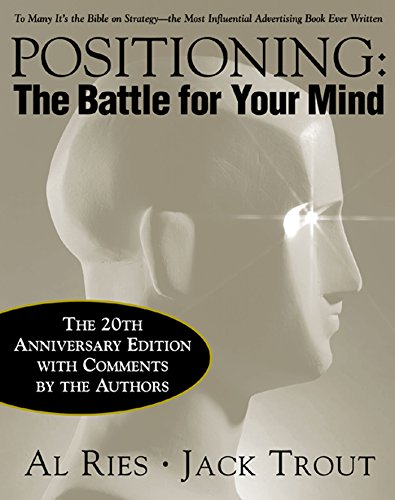 Positioning: The Battle for Your Mind by Al Ries and Jack Trout is widely considered to be one of the best books on marketing and is a must-read for anyone looking to gain an understanding of the fundamentals of positioning in the marketplace.
The book outlines key strategies for creating effective advertising campaigns, including narrowing your focus to a single attribute, developing a unique selling proposition (USP), and leveraging existing customer insights.
It also highlights the importance of testing different approaches to ensure that your marketing message resonates with customers.
Positioning is an essential read for marketers who want to stand out from the competition and create successful campaigns.
With its emphasis on brand strategy, this book provides valuable insights into how consumer perceptions can influence their purchasing decisions.
"…Ries and Trout taught me everything I know about branding, marketing, and product management. When I had the idea of creating a very large thematic community on the Web, I first thought of Positioning…."

—­­David Bohnett, Chairman and Founder of GeoCities
29. Good to Great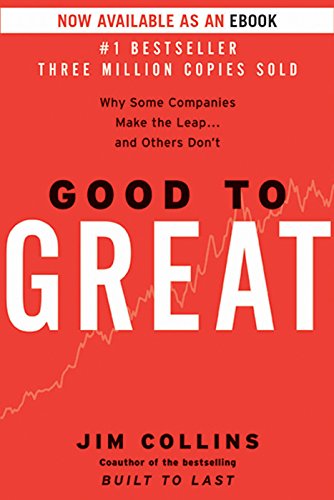 Good to Great by Jim Collins focuses on understanding what makes great companies stand out from average ones.
Collins and his team identified 11 common characteristics that distinguish great companies from their competition.
He then dives into each characteristic to explain how leaders can use them to drive excellence in their own organizations.
By examining case studies of successful businesses, he reveals timeless principles for creating long-term success.
Good to Great provides an easy-to-follow framework for marketing professionals looking to take their skills up a notch.
It highlights key strategies like developing a culture of discipline, focusing on core competencies, and picking people who fit with the company's mission.
"Peppered with dozens of stories and examples from the great and not-so-great, the book offers a well-reasoned road map to excellence that any organization would do well to consider. Like Built to Last, Good to Great is one of those books that managers and CEOs will be reading and rereading for years to come."

—­­Harry C. Edwards
30. Permission Marketing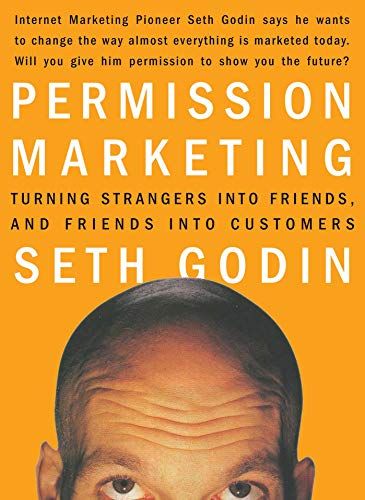 Permission Marketing is yet another one of the best books on marketing from Seth Godin.
It offers an in-depth introduction to how businesses can create stronger relationships with their customers through opt-in marketing that emphasizes consent and permission.
The book explains why traditional interruption marketing no longer works and introduces a new approach to connecting with consumers that relies on gaining their trust and gaining their permission before delivering targeted messaging.
Permission Marketing provides readers with innovative strategies for utilizing customer data to construct more effective campaigns, as well as insights into how corporations can adjust their tactics to better meet the needs of today's consumers.
"Godin and his colleagues are working to persuade some of the most powerful companies in the world to reinvent how they relate to their customers. His argument is as stark as it is radical: Advertising just doesn't work as well as it used to-in part because there's so much of it, in part because people have learned to ignore it, in part because the rise of the Net means that companies can go beyond it."

—­­William C. Taylor, Founding Editor, Fast Company
FAQs About Marketing Strategy Books
What is the #1 rule of marketing?

The number one rule of marketing is to focus on your customer's needs and wants. Understanding who your target audience is, what their pain points are, and how your product or service can solve them will allow you to craft effective marketing messages that resonate with the customer.
Who is the best marketing author?

The best marketing author would depend on your individual needs and interests. Some of the most popular marketing authors include Seth Godin, Gary Vaynerchuk, Neil Patel, and Rand Fishkin. Each author has a unique approach to online marketing and provides valuable insights on topics like content creation, SEO, email marketing, and more.
What are the 7 marketing tips?

Here are 7 common marketing tips that apply to most businesses:

1. Set clear objectives

2. Understand your target audience

3. Utilize the right marketing channels

4. Focus on content creation

5. Leverage automation and analytics tools

6. Track progress against goals

7. Test, measure, and refine strategies.
How do I get the best marketing?

The best way to get the most out of your marketing efforts is to read some of the top books on marketing. Some of the best marketing books include "Blue Ocean Strategy" by W. Chan Kim and Renée Mauborgne, "Positioning: The Battle for Your Mind" by Al Ries and Jack Trout, and "Marketing in the Age of Google" by Vanessa Fox.
Key Takeaways for Marketing Books
The best books on marketing offer valuable insights into the ever-changing landscape of internet marketing and traditional advertising.
Creating a new, successful business strategy often takes teamwork, so be sure to share your favorites with your entire marketing team to make sure everyone is on board.
You don't know what you don't know and sometimes you just need to hear about the marketing success and use cases of others to motivate you to learn and grow in your own marketing career.
The authors of these books include everyone from the marketing professional in top tech companies to a small business owner running a multi-million dollar online business.
Your marketing success and ability to reach your target market depend on your own knowledge and skills. Successful companies never stop learning.
We hope you enjoyed this list of the best marketing books. What's your favorite? Let us know in the comments below!