We partner with bada$$ companies that offer products that help our readers achieve their goals! If you purchase through our partner links, we get paid for the referral at no additional cost to you! Read our disclosure for more info.
There are an endless amount of business books on the market. How do you know which ones are the best business books and truly worth your time?
Even more, some business books are about very specific business topics like building teams, management, negotiation, marketing, sales, and building confidence. Whatever your needs are, we can assure you that this list has something (or many things) on it for you.
We formed this list from conversations with more than 100 business owners and bloggers and with each recommended business book below, we included thoughts from these other business owners on why you should consider reading that book for encouragement, inspiration, and/or education for your business.
In no particular order, below are the top picks from your fellow entrepreneurs for the best business books of all time!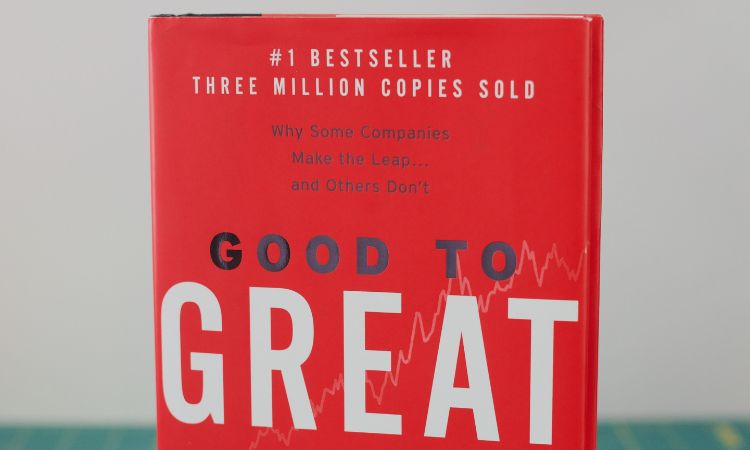 In Good to Great, author Jim Collins analyzes why some companies are more successful than others. Over the course of five years, Collins and his team took an in-depth look at 28 companies to determine what made them stand out and what is required for greatness in business.  
"The most important business book to my career's development has been Good to Great. It helped me to really sort out skill from luck, and controllable events from uncontrollable ones, in my business career.
It's helped me understand not only how to avoid business mistakes, but also that it's not always possible to do so."
— Ben Michael, VP of Operations, Michael & Associates
Built to Last is book two in Jim Collins' series of what it takes for businesses to be great. In this one, Collins and co-author Jerry I. Porras do a deep dive into the question of what truly exceptional companies have that others lack.
"The foundation of real-world principles in Built to Last is supported by several concrete examples. Any business owner or manager may use the information in this book as a guide.
It's one of the greatest books on leadership I've read, and it will help you move quickly toward your goals."
— Kim Abrams of Abrams Roofing
Think bootstrapped entrepreneur defying the odds. While many startup businesses fail, you can prevent it with the insights found in this book of business. Instead of having to create elaborate business plans, The Lean Startup enables all businesses to test their vision over time, incorporating feedback into its strategy as needed.
"I just like creating things and my pathway to it has been through business. I'm also obsessed with trying to figure out how to optimize the best approach to scalability. This book overall gives insights into optimizing creating a successful startup so it sort of checks all of my boxes."
— Trevor Hatfield, Founder, Inturact
While you might not think of this book as a business book, I Can't Make This Up teaches a lot of the lessons entrepreneurs need to hear.
When the odds are stacked against you, what do you do? You could close up shop, or you could pick yourself up and become successful.
"I chose this book because it's funny, insightful, and inspiring. [Kevin Hart] is someone who has achieved incredible success that most people writing books will never even come close to. AND because he stays real and hungry to keep creating no matter how big he has gotten."
— Entrepreneur and Podcast Host Joe Pardo
How to Win Friends and Influence People is one of the best business books if you want to amp up your "know, like, and trust" factor.
While it was written to help people be more confident and make friends, it's also about becoming a better salesperson and mitigating customer service issues with grace and ease.
This book came in multiple times from business owners and bloggers. One of which was William Kemper who said, "The capacity to network and develop contacts is crucial in business and sales. Achieving success in business requires effective communication and persuasiveness, which are both taught in this best-selling book.
The book's ultimate goal is to improve readers' chances of becoming successful in business sales. Although it was first published in 1936, much of the guidance included inside is still relevant today."
This story of resilience might not seem like it belongs in a list of the best business books either, but if you have ever thought to yourself, "Why would anyone buy something from me?" you need Can't Hurt Me.
Author David Goggins explores the idea that most people – entrepreneurs included – barely scratch the surface of what they are capable of.
Isaac Mashman, Author of Personal Branding: A Manifesto on Fame and Influence, and Founder of Mashman Ventures submitted this book because of the gripping story author David Goggins tells of growing up poor and the injustices he suffered in his youth.
Isaac said, "It's the kind of story that tells you anything is possible. You can take your background and let it haunt you, or you can learn from it and defy the odds just like the author did."
Most people look to books to give them the answers. In The Hard Thing About Hard Things, author Ben Horowitz shares that the path of an entrepreneur is not only difficult but that you will need to forge your own way as you go because there are no rules.
This is another book that countless entrepreneurs sent our way in our quest to find the best business books of all time.
One of which was Kyle MacDonald, Director of Operations, Force by Mojio who said, "The Hard Thing About Hard Things is a great business book for entrepreneurs and business owners. Whether you've owned your business for years, or you've just started on your entrepreneurial journey, there is something to be learned from this book."
The Jobs to Be Done Playbook is one of those business books to read if you're scratching your head about why people aren't buying your products and services.
The simplest answer – you're not solving the problems they need solved or accomplishing the job they need done.
Joshua Waldman, Managing General Partner, Inturact Capital submitted this book because it is the framework he and his team employ for their clients in their SaaS marketing and growth agency.
Rather than acting on theory and hypotheticals, JBTD helps companies use real data and turn goals into actionable plans to scale and grow their businesses.
The exciting news is that there's still a lot left to explore and new inventions are still being created. In Zero to One, Peter Thiel outlines the ways in which we can make singular inventions that could be the next million-dollar idea.
"Many companies nowadays rise swiftly but fall just as quickly. This is due, in part, to people's inability to think beyond the box when confronted with a challenge.
In this book, Thiel dismantles the attitude that leads people to create companies that are similar to those that already exist. The author encourages the reader to think creatively. This is the book for individuals who are always on the lookout for the next great thing."
— Michael Dadashi, CEO of Infinite Recovery
The 4-Hour Workweek is not actually a book about running a business that makes you lots of money while you work four hours a week – though it does share how it's possible. It's more about maximizing your time as a business owner.
Perhaps of all the top business books that entrepreneurs recommended to us, 4-Hour Workweek came in the most. When asked why she suggested it, Jill Caren who runs 2 Dogs Media and Blue Collar Brain said, "I found it to be a game-changer for my way of thinking.
This book has taught me how to better manage my time. I had always known that as a business owner I should do less and manage more, but never had a clear path to get there. This book gave me some great ideas and inspiration for running my business more efficiently.
Prioritizing the tasks that earn revenue has become a much easier process for me thanks to this book."
Author Sophia A. Nelson says that women are living their lives by a code, but sometimes we need to change our code to find success and purpose.
"As a female in a leadership position, I must recommend a book written by another successful woman and focused on having other women succeed. The Woman Code details a specific code that women can use to fulfill the life they desire.
'This new code, laid out by the author, is built to help women grow, succeed, and positively navigate themselves through life's challenges as a woman, which are unique to the difficulties faced by men.
It's encouraging, motivating, and provides a detailed strategy that can be used by other women along the way to success!"
– Lucie Chavez, CMO of Radaris
Misbehaving is the basis of thinking outside of the box.
Misbehaving is to step out of your comfort zone, make better choices, and gain a competitive advantage in business.
"It is without a doubt, one of the most comprehensive and impactful books on consumer psychology and a must-read for anyone in sales."
— Adelle Archer of Eterneva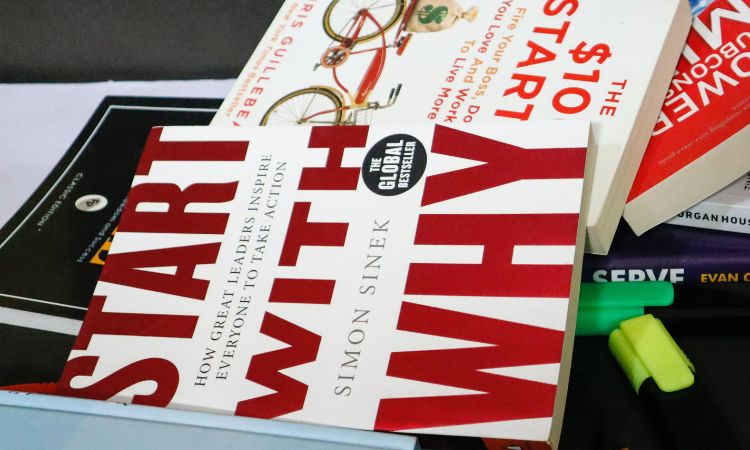 Simon Sinek famously said, "People don't buy what you do; they buy why you do it and what you do simply proves what you believe." In Start With Why, he explores why some businesses have the most loyal customers that will purchase everything they release.
Jeremy Yamaguchi who runs Lawn Love said Start With Why is one of the best business books of all time because it changed his life. He said, "It changed my perspective on leadership influence, and it opened my eyes to the importance of inspiration.
It talks about why it is so important for leaders to inspire everyone – their employees, customers, investors, etc. – and how that inspiration will bear fruit. It will improve attitudes, boost morale, spark motivation, and excite purpose.
The need for developing a process to ensure you are constantly hiring top-notch people is emphasized and explained throughout Mastering the Hire. It's a must-read for people building teams.
"Mastering the Hire is a vital resource for any employer who is interested in gaining an understanding of the most effective strategies for locating the ideal candidate to fill a specific position. This is the best business book I've ever read since every one of Booker's 12 proven techniques is supported by both academic research and the author's own first-hand experience.
The success I've had in defying the odds at my company's hiring process is largely because of [this book]."
— Lulu Albanna of WRC Media
The Go-Giver is about giving maximum value and building the relationship before swooping in and trying to make the sale. 
"This business book captures your attention with an interesting storyline while teaching you the importance of becoming a go-giver rather than a go-getter to become truly successful in business and life. In sum, the book teaches that the more we give, the more successful we will be.
It provides a blueprint for success that is based on altruism and service.
In our world today it is becoming so important that you provide value and authenticity to others, whether they be your customers, business associates, or even your competition.
Too often, we get caught up in the idea that we need to take in order to succeed.
This book shows us that prosperity doesn't come from what we take; it comes from what we give."
— Courtney Newton of Disorderly Drifters
Learning about the stories of million-dollar companies helps you learn how to become successful yourself. Business Adventures shares key takeaways from the failures and successes of Piggly Wiggly, GE, Xerox and more.
"Knowing the start-up stories of million dollar companies, such as Ford, Edsel and the prominent rise of Xerox, and what their common differences are, is essential in developing your business strategy. This book talks about a lot of business stories, the rise and fall and how they became the famous brand they are at present."
— Shaun Martin, CEO of We Buy Houses in Denver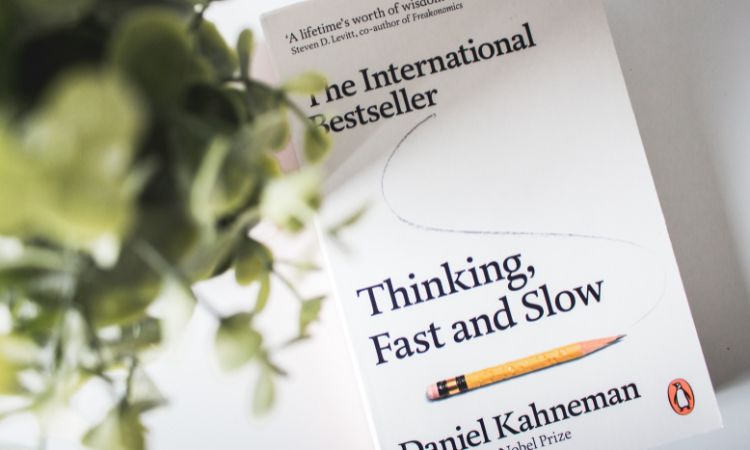 We tend to believe that we are in control of our own conduct or, at the very least, that we are aware of the main things that influence our different decisions made in life. The truth however, according to Thinking, Fast and Slow, is that we are helpless to countless outside influences and manipulations.
"This book is extremely significant for the process of decision-making at all levels, from the personal to the public policy level.
You will learn what aspects of your life you are able to consciously manage, how your intuition operates, the typical biases that arise from intuition, how decisions are made, and a vast quantity of material that is pertinent to the topic.
It should be read by anyone who is curious about how the mind works and the reasons for their own thoughts and beliefs."
— Michael Lees, Chief Marketing Officer at EZLease
What does a former Secret Service agent know about business? In Becoming Bulletproof, Evy Poumpouras walks you through becoming a more confident, stronger, powerful version of yourself – all critical components of being successful in entrepreneurship.
Nadja Williamson, CEO, Network Titan Solutions submitted this book because she said, "It is really interesting to apply for business purposes because it gives you different techniques on how to read people, how people read you, and how to detect deception. There's actually a lot of emphasis on how to develop mental resilience and how to stop 'self-editing.'"
Sandberg's Lean In encourages women to be strong-willed, adventurous, and hungry for success.
It reminds us that we not only aim to improve our lives at work, but we also shape the approaching lives of future professionals.
Lots of female business owners sent in this book as their top choice for the best business books of all time including Shirlene Kyin, Director of Operations, Soylent.
She said, "It's an incredibly honest work about the experiences of women in business– encouraging them to be voracious, courageous, and strong-willed at work. A great deal of it is focused on ways they can not only help themselves in the workplace, but also improve the future for upcoming business women."
The Long Game is about breaking out of the cycle of rushing and overwhelm and into the type of meaningful life filled with purpose you deserve.
"This book is one of the best business books I've read.
In today's world of instant gratification and miniscule attention spans, we all struggle with stepping back and seeing the larger picture, especially in business.
It can be difficult to make those decisions that will ensure long-term success because we're so distracted by short-term problems.
Dorie Clark makes the valid argument that the steps needed to achieve long-term success are often harder in the moment, but will ultimately have a bigger pay-off than those glamorous short-term decisions."
— Nick Mueller, Director of Operations at HawaiianIslands.com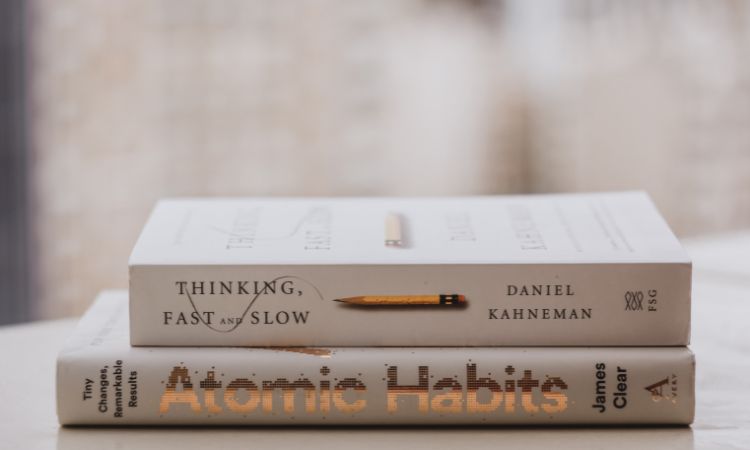 In Atomic Habits, Clear breaks down how to easily change your habits to become more productive, to meet new goals, or to break bad habits.
We can sometimes get stuck by thinking we don't have time to change our routines, or there's no room for new habits into our daily schedule.
"Atomic Habits is simply a great business book. We can all benefit from small tweaks to our schedules and daily habits. The book shows you just how easy adding new things into your routine can be, with habit-stacking. You'll find yourself more productive and reaching new goals easily after implementing his methods.
— James Green, Owner, Cardboard Cutouts
The Advantage explores the concept that happy employees make for a healthier organization and healthier companies always win compared with toxic environments.
"The chapter on The Centrality of Great Meetings remains one of the best manuals available on how to run effective meetings effectively.
Lencioni's work explores accountability, trust, vulnerability, and communicating with clarity in greater detail than any other writer. His book is tweet-friendly and offers solutions to major cultural crises that its audience is facing."
— Luke Fitzpatrick, Marketing Officer, DrSono.com
I will say that after reading this book, it changed my outlook on my own personal leadership at my company and I adopted new practices in order to inspire."
In The 10x Rule, you'll learn all about the 10X rule (also known as 4th degree), which is related to the massive action you'll need to take in order to reach your lofty goals and dreams.
"I've read it a few times. It provided a unique perspective on accomplishing your business goals, written by someone who has developed into one of today's most successful personas in the business and marketing world."
– James Parsons, Founder and CEO of Content Powered
Now more than ever, businesses must be thinking about search engine results if they hope to grow their traffic organically. SEO for Growth shares tactics to do just that.
As SEO experts, you know this book caught our attention when Datha Santomieri of Steadily suggested it to us. Datha said, "SEO for Growth is a marketing goldmine.
Knowing the ins and outs of SEO is must-have knowledge for all business owners. It is an excellent source of valuable insights to help you boost your search engine results, and is, in my opinion, the best business book ever written."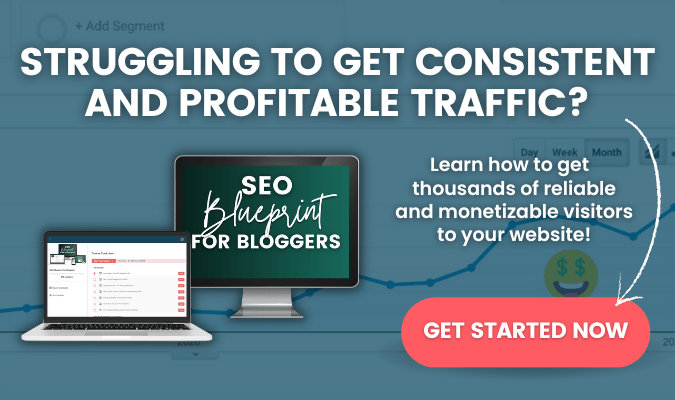 In the Company of Women is part guide to being a female entrepreneur, and part success anthology as more than 100 women share how they became successful business owners.
"This book demonstrates that there are lessons to be gained from business owners in a wide variety of fields. Many of the principles that may be learned from being an entrepreneur are applicable to a wide variety of fields."
— Josephine Lee, CEO and Founder of Cicinia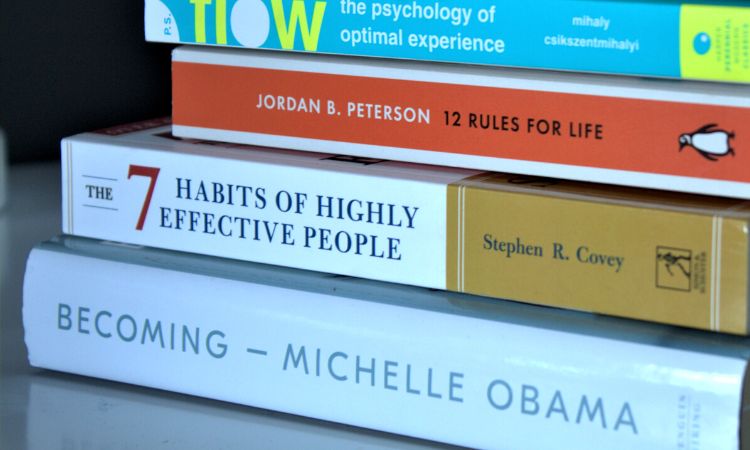 The 7 Habits of Highly Effective People can help you both in your business and personal life. It's great for building leadership skills and creating your future with your future objectives and goals in mind.
Gary Hunter, Founder at Compare Golf Prices along with many other entrepreneurs recommended this for the best business books of all time. For Gary, he said, "It's one of the most insightful and helpful books on management that I've come across. The true north ideas that he explains in the book are useful for accomplishing goals in one's personal life as well as in one's professional life.
If you want to get the results you want, you have to show that you care about the people or things that provide those results."
The $100 Startup shows that starting on a tight budget is not your main difficulty. It also shows that planning is one of the essential aspects when starting your own business.
"Guillebeau elaborates on the importance of focusing on organic growth rather than depending on any advertisement there is. This book will teach you multiple strategies primarily about planning and achieving your business goals."
— Ben Grindlow, Founder, ProXPN
The topics that Million Dollar Consulting goes into include marketing, social networking, customer retention, daily operations, delegation techniques, market optimization, and more. It offers well-rounded and intelligent insight in a way that isn't overwhelming. 
When asked why he chose this as one the best business books of all time, Chris Stevenson, CEO, VirtualRealityRental Houston, said, "It's great for entrepreneurs specifically, but it's honestly a beneficial read for all professionals because it covers such a wide range of business topics.
Any questions about business in the 21st century are answered in this book, making it a staple for modern professionals."
Talent is Overrated basically surmises that many other factors go into highly successful people, and it's not just innate talent from birth.
Anything can be learned – even how to be a business owner!
"While talent may be present, it's this deep practice that literally rewires neurons in the brain to optimize performance and create talent. For any young entrepreneur, or anyone trying to become great at anything, I'd highly recommend it."
— Dan Potter, Head of Digital for CRAFTD
If you were ever curious as to how the Nike shoe brand became a global success, Shoe Dog is for you. You might find it offers insights on steps you can take to improve your marketability and brand visibility as well.
Dean Lee – Head of Marketing at SeaLions along with many other entrepreneurs recommended Shoe Dog. Dean said, "It's one of the best business books because in it, Knight offers readers a rare glimpse into [Nike's] early days and explains how it grew to become the multinational conglomerate that it is today.
The most important thing to remember is not to instruct other individuals how to complete tasks. Instead, you should instruct them on what to do and then sit back and be surprised by both their methods and the outcome."
Profit First is perfect for learning how to maintain a positive cash flow in the business.
"It teaches readers to prioritize profit and minimize costs to prevent getting the firm into deep debt. It can be learned here how to balance the budget to have a more effective fund strategy."
— Lily Will, Founder and Designer of Ever Wallpaper
In The Zen of Social Media Marketing, you'll learn how you can gain the most benefit from the various social media platforms. It's all about demonstrating proper messaging, narrative techniques, and the best promotional placement to gain advantages and remove stress.
"Social media now occupies much of the promotional world as it is a central focus of most marketing departments, and the book is a masterwork that puts it all into focus.
Author Shama Hyder breaks through the bustle and confusion of the various social media platforms, and clearly explains how to use them to generate revenue while destressing the process. It may be one of the most recent business books, but it belongs along with the all time greats."
— Anthony Puopolo, Chief Medical Officer at RexMD
Before you scoff at this personal development book recommendation, understand that being successful in business starts with having a success mindset.
That's where The Power is Within You will help you shine!
"This book is definitely a more 'inspirational/self-help' read but it helped me tap into my inner power and intuition. When it comes to business, I can get bogged down in the details and lose sight of what truly matters.
It helped me to find my authentic voice and stay connected to my inner wisdom, which I think is essential for success."
— Lauren Gamble, Blogger at Mom Prepares
For you to be rich, you must first think it, then believe it, then make it real.
Think and Grow Rich gives you the tools to reshape your mindset into one of a successful business owner.
"This book has for decades established entrepreneurs, challenged customers and even contributed to significant market changes by its readers. It was designed to influence the subconscious mind of the potential business magnates and traders in the market not only to define and redesign their way of thinking but also to achieve self-improvement in life.
Napoleon Hill admits he gathered much of his ideas and principles by studying the wealthy and industrious men of his era. His collections do not emerge from mere fiction, though. Rather, they are recollection guides from the lives of men who built America, such as Andrew Carnegie.
It is the greatest book for business as it teaches money-making secrets practiced mainly by the rich."
— Franceen San Andres, Growth Manager of CocoLoan
If you're going to start a business, you must fail quickly and often so you can learn how to pivot and make real change. That's why Failing to Win is a must-read if you want to start a business!
"In this book, Quinn describes his startup's journey to revolutionize payment systems in Africa. It perfectly conveys its message of just how important it is to fail, and then learn from your failures.
This is something we are told time and time again as entrepreneurs, but hearing it and understanding it are two completely different things. Because of this book, I now see every failure as an opportunity to learn and grow. It is one of the best business books of all time, and is a must-read for anyone who owns a business or is considering starting one."
— Loredo Rucchin, CEO, Jukebox Print
If you are starting a business that requires teams to collaborate on ideas, then Beyond Collaboration Overload is going to be one of the best business books on this list for you.
Teamwork matters, but too many businesses get the collaboration game wrong, wasting time and hurting performance, team member well-being, and your bottom line.
"Collaboration is a hot-button topic in most workplaces today, especially those that are hybrid, remote, or have some employees working remotely on occasion. This book talks about intentionality with collaboration, and how it can either improve or worsen your work culture.
It is extremely relevant to today's workforce, and I think all business leaders would benefit from reading it."
— Dan Gallagher, VP of Operations, Aegle Nutrition
Millionaire Fastlane explains that we should not settle for less.
Why stay in the slow lane? We should demand more! We all deserve businesses and lives that are fueled by our efforts.
"I read this book three years ago, and after reading it I started taking action and learning SEO and started my Blog and SEO Agency. This book is about building a business that makes money and makes you wealthy."
— Ritik Namdev from Moneyexplain.com
Rich Dad Poor Dad dispels the myth that you have to earn a lot of money yourself to be rich while contrasting the ideas of working for money with having your money work for you.
It was probably a given this book would end up on this list, right? This recommendation comes from Steve Wilson of Bankdash. He said, "I highly recommend this book because most people probably do not think about money, or more specifically the acquisition and utility of money, in the right way.
Money isn't merely a tool for purchasing material goods, as the book makes abundantly clear. The book has taught me many lessons that influenced my decisions as an entrepreneur."
Turn the Ship Around espouses the importance of empowerment through leadership.
Adam Rossi, CEO of TotalShield Safety Enclosures said this book is one of the top business books because it's timeless.
He said, "It teaches important lessons about how to delegate tasks, give your team the best possible training, and build confidence in your employees. It's truly a great read for those who are new to a leadership role looking for guidance, or for experienced leaders that need a fresh dose of inspiration."
In business, too many people have a tendency to over-accommodate, acquiesce, and give more than they receive.
The truth is you can be nice and have boundaries, and this is critical for success.
With No More Mr. Nice Guy, you learn to be direct, assertive, and create boundaries that set you up for more success.
Josh Elledge, founder of Up My Influence, submitted this book because he said it's helpful for many men, and books like this along with Mark Manson's book, The Subtle Art of Not Giving a F*ck, have been absolutely freeing for him in business, in my relationships, and in life. 
In business, and in life, some people simply won't understand what we are doing. As a result, we fear putting our art into the world because we don't want to be rejected.
The War of Art empowers people to show up anyway and reach their full potential.
Blogger and entrepreneur Heather Filipowicz explained to us that she has a page from this book on her bulletin board to remind her every day that she must show up in business. When we don't show up, we are robbing the world of our gifts.
We must show up and share what we have to offer!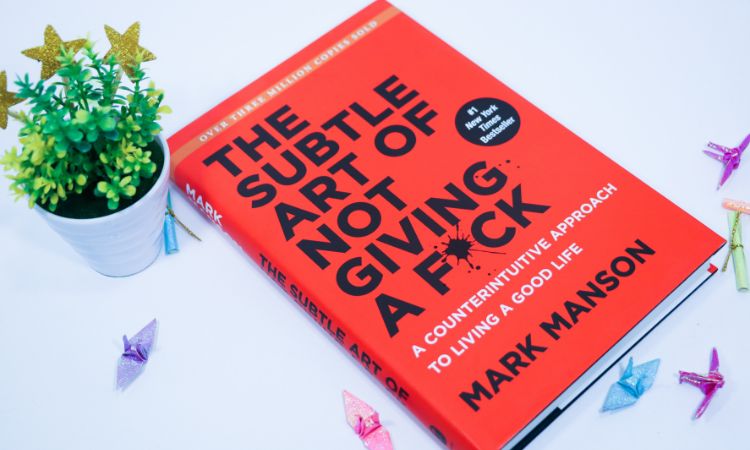 The Subtle Art of Not Giving a F*ck is the antidote to the touchy-feely, positive self-help books. As Mark explains, "improving our lives hinges not on our ability to turn lemons into lemonade, but on learning to stomach lemons better" – a requirement in life if you hope to find success in business and relationships.
Josh Elledge is not the only entrepreneur who mentioned Mark Manson's book. Blogger Ashley Grant also recommends it to anyone who struggles with trying too hard in business and wanting to please everyone.
The reality is if you try to please everyone, you end up helping no one!
There is more than one way for your life to mean something. As Unfollow Your Passion says…
By learning to live your life on your own terms, you can learn how to build a business that goes beyond one that simply makes money.
Amy Weiher, Founder and Creative Director, Weiher Creative said, "This book is a must-read for any small business owner, as well as anyone considering starting their own business. Terri outlines how to live life on your own terms, relying on your own skills instead of living life by other
people's standards. In her entertaining way, she outlines how to be unapologetically you in every aspect of your life while still striving to be a better you each and every day."
HBR at 100 is a collection of essays written by influential people covering a wide range of topics from competitive strategy to psychological safety, and managing yourself to emotional intelligence.
"This book, or anthology, rather, [is one] which significantly impacted my views on business and inspired and educated me when I needed it the most. [In it] you will learn about competitive strategy, disruptive innovation, design-thinking, management skills, emotional intelligence, racial equity, the science of persuasion, psychological safety, and more, by reading and returning to the articles in this book."
— Andre Kazi, CEO, Improovy Painters Plano
If you want a business that is purposeful, original, meaningful and popular, POP! is for you. It helps you understand why some businesses become popular while others become yesterday's news quickly.
"Whether you're an entrepreneur, sales manager, or executive, you know that every word counts when it comes to connecting with your customers. POP! teaches you the secrets behind some of the world's most successful brands, names, and slogans.
If you want to stand out from the crowd, stay at the top of your customers' minds, and make a big impression, this is the book for you."
— Alan Lee, Co-Founder, Hairbro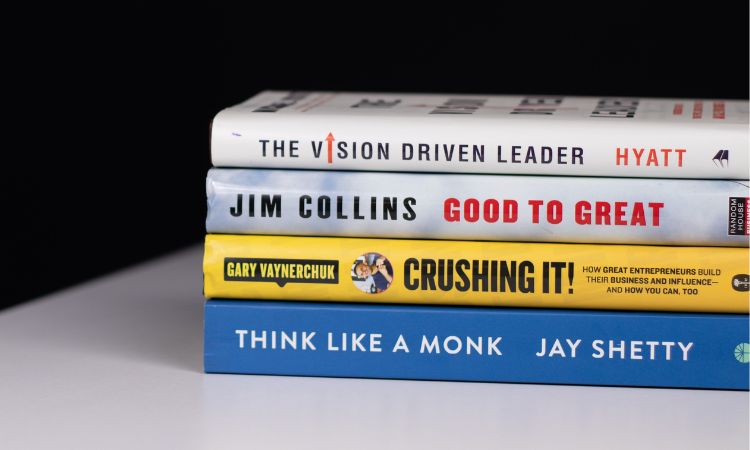 Crushing It is Gary V's follow-up book to Crush It. In this business book, he explains that having a vibrant personal brand is more critical to business success today than ever before.
"There's only one visionary entrepreneur whose ideas and philosophy I subscribe to wholeheartedly, and that's Gary V. In Crushing It!, Gary expands on his ideas of decency, kindness, and throwing your all behind the things that you're most passionate about to create a cohesive, straightforward strategic guide to how to find success by centering your business around the things that you love most.
It's a game-changing book that was written by a game-changing author."
– Matthew Osborn, CEO and Founder, Legionary
The Alchemist is a book that uses a fable of a treasure-seeking dreamer to teach lifelong lessons that will help you grow as a business owner. Perhaps one of the most important takeaways is to see the good in every day of your entrepreneurial journey.
"Our definition of success is likely to be formed from others' opinions, and many of us follow the 'shoulds' of our families or peers. ,
The Alchemist reminds us that listening to our hearts is the first step in following our dreams, and carving out our own true path."
— Becky Colwell, Founder of Heart to Heart Sales
While Tiny Beautiful Things might also not seem like it belongs in a list of the best business books of all time, the reality is that understanding connections and relationships will help any entrepreneur make more sales.
"I recommend it to all marketers and copywriters in particular as a master class in empathetic writing. As business owners, we need to know how to emotionally connect to people and understand what they're going through. Nobody does it better than Dear Sugar."
How to Run a Business During a Zombie Apocalypse is part pandemic survival guide, part story of pivoting in times of crisis. This book is a real-life account of how one scrappy entrepreneur saved her company from folding during the COVID-19 outbreak.
Submitted by the author herself, Tara says that the reason this book needs to be read by entrepreneurs is because it addresses the new rules that came out of the pandemic. Her business Richter Publishing would have folded during the pandemic had it not been for innovation and creativity.
She admits this is NOT meant for all business owners, but that it's helpful when it feels like the sky really is falling.
If you don't understand how to empathize and sympathize with your customer's pain points, you will never make it in business.
That is the idea behind Radical Customer Empathy – you must understand the buyer's journey to make more sales.
Bess Auer, Author of Unio: The Art of Intentional Community Building, submitted this book. She said, "It's an entirely different way of looking at business. It starts with listening and empathy for your customer or client first and then working back from there. It really was a shift in thinking and a must-read for business owners."
We hoped you enjoyed this list of the best business books of all time. We will endeavor to update it as time goes on.
Here are a few other awesome business books you should definitely check out:
If you think we missed any important books, please leave a comment and let us know!