We partner with bada$$ companies that offer products that help our readers achieve their goals! If you purchase through our partner links, we get paid for the referral at no additional cost to you! Read our disclosure for more info.
Project management software can take your blog and business to the next level and help make your dreams of being a professional blogger a reality.
The thing about running and especially growing a blog is that you have a lot of moving parts at any given time — and this is something that will never change.
For every task you complete, there are always 5-10 tasks and the next moves waiting for you — and they're not all of equal importance or priority.
Project management software will help you prioritize and accomplish tasks on time and more importantly, at the right time.
This becomes especially important when you start building a team to help you run your business because project management software also comes with built-in communication tools.
If you've ever had that feeling of having things drop off your plate because it's simply too full, this is going to be a game-changer for you.
But choosing the right project management software for you and your business isn't always a super easy task itself. The team here at Create and Go has been through several of these tools before deciding on what we use today.
Some of these tools cost money, and some of them are better suited for larger teams.
So, if you're new to management software tools, we created this post to help you figure out the best options for your needs and budget.
We will cover the following:
What is project management software?
Project management software features you should be looking for
How project management software can help bloggers manage their time
Questions to ask yourself before choosing a project management software
Our top picks for the 16 best project management software tools (with pros and cons)
What other bloggers say about their favorite software and more!
By the end of this post, you should be armed with everything you need to start filtering out the best software options for your blogging needs.
What is Project Management Software?
The main purpose of project management software is to facilitate the planning and tracking of a project on one centralized platform. The best software for project management is available on a desktop, as a web-based application, or as an IOS or Android app.
Project management tools are designed to support bloggers in the following ways:
Project planning: A project manager can use project management software to create project roadmaps, and incorporate visuals to describe tasks and potential team interactions.
Communication: All team members and key stakeholders can be granted access to view, update, and edit project documents. Users can also interact with one another through mentions or direct messages.
Calendar and contact sharing: All scheduled meetings, contacts, and activity dates should be automatically updated across all user calendars.
Task management: Project managers can assign tasks and deadlines to individual team members. Team members can keep project managers in the loop via an update/status report.
Time tracking: Time for individual tasks can be tracked for billing or record purposes.
Project management software is powerful because it enables project managers and team members to prioritize and communicate to get things done in an organized and streamlined manner.
Other uses of project management software for bloggers include resource allocation, change management, budget management, documentation, and also as an administrative system.
Having software that you use to keep everything in place for your blog will also help you big time when you're ready to start scaling up! It will make it easier to onboard new team members with as little downtime as possible.
Questions to Ask Before Choosing a Project Management Software
As you read through our top picks for project management software, it's important to consider your blogging needs as a business and/or team.
Here are some valuable questions to consider while reading about each software:
What type of projects do I need to manage?
What features do I want or need?
What's my budget?
How big is my team? What are my team's needs?
How skilled/tech-savvy is my team?
How many different roles (e.g. blog owners, team members, clients) will have access to my project management software? Can I give them access? Can I control or limit their access?
Do I also need a mobile app?
Does the software integrate with the other blogging tools that I use?
What's onboarding going to look like? How difficult is the software to use and get up and running?
Alright, we've given you a lot to consider as we go through this list, so we're finally ready to dive into our top picks for the best software for project management.
What is the Best Project Management Software?
Throughout the rest of this article, we're going to break these down a bit more and include some information, opinions, and overall pros and cons of each software.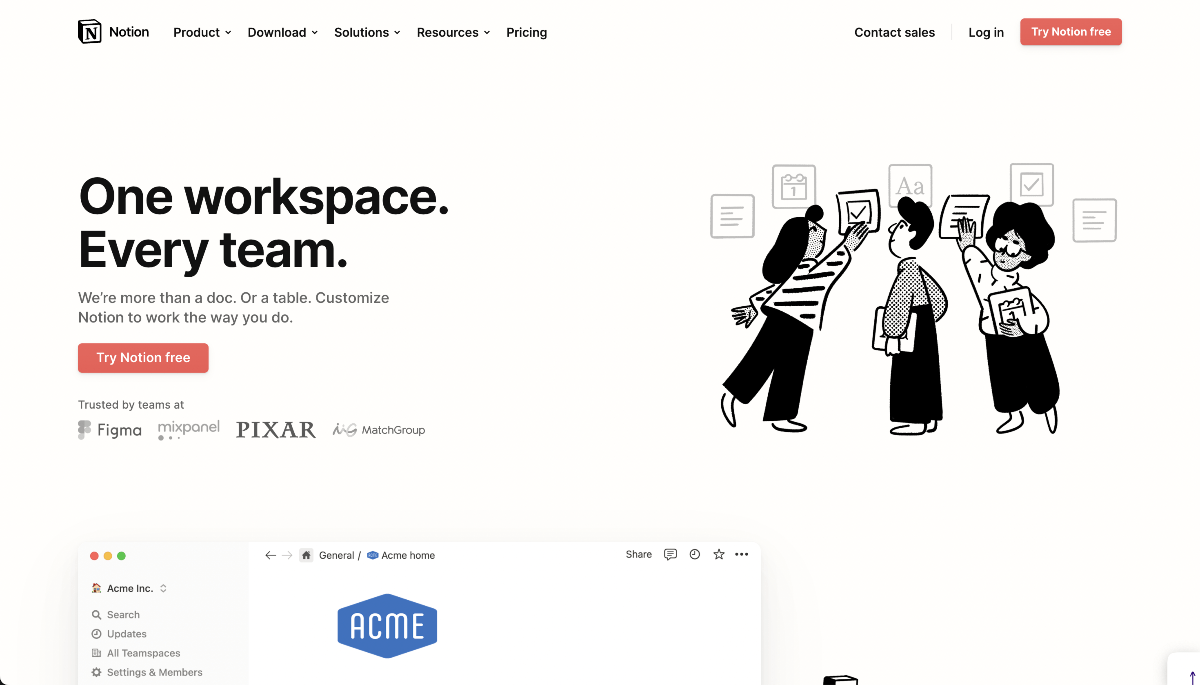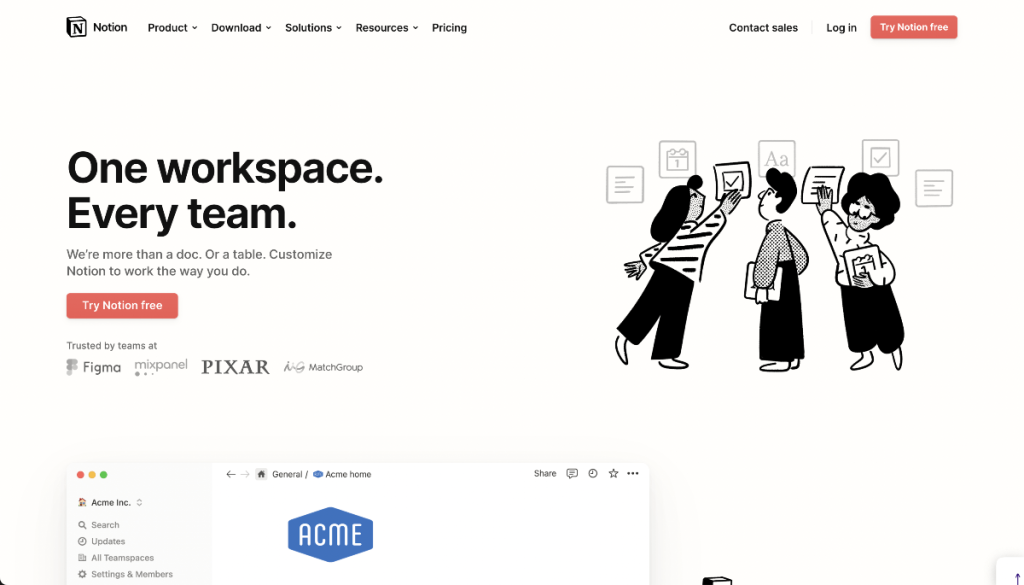 Best for: Creating workable roadmaps
Price range: $0/user/mo – $10+/user/mo
Free plan: Yes
Free trial: Yes
Notion gives you a bird's eye view if you will, of all of the tasks your team is working on. You can set it up like a kanban board with columns like "Not started," "In Progress," and "Complete." Or, you can develop different list mechanisms and terminology that work for you.
You can add team members to tasks, add due dates, include critical data and links, and basically keep all of the work in progress in one space so you don't have to hunt for it in a million different locations.
What I love about Notion is the ease of use and the variety of templates that you can use on different pages and even within pages. There is a lot of customizability.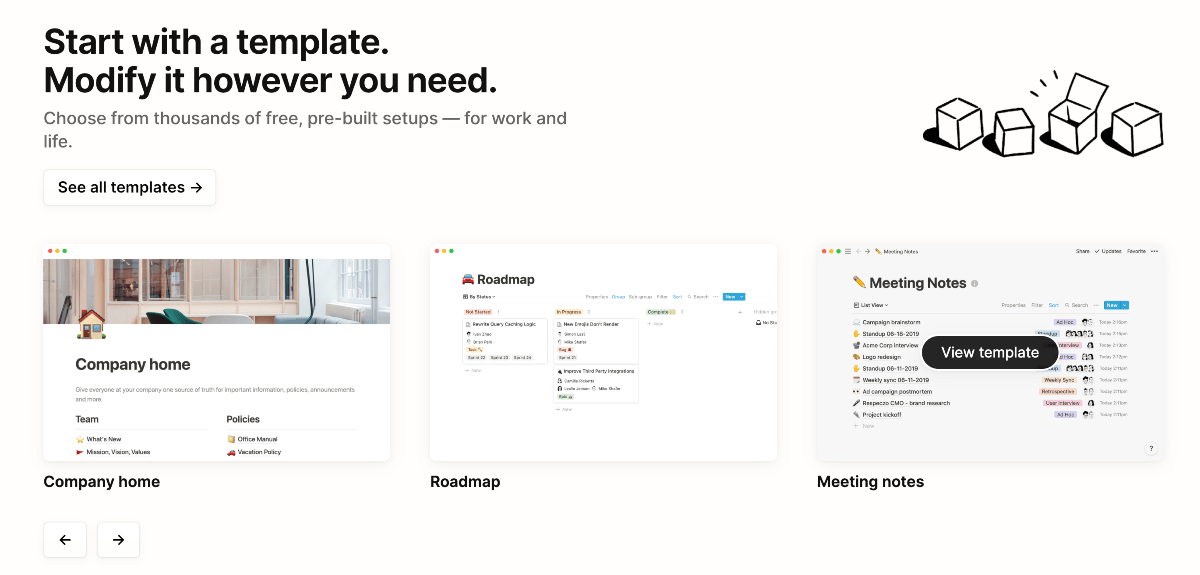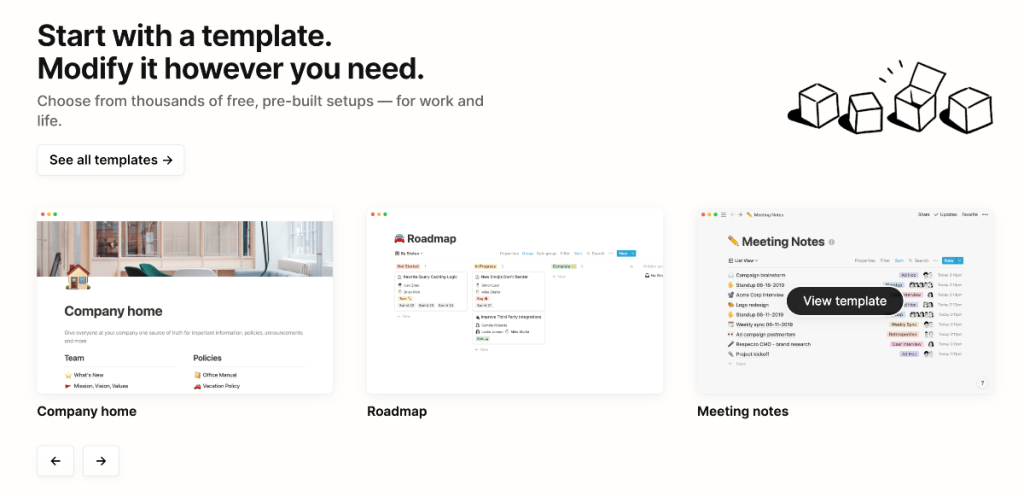 Notion is what we use at Create and Go to assign and track articles in progress.
Notion's Key Features
Unlimited pages and blocks
Ability to share with 5 guests on the free plan (unlimited on paid plans)
Web, desktop, and mobile apps exist
File uploads up to 5MB on the free plan (unlimited on paid plans)
Real-time collaboration
Link sharing and previews
Bulk export options
Pros and Cons
Pros:
Really awesome free plan! A ton of free features exist that you can use to grow and scale before ever needing to upgrade to the paid plans.
Collaboration is incredibly easy
The software is versatile
There are several templates available for things like creating planners, roadmaps, and even web pages.
Cons:
Some users felt that onboarding had a bit of a learning curve.
The app is overwhelming so it's best to use it on a desktop or via their website.
It still lacks integrations with most software.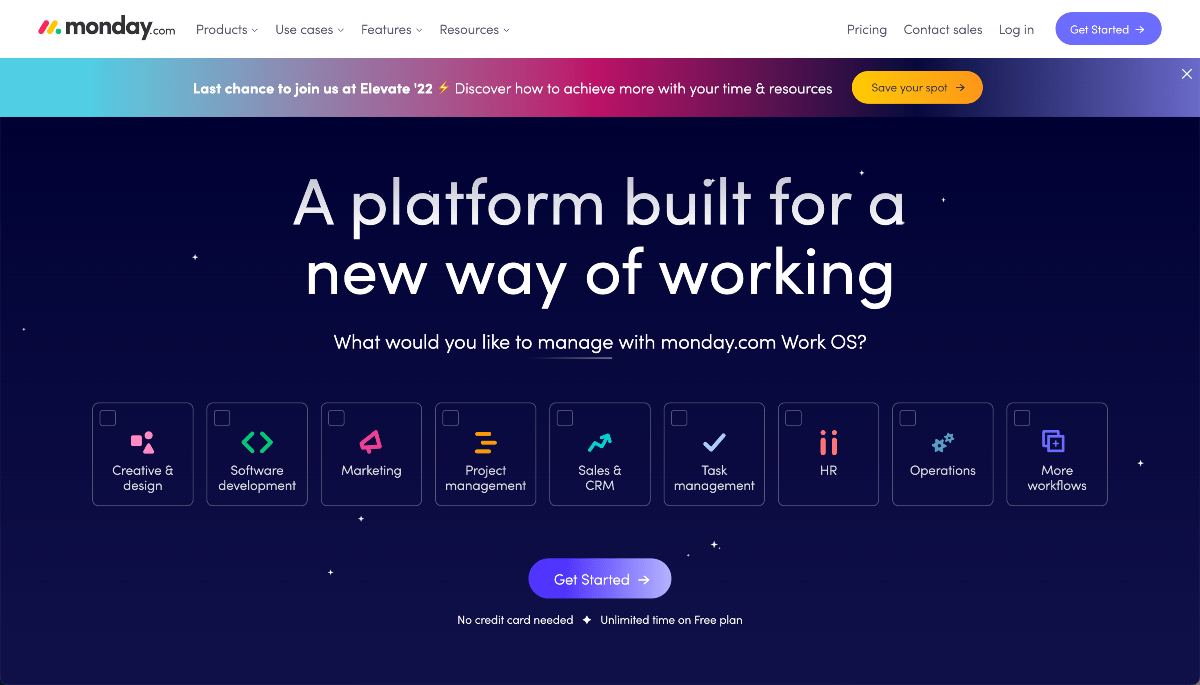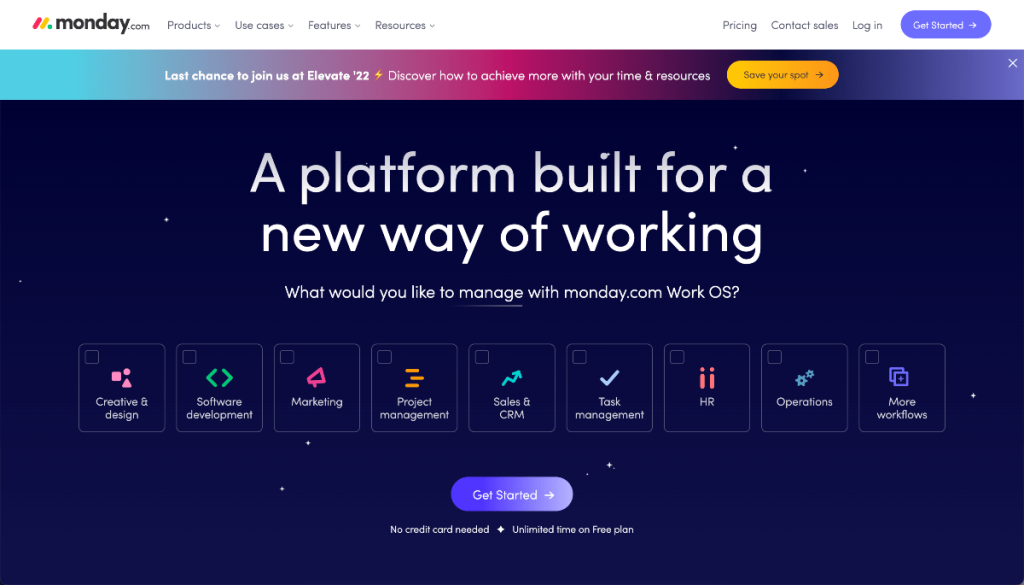 Best for: Overall project management
Price range: $0/user/mo – $48+/user/mo
Free plan: Yes
Free trial: 14-day
Monday.com is probably one of the most well-known project management software tools out there. Monday operates using a set of colored spreadsheets that tells you and your team exactly what needs to be done, and the progress on each task.


Monday's Key Features
Charts for easy visuals
Option to sync timeline with calendar
Offers an undo button
Offers in-depth workflow customizability
Provides a portal for stakeholders and clients
Unique "create a new pulse" feature that allows you to copy lists and paste it for full transfer
Integration with Excel, Slack, Jira, Outlook, and more
A free tier for up to 2 people
Pros and Cons
Pros:
Available to download both on IOS and Google Play
Offers in-app automation
Offers a free trial period
24/7 text and email support
Unlimited users and project boards with paid tiers
Can be accessed right from a web browser
Includes a variety of templates
Cons:
Confusing pricing structure
Steep learning curve to understand the software
Adding users costs extra money regardless of the plan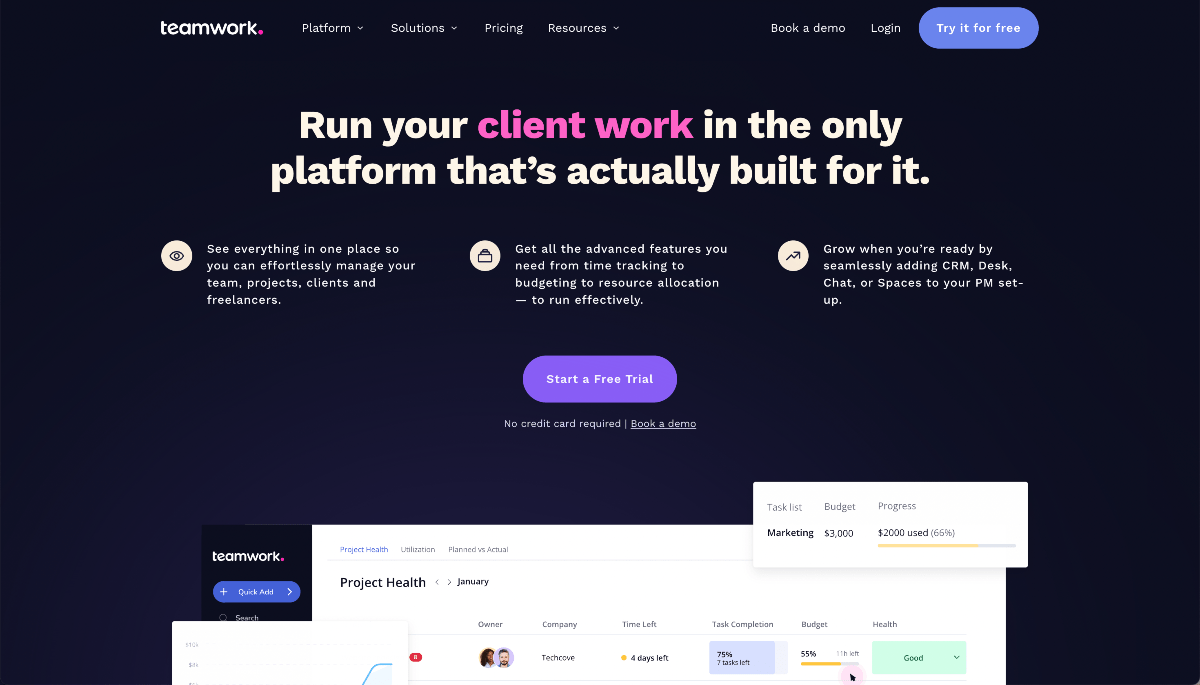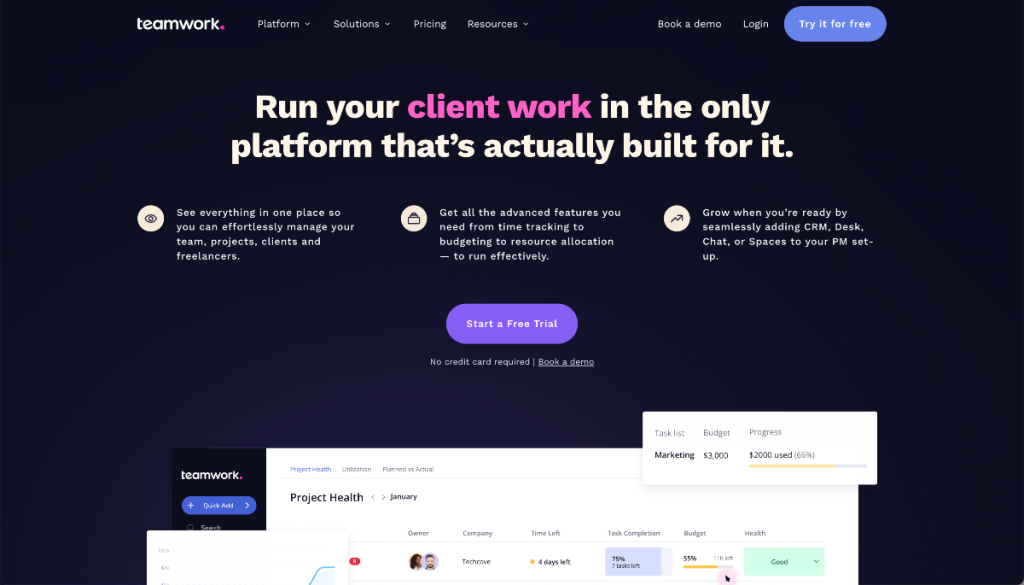 Best for: Project managers who want to stay in the loop
Price range: $0/users/mo – $18/users/mo
Free plan: No
Free trial: 30-day
Teamwork is a great project management software for beginners or those who want to jump right in without having to deal with the steep learning curves of new software.
The platform offers features that not only enable project management but also maximize real-time communication. Project managers can browse multiple projects at once and see the progress of all team members in one list view.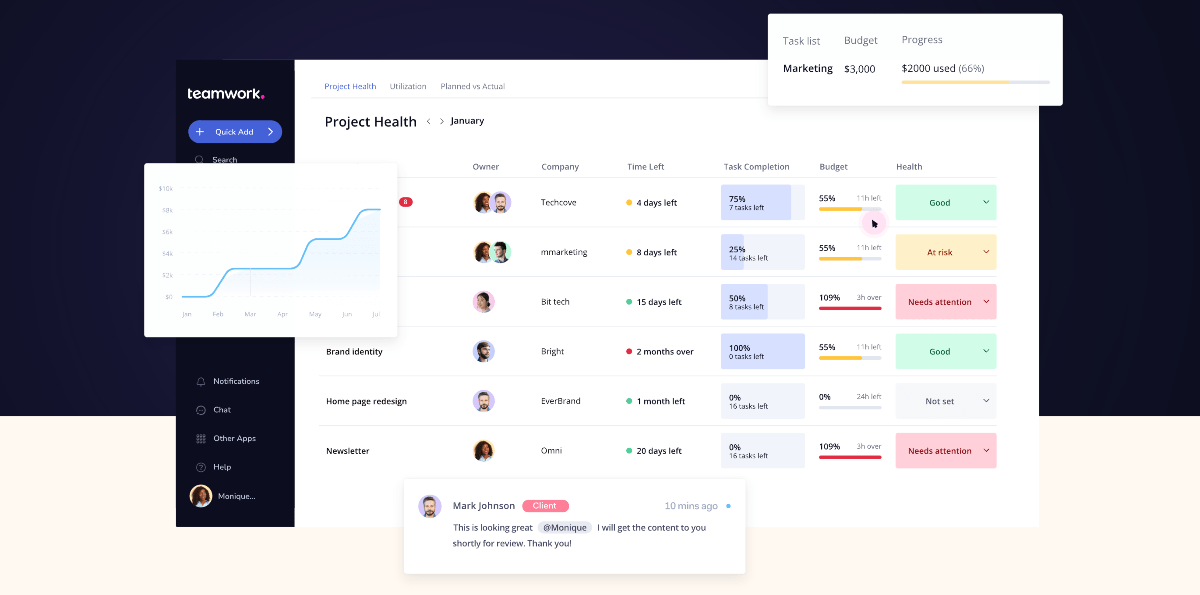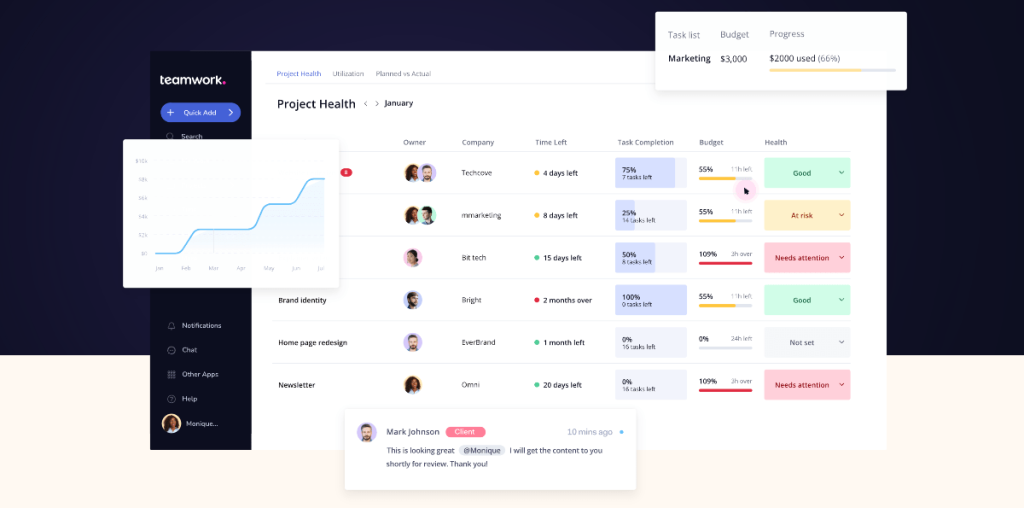 Teamwork's Key Features
Ability to group projects together so that they can easily be viewed and worked on
Custom fields on projects, tasks, and files to communicate extra information
Project managers have the ability to see who and when they viewed certain files
Teamwork's task list template library
Time tracking feature to stay on track of each project's duration
Billing and invoicing features (premium)
Pros and Cons
Pros:
Simple design
Free trial available
Customization options available
Free account available with a decent amount of users available
Great for beginners
Cons:
Calling feature needs improvement
Lack of advanced customizability options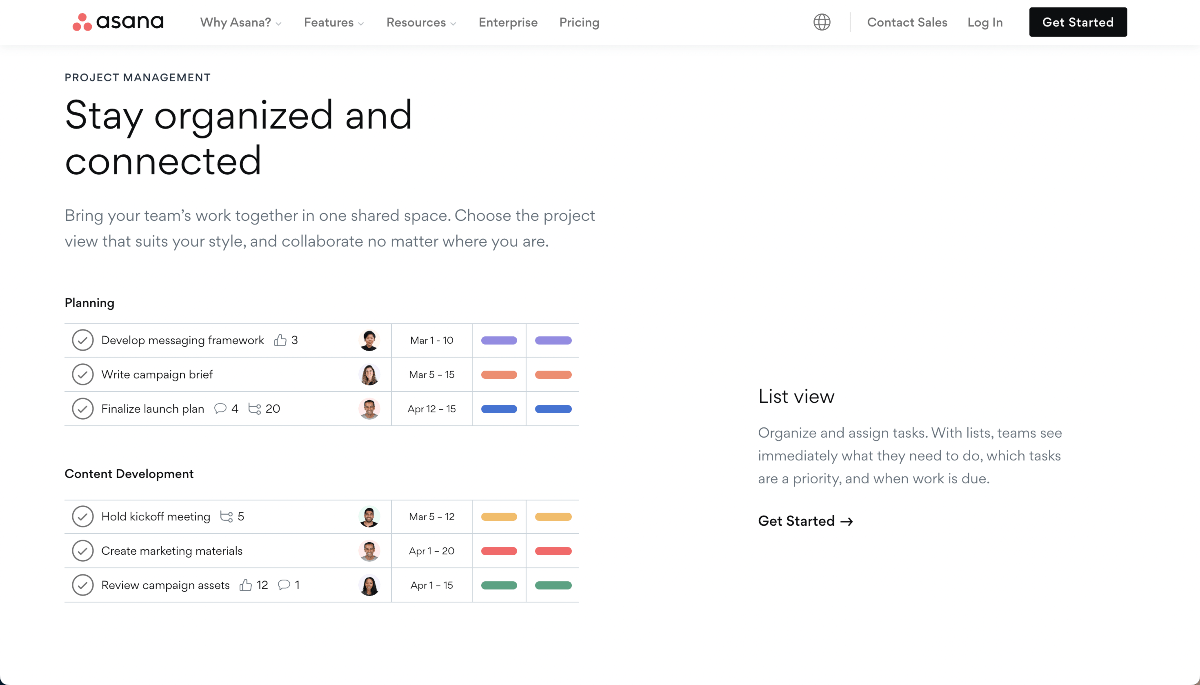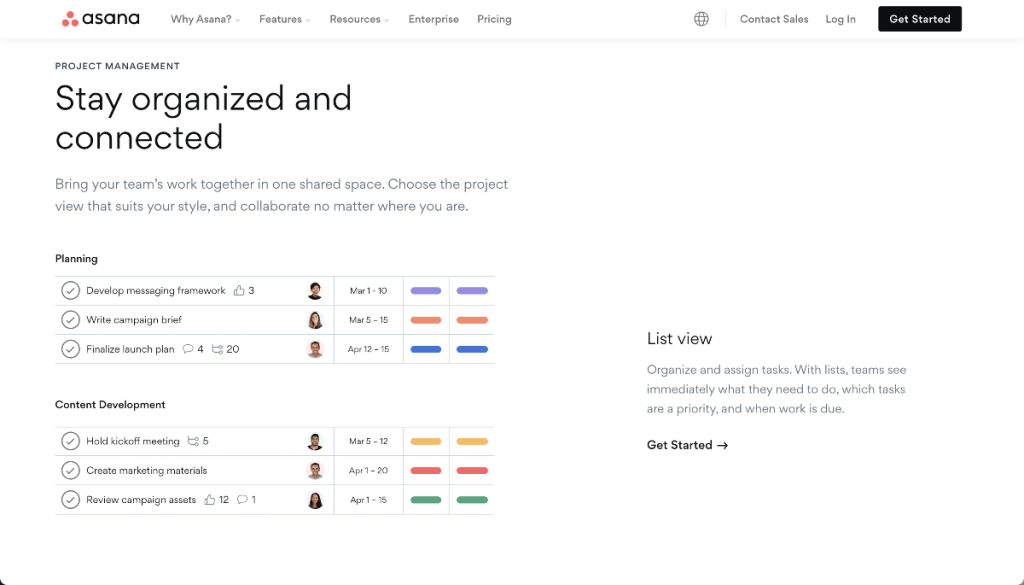 Best for: Deadline-focussed teams
Price range: $0/users/mo – $24.99/users/mo
Free plan: Yes
Free trial: 30-day
Named after a yoga pose, Asana is king if you value deadlines and hitting them repeatedly. Asana is a SaaS management tool that boasts multi-language capabilities and can be run on Linux, Windows, Android, and IOS. There are many versatile tools embedded in Asana that work together to deliver a seamless project management experience for teams.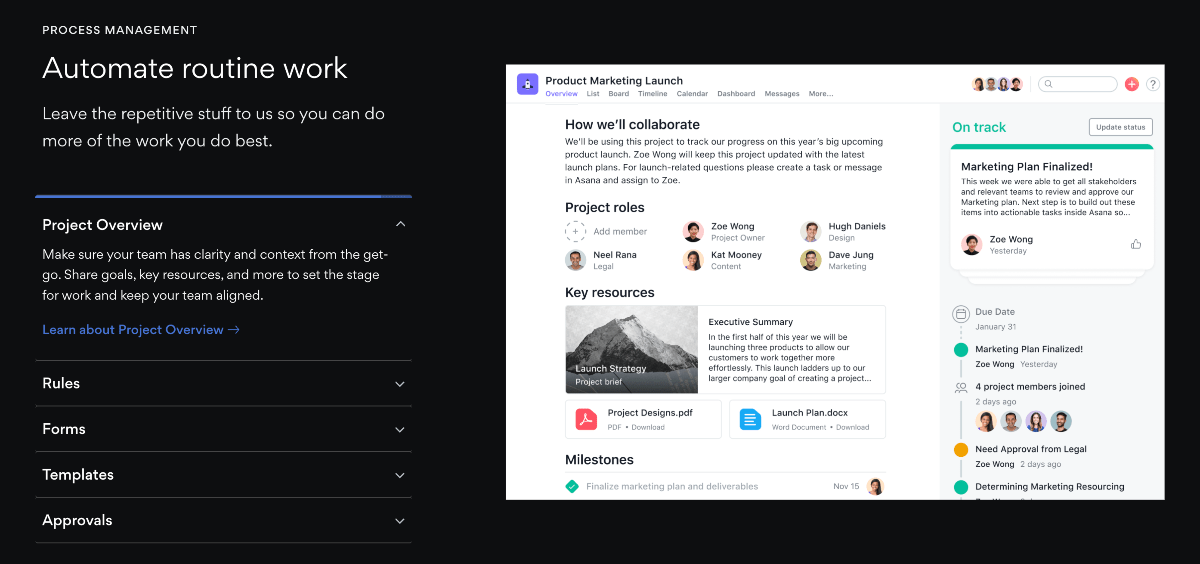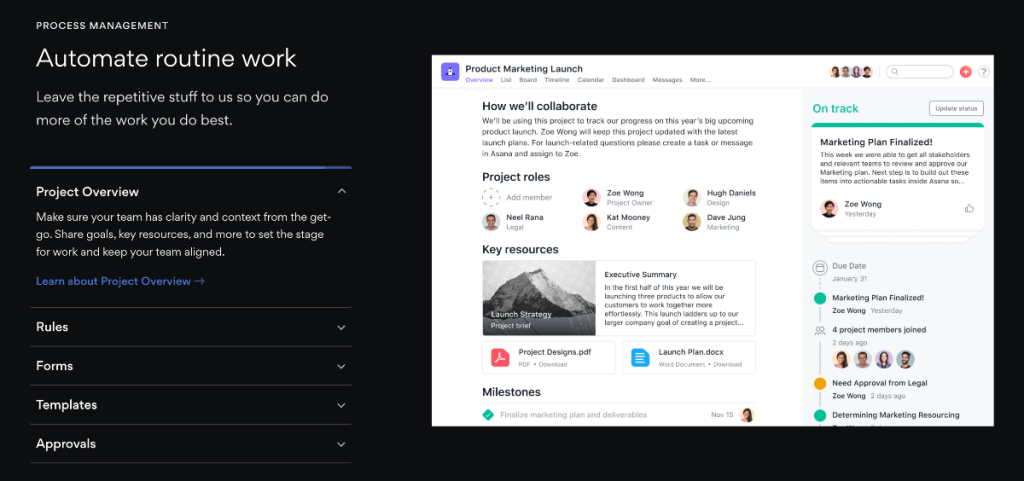 Asana has a slightly bigger learning curve but it's also a more powerful tool than some other options – but only if you know how to use it.
We started with Asana when we first started with project management software but found that it just wasn't working for our team. We weren't utilizing it to its full extent and ultimately needed a simpler tool for our team.
Asana's Key Features
Integration with 100+ platforms like Gmail, Google Drive, Outlook, Zapier, OneLogin, and more
Automation of tedious tasks, with users being able to set up upwards of 50 automation rules to deliver results faster
Automation is made easy with a custom rules builder
Multiple viewing options including list, board, and calendar view
Work request management feature to help users create work requests
Offers a "My Tasks" tab that shows only items that a user is tagged or responsible for
Offers a Focus Mode that only shows one task at a time
Offers automated email updates
Custom fields to collect and communicate special information
Comes with 50+ templates to choose from
Uses a RESTful API that enables you to update and retrieve data easily
Pros and Cons
Pros:
There is a free plan available for teams that have up to 15 members. This free tier isn't frugal with the features and includes unlimited tasks, projects, messages, file storage of up to 100MB each, and an activity log. For bloggers, this is an excellent free choice that provides enterprise-strength features.
Real-time updates and filing sharing
Customizability through third-party API modifications
Dynamic reporting
Intuitive and user-friendly interface
Cons:
Lack of live support or assistance
No built-in time tracker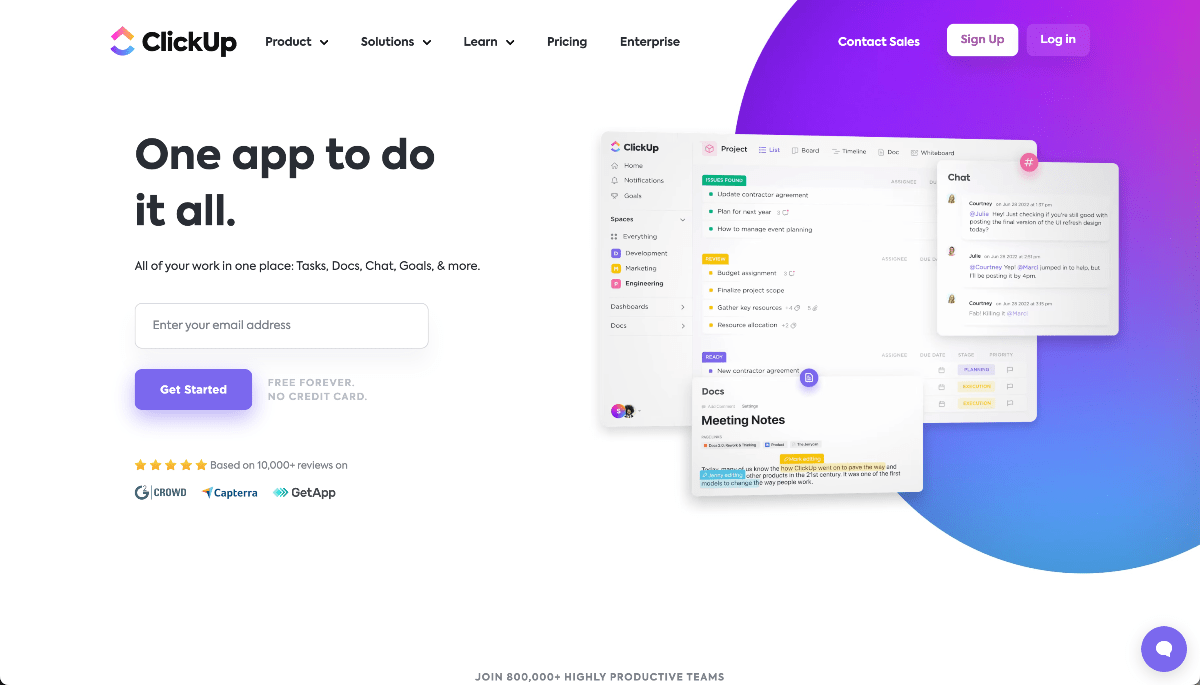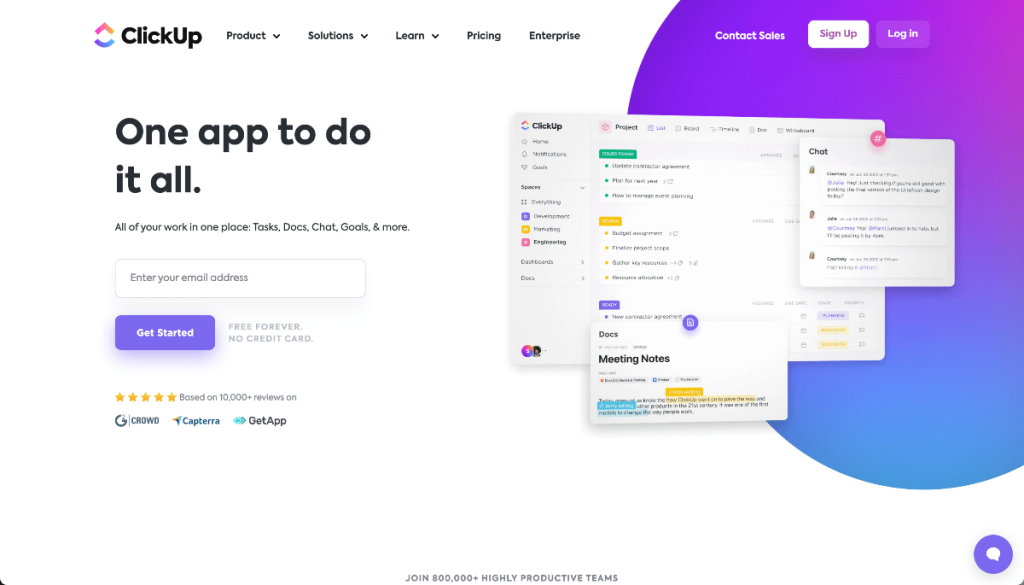 Best for: Teams looking for an all-in-one software
Price range: $0/user/mo – $19/user/mo
Free plan: Yes
Free trial: No
Known as the "one app that replaces them all" – does ClickUp live up to the hype? We think so.
ClickUp has an abundant amount of features that help with roadmaps, tasks, document sharing, timelines, real-time chats, reminders and so much more.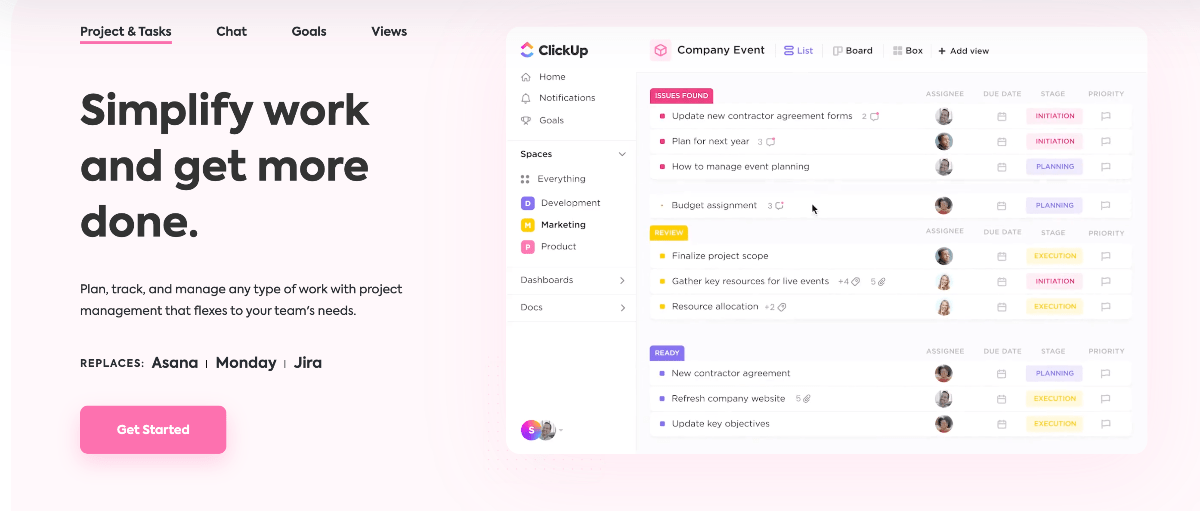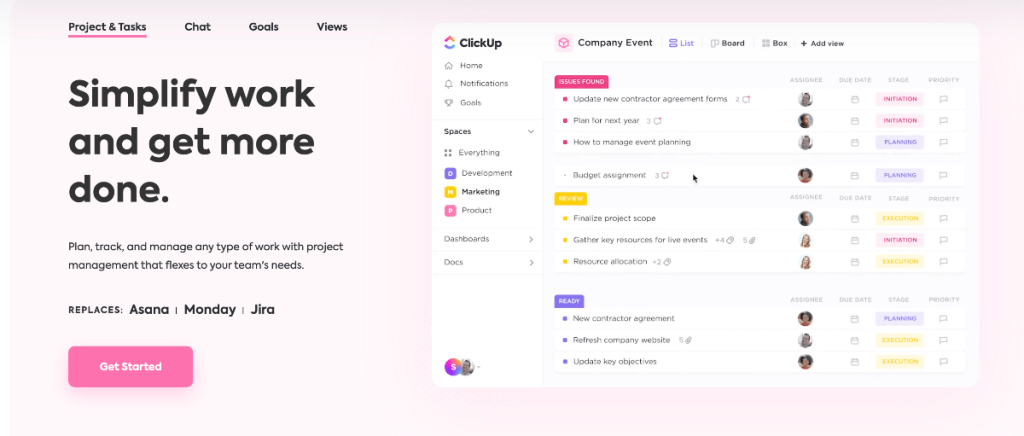 ClickUp proudly boats 100,000 teams from across many diverse industries. Big dog companies that rely on ClickUp include Google, Netflix, Nike, Airbnb, Uber, Ubisoft, and more. The "unlimited" $5/user plan unlocks just the right amount of features to meet the need of most bloggers and their teams.
Our team switched to the free ClickUp plan when we found Trello's free plan to be lacking in some areas that we needed. The free ClickUp plan is still limited but very functional for a variety of needs!
ClickUp's Key Features
Large template library
Offers six different views to meet everyone's preferences: List, board, calendar, Gantt, box, and workflow view
Wide array of integrations (like Google Drive, Dropbox, Slack, and Github)
Goal-tracking and time-tracking tools
Contact management tools
Unique task tray feature that allows you to avoid opening new tabs
Pros and Cons
Pros:
Even the free version is powerful because many of the features are not locked
High customizability
Customer-centric approach with a page where users can request new updates
24/7 customer support
Cost-effectiveness
Cons:
Steep learning curve
Clunky UI needs improvement, and there are lots of empty panes and spaces that can be more effectively used. Text sizes are very small, and colors are hard to distinguish when compressed
Not enough features for resource management or time tracking to make you replace third-party platforms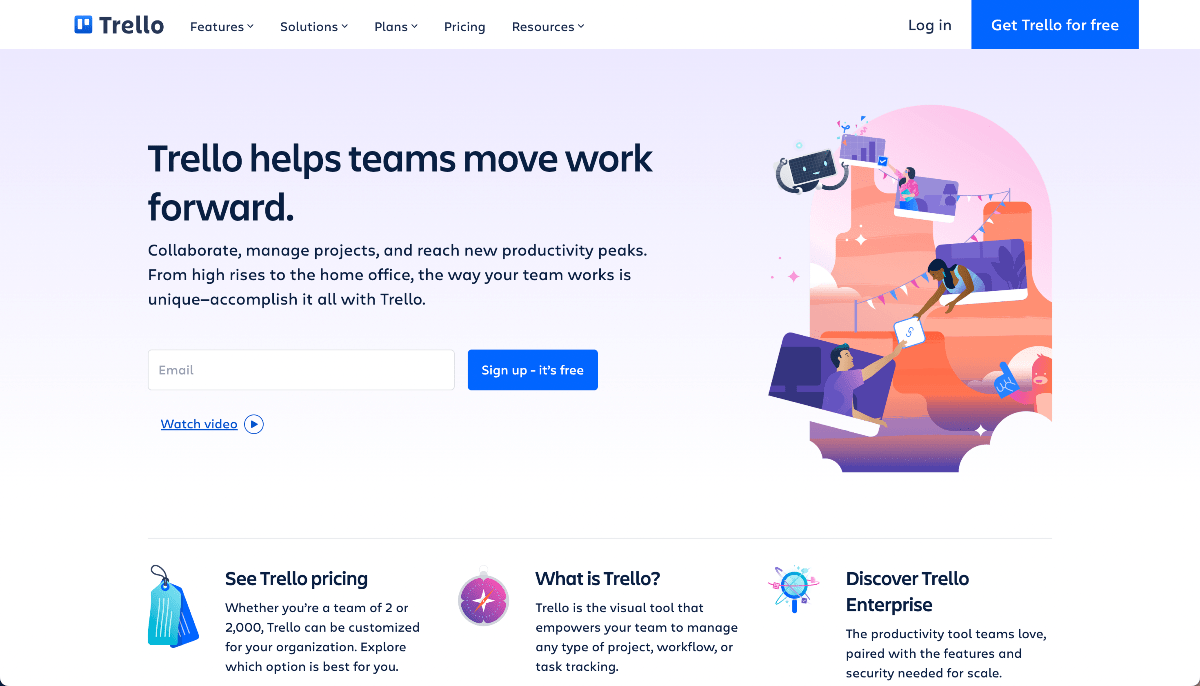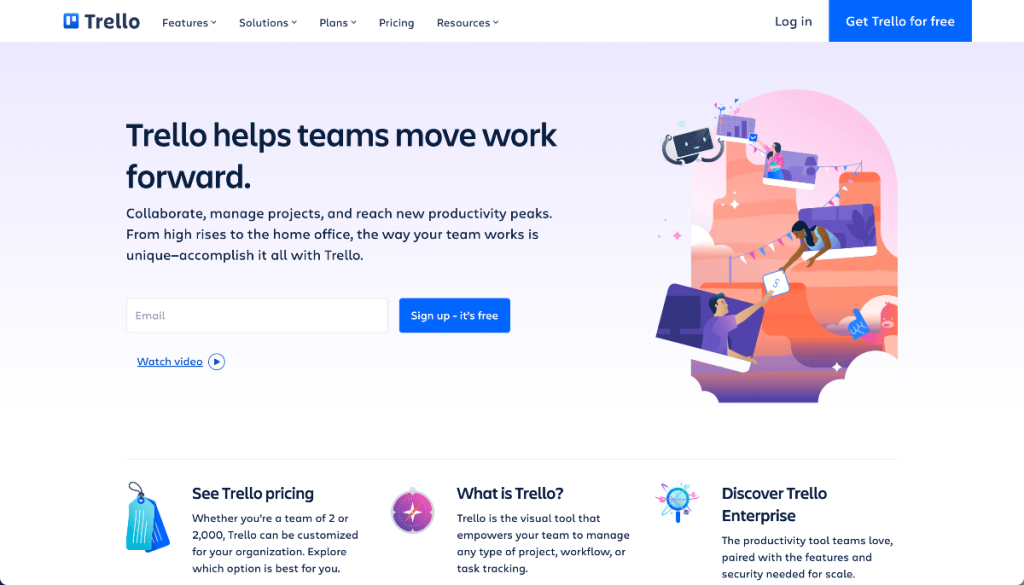 Best for: Small teams that want the basics
Price range: $0/user/mo – $17.50/user/mo
Free plan: Yes
Free trial: 14-day
Trello, hello – Trello is a Kanban-style project management software that's probably the easiest to use on our entire list.
There are fewer moving parts in Trello (as opposed to something like Wrike), and it's ideal for teams with simpler projects. Even the free version lets you automate some tasks and the platform syncs effortlessly across all platforms.
For the right team, Trello can be absolutely perfect. We used it for over a year and loved it.
There also are tons of "power-ups" on Trello that allow you to customize the software to meet your personal or business needs.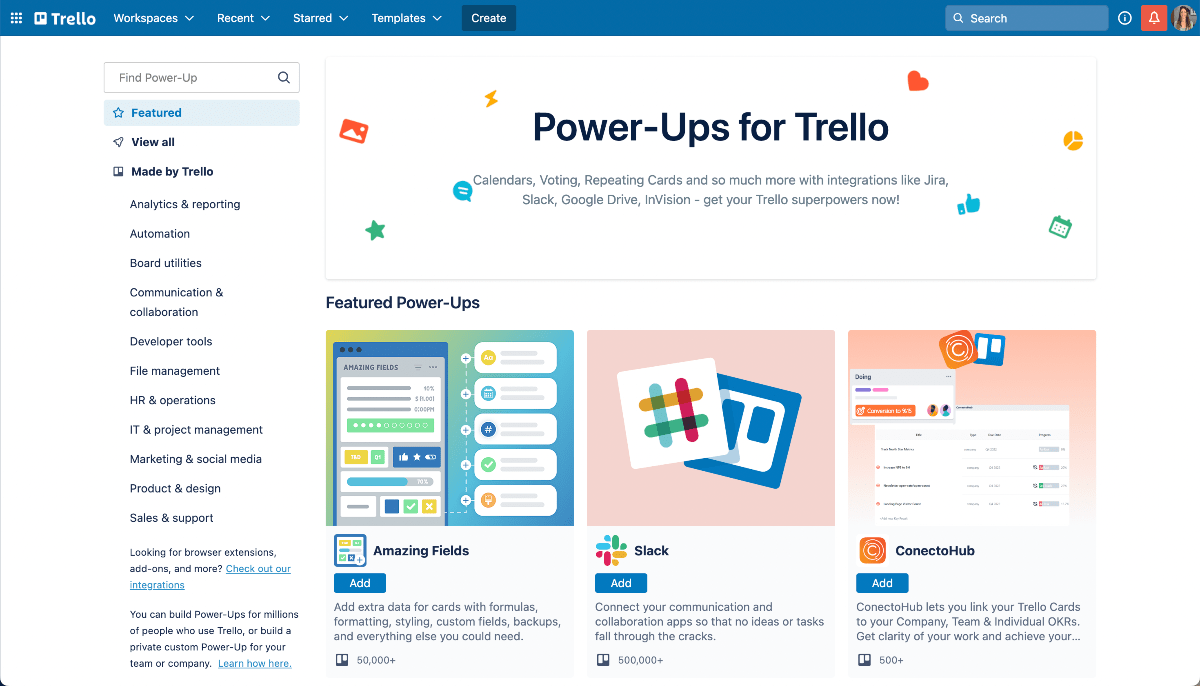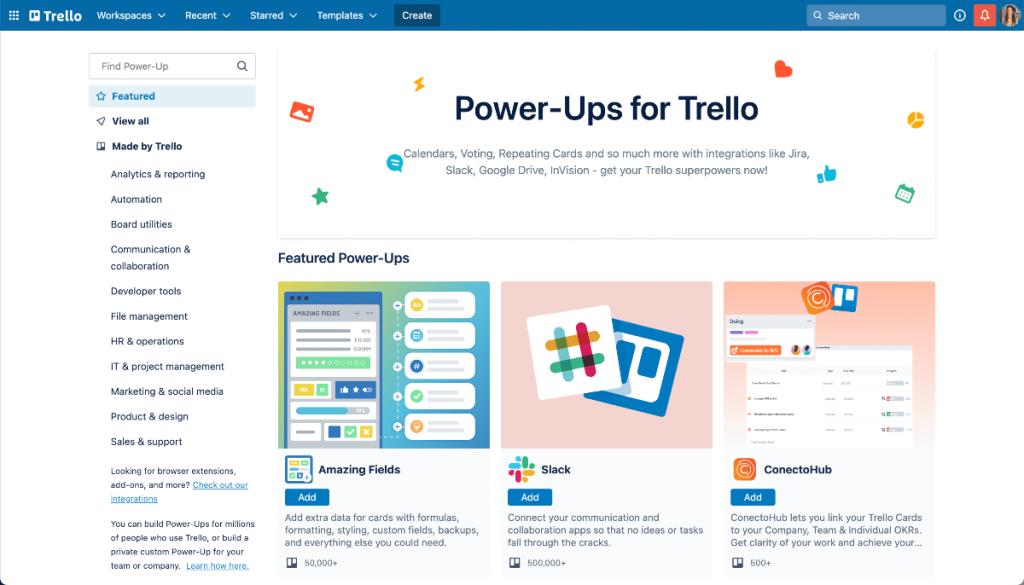 Trello's Key Features
Offers unlimited personal boards, cards, and lists for your personal to-do's and notes
Up to 10 team boards for the free version, and unlimited for all other tiers
Drag and drop feature
Ability to complete inline editing, checklists, and attachments
App and email notifications for regular deadlines and updates
Offers a voting feature that allows employees to vote and decide on a particular course of action in real-time
Unique "power up" system that allows Trello to do more things (e.g. advanced automation, rewind, back up) – these power-ups are similar to plugins, some are free while others require a fee
Pros and Cons
Pros:
Intuitive and user-friendly
If you do need to upgrade, Trello is still one of the cheapest project management software on the market
Boards can be customized for different types of projects
Ability to sync with collaboration tools like Slack
Cons:
No central way to monitor all projects
Trello can get more difficult to keep track of as your team scales and grows
No guest view or separate portal for clients
User permissions and roles are overly complex to assign, teams usually will have to go off of an "honor" system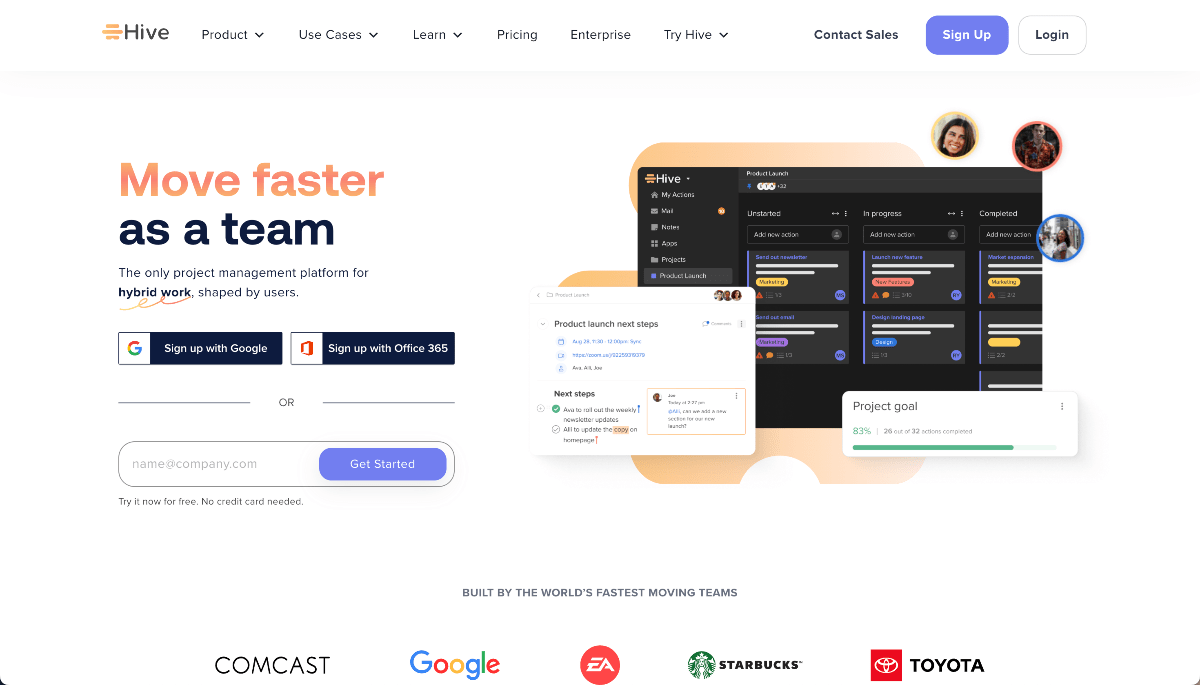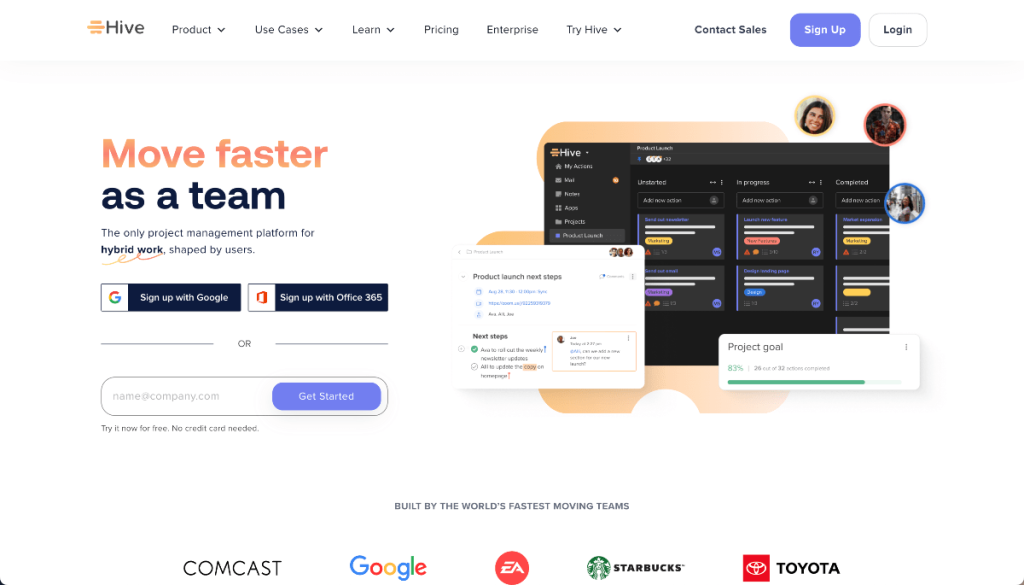 Best for: Diverse teams
Price range: $0/user/mo -$12/user/mo
Free plan: Yes
Free trial: 14-day
Hive claims to be helping "teams move faster" and they're doing just that. Hive is part project management software and part AI, and brings in features like automated task management, metric analytics, and integration with dozens of popular tools.
Whether you and your team have a preference for Kanban boards, calendar views, or lists – everyone on your team is going to find something about Hive they like.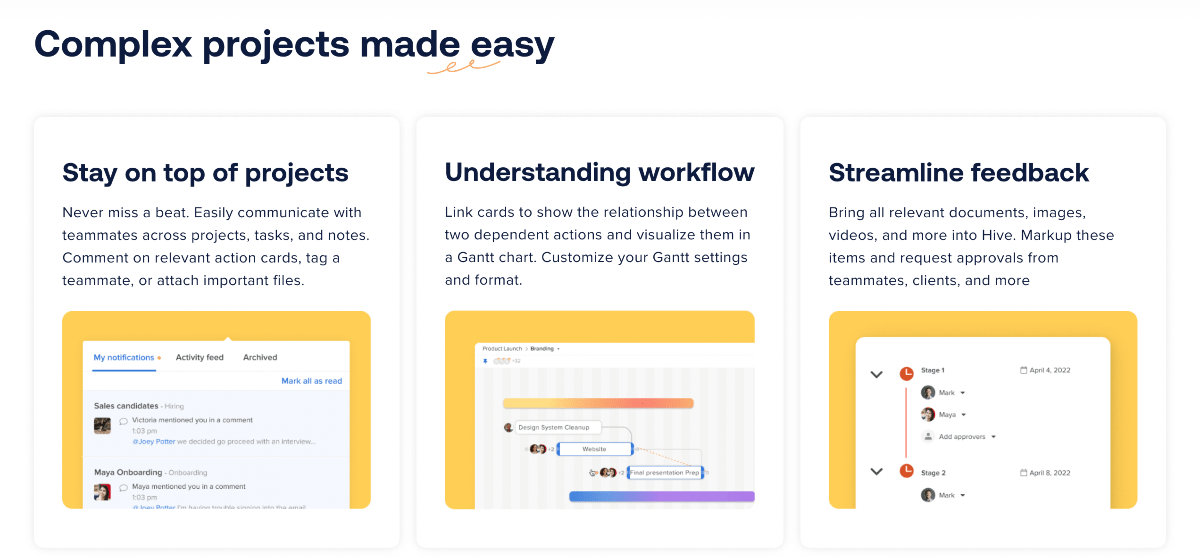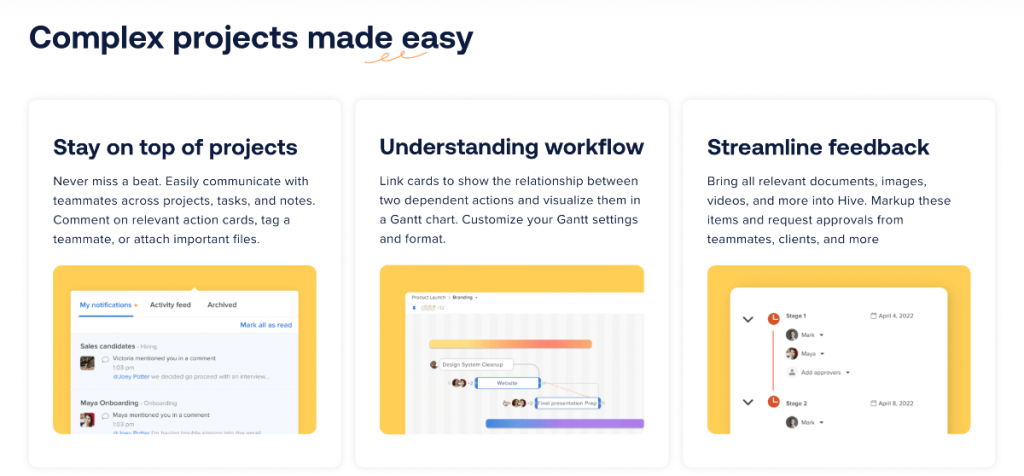 Hive's Key Features
Four different project views: Kanban, Calendar, Gantt, and Table view
Available to download as a mobile app
Ability to track time in individual tasks
Offers a "My Actions" tab that only shows tasks that a user is responsible for or tagged in
Offers a Hive Chatbox to attach documents, transfer files, and communicate with team members via drag-and-drop actions
Use tracksheets for information like project completion, work done by an individual, and when the team is most/least productive during the week
Hive integrates well with 1,000+ marketing and communication apps. This includes popular platforms like Google Drive, Gmail, Microsoft Teams, Outlook, Slack, Github, Salesforce, and more
Import data from other project management software like Trello and Asana
Pros and Cons
Pros:
Free demo to help you learn about the software's features
Free individual tier
14-day free trial
Accessible and responsive customer service team
Advanced analytics suite with budgeting
Up to 5 free guest views (before you have to pay)
Cons:
Analytics costs extra
Zapier is a requirement for many common/popular integrations
Steep learning curve for advanced analytics and features
Mobile app has reduced functionality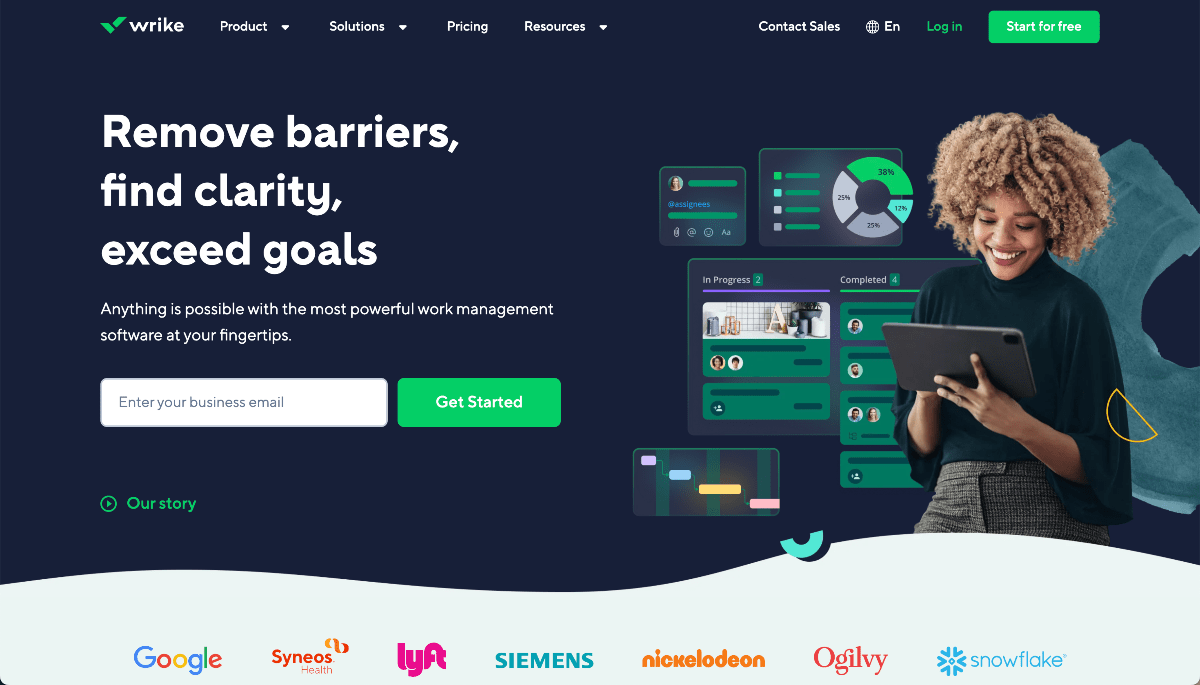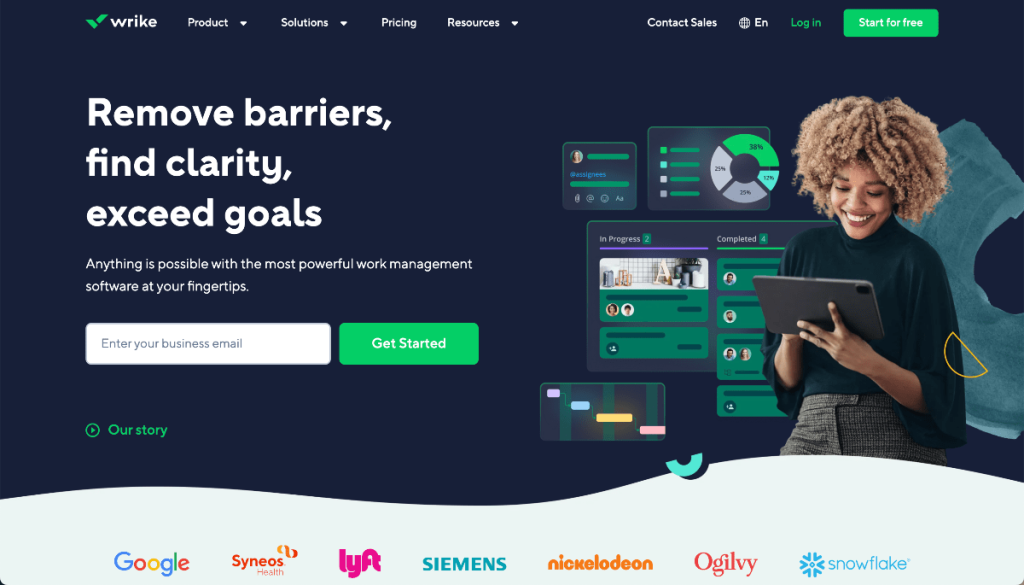 Best for: Large teams
Price range: $0/user/mo – $24.80/user/mo
Free plan: Yes
Free trial: 14-day
Got a large team working behind the scenes for your blog? There's no such thing as too many cooks in the kitchen with Wrike.
Wrike boasts a Kanban-style, multi-pane UI that can keep multiple projects and large teams in check. Managers and team members can benefit from Wrike's embedded communication, employee availability features, and the ability to view which projects are most at-risk.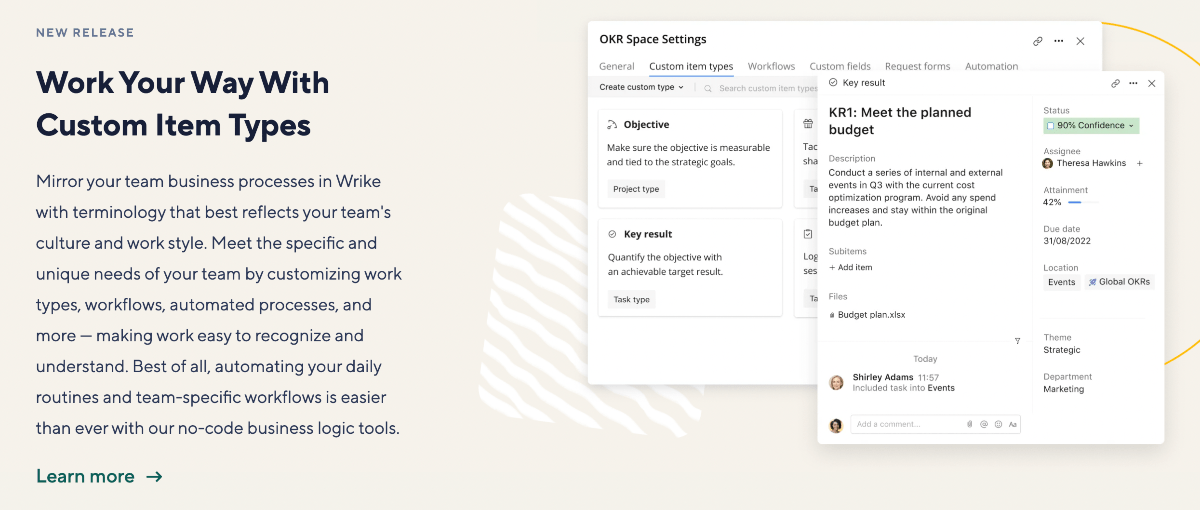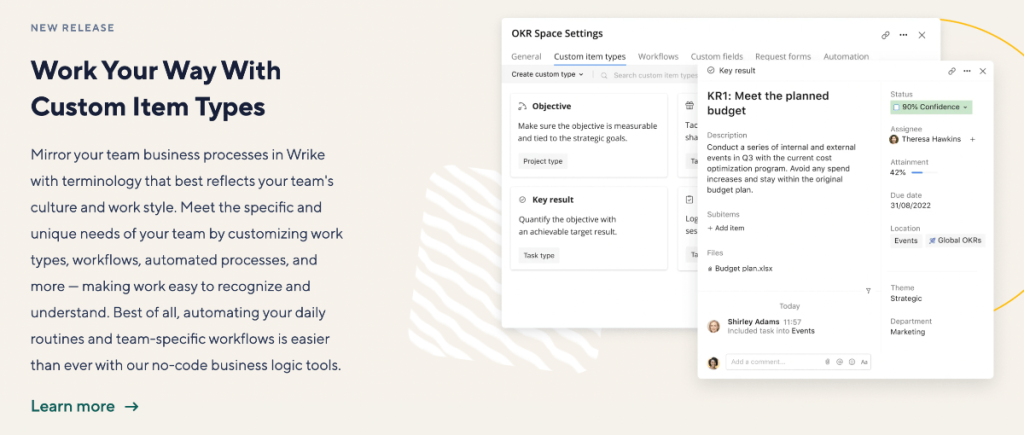 Wrike's Key Features
Unique three-pane view to keep everything within reach. The left pane lets you access your current projects and finances, the middle pane is used to create/assign new tasks, and the right pane is to view all tasks and subtasks.
Tools to track individual and overall project progress
Simple drag-and-drop editor
Detailed analytics and data insights from integration with Tableau
Trackable metrics such as task duration, milestones top performers, and conflicts
Ability to create custom tags and folders for easy project organization
Two-factor authentication
Pros and Cons
Pros:
High emphasis on security and security-enhancing protocols
Can be used as a single platform to manage your team
Save time through automation
24/7 support via phone, email, and live chat
Cons:
Interface can be difficult to navigate
No way to view all project updates and actions from one single location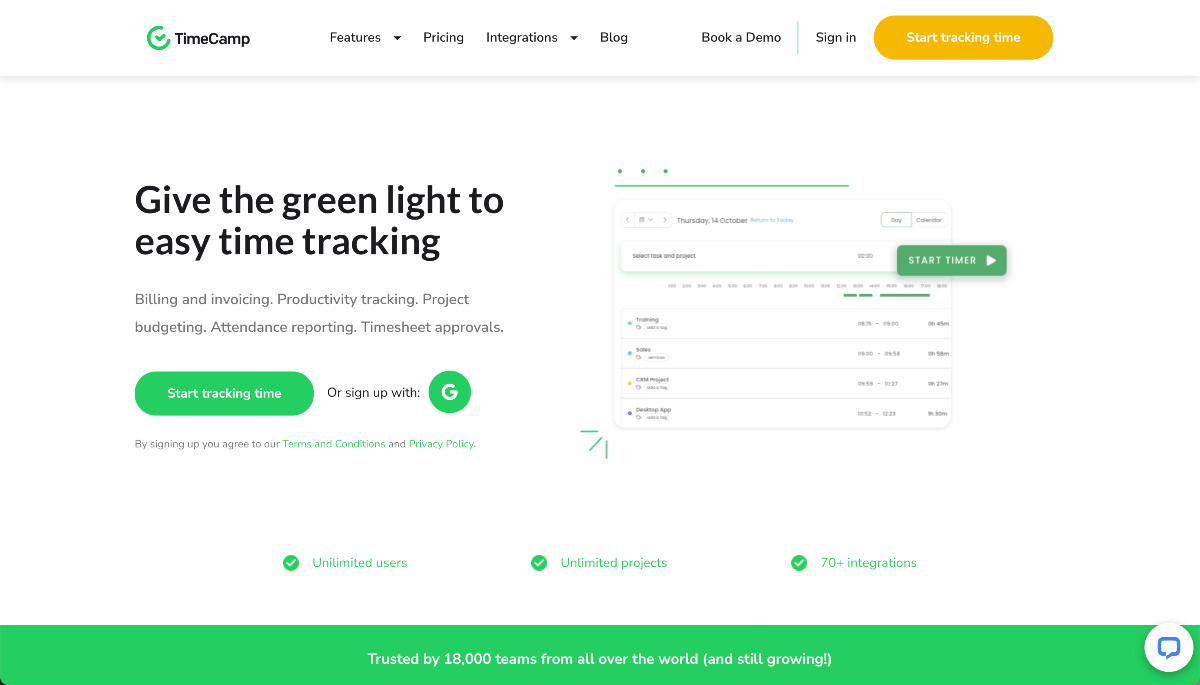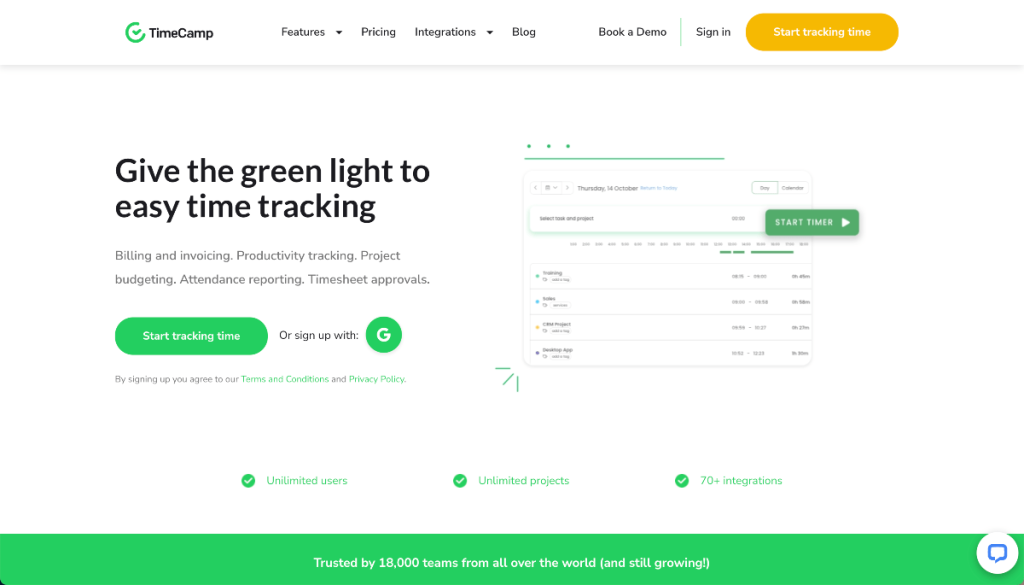 Best for: Teams that prioritize time tracking
Price range: $0/user/mo – $9/user/mo
Free plan: Yes
Free trial: 14-day
Need a project management software that's more focussed on time tracking and billing?
TimeCamp is a simple yet powerful time-tracking tool that's also great at streaming daily workflow issues. The platform automatically tracks time and activity in the background, so your team can worry about what matters.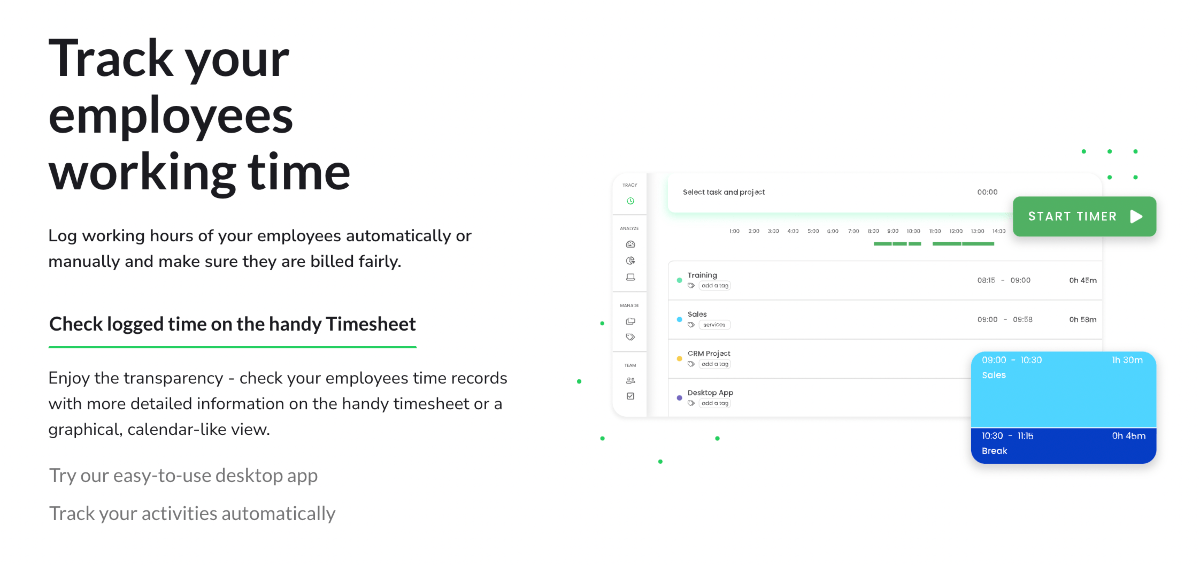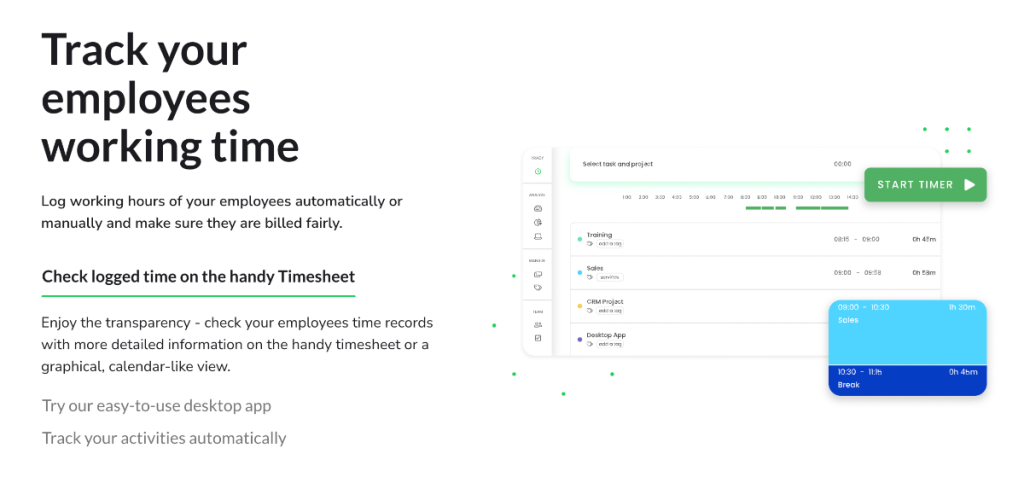 TimeCamp is also one of the most free-friendly project management software, with an unlimited amount of users, projects, and tasks available. It's available on browsers, desktop, and mobile.
TimeCamp's Key Features
A project tree structure with tags that allow users to add as many tasks and subtasks
Fill your timesheets automatically with a daily activity feature
Invoicing
Customized time tracking using keyword inputs
An attendance tab that's able to track away time, leaves, holidays, and vacation days
If you add billing rates, you can pay to create a payroll system directly on TimeCamp
Graphical timesheet to see easily identify who's doing what and for how long
Managers can approve or deny timesheets submitted by employees
Custom user roles to define each person's privileges (e.g. assigning, editing, deleting tasks) within TimeCamp
Add as many guests as you need via a guest role
Ability to import projects from other project management software
Ability to set a "time budget" for each project
Pros and Cons
Pros:
Automatic time tracking
High integration with other project management, HR, marketing, accounting, etc. tools
Free version that can meet the need of most companies
Cons:
Simple layout that might seem clunky and outdated
Some users report that the time-tracking will time out randomly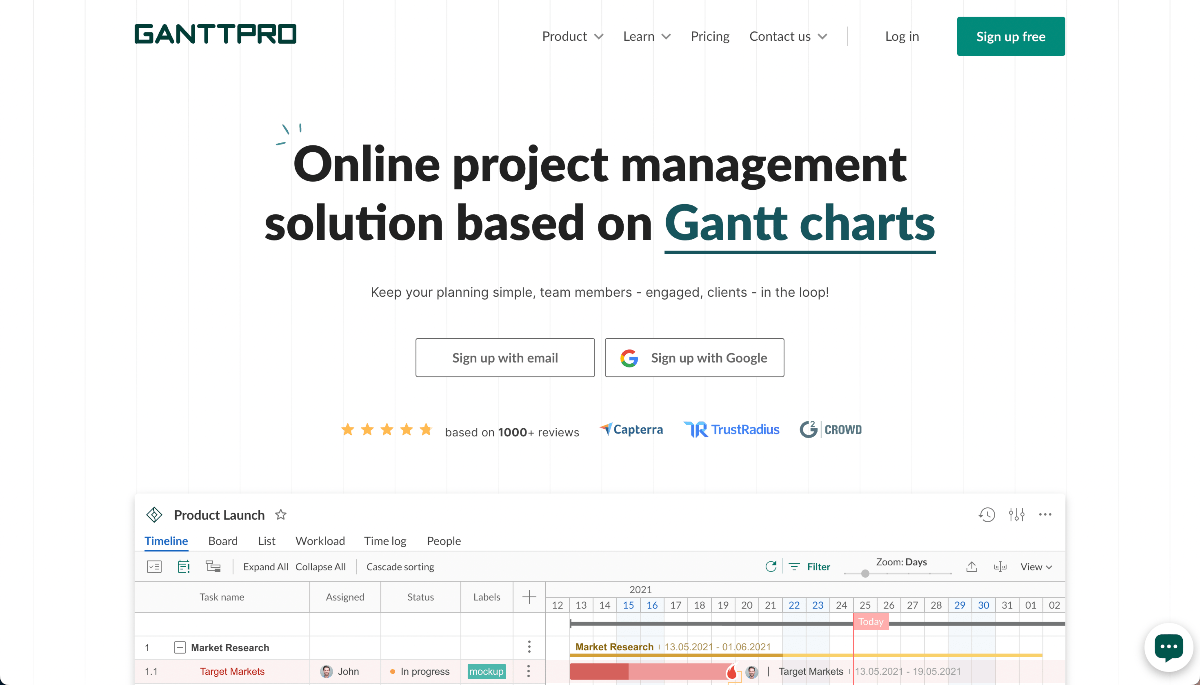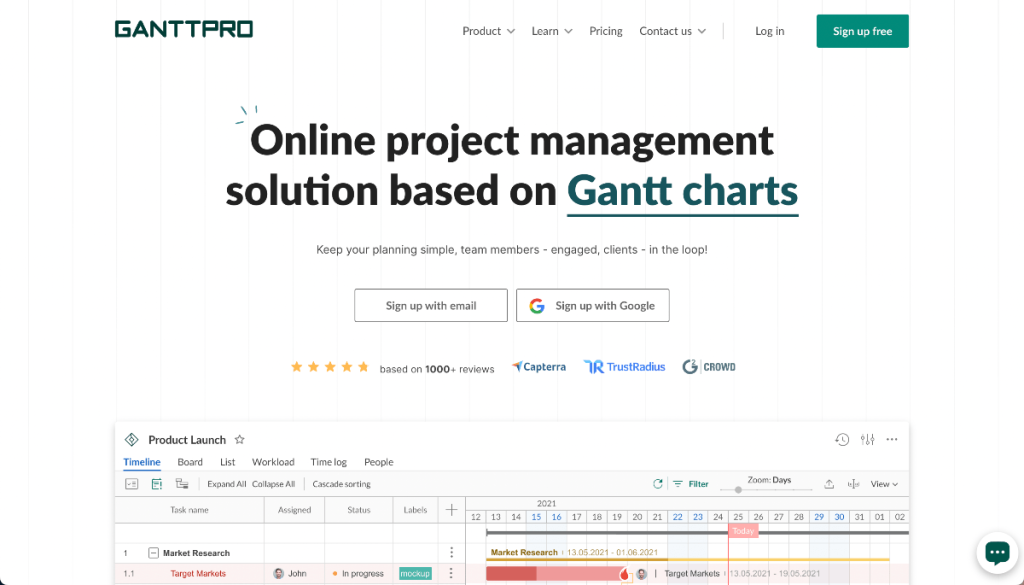 Best for: Teams that love all things Gantt charts
Price range: $4.50/user/mo – $8.99/users/mo
Free plan: No
Free trial: 14-day
GanttPRO is a web-based application that's simple, secure, and a dream for those that prefer working with Gantt chart. The platform is lightweight and offers enough tools to help teams streamline their projects – without being overbearing to learn.
Its Gantt charts provide clear visuals of a project's team members, tasks, deadlines, and priorities. Teams can also interact and communicate with ease on GanttPRO.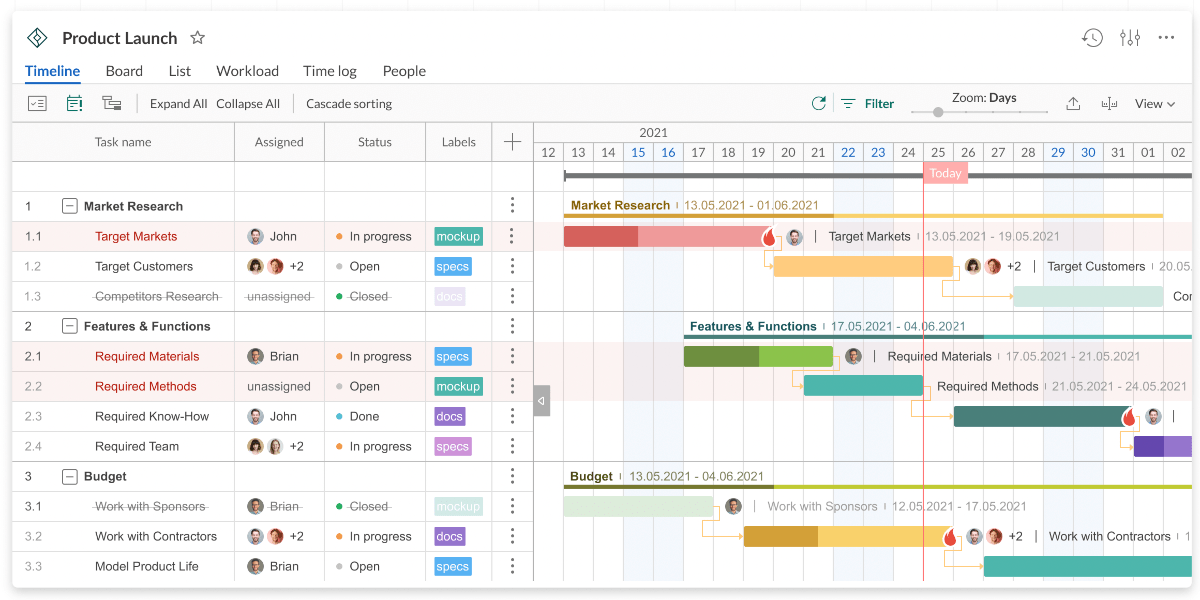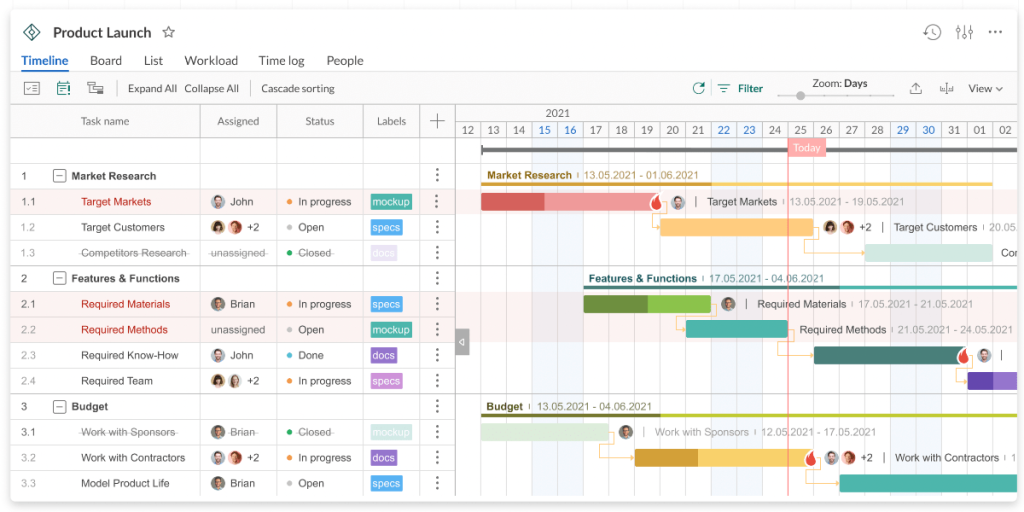 GanttPRO's Key Features
Real-time synonymization
Includes custom fields for things like tasks to complete and a critical path feature for urgent tasks.
Also features a kanban board view
Project duration and time estimates
Project budget calculation – calculations are based on the duration of tasks and the type of the working unit: labor, material, or fixed costs
Automatic change histories that can be undone if necessary
User settings and team member permissions
Time log reports and tracking
Library of custom and pre-configured project templates
Pros and Cons
Pros:
Competitively priced
Simple to pick up and learn
Fast project sharing to keep stakeholders in the loop
Multi-layer security with SSL encryption, private VPN, and Microsoft Azure Cloud Infrastructure
24/7 email support
Live support on Monday to Friday during business hours
Cons:
Light on integrations
No billing or invoicing
Dashboard and reporting do not come with customization settings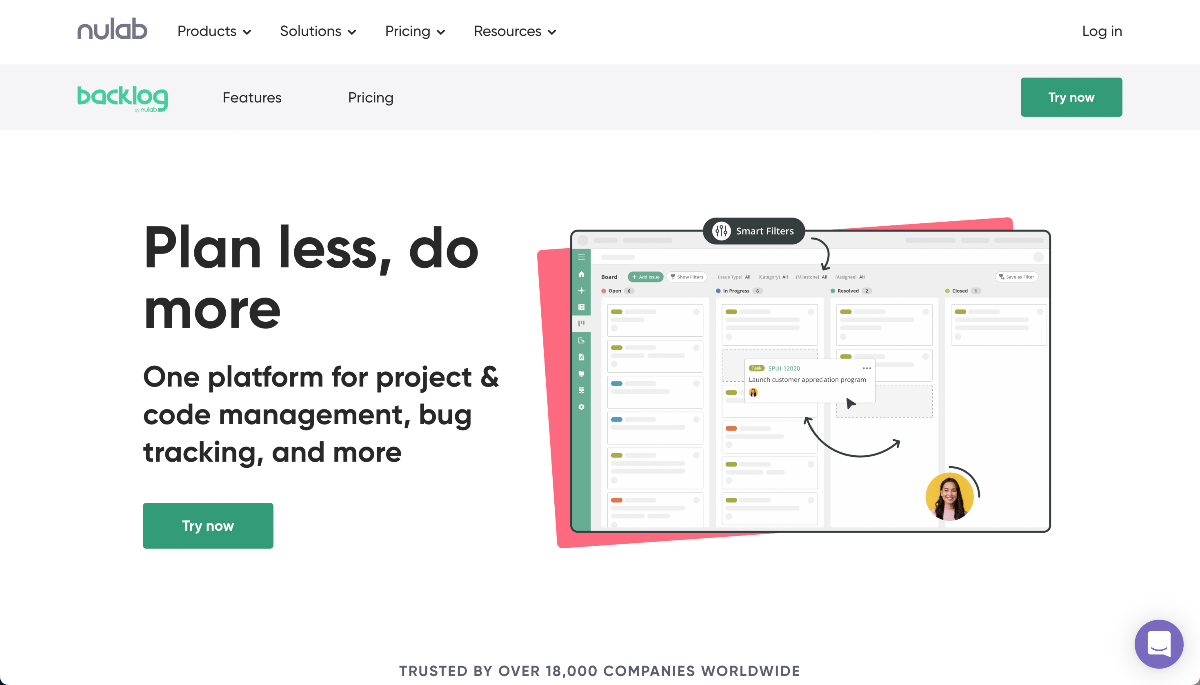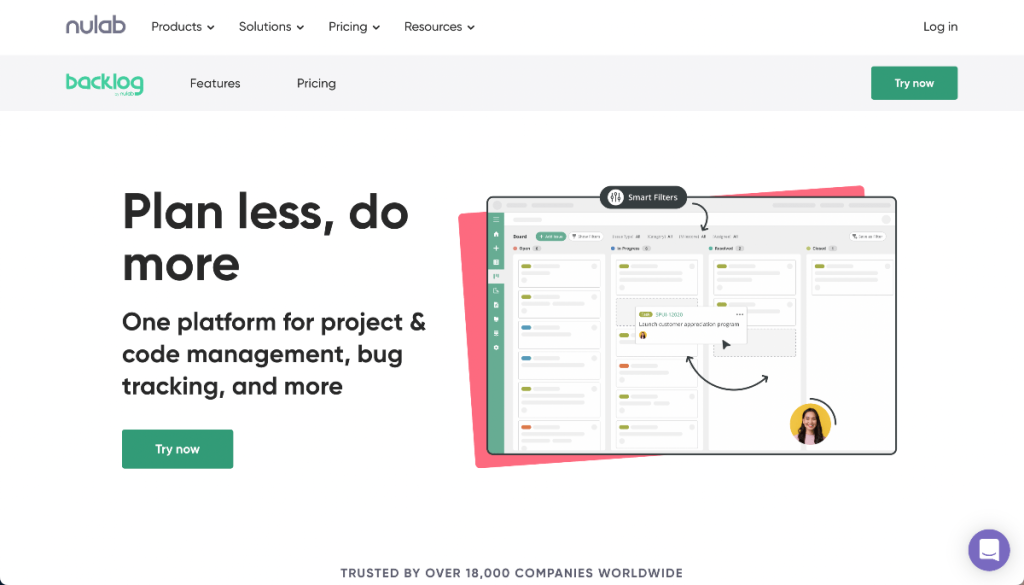 Best for: Teams with experience coding
Price range: $0/mo – $175/mo
Free plan: Yes
Free trial: 14-day
Backlog is another all-in-one project management tool. But, its priorities also make it unique on our list. The platform combines project management with version control and bug tracking.
Users that want to use or are knowledgeable about coding can especially benefit from a project management software like Backlog.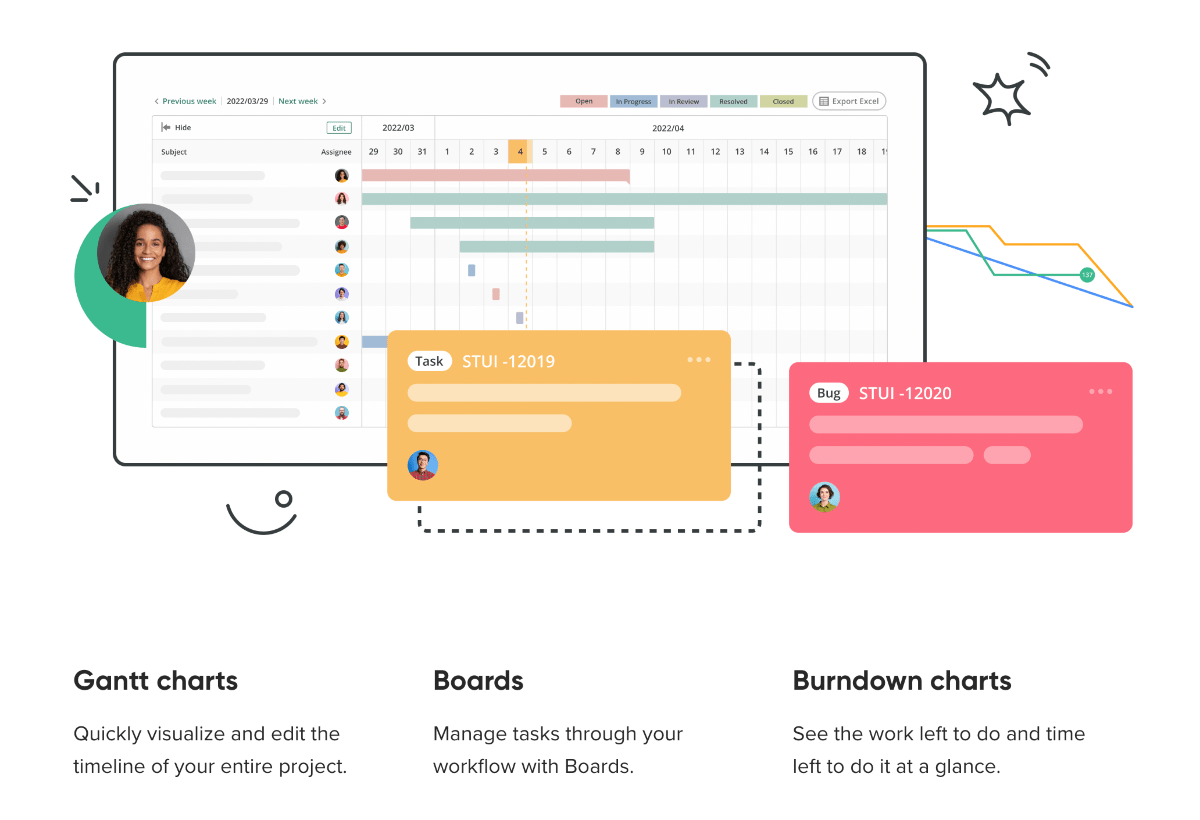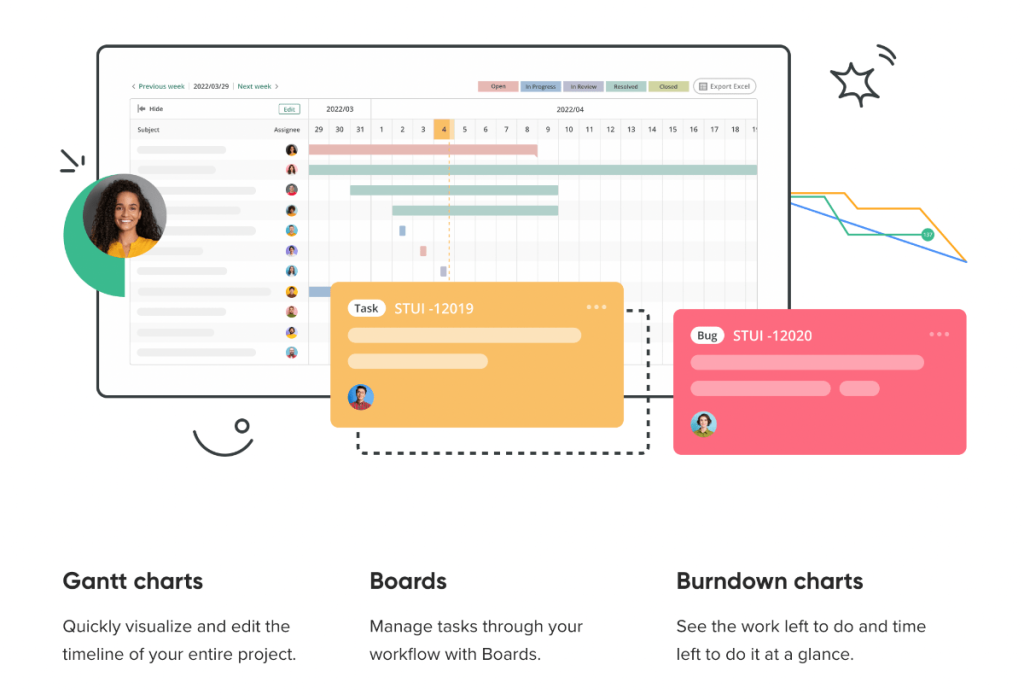 Backlog's Key Features
Built-in SVN and Git repositories
Free plan for up to 10 users
Offers bug tracking and project version control features
Offers custom wikis for documenting your team's shared knowledge
Kaban boards for task tracking
Gantt and Burndown charts for project tracking
Drag and drop file management
Collaborative features such as comment history, push notifications, and comment threads
Integrations with Jira, Dropbox, LinkedIn, Zapier, and more
Pros and Cons
Pros:
Unique custom wiki feature that can keep up with onboarding
Bug and test tracking are best for coding-related projects
Available on IOS, Android, and web browsers
Cons:
The free plan only lets you have one project at a time
There is no explanation for the bugs and/or errors that your team encounters
Platform's full potential requires that you and your team understand code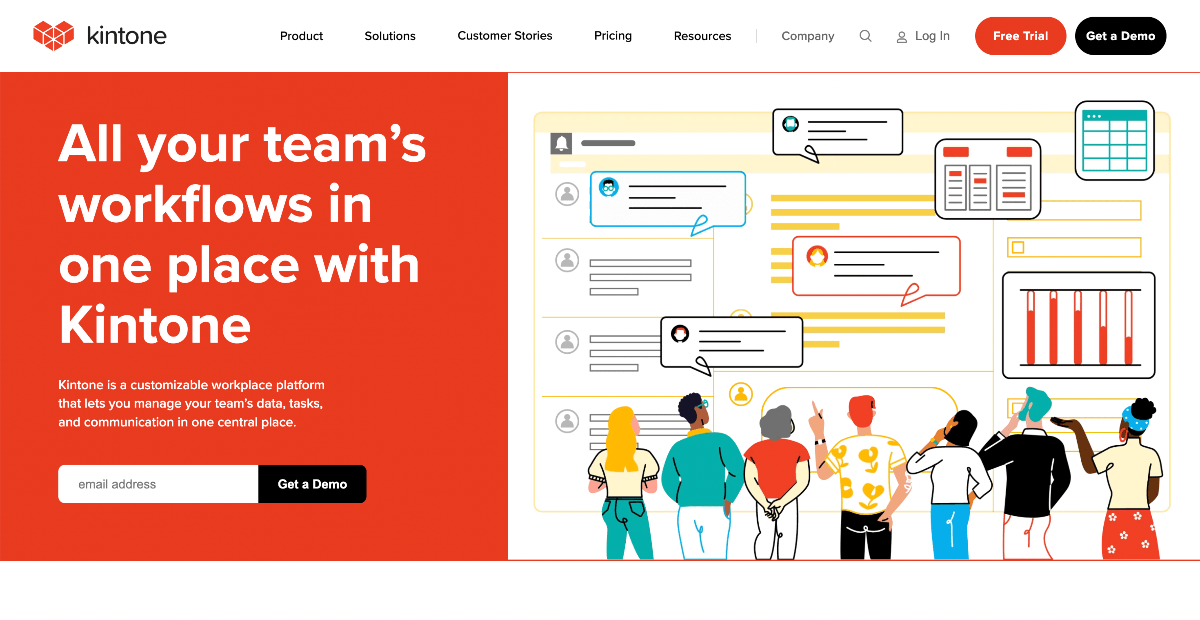 Best for: Teams looking for third-party plugin customizability
Price range: $24/mo/user
Free plan: No
Free trial: 30-day
Ready for less organizing, more doing? Kintone is excellent project management software that gives you total visibility over your data, team, and tasks at any time.
The software is used by 23,000+ businesses across the world, including big brands like Whole Foods and Volvo. The gist of Kintone is that it lets you "build" business apps to get each of your tasks done faster.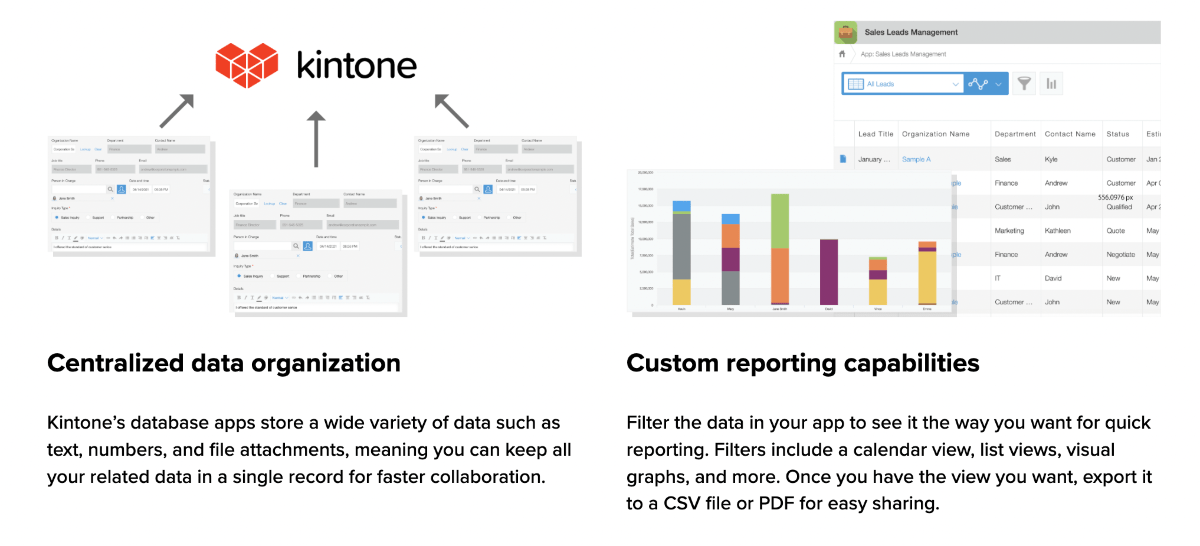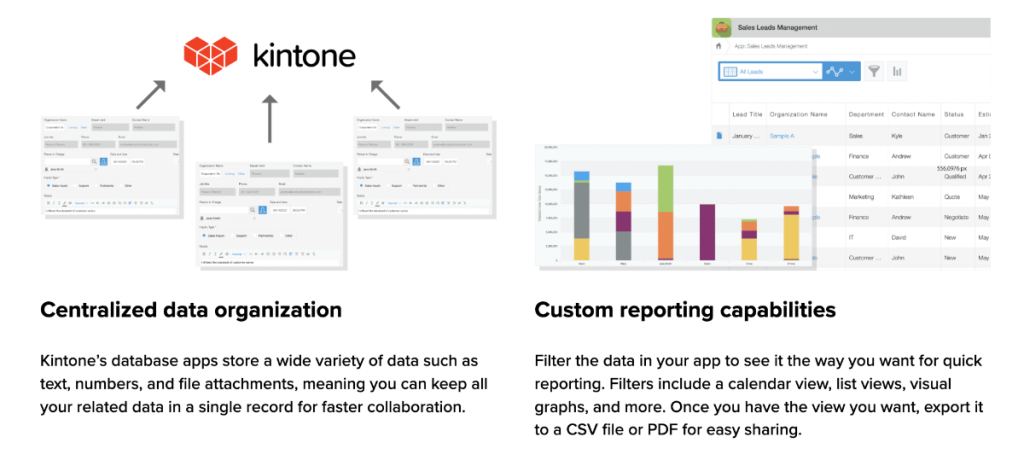 Kintone's Key Features
Kintone spaces where you can organize all your data, tasks, related files, and team members
Quick reporting feature that gets you a real-time view of your project's current status, your teammates' workloads, and outstanding tasks with custom charts and graphs
Custom reminders
Custom notifications
Conversation threads
Task records
Pros and Cons
Pros:
Onboarding with a Kintone specialist – you will be set up with a meeting where you can ask questions and see if Kintone is right for you
Easy drag-and-drop functionality
Ability to personalize without coding knowledge
Straightforward to use
Integration and third-party plugins are compatible with Kintone
Cons:
Plug-ins are often required if you want to use Kintone for more complex project management jobs
Built-in graphing and tables are basic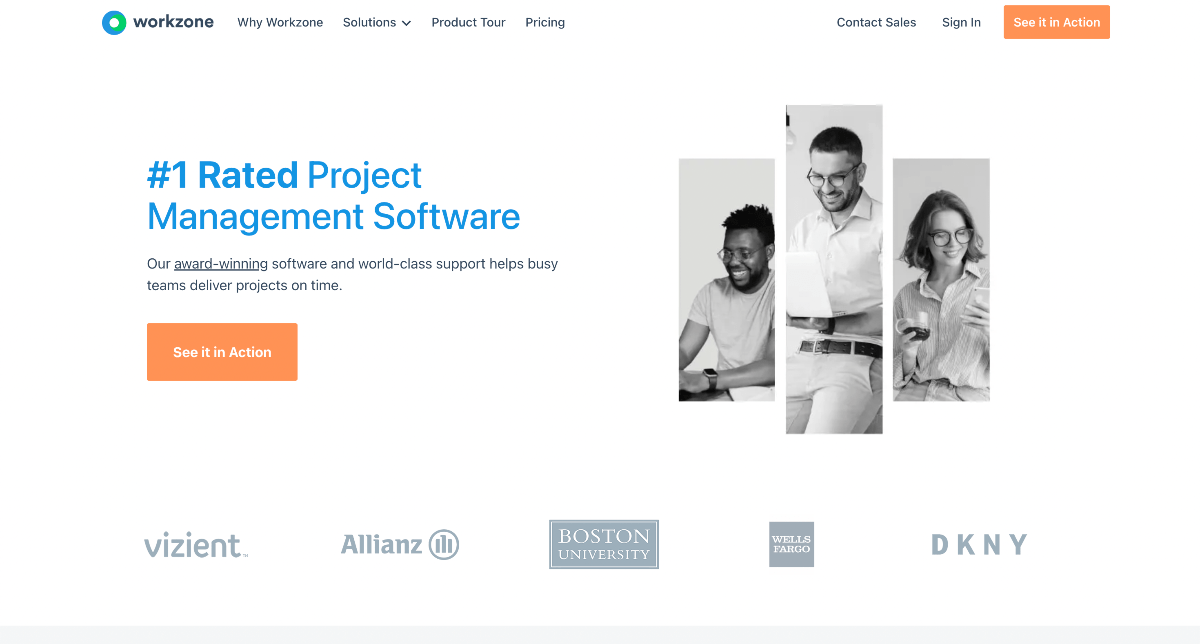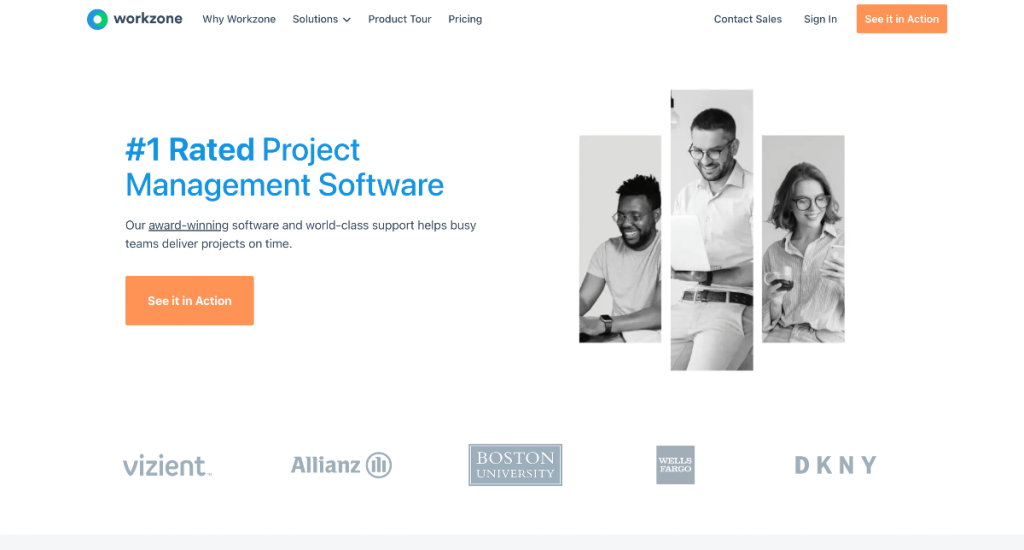 Best for Medium-sized teams
Price range: $24/user/mo – $43/user/mo
Free plan: No
Free trial: No
Need to hit the project management software sweet spot between too simple and too complex?
Workzone is a cloud-based project management software that is best for enabling collaboration between different business units. The platform is versatile, but we will mention that the price tag is hefty. Workzone can be the right tool, but it depends on your team and its size.


Workzone's Key Features
Custom branding – this is Workzone's most unique feature and enables custom branding for businesses. This means you can display your blog's logo, colors, and signature to create a more cohesive experience. If you work with clients, you can also do custom branding for them.
Project dashboard that gives reference to all the available features (trust us, there's alot)
All plans come with unlimited training sessions so you can leverage Workzone's team of experts to train your team
Diverse template library
Offers project reports that can be customized and exported externally
All-in-one portfolio management
Comprehensive document management
Time tracking functionality
Integration with a large set of software, including Google Drive, Dropbox, and more
Pros and Cons
Pros:
Boasts an impress 99.99% uptime
24/7 phone and email support
Ideal for teams that handle many different clients
Unlimited training
Easy task linking
Versatile and customizable dashboards
Cons:
No way to create a portal for clients or external users
No freemium account
Time management features are basic
Pricey
Learning curve (even with the provided training)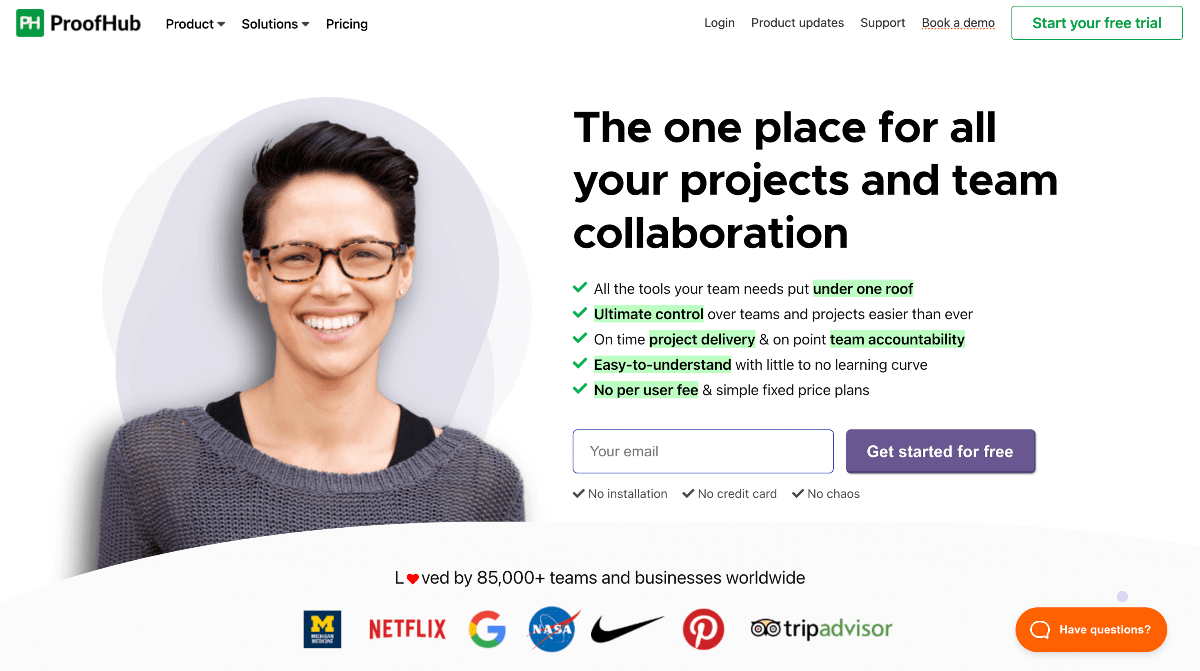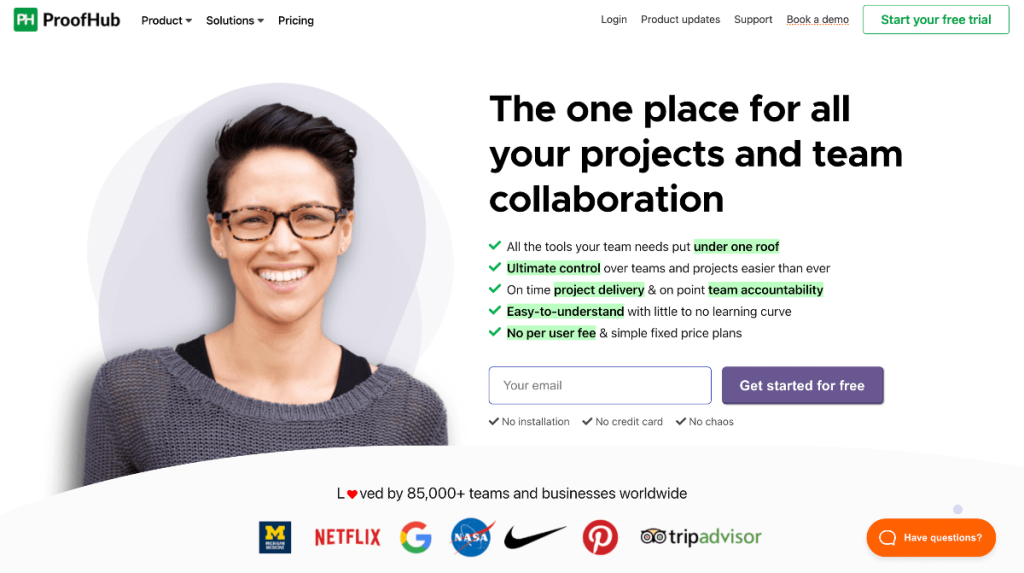 Price range: $45/user/mo – $89/user/mo
Free plan: No
Free trial: 30-day
ProofHub enables project managers to control their teams, finish projects faster, and ensures on-team accountability. The best part? It's all under one roof and makes project management for both small and large bloggers super easy once mastered.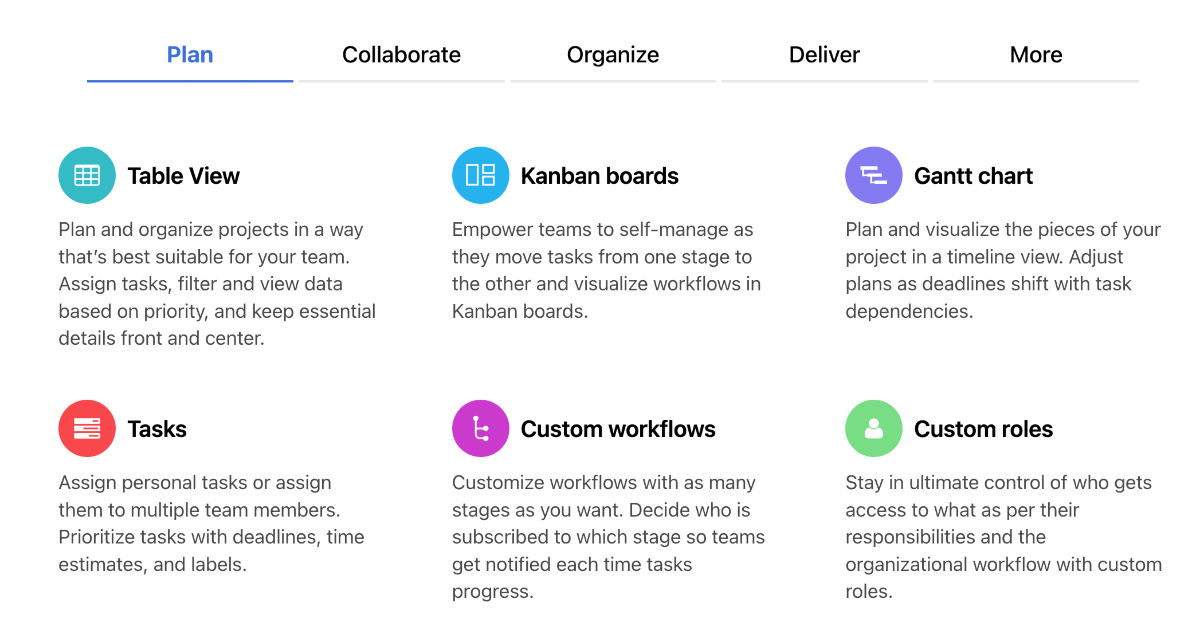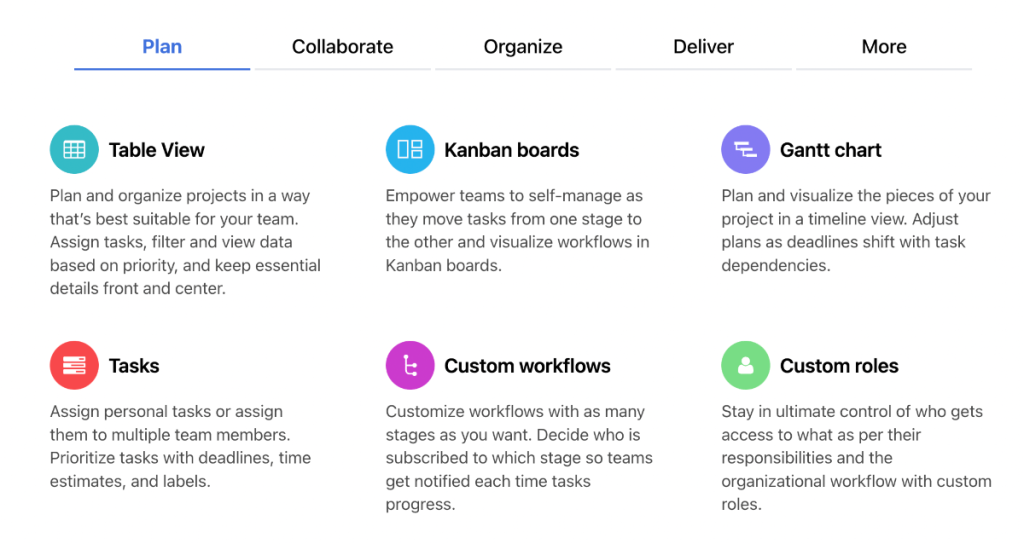 ProofHub's Key Features
White labeling – this allows you to customize your domain, theme colors and labels to best match you and your team
IP restriction feature that allows only authorized IP addresses to view your confidential data
Embedded command shortcuts for effective working
Integration with Outlook, Dropbox, and Google Drive
Project templates are available
One-on-one messaging and group chats are available
Available in multiple languages
Advanced search that allows users to search the platform using keywords
You can view multiple files simultaneously
Pros and Cons
Pros:
Memberships are billed at a flat rate (this can be hit or miss depending on the size of your team)
Unlimited users
30-day free trial period
Managers have complete control
Cons:
No budgeting features
No option for recurring tasks
Can be difficult to learn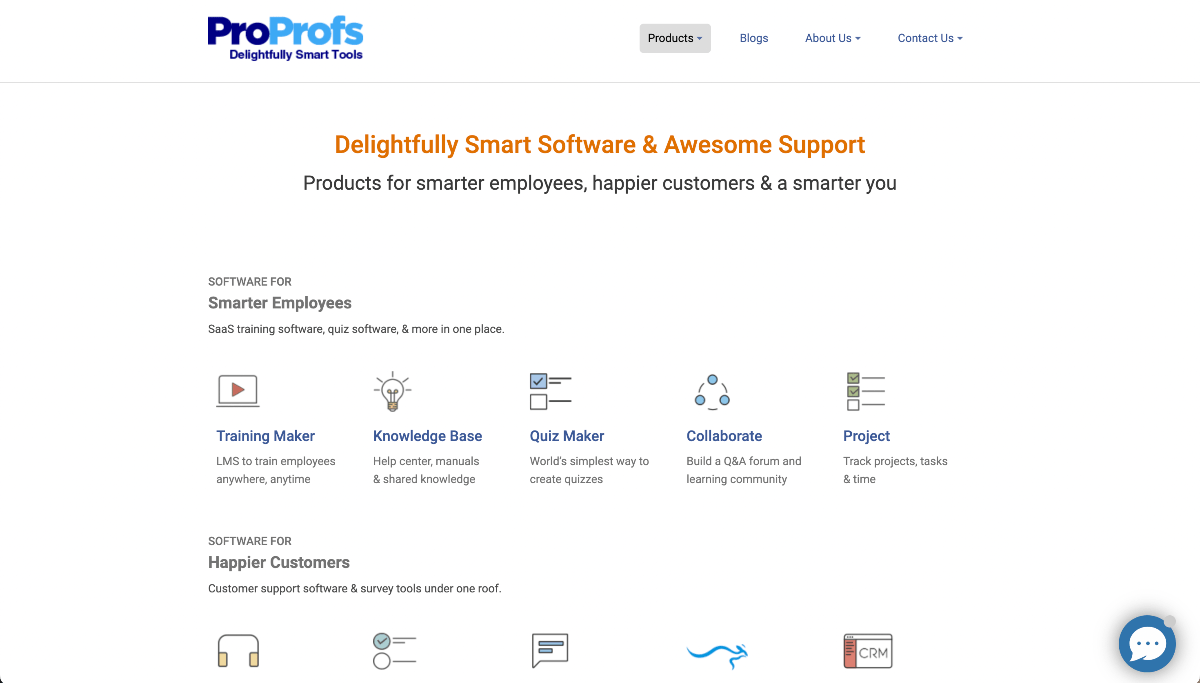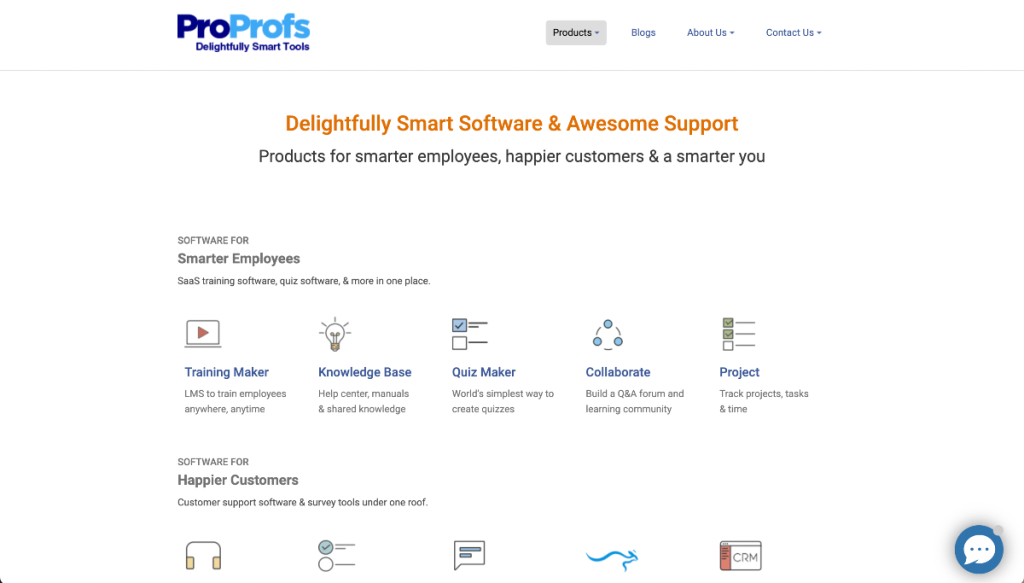 Price range: $0/mo-$199/mo
Free plan: Yes
Free trial: 15-day
If you envision automation as a part of your blogging dream team – we recommend ProProfs Project.
ProProfs Project is a great project management software that enables teams of all sizes to execute plans, schedule, and assign tasks. Also, the platform boasts several features that make mundane and time-consuming tasks seamless for bloggers of all sizes.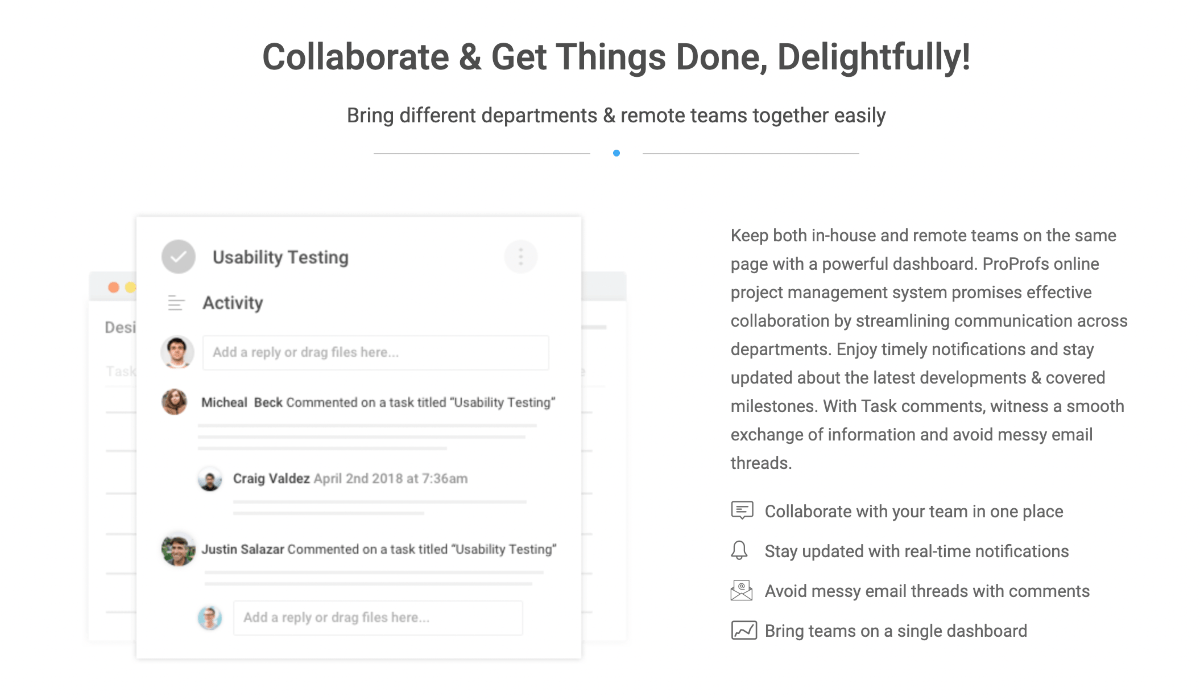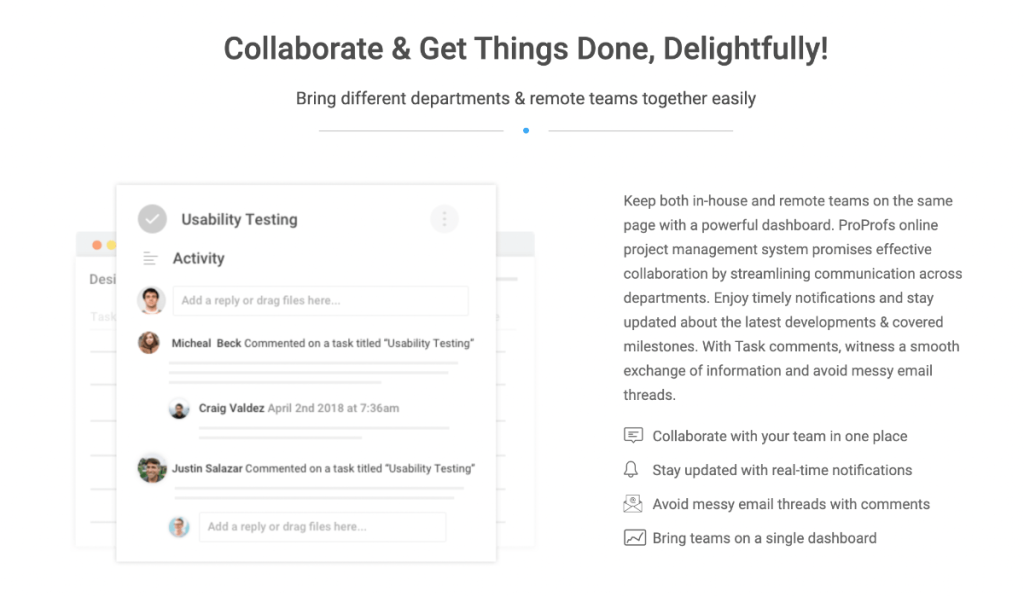 ProfProfs Project's Key Features
Task dependency feature – This feature allows project managers to move and customize dates for hundreds of tasks in just one click
Comprehensive project reports – Information in these reports includes a summary of deliverables, progress made in each task, and the expected delivery time for each project
Perform thorough budget management
Email notifications
Tasks and sub-tasks
Ability to create financial summaries
Ability to create recurring tasks
Ability to set deadlines and monitor them by setting timers
Pros and Cons
Pros:
Forever free plan
Affordable
Higher-tier plans allow for custom branding, live training, and CSV data exports
Secure billing on all projects
Cons:
A learning curve for beginners
Mobile app is outdated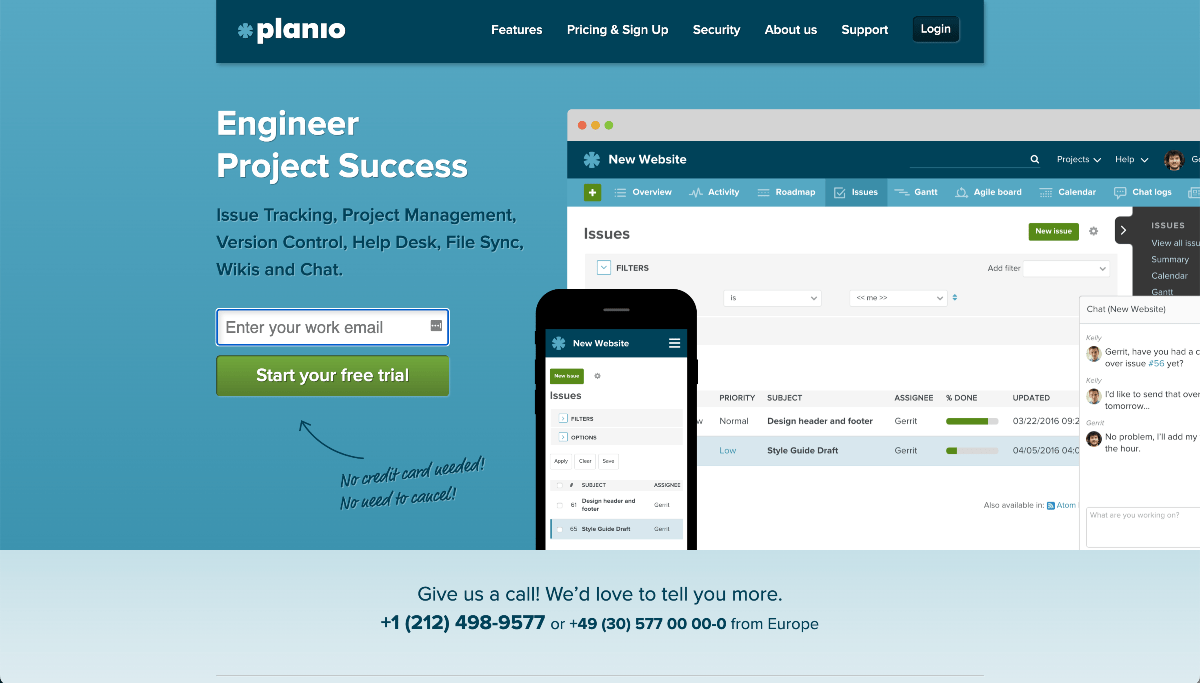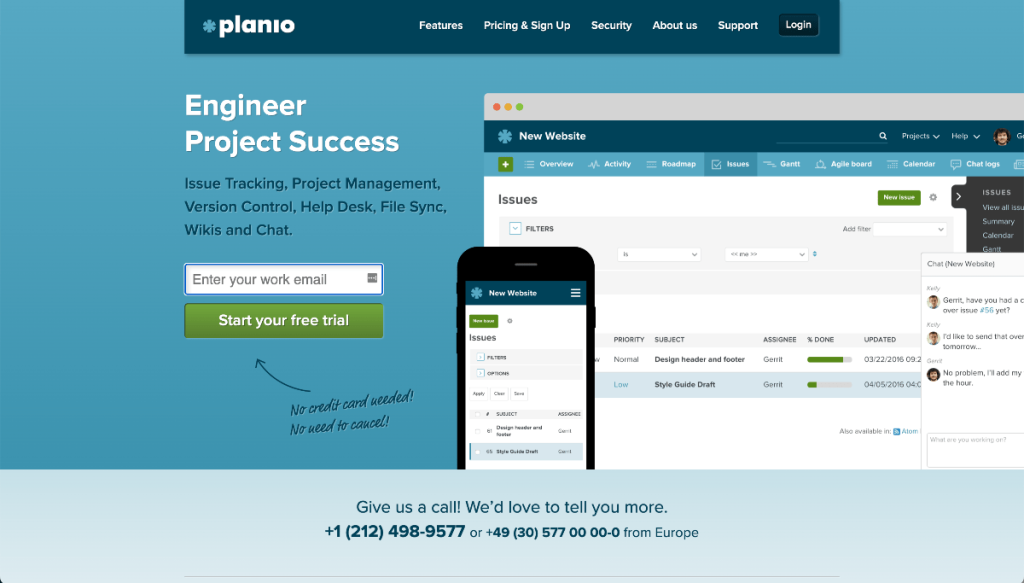 Best for: Teams new to project management
Price range: $18/user/mo – $290/user/mo
Free trial: 30-day
Want project management software that's simple and lightweight? This is the one for you. Based on Redmine, another open-source Ruby on Rails-based project management software, Plan.io does a great job of helping you manage your projects from beginning to end.
Like other project management software, it lets project managers assign, track, prioritize, and set deadlines for tasks. Plus, you also have the ability to track metrics such as work done, time spent, and subtasks, as well as track issues and bugs.
Plan.io's Key Features
Ability to assign roles to each team member or key stakeholders. A role-based system is able to give individual users detailed persons based on how involved they are within your team. Depending on a user's permissions, they may or may not be able to assign work, customize tasks, and edit tasks.
Tasks can be managed/updated directly through email – even when users are using their mobile devices
Time-track project and individual tasks
Auto-generated Gantt charts about the progress of your project(s)
A mobile app is available
Message forum and chats for team discussions
Pros and Cons
Pros:
30-day free trial
SSL Encryption
Can handle 100+ projects
Free daily backups are provided
No download necessary
Live chat, email, and customer help desk available for all users
Cons:
No free version
Lack of updates with new tools/features
Simple interface that some users may consider outdated or clunky
Runner-Up Options Other Bloggers Are Using
If the list of our top picks didn't really jive with you, you're in luck because we spoke to a lot of other bloggers to get their take on the best software for project management.
While we expected many of them to share the same project management tools we picked, and honestly most of the people we spoke to did, some of the programs bloggers prefer for their project management surprised us.
Here are some of the management software tools other bloggers are using:
Ben Flynn who edits content for the Manhattan Tech Support blog said, "This project management application is a favorite among bloggers since it allows them to keep a to-do list for each of their individual blogging duties.
For each person who registers on the site, it develops and maintains a distinct list, and it aids in monitoring specific behaviors, such as users who are signed in and presenting to-do lists for them. You can use Todoist to keep track of the numerous tasks and data you need for your blogging project."
Price: Starts at $0!
Adam Garcia who blogs at The Stock Dork admits Teamweek is best for when you can create a blogging team. He said, "To schedule time for your team, I recommend using Teamweek because it is both effective and simple to use.
You can manage your team's workload more efficiently and effectively with its help in areas such as planning, allocating resources, monitoring tasks, and evaluating outcomes.
With the help of Teamweek, everyone on the team will be better able to do their part, as the tool will provide an accurate estimate of how much time will be required for each task. This way, they'll know for sure that they aren't squandering time on anything that doesn't contribute to the success of the blog."
Price: Starts at $8 per user, per month
Edward Mellet who manages the blog WikiJob said, "Evernote is a fantastic tool for managing projects. It's great since it allows you to keep track of thoughts and plans for the future, which is why I find it so useful. You can access your saved data quickly and conveniently from any device with an internet connection."
Price: Starts at $0!
C.T. Price who runs the hemp blog Life Grows Green said what drew him to Basecamp was a lot of trial and error with other project management tools. He manages a small, remote team, and considers the program an all-in-one toolkit for managing all of their projects, copywriting, blogs, etc…
He also said, "On this platform, you can create projects, split the projects into different tasks, assign those tasks due dates, and allow users to add comments, notes, or specific mentions in the content. The interface allows the user to see what tasks are upcoming, even if the user is working on multiple [blogging] projects."
Price: $11 per user, per month
Blogger Jon Torres said, "As an owner of a remote company, I use Slack Connect as an engaging PM tool for partner, customer, and team collaboration, thanks to its real-time communication tools.
Slack Connect's bot will help you get things and interactions done fast compared to other popular alternatives. As a Zoom integration, Slack Connect can schedule meetings as well as keep track of upcoming appointments."
Price: Starts at $0
Christel Oerum who blogs for Diabetes Strong said, "For my content management, I use Smartsheet. The main reason for this is that it has an issue tracker incorporated into its system. I want my content to read well, and I need the site to run smoothly to ensure that my readers are getting the best service possible.
As my business is centered around health issues, it is important that everyone can access key information. With the issue tracker (that allows for internal and external input), I am able to keep on top of any problems!"
Price: Starts at $7 per user, per month
Project Management Software Features to Look For
If you aren't sure if project management software is right for you, this section may offer some more insight.
We know what we find useful in project management software, especially after trying out several in our business. Throughout growing multiple blogs, we have found that communication tools, calendar features, and integration with other software (like Slack) are the most important.
But we also did some research to see what some of the features that others felt were necessary.
Here's what we found. According to Capterra and G2 Reviews, these are the most important project management features you should be looking for when shopping:
File sharing
Reports and dashboards
Time tracking
Email integration
Calendar integration
Document management
Requirements management
Budget management/invoicing
Think about what might be most important to you and your business as we go through the options in this article.
How can project management software help bloggers manage their time?
Every blogger wishes they had more hours in a day. There is never enough time and never will be enough to accomplish all the things you want to in any given day.
While that's not entirely possible, project management software offers the next best thing.
This is because project management software offers bloggers the space and tools to cut down bulky, time-consuming tasks into more manageable projects.
Here's how project management software can help bloggers manage their time:
Simplify the Brainstorming Process
Project management software is a good place to jot down your ideas and save them directly into lists for later use. We do this often when coming up with new content ideas.
You've now got an organized list and an actionable space to use when you are ready to move on those ideas.
For example, let's say you are using Trello, one of the tools we will cover in our best software for project management options.
In Trello, you can give each blog post idea a card. And within each card, you can add resources such as:
Competing articles
Research ideas
Experts to interview for your post
Podcasts/YouTube videos to link to, and more
Then, you won't have to worry about where to find the elements you need when you're ready to write because they are all stored safely in one spot for easy access.
You can choose to embark on this brainstorming session alone or with your team — all of it easily made possible with project management software.
Collaboration Made Easy
If you are working on your blog with friends or family members, or decide to eventually decide to hire a team (once you can afford to) – the last thing you want is to send documents and resources one by one.
Project management software gives you the ability to create, upload, and save roadmaps, documents, and resources all on the cloud.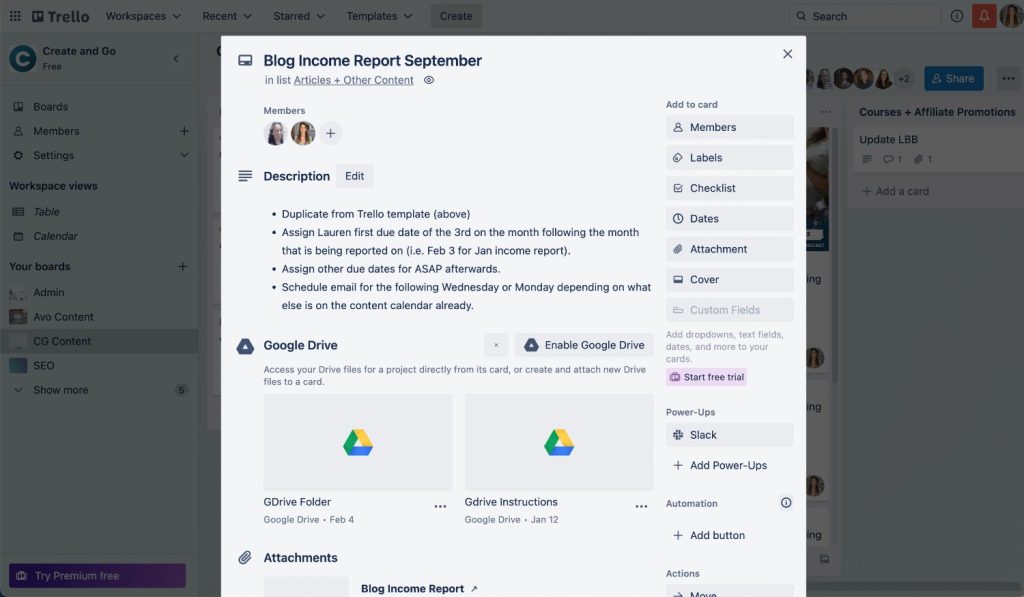 Whenever you work with someone new, it only takes a few clicks to get them on board and caught up.
Sure, there might be a bit of a learning curve to get them up to speed with your software of choice, but after that, it's smooth sailing.
No More Forgotten Deadlines
Project management software is the only real way that I know of to actually keep track of deadlines and make sure you (or your team) are not missing them.
You can create multiple project channels, all with their own roadmaps, deadlines, and planned activities.
Most project management software also provides a centralized space where you can check all upcoming deadlines from. And, if you choose one that integrates with your calendar and email, you can also send reminders leading up to your deadlines.
This is also helpful if you run time-sensitive content such as holiday-related posts.
For example, if you're posting about Christmas, you should start putting out that content around September so you can have time to start ranking in SERPs (search engine result pages).
Having software to remind you of upcoming holidays keeps you from having to store all those reminders in your brain.
More Accountability
One of the things we often hear from bloggers is that they need accountability to get their blog going and to keep it going once they launch.
You can actually use project management software to help hold you accountable to keep things moving forward.
By adding action items to your tool of choice, it will feel more like a real job than just a hobby. This alone can help you create a good routine and solid working habits.
Then, once you start bringing team members and/or collaborators on board, you can use your software to hold them accountable as well. And, you won't have to worry about who is doing what and when because everything has a space to be documented and tracked.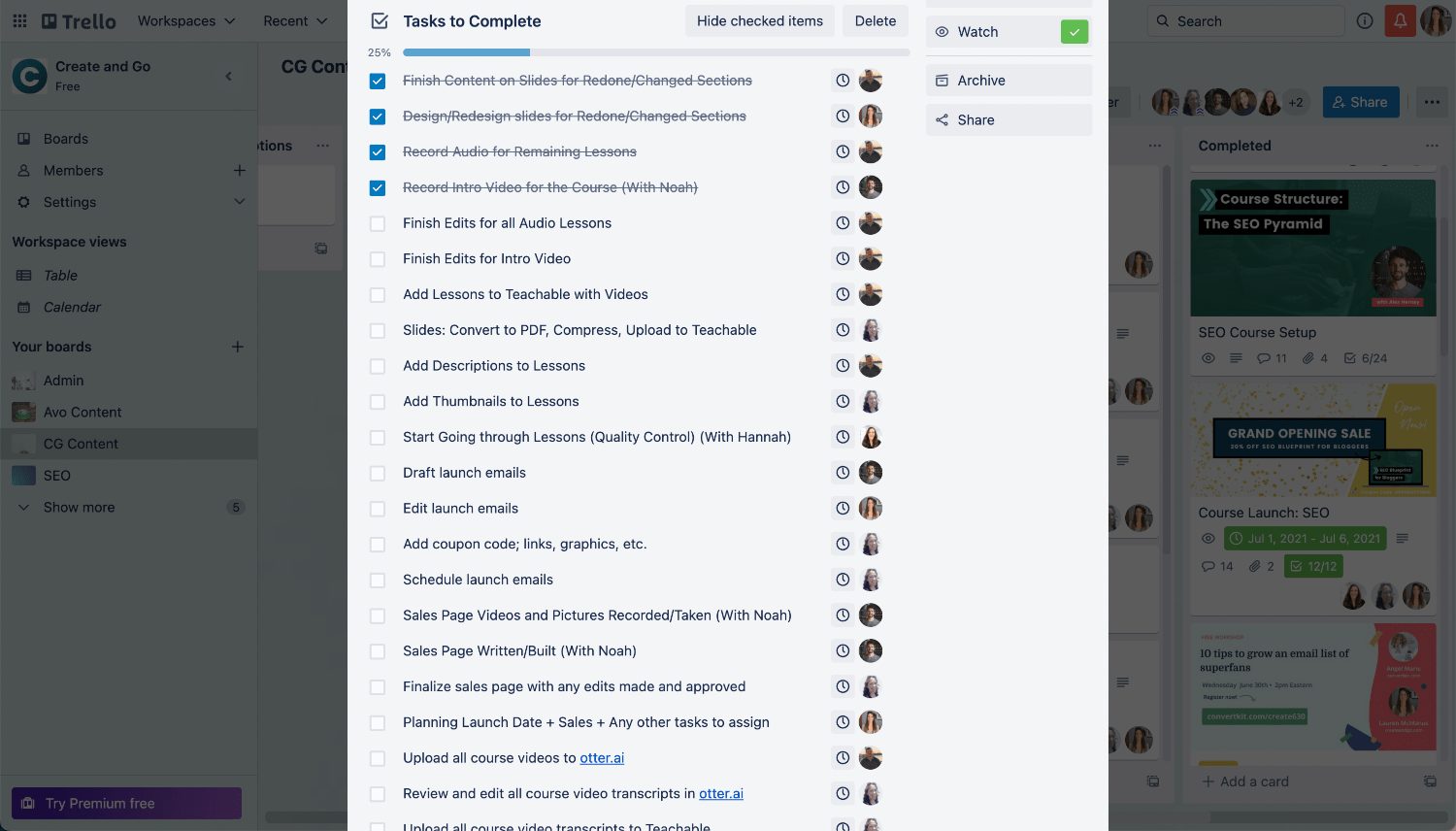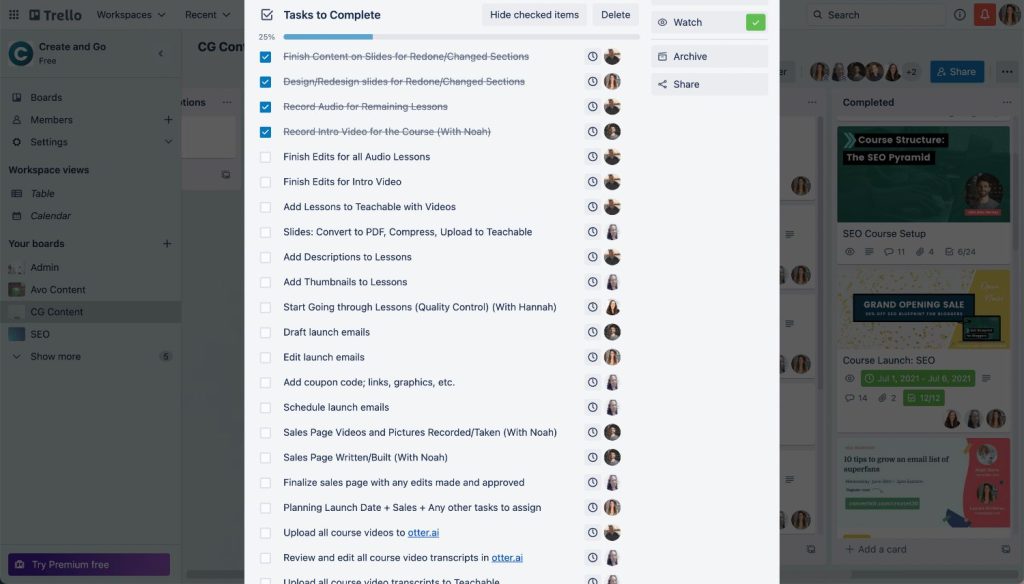 Improved Communication
One big reason why teams don't meet deadlines or don't produce the level of quality work that they were hoping for is simply due to lack of communication.
You're working as a team, but everyone still has individual jobs to do and it's important to have a good space in which to communicate about each project.
It's not enough to have AN outlet in which to communicate — you need a space that is designed for the purpose of communication and collaboration.
Good project management software provides the space to communicate with your team members within individual projects and tasks.
Reduced Stress
Remember that perhaps the biggest purpose of project management software is simply to make your life easier – and that includes reducing the stress in your life.
If you're at the point where tasks are being forgotten and falling off of your plate, project management software will increase the size of your space and organize those tasks for you.
It's meant to make your work and your life more manageable.
Even if you don't get to every task every day, you still have a note of what needs to be done and you can get to it when you can get to it.
Build a Strong Editorial Calender Using Project Management Software
Editorial calendars deserve their own section because they're just that important.
An editorial calendar is a tool used by bloggers and businesses to plan the creation, publication, and promotion of their blogs, social media, newsletters, and articles.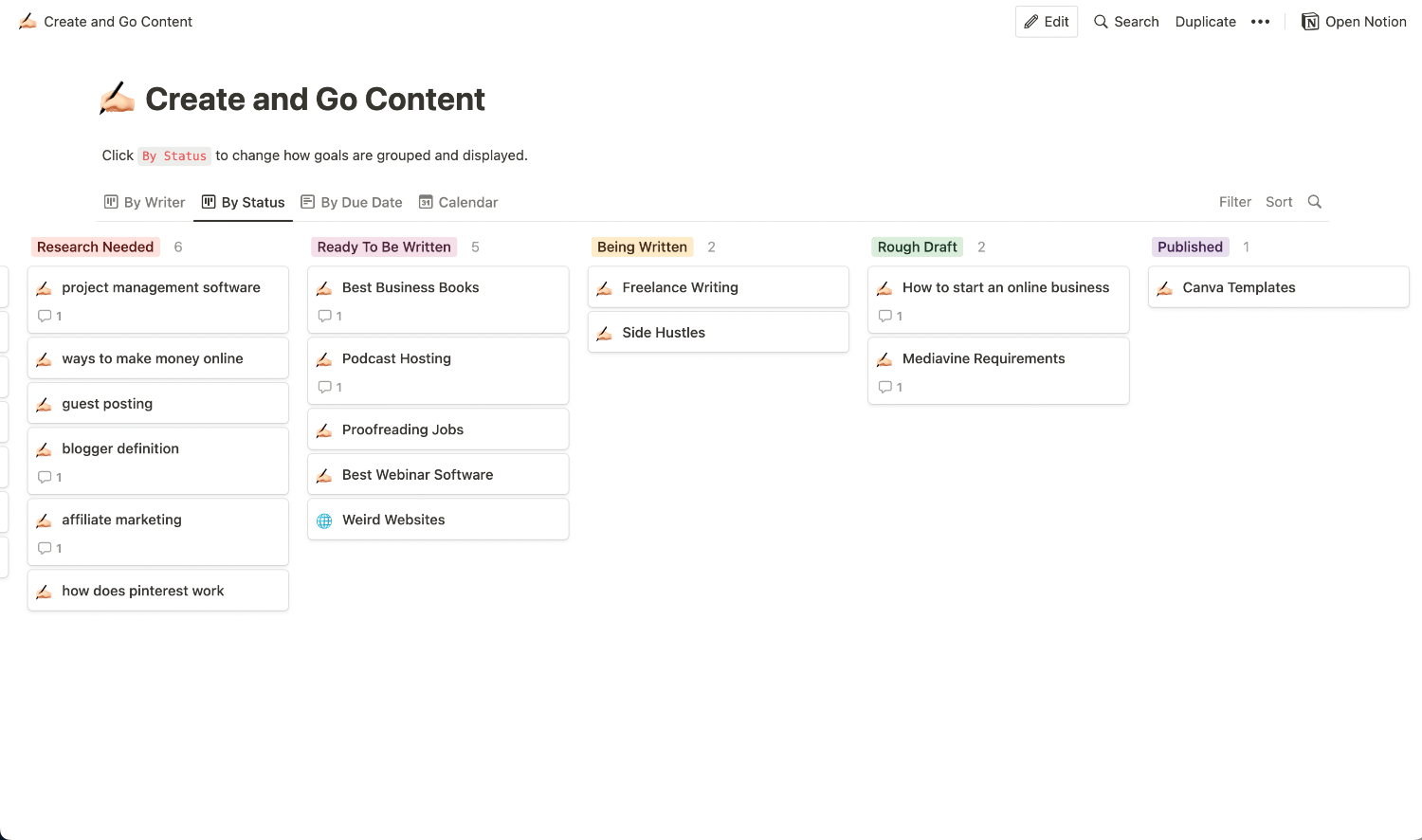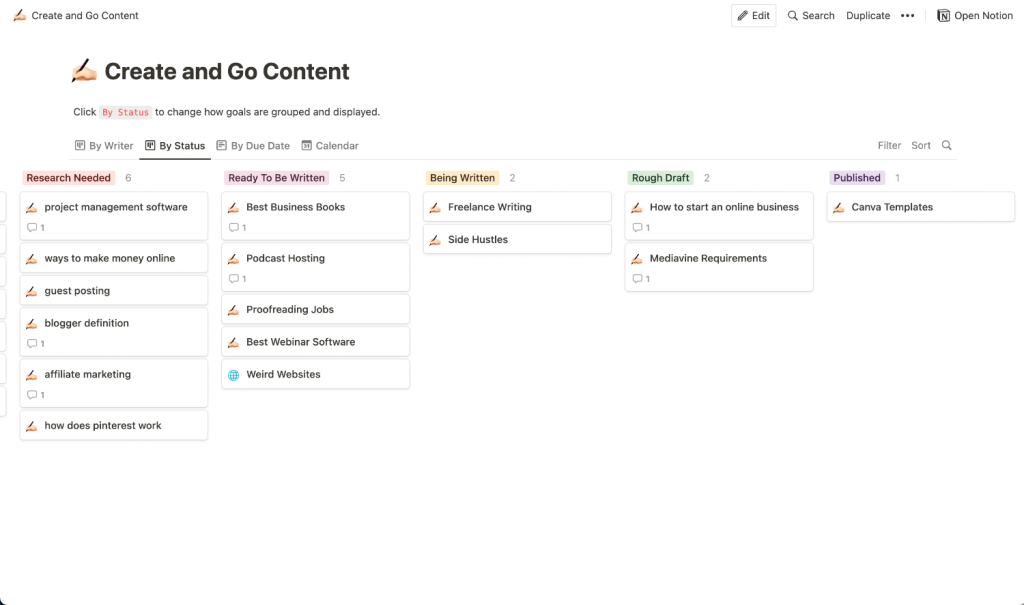 Editorial calendars give bloggers a framework of the critical elements of their content including:
Who (will be writing and/or contributing to the post?)
What (is the subject?)
When (does it need to be online?)
Where (category-wise does it make the most sense to post it?)
Why (does this post need to be on your blog?)
How (do you want to cover the subject you're writing about?)
All of these items can be organized into tasks on your calendar and then you can use a calendar view to get the bigger picture view of your tasks due throughout the month.
Our editorial calendar has helped us implement a long-term growth strategy, stay on schedule with how regularly we produce new posts, and establish a workable plan for our readers.
Taking the Next Step With Project Management Software
As you can see, you have a lot of choices. Don't stress over finding the perfect project management software. Sometimes it can be a process, and that's okay.
The good news is that you can change your mind whenever you want. Stick to the monthly plans rather than trying to save a few bucks on the annual plans so that you can keep a flexible plan.
We tried Asana for a few months, then switched to Trello for about a year, and then tried Clickup for a few months after that.
You don't want to switch services often because it can be time-consuming, especially if you have a team you have to move over every time, like us.
But in our case, it was worth the switch because it's also important to find a tool that your team loves as well. We have a small team, so switching a couple of times was no big deal.
Regardless of which one you choose, we firmly believe that using management software tools like these will make you and your current/eventual team's life so much easier.
Now, we want to hear from you! Is there a tool we didn't mention in the post you think deserves a shoutout? Drop a comment below and tell us about it!