We partner with bada$$ companies that offer products that help our readers achieve their goals! If you purchase through our partner links, we get paid for the referral at no additional cost to you! Read our disclosure for more info.
We all have times in life when we need a little extra inspiration. These best life quotes can be a great source of wisdom and comfort, 2hether it's to help us stay motivated or just to get through the day.
From famous philosophers and authors to everyday people, these words of wisdom offer insight into how we should live our lives.
They remind us that each moment is precious and that it's never too late to make changes for the better.
In this article, you'll find 99 of the most inspiring life quotes from some of history's greatest minds — including Confucius, Albert Einstein, Dalai Lama XIV and more — as well as modern-day influencers like Steve Jobs and Oprah Winfrey.
Use them as daily reminders that no matter what obstacles come your way, you are capable of greatness!
95 Best Life Quotes to Brighten Your Day
The following quotes about life are categorized as follows:
Best Life Quotes About Living Life to the Fullest
We often go through life with our heads down, whether that be working every day or just absorbed in our own lives. We live on autopilot.
These life quotes are all about living life to the fullest.
Related: 75 Short, Inspirational Quotes
1. "Life is what we make it, always has been, always will be." – Grandma Moses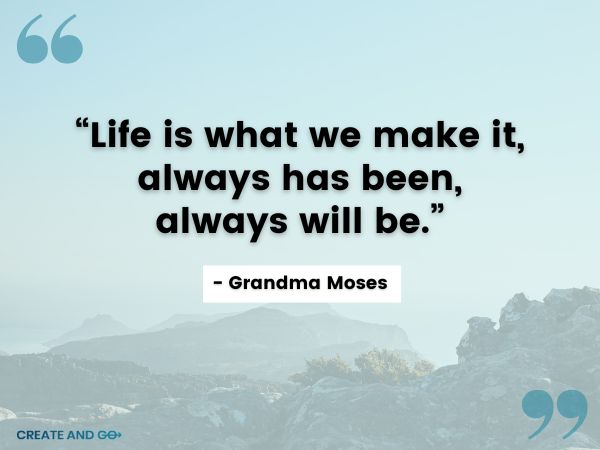 2. "You only live once, but if you do it right, once is enough." – Mae West
3. "Live as if you were to die tomorrow; learn as if you were to live forever." – Mahatma Gandhi
Mahatma Gandhi was an influential figure in India's independence movement and a leader of nonviolent civil disobedience. He is renowned for his philosophy of nonviolence, advocating peace and tolerance. This famous life quote encourages us to make the most of every moment.
4. "Life is a gift, never take it for granted." – Unknown
5. "Your time is limited, so don't waste it living someone else's life." – Steve Jobs
6. "Get busy living or get busy dying." – Stephen King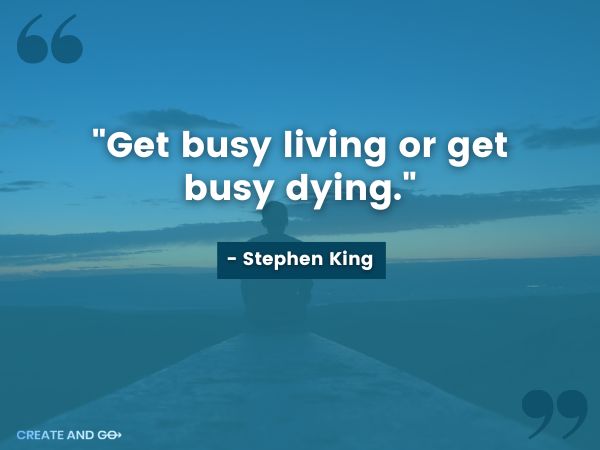 7. "Enjoy life now; this is not a rehearsal." – Unknown
8. "Life is a journey, not a destination." – Ralph Waldo Emerson
Ralph Waldo Emerson was an American essayist, lecturer, and poet who led the Transcendentalist movement of the mid-19th century. He is best known for his works such as Nature, The American Scholar, and Self-Reliance, which are still widely read and studied today.
9. "Life is like a roller coaster. It has its ups and downs. But it's up to you to enjoy the ride." – Unknown
10. "Life is what happens when you're busy making other plans." – John Lennon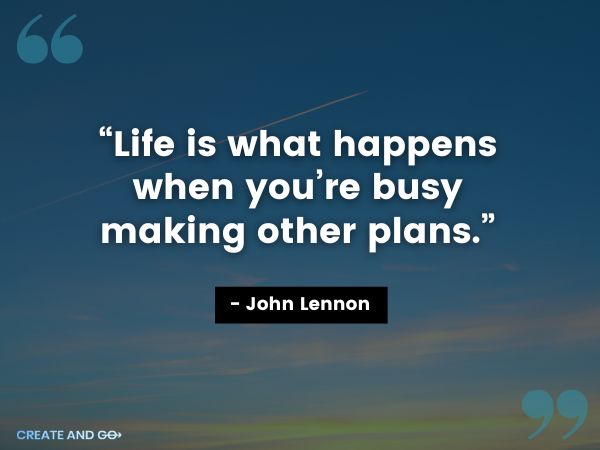 John Lennon was an iconic English singer-songwriter who, as a member of the legendary band The Beatles, revolutionized popular music and culture.
Best Life Quotes About Motivation
It's important to remember that we are only ever one step away from turning our path in the right direction.
These quotes about life are all about helping you stay motivated throughout the day.
Related: 101 Motivational Quotes to Spark Success
11. "Do what you can, with what you have, where you are." – Theodore Roosevelt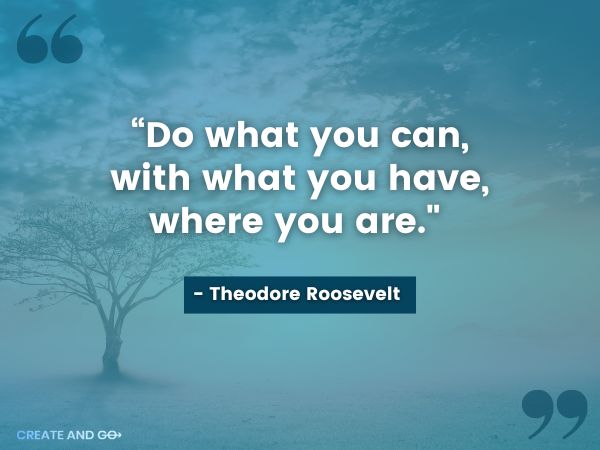 12. "Life is like riding a bicycle. To keep your balance you must keep moving." – Albert Einstein
Albert Einstein was a German-born theoretical physicist who developed the theory of relativity and revolutionized modern physics. He is widely regarded as one of the greatest minds of all time.
13. "It is not where you start that matters, but where you finish." – Zig Ziglar
14. "Life has no limitations except the ones you make." – Les Brown
15. "What lies behind us and what lies before us are tiny matters compared to what lies within us." – Ralph Waldo Emerson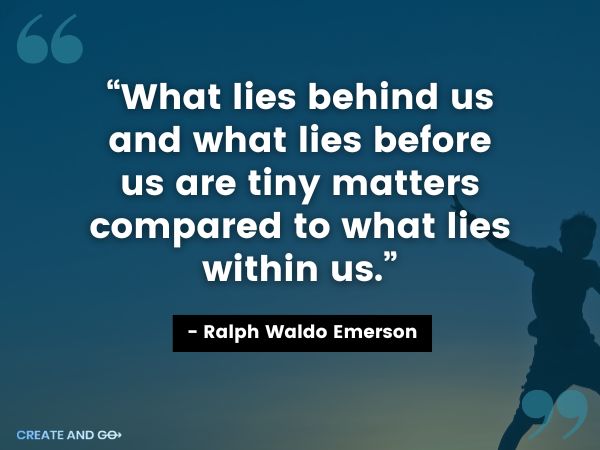 16. "It does not matter how slowly you go as long as you do not stop." – Confucius
Confucius was an influential Chinese philosopher and teacher who lived in the 6th century BCE and is credited with laying the foundations of ethical, moral, and political thought.
17. "Focus on what you can do instead of worrying about what you can't." – Unknown
18. "If you want to live a happy life, tie it to a goal, not to people or things." – Albert Einstein
19. "The secret of getting ahead is getting started." – Mark Twain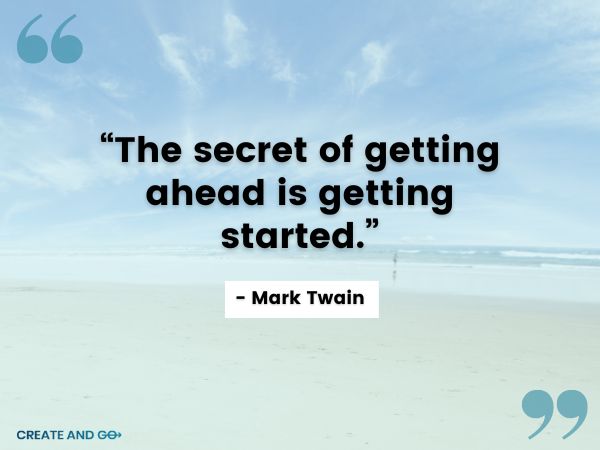 Mark Twain was an American author, humorist, and social critic, widely regarded as one of the greatest writers in American literature. He is best known for his novels such as The Adventures of Tom Sawyer and The Adventures of Huckleberry Finn, which are still widely read today.
20. "Don't be afraid to give up the good to go for the great." – John D Rockefeller
Best Life Quotes About Believing in Dreams
As adults, we often lose our ability to dream. Instead, we wish and we hope for change, but there's a difference.
These quotes about life are all about believing in the power of your dreams.
21. "No matter what people tell you, words and ideas can change the world." – Robin Williams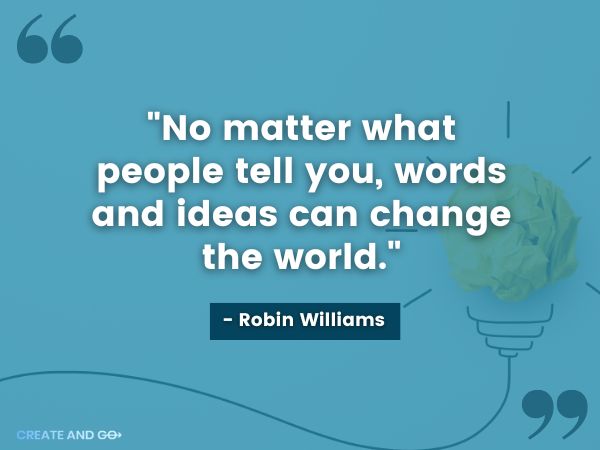 22. "You can't have a better tomorrow if you are thinking about yesterday all the time." – Charles F. Kettering
Charles F. Kettering was an American inventor, engineer, and businessman who developed breakthrough technologies such as the electric self-starter for automobiles, leaded gasoline, and synthetic dyes.
23. "You are never too old to set another goal or dream a new dream." – C. S. Lewis
24. "Dreams are renewable no matter what our age." – Diane von Furstenberg
25. "The future belongs to those who believe in the beauty of their dreams." – Eleanor Roosevelt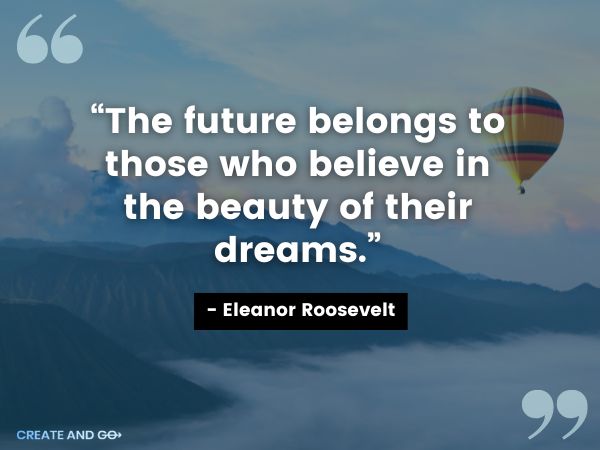 Eleanor Roosevelt was an American political figure, diplomat, and First Lady who, throughout her life, championed for social justice and civil rights reform. She was also a prolific author, producing over 8,000 columns, speeches, and books during her lifetime.
26. "Don't be pushed around by the fears in your mind. Be led by the dreams in your heart." – Roy T. Bennett
27. "The best way to make your dreams come true is to wake up." – Paul Valery
28. "Dream as if you'll live forever, live as if you'll die today." – James Dean
James Dean was an American actor best known for his roles in the films Rebel Without a Cause and East of Eden. He is considered one of the most iconic figures in film history and a cultural icon of teenage disillusionment.
Best Life Quotes About Being Positive
Sometimes, we don't need to make great changes in our lives to turn things around. We only need to change our mindset.
These inspirational quotes are for anyone who feels like they need a little pick me up of positivity.
29. "All you need is the plan, the road map, and the courage to press on to your destination." – Earl Nightingale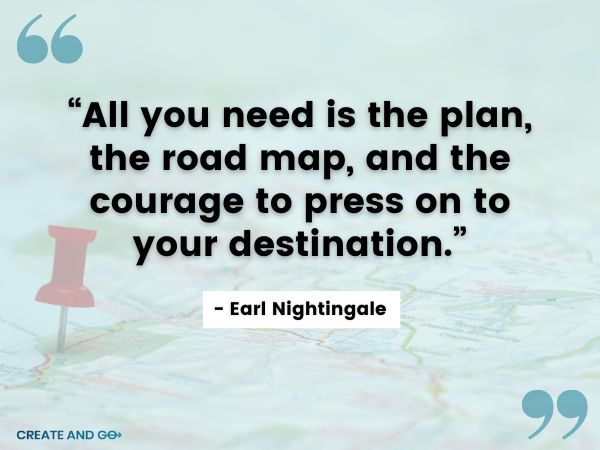 Earl Nightingale was an influential American author, motivational speaker, and radio host who popularized the revolutionary idea of self-improvement and success through his books, recordings, and radio shows.
30. "Keep your face always toward the sunshine—and shadows will fall behind you." – Walt Whitman
31. "Life is 10% what happens to you and 90% how you react to it." – Charles R. Swindoll
32. "The way I see it, if you want the rainbow, you gotta put up with the rain." – Dolly Parton
33. "Life is not about waiting for the storm to pass, it's about learning to dance in the rain." – Vivian Greene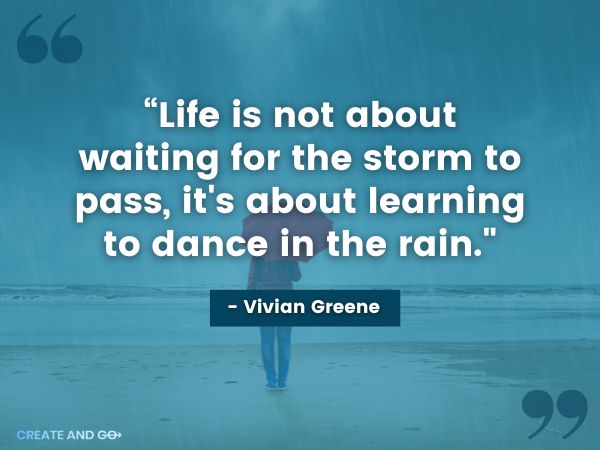 34. "Keep calm and carry on." – Winston Churchill
35. "Live life to the fullest, and focus on the positive." – Matt Cameron
Matt Cameron is an American musician and songwriter, best known for his involvement as the drummer in the rock bands Soundgarden and Pearl Jam.
36. "A meaningful life can be extremely satisfying even in the midst of hardship." – Dalai Lama XIVth
37. "In three words I can sum up everything I've learned about life: it goes on." – Robert Frost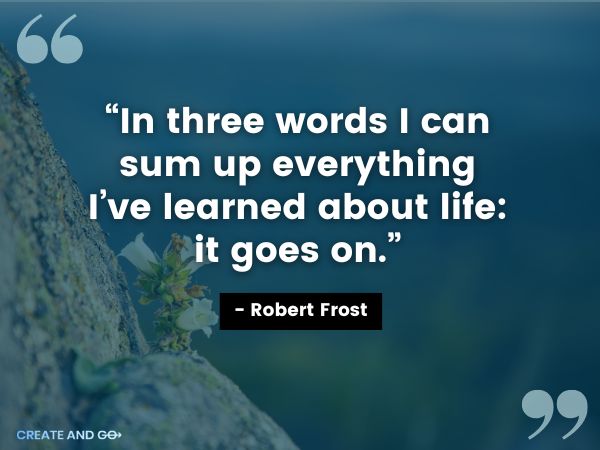 Best Life Quotes About Seizing Opportunities
The stepping stone to a better future is often right in front of us – we just don't always know where to look or how to open our eyes.
These inspirational quotes are about seizing opportunities in our lives.
38. "Everyone has his own destiny: the only imperative is to follow it, to accept it; no matter where it leads him." – Henry Miller
39. "The best way to predict the future is to create it." – Peter Drucker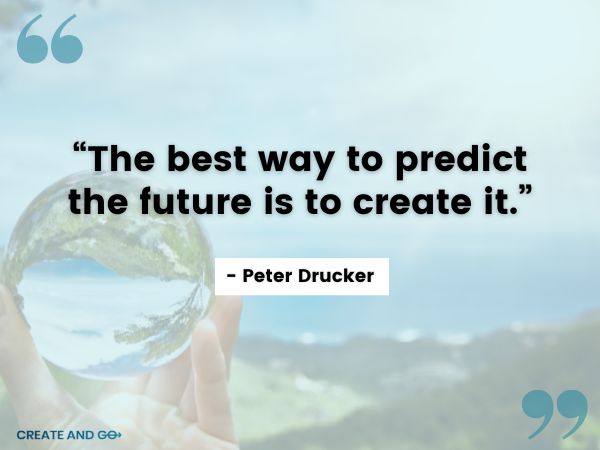 Peter Drucker was an Austrian-American management consultant and writer, widely regarded as one of the most influential thinkers in business and management theory.
40. "If life were predictable, it would cease to be life, and be without flavor." – Eleanor Roosevelt
41. "Nobody can go back and start a new beginning, but anyone can start today and make a new ending." – Maria Robinson
42. "When one door of happiness closes, another opens; but often we look so long at the closed door that we do not see the one which has been opened for us." – Helen Keller
Best Life Quotes About Having Courage
Having the courage to face tough times is hard, but the power to do this is within us always. We just have to find it.
These inspirational quotes are all about how to have courage.
43. "Challenges are what make life interesting and overcoming them is what makes life meaningful." – Joshua Marine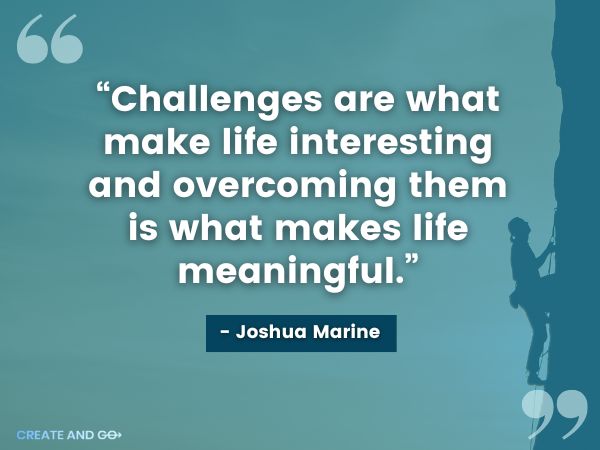 44. "Focus on where you want to go, not on what you fear." – Tony Robbins
Tony Robbins is an American author, life coach, and philanthropist who is best known for his infomercials, seminars, and self-help books, including Unshakeable and Awaken the Giant Within.
45. "Life shrinks or expands in proportion to one's courage." – Anais Nin
46. "Life is either a daring adventure or nothing at all." – Helen Keller
47. "You can never cross the ocean until you have the courage to lose sight of the shore." – Christopher Columbus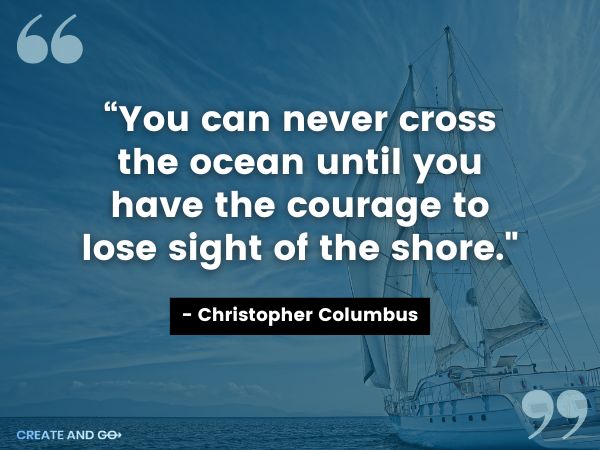 48. "It is never too late to be what you might have been." – George Eliot
George Eliot was a renowned British writer of the 19th century, most famous for her realist novels such as 'Middlemarch' and 'Silas Marner'.
49. "The best way out is always through." – Robert Frost
50. "The only person you should try to be better than is the person you were yesterday." – Unknown
Best Life Quotes About Achieving Success
Are you ready to start paving your own way to success? The difficult thing isn't achieving it – it's learning how to define it.
These popular life quotes are all about achieving success.
Related: 125 Best Hustle Quotes for Motivation and Success
51. "Successful people don't wait for things to happen; they make things happen." – Anonymous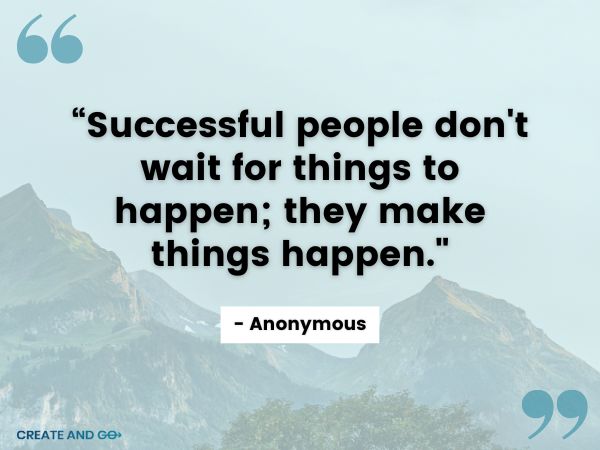 52. "Success comes from knowing that you did your best to become the best that you are capable of becoming." – John Wooden
53. "Success is getting what you want; happiness is wanting what you get." – Dale Carnegie
Dale Carnegie was an American author, lecturer, and self-improvement guru who wrote the timeless bestseller How to Win Friends and Influence People.
54. "The person who says something is impossible should not interrupt the person who is doing it." – Chinese Proverb
55. "Success is the sum of small efforts, repeated day in and day out." – Robert Collier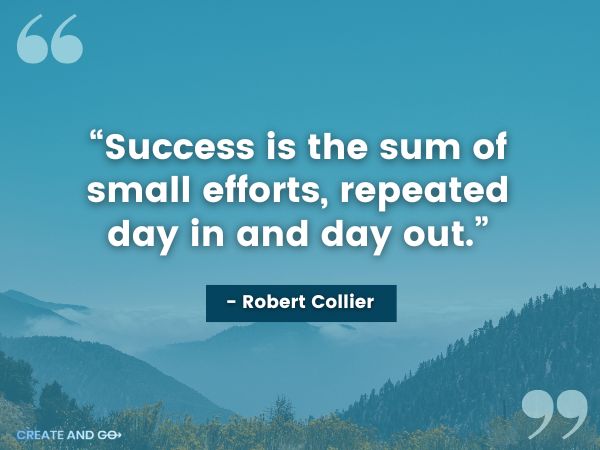 56. "You have brains in your head, use them and go ahead in life!" – Dr. Seuss
57. "Successful people display momentum; they make things happen; they create forward motion." – Tony Robbins
58. "Successful people do the things unsuccessful people don't want to do." – Anonymous
59. "The greatest pleasure in life is doing what people say you cannot do." – Walter Bagehot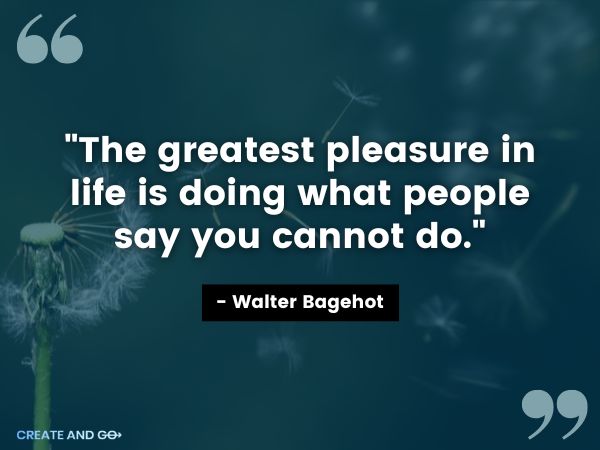 Walter Bagehot was a 19th-century British journalist, economist, and essayist who wrote extensively about topics like politics, literature, and economics.
Best Life Quotes About Creating Change
Some people wait their whole life for the rain to stop and the heavens to open up, but good things can happen so much sooner if we make it so.
These popular life quotes from famous people are all about creating change in your life.
60. "You must be the change you wish to see in the world." – Mahatma Gandhi
61. "Life isn't about finding yourself; life is about creating yourself." – George Bernard Shaw
George Bernard Shaw was a renowned Irish playwright and literary critic of the late 19th and early 20th centuries, best known for his influential plays such as 'Pygmalion' and 'Man and Superman'.
62. "Change your life today by doing something you never thought you could do yesterday." – Unknown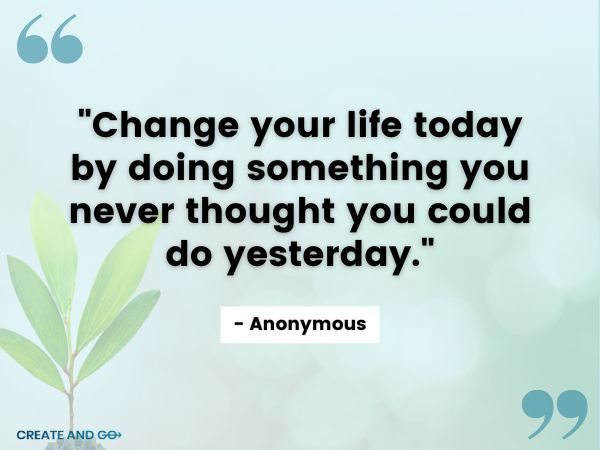 63. "A comfort zone is a beautiful place, but nothing ever grows there." – Unknown
64. "Your life does not get better by chance, it gets better by change." – Jim Rohn
65. "Do not let the fear of striking out keep you from playing the game." – Babe Ruth
66. "The way get started is to quit talking and begin doing." – Walt Disney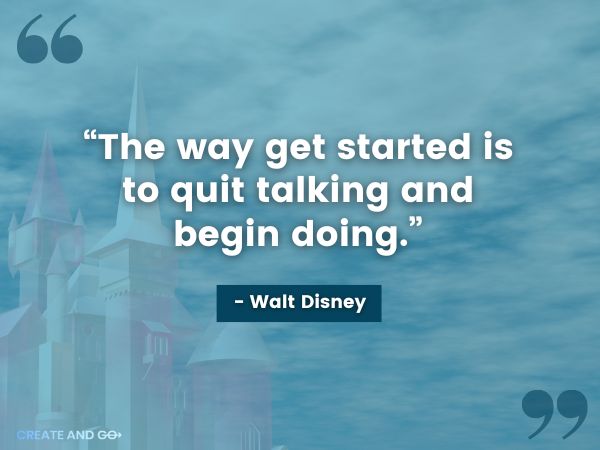 67. "A journey of a thousand miles begins with a single step." – Lao Tzu
68. "You can't cross the sea merely by standing and staring at the water." – Rabindranath Tagore
Rabindranath Tagore was an Indian poet, playwright, novelist, and essayist from Bengal who became the first non-European to win the Nobel Prize in Literature.
69. "If you want something new, you have to stop doing something old." – Peter Drucker
Best Life Quotes About Risk and Failure
The beautiful thing about failure is that it can always be turned into a lesson that can make us better, smarter, stronger, and more resilient.
These famous life quotes are about fear, risk, and failure.
70. "Don't worry about failures, worry about the chances you miss when you don't even try." – Jack Canfield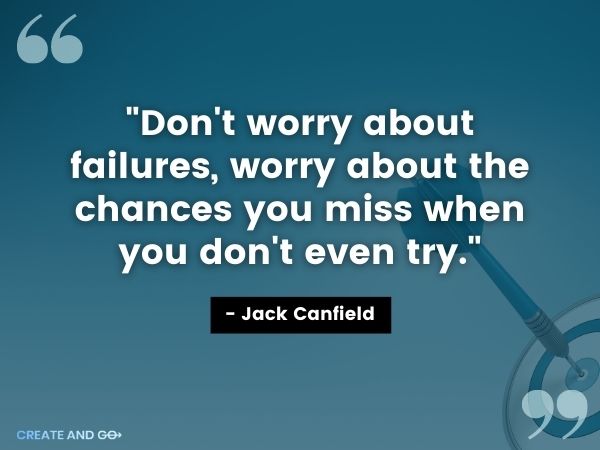 Jack Canfield is an American author, motivational speaker, and corporate trainer best known for his success seminars and motivational books, including the bestseller, The Success Principles.
71. "The biggest risk is not taking any risk… In a world that's changing really quickly, the only strategy that is guaranteed to fail is not taking risks." – Mark Zuckerberg
72. "The greatest glory in living lies not in never falling, but in rising every time we fall." – Nelson Mandela
73. "Many of life's failures are people who did not realize how close they were to success when they gave up." – Thomas A. Edison
74. "In the end, we only regret the chances we didn't take." – Lewis Carroll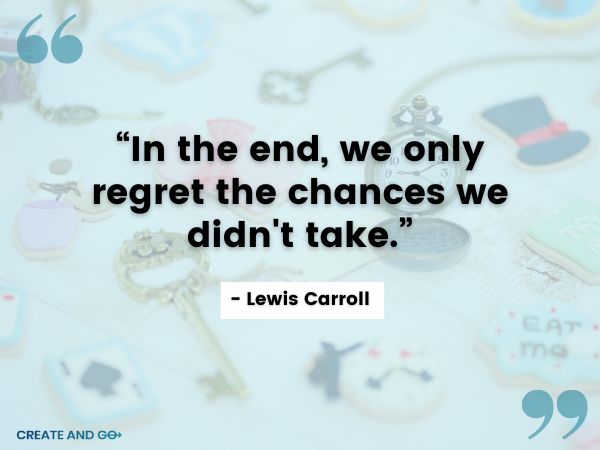 Lewis Carroll was an English writer, mathematician, logician, Anglican deacon, and photographer who is best known for his classic works Alice's Adventures in Wonderland and Through the Looking-Glass.
Best Life Quotes About Work
Most people dedicate their lives to hard work and success but without meaning. The right work can make life worth living.
These life quotes will give you inspiration in your job and career.
Related: 101 Motivating Money Quotes
75. "The real opportunity for success lies within the person and not in the job." – Zig Ziglar
76. "The only way to do great work is to love what you do." – Steve Jobs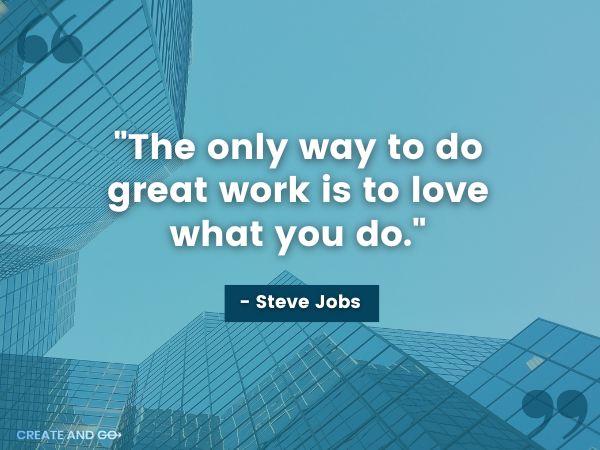 77. "Nothing in life can take the place of persistence." – Calvin Coolidge
Calvin Coolidge was the 30th President of the United States, serving from 1923 to 1929. He was known for his strong commitment to small government, individual freedom, and traditional values.
78. "I'm a greater believer in luck, and I find the harder I work the more I have of it." – Thomas Jefferson
79. "Life is about making an impact, not making an income." – Kevin Kruse
Best Life Quotes About Finding Happiness
In today's world, we chase perfection with every new season and every new line of products when in reality, we already have everything we need to be happy.
These quotes about life are all about how to find happiness in our lives.
80. "The purpose of our lives is to be happy." – Dalai Lama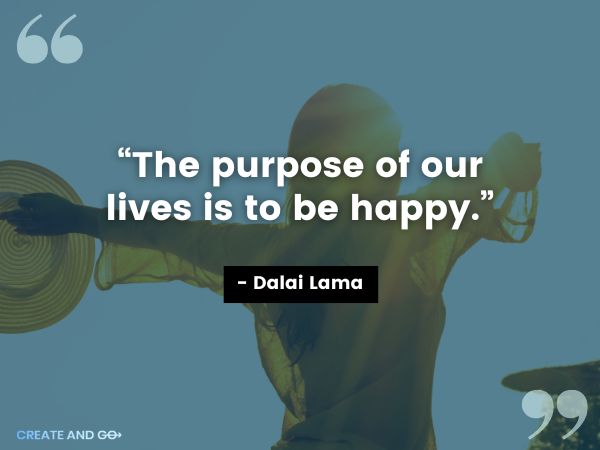 81. "Our greatest joy and our greatest pain come in our relationships with others." – Stephen Covey
Stephen Covey was an American educator, author, businessman, and keynote speaker best known for his international bestseller, The Seven Habits of Highly Effective People.
82. "Life is made of ever-flowing energy, let it flow through you unhindered." – Unknown
83. "Action may not always bring happiness, but there is no happiness without action." – William James
84. "The biggest adventure you can take is to live the life of your dreams." – Oprah Winfrey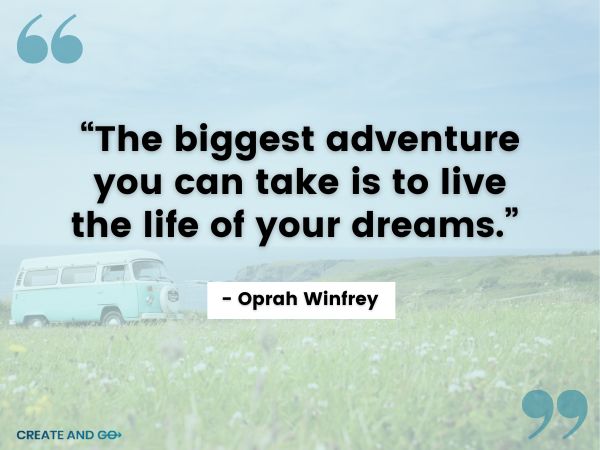 85. "Happiness does not come from doing easy work but from the afterglow of satisfaction that comes after the achievement of a difficult task that demanded our best" – Theodore Isaac Rubin
Theodore Isaac Rubin was an American psychiatrist, psychotherapist and writer who is best known for his work in the field of self-help.
86. "Happiness is not something ready-made. It comes from your own actions." – Dalai Lama
87. "The most important thing is to enjoy your life—to be happy—it's all that matters." – Audrey Hepburn
Best Life Quotes About Appreciation
The most difficult thing in life is sometimes just finding happiness in what we have when we can constantly see what we are without.
These best quotes about life are all about learning to appreciate what we have.
88. "It's not so much what we have in life, but who we have in our lives that matters." – Unknown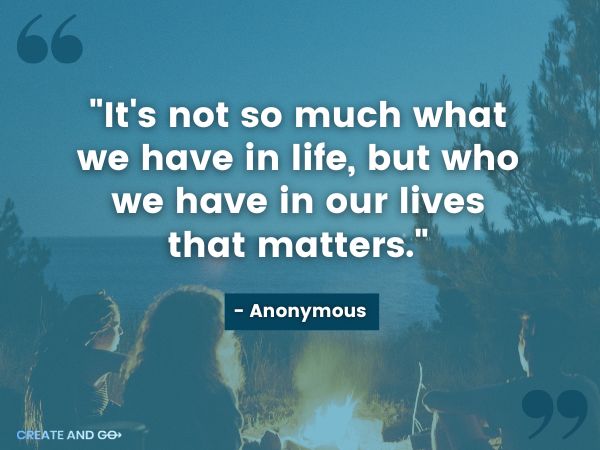 89. "A good life is when you smile often, dream big, laugh a lot, and realize how blessed you are for what you have." – Unknown
90. "Life will give you whatever experience is most helpful for the evolution of your consciousness." – Eckhart Tolle
Eckhart Tolle is a spiritual teacher and author best known for his book, The Power of Now, which has sold millions of copies worldwide.
91. "Do something today that your future self will thank you for." – Unknown
92. "Be who you are and say what you feel because those who mind don't matter and those who matter don't mind." – Dr. Seuss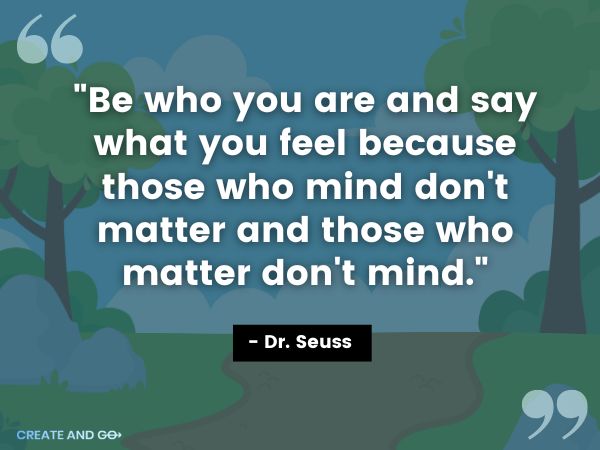 93. "Life isn't about getting and having; it's about giving and being." – Kevin Kruse
Kevin Kruse is an American entrepreneur, author, and keynote speaker who is best known for his work in the fields of leadership, productivity, and personal development.
94. "Do more than exist, live. Do more than touch, feel. Do more than look, observe. Do more than read, absorb. Do more than hear, listen." – Anonymous
95. "The greatest gift you can give someone is your time because when you give your time, you are giving a portion of your life that you will never get back."– Unknown
Summary of the Best Life Quotes
It is clear that life can be difficult and full of challenges, but it's also a beautiful journey with many lessons.
These best life quotes can provide you with the insight and inspiration to live life more fully.
They remind us of the importance of cherishing what we have in life, taking action toward success, appreciating each moment, and living happily despite any hardships or failures we may face along the way.
Life is too short not to take advantage of every opportunity that comes your way!
Take these words from some great minds as motivation for you to make the most out of this precious gift called life.