We partner with bada$$ companies that offer products that help our readers achieve their goals! If you purchase through our partner links, we get paid for the referral at no additional cost to you! Read our disclosure for more info.
Most people don't actually know what lifestyle blogs are – they're simply drawn to them because they don't know what else they might want to start a blog about.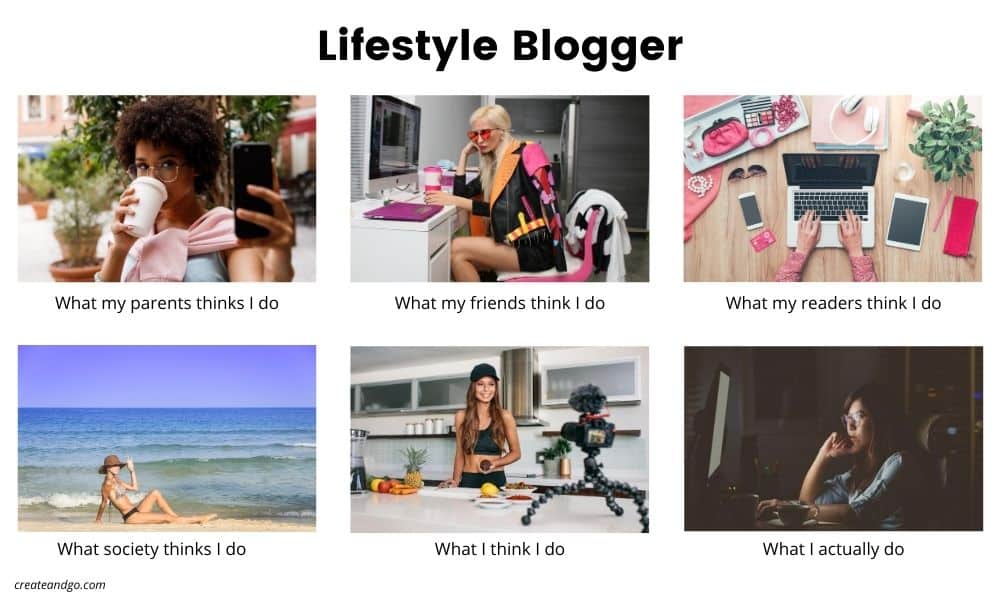 So this leaves even bigger questions about whether or not and how you can make money from a lifestyle blog.
In this article, we're going to show you 25 top lifestyle blog examples that are all successful so that you can get some ideas on whether or not you might want to start one of your own.
We hope you enjoy these popular lifestyle blogs and they give you some inspiration to get started!
Before we get into the actual blogs, we'll explain what a lifestyle blog is and how they generally make money.
What is a lifestyle blog?
A lifestyle blog is exactly as it sounds – a blog that covers topics related to your lifestyle.
Some common lifestyle blog topics include:
Health
Travel
Fashion
Beauty
Recipes and Food
DIY and Home
Parenting
Latest Trends
But what makes a lifestyle blog different from a niche blog is that it usually covers multiple of the above topics (or niches).
If your blog covers only health and food topics, you're a health blogger. If you only cover topics like home and parenting, you're more in the niche of home and parenting.
Many lifestyle blogs start out covering more topics and then they begin to niche down over time as some topics become more popular than others with their audience.
How do lifestyle blogs make money?
You can monetize a lifestyle blog just the same way as you can monetize any other blog, really.
In fact, because lifestyle blogs cover a wide variety of topics, you have a lot of options to choose from when it comes to making money.
Here are some of the most common ways to make money with a blog:
Ads
Ads are one of the easiest and most passive ways of making money with a blog and how more than half of the lifestyle blogs on this list are making money.
The best strategy to earn more with ads is to partner with a premium ad network that will pay you more, place the ads on your site for you, and optimize them.
You can see an example in this blog post from this popular lifestyle blog, Chasing Foxes: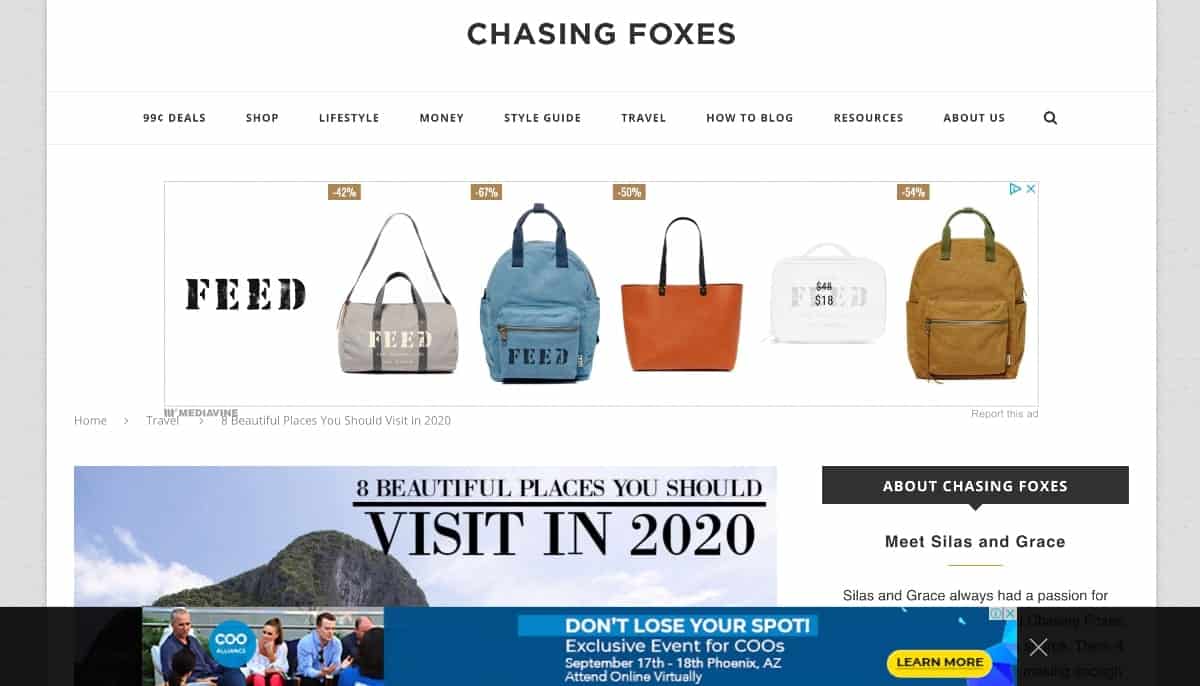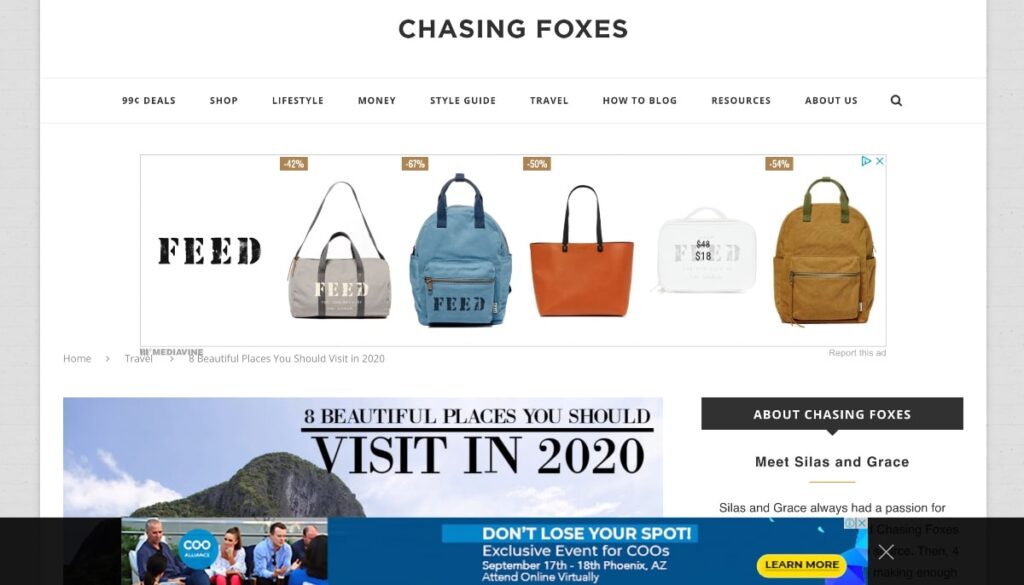 For every few hundred visitors to your website, you might earn a few cents to a few dollars, depending on who you partner with. So you need some serious volume to make any real money.
Mediavine is widely known as the best in the business, but they have pretty strict requirements to join (50,000 sessions per month). Ezoic is the best to start with once you reach 10,000 sessions per month.
Sponsored Posts
This is one of the most popular ways to earn income with lifestyle blogs because you can write sponsored posts on a wider variety of topics.
A sponsored post is a blog post that is usually written about a specific topic and/or product, and the company that owns the product will pay you to write the post and publish it on your blog.
You usually need to have an established source of traffic and audience first before you begin accepting sponsored posts because the company wants to know that the sponsored post will actually get seen and shared by others.
The more visitors that you have and the bigger your audience is, the more money you will make with sponsored posts. Anywhere from a few hundred per post to a few thousand per post.
Affiliate Marketing
Affiliate marketing is probably one of the quickest and best ways to monetize a lifestyle blog.
Affiliate marketing is when you promote other people's products and services on your website and earn a commission when someone signs up through your links (called affiliate links).
A great example is this post from a popular lifestyle blog for men, A Gentleman Within.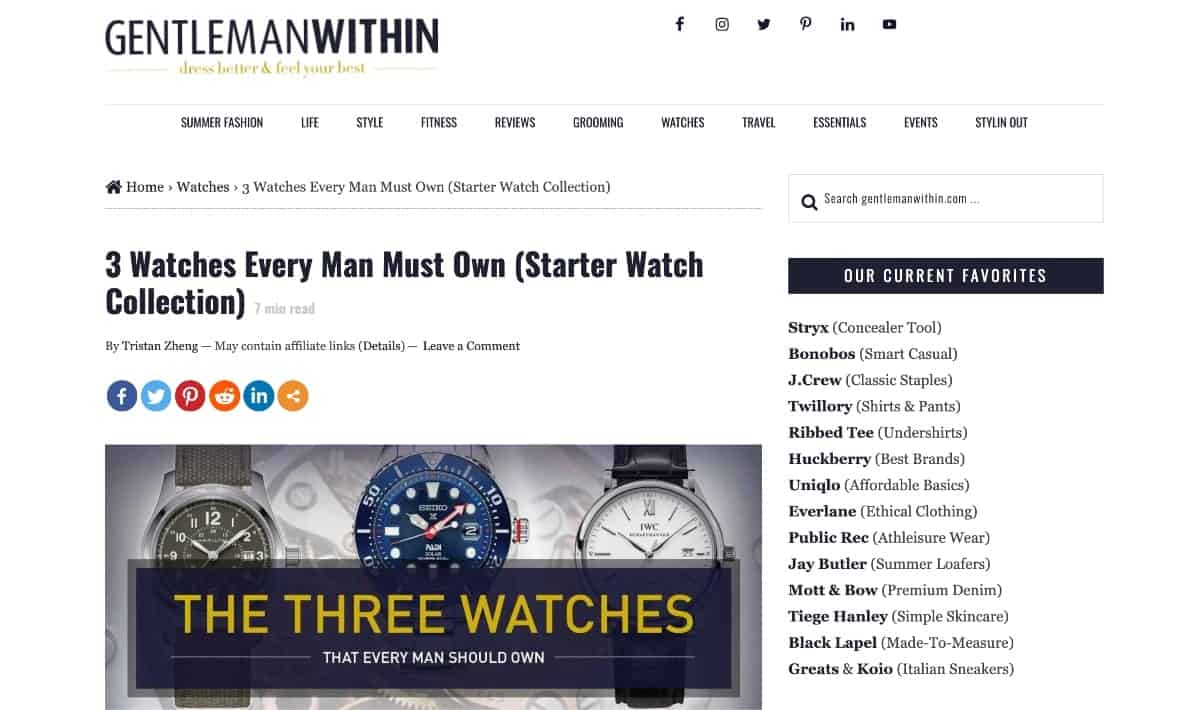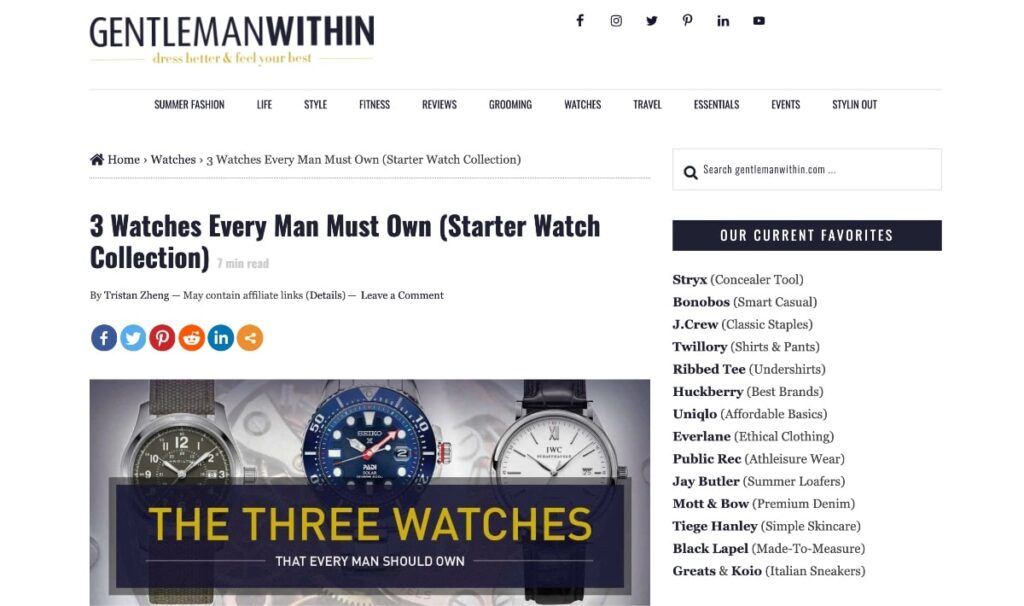 In this post, the watches that are being reviewed are linked to Amazon, and the blog will receive a commission if purchases are made from clicks in this article.
It can be as easy as adding a few affiliate links for related products in your articles. Or you can invest more time into creating dedicated content and emails to specific higher-priced products that are harder to sell but earn you more money.
Related: Top Affiliate Programs for Making Money
Selling Your Own Products
Selling your own products is often the hardest way to make money with a blog, but it will also generally earn you the most money. It's your typical higher-risk, higher-reward scenario.
This can be digital products, eBooks, online courses, coaching, and other downloadable products, or physical products from an eCommerce store.
eCommerce shops with physical products are actually really popular with lifestyle blogs. Many lifestyle bloggers link Shopify or Etsy stores to their blogs and sell the items that they feature on their blogs.
Regardless of which way you choose to make money with your blog, the best approach is usually to use a combination of these methods.
This helps you earn income from different sources and diversify – essentially putting your eggs in more than one basket.
25 Successful Lifestyle Blog Examples
The best lifestyle blogs featured below are in no particular order. You'll find that a lot of them have common themes and topics that we mentioned earlier: health, travel tips, fashion advice, style inspiration, beauty tips, and more.
Keep these topics in mind as you browse these top lifestyle blog examples so that you can get blog post ideas for some of the topics you might want to cover in your own blog!
1. Collective Gen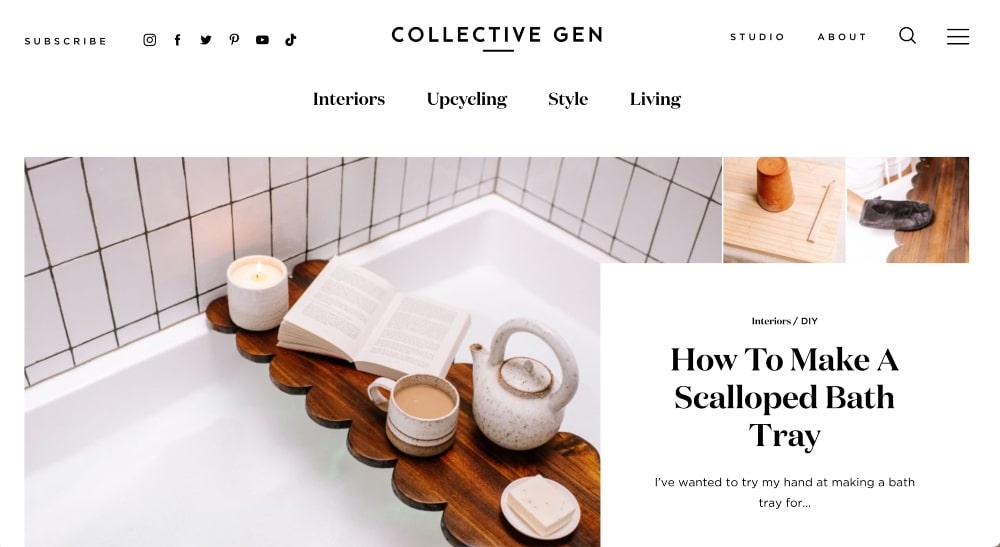 Geneva Vanderzeil is the founder and editor of Collective Gen, a "community for women who make things – their style, their homes, and their lives."
She is an author, stylist, and professional photographer and has turned her passions into a full-time career – with her blog.
Geneva grew her first blog, A Pair & A Spare (now Collective Gen) to millions of readers and features in newspapers and magazines. She also authored her own book, Home is Where You Make It.
Topics: Style, Home, Life, Travel, Planet
Monetization: Affiliate Marketing, Sponsored Posts, and Book Sales
Why It Stands Out
The #1 thing I notice about this blog is how on-point the branding is. All of the photos on this blog have the same color tones of greens and brown/tan, and it makes the blog look very cohesive.
Her post on how to set up a vertical garden is a great example of a good sponsored post!
2. Akanksha Redhu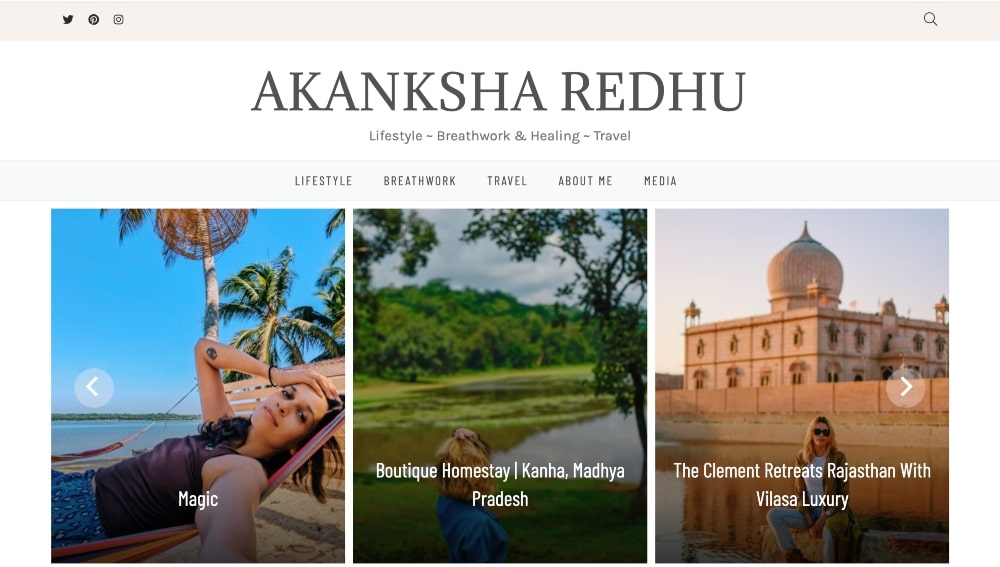 Akanksha, originally from India, started her self-titled blog in 2010 as a channel to write about her "ideas, projects, inspirations, and daydreams."
This is a great example of how you can turn a hobby or personal blog into a lifestyle blog and a business.
If you look back at her oldest blog posts, you can see that her blog has evolved over the years since it first started.
Here is another example of a sponsored post on her blog on repairing damaged hair.
Topics: Fashion, Travel, Luxury, Beauty, Media, and Events
Monetization: Affiliate Marketing and Sponsored Posts
Why It Stands Out
It's simple and it's her. All of the photos she uses in her blog are personal photos of Akanksha and her experiences.
We like that in her About page, she explains that she still writes all of her blog posts. Tons of bloggers outsource some or all of their writing as they become more successful, but she keeps it real.
3. Cupcakes and Cashmere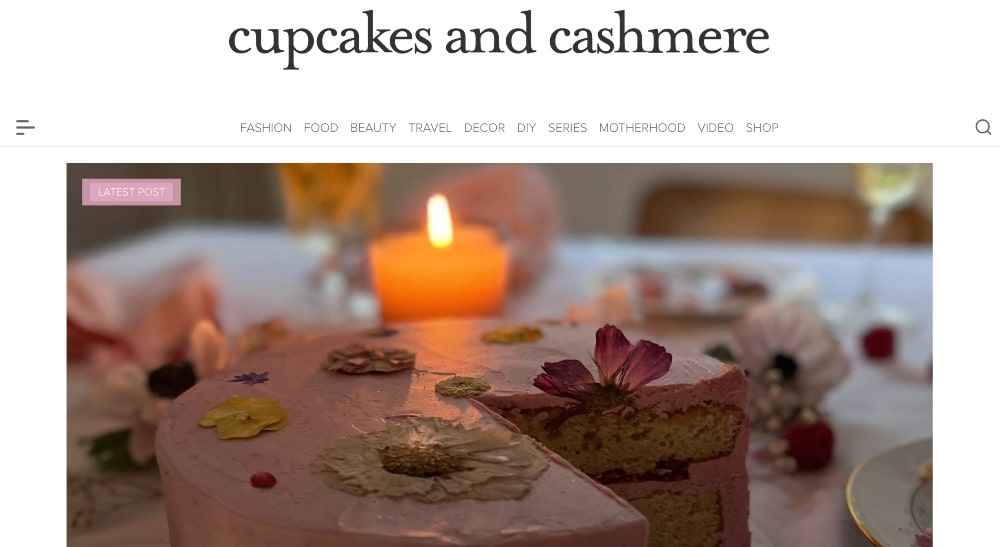 Cupcakes and Cashmere was founded by Emily Schuman in 2008. She runs the website with her husband, Geoffrey, who helps her with the business side of things.
Emily has written 2 books for her site and also has a team of 6 helping her with customer service, operations, and buying goods for her fashion line.
Topics: Fashion, Food, Beauty, Travel, Decor, DIY, and Motherhood
Monetization: Ads, affiliate programs, sponsored posts, eCommerce store, and book sales
Why It Stands Out
Cupcakes and Cashmere has become one of the most well-known lifestyle blogs with two books published as well as many products like home decor. They also have a clothing line with Nordstrom.
4. A Cup of Jo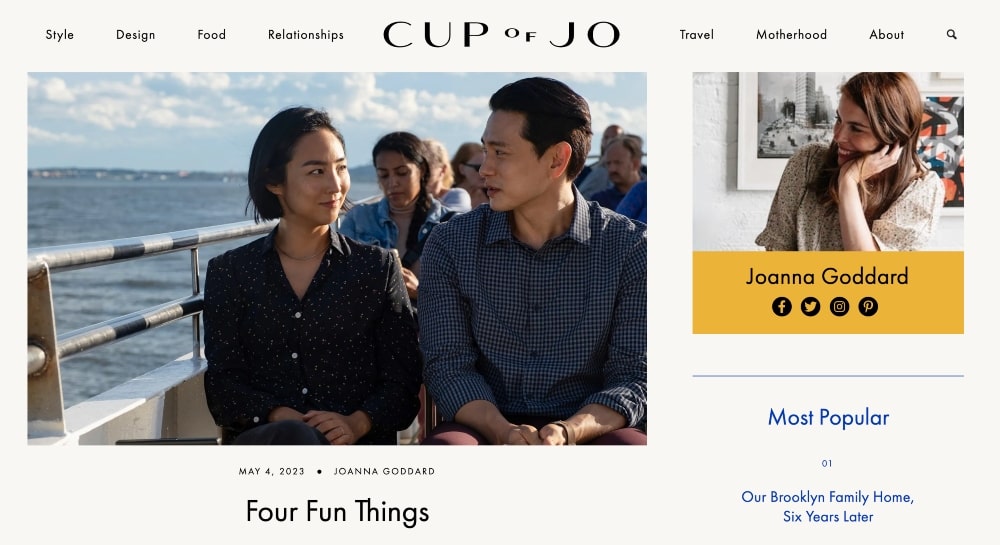 A Cup of Jo is a women's lifestyle blog founded in 2007 and has a wide readership of over 4 million views per month.
This blog features posts on personal stories, healthy living, delicious recipes, outfit ideas, celebrity news, and so much more!
Topics: Style, Design, Food, Relationships, Travel, and Motherhood
Monetization: Sponsored posts, affiliate partnerships, and advertising
Why It Stands Out
A Cup of Jo donates a percentage of its profits to several support organizations such as RAICES, NAACP, NARAL, Greenpeace, Save the Children, Planned Parenthood, the Lilith Fund, and The Florence Project.
5. A Beautiful Mess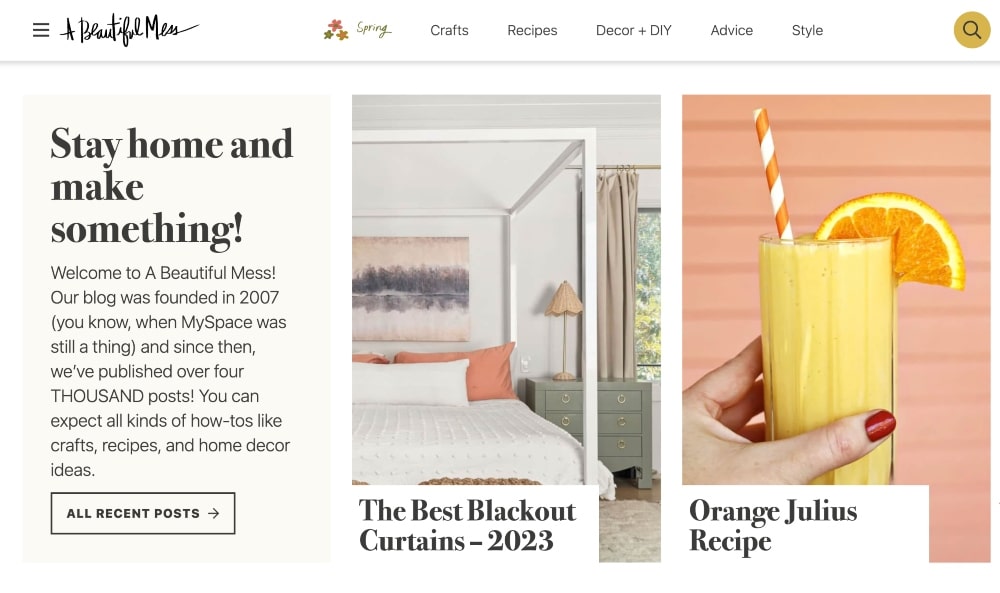 A Beautiful Mess is run by the popular lifestyle bloggers and dynamic sister duo of Elsie Larson and Emma Chapman. In addition to running their blog full-time, they have also written 3 books and created a few top-selling photo editing apps.
A Beautiful Mess is a great example of how you can start a pretty simple blog and turn it into a thriving business with a full team to boot!
They have an entire team behind the scenes, which is another example of being a successful blog owner makes you a successful business owner and entrepreneur.
Topics: Crafts, Decor, Recipes, Advice, and Style
Monetization: Physical products (photography), Digital products (courses), Books (home and projects), Apps (design), Affiliate Marketing, and Sponsored Posts
Why It Stands Out
Other than their awesome blog with TONS of content, A Beautiful Mess also monetizes through a variety of different ways. The best approach that we explained at the beginning of this article.
They don't publish their income reports, but it's obvious that this is one of the most successful lifestyle blogs on this list with a full team behind it!
6. The Everygirl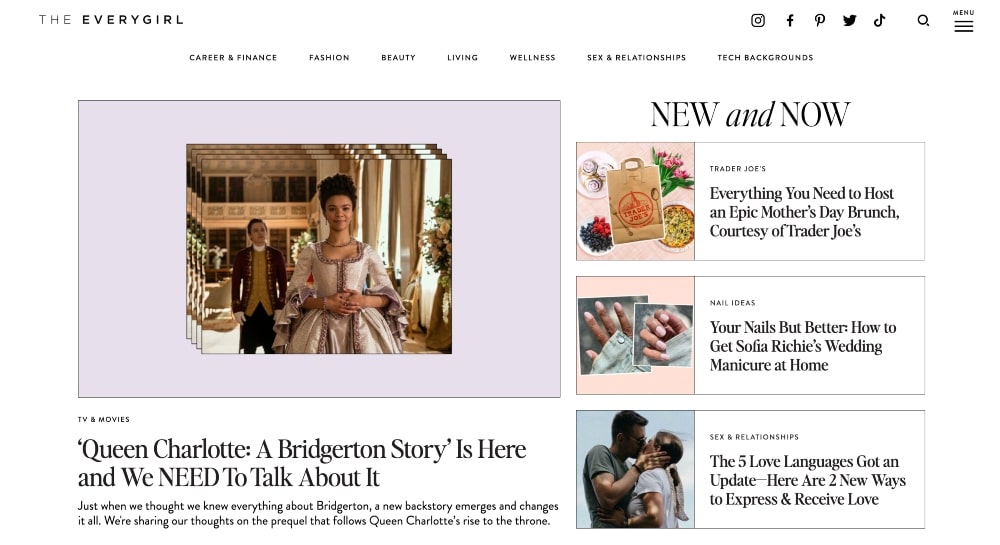 The Everygirl is a lifestyle blog created by Alaina Kaczmarski and Danielle Moss in 2012 that caters to millennial women.
It has since grown to be one of the leading lifestyle blogs for women.
Topics: Career & Finance, Fashion, Beauty, Living, Wellness, Sex & Relationships, Tech Backgrounds
Monetization: Partnerships with brands, sponsored posts, and various online courses.
Why It Stands Out
The Everygirl has a team of 21 and an additional 56 contributors to the website, which makes them a pretty incredible powerhouse!
7. Twenty-First Century Gent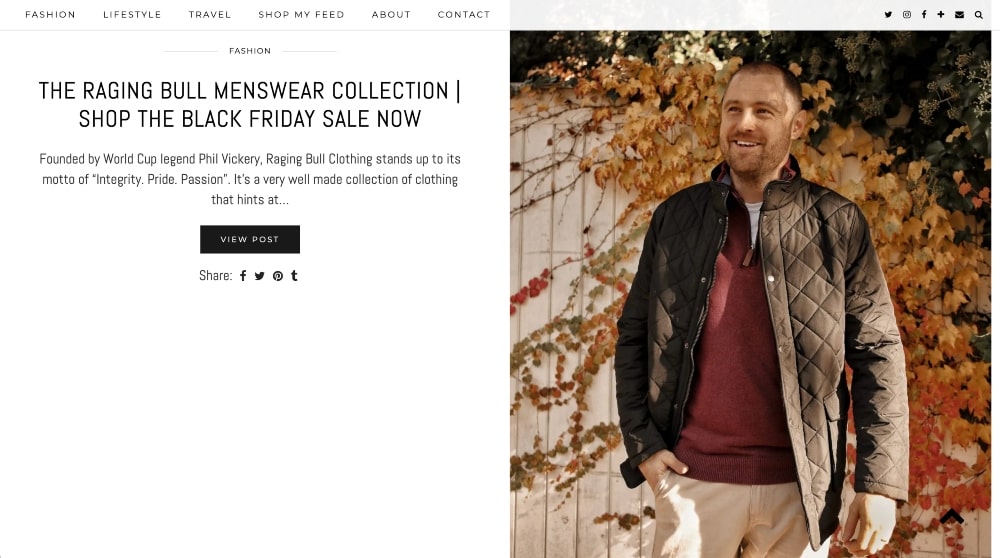 Ben started his lifestyle blog, Twenty-First Century Gent, as he was nearing his thirties and wanting to share his creative side and his adventures with his wife, Katie, and Pomeranian, Pepita (aww).
The cool thing is… His better half has her own lifestyle blog too! Katie Kalanchoe.
Ben and Katie both use their blogs to showcase their travels, best fashion tips, health advice, lifestyle tips, and more.
Topics: Fashion, Lifestyle, and Travel
Monetization: Affiliate Marketing
Social Media: Instagram
Why It Stands Out
Honestly, we just love how much this guy is rocking this space.
The lifestyle blogger space is predominantly female. Sure, there are tons of men's lifestyle blogs out there. But there are SO many more started and run by females.
8 Say Yes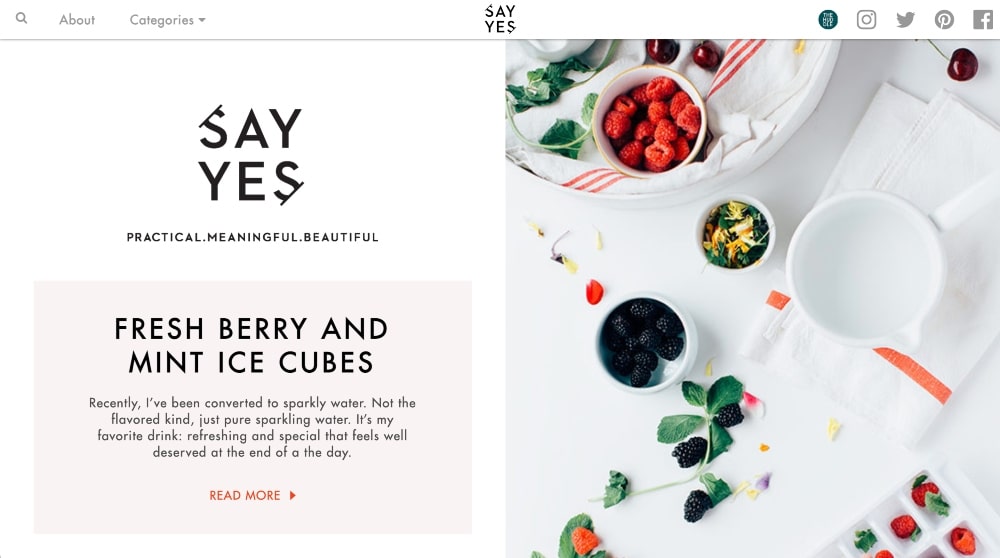 Liz, the founder of Say Yes and mother of three, started this blog to "celebrate family life" through practical tips on home, travel, and personal style.
She says that when she is brainstorming new content with her team, they gather together and talk about everything under the sun from post-partum depression to Thanksgiving plans.
She says that she wants her site to feel like you're just having another night out with one of your coolest girlfriends.
Topics: Fashion, Lifestyle, and Travel
Monetization: Ads, Affiliate Marketing, Sponsored Content, Retreats, eCommerce Store
Why It Stands Out
Our favorite thing about this blog is just its simplicity. You would never know that it has been featured in tons of magazines and publications nationwide or that there is an entire team running the blog in the background.
It doesn't need fancy bells and whistles and designs. It's just a simple blog with one really important focus: great content.
9. P.S. I Made This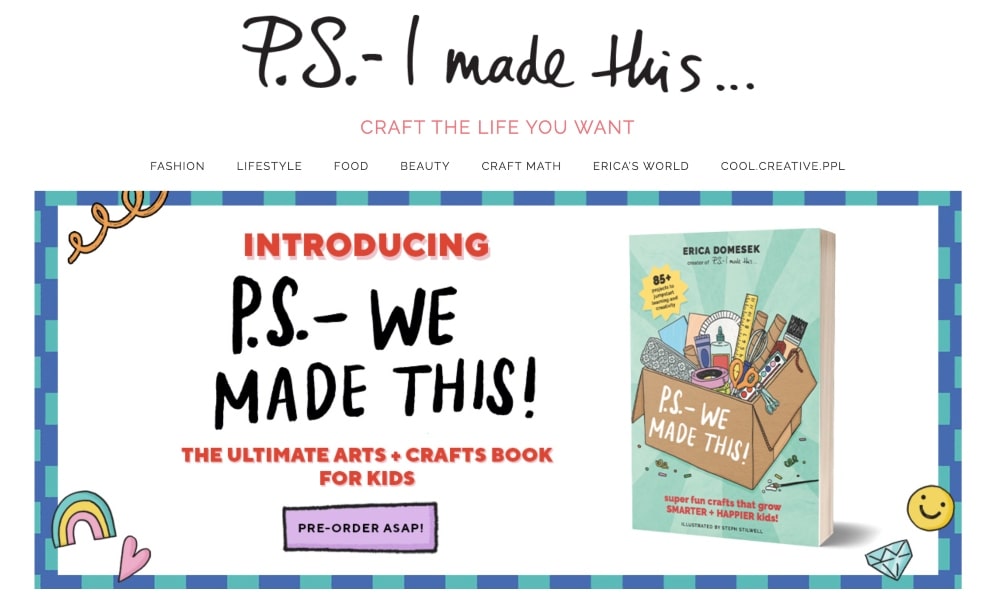 This craft and DIY-related lifestyle blog was founded by Erica Domesek and it was started from her passion for hand-making beautiful objects and accessories.
She started her blog in 2009 and since then has written a book and been featured on The Today Show, The Martha Stewart Show, E! News, and several other major media outlets.
Topics: Fashion, Lifestyle, Food, Beauty, and Crafts
Monetization: Book Sales, Affiliate Marketing, and Sponsored Content
Why It Stands Out
This lifestyle blog has a specific focus on crafts and DIY. She blogs about various topics but most of her content is written for a budget-friendly, do-it-yourself-loving audience.
She has a targeted audience and this is super important to building relationships with your readers and earning a full-time income with your blog.
10. Wit & Delight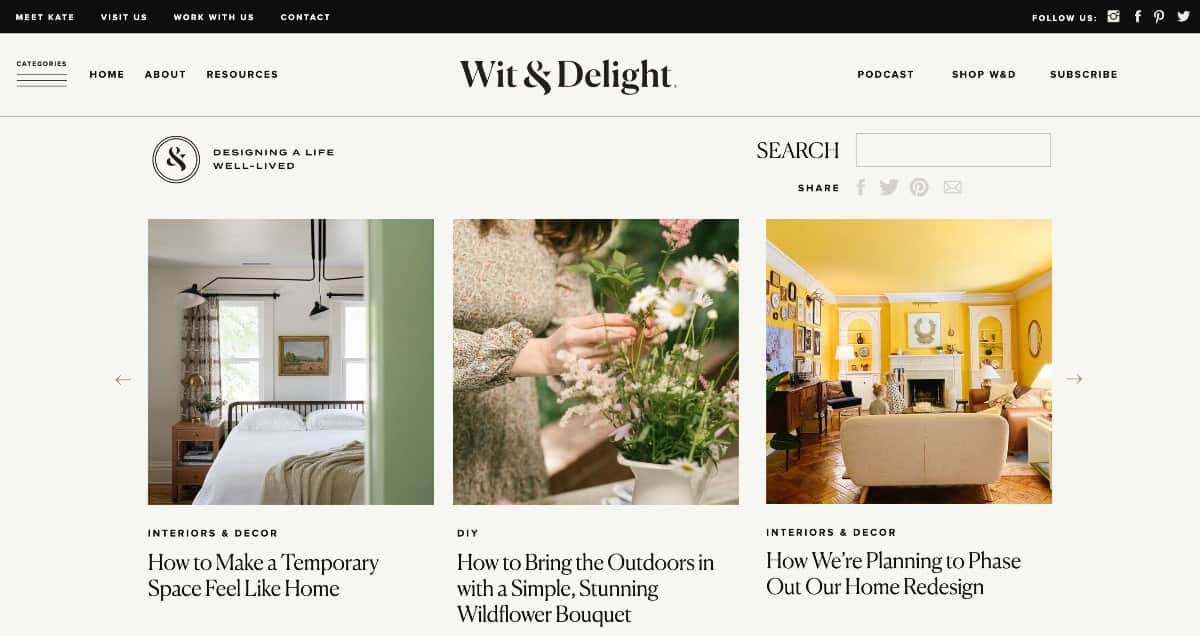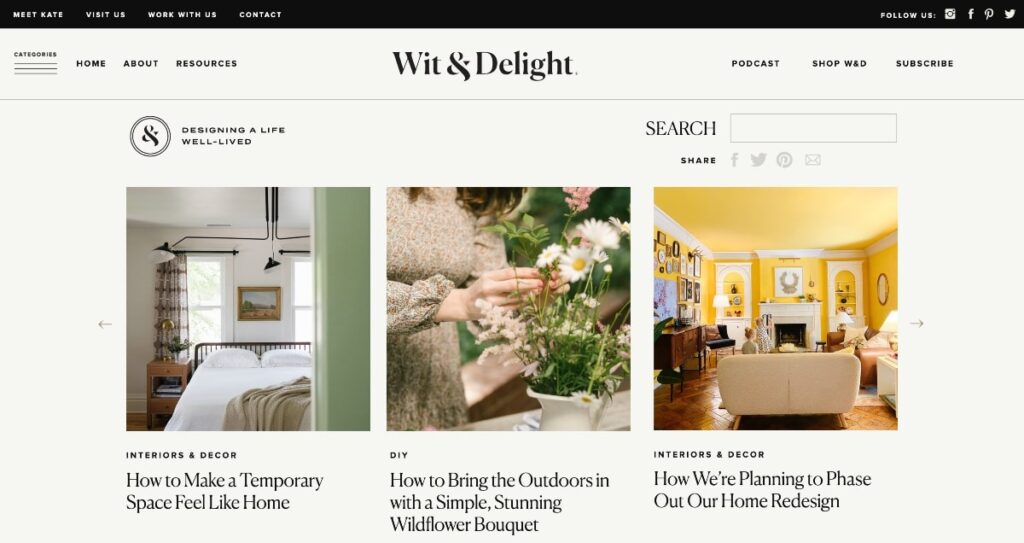 Wit & Delight lives up to the very definition of a "lifestyle blog" – quite literally. On their About Us page, they say define lifestyle as:
Life – Who you are
Style – How you live
We like their website because there is SO much more behind the "lifestyle" that they are promoting. It's personalized, created from individual and meaningful moments, and written specifically for you.
This lifestyle blog shares content on everything from home decor ideas to self-development and style advice.
Topics: Interior Design, Fashion & Style, Health & Wellness, Relationship, Career, Beauty, Parenthood, Travel
Monetization: eCommerce store (books and notebooks), ads, affiliate marketing, and sponsored content
Why It Stands Out
"What we lack in professional degrees or credentials, we make up for in life experience, and trial and error."
We love this because Wit & Delight is totally owning the fact that most successful blogs come more from experience than anything else.
11. The Pioneer Woman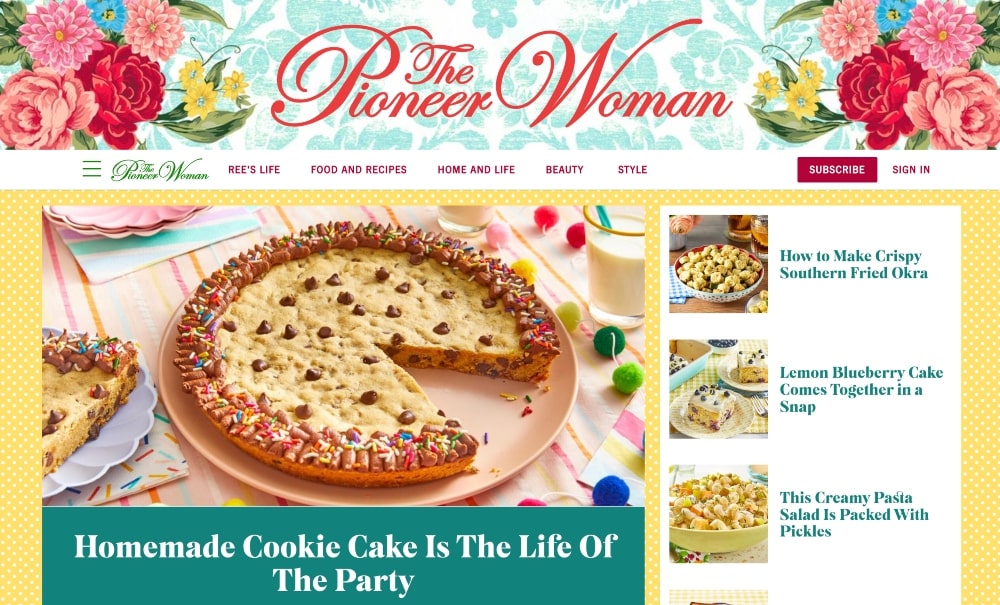 The Pioneer Woman is an award-winning lifestyle blog founded in 2006 by Ree Drummond. She is passionate about creating content that reflects her personal story of living as a rancher's wife on a large cattle farm in Oklahoma
Her blog focuses on sharing stories from her life and home but also provides a wealth of practical tips and advice for readers.
From recipes to DIY projects to life advice and self-care, there is something for everyone at The Pioneer Woman.
Topics: Personal Life, Food and Recipes, Home, Beauty, Style
Monetization: Affiliate marketing, advertising, book sales (cookbooks), magazine subscriptions, and more.
Why It Stands Out
In addition to blogging and the website itself, The Pioneer Woman has spawned several cookbooks, a magazine subscription service, product lines, tv shows, and more.
Ree has created a vast empire that continues to grow every year.
12. He Spoke Style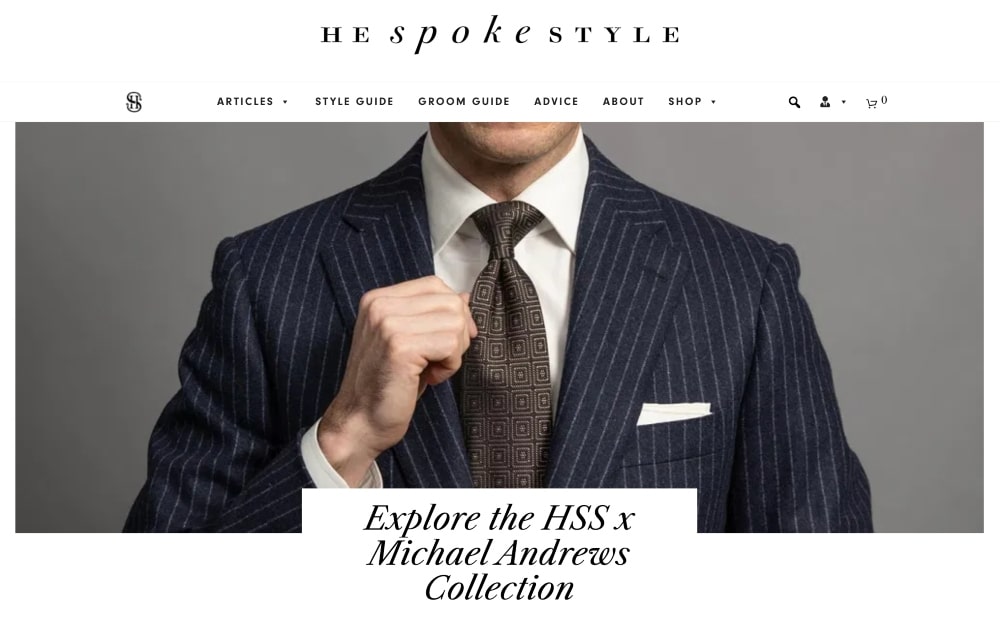 He Spoke Style is a lifestyle blog created by Brian Sacawa that has become a go-to for men around the world who want to stay updated on the latest trends and fashion news.
Not only does the website feature stylish looks put together by Sacawa himself, but there are also several helpful resources like style guides, shopping advice, and product recommendations.
Topics: Style, Recipes, Reviews, and Fashion
Monetization: Sponsored content and partnerships with major brands such as Amazon, Nordstrom, Everlane, Bonobos, and others
Why It Stands Out
Sacawa's personal story of transitioning from a corporate job into full-time blogging has also been an important factor in its success.
His journey shows aspiring bloggers that no matter where you start out, hard work and dedication can lead you toward your dreams.
13. Camille Styles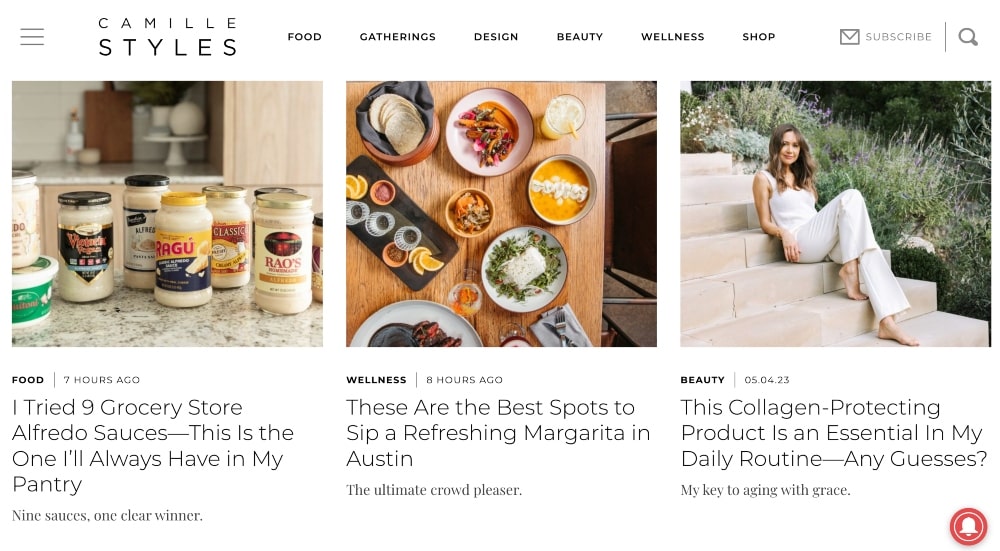 Camille Styles is a successful lifestyle blog started by Camille Harris in 2009.
Despite majoring in journalism and having a dream of being a magazine editor, Camilla fell into catering for several years at the start of her career and quickly fell in love with event planning.
She started her blog on these topics as a creative outlet and it quickly grew into one of the top lifestyle websites on the web.
Topics: Food, Event Hosting, Design, Beauty, Wellness
Monetization: Product sales (home goods), sponsored content, and affiliate sales
Why It Stands Out
In addition to blogging, Camille Styles also offers product lines such as home decor items, kitchenware, apparel, stationery products, and more. She also offers various workshops and events throughout the year which helps bring her blog to life even further.
14. Hither and Tither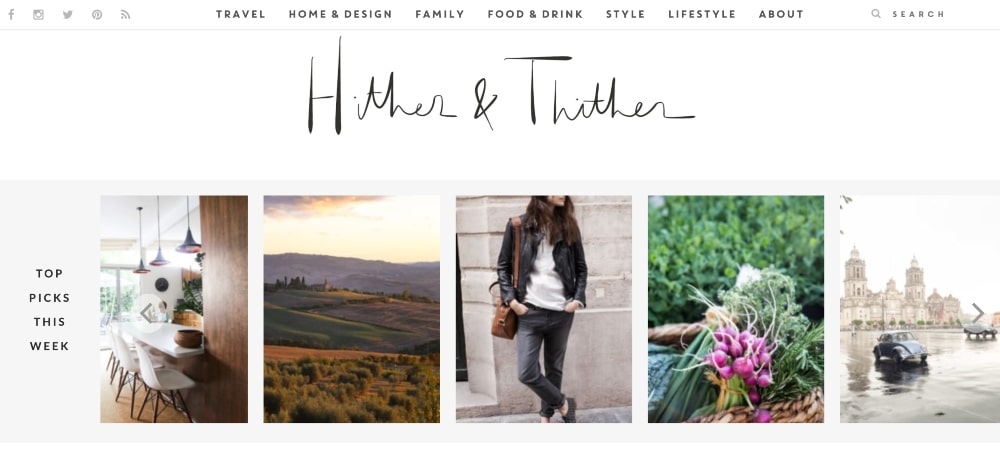 Hither and Thither is a lifestyle blog by Ashley Muir Bruhn that focuses on home and family life and sharing experiences from Ashley's personal life.
Topics: Travel, Home Design, Family, Food & Drink, Style, and Lifestyle
Monetization: Advertising, affiliate sales, and sponsored posts
Why It Stands Out
As she states on her About page, nearly every post on her blog is her original photography. We think that's pretty cool considering so many blogs use stock photography these days.
15. The Art of Manliness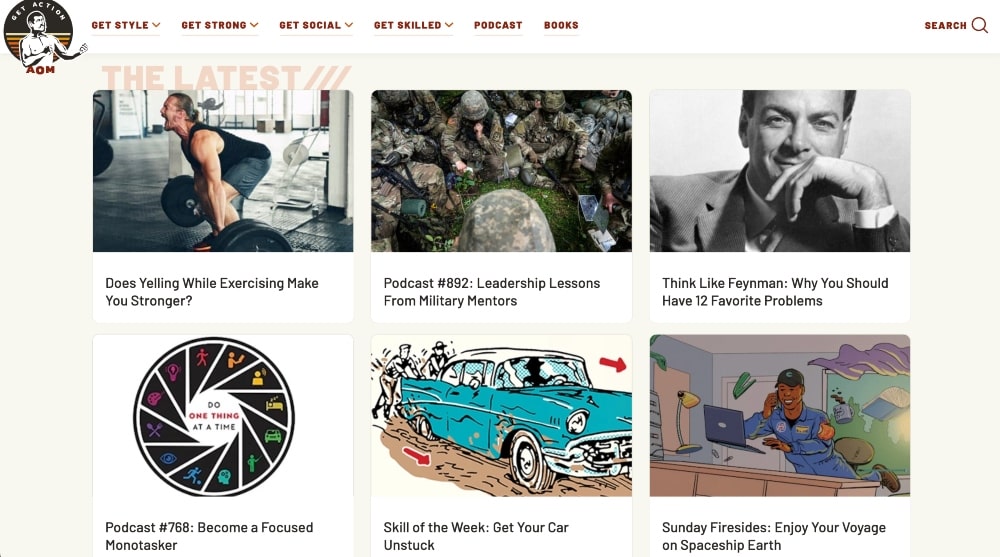 The Art of Manliness is a successful lifestyle blog founded by Brett McKay in 2008.
Initially, the website was created to help men learn how to be more confident and successful in their lives, while also providing them with valuable advice on topics such as fashion, relationships, career, health, fitness, and more.
The website has since grown into a massive resource containing thousands of articles, podcasts, and videos.
Topics: Men's Lifestyle, Relationships, Career, Health & Fitness
Monetization: Advertising, affiliate sales, and program sales
Social Media: Podcast
Why It Stands Out
The website provides practical advice that is easy to follow, and it has become a go-to resource for men who want to better their lives in all areas. It also offers various products ranging from books to apparel that help support its mission.
16. Living in Yellow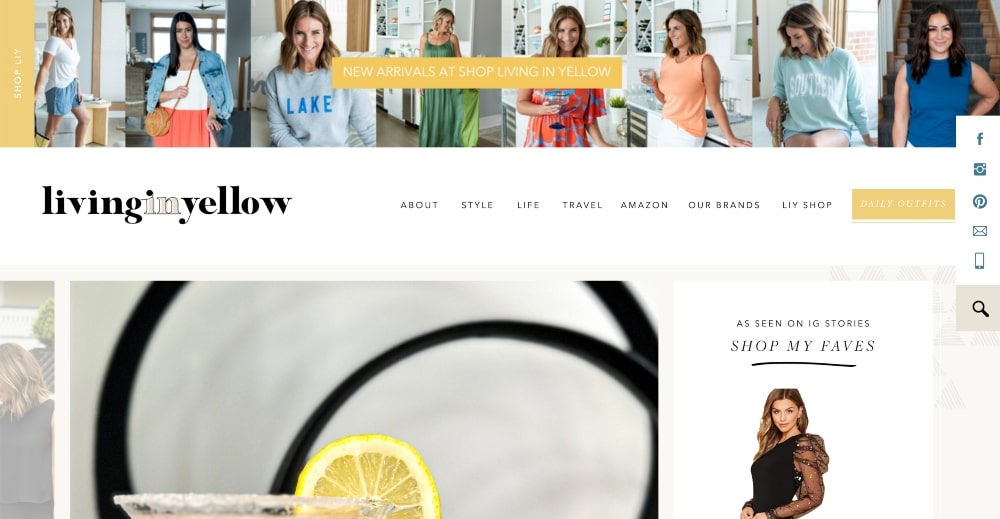 Living in Yellow was founded by Emily McCauley, who set out to create an online space that would focus on inspiring others to enjoy life and live it to the fullest.
In addition to being a great source of information on lifestyle topics, Living in Yellow also provides an uplifting atmosphere that helps its readers feel encouraged and motivated.
Emily is passionate about celebrating the small moments in life and encourages her readers to do the same.
Topics: Style, Life, Travel, Amazon, Brands
Monetization: Affiliate marketing and partnerships with well-known brands such as Amazon, Nordstrom, Everlane, and Bonobos to offer product reviews and sponsorships
Why It Stands Out
In addition to blogging, Living in Yellow also offers various resources such as printables for meal planning, style guides for shopping smarter, and other helpful tools that can be used by its readers daily.
All these elements combined have helped make Living in Yellow one of the most successful lifestyle blogs today.
17. Carly Riordan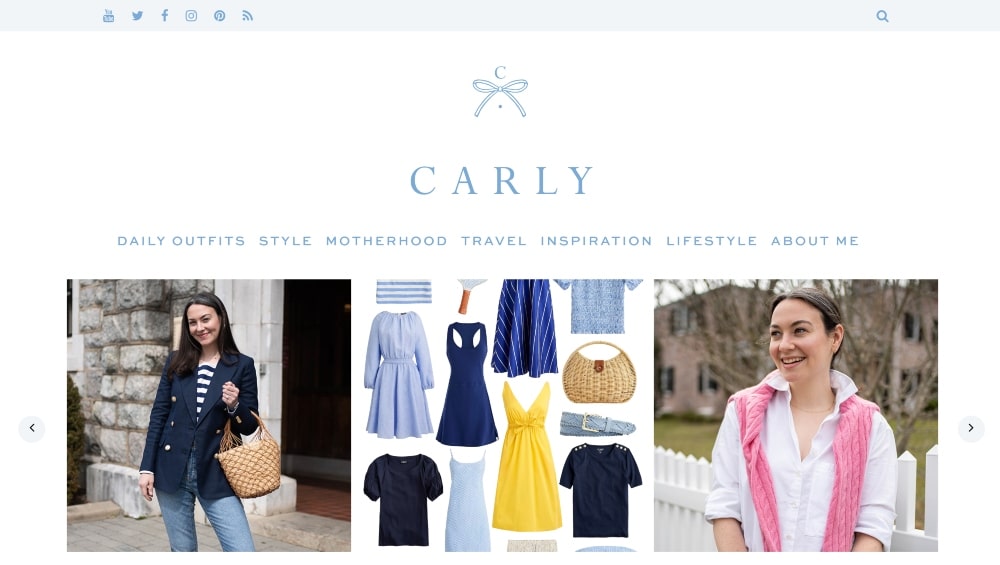 Carly Riordan started her blog in 2008 and turned her creative outlet into a full-blown business. She is a big supporter of female entrepreneurship and even wrote a book on the topic, called Business Minded.
Topics: Health & Fitness, Food, Travel, Personal Growth, Productivity
Monetization: Advertising and affiliate sales
Why It Stands Out
Carly Riordan takes an honest approach when it comes to her content and shares her own experiences Her blog is not only informative but also inspiring in every sense, helping her audience to make positive changes in their lives.
18. The Skinny Confidential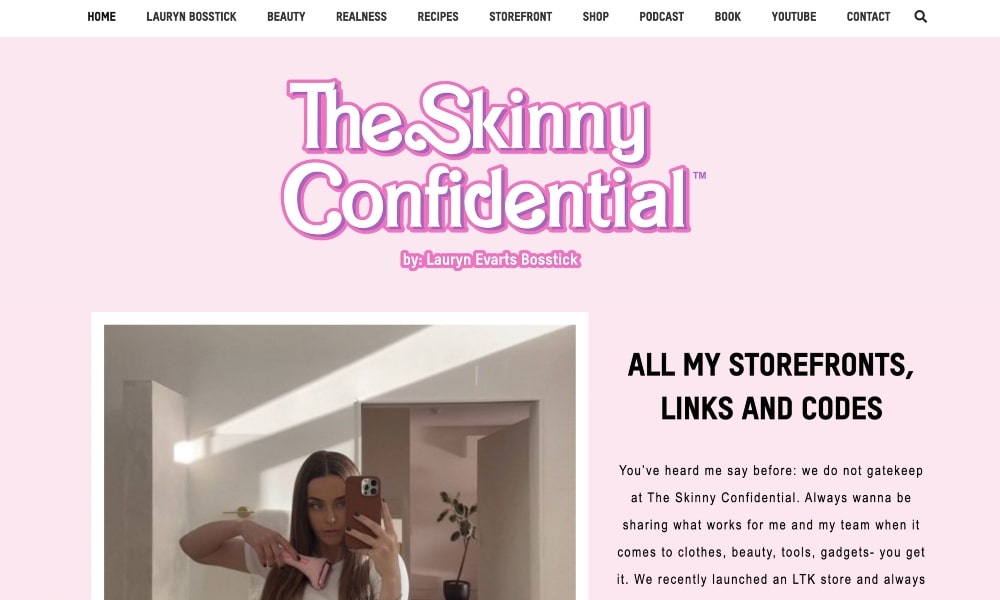 The Skinny Confidential is a successful lifestyle blog founded by Lauryn Evarts Bosstick.
From detailed interviews to helpful products reviews, this blog covers it all for its readers. The website also offers helpful tools such as meal plans and exercise plans that could be implemented into one's daily routine.
Topics: Beauty, Recipes, Baby, Business, Pregnancy, Relationships, and Home
Monetization: eCommerce store (beauty products), affiliate marketing, book sales, and other partnerships and sponsored content
Why It Stands Out
One of Lauryn's blog categories is called "Realness" where she shares more personal blog content about her life and experiences, which makes her very relatable to her audience.
The Skinny Confidential also has an online store where readers can shop from a wide selection of products ranging from beauty items to apparel items and even home decor items.
19. Jessica Ann Kirby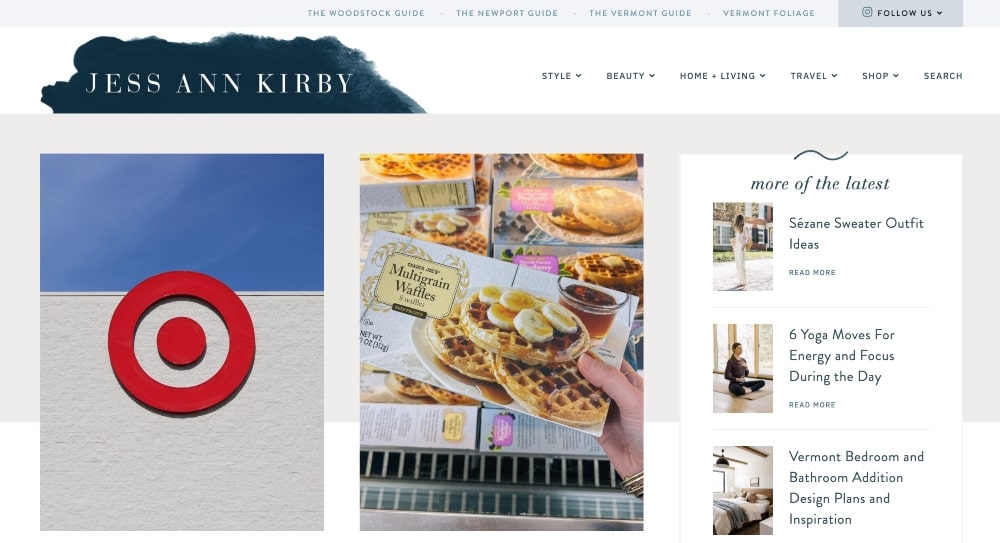 Jessica Ann Kirby started her blog in 2013 after leaving her 9-5 job of HR Consulting that she worked at for 5 years.
As her About Page states, her blog is a "lifestyle, travel, and style blog to encourage meaningful conversation, create confidence, and celebrate women."
Topics: Style, Beauty, Home & Living, and Travel
Monetization: Affiliate marketing and sponsored content
Why It Stands Out
Jessica's blog has a big focus on community, which is something that makes it stand out from the other best lifestyle blogs on this list.
As she states, she seeks to foster connection through "honest story-telling and authentic conversation."
20. Design for Mankind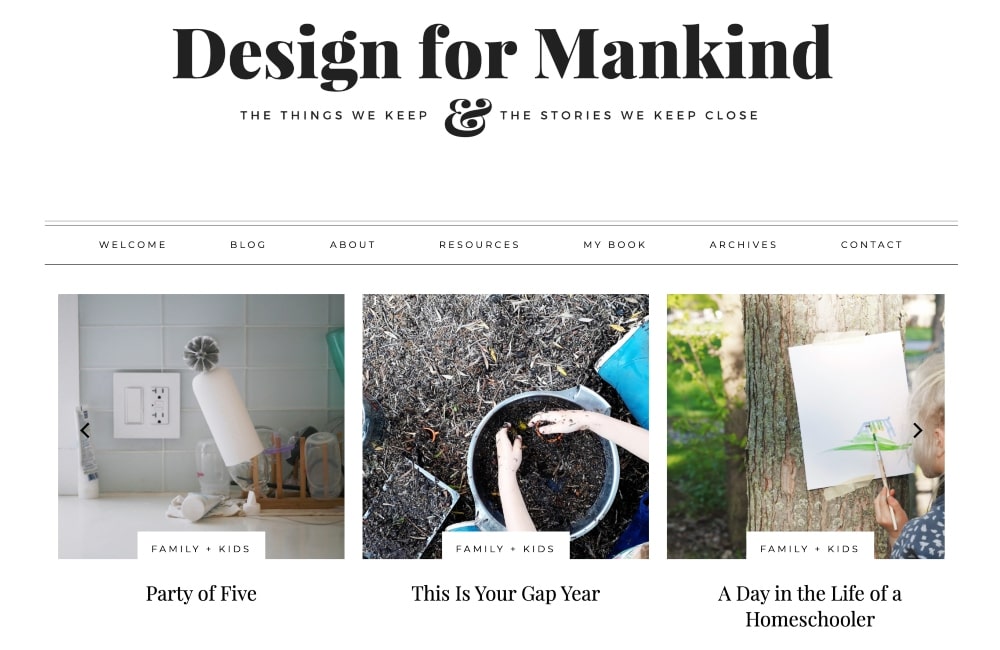 Erin is perhaps one of the most experienced lifestyle bloggers on this list, having started her first blog back in 2001 when it was still called a "web log," as she states.
It was a different blog with a different focus, but she's been in the lifestyle blogging game for a long time.
Since starting Design for Mankind, she has been recognized in international events partnering with Walt Disney World, IKEA, Martha Stewart, Home Depot, and more.
Topics: Family, Kids, Home and Other Miscellaneous Topics
Monetization: Book Sales, sponsored content, and affiliate marketing
Why It Stands Out
We love Erin's honesty. In this blog post on why she blogs, she states that she has blogged for every reason under the sun, including to find people like her, to find people unlike her, to avoid therapy, to research, to hide, to share, to teach, to discover, and to connect.
It doesn't get any more real than that.
21. The Good Men Project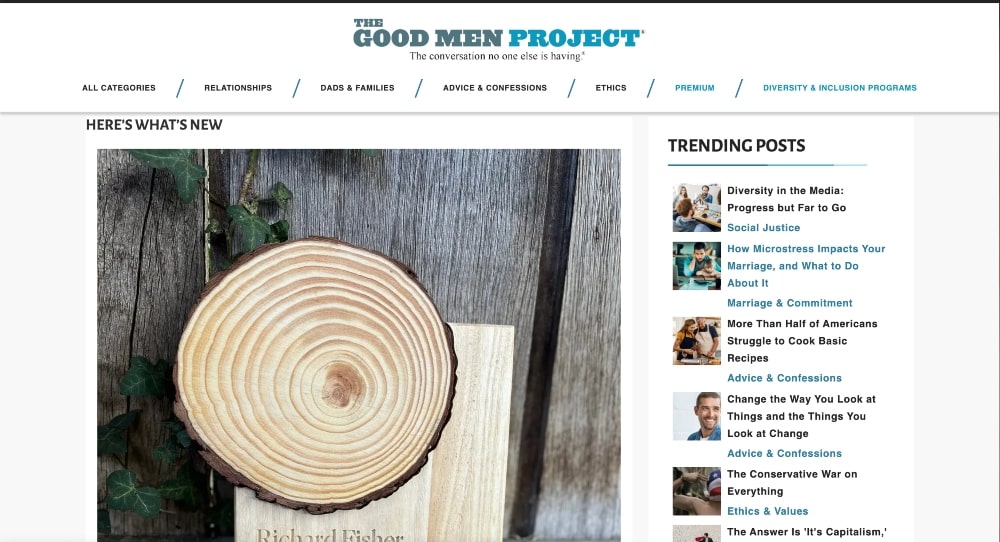 The Good Men Project is an award-winning website featuring helpful articles related to men's issues, relationships, lifestyle, and wellness. Founded in 2008, the website provides a platform for honest dialogue around topics such as masculinity, fatherhood, and mental health.
The Good Men Project tackles these topics in a way that is respectful and open-minded, providing insight into men's lives from both a personal and a broader perspective.
Topics: Relationships, Dads & Families, Advice & Confessions, and Ethics
Monetization: Advertising, sponsored content, affiliate links, and a membership program
Social Media: Pinterest
Why It Stands Out
What really makes The Good Men Project stand out on this list of best lifestyle blogs is its Diversity & Inclusion program. The company works to bring men into the conversation of diversity and inclusion and covers topics such as modern masculinity.
They offer live calls with those interested to learn more about the program.
22. Style by Emily Henderson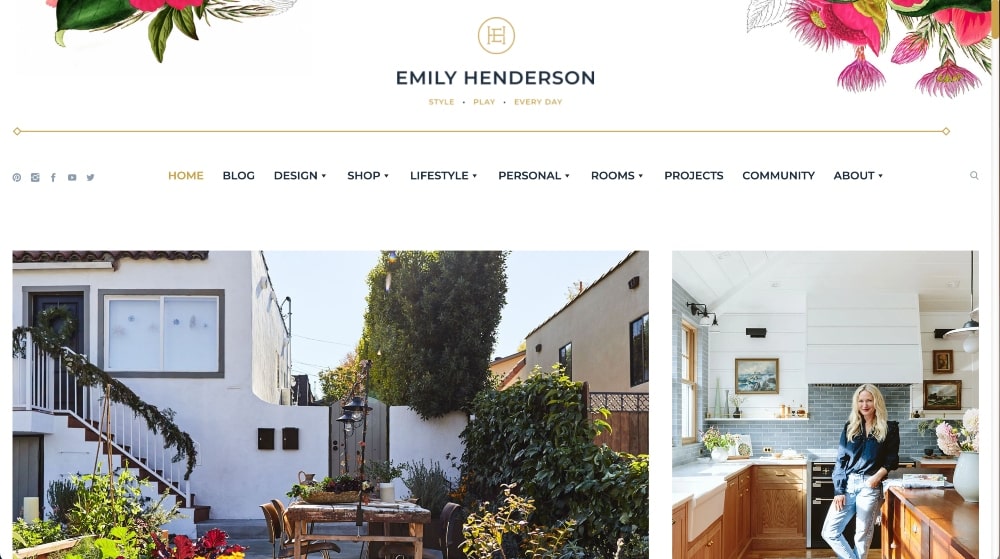 Style by Emily Henderson is a lifestyle blog founded by Emily Henderson in 2012. Emily is a 56th-generation-born Utahnian, as she calls it, and was also a former Mormon. She's been married to her husband for over 19 years and they have two kids together.
On her blog, Emily shares everything from interior design to swimsuits, healthy food, personal growth, or her husband's therapy.
Topics: Design, Lifestyle, Personal, Interior Design, and Projects
Monetization: eCommerce store, affiliate links, sponsored posts, membership program
Why It Stands Out
In her "Personal" blog category, this lifestyle blog has a sub-category called "Controversial Debates." In this section, you can find detailed articles on controversial topics such as racism, religion, guns, and more.
Many companies and businesses don't take a stand on these important matters or participate in the discussion, so we think it's awesome that this blog does.
Emily also has over 50,000 subscribers on her YouTube channel, making it the channel with the most subscribers on this list.
23. Peanut Butter Fingers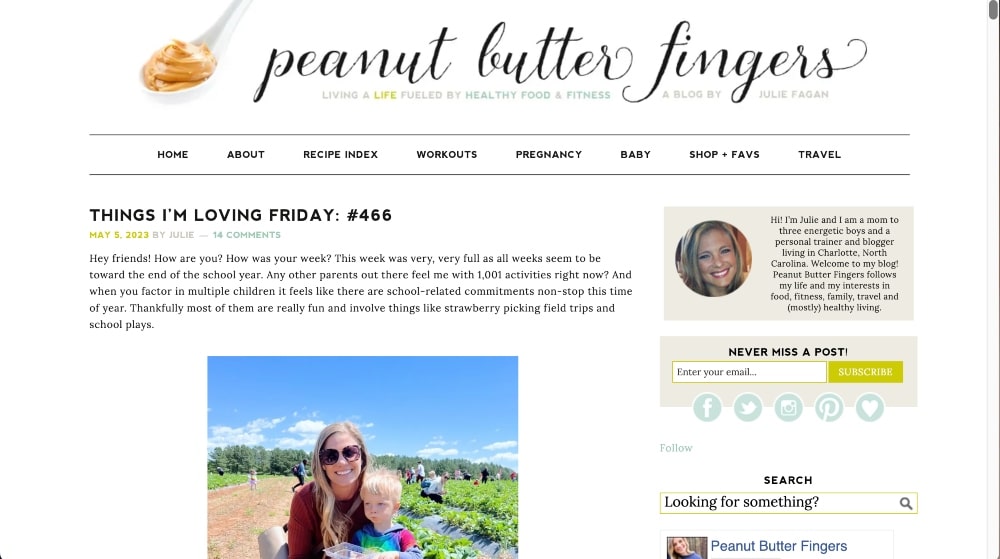 Peanut Butter Fingers is a lifestyle blog by Julie Flagan in 2009 with a heavy focus on health, wellness, and fitness. This blog follows her healthy, balanced everyday life that she shares with her husband, Ryan, and three boys.
Before she started her blog, she worked in public relations and marketing before taking a job as a content manager for a large website.
Topics: Recipes, Workouts, Pregnancy, Baby, and Travel
Monetization: Affiliate links and advertising
Why It Stands Out
Julie's blog is probably the closest to a personal blog on this list. There doesn't appear to be an entire team of people running the blog. It's just Julie and perhaps some admin help, although it's not mentioned on her website.
This makes Peanut Butter Fingers a great inspiration for all those solo bloggers out there looking to grow their lifestyle blogs.
24. Corpette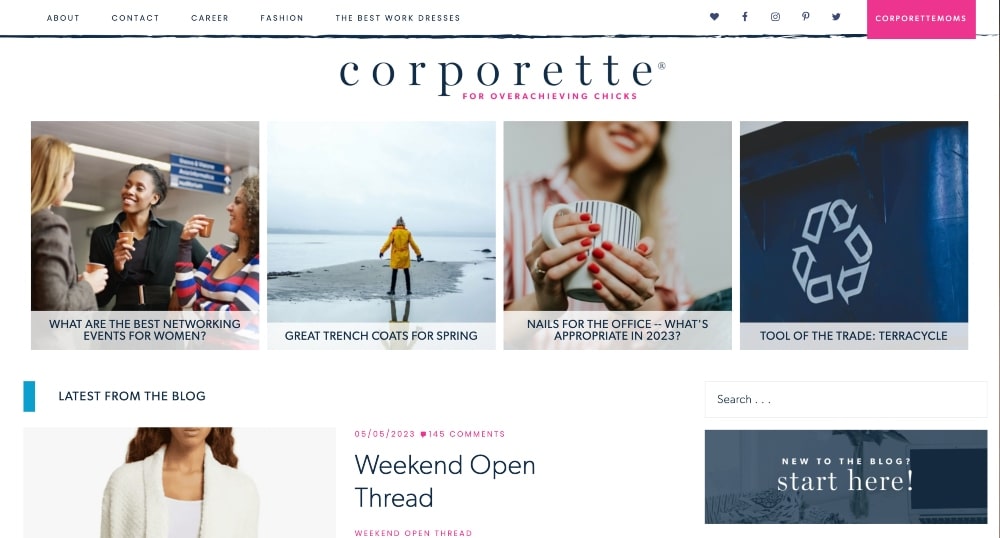 Corporette is a lifestyle and fashion blog created by Kat Griffin in 2009 that caters to professional women.
Kat started out her career as a litigator on Wall Street and noticed that a lot of working women had money to spend on their wardrobes but no time to navigate the fashion trends.
She uses her blog to inspire and empower the modern woman through fashion.
Topics: Career and Fashion
Monetization: Ads, sponsored posts, and affiliate marketing
Why It Stands Out
Some might think that Corpette is simply a fashion blog, but we think it's so much more than that. The website provides all kinds of career advice and content and a woman's career is such a large part of her life.
This website supports and encourages the empowerment of women in their careers.
25. TeriLyn Adams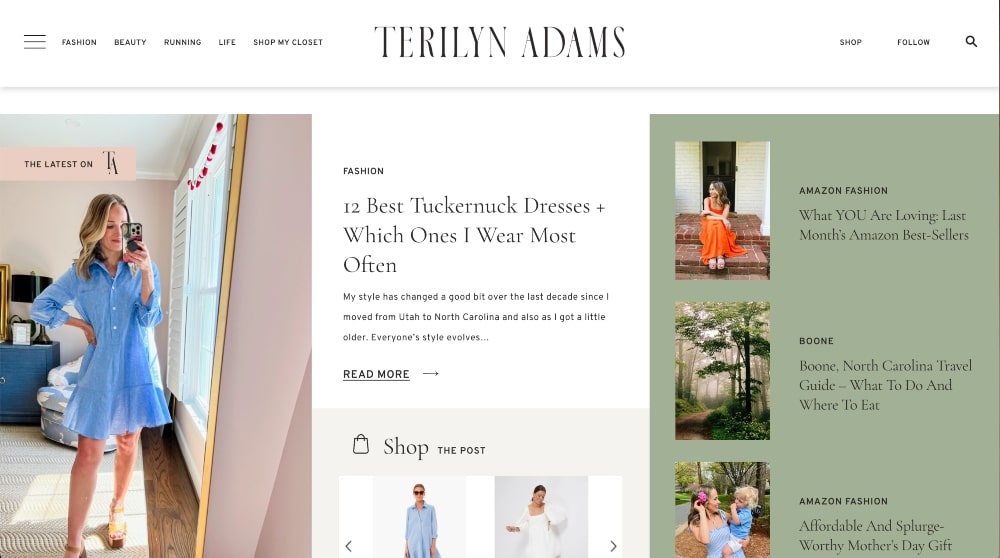 TeriLyn Adams first started blogging in 2004 when she was in college. It was a blog about her classes and training for her first half marathon.
She then started her second blog in 2008, A Foodie Stays Fit, to share recipes, updates about her running, healthy lifestyle, and general life stuff.
This was the beginning of her lifestyle blog, which she has since changed the name of to TeriLyn Adamns.
Topics: Fashion, Beauty, Running, and Life
Monetization: Ads, affiliate marketing
Why It Stands Out
Most bloggers quit their full-time jobs as quickly as possible when their blogs become successful. TeriLyn was quite the opposite – working in corporate America for 15 years throughout her blogging career.
With a degree in business management and corporate finance, she worked at several major financial institutions, including Goldman Sachs, BB&T (now Truist), and Wells Fargo.
Not only does she have a total boss babe background, but she also shares deeply personal experiences about everyday life, family, pregnancy, and more.
FAQs About Lifestyle Blogs
Can lifestyle blogs make money?

Yes, lifestyle blogs can make money. As with any other blog, the best lifestyle blogs monetize with advertising, affiliate marketing, selling products and services, sponsored posts, or other brand partnerships. Some lifestyle bloggers also offer subscription services for exclusive content or media such as podcasts and ebooks.
What is the average income for a lifestyle blogger?

The average income for a lifestyle blogger can vary widely. Some bloggers earn nothing at all, while others have been able to generate full-time incomes and even seven-figure annual earnings. Generally, the more successful lifestyle bloggers are able to generate money through advertisements, sponsored posts, affiliate marketing, selling products or services, or offering consulting services. Building an engaged audience of followers is key to success.
How can I start a lifestyle blog?

To start a lifestyle blog, you will need to choose a blogging platform and hosting provider, create content that fits your chosen focus or niche, and set up marketing channels to promote your content and build an audience. Having well-written content and regularly engaging with your audience is essential to success.
Are lifestyle blogs still relevant?

Yes, lifestyle blogging is still very relevant. They offer readers a chance to connect with other readers who have similar interests and goals, while also providing insights on topics such as health and wellness, fashion trends and beauty tips, food and recipes, travel and adventures, and more. Additionally, many lifestyle bloggers use their platforms to promote products and services related to their niche which can be beneficial for those looking for new tips or ideas.
Start a Lifestyle Blog Today
Now that you've learned more about some of the top lifestyle blogs and how they make money, you probably have a somewhat better feel for whether or not you might want to start one.
The other things you might want to consider before starting a lifestyle blog:
What blog topics do you want to talk about?

If you are having a hard time deciding on a blog niche, it might be a good idea to start with multiple topics until you can/want to narrow it down more.

As you begin to get more visitors to your blog, you may find that certain topics are more popular than others. This is a great way to decide how to "niche down" to a narrower focus.
What do you want to name your lifestyle blog?

Naming your blog is an easier process than you might think.

Lifestyle blogs often have their creator at the very center – their life, their habits, and their recommendations. Many of the biggest lifestyle blogs also include the name of the founder in the domain name.

This is an option if you want the blog to be focused about your own life. You can test out different ideas with our free blog name generator.
Starting your first blog is super easy, and you can do so in just 10 minutes with our free guide below!
You can get your blog hosting and name and get everything set up with our free step-by-step guide on how to start a blog.
The tutorial will walk you through choosing your blog name, getting a hosting plan to take your blog "online," designing your blog, and more!
We hope you found some inspiration in this list of best lifestyle blogs! If you have any questions, feel free to leave us a comment below!