We partner with bada$$ companies that offer products that help our readers achieve their goals! If you purchase through our partner links, we get paid for the referral at no additional cost to you! Read our disclosure for more info.
Are you a pet lover looking for a way to make money from home? Pet blogging could be your ticket to financial freedom.
With an ever-growing audience of people who love animals, there's no better time than now to start a pet blog and monetize it.
In this post, we'll discuss the ins and outs of pet blogging in 2023 and how you can use it as an income source.
We'll cover the basics of setting up a successful blog, how to craft compelling content that will draw readers in, and some tips on monetizing your blog so that you can begin earning revenue right away.
So if you're ready to take your passion into the pet blogging world, let's get started!
What is a Pet Blog?
A pet blog is a blog or website devoted to the discussion and sharing of information related to pets and pet ownership.
With a pet blog, you can share stories, advice, and tips related to the care, training, health, and well-being of any type of animal that you keep as a household pet.
Some of the best pet blogs also serve as a source of news and updates on new products, services, and events related to pets.
They are often created by pet parents and people who have a deep passion for animals as well as veterinarians or animal welfare advocates trying to spread awareness about animal rights and proper care.
Pet bloggers may also be breeders or hobbyists who want to share their experiences with breeding and raising certain breeds of animals.
What Do You Need to Start a Pet Blog?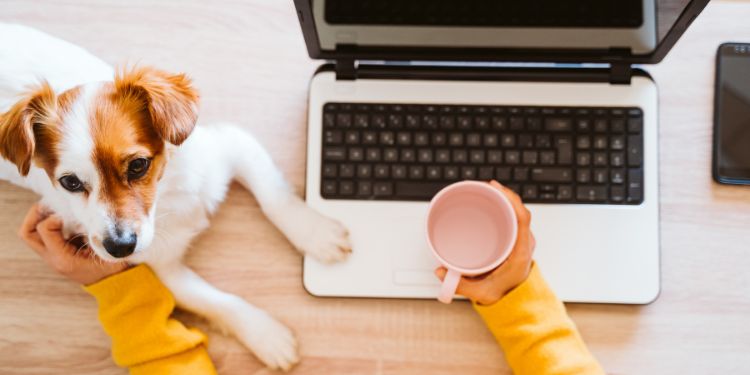 There are a few things that you will need to start a successful pet blog, including a good blogging platform and web hosting plan, which we'll talk about in more detail later on in this article.
As a pet blogger, you will need to create informative, accurate, and engaging content that can cover a range of topics from training methods to health and nutrition.
In addition to generating quality content, pet bloggers must also have a basic understanding of SEO (Search Engine Optimization) strategies in order to get their content seen by a larger audience.
This will give you greater visibility and exposure online, which could lead to increased website traffic and higher potential earnings from monetization.
We'll discuss all of this in greater detail throughout this article.
What Kinds of Pet Blogs Are There?
We will discuss how to choose a pet niche in the next section, but here is an overarching list of potential pet blogger topics:
General pet blog
Dog blogs
Cat blogs
Bird blogs
Fish and aquarium-keeping blogs
Reptile and amphibian care blog
Small pet care blog (e.g., hamsters, gerbils, etc.)
Exotic pet care blog (e.g., hedgehogs, ferrets, etc.)
Goats and other farm animals
Veterinary advice blogging
Pet product reviews/recommendation blogging
Breed-specific blogging (e.g., for purebred dogs, cats, etc.)
Pet adoption
Pet travel tips
Handicapped pets
There are a lot of other common categories in the pet industry not listed here. For example, some people keep monkeys or large cats as pets!
Let's discuss how to start a pet blog and choose your pet blogging niche.
How to Start a Pet Blog
Starting a pet blog is really easy to set up and can be done in 30 minutes or less!
1. Decide on Your Pet Niche
The first step to starting your own pet blog is to decide on your pet blogging niche, or what overall topic your pet blog will be about.
While there are many different types of blogs or pets, it is important to narrow down the focus to one specific area in order to make your blog stand out from the rest.
I'm guessing you already have some idea of what topic you are interested in because you're probably a pet owner yourself or at least have some knowledge or expertise in the subject.
The key to choosing a successful blog niche is to make sure that there is enough interest in your chosen topic.
Your blog topic should be specific enough (i.e. pug owners) but not so specific that only a very small group of people is searching for it (i.e. handicapped pugs).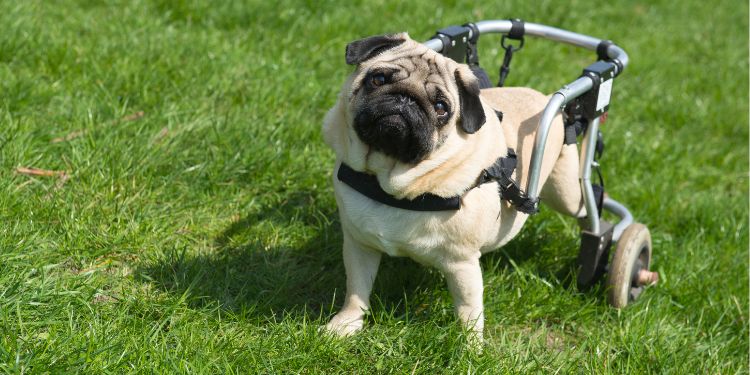 Do some research online to see what other pet owners are writing about, what type of content they are producing, and how they are monetizing their blogs.
This will help you determine if there is an audience for the content that you want to create and whether you might be able to make money with it.
2. Start Your Own Pet Blog
Once you've narrowed down your pet niche, the next step is to choose a blogging platform and web hosting plan.
There are many different options available on the market, so it's important to go with a recommendation that meets your needs.
Considering factors such as cost, ease of use, and features that will help you create the best pet blog – here is our recommendation:
Start a WordPress blog. WordPress is what most successful bloggers are using because it is the blogging platform with the most add-on customizations (themes and plugins).
Use a Bluehost hosting plan. Bluehost is one of the best and most affordable options for beginner bloggers with 24/7 customer service and help available for setup.
Use our free tutorial to start a blog. This will walk you through the entire setup of choosing a domain name, hosting setup, how to install WordPress a theme on your new blog, and more.
You can start a blog for as low as $2.75/month with Bluehost. We host several successful blogs with Bluehost and have been using them for years.
This setup should only take you 10-20 minutes. The free tutorial will also walk you through options for blog design.
3. Find Your Target Audience
Before you start creating content, it is important to determine who your target market is and what they are looking for.
Having an idea of who your desired audience is allows you to create content that resonates with them, drives more traffic to your blog, and ultimately leads to more sales.
Identifying who you are speaking to and what they are interested in will help you connect deeper with your audience and build relationships with them.
It will help you create very targeted content that is effective at reaching the right people and generating sales.
How can I find my target audience for my blog?

The first step to finding your target market is to think about who you want to reach with your blog. Consider demographics such as age, gender, lifestyle, and more. Next, consider what platforms they use to consume information. For example, TikTok attracts a much younger audience while Pinterest has mostly female users. You can also check the demographics for your own website using Google Analytics.
4. Create Quality Content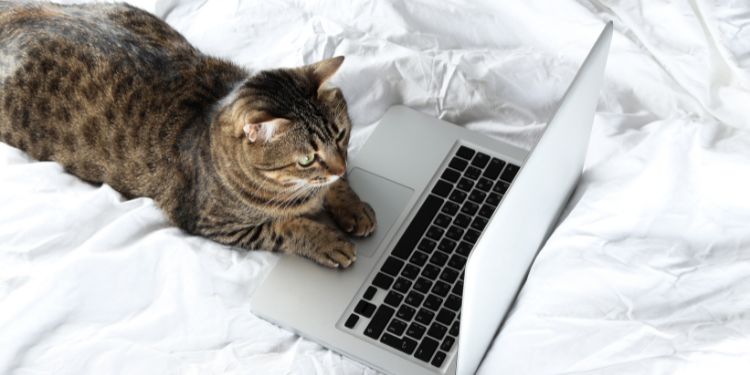 After starting a pet blog, the most important next step is creating quality content.
The first place to start is to write blog posts so that there is some great information for people to check out on your own website.
Writing new content regularly and updating older content will help you stay relevant and drive traffic from search engines.
Once you know who you are writing for, you should research topics that will be of interest to this specific audience.
Consider what keywords people might use when searching for content related to your niche.
This can help you optimize your content so that it ranks higher in search engine results.
In addition to blog content, you can also create YouTube content for your blog, which is a great way to connect with your audience on a deeper level and drive sales.
You can also get more personal with your audience by sharing stories or other relevant information on platforms like Instagram or TikTok.
Most successful bloggers have at least 1-2 additional platforms that they use to drive website traffic in addition to the blog posts that they write.
Blog Post Ideas for Pet Blogs
Keyword research can be a little easier to do when you first brainstorm a list of blog post ideas to start with. Here are some ideas:
Benefits of Having a Pet: Outline the benefits of pet ownership and how it can improve your life.
Pet Nutrition Guide: Cover the basics of nutrition and pet food selection for cats, dogs, and other animals.
DIY Pet Toys: Share creative ideas on how to make homemade toys for cats, dogs, and other pets.
Pet Training Tips: Share tips on how to train your pet to follow commands and stay safe.
Household Hazards for Pets: Highlight potential hazards that can be dangerous to pets in the home and safety tips to prevent these hazards.
Pet Grooming Guide: Offer helpful advice on grooming techniques for cats, dogs, and other animals.
Pet Travel Tips: Share advice on how to safely travel with your pet.
Pet-Friendly Home Renovations: Share ideas on ways to make your home more pet friendly.
Pet Care Tips and Supplies: Provide a comprehensive list of essential pet supplies and pet products to keep on hand for pet care.
Pet Health: An overview of pet health and wellness, including common ailments and preventative care tips.
Pet Insurance: What to look for in a pet insurance policy and how to find the best plan for your budget.
Pet Adoption Advice: Provide tips for potential pet owners on how to choose the right pet for your family, as well as any other considerations you should make before making a decision.
Understanding Pet Behavior: Discuss common behavior issues and how to address them in pets, as well as how owners can help their pets adjust to new environments or situations
Shelter Information and Advice: Overview of what to look out for and consider when adopting a pet from a shelter.
Pet Allergies: Outline the most common pet allergies and provide tips on how to prevent and manage them.
5. Promote Your Content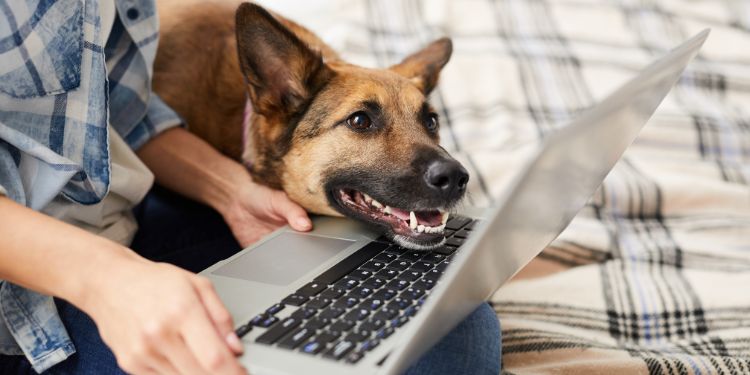 Once you have created content for your pet blog, the next step is to promote your blog so that it reaches a wider audience.
This involves sharing your content on social media platforms, creating an email list, engaging with other pet businesses in your niche, and more.
Here is a step-by-step beginner promotion strategy you can add as a starting point when you're creating a blog business plan.
You don't have to implement all of these strategies, but it will hopefully give you ideas of where you might want to start.
Set Up Social Media Accounts – Create accounts on social media platforms such as Facebook, Twitter, Instagram, and Pinterest to share your content and engage with other pet owners.
Engage With Other Bloggers in Your Niche – Reach out to other bloggers in the pet space and build relationships by commenting on their posts and sharing their content.
Optimize Your Content for SEO – Make sure you are using keywords that people might use when searching for information related to your niche so that you can rank higher in search engine results pages (SERPs).
Use Email Marketing To Promote Your Content – Build an email list of subscribers who are interested in what you have to offer and send them regular updates about new blog posts or products they may be interested in buying from your store.
Leverage Influencer Marketing – Connect with influencers who have a large following relevant to your niche and ask them to promote your blog or products through their channels for a fee or commission-based structure
Launch Paid Ads Campaigns – Utilize paid advertising campaigns such as Google Adwords, Facebook Ads, etc., targeting potential customers based on demographics like age group, location, interests etc., which will drive more traffic and leads to your website.
Analyze Your Results – Measure the success of your blog by analyzing data from Google Analytics or other metrics-tracking programs to determine which content is most successful and which areas need improvement. This will help you identify trends in user behavior so that you can make changes accordingly for better results.
SEO (Search Engine Optimization)
If you want to get organic traffic from Google or other search engines, you will need a successful SEO strategy for your pet blog.
When creating an SEO strategy, the first step is to identify your audience and create an effective keyword strategy, which we already discussed above.
Add the keywords from your keyword research in your blog post titles, headings, and throughout your content.
You can use more powerful SEO tools to help you find related keywords and other tips to structure your content, including length, number of images to include, and more.
Our favorite SEO tool for writing new blog posts is Surfer SEO.
You can also use other SEO tactics such as creating backlinks, guest posting, optimizing images, using meta descriptions, and more to improve your blog's visibility.
Additionally, use tools like Google Analytics or Ahrefs to track website traffic and analyze data for insights that can be used to fine-tune your SEO strategy.
How to Make Money With a Pet Blog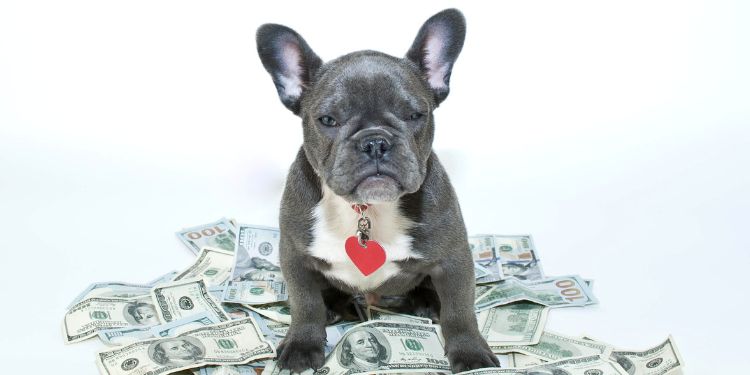 Creating a monetization strategy for your pet blog is an important step in making it successful.
With the right strategy, you can create an income stream that will sustain your blog for years to come and help you grow your business.
5 Ways to Make Money with a Pet Blog
There are a lot of ways to make money in the pet care industry. Here are a few of the top ways that bloggers monetize pet blogs.
1. Ad Networks
Ad networks are one of the most common ways to monetize a pet blog.
They serve up ads from third-party advertisers and pay you for every click or impression that your visitors make; this is known as cost per click (CPC) or cost per mile (CPM).
To maximize ad revenue from ad networks, you should focus on creating high-quality content and partnering with a premium ad network.
Google AdSense is where most bloggers start because they don't have any minimum traffic requirements, but they also have the lowest payout.
Waiting until you have at least 10,000 monthly website visitors and partnering with a premium ad network like Ezoic is a better option.
You also need to optimize your blog for ad displays so they appear in the best spots and get the most attention from viewers, and only premium ad networks will help you do this (not Google AdSense).
2. Affiliate Programs
Affiliate programs are another great way to monetize a pet blog.
With affiliate marketing, you promote products from other companies and get a commission for every sale made through your website.
Many pet product manufacturers like Petco and PetSmart have affiliate programs that you can request to join.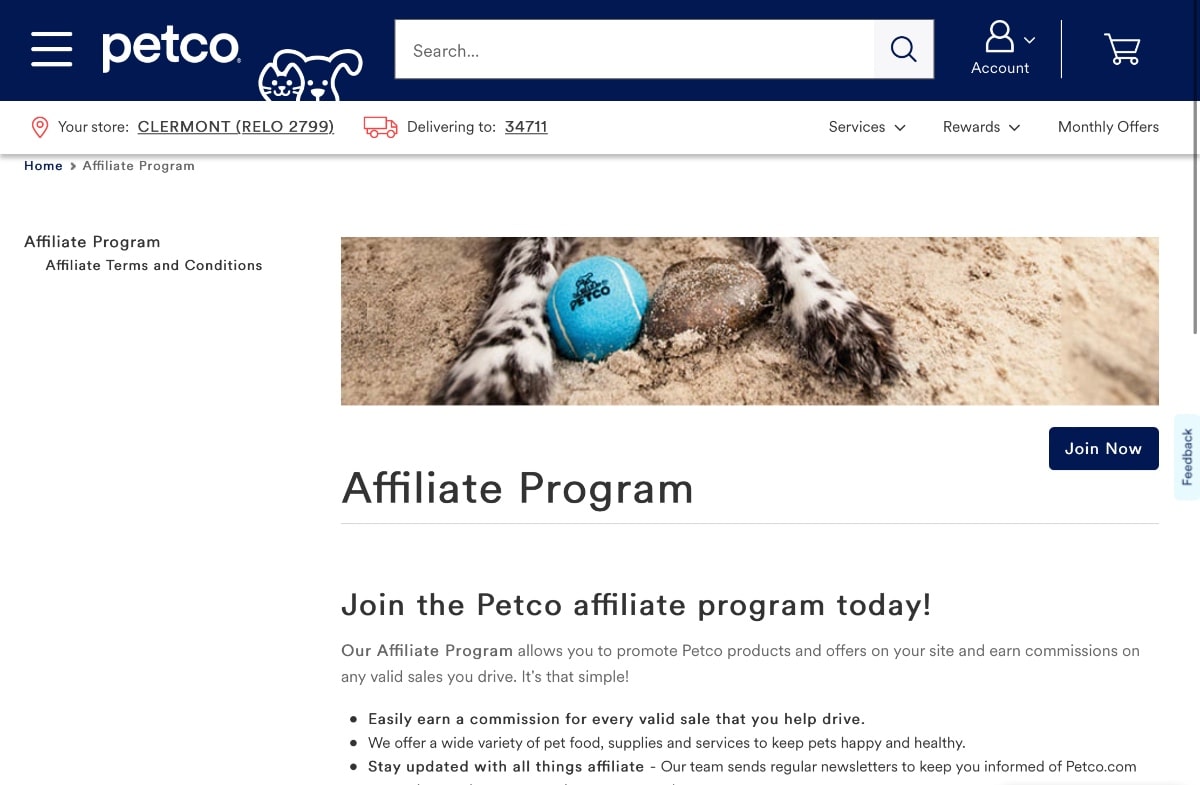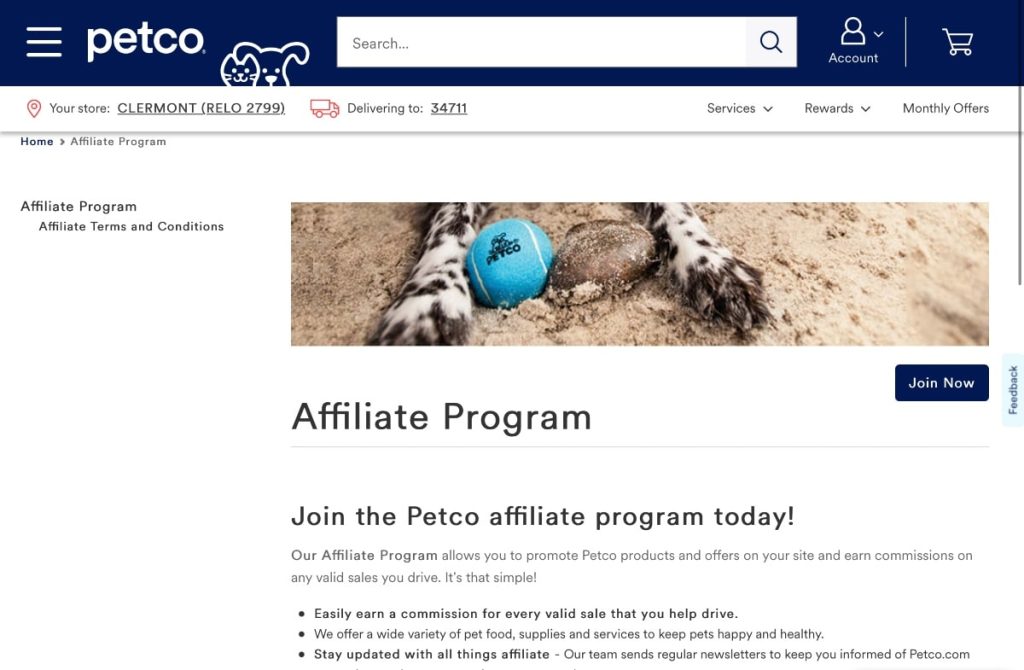 You can also join a bigger affiliate network like Amazon Associates and recommend pet products, books, and other resources in the pet industry.
To make more money with affiliate programs, promote quality products and create content around those products that encourages visitors to make purchases (i.e. product reviews).
You can also use email marketing campaigns to reach out to potential buyers directly with targeted product offers.
Affiliate marketing is one of the most common ways that bloggers earn their money.
3. Sponsored Posts
You can also set up sponsored posts with brands in the pet space and charge a fee for promoting their products.
When you have a large or engaged audience, companies will pay you to create content that promotes their products or services.
Some bloggers earn thousands of dollars for a single sponsored post on their blog.
To find sponsored post opportunities, try connecting with other bloggers and brands in your niche. See what partnerships and brands other successful bloggers are promoting.
You should also create a dedicated page about Advertising on your own blog so that potential brands can see what you have to offer.
3. Sell Products
Another popular way pet owners monetize their blogs is by selling products. This can be digital products, such as eBooks or online courses, or physical products, such as apparel or accessories.
This is a great way to establish yourself as an expert in your niche and build relationships with potential customers.
There are a lot of options when you sell products on your blog. Here are a few to consider.
Create an eCommerce store or Facebook shop and link the online store to your blog.
Sell an eBook on your own blog or through a marketplace platform like Amazon Kindle or Apple Books.
Create a course and sell it on your own or through a marketplace like Skillshare or Udemy.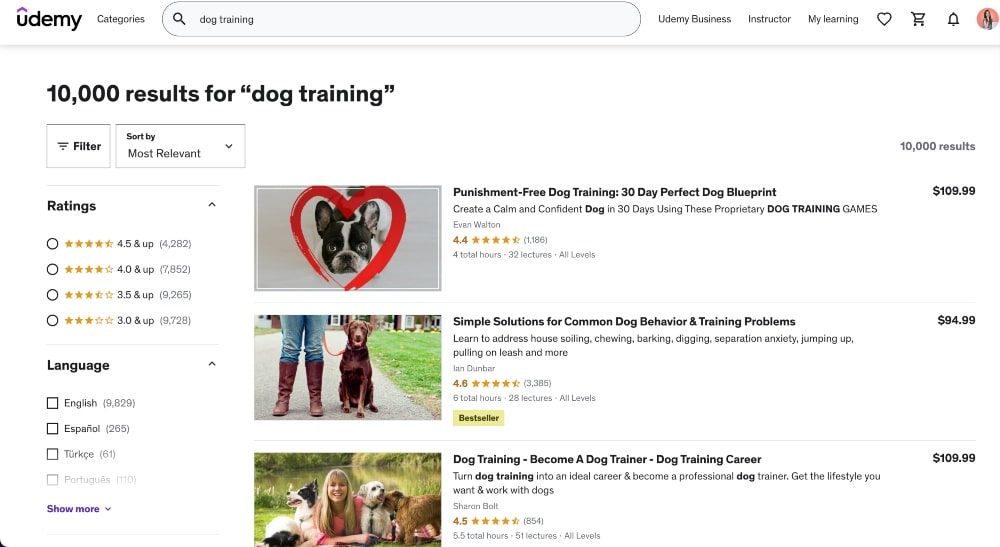 Selling products on your own means that you can control the entire process of creation, pricing, and marketing but selling on marketplaces will help you reach a wider audience.
5. Consulting/Coaching Services
If you already have established expertise in pet care, you can also offer coaching or consulting services to pet owners who need advice or guidance for their pets.
Offering 1:1 services to your clients usually means that you can charge more for your services and deliver a more personalized and effective service.
Coaching isn't for everyone and it can be time-intensive, but it's also a way that many new bloggers make money while trying to grow their businesses.
10 Successful Pet Blogs to Follow
Now that we have covered how to start a pet blog and make money with it, let's go over some of the best pet blogs on the internet to help inspire you.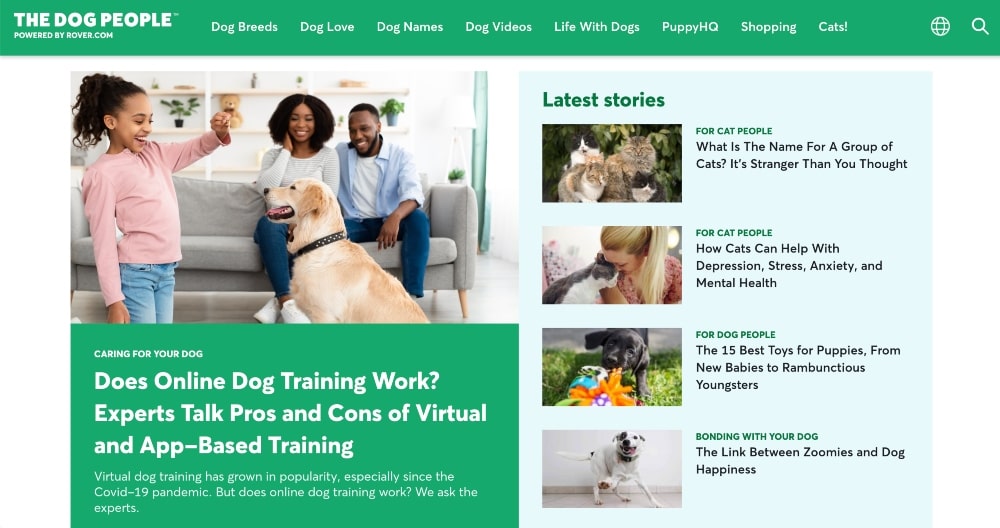 The Dog People by Rover.com offers advice on how to care for, train, and entertain dogs from top experts in the industry.
They provide helpful tips about topics such as nutrition, health, and grooming, as well as fun activities for pups.
They also feature interviews with pet professionals and product reviews to help readers make the best decisions for their fur babies.
This dog blog is monetized through affiliate marketing and selling the popular pet-sitting service, Rover.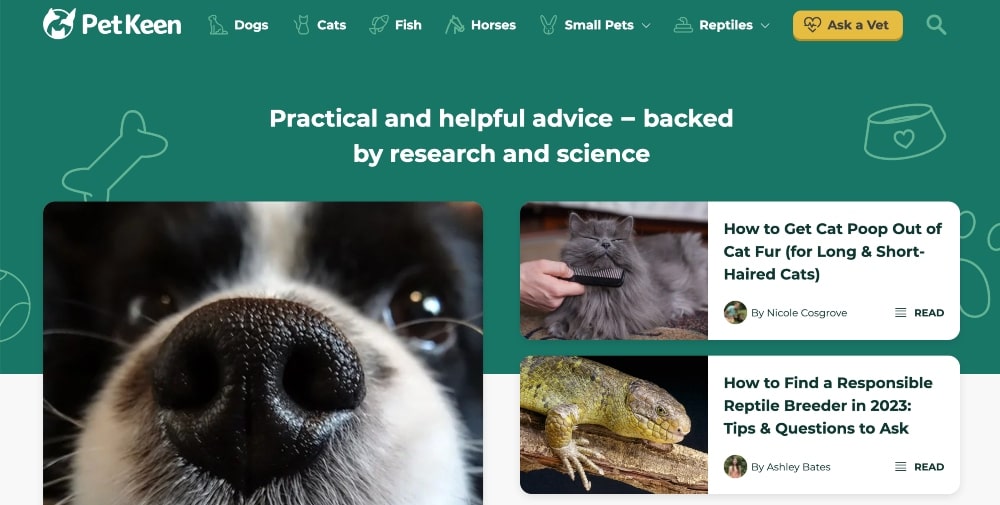 Pet Keen is a popular pet blog that focuses on providing pet-related information and resources on a wide variety of pets, including dogs, cats, fish, horses, reptiles, and other small pets.
Pet Keen has become a go-to source for pet owners looking for trustworthy advice and resources. The blog offers informative content from a team of editors and a veterinary review board on topics such as nutrition, training, health and well-being of pets, grooming tips, fun activities, and more.
This pet blog is monetized through ads, affiliate marketing, sponsored posts, and direct product sales.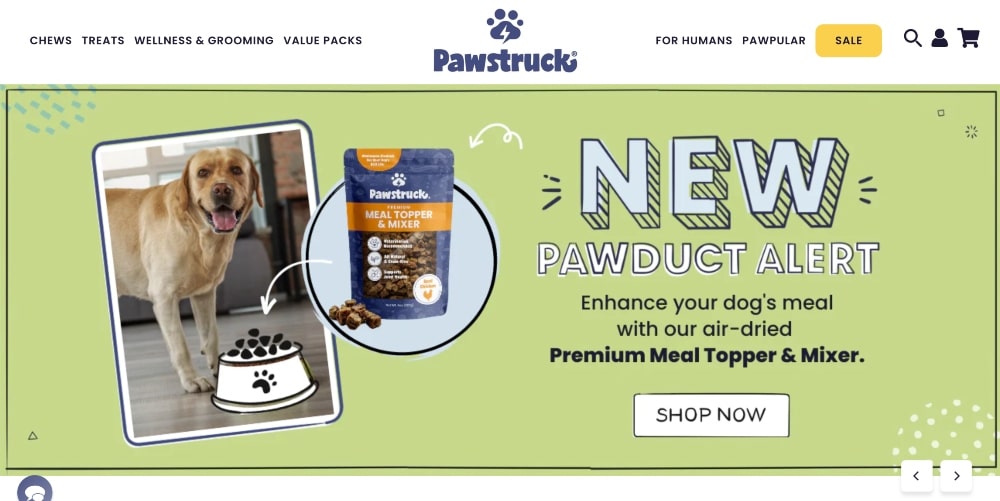 Pawstruck is an award-winning dog blog that covers all things to dog nutrition, wellness, dog training, behavior, lifestyle, and more. The blog also features a variety of helpful guides and advice articles, as well as product reviews and stories from pet owners.
It's a great resource for anyone looking to learn more about how to care for their beloved pet.
Pawstruck also features a variety of pet products like chews, treats, vitamins and supplements for sale.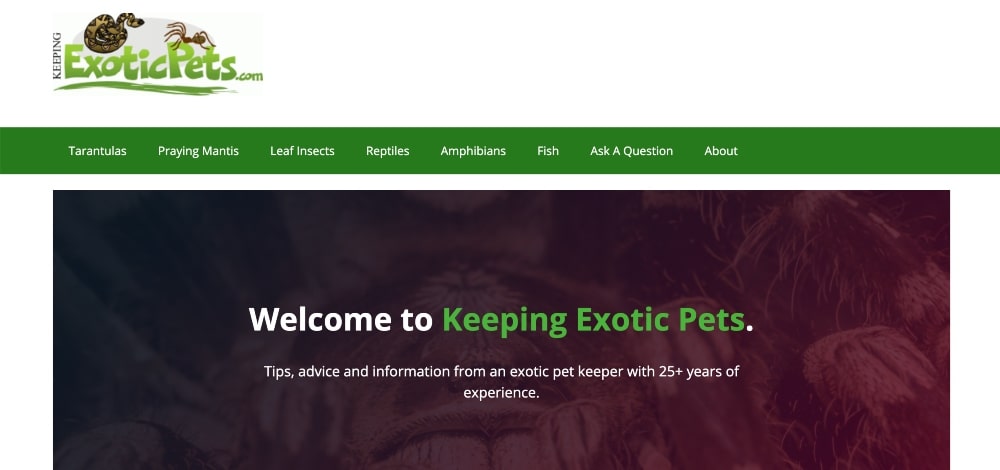 Keeping Exotic Pets is a popular and successful blog run by experienced exotic pet owners. They offer a wealth of information on caring for all kinds of exotic animals, from fish to birds to reptiles and more.
Their content covers topics such as health and nutrition, habitat care, pet food, training, behavior management, and tips for new pet owners.
Keeping Exotic Pets is monetized through ads, the Amazon Associates affiliate program, and other affiliate programs for pet care.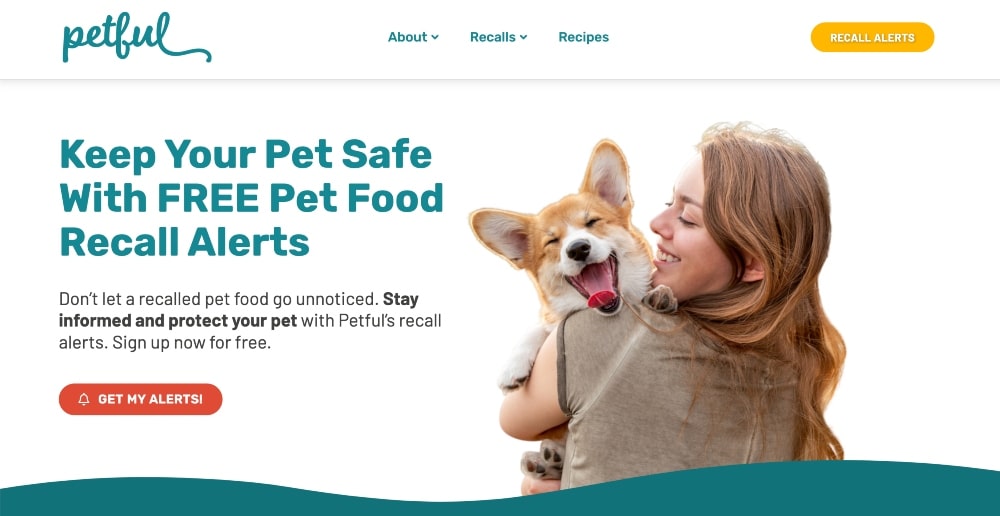 Petful is another great example of a successful pet blog that focuses on helping people make the right decisions for their pets.
It features articles on everything from choosing the right pet food to understanding different illnesses, as well as tips on how to keep your home clean when living with animals.
They also provide unique ideas for entertainment activities such as puzzles or DIY projects that can be completed with your pup or cat companion in mind!
Petful makes money from ad revenue, affiliate marketing for pet care products, and sponsored content.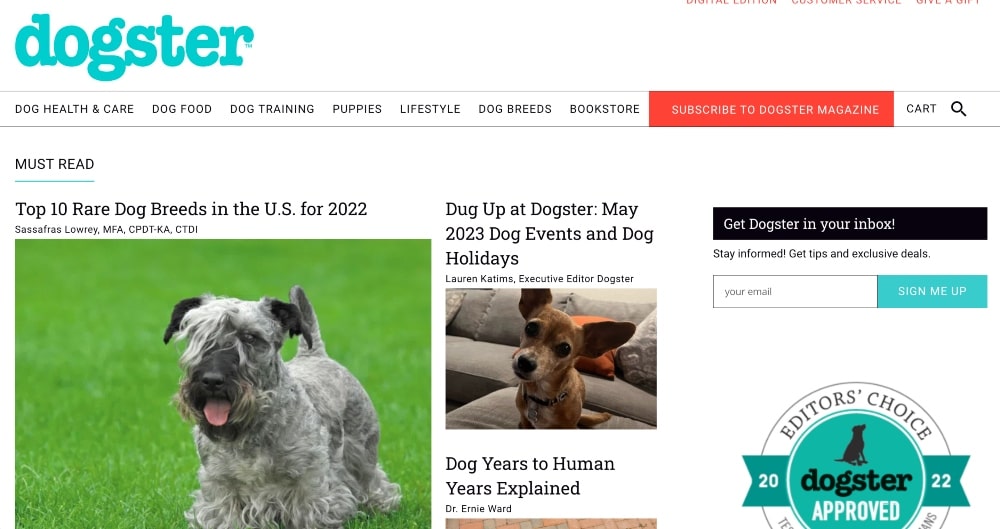 Dogster is a successful dog blog that specializes in providing helpful pet care tips, advice, and resources for dog owners around the world.
Founded by experienced pet owners and industry professionals, Dogster offers a plethora of information on topics such as dog health, dog food, dog training, dog breeds, and more.
They also have a sister site (cat blog) called Catster!
Dogster monetizes its site with affiliate marketing, book sales, sponsored content, and subscriptions for its magazine.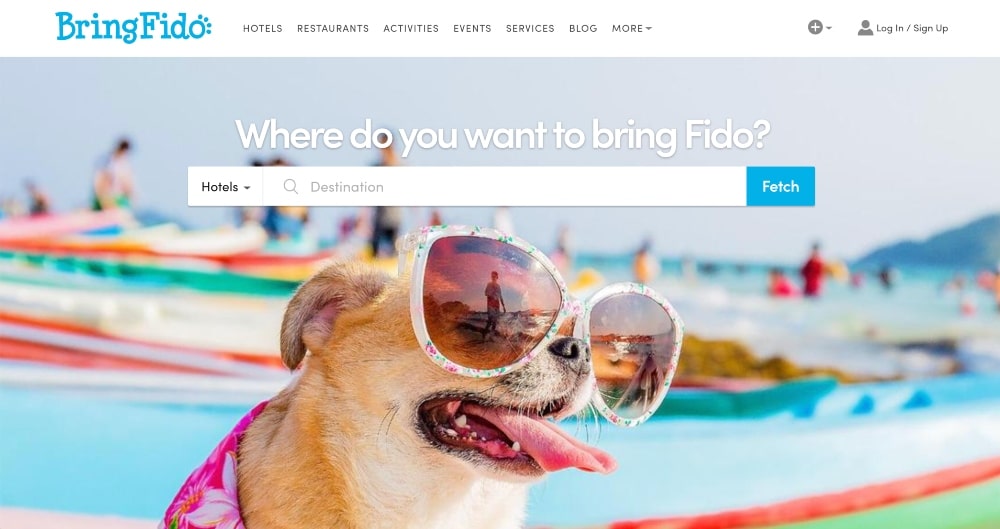 BringFido is a pet travel blog for finding pet-friendly places, activities, and events for dog owners.
From high-end beachfront resorts to cozy B&Bs, you can use BringFido to easily book your next getaway through one of their many pet-friendly property partners.
They also provide travel advice and tips related to traveling with pets – from the best ways to transport your pet to the rules and regulations for international travel.
You can also read reviews from other pet owners who've stayed at the properties listed on their site.
Bring Fido is mainly monetized through the hotel and other brand partners that they feature on their website as well as affiliate marketing.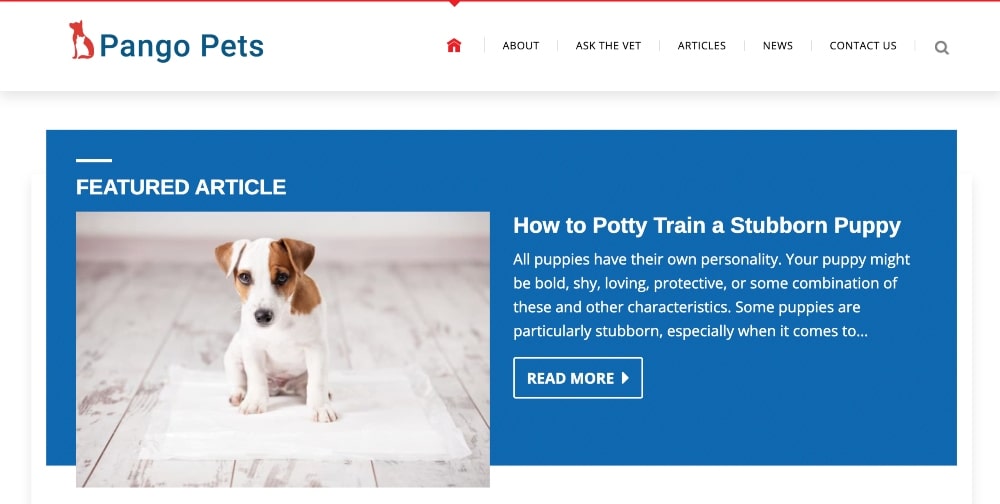 Pango Pets is a successful pet blog dedicated to providing pet lovers with helpful information on pet grooming, dog food, health, toys, training and behavior, and more.
It was founded in 2016 and has become a highly-trusted source of pet content on the internet.
Pango Pets has an entire panel of veterinarians, writers, and contributors that publish and edit content for the site.
The site is monetized with affiliate marketing from the Amazon Associates affiliate program and other affiliate programs in the pet industry.
They have multiple categories of pet supplies and pet-related products, including tanks and cages, pet tech, collars and leashes, beds and furniture, and more.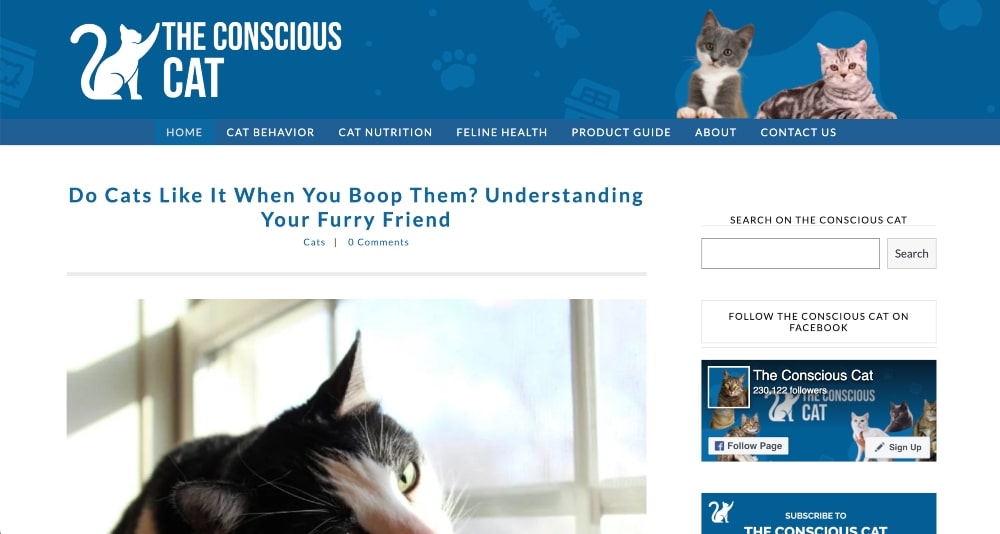 The Conscious Cat is a popular cat blog for all of the cat lovers out there featuring blog content on cat behavior, nutrition, health, and cat products.
Each post is thoroughly researched and written by experienced experts with years of experience working with cats.
The Conscious Cat also provides helpful reviews on products for cats, ranging from food to toys and litter boxes.
This cat blog is mostly monetized through ads and affiliate marketing.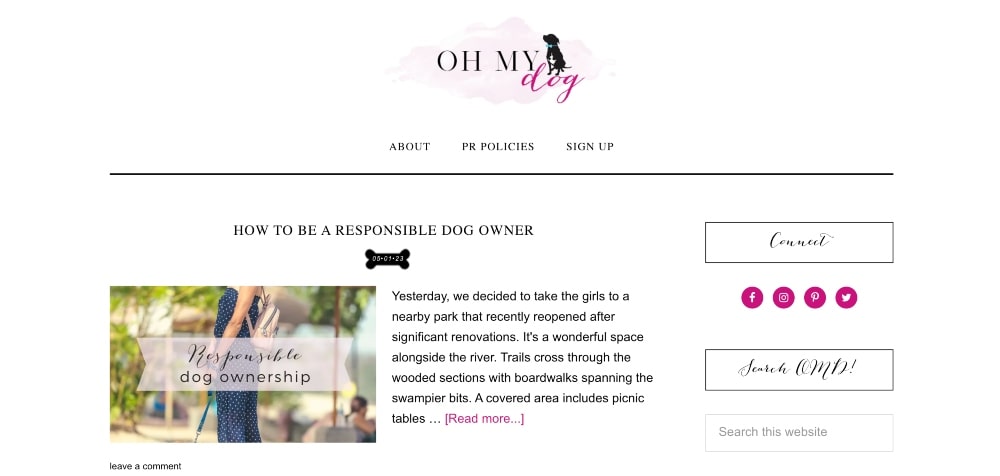 Oh My Dog Blog is set up and designed like a lifestyle blog – but for dogs (and sometimes cats)!
A proud dog lover named Maggie owns Oh My Dog and shares helpful tips, advice, and resources for dog and cat owners.
As Maggie says, her aim is to create an online community of dedicated pet owners who feel that their pets enrich their lives and inspire them.
Oh My Dog provides readers with articles about everything from choosing the right dog food to understanding different illnesses, as well as guidance on how to keep your home clean.
Maggie monetizes her blog through affiliate programs and sponsored content.
FAQs About Pet Blogging
Do pet blogs make money?

Yes, pet blogs can make money through a variety of methods, such as running ads and affiliate programs, selling products, offering sponsored posts, and consulting/coaching services. With helpful and engaging content, pet bloggers can create an audience of loyal readers and customers. Many successful pet bloggers have turned their passion into a lucrative business.
What is pet blogging?

Pet blogging is a type of blogging that focuses on pet care and products for pets. Pet bloggers typically post about their own experiences with caring for animals, share advice and tips, review products, and promote services related to pet care. Other popular pet blog topics include pet health, pet travel, adoption, training, safety, and more.
How do I write a pet blog?

To write a pet blog, start by coming up with an engaging topic or theme. Create posts that focus on topics you're passionate about and share tips and advice from your own experiences. Aim to produce content that is informative, entertaining, and helpful to readers. Research popular keywords related to pet blogging and make sure you incorporate them into your posts for increased visibility in search engines. Finally, promote your blog through various channels such as email and social media sites.
How do I become a dog blogger?

The first step to becoming a dog blogger is to research topics related to dogs and pet care that interest you and then create a WordPress website for your blog. Write posts with engaging photos and videos to your content for maximum impact. You can drive traffic to your blog with SEO and social media and monetize through ad networks, affiliate programs, sponsored content, and selling products.
Conclusion: Pet Blogging
Pet blogging is a great way to make money while sharing your love for animals and your own pets with the world.
There are so many different topics that you could start a pet blog on, related to health, nutrition, safety, adoption, training, and more.
To start creating content and build an audience for your pet blog, you should do proper keyword research, focus on SEO, and promote your blog through email and social media.
Pet blogging is most commonly monetized through ads, affiliate programs, sponsored content, brand partnerships, and selling other products and services.
Use the top pet blogs provided in this article for inspiration when you create your own pet blog.
Using this guide to help you, anyone can start a successful pet blog and share their content and experiences with the world!
Pet blogging can be an incredibly rewarding experience for those passionate about animals who want to create a new potential path to financial success.