We partner with bada$$ companies that offer products that help our readers achieve their goals! If you purchase through our partner links, we get paid for the referral at no additional cost to you! Read our disclosure for more info.
Instagram Stories are one of the most popular features on the social media platform, allowing users to share photos and videos with their followers in a creative way.
Story views give insights into who is engaging with your content and how much engagement you're getting out of it.
But what are Instagram story views? How can you track them? How does Instagram sort story viewers?
And most importantly, how do you use the data to shape your content strategy for maximum engagement?
If you're looking to grow your following or make money with Instagram, it's important to utilize Instagram stories and to make sure you're getting enough viewers on your content.
In this article, we'll answer all of these questions and more.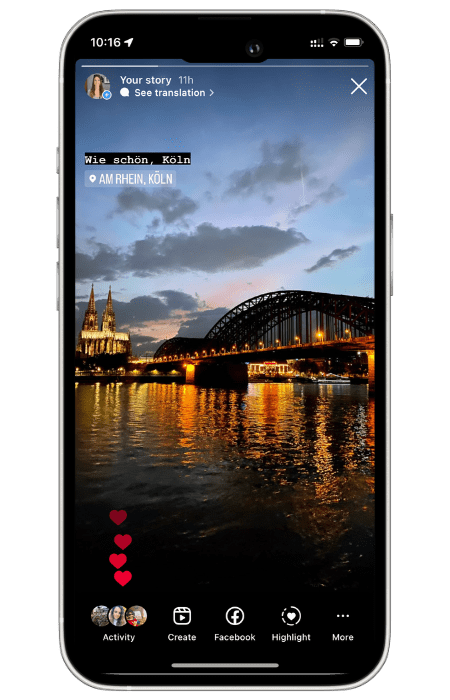 What Are Instagram Story Views?
Instagram story views are a metric that tells you how many people have watched your stories on their feeds.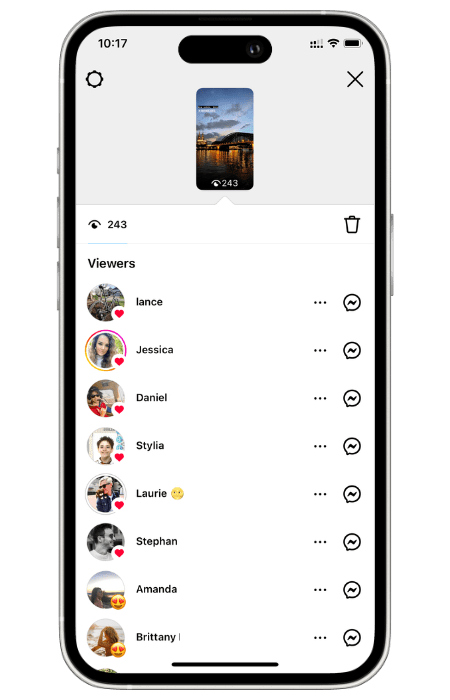 This includes both regular followers as well as anyone who saw it through another user's story. This means that even non-followers can view your Instagram stories, depending on your user settings.
If you change your account to "Private," only people that you accept as followers will be able to view your stories and other Instagram content.
Views are a great way to measure the success of your content—the more views and viewers, the better.
How Can You Track Your Story Views?
Tracking your story views is easy. All you have to do is open up the Instagram story and then click on "Activity" in the bottom left to see a list of people who have seen it.
This will give you a total view count and even break it down into how many people watched your story in the past 24 hours, as well as how many people engaged with your post (liked it or commented on it).
Do Instagram Stories Disappear?
Yes! Instagram stories are ephemeral and only last 24 hours before disappearing from the platform.
This means that if you post a story today at 11 am, it will be gone tomorrow at 11 am unless you decide to save it to your highlights or archive.
Despite being gone from your profile, they aren't completely gone from your Instagram account. You can tap Archive from the menu at any time to see old stories.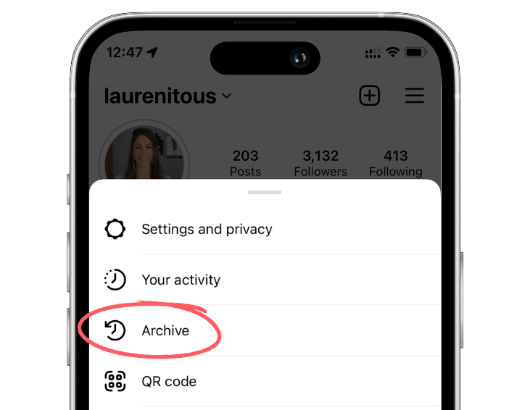 From here, you have the option to save any old stories from your archive to your Story Highlights or re-share them as stories again (more on Instagram story highlights in a moment).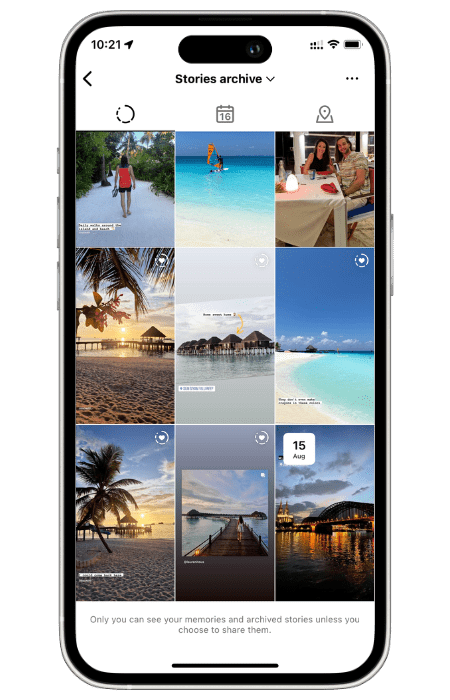 How is the Instagram Story Viewers' Order Determined?
The Instagram story viewer order is still somewhat of a mystery because it's determined by Instagram's algorithm.
What we do know is that the Instagram story viewers list takes into account how often people are interacting with your content and how close your relationship is on Instagram.
The top of your Instagram story viewer list will always have people who watch stories the most, interact with them, and who are also generally your friends (people that you also follow).
I've never seen strangers that I don't follow at the top of my story viewer list. The first few people are always people that I'm following back.
This does not appear to be an exact science because some people that comment on my story content also seem to be further down the list, but perhaps they just don't log onto Instagram as often.
From your Instagram story viewers list, you can also block people, send direct messages, hide your story, and more.
What Are Instagram Story Close Friends?
Close Friends is a feature on Instagram that allows you to share stories with a smaller, more intimate circle of friends.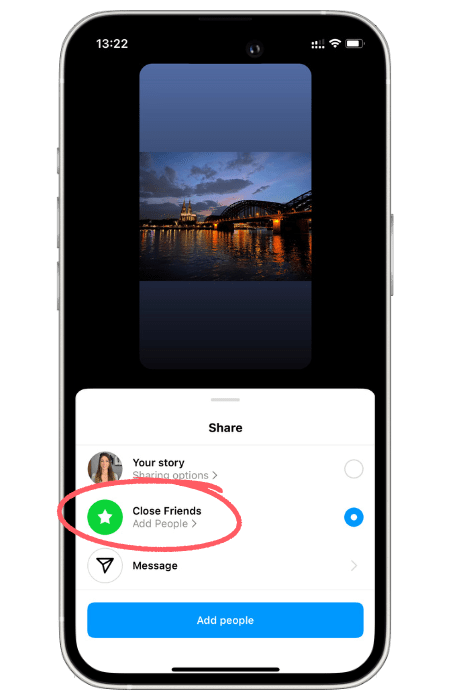 You can manually add users to your Close Friends list and they will be the only ones who can see your close friends' stories (unless you have public stories).
This is an especially useful feature if you want to keep certain content private or limit it to only your closest friends.
You can also see who's added you to their Close Friends list. This can be helpful if you want to see which viewers are interacting with your content the most and are truly interested in what you have to say.
What Are Story Highlights?
Story highlights are another great way to get more views for your Instagram stories.
These are collections of stories that you can compile into "highlights", which are permanent albums on your profile. You can also title and categorize them with whatever name or theme you want.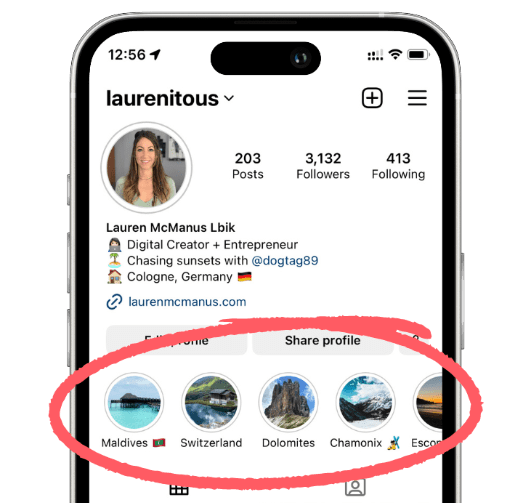 These highlights are great for showcasing popular topics or content that you think might be of interest to your viewers, so they can easily find it in one place.
It's also a great way to get more views on your stories since you can link them from other content or your profile.
What Are the Benefits of Tracking Story Views?
Tracking Instagram story views can provide you with valuable insights into which type of photos and videos receive the most engagement from your viewers.
For example, if a photo post receives more story views than a video post, it indicates that your viewers prefer the photo content over the video.
This data can help you create a content strategy tailored to what your viewers enjoy most and give you an idea of which type of posts will likely perform better in the future.
You can also use story views to compare yourself against other brands or accounts that are similar to yours and see where you can improve.
If you have an Instagram business account, you see even more detailed information about your engagement rate on Instagram stories and other posts.
Instagram Story Insights
In order to access Insights, you will need to convert your Instagram account to a business profile or create a new Instagram account.
You can learn more about Instagram for business here.
To access your Instagram Story Insights, you'll need to head to your profile. Click the hamburger menu in the top right corner and select 'Insights'.
From here, you can see how many people have viewed your stories as well as which posts received the most views over time.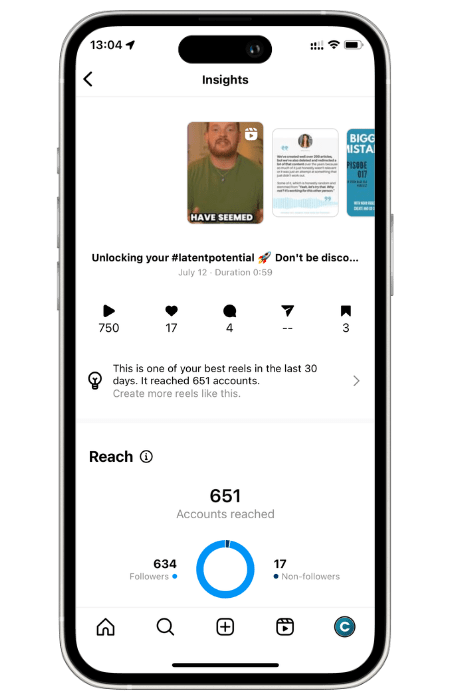 Instagram insights also show you:
How many users you have reached with each post, story, or reel, including how many were followers and non-followers
The watch time for a particular piece of content and where most of your users were dropping off
How many likes, comments, and saves your post received
And additional insights into your profile like profile visits, total change in followers, and more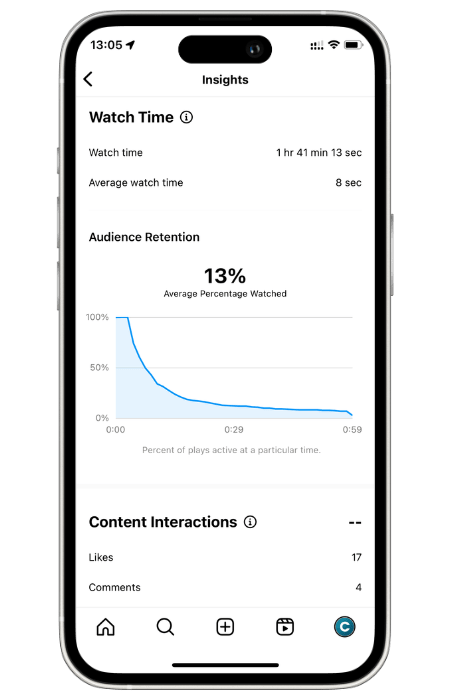 If you want to grow your Instagram account and use it for business, make sure to use a business account for these additional features.
Make sure to also set a good profile picture and create a compelling Instagram bio for your profile.
Create, Edit, and Schedule Stories
You can use the Instagram app to create, edit, and even schedule stories for later.
To get started, open up the Instagram camera and take a picture or video. You can add filters, stickers, GIFs, text overlays, music clips, and more with just a few taps.
Once you've created a story, you can save it directly to your camera roll with a couple of taps.
The Instagram app doesn't have a native scheduling feature for stories, but you can schedule stories with a third-party app like Hootsuite.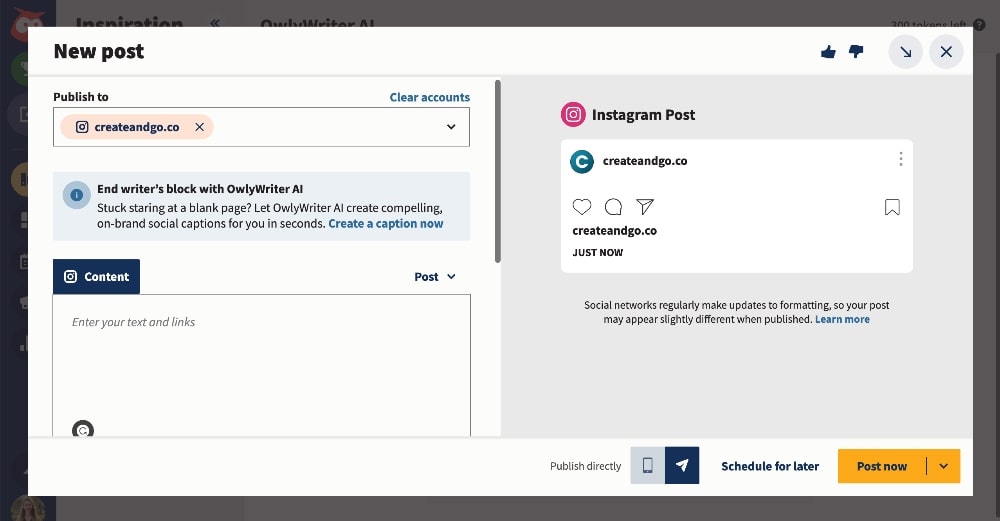 This is great for optimizing your content strategy and making sure that you're consistently creating and sharing stories that your viewers will enjoy.
By tracking, analyzing, and optimizing your Instagram story views, you can maximize the impact of your content and get more people engaged with it.
11 Steps to Increase Instagram Story Views
Now that you know what story views are and how to track them, let's talk about how you can increase your views with a few simple tips.
1. Engage With Other Users
The easiest way to get more viewers to your stories is by engaging with other users.
Comment on other posts, respond to comments on your posts and share content from other profiles that you think your viewers would enjoy.
Make sure to take time to answer your direct messages. Having this direct access to you will make viewers a lot more loyal and likely to interact with your content in the future.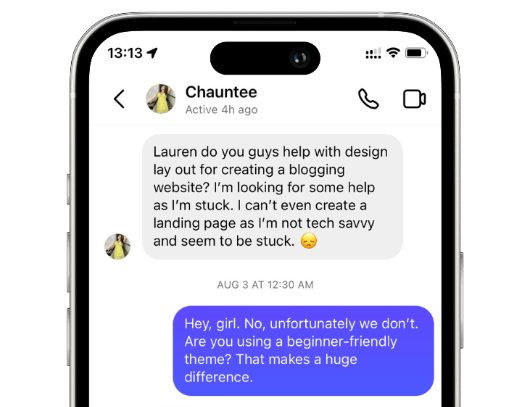 This will make your viewers feel like they are involved in your life and a part of your community.
Getting a lot of comments and engagement on your Instagram stories will also help them to perform better in the algorithm over time.
Adding relevant hashtags to your stories is an effective way to get more views because people can discover them when they search for those keywords.
Quality over quantity is important here. Focus on 3-4 of the most relevant hashtags so that people don't get overwhelmed.
You may also want to consider hashtags that are popular and searched often but not ones that have several million searches or more because your story will get lost in the sea of others.
3. Post Frequently and Consistently
Consistency is key when you post Instagram stories – the more you share, the more likely people are to see your content and keep coming back for more.
Posting often is a great way to stay on your audience's minds and satisfy the algorithm gods who always favor more content.
Try posting at least 3-4 times a week to keep your followers engaged.
4. Focus on Quality and Engaging Content
Make sure your Instagram content is creative, eye-catching, and entertaining for your viewers.
Your content should spark interest and curiosity and also encourage engagement, such as polls, questions, or quizzes.
Your viewers want to feel like they matter to you and this can be a great way to show that you care about their opinion.
This is a great way to start building a real community on Instagram.
Adding a geotag to your stories will make them more visible to people in the area.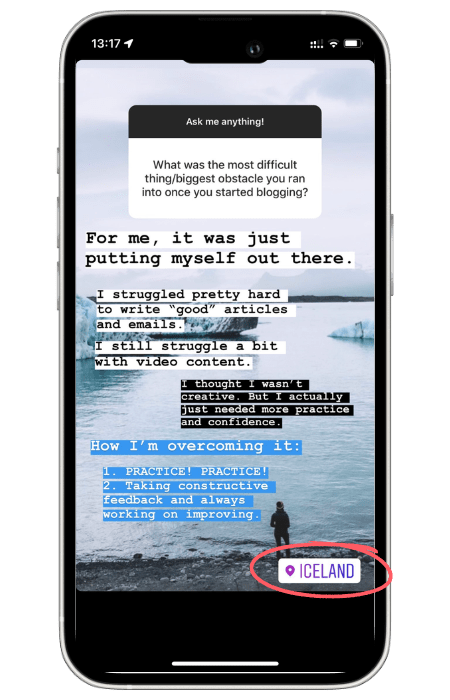 This is especially helpful if you're trying to reach out to potential customers or people in a specific location.
It's also a great way to build community in your local area and help people feel more connected to you.
6. Utilize Instagram Ads
Instagram Ads are a powerful way to reach an even wider audience than you would organically.
You can use this feature to target specific users or locations, as well as set up an A/B test to compare different types of ads.
It's not a very cost-effective option for growing your account, so do so with caution. This can be very effective when you are selling products.
7. Use Instagram Live
Going live on Instagram stories is a great way to engage with your viewers and get more views for your stories.
You can also use the "Questions" feature to encourage viewers to interact with you in real-time.
8. Create Story Highlights
Creating story highlights is a great way to keep your stories organized and easily accessible to your viewers.
You can also link them from other cost-effective or your profile, which will get more people to view them.
9. Run Contests and Giveaways
Running contests or giveaways is a great way to increase engagement and get more viewers interested in your stories.
You can also use this as an opportunity to collaborate with other brands or influencers who have a similar audience.
Many top influencers run contests that require you to follow other accounts in order to qualify. This could be brands or just their influencer friends.
This is a great way to collaborate with others in your niche and mutually help each other's accounts grow.
Plus, people love free stuff. If you run contests and giveaways often, your audience will stay more engaged over time.
10. Add Links To Your Stories
Adding links to your stories is another great way to increase views.
This allows you to link to other content, products, or websites that could be of interest to your viewers.
You can also use this to drive traffic to other social media accounts or your website.
Just make sure to keep the links short and easy to remember for the best results.
11. Recycle Content for Instagram
When you create a new blog post, YouTube video, podcast episode, or other piece of content, make sure to recycle and repurpose that content for Instagram.
This is a great way to get more views and engagement on your content without having to create something new every time.
For example, you can repurpose the audio from a podcast episode for an Instagram Reel or use snippets of blog posts as stories.
Related: How to Promote Your Blog: 7 Effective Ways
FAQs About Instagram Story Views
How are Instagram story views ordered?

The Instagram story viewer order is based on a variety of factors including your interactions with other Instagram users. If you frequently engage with someone's stories, their story will likely appear at the top of your feed. The algorithm also takes into account the people you message and search for, as well as the people you know in real life. However, Instagram continues to update and refine its algorithms, so these factors may evolve over time.
Do Instagram story views mean anything?

Yes! Instagram story views can be indicative of how well your content is resonating with your followers. High view counts can indicate that your stories are engaging and interesting to your audience, which can in turn lead to increased engagement and more followers. It's also important to note that having a lot of views doesn't necessarily mean your content is successful – as with any metric, it's important to take into account what type of engagement you're receiving and how the views are being generated.
Why is the same person at the top of my Instagram story?

If the same person appears at the top of your story feed consistently, it generally means that you have a lot of interactions with them or their content. The Instagram algorithm is designed to show you people with whom you engage the most, and it's likely that they appear at the top of your story views because they view and engage with your content the most.
How can you tell who views your Instagram Stories a lot?

At this time, there is no way to directly see who is viewing your Instagram Stories the most. You can look at how many views you're getting on each story, as well as which of your viewers are interacting with them the most (liking and commenting). This should give you some indication of who could be viewing your stories a lot. Additionally, you can check out the Story Insights feature in your analytics to get a better idea of who's engaging with your content.
Final Thoughts on Instagram Stories
Tracking your Instagram story viewers is an important part of measuring the success of your content on Instagram.
Make sure to use analytics tools such as Instagram Insights to monitor how many people are viewing and engaging with your stories so you can make adjustments if needed.
Additionally, try implementing the tips mentioned here to increase your story viewers and get more engagement from users.
By leveraging the power of Instagram stories, you can create content that is both engaging and successful. Have fun with it!
By taking advantage of all the features available on Instagram stories, such as polls, quizzes, music, stickers, etc., you can make your stories more interactive and fun.
This will help you capture the attention of your followers and increase views on your stories.
Additionally, you can reach out to other accounts in your niche to collaborate or share content with each other, as this is a great way to get more eyes on your stories.
Finally, keep experimenting with different types of content until you find what works best for you and your followers.
With the right strategy, you can maximize the potential of Instagram stories and get more views!