We partner with bada$$ companies that offer products that help our readers achieve their goals! If you purchase through our partner links, we get paid for the referral at no additional cost to you! Read our disclosure for more info.
AI technology is rapidly spreading throughout the world, and it's changing how businesses everywhere operate on many levels.
From automation to customer experience optimization, artificial intelligence is making its presence felt in almost every aspect of our lives.
Chances are, if you're a blogger, creator, or writer, you've heard of Jasper AI (formerly Jarvis AI) as one of the more popular AI writing tools on the market.
In fact, there are a lot of other tools and options to choose from, so is Jasper AI software worth it?
This amazing tool can not only help you overcome writer's block but also create anything from comprehensive blog articles to creative and compelling marketing copy in just a few minutes.
We've been using Jasper AI as an AI writing assistant for months in our business, and we're prepared to tell you the good, the bad, and the great.
In this Jasper AI review, we'll take a deep dive into the Jasper AI software, its key features, pros and cons, Jasper AI pricing, and even some alternatives.
This should help you get a better understanding of how this tool works and if it might be right for you.
What is Jasper AI?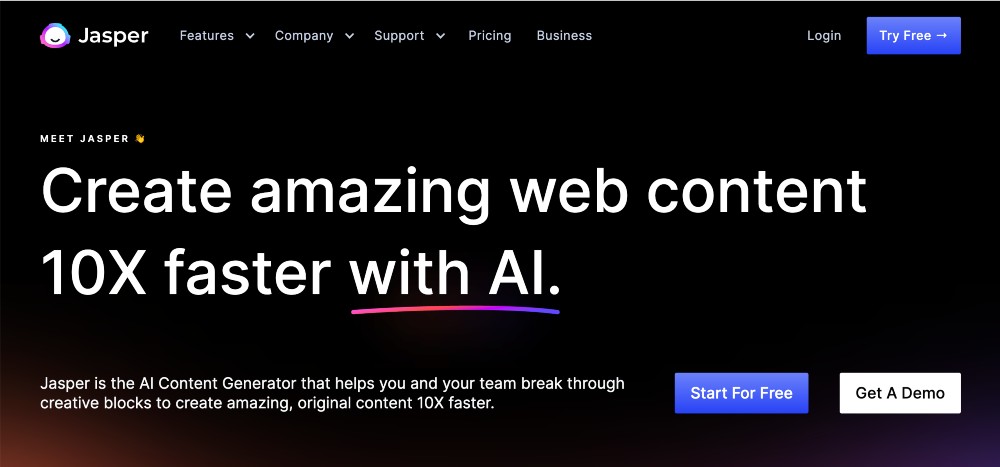 Jasper AI is an artificial intelligence-based content creation tool designed to help writers and content creators create unique, engagingm plagiarism-free content quickly and easily.
It uses natural language processing (NLP) and machine learning algorithms to analyze existing text, generate ideas for new pieces, and even check for spelling or grammar mistakes in the written work.
With Jasper AI, you can write a wide range of content, including:
blog posts,
emails,
content outlines,
ads,
product descriptions,
press releases,
social media posts,
and more.
It has a wide range of templates that you can use to get started and will help you with everything from the headline and outline to writing the entire introduction, body, and conclusion.
Who is Jasper AI for?
Jasper AI is designed for people who want to write blog articles and other content quickly and easily without having to spend hours trying to come up with ideas or tweaking their work.
It can also be great for those who are just starting out in the world of blogging, writing, and creating content as it helps you get accustomed to the basics.
This makes it an ideal AI writing tool for everyone from bloggers to digital marketers to influencers and eBook writers.
It's also suited for people of all experience levels with AI and writing.
Its simple and user-friendly interface makes it easy to use for beginners, while its advanced features appeal to experienced content creators who want to make sure their content is optimized for maximum reach and engagement.
Ultimately, Jasper AI can be used by anyone to generate AI content in minutes!
Jasper AI Review: Features and Benefits
Jasper AI offers users many useful features that can help them create unique, compelling, accurate, and plagiarism-free content without much time or effort.
We're going to kick this Jasper AI review off with a comprehensive list of features and benefits.
Brand Voice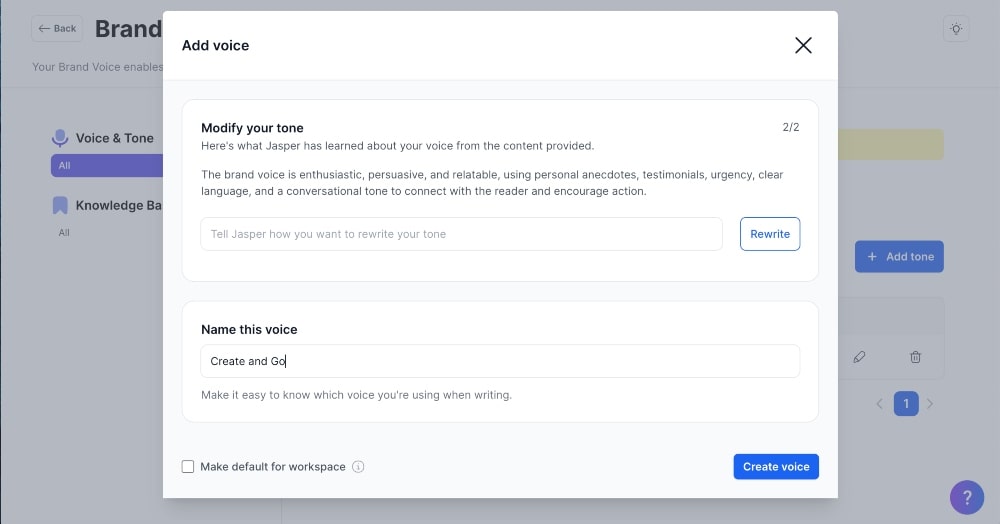 Jasper AI can help you create content that is in line with your brand's voice and personality.
It understands the importance of creating content that is consistent with your brand and makes it easier to achieve this goal by allowing you to customize templates for each type of content you create.
It's super easy to create your own brand voice, especially if you already have a website with content on it.
You can either write your own description for your brand voice or provide Jasper AI with specific text or your website URL to deduce your writing style and voice.
Once your brand voice is set up, you can select to use it any time that you write to create better, more unique, and engaging content for your specific audience.
Topic and Idea Generation
Jasper AI, as a writing tool, can help you come up with new topics and ideas for your content.
It uses its natural language processing capabilities to scan the web and generate a list of interesting topics, titles, and ideas that are related to your brand or niche.
Jasper will also help you enhance your questions and prompts to get better results. For example, I typed in this command:
Write a list of blog post ideas for Create and Go, a blog about starting, growing, and monetizing your own blog.
I then clicked to "Enhance Prompt" and received this re-formulation of my question:
Act as a content marketer. Brainstorm a list of creative and engaging blog post ideas for Create and Go that can help the readers learn about starting, growing, or monetizing their blog in a most effective way. Create a list of 10 original and unique ideas that align with the mission of the blog. Ensure that your ideas reflect the current trends, offer practical tips and tricks, and are relevant to the target audience of the blog. Remember to consider different stages of blogging – from beginner to advanced – and provide something valuable for each level.
This provided me with a much more thorough and detailed question as well as very thorough and detailed outputs from Jasper: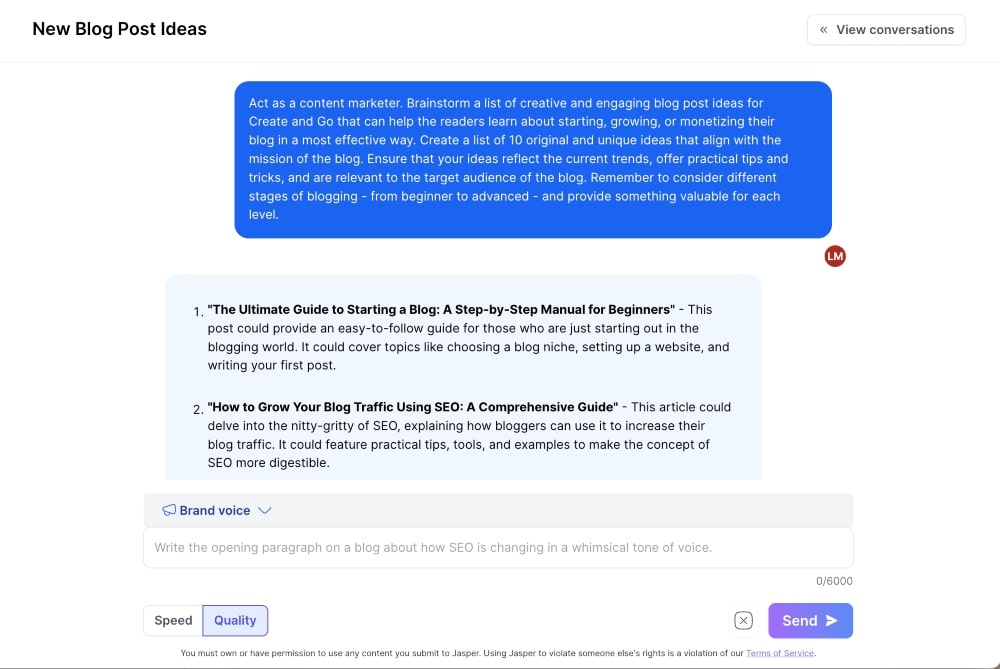 You can also enter a specific topic into the software and it will generate a selection of related keywords, phrases, and ideas that you can use to create content around that topic.
It goes beyond just writing AI-generated content to provide blog post topic ideas, headlines, outlines, and more. This makes Jasper AI a powerful tool to help you overcome writer's block or get writing inspiration.
Template Library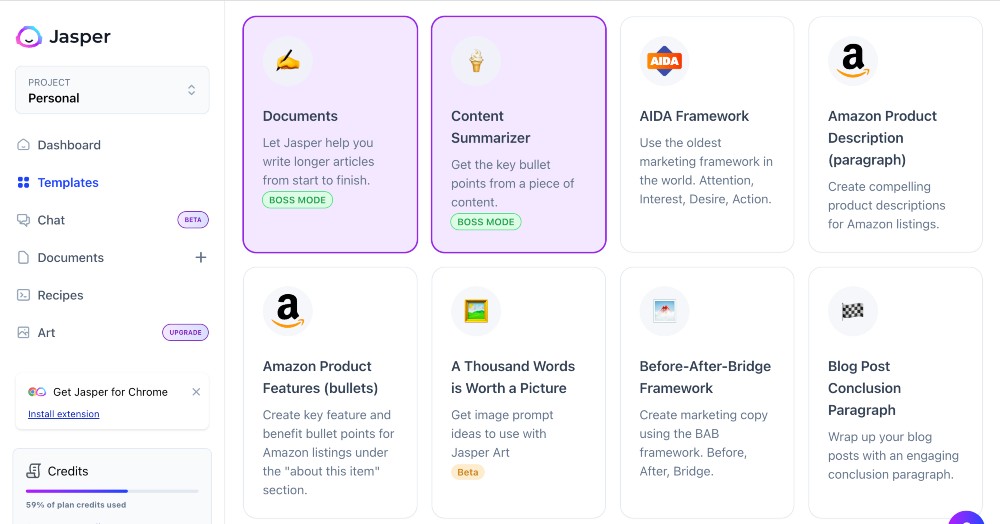 The template library in Jasper AI is one of the most helpful features.
It allows you to quickly and easily create content using pre-existing templates for a wide range of topics, ranging from product descriptions to emails to blog posts.
These templates are designed by professional writers and follow best practices in terms of structure and flow.
This means that you can get high-quality content quickly and easily, without having to worry about researching what topics to write about or how to structure your content.
The Jasper AI templates include:
Content summarizer, improver, and rewriter
AIDA Framework
Amazon product features and descriptions
Blog post intro paragraph and conclusion
Blog post outline
Business or product name
Email subject lines
Marketing copy for emails and other content
Company bio or personal bio
Creative story
Ad copy and headlines for Facebook, Google, and other platforms
Social media posts for Instagram, Threads, TikTok, Twitter, LinkedIn, Pinterest, and more
Testimonials
Press releases
Real estate listings
SEO blog post titles and meta descriptions
SEO homepages and products and services pages
YouTube topic ideas, video titles, and descriptions
YouTube scripts
Responses for reviews
And more!
Using these templates will give you a great starting point and direction for any type of content you want to create.
Campaigns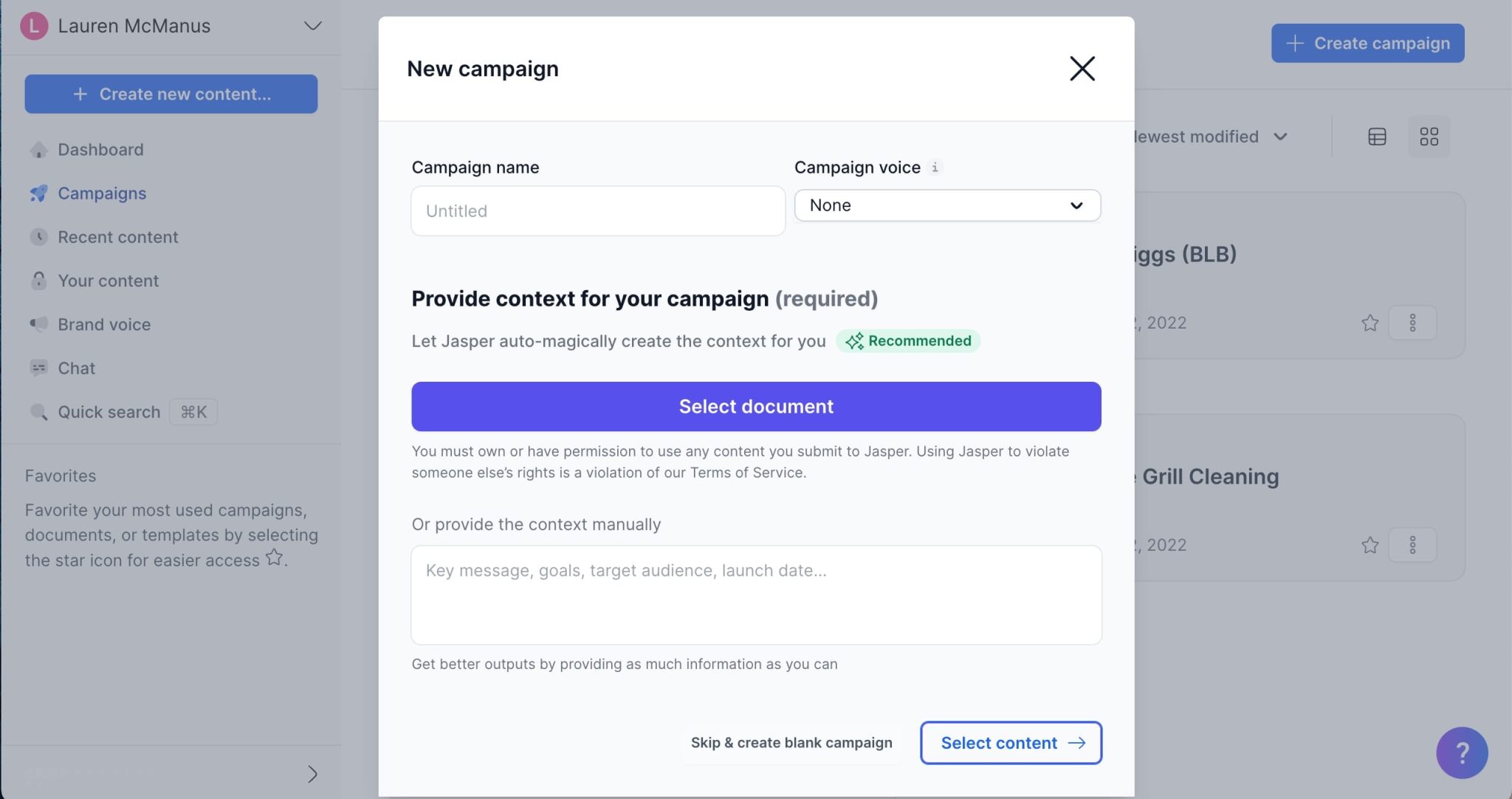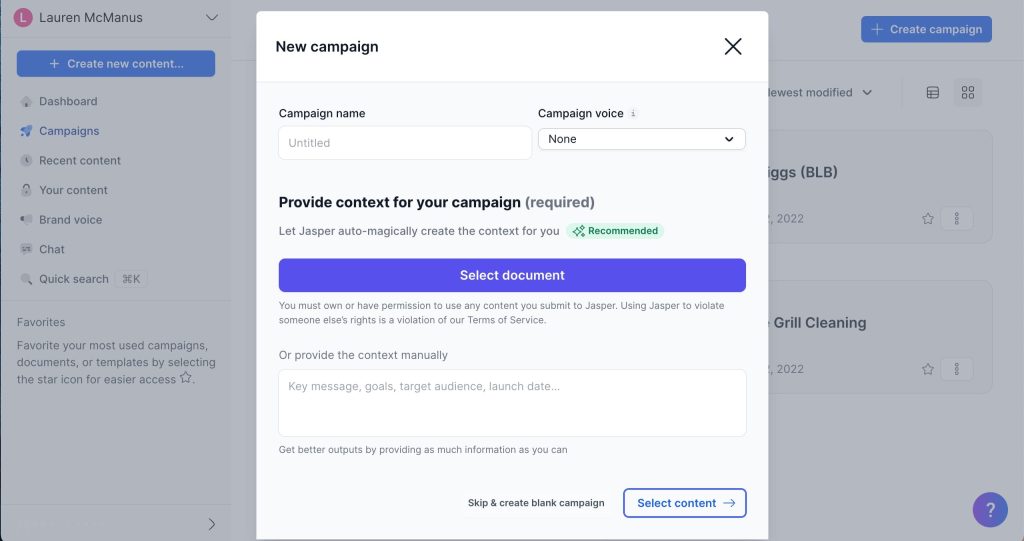 The Campaigns feature in Jasper AI is a great way to get more out of your content. With this feature, you can set up multiple campaigns with different goals and objectives.
You can create campaigns for customer segmentation, promotion campaigns, or even brand awareness initiatives.
You can also customize each campaign with its own specific goal, timeline, and budget.
The Campaigns feature is also helpful for content creators who need to keep track of their progress on a particular project or campaign.
It allows you to easily monitor the performance of each campaign and make necessary adjustments to ensure that it meets its goals.
Grammar and Spelling Check
Jasper AI integrates with Grammarly to offer a powerful grammar and spelling check feature.
It can detect any typos or grammatical errors in your writing and suggest corrections. This is incredibly helpful for catching mistakes that you may have otherwise missed, which ensures that your content is error-free and polished when it's published.
Jasper AI also has built-in expertise for a range of writing styles, from technical to creative. This means that it can suggest corrections and improvements specific to the style you are writing in.
SEO Optimization
Jasper AI makes it easy to optimize your content for SEO. It can suggest keywords and phrases that you should include in your writing based on the topic of your post or article.
Jasper AI also has a Surfer SEO integration, which helps you optimize your blog posts much further.
Surfer SEO can analyze the content of your post and suggest improvements in terms of keyword frequency and density, headings, word count, and more.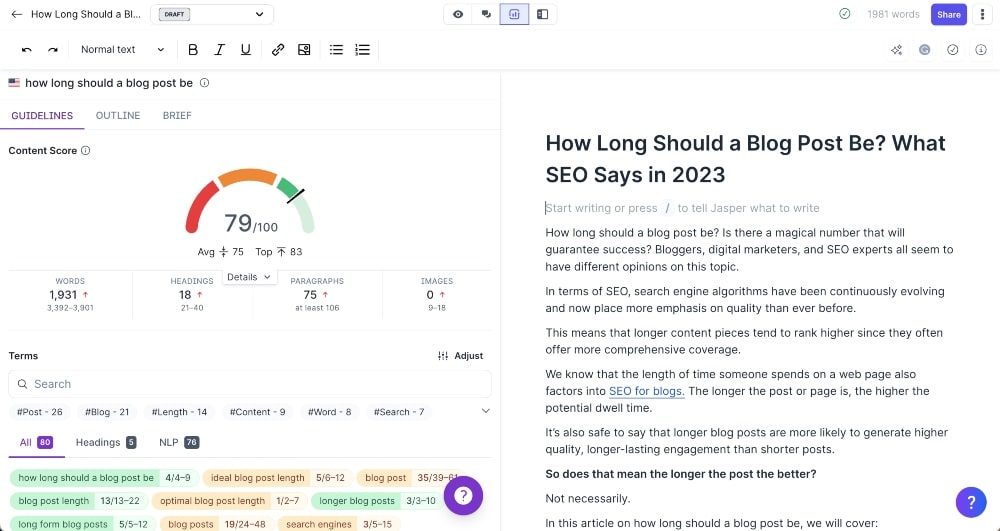 Surfer uses data from top-ranking blog posts on search engines to provide an overall score to your post based on how it measures up to existing top-ranking content.
The Surfer integration with Jasper AI allows you to tweak any areas where optimization is needed while you're writing, which can save a ton of time.
Surfer SEO is a paid SEO tool, so this feature does require an existing Surfer SEO account.
Chat AI
If you like the chat-style feature of ChatGPT, Jasper AI has that too.
With the chat feature, you can ask Jasper AI to create anything from simple, quick suggestions to long-form content and marketing copy.
Jasper chat is helpful if you're in a pinch and need content quickly. It can help you generate ideas or write a complete article in minutes.
Some example user prompts for Jasper chat include:
Create an outline for a blog post on…
Summarize the following transcript…
Write a Facebook ad for…
Write a product description for…
What are the best cities to visit in Portugal?
Generate headline ideas for…
The Jasper chat feature can also help you customize your content to match the tone of voice and style of your brand, making it more relatable and engaging for your readers.
Writing in Documents
Jasper AI also offers a feature that lets you write in a blank page, document-style format similar to Microsoft Word or Google Docs. This is especially helpful for those who are writing long-form content or blog articles.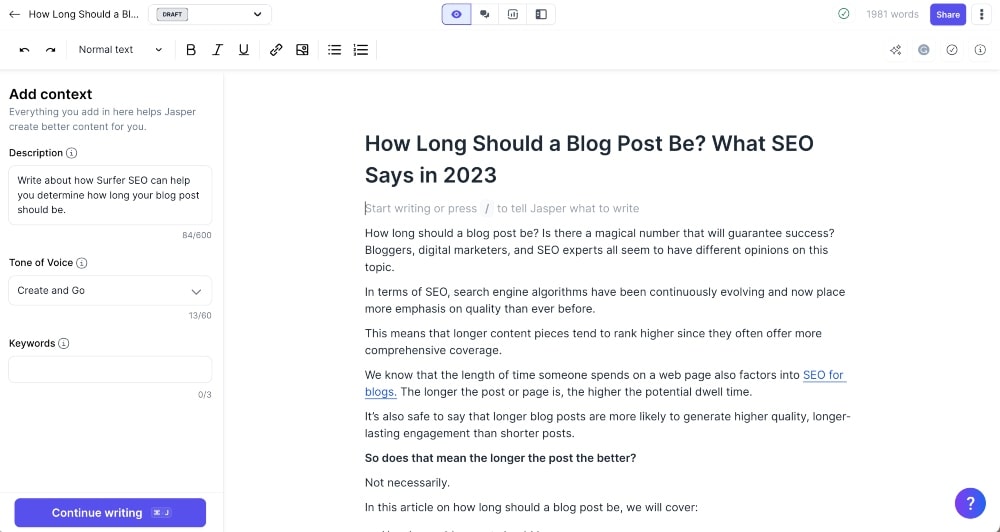 It allows you to easily add text, images, and even links to your document. You can also format the content and make adjustments within the document itself before publishing it.
The document editor is also great for collaborating with other writers. It allows you to easily share and comment on drafts, track changes, and make adjustments as needed before publishing.
The documents feature, along with the Surfer SEO integration, is what we use to write our SEO-optimized blog posts.
We use Documents to start out with a headline and blog post outline, and then have Jasper AI fill in the details.
Art
Jasper AI also offers an Ai image generator called "Art", which helps you create visual content for your blog posts and social media accounts.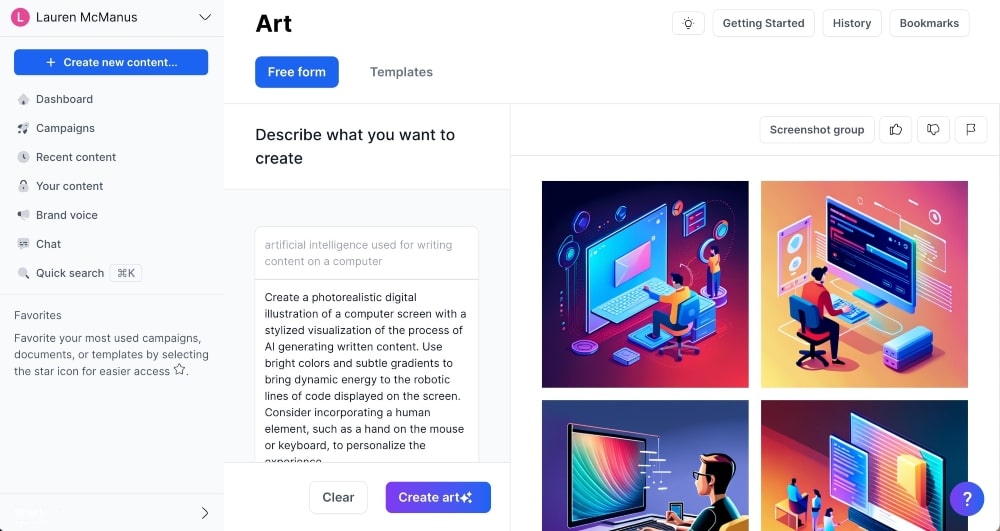 The tool can suggest images or graphic designs based on the topic of your post, the keywords used, or even the tone of voice.
This is a great way to make sure that all of your visuals match the overall message and mood of your content.
When you use Jasper Art, it helps to be specific about what exactly you are looking for.
If you aren't sure, Jasper AI can help you enhance your prompt if you give it a simple starting point. You can then edit the prompt from there.
Collaboration
Jasper AI allows you to easily share your work with other users so that you can collaborate on a project together.
This is particularly helpful if you are working on a larger piece of content and need help with the editing process.
You can also give feedback directly within the platform without ever leaving it. This makes it much easier to collaborate on a project and get it done quickly.
The collaboration feature also allows you to set up notifications so that you know when someone has contributed or made changes to the content.
This helps ensure everything is kept up-to-date and consistent throughout your team's work on a project.
Chrome Extension

The Jasper AI Chrome Extension allows you to access all of the features and tools offered by Jasper AI right in your browser.
This is helpful for those who prefer working on their content directly in a web editor, instead of switching between different apps and programs.
It lets you use all of the writing, art, campaigns, and SEO features without ever leaving your browser.
The Chrome Extension also offers suggestions to help you improve your writing as you go along, making it even easier to create high-quality content quickly.
To install the extension, just visit the Chrome web store.
Jasper Community
Jasper AI has an online community that provides a great place to get support, advice, and tips from other content creators.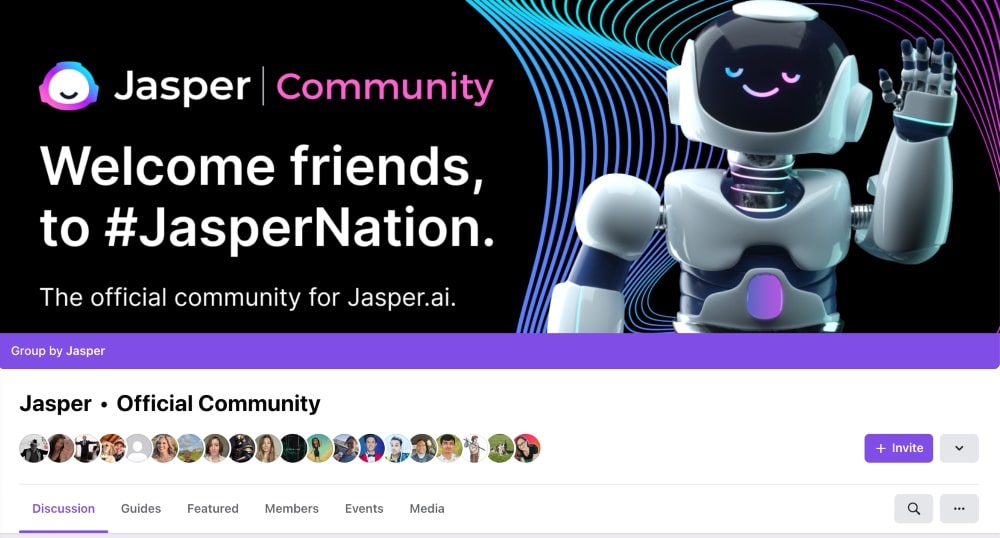 It's also a great way to connect with like-minded people, share your work, ask questions, and find resources.
The Jasper AI Facebook group offers product update information and helpful tips about blogging, SEO optimization, and other topics related to content creation.
It's a great place to get feedback on a project before you publish it, as well as discover new trends in content creation and marketing.
Jasper Jumpstart
Jasper AI offers a free training program called Jasper Jumpstart, formerly Jasper AI boot camp, to help you learn how to use the tool and create better content faster.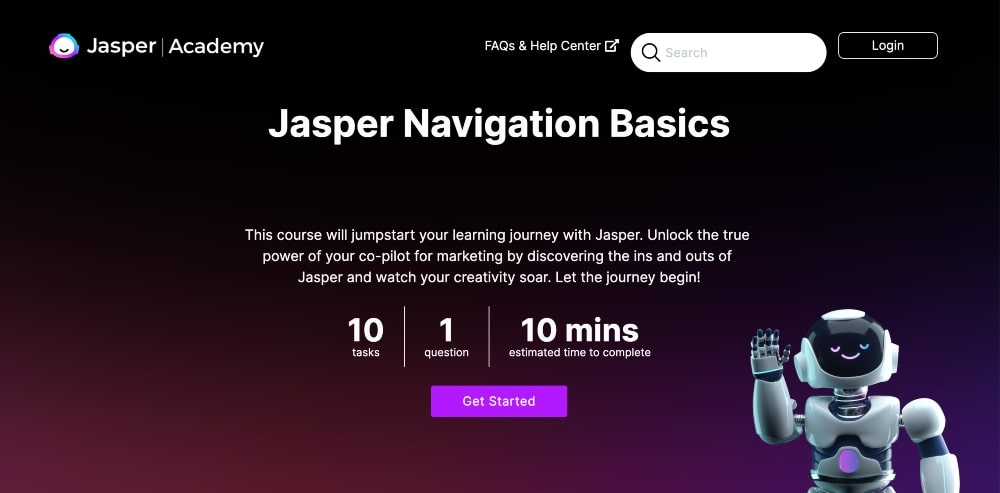 This is what I personally used to learn the ropes of Jasper AI when I was first getting started with it.
The training covers everything from using the writing, art, campaigns, and SEO features of Jasper AI, to understanding best practices for content creation.
It also provides tips on building an effective blogging strategy and creating engaging visuals that can help to increase traffic on your site.
Jasper Jumpstart is a great way to get up and running quickly with Jasper AI, as well as become an expert user in no time.
You can also use Jasper AI support to ask the Jasper team about any questions, concerns, or problems you may have.
Language Translation
The Language Translation feature of Jasper AI allows you to translate your content into over 30 languages.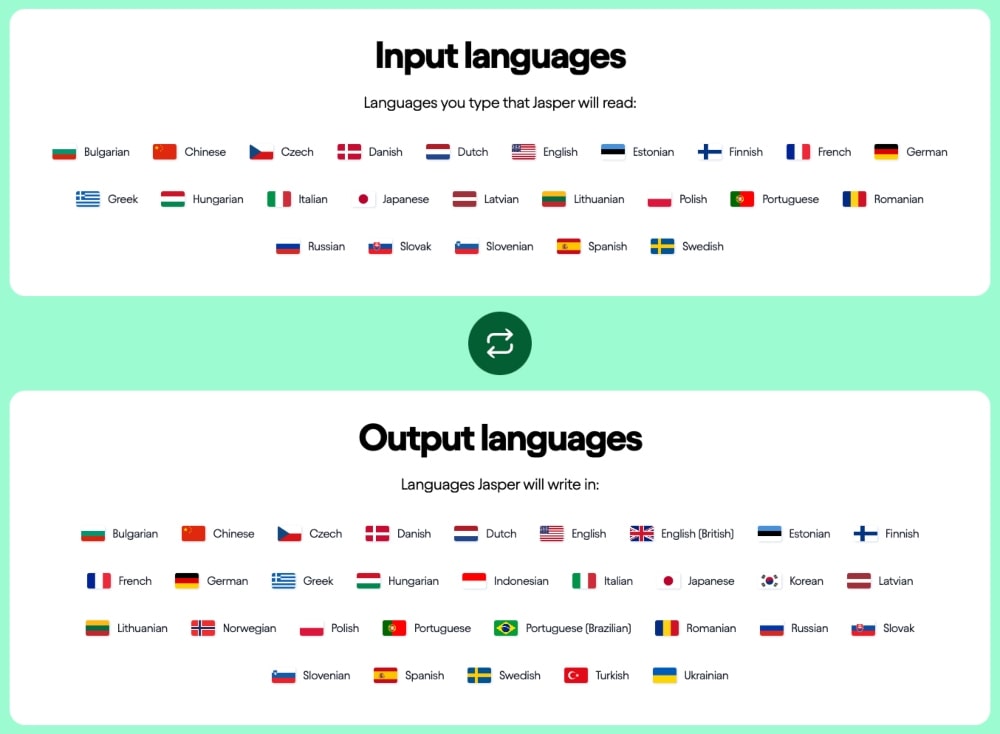 This is incredibly helpful for those who want to reach a global audience, as it makes it much easier and faster to create multilingual content.
Jasper's language translation feature also helps you maintain the same tone and style in all languages so that your content feels natural no matter what language it's in.
Jasper API
The Jasper AI API, or Application Programming Interface, allows you to integrate the features of the platform directly into your own applications and tools.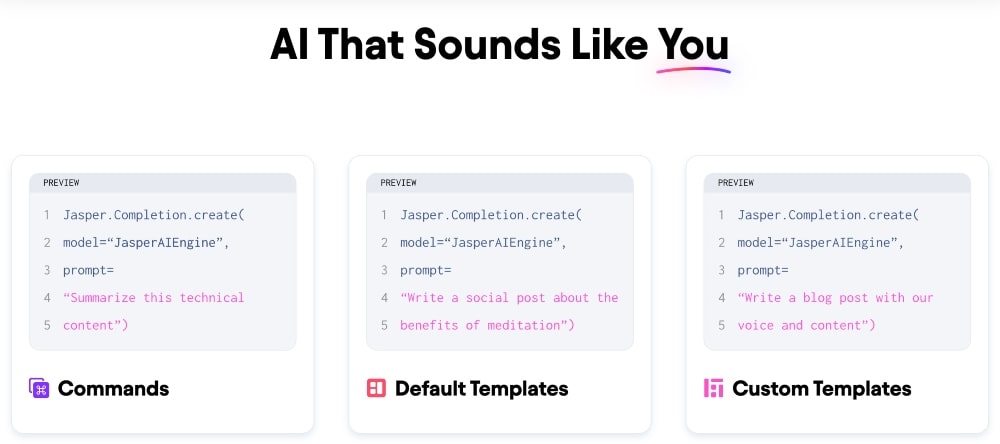 This is great for developers who want to create custom content solutions that leverage the power of Jasper AI.
The API offers access to all of the features offered by Jasper AI, as well as plenty of options for customizing and optimizing your content.
It also allows you to easily integrate the platform into existing applications, making it a great choice for developers who are looking to quickly add powerful content tools to their projects.
How to Use Jasper AI
Getting started with Jasper AI is simple and easy. All you need to do is select a pricing plan and account on the Jasper AI platform.
You can also start with a free trial on any Jasper plans.
Once you have a Jasper AI subscription, there are helpful tutorials to help guide you through the process of creating content and automating tasks.
You can also access a variety of templates that make it easier to get up to speed and create content with minimal effort.
When you want to create new content, you will be presented with a list of options to choose from:
Blank document
New from template
New blog post
New art
The option that you choose depends on how you want to write your piece of content and what kind of content you're writing.
For the sake of these examples, I will show you the different ways you can write a blog post.
New Content From Documents
My personal favorite way to write blog posts and what I think is the easiest and fastest way is using a Blank document.
It has a more natural feel to it and your information is more organized in one place.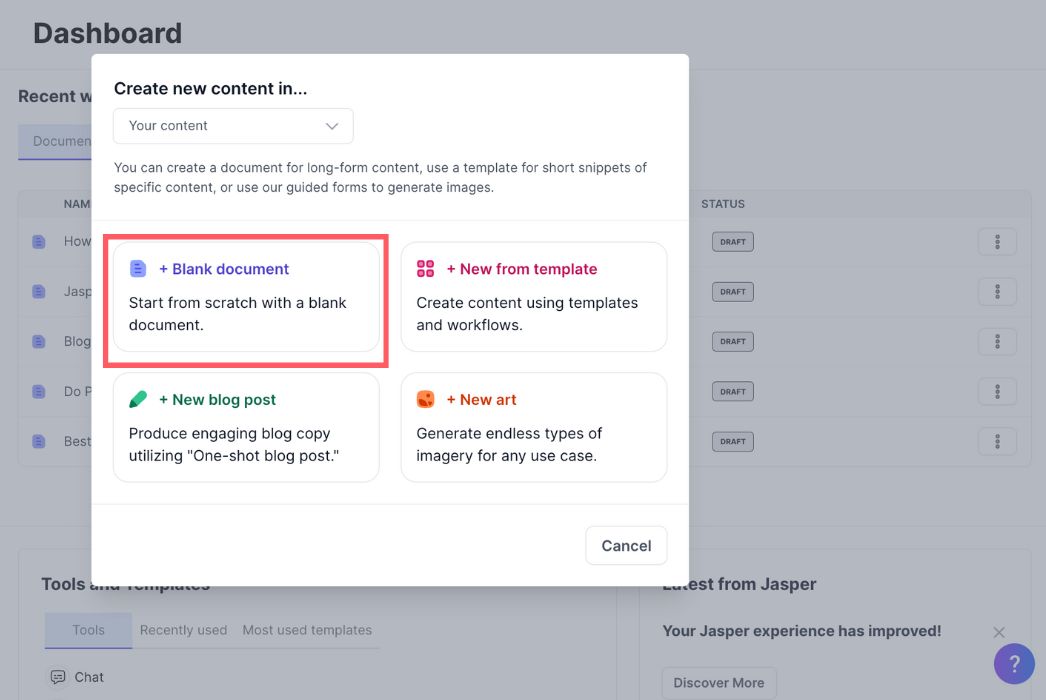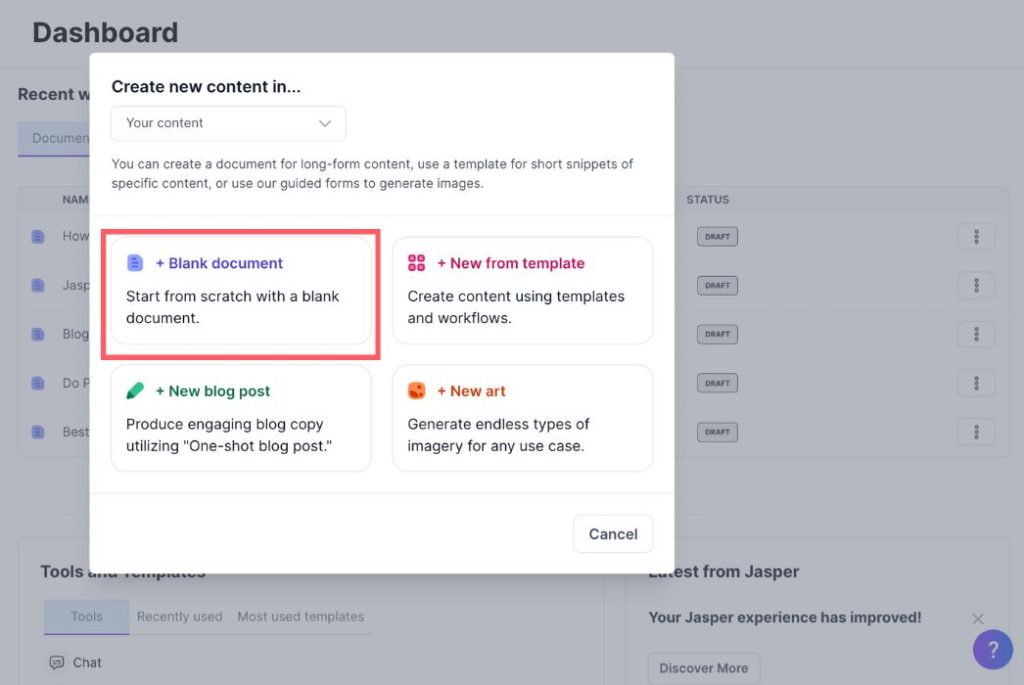 When you use documents to write content, you can simply tell Jasper what you want to write. Here are some example prompts:
Write 5 blog post titles for an article on how long a blog post should be.
Write an outline for an article on how long a blog post should be.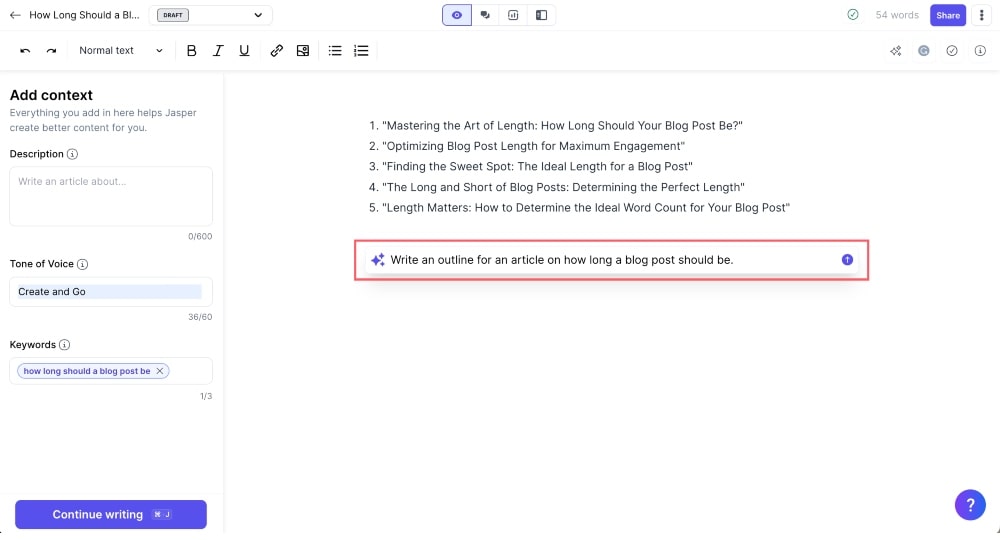 From there, you can simply edit and adjust your titles and outline. Choose a title that best suits your needs or create a new one from the suggestions.
You can also edit and adjust the outline as you see fit and simply ask Jasper to start filling in the outline.
You can start filling out each section of your outline or ask Jasper to write anything you want, at any time throughout your document!
New Content From Chat
If you prefer a chat-style form of writing, you can use Jasper AI chat to give you writing ideas or start writing.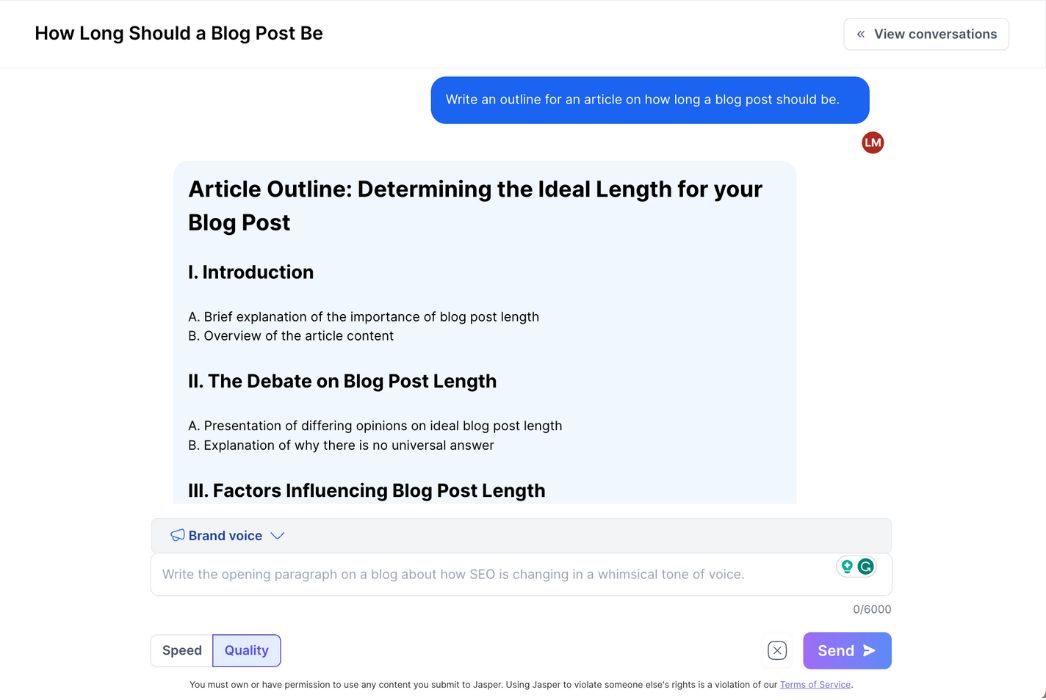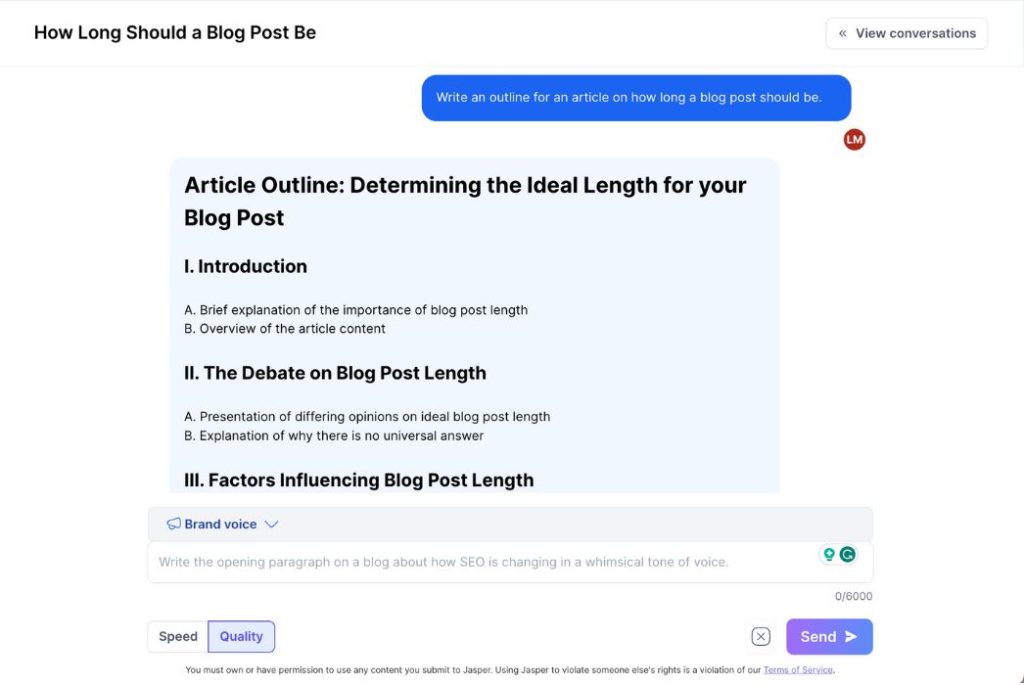 Because it is a chat, this option is best used for generating ideas than for writing full blog posts.
New Content From Templates
Finally, you can also create blog posts from templates. If you're using a template, it's best to keep a document open in a new screen to copy and paste your outputs.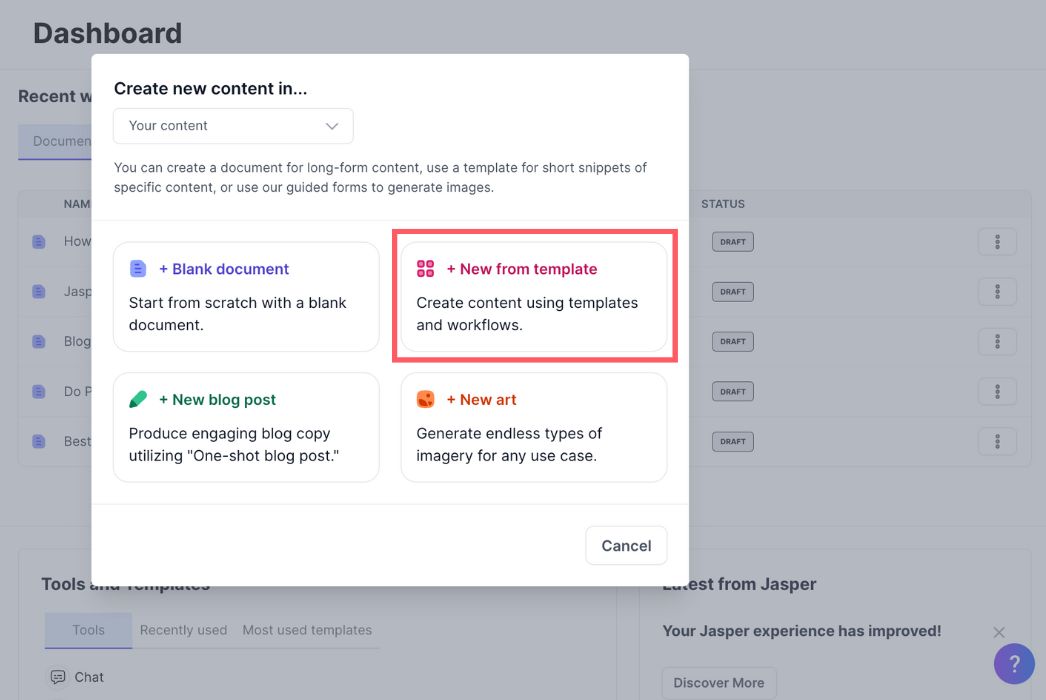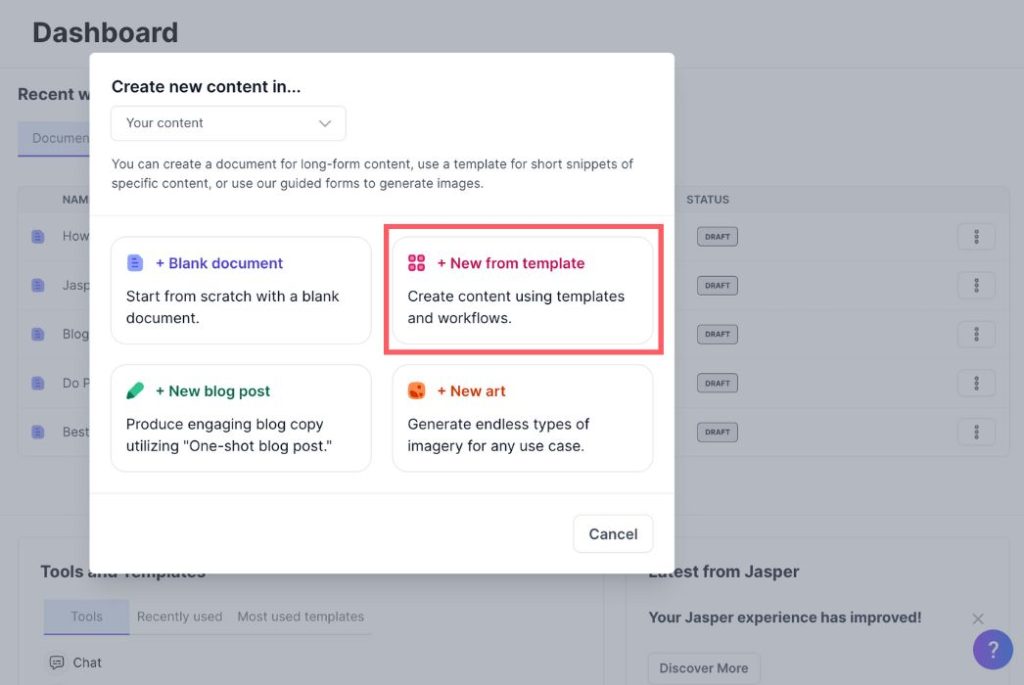 Continuing our example from above, we will use the templates to start writing a blog post.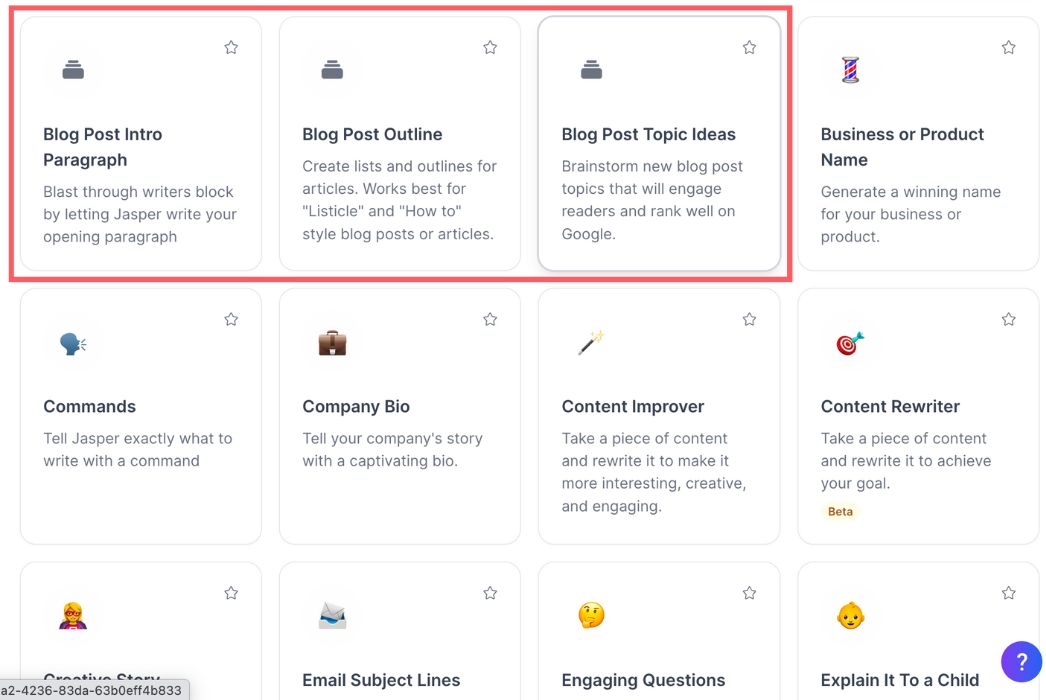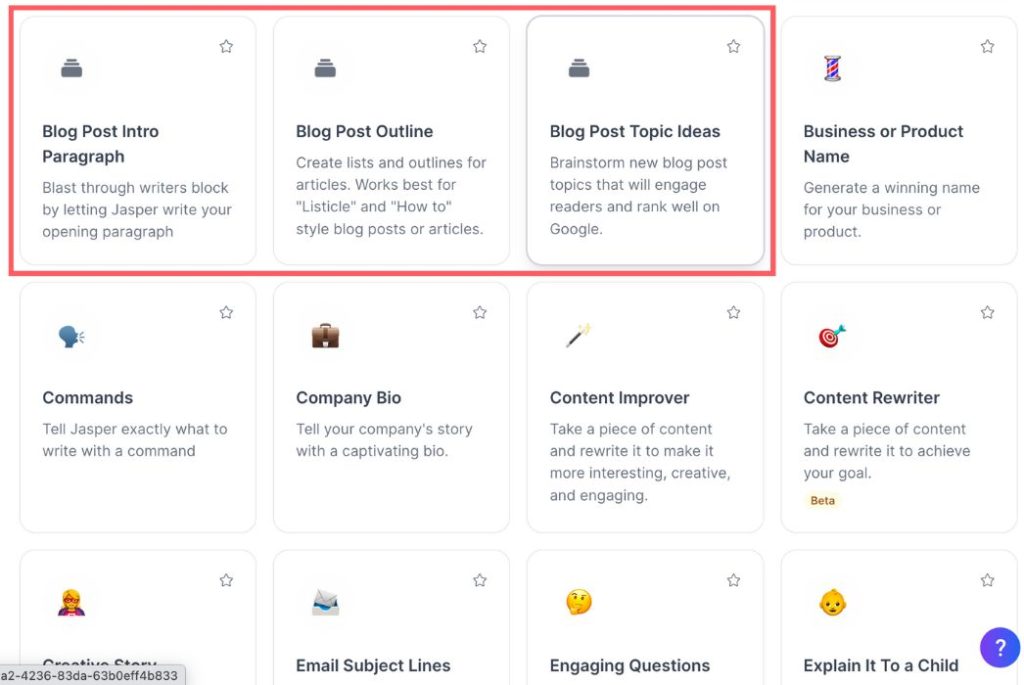 Blog Post Topic Ideas
If you need some help coming up with blog post ideas, you can start with the template for blog post ideas.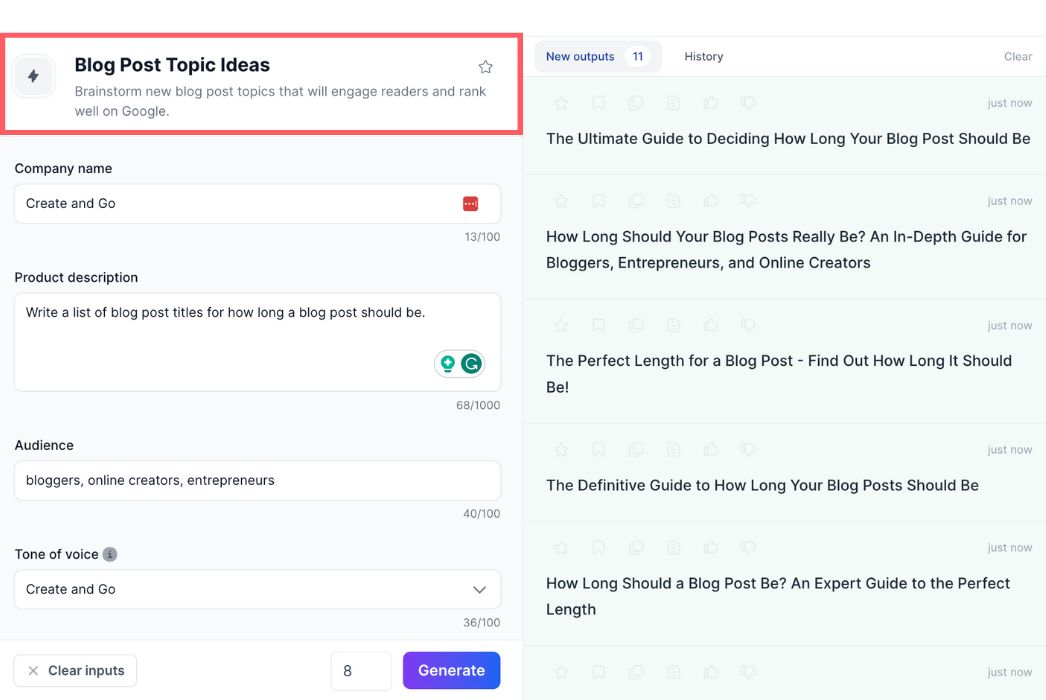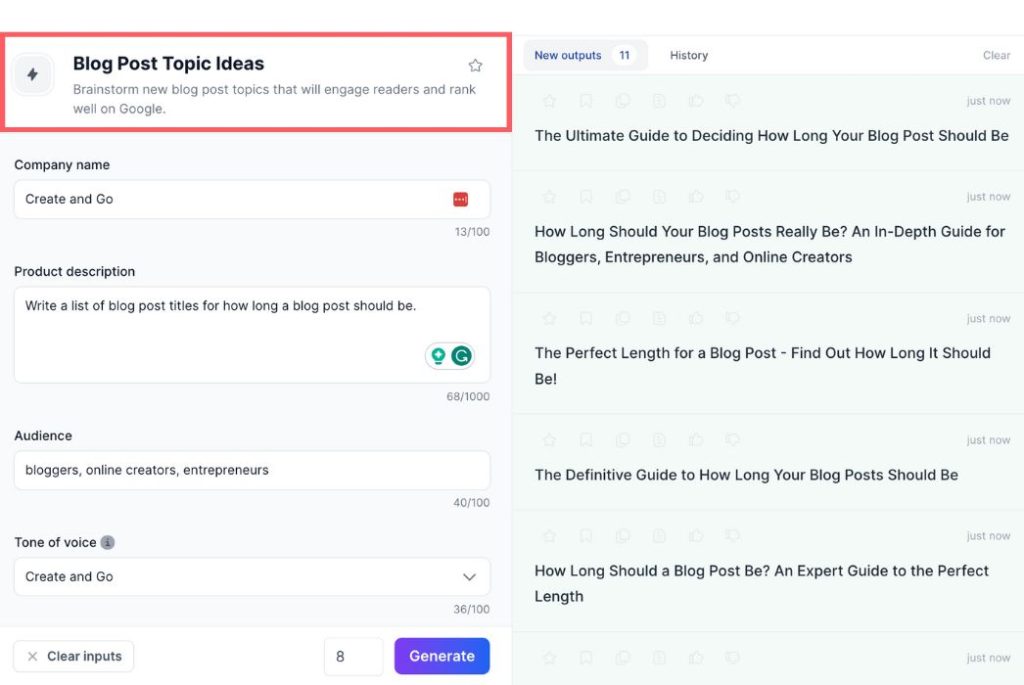 From there, choose a blog post title that you want to use or create your own from the ideas listed.
Blog Post Outline
After you decide on a blog post title, you can just Jasper AI to create an outline for your blog post.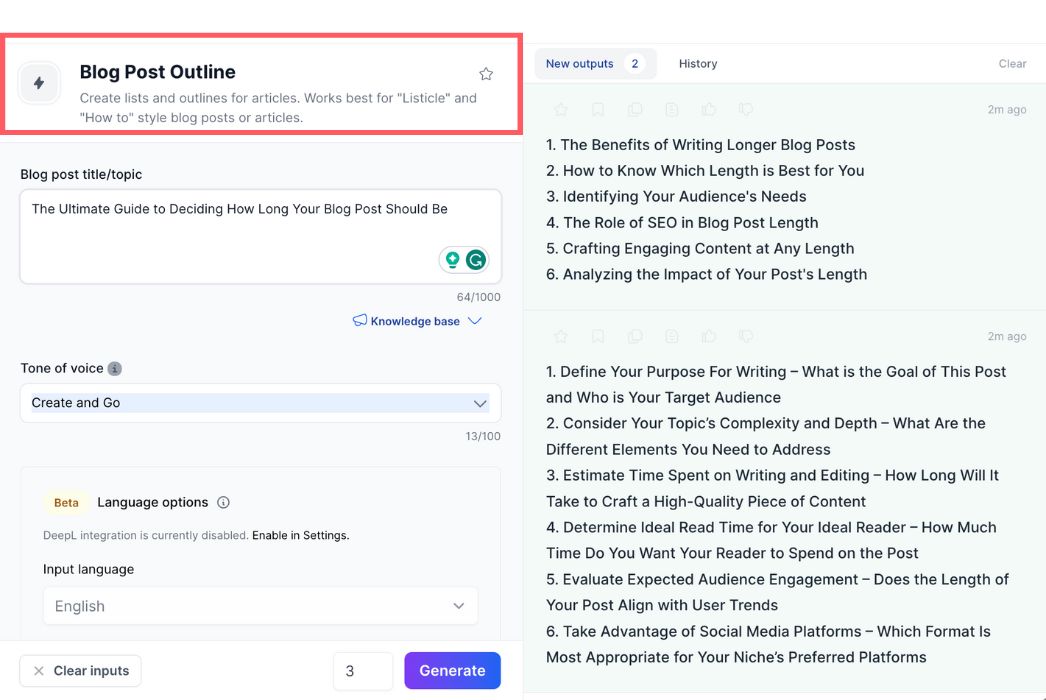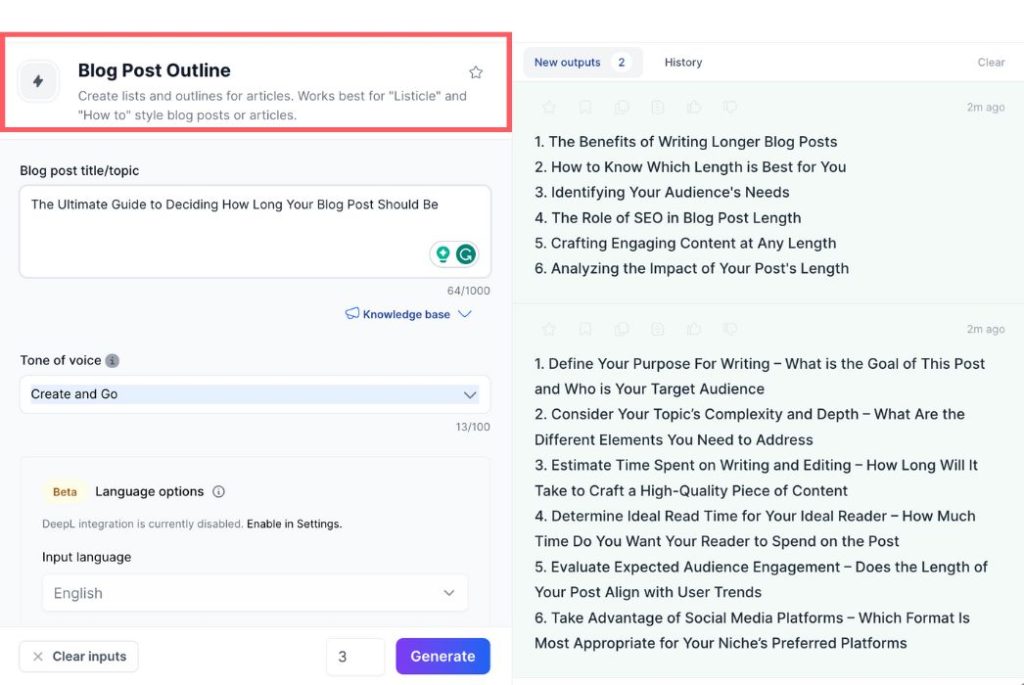 From here, you can choose to edit your outline as you wish and copy and paste it in your document.
Blog Post Intro Paragraph
Next, you can use another template to write an introduction for your blog post.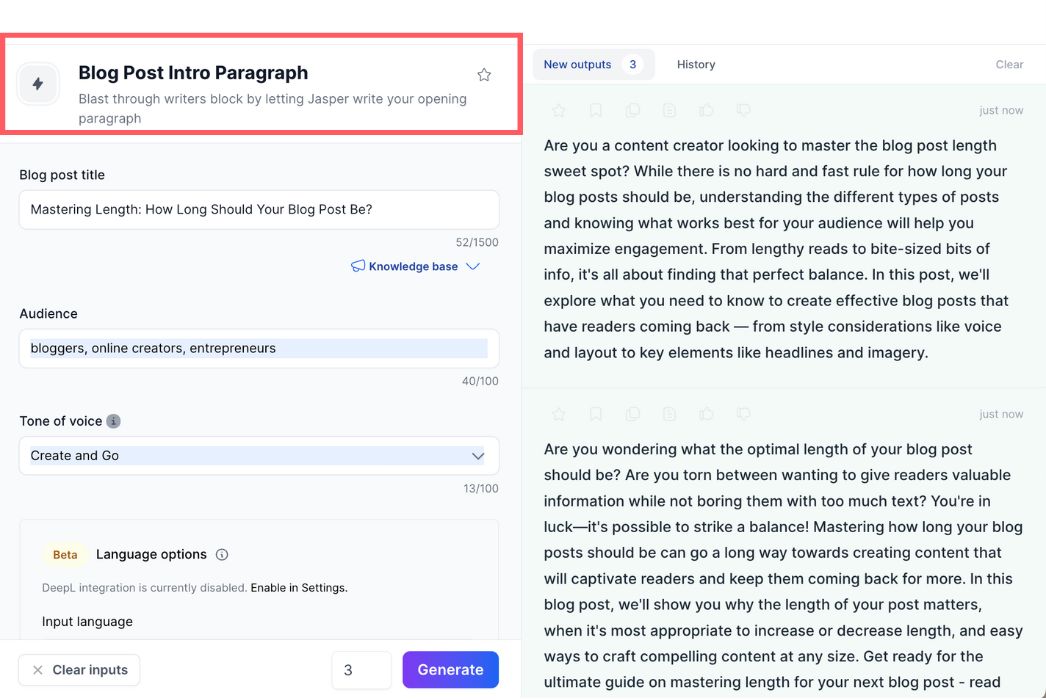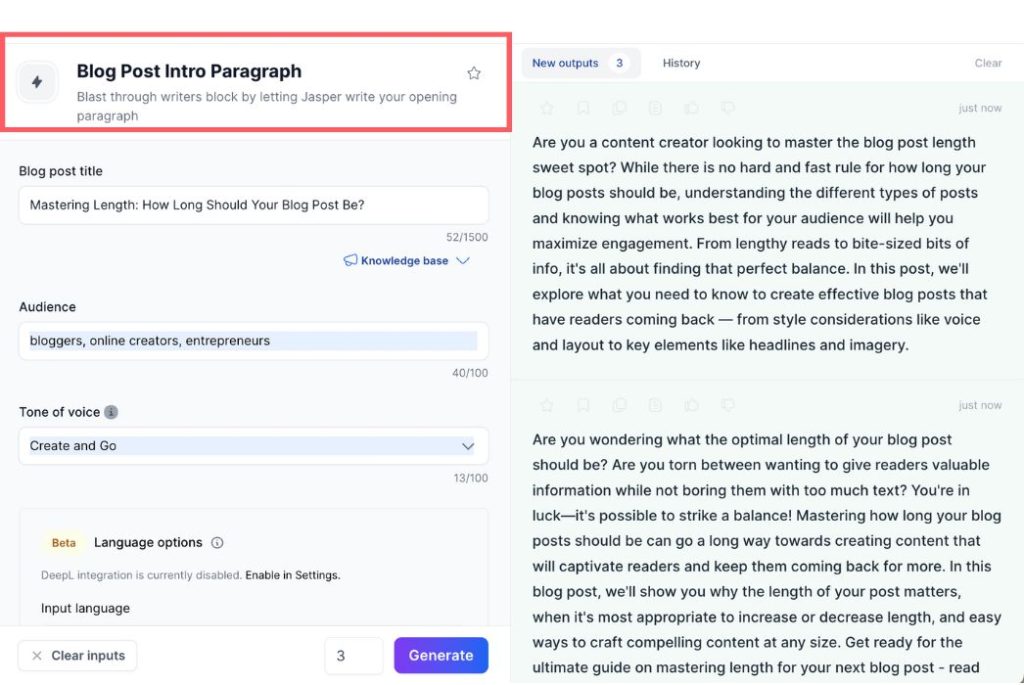 As you can see, using templates is more of a piecewise solution to writing blog posts. It's more effective for writing ads, emails, and social media campaigns.
However, there is another much more helpful template for writing blog posts.
One-Shot Blog Posts
One-Shot blog posts are a great way to quickly create blog posts quickly without spending too much time researching or writing.
With Jasper AI, you can generate a blog post using just a keyword phrase. The tool will analyze the keyword phrase and suggest relevant topics for your blog post, along with ideas for structure and headlines.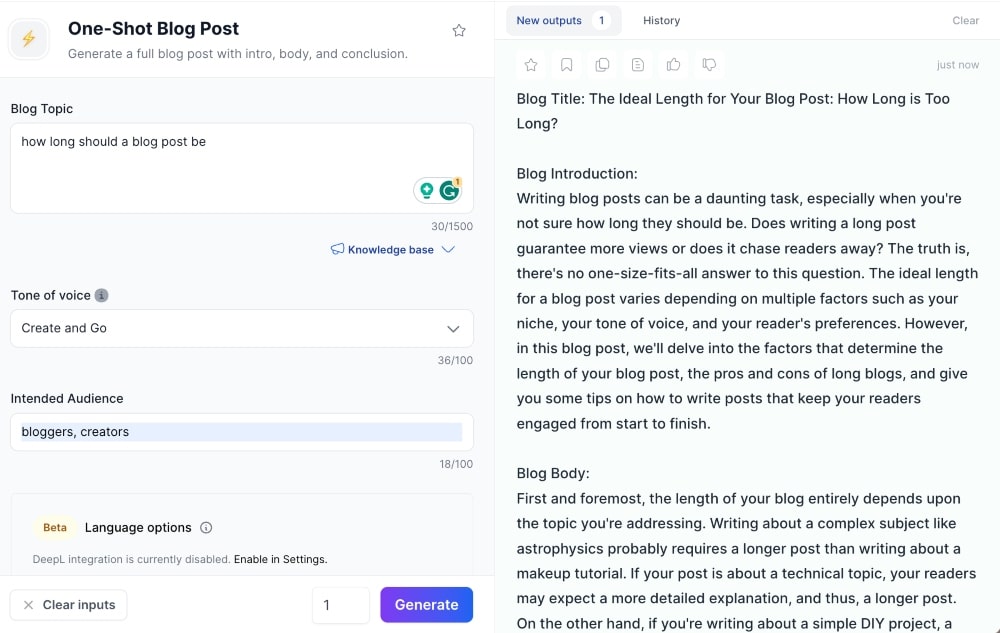 This feature is incredibly helpful if you don't have the time or energy to do extensive research, but still want to create quality content.
One-shot blog posts also provide you with a great basis and outline to expand upon, if you desire.
Jasper AI Pros and Cons
Overall, Jasper AI is an incredibly powerful and versatile AI writing tool to create anything from long-form content to emails and social posts.
While it may be overwhelming to learn at first, the platform offers a great deal of features that can help you create engaging and high-quality content easily and quickly.
This Jasper AI review wouldn't be complete without a list of pros and cons, so let's summarize some of the benefits and also discuss the disadvantages.
Pros
Easy to use
Generate long-form content as well as short-form social media posts and other content in minutes
Brand voice helps to tailor content to your unique audience
Comprehensive AI writing features
Documents feature provides a natural feel and style
Great for writing long-form content
Collaboration tools for team projects
Great for writing product descriptions
Library of templates to aid in the content creation process
Chrome Extension for easy access
Grammar and plagiarism checker
Jasper Jumpstart training program
Language translation feature
Jasper team provides support any time you need it
Jasper art can help you create unique images
7-day Jasper AI free trial available
Cons
No free plan
No offline access
SEO mode only on the Teams plan
Can be overwhelming and complex to learn at first, although all AI copywriting tools have a learning curve to get the most accurate results
AI writing can still have some errors, although it has greatly improved over time
Perhaps the biggest disadvantage of Jasper AI is that there is no free plan.
It's not meant to be used as a one-off or "every now and then" AI copywriting tool.
It was designed for bloggers, copywriters, freelance writers, and other content creators and businesses who have a regular and consistent need to generate AI content.
Jasper AI Pricing
Jasper AI offers three different pricing plans depending on the type of project you're working on and how much content you need to create.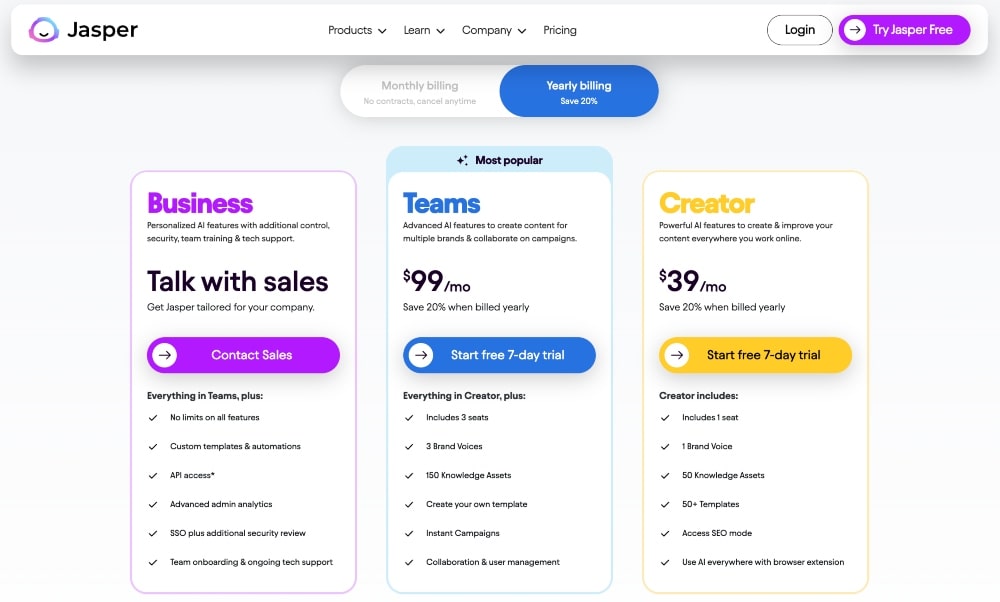 All prices are shown with annual billing (20% discount).
Creator Plan: Starting at $39/month
Teams Plan: Starting at $99/month
Business Plan: Contact for custom pricing
All Jasper AI pricing plans come with a 7-day free trial.
What's great about Jasper's pricing plans is that they all come with most of the main core features above:
Brand voice
Chat
Documents
Translation
Templates
Campaigns
The exceptions include collaboration and SEO mode, which you can only get with the Team and Business plans.
With the Creator plan, you only get 1 brand voice, which should be sufficient for most bloggers and creators just getting started.
With Teams, you get access to up to 3 brand voices plus SEO and collaboration.
Is Jasper AI Worth It?
When it comes to creating AI-generated content quickly and effortlessly, Jasper AI is absolutely worth it, in our opinion.
It's one of the most important blogging tools that we use in our business on a daily basis.
Its automation features can save you time on repetitive tasks like generating ideas and headlines, while its optimization and collaboration tools can help ensure your content is of the highest quality possible.
In our opinion, Jasper AI is one of the best AI writing tools on the market to help you create content quickly and easily.
Its features make it easy to use for both beginners and experienced writers alike, while its advanced tools can help ensure your content is of the highest quality before publishing it.
Jasper AI Alternatives
If you still aren't just about Jasper AI, here are a few other AI copywriting tools to consider.
FAQs About Jasper AI
Is Jasper a good AI tool?

Jasper is a great AI tool for content creators and writers who want to save time and create unique and engaging content. Its automation features help you generate ideas quickly and its grammar and spelling checker ensure your work is error-free before publishing it.

Jasper AI also has integrations with popular third-party applications like Surfer SEO, which make it easy to optimize your content for SEO as you write. They also have a full range of templates for you to generate AI content quickly for a variety of purposes.
How well does Jasper AI work?

Jasper AI is a powerful AI writing assistant designed to make life easier for content creators and businesses. The technology is built with an extensive set of natural language processing and machine learning capabilities which enable it to understand customer behavior and needs in order to provide the most accurate and personalized experience possible.

It understands customer intent, sentiment, context, topics, and more so that it can deliver human-like text and meaningful, actionable insights for businesses. It can help you write blog posts, scripts for YouTube videos, product descriptions, and tons of other marketing copy.
Can you make money with Jasper AI?

The short answer is yes, you can make money with Jasper AI. It provides a platform for users to create unique online products and services that can generate revenue from customers. It also offers powerful tools to automate tasks like customer service, product development, marketing, and analytics.

Jasper AI also offers a wide range of marketing services, including email campaigns and social media campaigns. This enables you to create targeted marketing campaigns that can help you reach the right audience for your products and services.
Is Jasper AI better than Copy AI?

When it comes to comparing AI content-writing tools, Jasper AI and Copy AI are two of the leading candidates. Both have excellent features and powerful capabilities, but there is a clear winner when it comes to usability and performance.

Jasper AI has some standout features that set it apart from its competitors. It has an incredibly user-friendly interface that helps you create content and automate tasks with minimal effort, meaning you can be more productive and efficient with your time. Jasper AI also offers a variety of customization options and templates to help you tailor your content and experience to your own needs. You can also use Jasper art to generate unique photos.
Summary: Jasper AI Review
Jasper AI is an incredibly powerful AI assistant for content creation and automation as well as just getting over writer's block. If you're looking for one of the best AI tools to create long form content, Jasper has everything you need.
It has a wide range of features that make it easy to create high-quality content quickly and intuitively and the Jasper AI support is always there to help should you need it.
Whether you are looking to set up campaigns, write long-form blog posts, optimize your content for search engines, or come up with some creative and compelling ad copy, Jasper AI has got your back.
The tool comes with plenty of helpful features and integrations that make it well worth the investment.
Whether you want to ask Jasper chat for help and inspiration quickly or use the documents feature to create long-form content.
If you're looking for an all-in-one solution for content creation and automation with a consistent brand voice, then Jasper AI is definitely worth checking out.
Whether you are a freelancer, a small business, or an enterprise team, Jasper AI can save you a ton of time and money.
The best part? You can try it out for free with the 7-day Jasper AI free trial!