We partner with bada$$ companies that offer products that help our readers achieve their goals! If you purchase through our partner links, we get paid for the referral at no additional cost to you! Read our disclosure for more info.
Membership site platforms are a great way to monetize your business and connect and engage better with your audience and customers.
With membership sites, you can monetize podcast content, digital products like online courses and eBooks, coaching services, newsletters, and all types of other content.
There are all kinds of different membership site platforms for different purposes, and it's important to choose the right one for your personal or business needs.
For example, some of them are geared much more toward course creators and some of them have much higher levels of customizability than others.
We've rounded up some of the best membership site platforms on the market and also included some details about who each software is best suited for.
If you want to jump ahead, here is a quick summary of our top picks:
What is a Membership Site Platform?
A membership site platform is a type of software that you to create and manage membership programs — in short, a system for users to register and access exclusive content.
Membership platforms also often allow you to collect payments from members, track metrics related to their engagement with the member content, and store customer data in one secure place.
Membership sites are used for a variety of purposes, including accessing course content, subscription-based content, online events, creating communities, and more.
Some creators and businesses use membership sites as a way to monetize their products, services, and content and this can be in the form of a one-time fee (like many courses) or a subscription-based model (recurring charges).
What is the Best Membership Site Platform?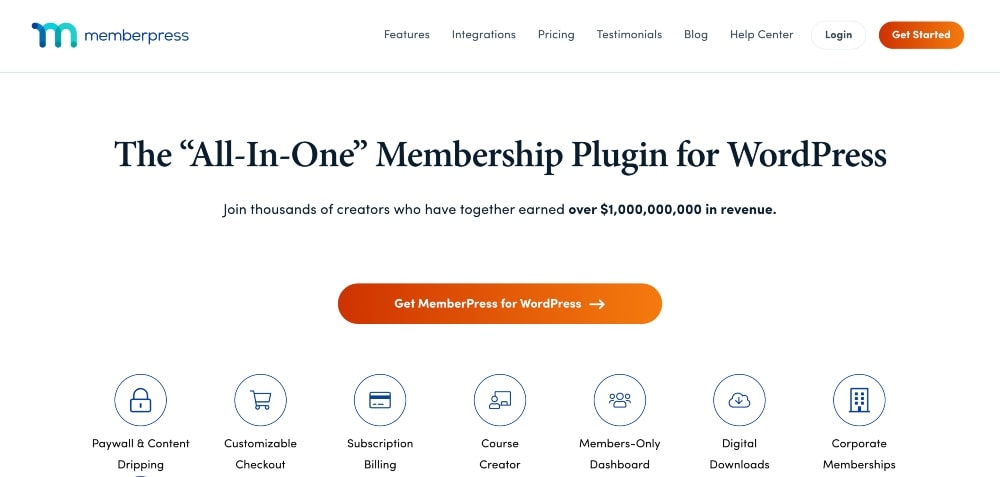 Best for: WordPress users who want a membership portal accessible easily from their website
Pricing: Starting at $179.50/year
MemberPress is a highly customizable WordPress membership site platform used by over 250,000 businesses, creators, and websites.
With MemberPress, you can set up a secure, private membership site and start accepting payments, offering memberships with different levels of access and features, managing customer accounts, and more.
The MemberPress platform comes with a variety of customizations and options, including the ability to manage content with access levels, set up recurring payments, integrate with other services like Stripe or PayPal, and more.
It also comes with powerful analytics tools to track member activity and engagement, understand their customer base, and create targeted campaigns to boost engagement.
You can also easily create and manage coupon codes and discounts, add content protection to your sites, and use marketing tools to promote your membership site.
MemberPress has built-in integrations for popular third-party services like MailChimp, Zapier, Zapier, and more and also comes with a set of powerful WordPress plugins for additional customization.

Key Features:
Content restriction and access control rules
Paywall and content dripping
Coupon system for discounts on memberships and subscriptions
Comprehensive reporting of member activity, signups, cancellations, and more
Detailed user registration forms with custom field options
User Dashboard for managing account info and membership status
Customizable automated communication to users via email or SMS notifications about account activities such as renewal reminders, expiration notices, and more
Simple integration with other WordPress products like WooCommerce or LearnDash for easy syndication of content between sites/products
Embeddable widgets that display subscription or membership data on your site's front-end pages and posts without any coding knowledge required
Our Opinion:
MemberPress makes it really easy to add membership content to your website with a WordPress plugin.
The basic plan costs less than $15/month and includes unlimited courses (or content), which makes this an affordable choice for anyone with a WordPress website that wants a membership platform accessible right from their website.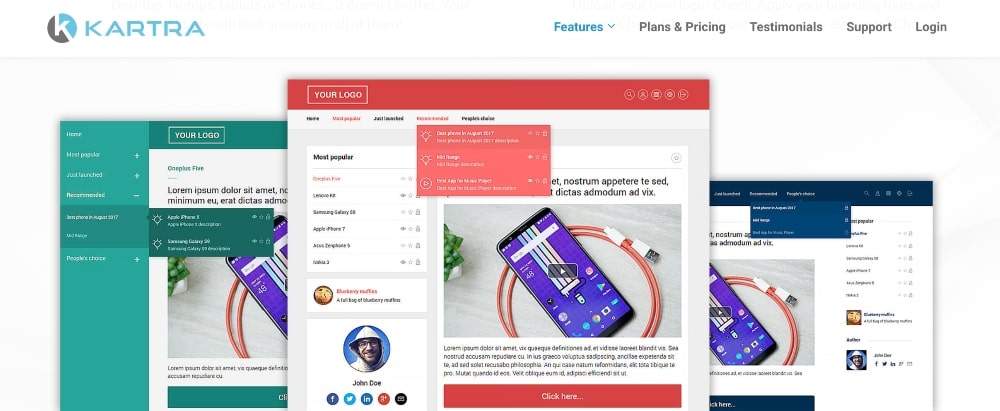 Best for: Established businesses, websites, and creators who are serious about their products and sales or who want an all-in-one solution
Pricing: Starting at $99/month
With Kartra, you can quickly build a feature-rich community with exclusive access to content, discounts, and more.
Kartra offers unique features such as customizable signup forms, drip content delivery to keep members engaged over time, and dynamic tags which allow you to personalize content for individual users based on their interests or preferences.
You can also create loyalty programs and reward users for their activity on the site with exclusive discounts and other incentives.
But Kartra isn't just a membership site. You can also use it to build your email list as it has full email marketing capabilities.
Kartra also offers a wide range of integration options so you can connect your membership site with third-party services like email marketing, payment gateways, and analytics services.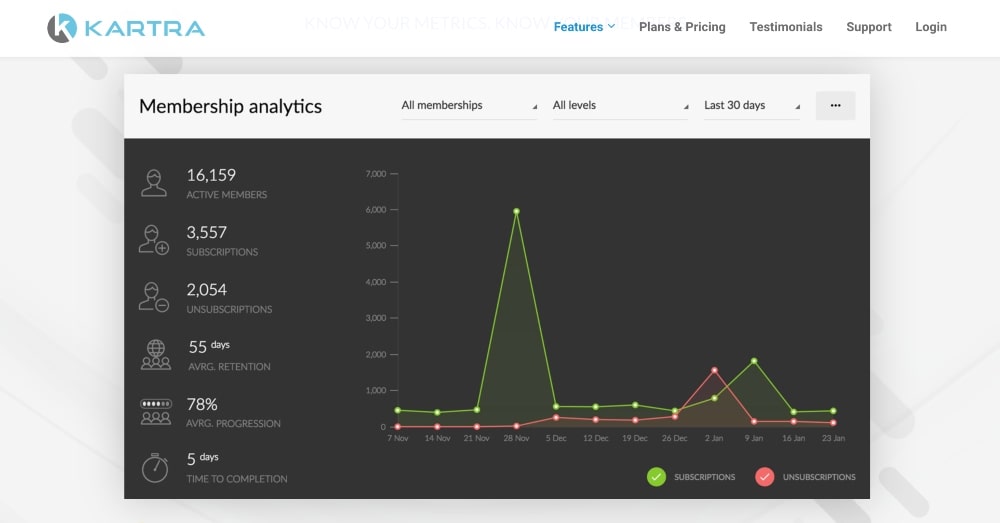 Key Features:
Customizable membership plans
Easy-to-use dashboard and member management tools
Secure online payments with full PCI compliance
Automated recurring billing options
Personalized member profiles and messaging system
Access control for memberships, courses, content, and downloads
Advanced analytics, and reporting capabilities
Built-in affiliate program and referral tracking features
Seamless integration with third-party services and apps
Our Opinion:
Kartra is a great all-in-one solution for a membership platform. It can be a bit pricey depending on your needs, but it can also replace your email marketing platform if you want to use it to collect leads and send emails.
Kartra also has a great affiliate platform, so it's a great option if you want to create an affiliate program for your content or courses.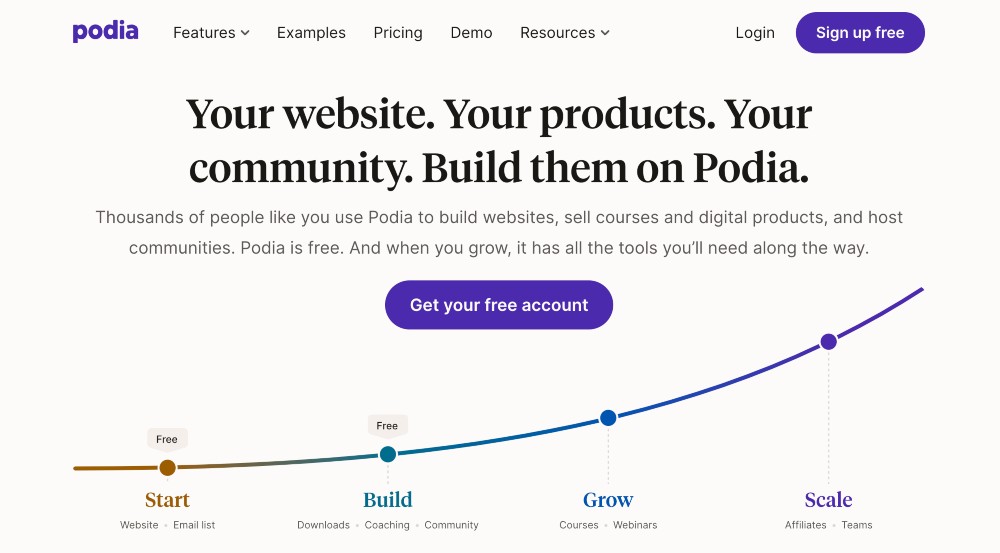 Best for: Budget-friendly individuals or anyone seeking to build online communities
Pricing: Free plan + paid plans starting at $33/month
Podia is a comprehensive membership site platform that makes it easy to build and maintain an online hub for your community.
With Podia, you can quickly upload content such as video tutorials, podcasts, ebooks, exclusive offers, and more to keep your members engaged and coming back for more.
It also provides powerful tools to monetize your content with subscriptions and one-time payments.
Podia has an intuitive user interface that requires no coding knowledge to use and a great customer support team is always available through email or live chat if you need help setting up the platform or troubleshooting any issues along the way.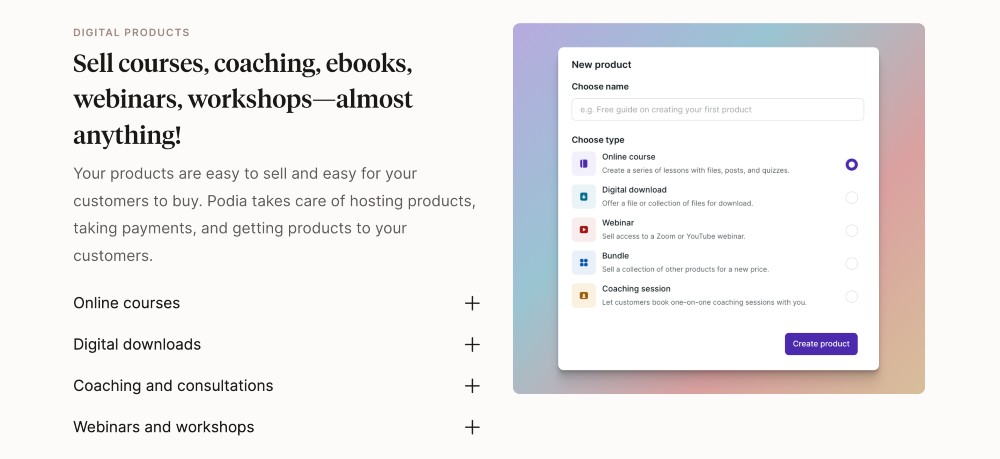 Key Features:
Build unlimited pages with custom designs
Manage unlimited members
Send automated emails
Integrate with existing websites
Create beautiful product pages with discounts and upsells
Create coupon codes for promotions and incentives
Accept payments from multiple gateways including PayPal, Stripe, Apple Pay, and more
Embed interactive forms on any page
Track member activity in real-time with analytics
Customize access levels based on member categories or individual memberships
Set up drip campaigns to deliver content over time
Use Zapier to automate tasks across third-party apps like MailChimp or Gmail
Connect a CRM system like Infusionsoft or HubSpot for advanced segmentation of contacts.
Our Opinion:
Podia is an excellent, budget-friendly choice for anyone looking for an all-in-one membership site platform that's affordable (or even free). It's ideal for creators or businesses interested in building a community because they have built-in community features within the platform.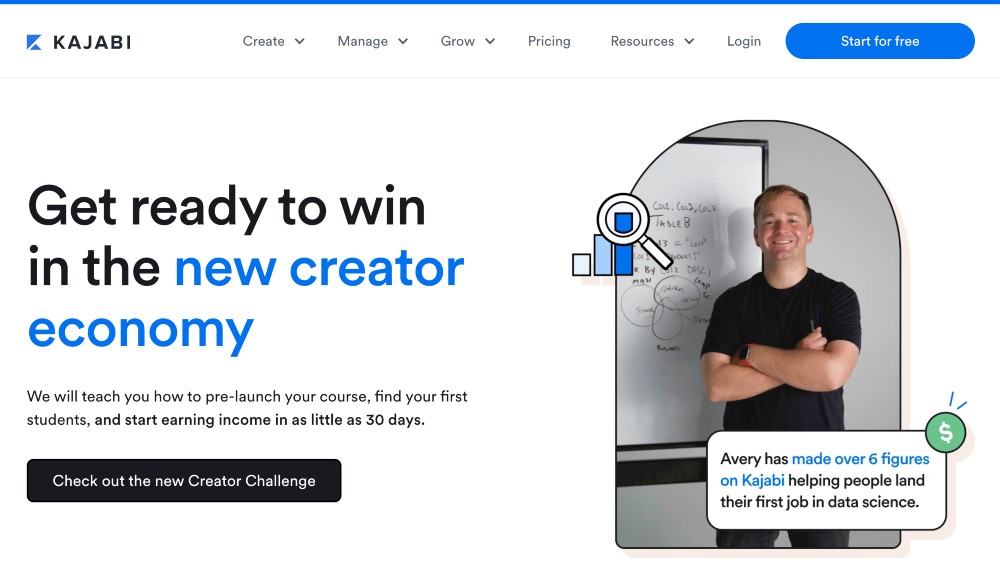 Best for: Advanced sales, marketing, and product sales
Pricing: Starting at $119/month; comes with a 14-day free trial
Kajabi is a membership site platform that allows entrepreneurs, business owners, and content creators to create and monetize their own membership sites, including support for creating digital products, online courses, and more.
Kajabi has an intuitive drag-and-drop builder that lets you create content-rich websites with videos, images, audio files, documents, quizzes, polls, surveys, and more.
Kajabi also makes it easy to manage customer accounts and offers members exclusive access to premium content such as webinars or special workshops.
With the Kajabi Marketplace feature, you can set up subscription plans for different types of customers in order to maximize revenue from your membership business.
One of the most useful features of Kajabi is its automated email marketing system which allows you to send personalized emails directly from the platform.
Kajabi also provides integrations with other popular software such as Shopify and Zapier allowing you to easily integrate your website with third-party services like payment processors or analytics platforms.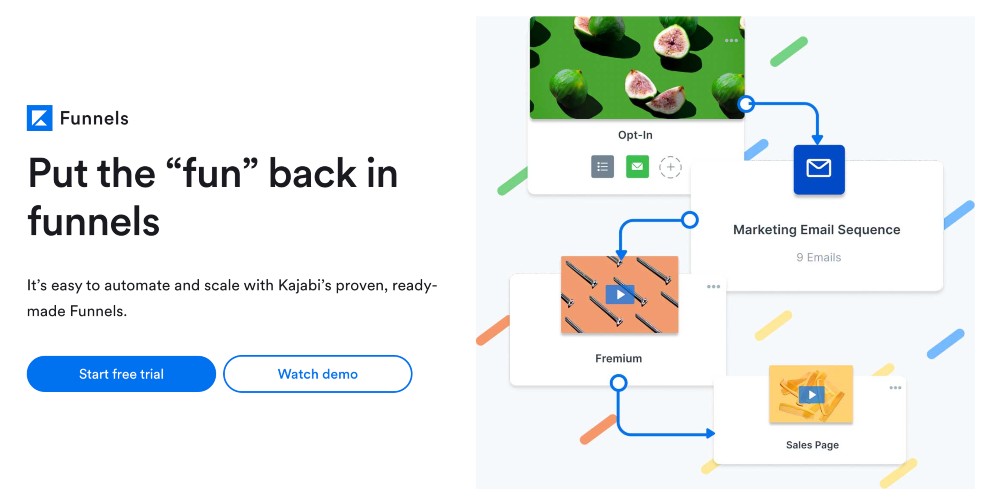 Key Features:
Drag-and-drop website and page builder
Video hosting capabilities
Built-in email marketing platform
Automated sales funnels for digital products
Customizable checkout pages with multiple payment options
Webinar integration for live events
Affiliate program tools
Member portals for subscription plans
Comprehensive analytics and reports
Our Opinion:
Kajabi is one of the best membership site platforms on the market. It has the widest variety of features and even includes a full email marketing system. But this does come at a cost.
If you have more than 3 products or want affiliate program features, you'll need the Growth plan that starts at $159/month.
Kajabi is best suited for individuals and businesses that have more advanced marketing and sales needs and that are happy to pay the price tag that comes with it.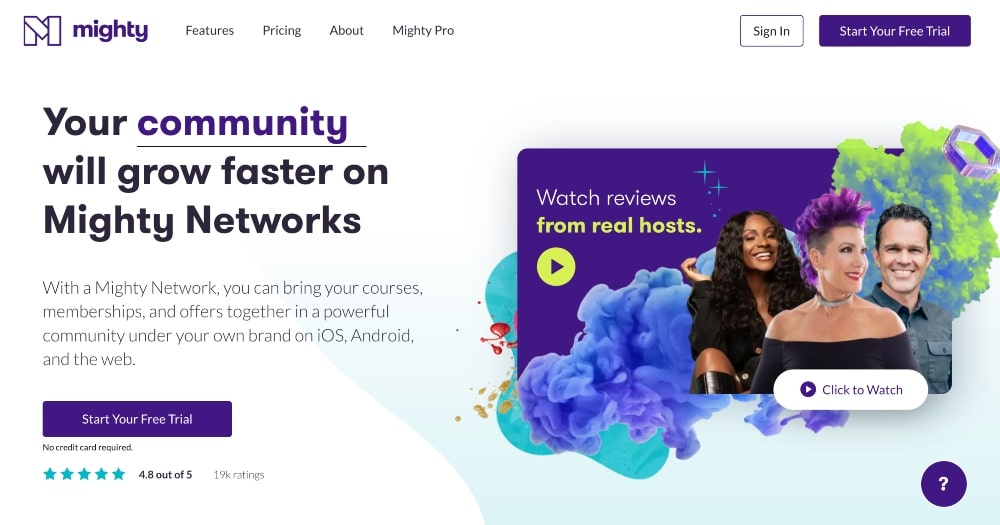 Best for: Building online communities
Pricing: Starting at $33/month
With Mighty Networks, you can easily build your own website, develop custom member profiles, create content for members to access, and cultivate relationships with your members.
Mighty Networks has a lot of community-focused features, including discussion forums, live events, exclusive content libraries, polls and surveys, private messaging systems, and more.
It also comes with additional features including membership levels, payment plans, special discounts and promotions, online forms, and custom options.
The analytics tools include traffic tracking capabilities and heat maps that allow you to better understand how your posts or activities are impacting engagement throughout the platform.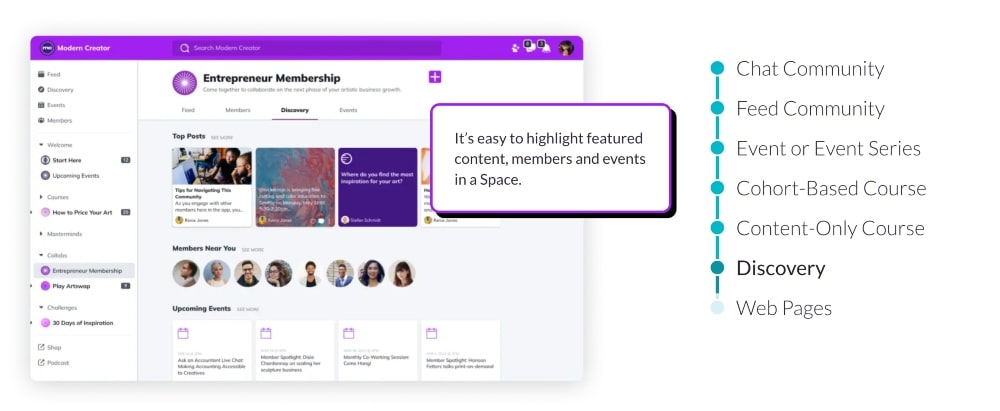 Key Features:
Comprehensive tools for creating custom content and engaging discussions with members
Private or public community settings
Professional grade member profiles and directories
Ability to publish premium content for members only
Create powerful online courses, webinars, workshops, events & masterclasses
Intuitive drag-and-drop design interface
Automated onboarding process and automated emails/follow-up sequences
In-depth analytics to get insights into user engagement
Built-in payment processing options with Mighty Networks' own payment gateway
Our Opinion:
Mighty Networks is best suited for anyone looking to build or expand their online communities. This membership site platform was built for communities and includes an extensive set of features that are geared to help you build, grow, and engage with your online community.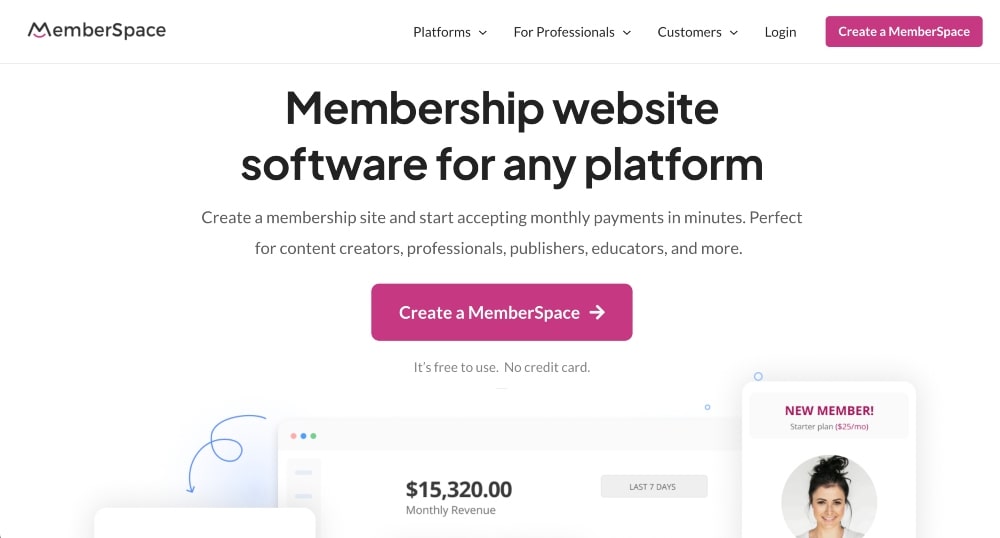 Best for: Free membership platforms
Pricing: Free to use but MemberSpace takes a 5% transaction fee on purchases
MemberSpace is a membership website platform that makes it easy to create and manage subscription websites.
From entrepreneurs and small businesses to large companies, MemberSpace offers a robust platform for any user looking to launch their own membership site.
With its simple drag-and-drop interface, you can quickly set up your website, customize pages and content, create payment plans, and manage users.
MemberSpace enables customers to sign up as members on a website or online store and you can track payments and activities with detailed customer reports.
It also comes with a variety of customization options such as different page layouts and themes that make it simple to give each member's experience its own unique feel.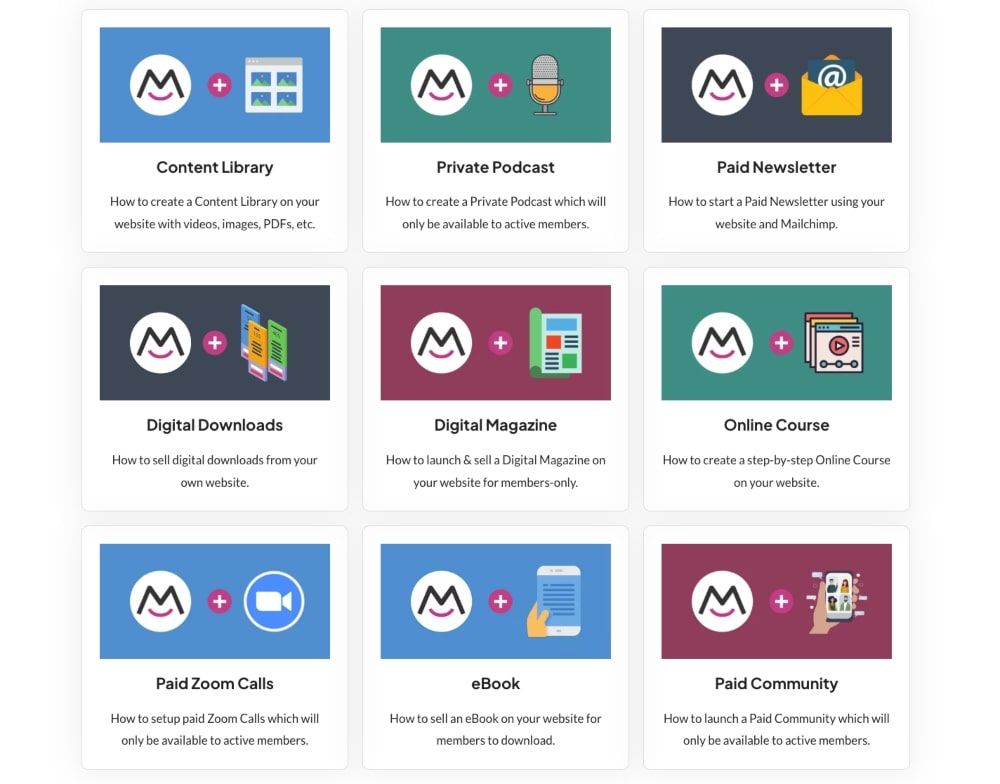 Key Features:
Automated membership portal setup
Easy user management and customizable profile fields
Secure member checkout and subscription payments
Flexible product catalog with multiple pricing tiers
Automated email integration for better engagement
Powerful content protection rules and access control settings
Detailed analytics and metrics to monitor performance
Seamless integrations with popular platforms
Comprehensive affiliate tracking system
Built-In security features to protect your business
Our Opinion:
MemberSpace is the best free membership platform on our list. While they charge 5% transaction fees, many other membership site platforms also charge this AND a monthly fee.
Because this platform is free, they don't have as many features as some other options on this list. But if you just need a basic membership site and you're on a budget, this is a great option.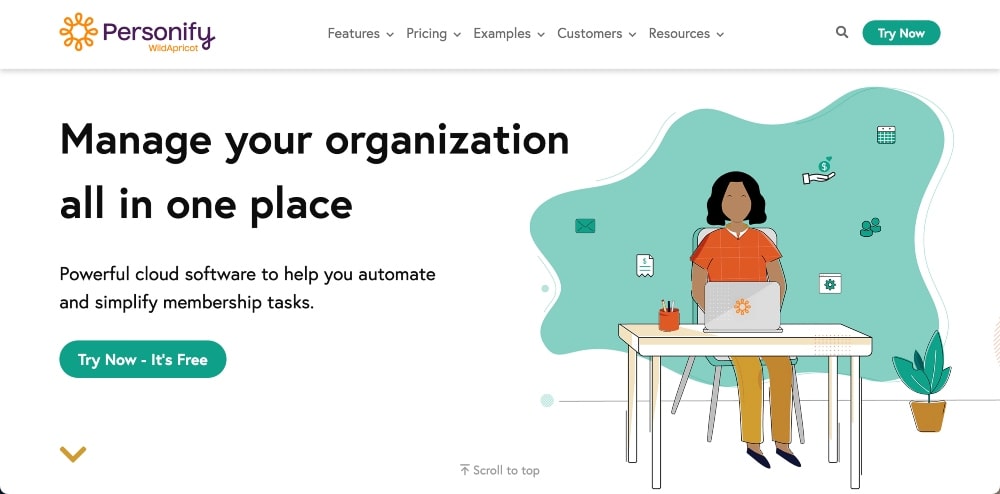 Best for: Businesses and organizations
Pricing: Free plan for up to 50 users or paid plans starting at $43.20/month; also comes with a free trial
Wild Apricot is a popular membership management software that helps organizations and businesses of all sizes manage their memberships, automate administrative tasks, and create an effective online presence.
The platform allows users to create custom websites with powerful features such as event registration, payment processing, member directories, forums, email newsletters, and more.
Wild Apricot offers an array of features to help organizations keep track of their members and automate key tasks.
Its dashboard provides detailed analytics about visitor activity, membership level tracking, emails sent out to members, automated renewal reminders, and more.
The platform also offers specific membership tiers for different user types such as volunteers or board members.
Additionally, it is integrated with popular business tools such as QuickBooks Online and Stripe for payment processing and invoicing.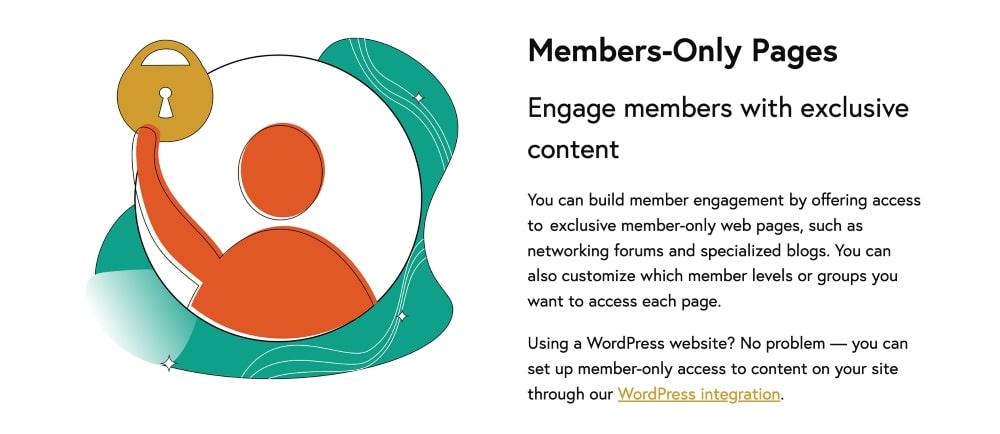 Key Features:
User-friendly website and event registration management
Online member directory
Automated invoicing, email reminders, and payment tracking
Customizable templates for newsletters and communication
Comprehensive donor management system
Robust reporting tools to analyze membership data
Mobile app for members to access their profile information on the go
Secure payment processing capabilities
Integrated accounting software integration
Our Opinion:
Wild Apricot has more business-related features, such as an application process to join the member database and public member directories.
While it has support for online stores, most of its features are better suited for larger organizations rather than individual content creators.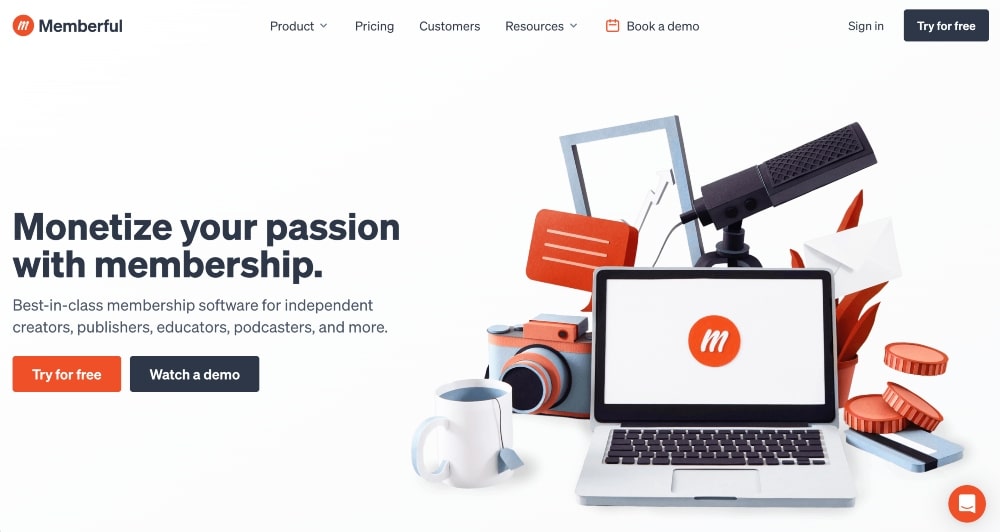 Best for: Beginners without a need for more advanced features and tools
Pricing: Free plan + paid plans starting at $25/month
With Memberful, you have total control over your content and members. You can create custom plans with tailored access levels, including free trials, recurring payments, and more. Memberful also supports discount codes so you can reward loyal customers or welcome new ones.
Memberful's payment gateway allows you to accept payments securely in multiple currencies and easily manage recurring payments and refunds without any manual intervention.
The dashboard allows you to monitor user activity at a glance so you can track user engagement trends over time or have insights into member demographics for better targeting of campaigns and promotions.
Memberful also offers useful integrations with numerous third-party tools such as MailChimp, Slack, Zapier, WordPress, and many more.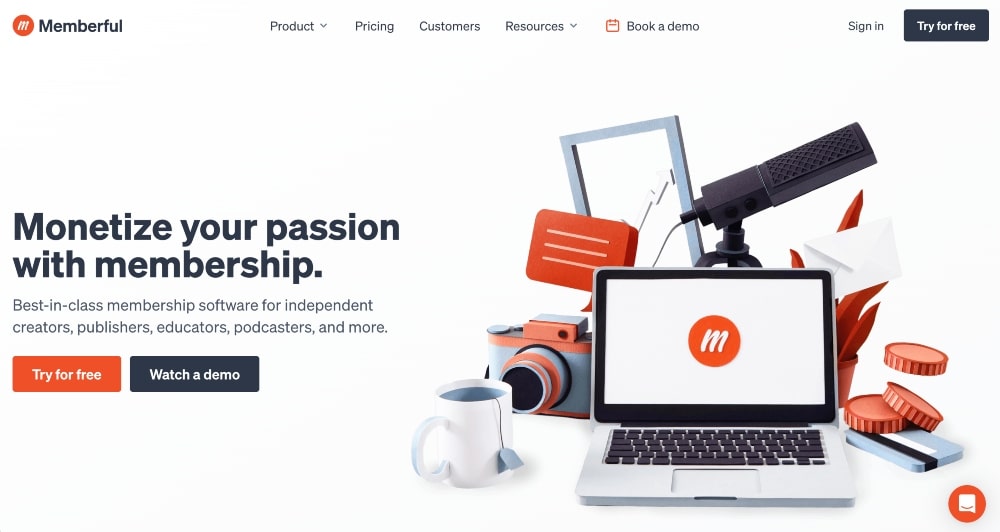 Key Features:
Easy setup and integration with existing websites
Secure user authentication, login, logout, and password reset features
Member management tools to track membership subscriptions and payments
Flexible pricing options for varying membership levels
Ability to create discount codes or coupons for memberships
Detailed reporting capabilities on member behavior and engagement
Automated email notifications to members upon signups and payment updates
Support for multiple billing models such as recurring monthly/annual payments or one-time charges
Third-party integrations with tools like MailChimp, Zapier, Stripe, etc.
Our Opinion:
Memberful is useful for anyone looking to create member-only content like private podcasts, digital products, newsletters, and other content, courses, communities, and physical goods.
It's easy to use and has affordable pricing. This is one of the better membership platforms if you want a simple option with a low price but if you need more advanced features, you're better off with a more powerful platform like Kajabi.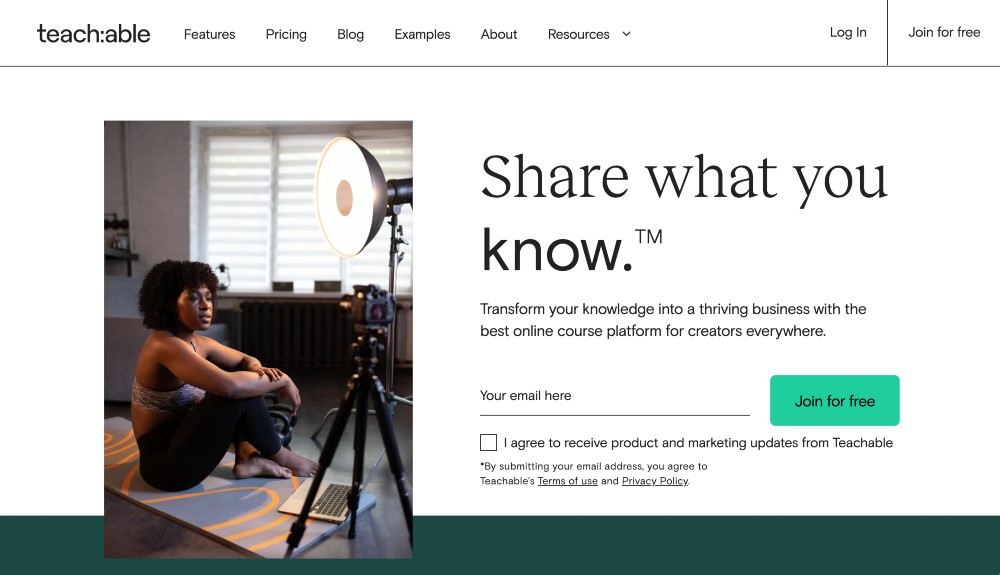 Best for: Course creators
Pricing: Free plan for up to 1 course + paid plans starting at $39/year
Teachable is an all-in-one membership site platform that helps people create and launch their own online courses.
With Teachable, creators can build interactive classes, assign quizzes and tests, take payments, track student progress, and more.
Teachable also provides users with access to a variety of tools that make it easier to create engaging classes, including video integration, audio support, analytics monitoring, custom branding, and more.
It also provides email automation, webinars, coupons, and affiliate program management.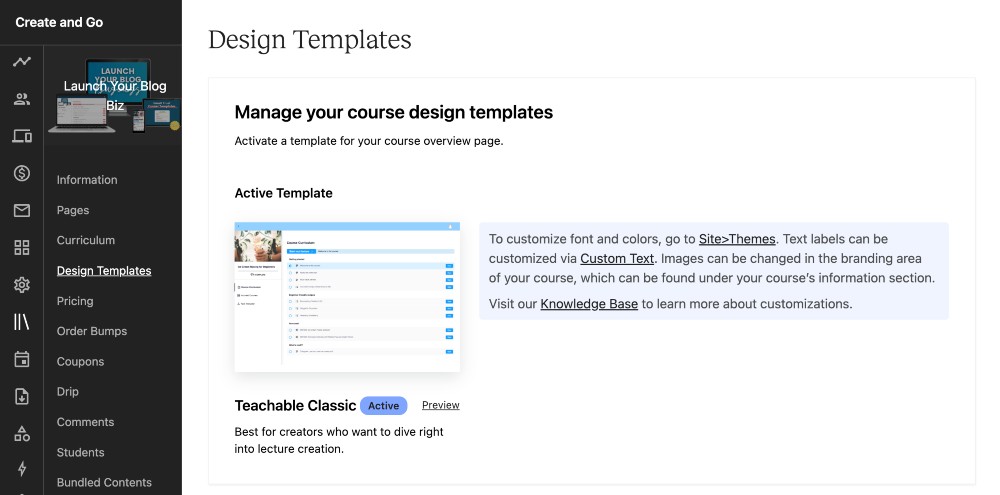 Key Features:
Create and sell courses, eBooks, and coaching services
Comprehensive student analytics and insights
Automated emails, drip Content delivery, and affiliate program management
SEO for courses, curriculums, pages, and more
Membership site setup to monetize your existing audience
Full customization with CSS and javascript code editor
Payment gateways including Stripe, PayPal, Apple Pay, and Google Pay
Create multiple pricing tiers for each course or product you offer
Live chat customer support and knowledge base builder
Our Opinion:
Teachable is our top recommendation for the best membership site platform for course creators. It's what we have been selling our courses on for years. The software is very easy to use and very customer-friendly as well.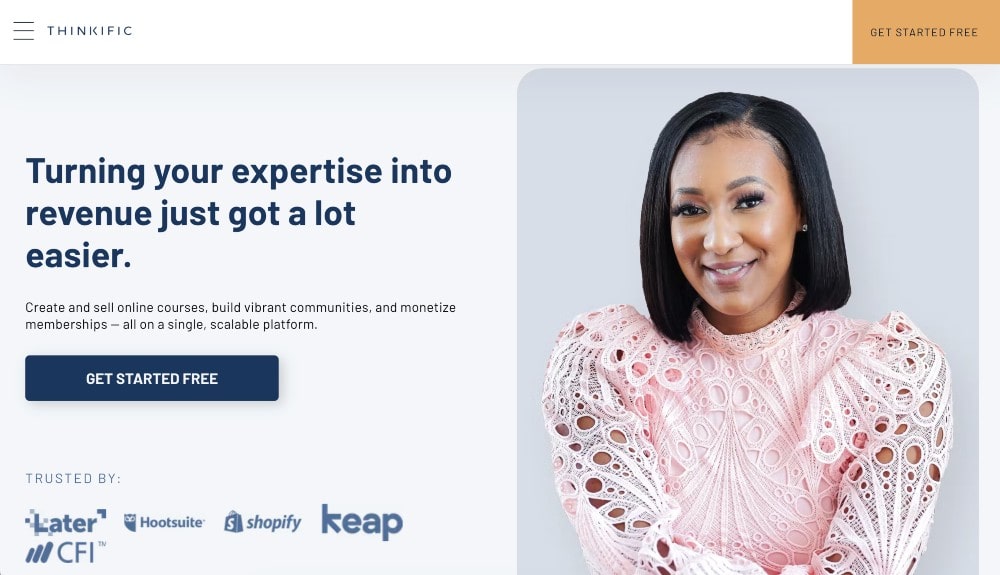 Best for: Course creators
Pricing: Free plan + paid plans starting at $36/month
Thinkific is another one of the best membership site platforms on the market for course creators. It's such a big competitor with Teachable that we can't really mention one without the other.
Thinkific is an all-in-one solution that offers multiple growth tools, powerful customization options, and advanced monetization strategies.
With Thinkific, you can create your own course website with features like automated drip content, powerful integrations with third-party services, and one-click payments.
They also have a library of free resources to help you learn more about launching and running successful course websites.
Thinkific's intuitive drag-and-drop interface makes it easy to create engaging courses with features like branching logic, quiz questions, and customized reporting.
Thinkific also provides access to advanced marketing tools such as automated email sequences, custom landing pages, and built-in affiliate programs.
Beyond creating course sites, Thinkific also provides additional tools for hosting webinars or creating sales funnels.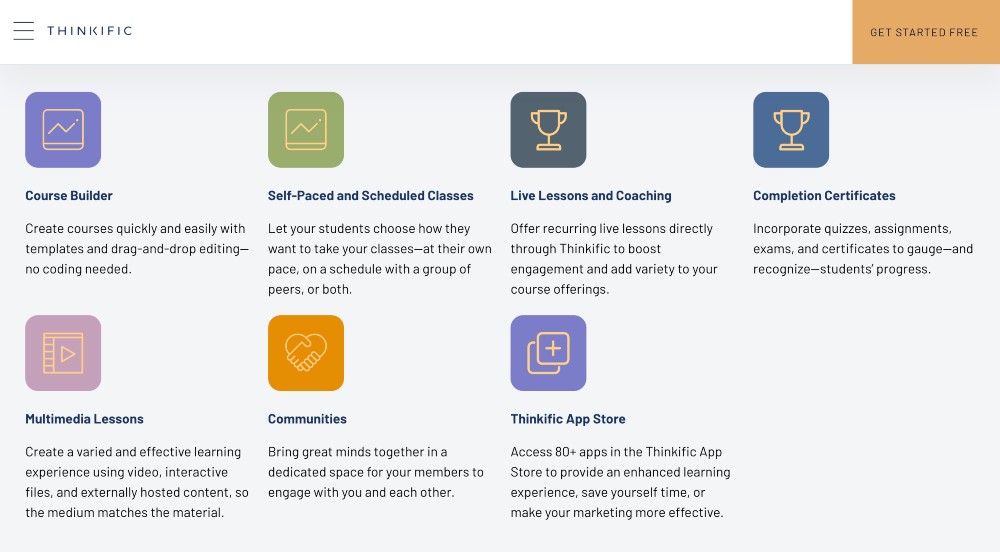 Key Features:
Create and sell online courses
Customization and branding options
Course builder toolkit and flexible learning environment
Comprehensive marketing suite
Built-in payments and checkout pages
Comprehensive analytics dashboard
Video hosting and advanced security features
Automated email notifications
Free professional website themes
Variety of integrations available
Our Opinion:
Thinkific is a great option if you want to create online courses. It also comes with community features.
If you're not selling online courses, you're probably better off with another membership platform like Podia or MemberPress.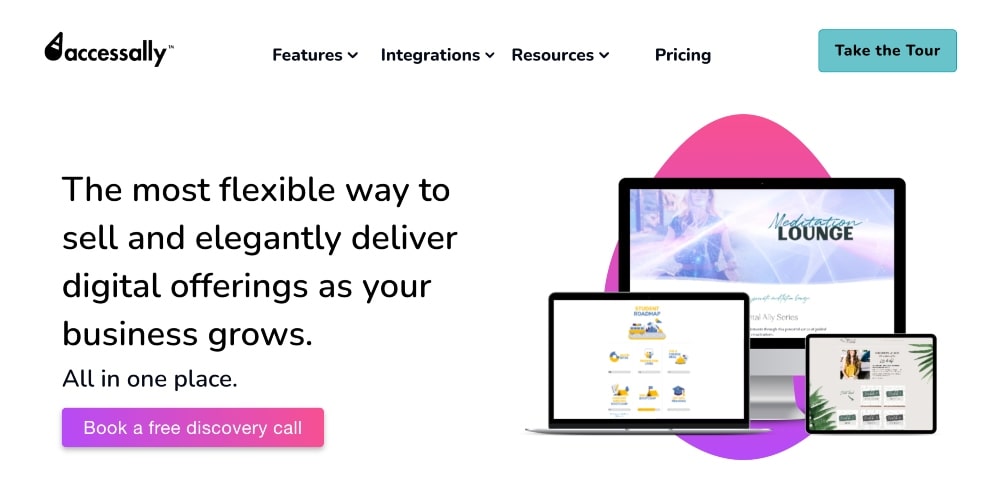 Best for: High levels of customization
Pricing: Starting at $82/month
With Access Ally, you can create content-rich websites and membership sites with professional designs, extensive customization options, and a wide variety of features.
The software provides an intuitive drag-and-drop builder for setting up pages, forms, checkout experiences, and more.
It also includes automated email sequences for onboarding new members and engaging existing ones, analytics tools to measure website performance, and integrated payment gateways for secure transactions.
Plus, Access Ally makes it simple to build multi-layered membership programs with access levels based on subscription plans or products purchased.
Access Ally's advanced content management system allows you to quickly create custom posts, pages, galleries, and more.
The platform offers automated marketing features such as targeted campaigns, segmentation capabilities, and dynamic coupon codes.
Other useful features include a built-in CRM tool for tracking leads and customers, affiliate programs, a wishlist tool, member directory and forums, content dripping, membership portal dashboard, quiz & survey creator, drip campaigns, integration with third-party tools such as Zapier and MailChimp, and much more.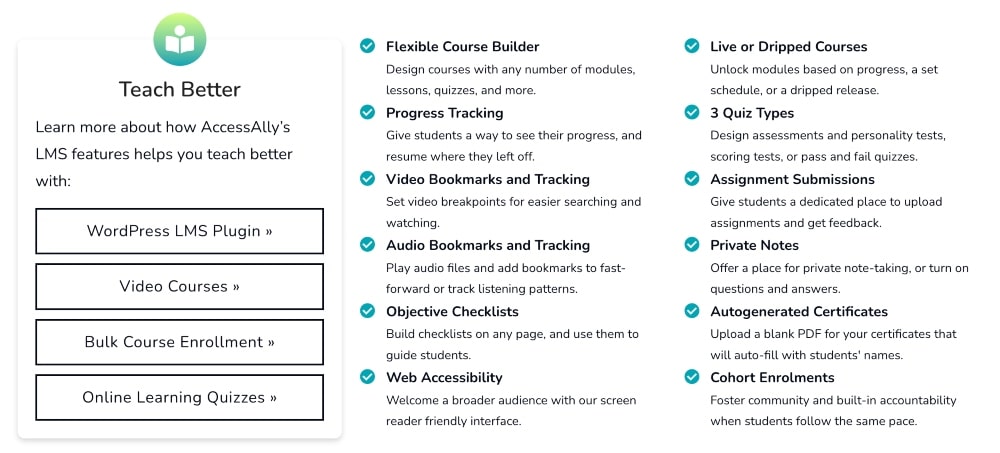 Key Features:
Fully-integrated membership and course platform
Automated onboarding with easy registration
Unlimited payment plans and pricing models
Powerful eCommerce capabilities to sell courses, digital products, and memberships
Customizable checkout pages and upsells
Comprehensive analytics suite
Easy automation of emails and text messages notifications
Advanced content protection system to securely deliver digital products
Granular user access control and permissions settings
Our Opinion:
Access Ally is best suited for those wanting high levels of customization with their membership websites. The setup isn't quite as easy as some others like Podia and Teachable but it comes with a much higher level of customization possibilities.
If you want to be able to customize every aspect of the user experience, this is going to be one of the best membership site platforms for you.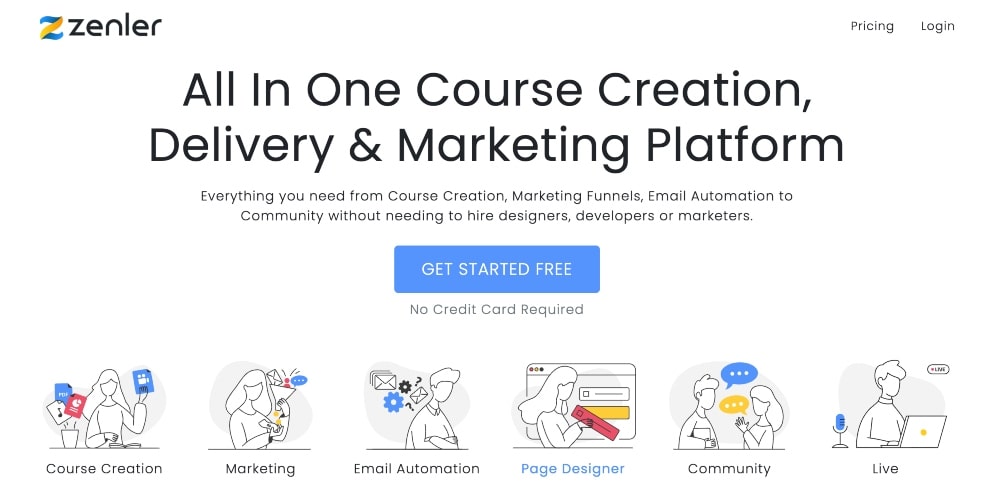 Best for: Course creators wanting customizability and more affordable plans
Pricing: Starting at $647/year or $67/month
New Zenler is another membership site platform geared toward course creators. It offers a wide range of features and tools that make it easier for businesses, entrepreneurs, influencers, educators, and content creators to quickly build their own membership websites.
New Zenler allows users to customize their membership sites according to their brand or style, including templates and themes as well as custom options.
Additionally, you can add various plugins and extensions to your sites, including eCommerce plugins for selling digital downloads, products, or subscriptions.
With New Zenler's user management system, you can easily create groups for memberships and assign them different levels of access or permissions.
You can also send out automated emails at set intervals to keep members up-to-date with new content or updates on the site.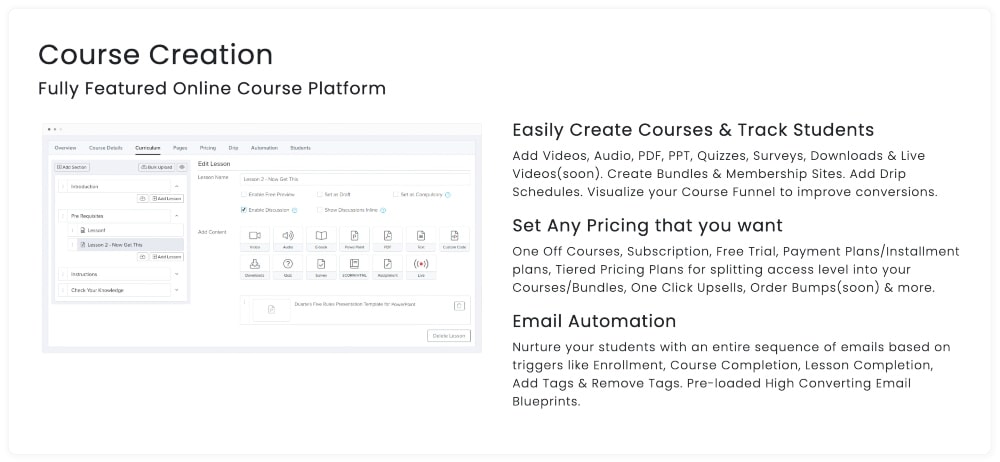 Key Features:
Easy to use drag-and-drop course build feature
A library of customizable templates and themes
Interactive multimedia elements such as videos, audio recordings, quizzes, surveys etc.
Powerful Learning Management System (LMS) with analytics and reporting capabilities to track students' performance
Automated enrollment system for self-paced courses with automated payment processing via PayPal or other third-party services like Stripe and Braintree
Secure access control settings for instructors and learners to ensure data privacy & security for all users on the platform
Ability to easily share online courses through social media platforms including Facebook, Twitter, and LinkedIn, etc.
Advanced customization options for branding purposes with custom logo uploads and color schemes selection feature
Live chat support available 24/7
Our Opinion:
New Zenler makes it really easy to create a successful membership site without having any coding experience whatsoever. It offers everything needed in terms of customizable features, user management systems, analytics tools, and eCommerce capabilities.
New Zenler is a great option for course creators wanting a more budget-friendly option that also comes with a lot of email marketing capabilities.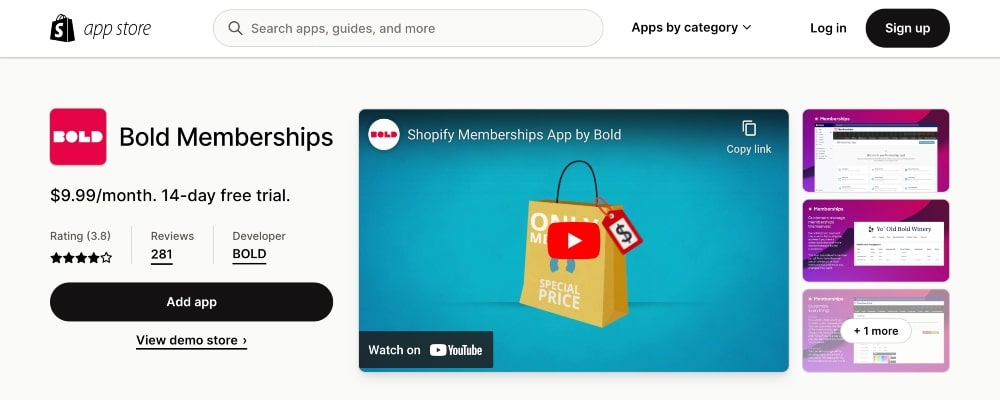 Best for: eCommerce and Shopify site owners
Pricing: $9.99/month with a 14-day free trial
Bold Memberships is a powerful and flexible membership site platform that allows organizations, businesses, and individuals to build, manage, and monetize their memberships.
You can quickly set up your membership levels with the ability to add custom fields such as pricing plans or subscription packages.
Bold Memberships is a Shopify app that is ideal for Shopify owners or eCommerce stores.
The platform has a range of customizable templates to help you create beautiful member pages that reflect your brand's identity.
You can choose from preset design blocks such as headers or call-to-action buttons that you can tailor to fit the look they are trying to achieve.
Additionally, Bold Memberships include a drag-and-drop editor which enables users to organize their content easily and intuitively without any coding knowledge required.
Key Features:
Access to exclusive, members-only content
Invitations to member-only events
Exclusive discounts on products and services
Personalized support from a team of experts
Special access to industry networks and resources
Newsletter updates with the latest news and trends in the industry
Curated forums for sharing best practices
A network of likeminded professionals in your field
Unique networking opportunities among peers
Priority access to private consultations
Our Opinion:
Bold Memberships is very affordable but it's not as good as a stand-alone membership platform like many others on this list. This software is ideal for Shopify store owners who want some added customizability in their products and membership portals.
Summary of the Best Membership Site Platforms
A membership platform is a great way to take your business and products to the next level, especially if you're able to create a subscription-based model with recurring charges.
One of the hardest parts about creating successful membership sites is keeping your customers engaged with the content.
That's why so many of these membership site platforms also include membership community features — allowing you to engage better with your clients and customers.
Here is a summary of our top picks for best membership site platforms:
If you have any questions about these membership site platforms, leave us a comment below!