We partner with bada$$ companies that offer products that help our readers achieve their goals! If you purchase through our partner links, we get paid for the referral at no additional cost to you! Read our disclosure for more info.
Welcome to the future of communication! Are you ready to take a deeper dive into the world of AI-powered conversation with the best ChatGPT apps?
We have officially entered an era dominated by artificial intelligence and it's not about when you should adopt this new technology, but how.
If you're here, I'm assuming that you're already pretty familiar with ChatGPT and its capabilities. But even if you're brand new to all of this, don't worry. We've got you covered.
We'll discuss the official ChatGPT app as well as 15 other apps that integrate with ChatGPT or use OpenAI technology to help you take care of a variety of tasks in your personal life or even your business.
In this dynamic, fast-paced world, you need tools that keep up with you – and we're here to show you exactly where to find them.
Let's take a look at the 15 best ChatGPT apps on the market that you need to try. We've included both free and paid options in this list.
Here are a few of our top favorites:
What is the Official ChatGPT App?
ChatGPT is an advanced language model developed by OpenAI that utilizes machine learning to generate human-like text based on the prompts it receives.
You can access ChatGPT through the web version or the official ChatGPT app. It's available for both iOS and Android devices and is designed to provide users with a seamless AI-powered conversation experience.
With the ChatGPT app, you can chat with the AI, play games, draft emails, plan trips, write articles, and so much more.
There is a free version and paid version of ChatGPT. The free version allows you to access a limited number of prompts and some basic features, while the paid version offers more advanced capabilities and unlimited access to prompts.
How Do ChatGPT Apps Work?
ChatGPT apps work by integrating with the ChatGPT language model. This means that they receive input from the user in the form of prompts and use ChatGPT's advanced algorithms to generate human-like responses.
The apps also have their own unique features and capabilities, such as task management, scheduling, and even game-playing. They serve as a platform to enhance and streamline your conversations with ChatGPT.
Why Should You Use ChatGPT Apps?
There are numerous reasons why you should consider using ChatGPT apps in your daily life. For one, they offer a more natural and engaging way to interact with AI technology.
They also save you time and effort by automating tasks and providing quick responses. Plus, they can help improve your productivity and efficiency.
Here is just a small sample of the applications for apps that use ChatGPT:
Personal assistant: Chat with an AI-powered assistant to help you with tasks such as scheduling, reminders, and organization.
Language learning: Practice speaking and writing in a new language by conversing with an AI that can provide feedback and corrections.
Writing assistance: Use ChatGPT apps to generate ideas, brainstorm, or even co-write articles or stories.
Customer service: Many companies are now using ChatGPT apps to assist with customer service by providing quick and accurate responses.
Entertainment: Play games, chat with virtual characters, or even create your own AI friend through ChatGPT apps.
15 Best ChatGPT Apps You Need to Try
Now that you have a better understanding of what ChatGPT apps are and how they work, let's take a look at some of the best ones on the market.
Whether you need AI tools for writing, school, personal tasks, or business, there is a tool on this list for just about every application you can think of.
1. Frank AI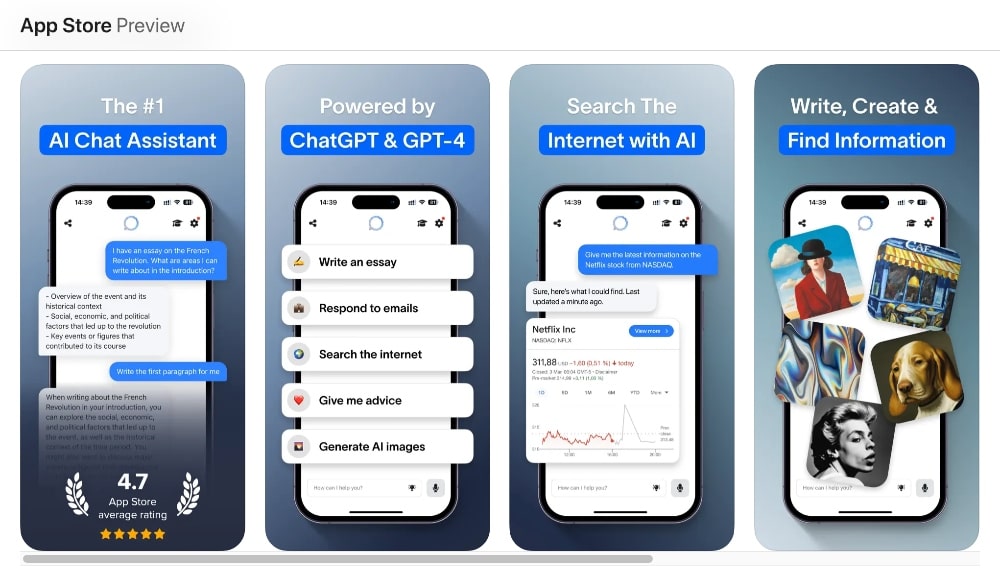 Another great ChatGPT app is Frank AI, which offers a variety of features to help you streamline your daily tasks and improve productivity.
Our favorite feature of Frank AI, besides its capabilities, is the saved prompts on the dashboard to help you get started in a variety of different use cases, including school exams, work emails, internet search, book summaries, live advice, workout routines, and more.
It's not always easy to discover the applications of the ChatGPT apps because there are so many, and Frank AI really helps you not also discover them but also put them to use.
2. ChatSonic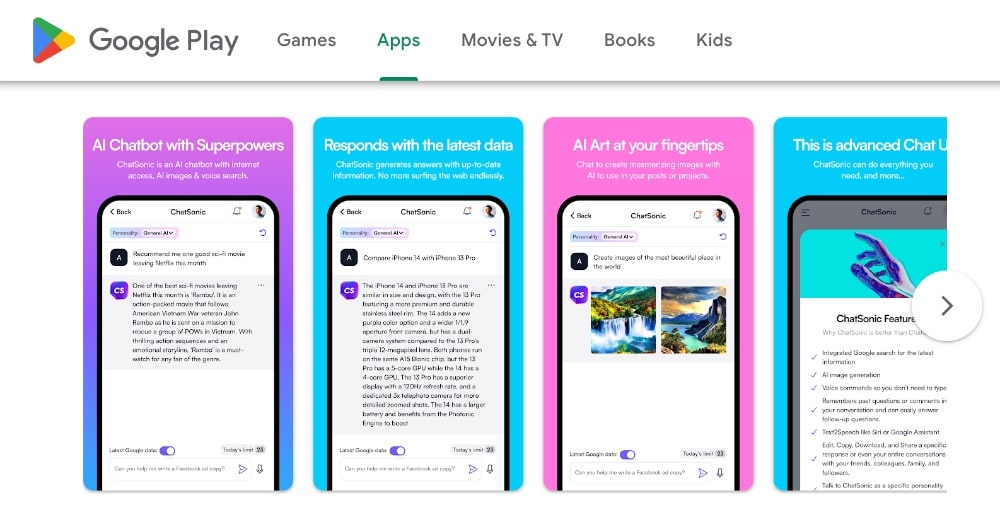 ChatSonic, by Writesonic, is an AI-powered messaging app that uses ChatGPT to provide users with a personalized and human-like conversation experience.
It offers features such as scheduling appointments, setting reminders, and even playing games.
What we love about ChatSonic is that it takes content creation to the next level with SEO optimization features like keyword research, user intent, and backlink strategy as well as marketing features like social media strategy, content calendar, and competitor analysis.
Available for Android (iOS app for Apple coming soon)
3. Bing Chat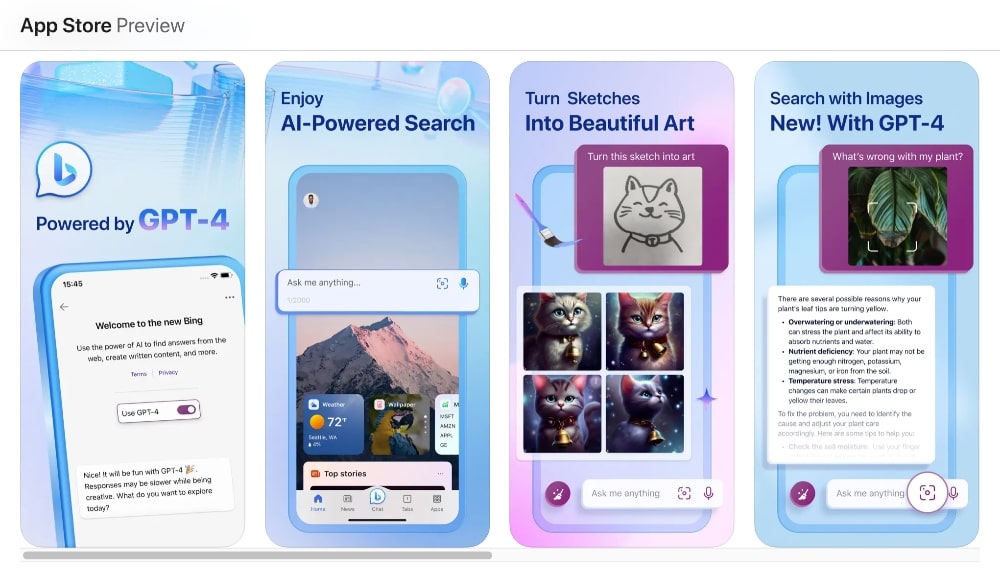 Bing Chat is a virtual assistant app that integrates with ChatGPT to provide users with a seamless and personalized chat experience. It's available for both iOS and Android devices.
With Bing Chat, you can schedule appointments, make calls, send messages, and even book flights – all through conversation with the AI-powered assistant.
If you're a Bing user, the Bing AI Chat can help you enhance your search, get quick answers to your questions, plan trips, and even create images for a variety of uses.
4. Genie AI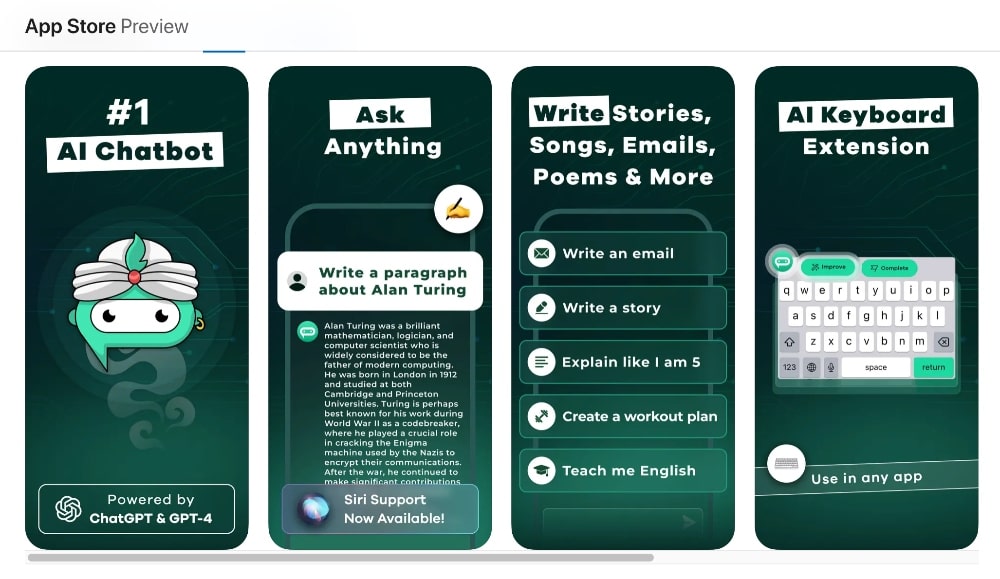 Genie AI is a chat-based virtual assistant that integrates with ChatGPT to provide users with an efficient and personalized conversation experience.
What sets Genie AI apart is its ability to handle complex tasks, such as booking travel arrangements and conducting research, making it a great tool for busy professionals or students.
It also offers features like meeting scheduling, task management, and even language learning.
5. Nova App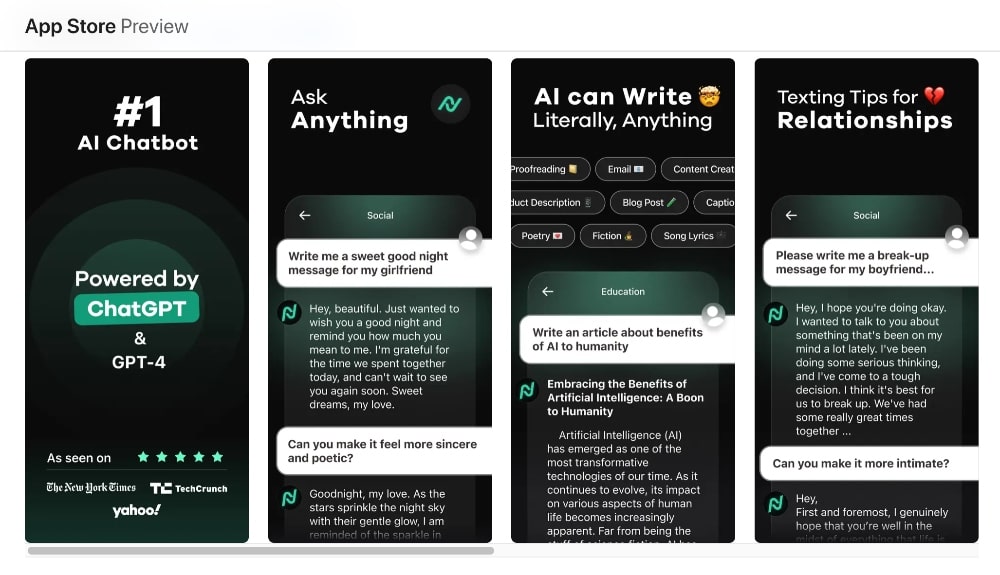 Nova App is an AI-powered chat app that uses ChatGPT to communicate with users as a personal assistant, writing assistant, and more.
With Nova App, you can get a more personalized experience with your AI chat.
One of its standout features is the user interface, which makes it really easy to get the information you're looking for as well as ideas for other tasks you can manage.
Available for iOS and Android. You can also use the web app version.
6. Friday Email AI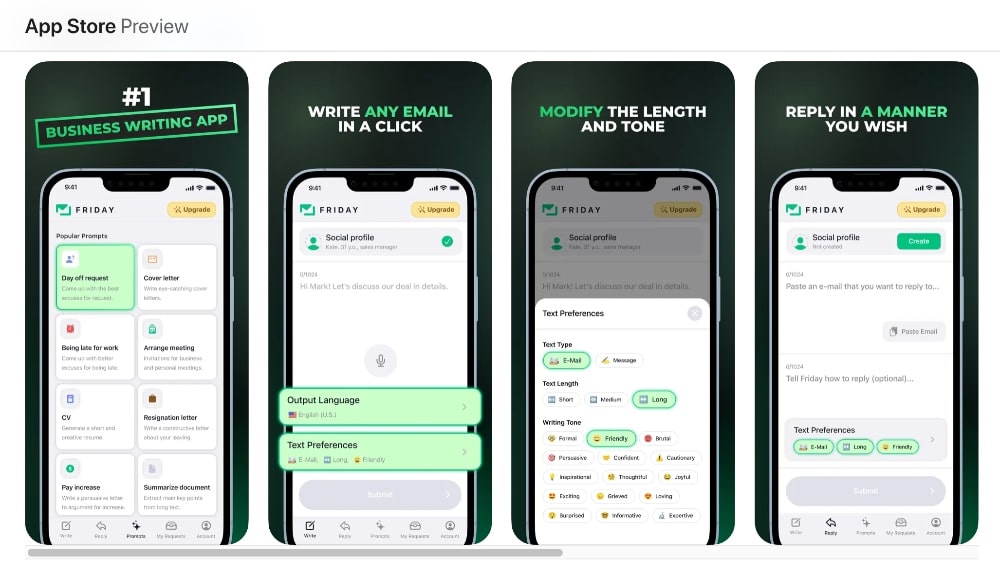 If you're tired of writing the same email responses over and over again, Friday Email AI is the ChatGPT app for you.
Friday Email AI will help you write any email in just a couple of clicks. They have a variety of prompts for different types of emails, such as requesting a day off, arranging a meeting, writing a resignation letter, and more.
You can also set the tone and length of your email. If you write a lot of emails for personal or business reasons, this is the app for you.
7. Paragraph AI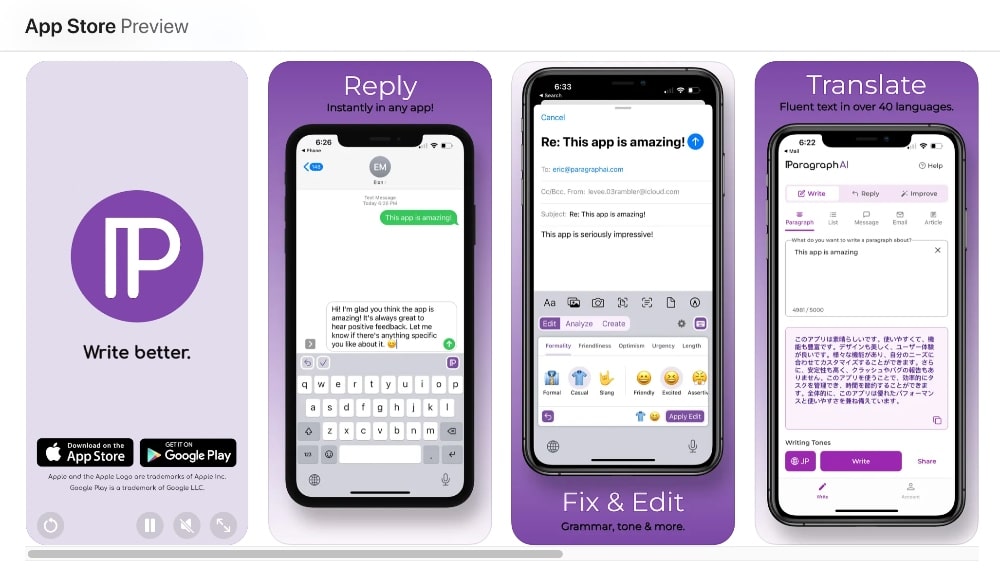 Paragraph AI is a ChatGPT app that helps you generate ideas for your writing projects, whether it's a blog post, an essay, or a novel.
The standout feature that we love about Paragraph AI is the keyboard feature. You can integrate it with your phone keyboard to create and edit responses for any occasion or application.
Paragraph AI also stands out with it's grammar tools. AI-generated responses are not always grammatically correct, and Paragraph AI has some of the better grammar-checking tools that we've seen.
8. Chat with AskAI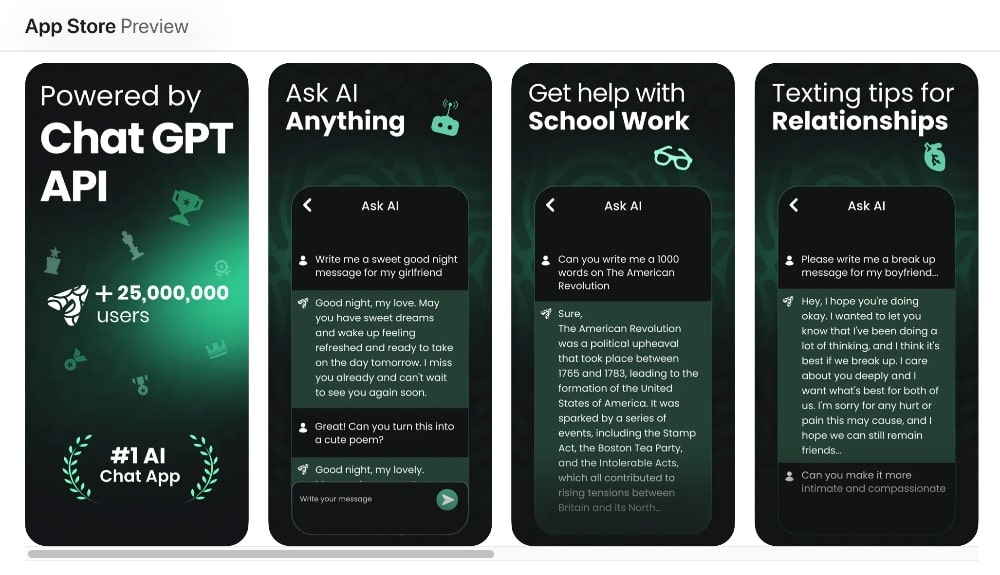 Chat with AskAI by Codeway is a ChatGPT app that offers a virtual assistant for any task you can think of.
It has a very easy-to-use interface that suggests topics for the various applications that it can help you with, including relationships, practicing languages, writing marketing copy, entertainment, and more.
We love the simplicity that comes with this app. If you feel overwhelmed by the possibilities with ChatGPT and other AI apps, this one will be great for you!
9. Chat AI – Ask Anything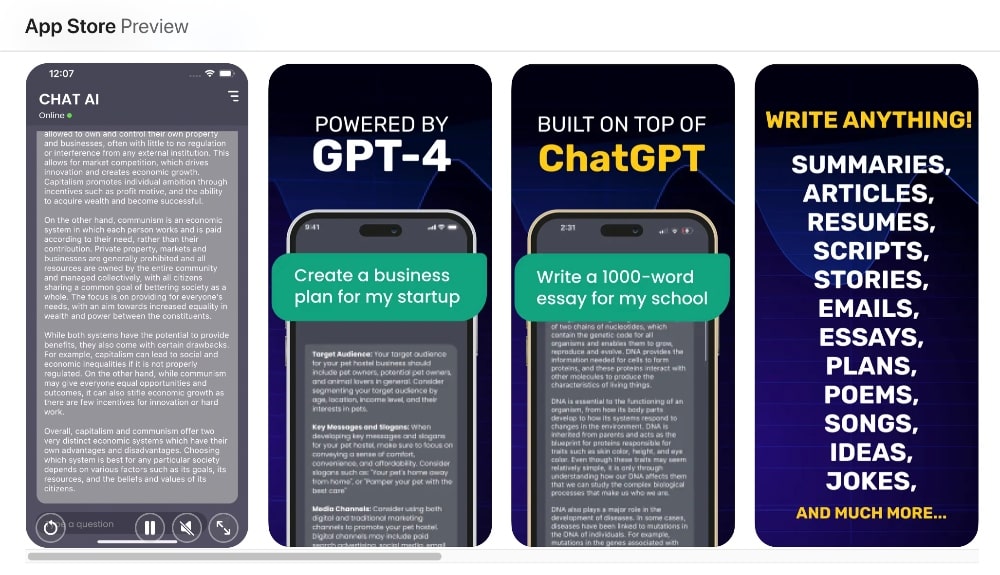 Chat AI – Ask Anything is a versatile app that leverages the power of ChatGPT to serve as a comprehensive personal and writing assistant.
This AI-driven app is capable of providing solutions to a vast array of inquiries, such as task management, instant answers to complex questions, writing articles and messages, and language learning support.
What we like about Chat AI is that it can read text on images, so you can upload photos to get summaries, translations, and more for the uploaded text.
You can also upload and export PDFs, which is a pretty cool feature.
10. ChatOn – AI Chat Bot Assistant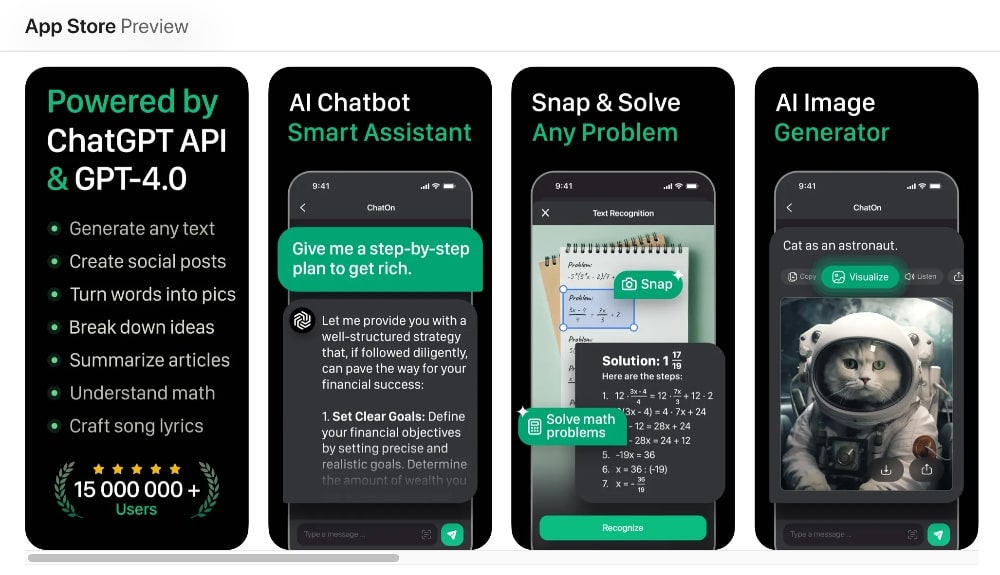 ChatOn is an advanced AI-powered app that uses ChatGPT to provide an enriching and personalized chat experience.
With its diverse functionality, it can serve as your personal assistant, writing assistant, and conversation partner.
ChatOn stands out to us with its comprehensive set of tools, including speech-to-text, AI keyboard, image-to-text converter, and more.
11. ChatBox AI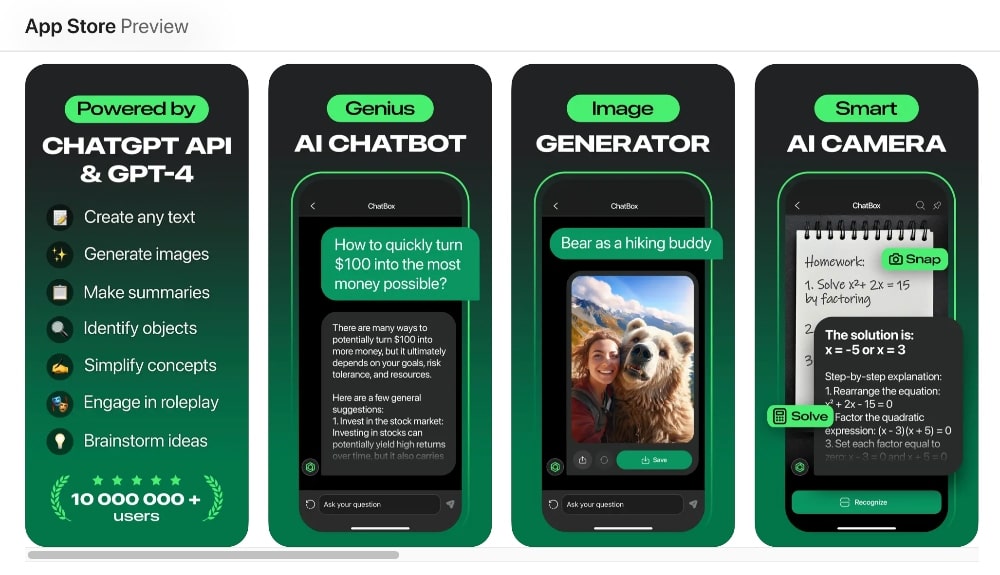 ChatBox AI is a ChatGPT app that offers assistance with various tasks such as scheduling and organizing meetings, sending reminders, creating to-do lists, and even managing your budget.
One great reason to try out ChatBox AI is for the image generator. You can ask ChatBox to create any kind of AI-generated image for you.
You can also upload photos and documents and get feedback and responses to your uploads.
Available for iOS
12. AI Chat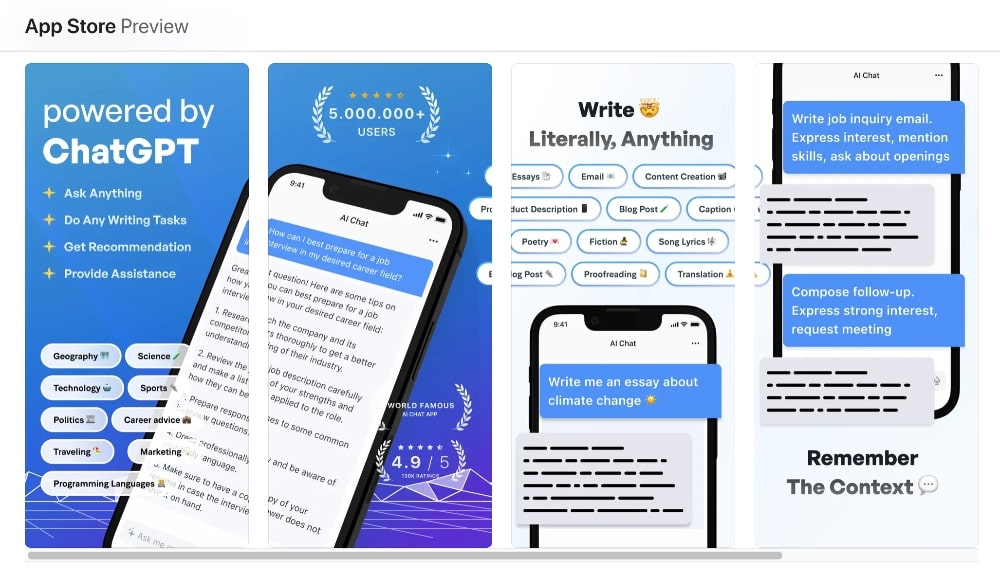 AI Chat is another app that uses ChatGPT to make your conversations more interesting and engaging.
In addition to its usual features like scheduling, weather updates, and news briefings, AI Chat also offers entertainment services like jokes, trivia, and stories.
Available for iOS
13. Chat AI – AI Chatbot Assistant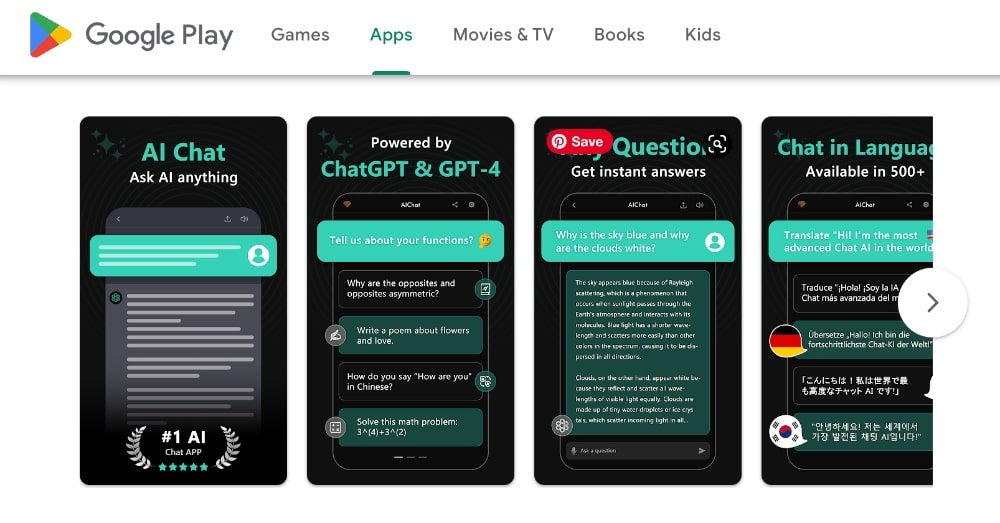 Chat AI – AI Chatbot Assistant is an app that offers a wide range of productivity and writing assistance. With its ChatGPT integration, it can help you with tasks such as scheduling meetings, generating ideas for writing projects, and more.
If you're looking for a ChatGPT app that can help you with learning languages, this is the one for you. Chat AI – AI Chatbot Assistant supports over 500 languages!
Available for Android
14. AI ChatBot AI Friend Generator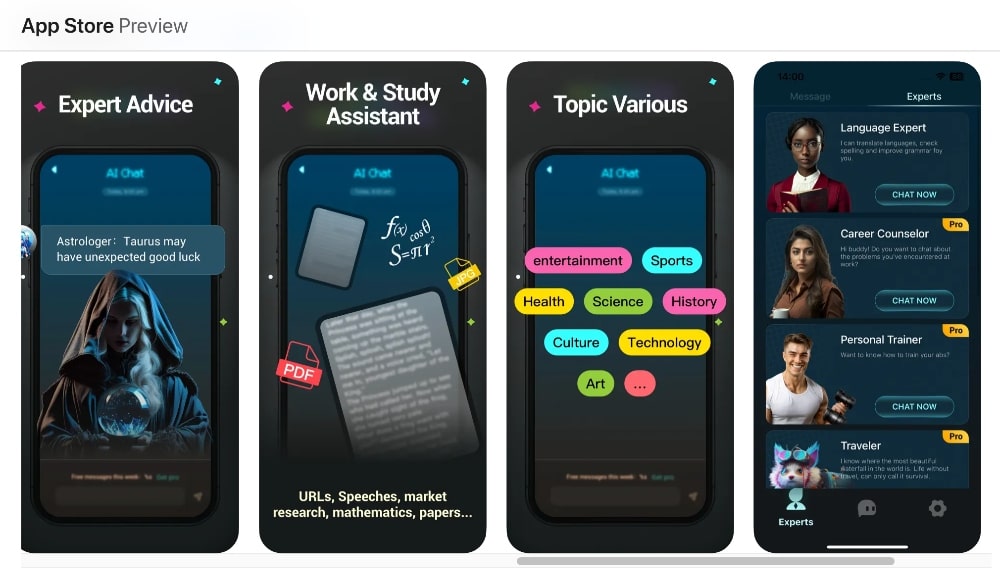 If you're looking for a ChatGPT app that offers a more personal touch, AI ChatBot AI Friend Generator is the perfect choice.
This app allows you to create personality and images for your AI. You can also ask for advice or just have a casual conversation with your virtual friend anytime.
15. AI History Chat: Historic Talkbot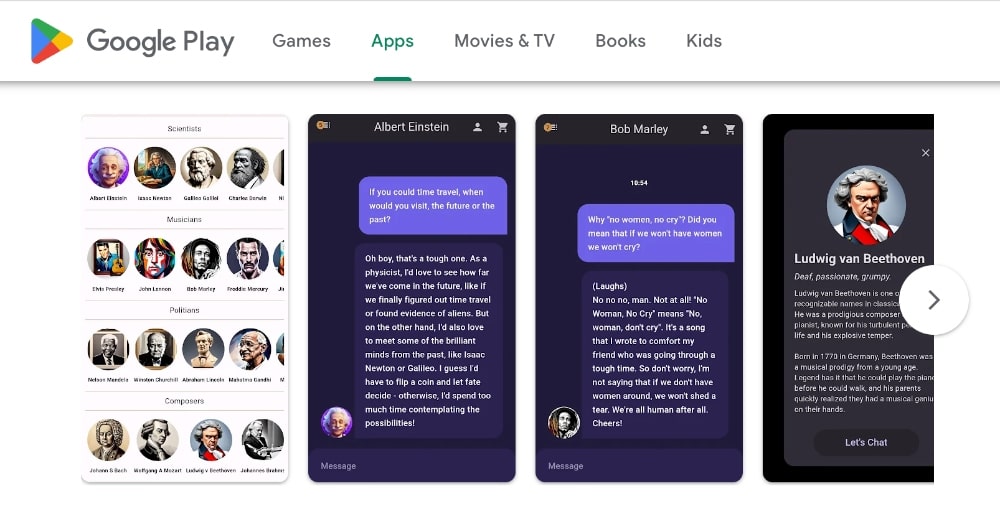 AI History Chat: Historic Talkbot is a unique ChatGPT app that allows you to chat with historical figures from the past.
You can have conversations with famous personalities such as Albert Einstein, Abraham Lincoln, or even Julius Caesar.
Besides its educational value, this app also offers writing assistance by allowing you to ask for quotes and information on different topics.
Available for Android
FAQs About Chat GPT Apps
Is there something better than ChatGPT?

While ChatGPT is a great tool, there are alternatives out there that are equally impressive. It really just depends on your needs. Jasper is another great option for bloggers and content creators looking to write great, SEO-optimized articles and marketing copy. Copy.ai is another popular competitor to Jasper and ChatGPT.
Which ChatGPT app is free?

OpenAI's GPT-3 powered chatbot, ChatGPT, offers a free version that users can access and experience. This conversational AI model can engage in human-like text-based conversations and is an excellent tool for various tasks such as drafting emails, writing code, creating written content, and tutoring. The free version is accessible to all, although there are sometimes limits on how many people can use the free version at once.
What is the best ChatGPT app for Android?

One of the highest-rated ChatGPT apps is Nova App, with over 600,000 4.5-star reviews on the Google Play store. Other popular ChatGPT apps for Android include Friday AI, Chat with AskAI, and Genie AI. However, it ultimately depends on your specific needs and preferences. We recommend trying out a few different apps to see which one works best for you.
Is ChatGPT still free?

As of now, OpenAI's ChatGPT comes with both free and subscription-based versions. The subscription plan, known as ChatGPT Plus, costs $20/month and offers benefits like general access even during peak times, faster response times, and priority access to new features and improvements. However, OpenAI continues to offer free access to ChatGPT for users.
Is there an official ChatGPT app?

Yes, there is an official ChatGPT app available for download on both the Apple App Store and Google Play Store. The app is free to download and use, and it offers all of the same features as the web version. This includes the ability to chat with ChatGPT and receive AI-generated responses, as well as access to additional features such as conversation history and user customization options.
Key Takeaways for ChatGPT Apps
ChatGPT apps have emerged as indispensable tools, offering a wide array of services ranging from writing assistance to managing tasks, and even providing entertainment.
These apps harness the power of artificial intelligence to add value to our daily lives, making mundane tasks easier and more efficient.
The crazy thing is that there are tens of thousands of applications for AI-powered apps in our lives and we often didn't know we needed them until we had them.
The best way to start discovering all of the different use cases and applications for your own life is to just get started with some of these best ChatGPT apps.
Whether you're looking for a personal assistant, a writing aid, or a source of entertainment, these ChatGPT apps have got you covered.
Here is a list of our favorites from the article:
We hope that you found this list helpful! If you have any questions or suggestions to add to this list, feel free to leave us a comment below!