We partner with bada$$ companies that offer products that help our readers achieve their goals! If you purchase through our partner links, we get paid for the referral at no additional cost to you! Read our disclosure for more info.
Unless you've been living under a rock, you already know that Zoom is one of the most popular video conferencing platforms.
Its popularity blew up during the 2020 pandemic, but that is also when the costs increased and stricter limitations were set to encourage people to purchase a plan.
Tired of Zoom's limitations?
Looking at you, 40-minute time limit with crappy video quality!
We went looking for the best Zoom alternative, and we're sharing our top picks in this article.
Here is a quick summary:
What is the Best Zoom Alternative?
Now that you know our picks for the best Zoom Alternatives, let's break them down further so you can determine for yourself which ones are right for you.
We'll be looking at the best case to use them, price, and top features.
Best for: Google Suite paid users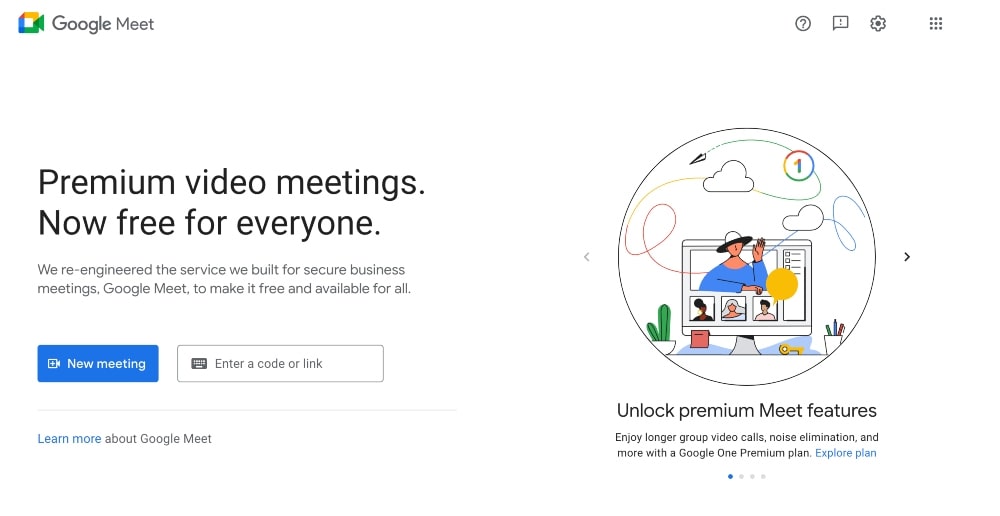 Google Meet is a robust and reliable video conference tool that is super-easy to use, and great for businesses already using Google Suite.
The simple user interface lets you easily join instant meetings through invites, or host your own meeting with a unique meeting link.
Google Meet has a wide range of features and is one of the few software suites to offer closed captioning.
The integration with the full line of other Google tools makes Google Meet an incredibly efficient solution for remote teams for departments working in separate locations.
Just like those tools, Google Meet uses advanced security features to keep you, your account, and your remote meetings safe.
This includes functions like meeting locks and the ability to eject participants.
Additionally, Google Meet has advanced features like noise cancellation and hand raising, which makes meetings and training events much more efficient.
You can also schedule calls directly with Google calendar.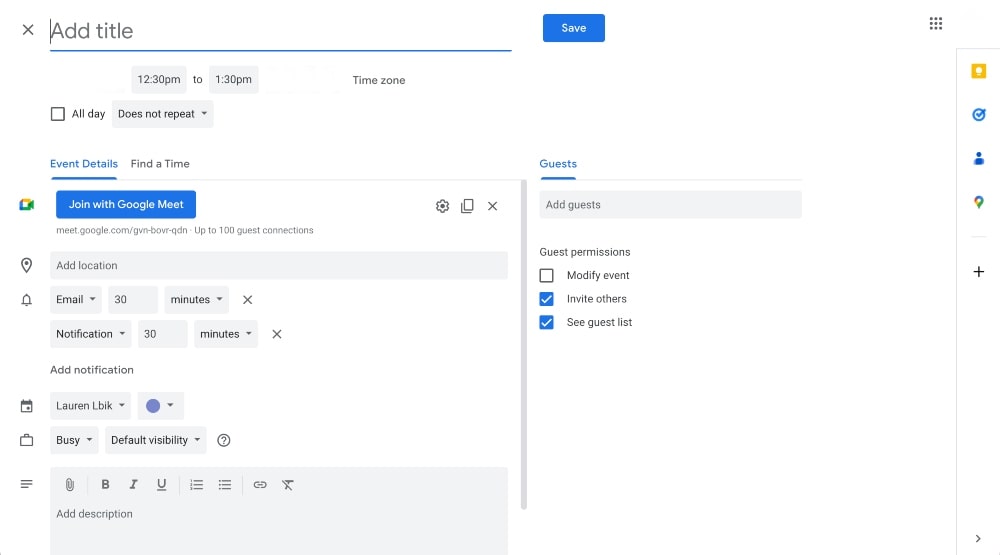 Key Features
Easy integration with Google Suite
Incredibly simple user interface
Built-in screen-sharing capabilities
Virtual backgrounds
Closed captioning for increased accessibility
Pricing
Google Meet is free for individuals using it with their personal Google accounts. The free version features minimal features and basic casual video call functionality.
The paid plans are for commercial or business users and include additional features and meetings for up to 250 participants.
Our Opinion
Google Meet is a great option for both beginners who want to use it for small friend chats, or for businesses that are already on a paid Google Suite plan.
The seamless integration with the full line of Google tools and the simple interface makes it a solid Zoom alternative.
Best for: Existing Microsoft 365 customers, or other professionals that use enterprise-level Microsoft products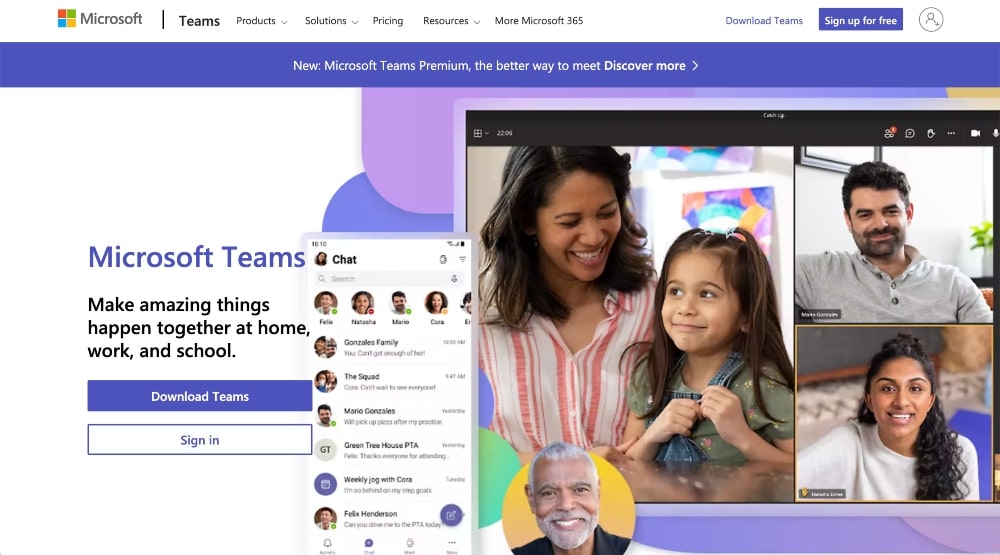 Microsoft Teams is a video conferencing platform that is perfect for businesses that already rely on one or more Microsoft products or tools.
Microsoft Teams lets you host meetings of various types and sizes, with all of the features that you expect from your conferencing platform, like recording, virtual backgrounds, and screen-sharing.
The integration with a wide range of other Microsoft tools like Outlook, 365, and OneDrive makes it a seamless and overall reliable video conferencing solution for businesses of all sizes.
One of the best features of Microsoft Teams is the real-time collaboration with group files.
This makes it a great option for any organization where more than one individual needs to contribute to a document or spreadsheet, particularly during meetings.
As with many Microsoft products, Microsoft Teams provides security with customizable access and permissions on a per-user basis and 2FA.
Custom branding and backgrounds add even more customization for enterprise users.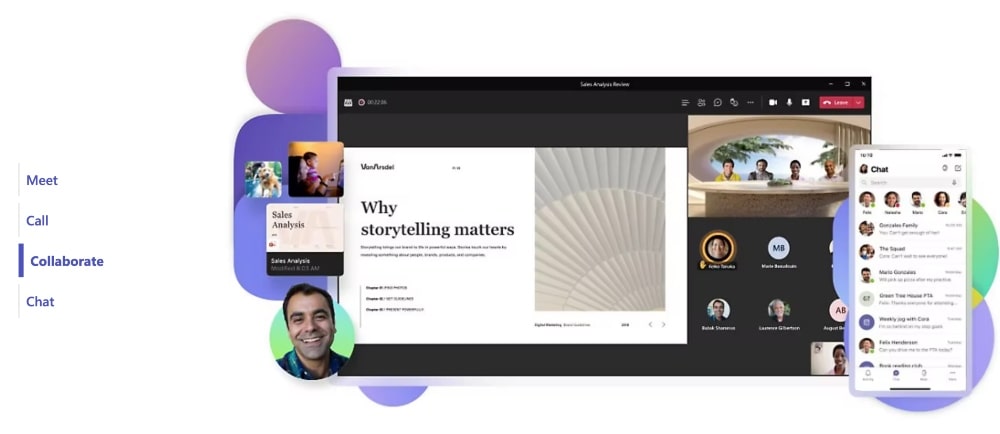 Key Features
Native integration with all other Microsoft tools
Has the capacity to host a meeting for 10,000 attendees
Video conference recording capabilities
Screen sharing capabilities
Wide variety of virtual backgrounds
Powerful chat and file-sharing functions
Pricing
There is a free version of Microsoft Teams for personal use. This free plan offers basic functionality.
Paid plans can have up to 10,000 participants in a meeting, and have access to advanced reporting features to get insights on their attendees. Prices start at $4 per user, per month.
The enterprise version does add additional functionality, like the ability to create a Wiki-style knowledge base.
Our Opinion
Microsoft Teams is one of the best options for businesses, organizations, and professionals that are already using one or more major Microsoft products, like Outlook or SharePoint.
The collaboration features and massive meeting capacity make it ideal for remote teams or department meetings.
Best for: Remote hybrid teams and workers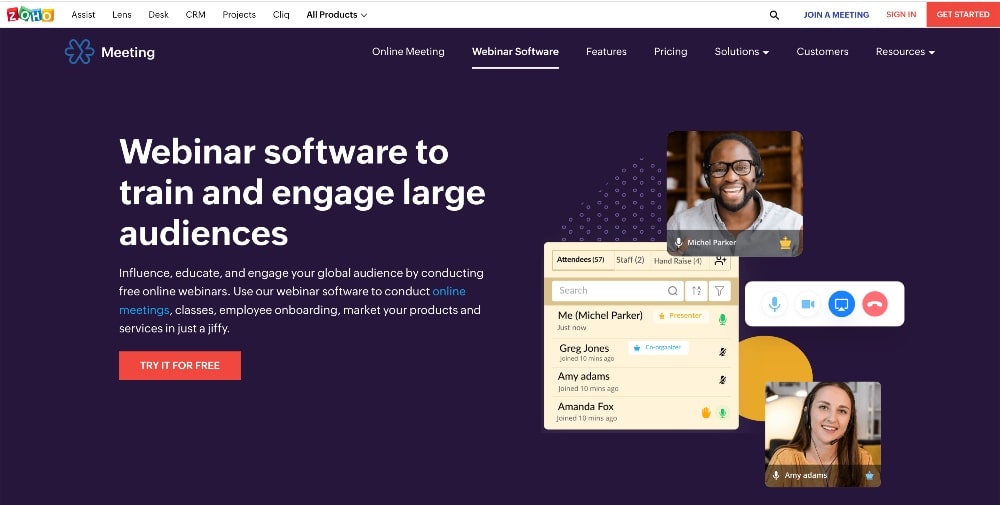 Zoho Meeting is a great Zoom alternative for online meetings for hybrid remote teams.
One of the reasons Zoho Meeting is so popular is its seamless integration with many other Zoho tools, like Zoho CRM and Zoho Projects for project management.
This makes it a reliable and robust solution for business video conferencing.
Another reason that Zoho Meeting is unique is that it's one of the few options that offer a browser-based video conferencing solution.
This allows users to join the meeting or conference directly from their browser, without the need for additional downloads or installation.
Zoho Meeting also offers advanced reporting and meeting analytics, making it a great option for businesses that need to measure and track meeting data points.
The free plan offers basic functionality, while paid plans can host video conferences for up to 250 participants, and have access to things like custom branding and backgrounds.
Zoho Meeting also offers functionality for virtual events and webinars, giving you even more flexibility.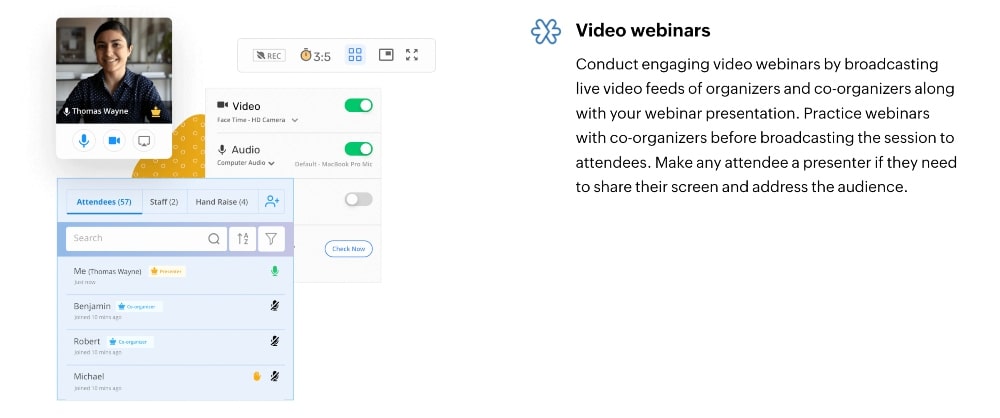 Key Features
Easily host multiple formats of online interactions, including:

Webinars
Online meetings, and
Remote support sessions

Screen sharing capabilities
Integrated text chat function
Native ability to record each meeting
Pricing
Zoho Meeting is free for up to 2 meeting participants. Similar to other paid programs, Zoho Meeting starts at $1 per host, per month.
Paid tiers include additional options such as VoIP phone, custom virtual backgrounds, and recording.
Our Opinion
Zoho Meeting ends up being a great choice for a video conferencing platform for hybrid remote teams that need a blend of capabilities in their software.
It's very user-friendly and the interface is simple and easy to navigate.
The pricing is on par with similar platforms and makes it a good option for small to medium-sized organizations and businesses.
Best for: General and casual video calls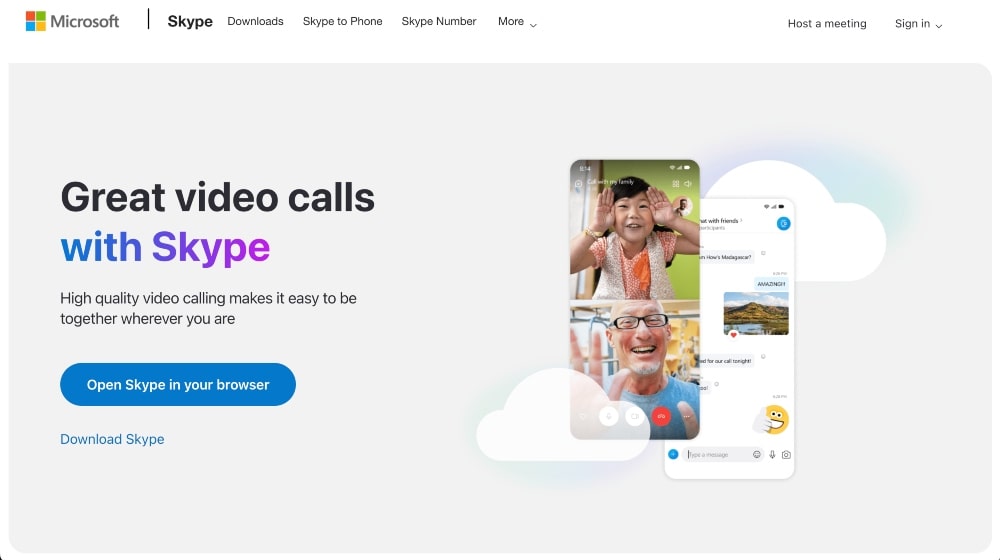 Skype is a free video calling platform that is perfect for the occasional casual video call with friends or family.
It comes with a range of common features, and also incorporates voice calls and instant messages.
Skype is a great option for those who don't care about more comprehensive features or giant participant limits, and just want a simple, straightforward video-calling solution.
It's available on nearly any device and OS, making it one of the most widely-available options.
Previous versions of Skype required users to leverage a third-party app to record their audio or video calls, but no more.
Now Skype users have access to built-in recording functionality.
There is a paid version of Skype, Skype for Business, that provides more advanced features for businesses, like web conferences, scheduling and recording capabilities, and Microsoft Office integration.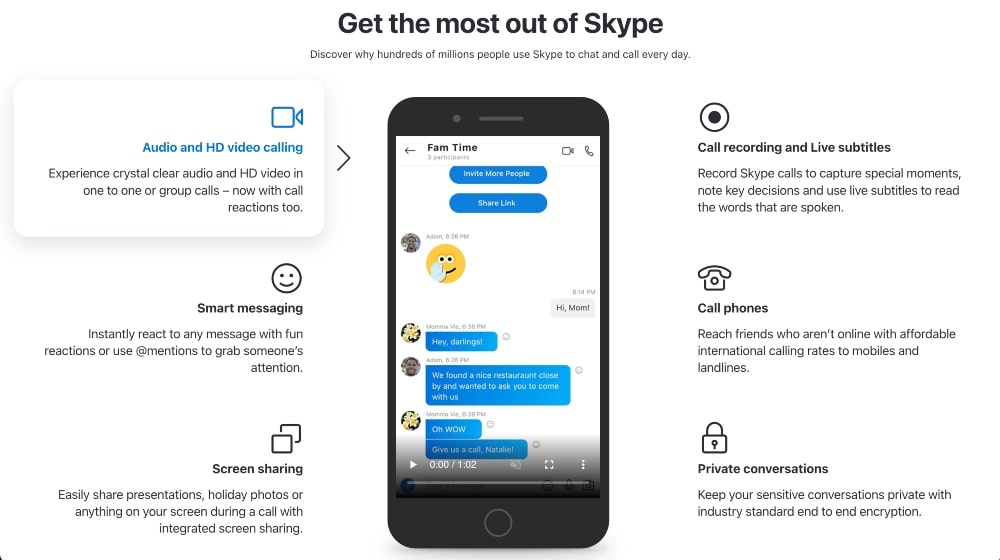 Key Features
Free for anyone to use
Substantial features for a completely- free-to-use video calling platform.
Easy screen sharing
Virtual backgrounds
Built-in call recording no longer needs an outside app
Voice call capabilities
Instant messaging functionality
Pricing
Skype is free to use, though some of the expanded phone call functions may require the purchase of credits to use it more than once or twice.
Our Opinion
For someone looking for a simple way to video chat with their friends and family, Skype makes a great option.
It is one of the most casual apps like Zoom for people looking to create more contact with their loved ones.
Best for: Small to medium-sized enterprises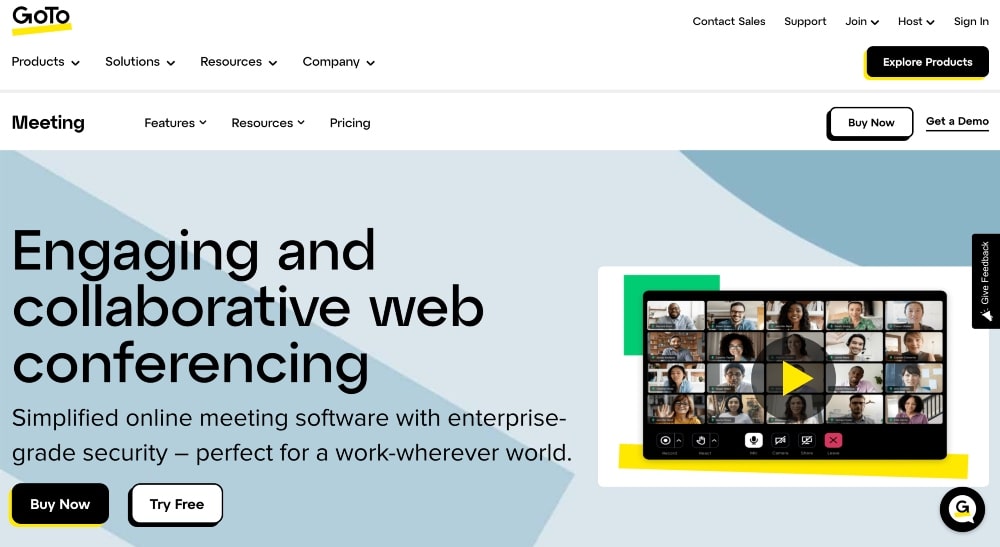 GoTo Meeting is a video conferencing tool that is geared toward small to medium-sized enterprises.
With GoToMeeting, you can host meetings and webinars with common video conferencing features like custom backgrounds, meeting recording, and screen sharing.
It integrates easily with other productivity suites like Salesforce and Zapier, making it a good fit for businesses already using such tools.
It also has the unique ability to provide AI-powered meeting transcription and translation services, making it the perfect choice for businesses with smaller teams that handle global clients.
GoTo Meeting also has industry-standard security features like end-to-end encryption and the capability to customize individual user permissions and access allowances.
Plans can accommodate up to 3,000 participants, as well as advanced analytics and report management capabilities. Some plans also offer custom branding and personalized backgrounds for their meetings.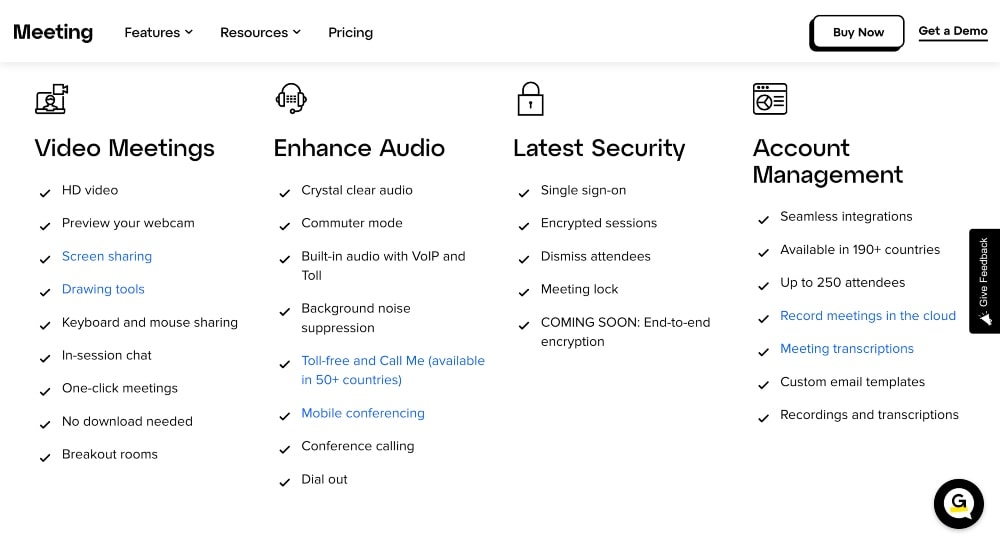 Key Features
Has a variety of different meeting types to fit different needs, like meetings and webinars
Sharing screens in meetings is simple
Import virtual backgrounds
Record meetings for later review or missing attendees
Pricing
Pricing for GoTo Meeting is slightly higher than average and starts at $12 per organizer per month.
Our Opinion
GoTo Meeting is a great Zoom alternative for small and medium-sized organizations that need video conferencing capabilities with advanced video conferencing features.
The virtual background capabilities also make it a superb option for remote or work-from-home teams.
Best for: Casual calls to and from Facebook users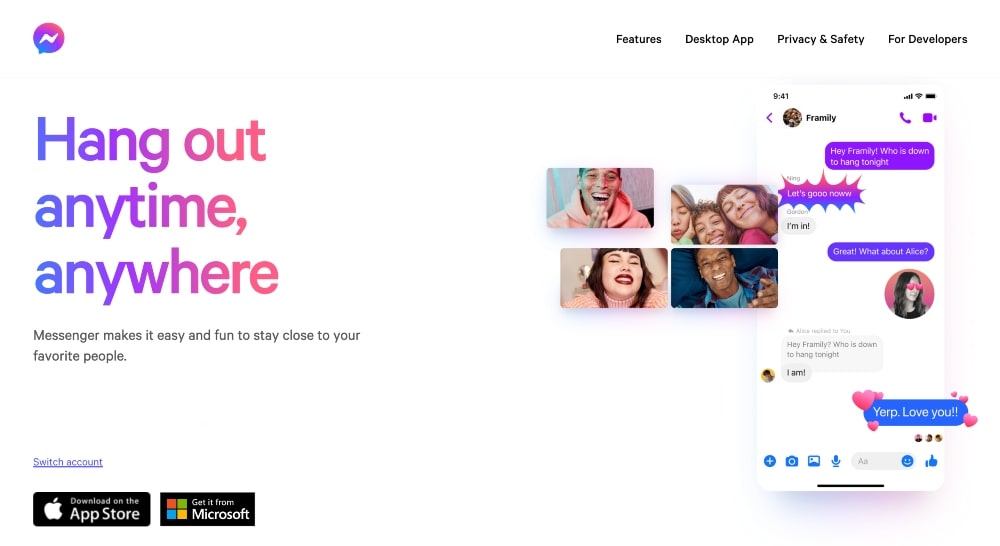 Facebook Messenger is a free messaging and video calling tool that is great for casual video or audio calls with friends and family that have Facebook accounts.
With Facebook Messenger, you can make free voice and video chats, text chat, and share emojis, pictures, videos, and GIFs.
Facebook has also integrated several other features into Messenger, like the ability to send and receive money to friends and family.
Facebook Messenger isn't perfect for businesses and lacks some of the advanced business features that other apps have, but it's great for personal use.
Messenger also allows users to create large group chats with up to 50 participants that can be converted to video calls, which makes it ideal for social gatherings or remote parties. It also lets you see if your friends are online or not.
With Facebook leading the way into the augmented reality space, users can even create AR effects to use during video calls.
Facebook Messenger is a perfect option for someone looking for simple and easy-to-use video calling capabilities.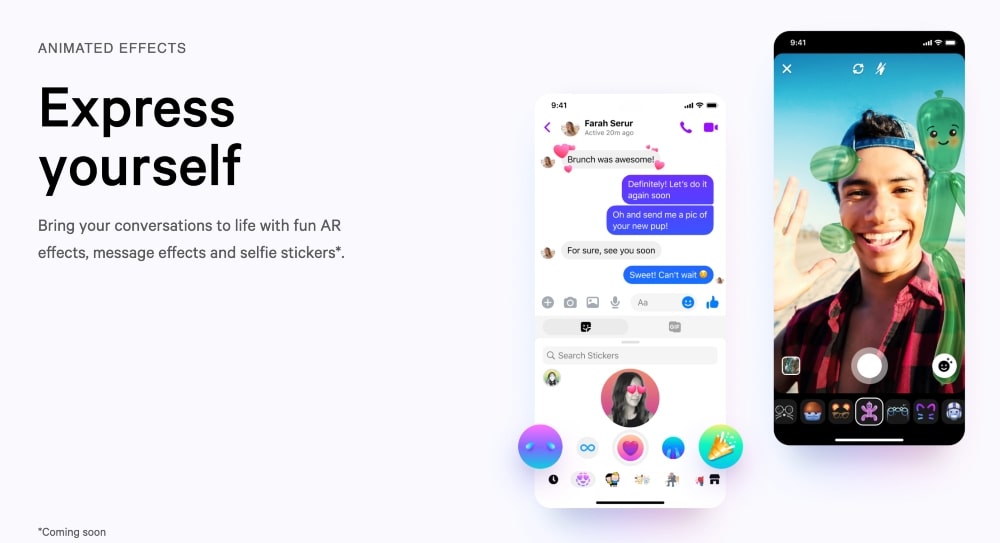 Key Features
Online status
Group video calls with up to 50 participants
Instant messaging and media sharing
Real-time filters and recording effects
The ability to send and receive money with Facebook Pay integration
Great if you just want to call people, but not record the calls
Pricing
Facebook Messenger is completely free to use.
Our Opinion
Facebook Messenger is one of the best apps like Zoom for having a casual video call with people on your Facebook friends list.
It's also great for video calls with members of Facebook Groups, which can allow people a more personal way of hanging out in the group.
The addition of filters and effects also makes it a more fun option to use than many other programs like Zoom.
Best for: Live streamers and gamers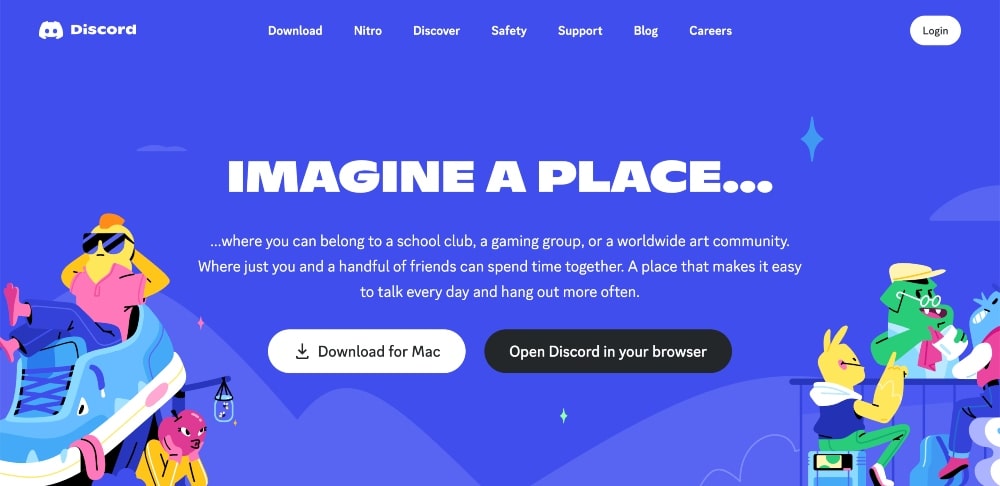 Discord is a free communication platform that is wildly popular with live streamers and the gaming community.
Discord lets users make free voice and video calls, text and image chat, and even create servers where they can connect with others of similar interests.
It also offers a wide variety of premium features that include custom server, channel, and user permissions, and even custom emoticons and emojis.
It easily integrates with many other platforms as well. This includes Twitch where you can stream and monetize, making Discord a perfect option for those in the gaming or streaming space.
The user interface for Discord is incredibly simple to use, easy to navigate, and even customizable.
This makes it easy for users to find servers and channels they are interested in. Discord also offers robust privacy and security features, like end-to-end encryption, 2FA, and user access and permission settings.

Key Features
Real-time text and voice chat capabilities
Connect nearly every gaming and social platform in existence to your Discord account
Bots for everything from rolling D20 dice to generating AI art
Screen sharing capabilities
Custom emojis and themes
Pricing
The basic plan is free to use. There are also pricing options for additional features that begin at $4.99 per month
Our Opinion
Discord is one of the best Zoom alternatives for live streamers and gamers who need low-lag, real-time voice communication.
The community-based features and fun customization options make Discord a highly engaging platform, and the one downside to it is that video meetings are not possible with the current version of Discord.
Best for: Podcasters and the podcasting industry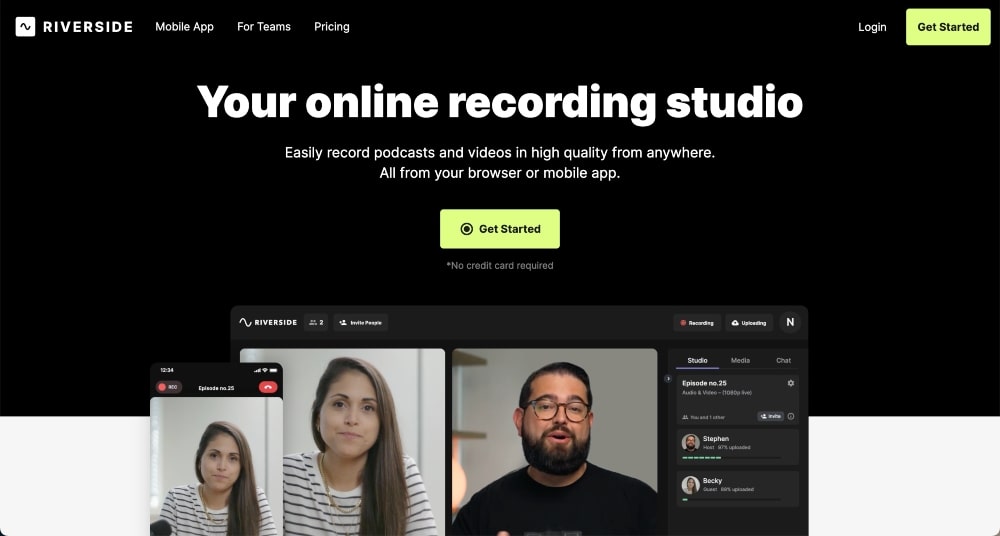 Riverside is an audio and video recording tool that is highly popular with people that want to start and grow and podcast.
Riverside allows you to record high-quality audio and video files, which makes it an efficient and reliable solution for remote podcast recording.
Riverside offers a wide variety of features, like automatic audio leveling and noise reduction, which has cemented its place in the podcasting space where high-quality audio is king.
Riverside is incredibly easy to use and doesn't need any additional downloads, plugins, or configuring.
Users just send a link to their guest or program co-host, and they simply join the recording session from their preferred web browser.
This is one of the reasons that Riverside is seen as more reliable than other suites that require various software components and hardware setup steps.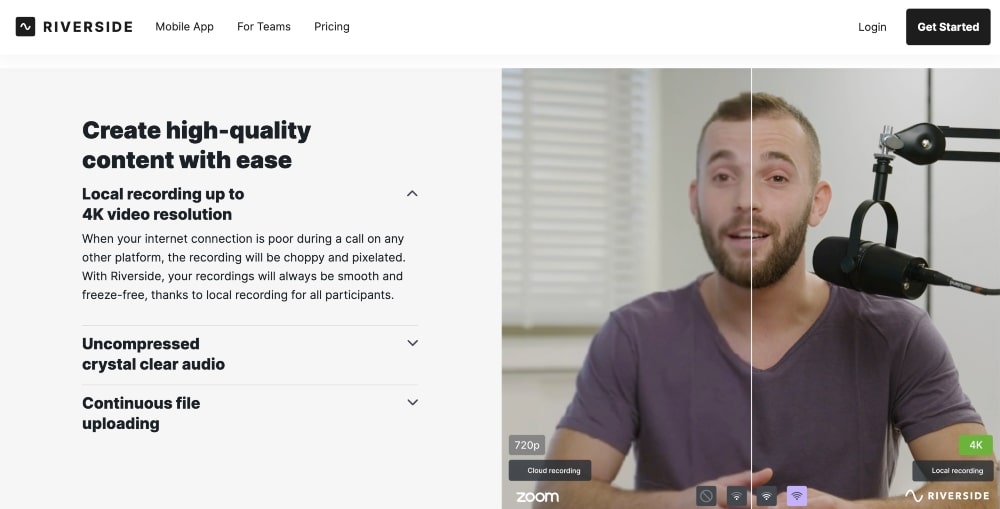 Key Features
High-quality video and audio recording
Multi-track recording abilities
Video chat capability
Record to local or cloud storage
Pricing
Riverside offers a free plan and paid plans with more advanced functionality, such as built-in video and audio editing tools, custom branding, and the ability to host live shows.
You get up to two hours of free recording time per month, and pricing plans start at $15 per month for more features, more recording time, and no watermarking on exported files.
Our Opinion
Riverside is a great option for podcasters who want exceptionally high-quality recordings of both audio and video tracks.
The multi-track capabilities and video chat integration make it a robust, reliable, and professional platform.
Best for: RingCentral's VoIP service customers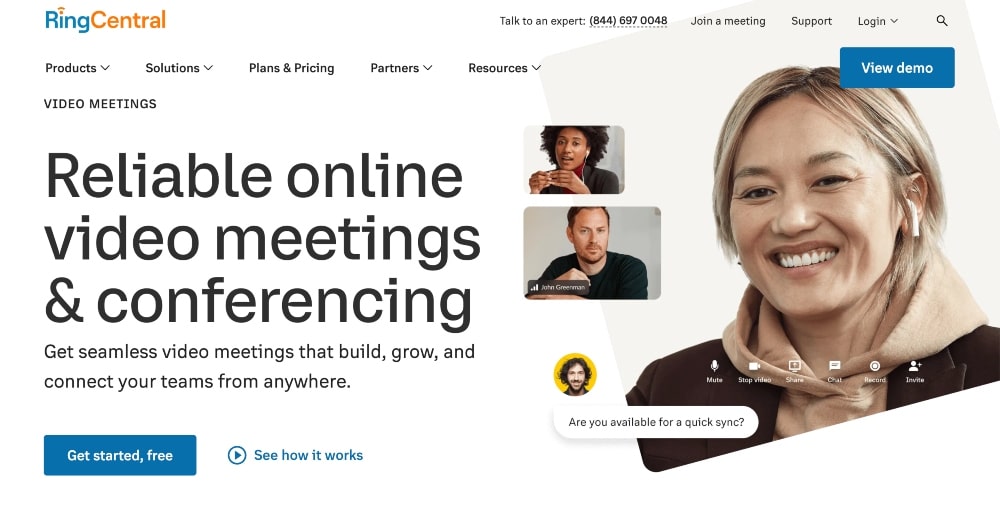 RingCentral Video is a video conferencing tool that is perfect for organizations or businesses that are on the RingCentral VoIP platform.
RingCentral offers the standard features of other Zoom alternatives, including recording, screen sharing, and virtual background, and its seamless integration with other RingCentral tools makes it an attractive solution for many businesses.
RingCentral Video has a range of plans depending on the needs of your business, but unfortunately, there are no free plans.
Each paid plan allows the user to host an online meeting of up to 500 participants and includes robust reporting and meeting management capabilities.
Also included are various advanced security features, such as end-to-end encryption and two-factor authentication.
One of the most notable features of RingCentral Video is that you can integrate it with many other existing office productivity tools, like Google Workspace, Microsoft 365, and Slack.
This makes it a prime option for businesses that already use these tools, as well as for organizations that need advanced conferencing tools and have RingCentral service already.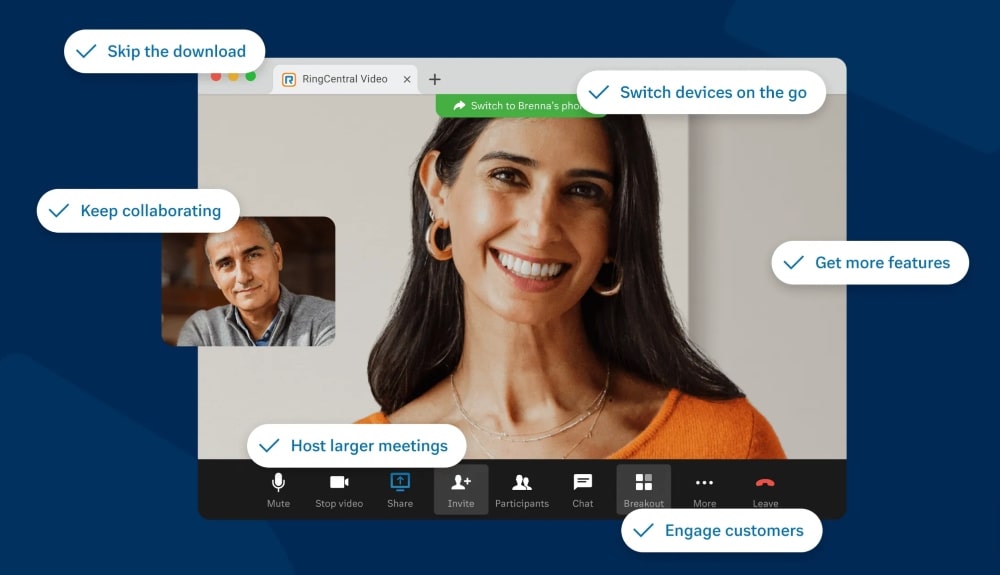 Key Features
Host various formats of meetings, training sessions, and more
Share screens easily
Incorporate virtual backgrounds
Meeting recording
Pricing
RingCentral is a Zoom alternative that is paid-access only. This means you'll need to set aside $19.99 per user, per month to get started with them.
Our Opinion
RingCentral Video is a great choice for users that are already subscribed to RingCentral's VoIP service.
The advanced features and seamless integration with the other tools they produce make this a nearly effortless alternative to Zoom.
Best for: Zoom Phone alternative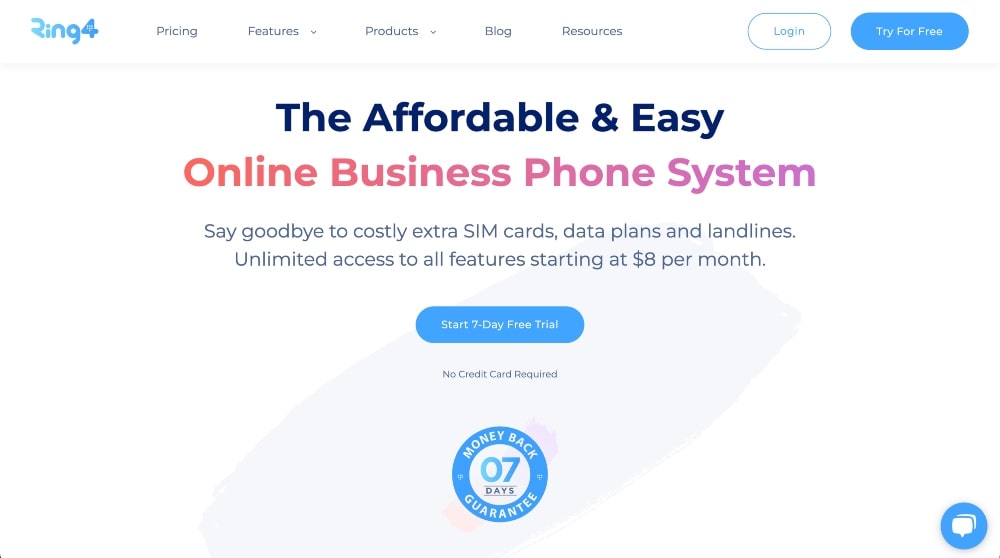 Ring4 is a cloud-based phone system that makes a great alternative to Zoom Phone. Ring4 users can place and receive phone calls and text messages from any mobile device or computer.
Ring4 also has features like call recording and conferencing abilities, making it a great video meeting tool that is more easily scaled and maintained than conventional phone systems.
One of the unique features of Ring4 is that it can create a conference calling feature on your mobile phone.
It's perfect for teams that are remote or geographically distributed, but who still need to collaborate and communicate while on the go.
You can even pick from different types of phone numbers, including local and toll-free variants.
Compared to many traditional business phone systems, Ring4 is a far more affordable and cost-effective solution.
The user interface is super simple while still incorporating advanced features. Ring4 is an ideal option for businesses that need a more affordable solution than Zoom Phone.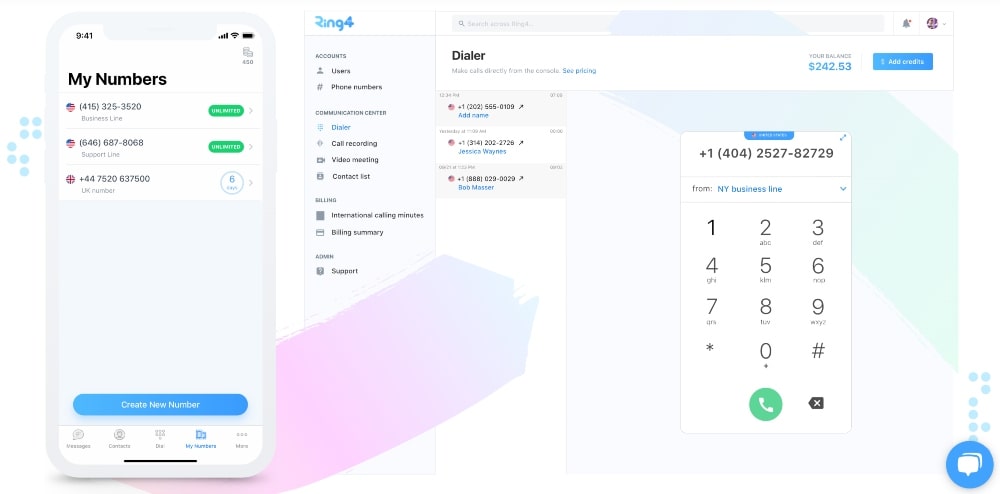 Key Features
Phone and group video calls
Conference calling
Call recording
Virtual phone number assignment
Simple interface
Pricing
Ring4 does not offer a free version. Plans start at $8 per user, per month. There is a 7-day free trial available, however.
Our Opinion
Ring4 Is a great choice for consumers and businesses looking for a cheaper alternative to Zoom Phone.
The call recording and conference calling abilities make it a great option for affordable enterprise communication.
Best for: Large enterprises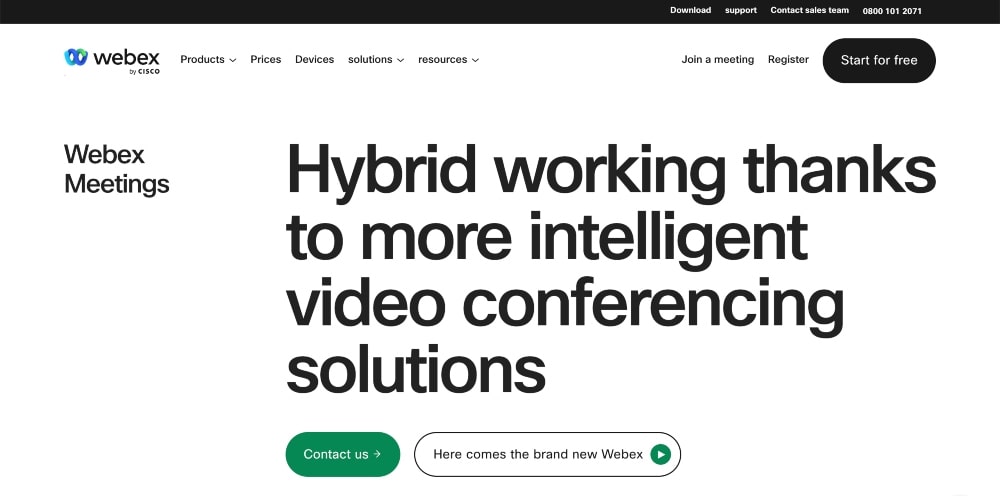 Cisco Webex is one of the most well-known Zoom alternatives for large enterprise operations.
Cisco Webex can host almost any type of virtual meeting or event, augmented by many of the features common to Zoom alternatives, as well as closed captioning.
Since it can easily integrate with other Cisco tools, it is a reliable and easy solution for businesses that are already using Cisco enterprise solutions for networking or other needs.
Cisco Webex is another platform that is able to offer powerful transcription and translation services from AI sources. This makes it a great option for teams that work with international clients.
Cisco has been known for decades for its commitment to leading the computing and networking industry in security, so you know that the security of Cisco Webex is going to be on par with that expectation.
There is a full range of options for managing user permissions and access, as well as industry-leading end-to-end encryption.
While geared toward large, enterprise clients, Cisco Webex does still have a free plan, though it is rather limited in scope and ability.
Plans can accommodate up to 100,000 participants and can provide incredibly detailed reporting and viewership analytics for hosts.
For large enterprise organizations that need advanced video conferencing software, Cisco Webex is one of the best options.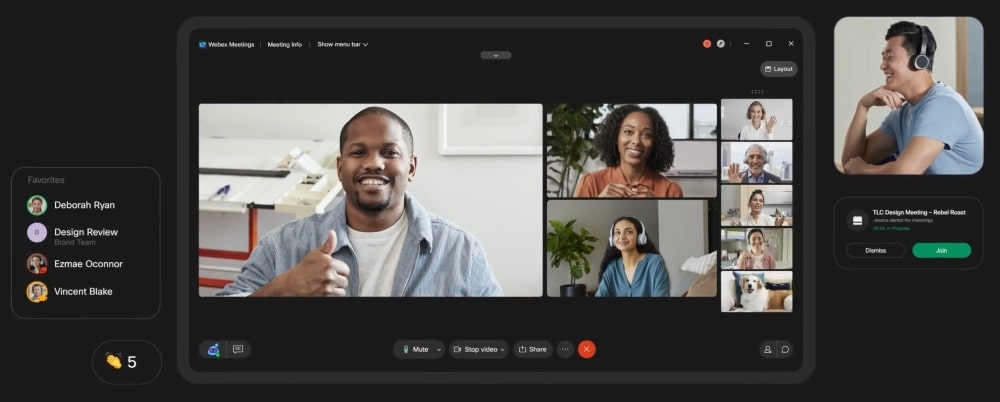 Key Features
Host a massive array of online events
Screen sharing
Virtual backgrounds
Recording abilities
100k attendee potential
Native integration with other Cisco products and networks
Pricing
Basic plans are available for free, but you are limited to 40 minutes, just like Zoom. Paid plans for Cisco Webex begin at $144 per license, per year.
Our Opinion
Cisco Webex is a perfect choice for large enterprises that need advanced video conferencing solutions capable of accommodating a big number of video conference attendees.
Best for: Fully remote teams seeking better team communication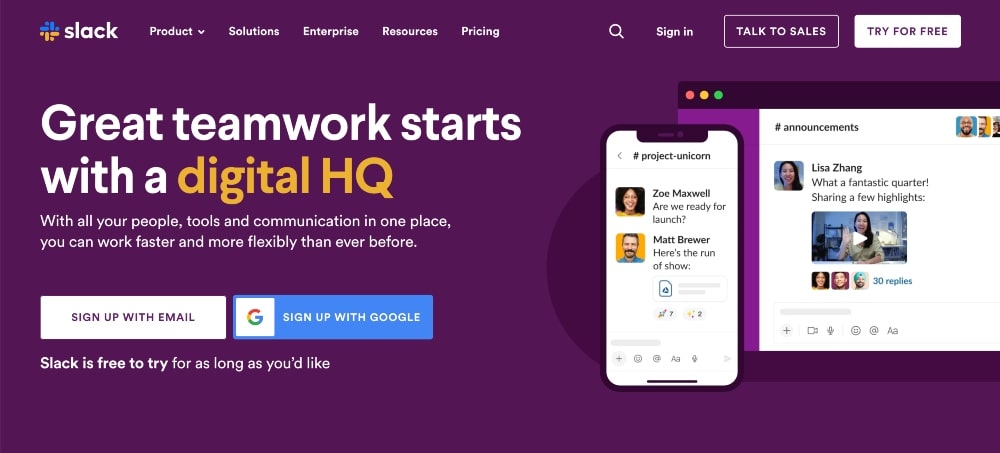 Slack is a messaging and community platform that includes video communication options and is perfect for team communication.
You can create channels for whatever you want, from different projects to different teams, and more.
With channels, you get secure file sharing for any type of media as well as chat. Slack allows native screen-sharing, and allows users to create reminders as well as custom emojis.
Even though it's largely a text chat suite, there are extensive video and audio chat capabilities built right in, so Slack has the potential to fill several roles for your teams.
The native 2FA and user permission control make it easy to manage access and keep things secure.
Slack integrates easily with apps like Google Drive, Trello, Salesforce, and ServiceNow, making it a natural option for high-productivity teams.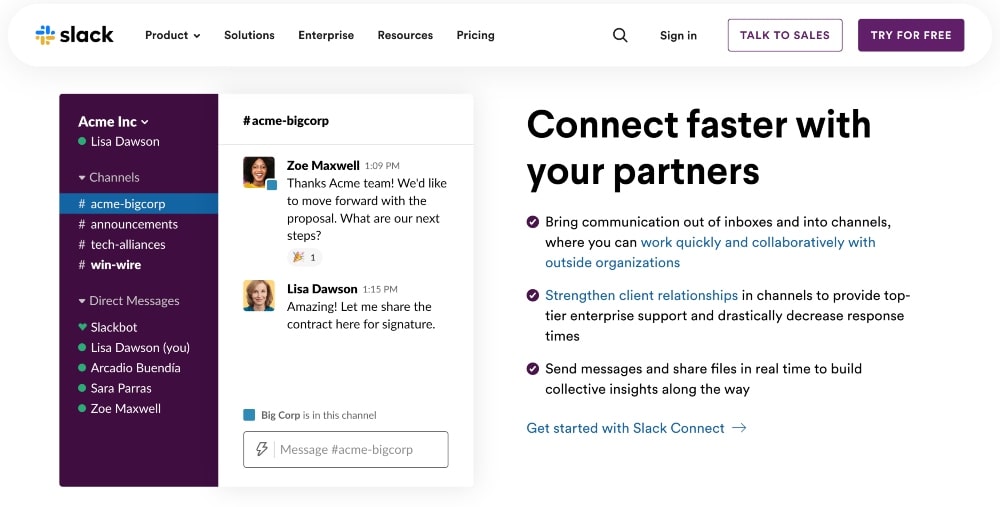 Key Features
Text, voice, and video communication options
Screen sharing capabilities
Integrates with other tools and suites, like Google Drive
Create custom channels for specific teams or functions
Pricing
There are free plans for basic needs and limited chat history – up to 90 days – and you're limited to 1:1 meetings.
For plans that allow one to many audio/video meetings, pricing starts at $7.25 per user, per month.
Our Opinion
The interface is simple and it allows integration with countless other services and tools, making it a popular choice for many organizations to collaborate and communicate.
Best for: Free Zoom alternative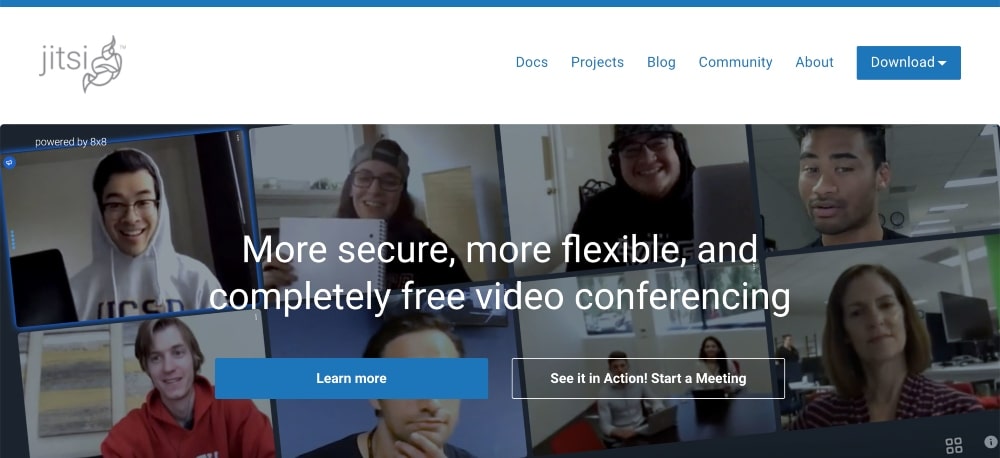 Jitsi Meet is a free and open-source video conferencing software that is one of the most secure and private alternatives to Zoom.
Just like other platforms, Jitsi Meet allows users to host webinars and virtual meetings, with all of the usual features of other Zoom alternatives on this list.
The open-source nature of Jitsi Meet ensures the highest level of transparency and security, making it the best option for users or businesses that require industry-leading privacy.
The encryption in Jitsi Meet ensures that all meetings and events are private and have controlled access, and since it is accessible on nearly any device, it is easily accessible.
There are no downloads or installations required, so even those with some technological limitations can host a secure private video conference without any additional costs.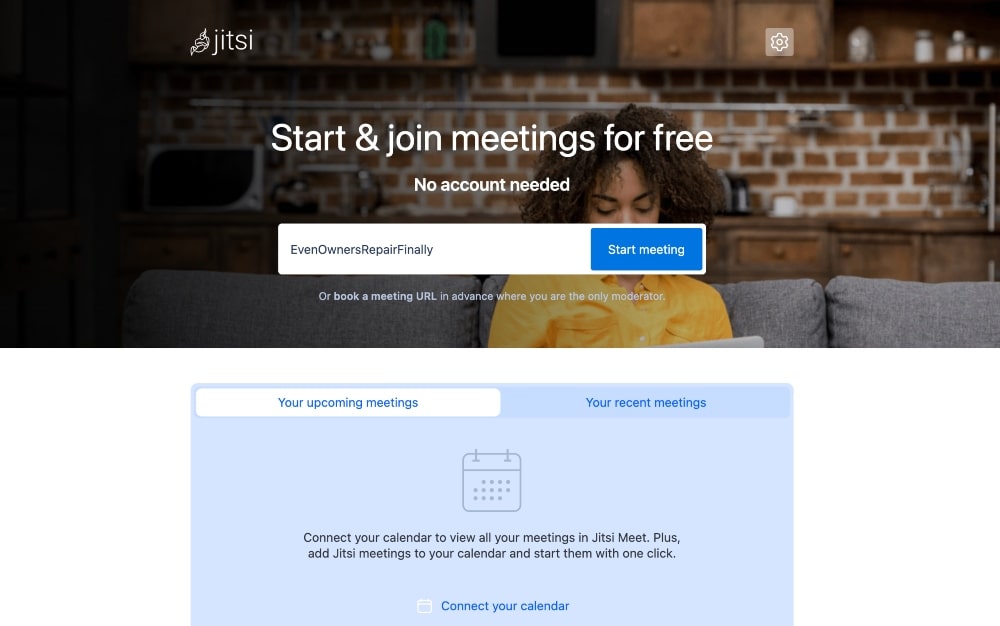 Key Features
Free and open-source app
Easily hosts meetings for up to 75 participants
Screen sharing abilities
Simple to use doesn't require downloads or even an account
Pricing
Entirely free to use.
Our Opinion
Jitsi Meet is the perfect Zoom alternative for anybody looking to host a meeting of 75 people or less.
It is a very capable free video conferencing solution, and with no cost, one of the most affordable as well.
FAQs About Zoom Alternatives
If you're still debating between using Zoom or still looking for the best alternatives to Zoom, you might have more questions.
To help you out, here's a round-up of some of the most commonly asked questions people have when they're trying to pick the best video conferencing tool for their needs.
Why Do Businesses Use Programs Like Zoom?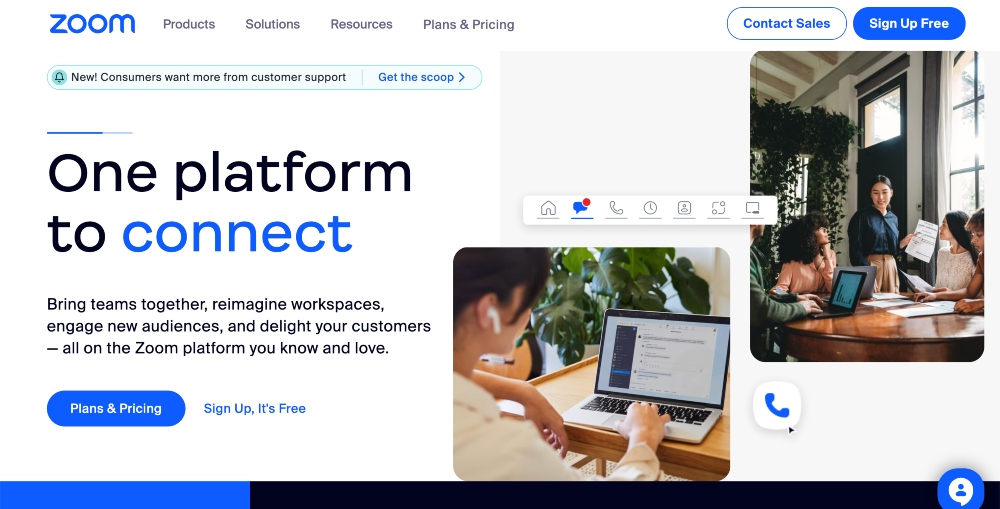 Businesses use video conferencing tools for a variety of reasons. These can include hosting one-to-one or one-to-many meetings, webinars, training, podcast interviews, etc…
Video conferencing tools are helpful when you want to meet with someone, but don't want to or can't physically see them in person.
What Are the Best Alternatives to Zoom That Are Free?
It depends on what you want to do. If you want to record the call, Skype and Riverside are probably the best free alternatives to Zoom.
However, if you don't care about recording the call and don't want to download anything, Jitsi Meet is your best option.
What Should You Look for in a Video Calling App?
When looking for apps like Zoom, here are some important factors to consider:
Video and audio quality: Look for an app that provides high-quality video and audio to ensure a clear communication experience.
Ease of use: The app should be user-friendly and easy to navigate, with a simple and intuitive interface.
Security and privacy: Choose an app that has robust security features, such as encryption and password protection, to protect your privacy and data.
Compatibility: Check that the app is compatible with your device and operating system to ensure that you can use it.
Features: Look for apps that offer features such as screen sharing, recording, virtual backgrounds, and chat functions to enhance the video conferencing experience.
Pricing: Consider the pricing and whether the app offers a free version, free trial, or a freemium model, as this can affect your decision-making process.
What Equipment Do I Need to Host a Video Meeting?
Whether you're using Zoom or programs like Zoom, you'll need the following for a high-quality video meeting:
A computer, laptop, or mobile device with a working camera and microphone.
Reliable internet connection with sufficient bandwidth to support video calls.
Headphones or a headset with a built-in microphone to ensure clear audio quality.
Adequate lighting that illuminates your face without creating harsh shadows.
A distraction-free background, ideally a plain wall or a virtual background option.
Optional: A tripod or stand to stabilize your camera and improve the framing of your video.
Optional: External speakers or a soundbar to improve audio quality if you're hosting a group call in a larger room.
Are Video Conferencing Apps Like Zoom and Its Alternatives Safe?
In 2020 there was a breach in Zoom's security, and another one happened as recently as May 2022.
As a result, people are understandably nervous not only about the safety of using Zoom but its competitors.
In recent months, Zoom and other video conferencing apps have since implemented measures to enhance security and protect users' privacy.
That said, there are a few additional safety measures you can take to enhance your own security. These include, but aren't limited to:
Keeping your app updated with the latest version
Using strong passwords
Enabling two-factor authentication
Using a waiting room to control entry and access, and
Keeping your links private – i.e. only sharing with your attendees, and never posting them publicly online
What Are the Reasons People Prefer Zoom for Video Meetings?
Even if you came here looking for the best alternatives to Zoom, you might still be considering using it. That's understandable.
A lot of people prefer Zoom because it's easy to use, easily recognized, reliable, secure, and offers collaboration features.
There's technically nothing wrong with Zoom as a video conferencing app.
The main reason people look for an alternative is that they want a free alternative that gives them more than 40 minutes to meet with people.
There are lots of options on this list that we've shared to do just that.
But, if you want to record your video calls without stressing over quality and watermarks, Zoom or another paid alternative might just be what you need. This is especially true if you want to have more than one person in your meeting with you.
Summary of the Best Zoom Alternatives
If you're perfectly happy with Zoom or already have a subscription, you might not need an alternative.
But, if you're tired of the limitations and don't want to shell out the $149.90 annual fee ($14.99/monthly), there are plenty of apps like Zoom to choose from.
One more time, here's a summary of our top picks for the best Zoom alternatives: