We partner with bada$$ companies that offer products that help our readers achieve their goals! If you purchase through our partner links, we get paid for the referral at no additional cost to you! Read our disclosure for more info.
Having a strong online presence is crucial for businesses of all sizes and industries, but simply having a website is not enough.
In order to attract and retain customers, your website must be optimized for search engines. This is where SEO (Search Engine Optimization) comes in.
SEO content writing services help businesses improve their website's visibility in search engine results pages (SERPs) through strategic content creation.
By utilizing keyword research and implementing best practices for on-page optimization, SEO content writers are able to increase a website's organic search traffic and ultimately drive more conversions.
In this article, we will explore the best SEO content writing services to help you reach your target audience with better website content.
If you're looking to improve your search rankings with a better content marketing plan, you're in the right place.
So, buckle up and get ready to embark on a journey toward unlocking the potential of SEO content writing for your business!
17+ Best SEO Content Writing Companies and Services
1. Compose.ly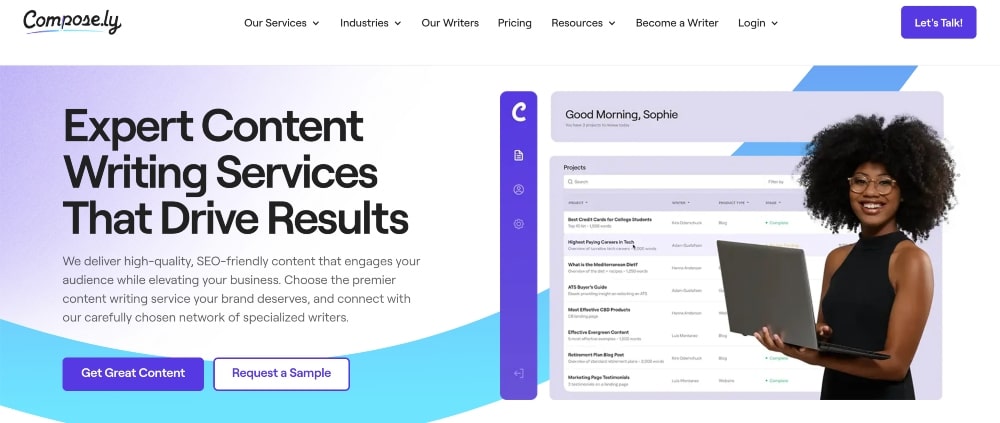 Compose.ly is an SEO content writing service that provides businesses with quality and well-optimized content for websites, blogs, and other online platforms.
They ensure that their written content includes the right mix of relevant keywords while staying in line with industry standards to maximize visibility in SERPs.
Compose.ly's SEO writers specialize in various topics and industries, enabling them to create content specifically tailored to a business's needs.
They offer a full managed content service as well as a self-service marketplace where you can order blog posts and articles, web pages, newsletters, and other pieces of content separately.
This makes them one of the best SEO writing services for flexible pricing.
What They Offer
Dedicated Content Management Team
Ready-To-Publish Content
EEAT-Optimized Content
No Long-Term Contracts
2. Scribly.io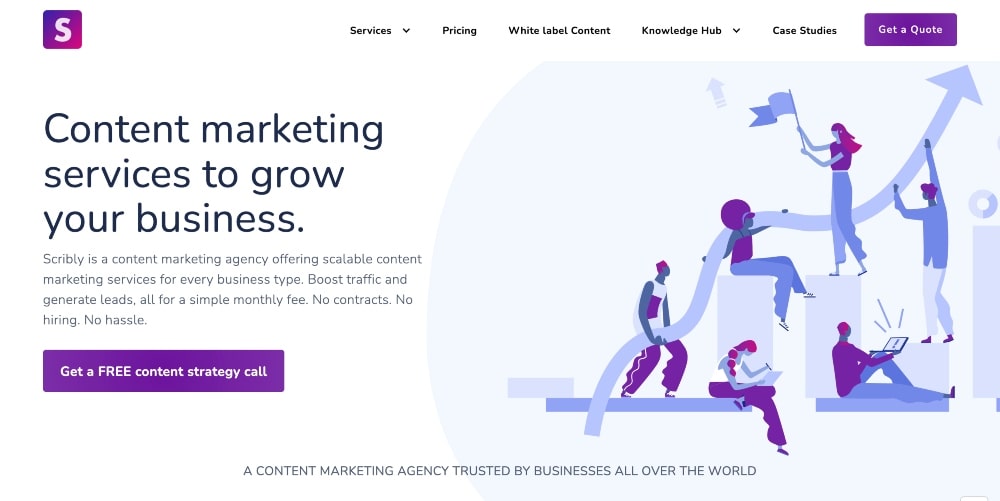 Scribly.io provides SEO writing and content marketing services for individuals and businesses. They provide services that help optimize your website for the best possible rankings, including keyword research, article writing and editing, link building, social media marketing, and more.
With Scribly.io's team of experienced writers and editors, your content is always up-to-date and optimized for search engine optimization.
Their content strategy services include helping you define your goals, understand your audience, determine your brand voice and messaging, develop content themes and topics, share your content, and track and measure your results in search engine rankings.
They don't offer pricing for individual web content or article writing, but they do offer affordable packages based on word count.
What They Offer
Content strategy services
Article writing services
Keyword research and topic creation
Monthly content calendar
Search intent strategy
Dedicated account manager
3. ClearVoice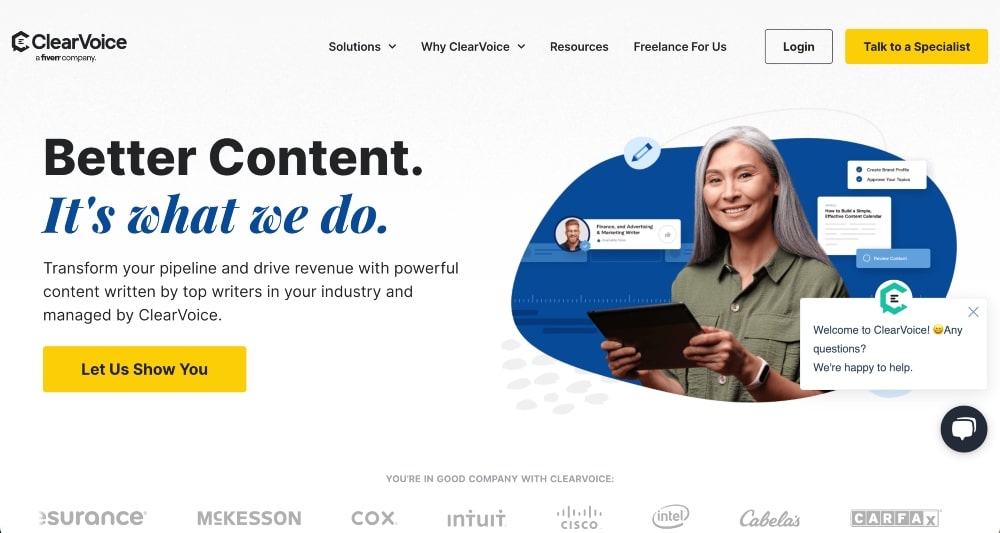 ClearVoice provides SEO services to help businesses find and target their specific audience with high-quality content.
This includes keyword research and optimization, content creation, link building, website analysis, and more.
ClearVoice's team of experts are dedicated to helping clients reach their goals through powerful SEO solutions that will drive website traffic and visibility.
The company has developed a comprehensive suite of tools that allow businesses to track their SEO progress, measure results, and optimize campaigns.
They also provide comprehensive training resources to ensure businesses are making the most out of their SEO efforts.
What They Offer
Content creation strategy
SEO articles
Social media and other web content
Guest posting quality content on other websites
Full SEO strategy with competitive analysis, backlink analysis, and more
4. Crowd Content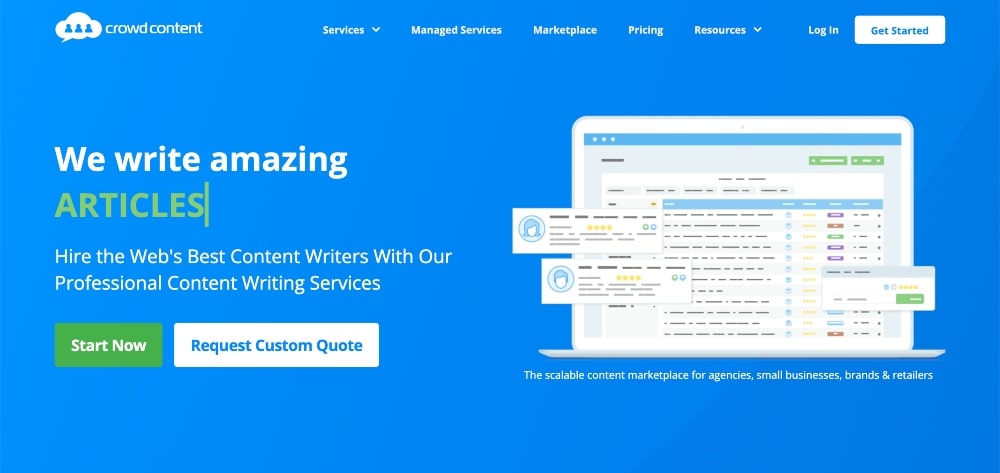 Crowd Content provides article-writing services and other types of web content that is SEO optimized to bring in more website visitors.
They offer a wide range of services such as custom article writing, blog posts, SEO content, website copy, and social media content.
They have a team of professional writers that can provide helpful insights to assist in making sure your content is targeted for the right audience.
What They Offer
Crowd Content offers a variety of writing services, including:
Descriptions for products
Local SEO City Pages
Website Content Creation
Social Media Posts
EBook writing
Press releases
Newsletters
Copywriting and ghostwriting services
Technical writing
5. Contently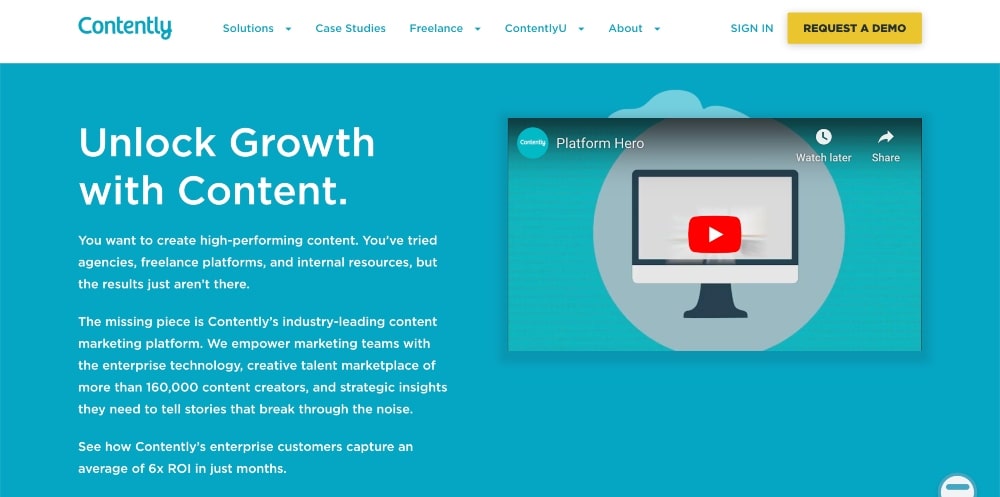 Contently offers a range of SEO writing services and content marketing to help businesses expand their reach in search rankings.
They provide a data-driven content strategy to create better content, faster.
Their content marketing platform AI will optimize your content for SEO, voice and tone, plagiarism, brand guidelines, and more.
Contently's team of experienced professionals also regularly monitor your website's rankings and performance to make sure your search engine optimization strategies are up-to-date and effective.
Their services include content creation, link building, on-page optimization, backlinking, competitor analysis, PPC campaigns, and more.
What They Offer
Data-Driven Content Strategy
Content Marketing Platform
Premium Creative Network of content writers
6. Constant Content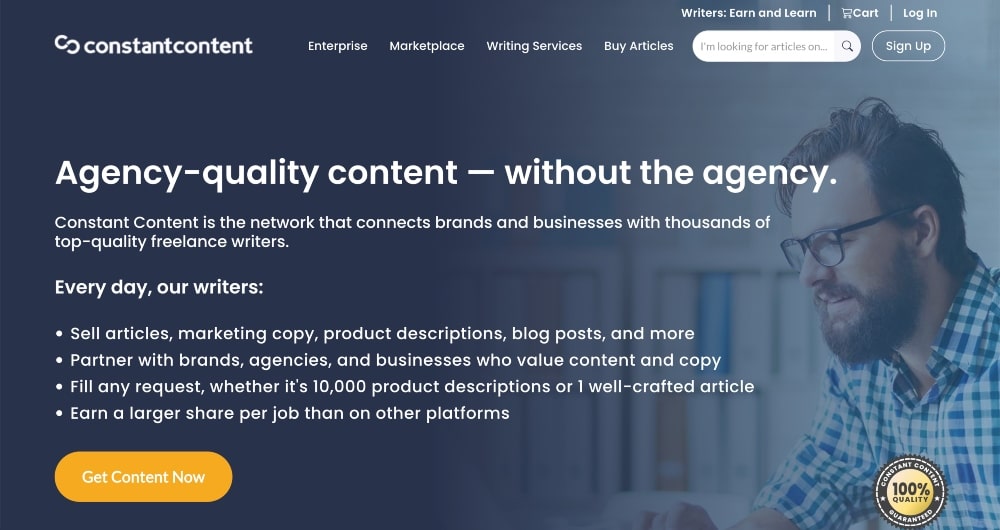 Constant Content is a content writing agency that caters to a wide variety of customers.
They provide quality content from a global network of professional writers who are experts in their respective fields.
Content creation services include: website copy, blog posts, newsletters, press releases, or even eBooks and white papers.
Plus, they provide a variety of features to make the entire process hassle-free, including an easy order form, detailed briefs for writers, fast turnarounds, and customer service support.
You can also purchase blog and other web content that has already been written directly from their website.
You can browse over 5,000 pieces of content that have already been written.
What They Offer
Search engine service of content writers
Marketplace of pre-written content
7. Writing Studio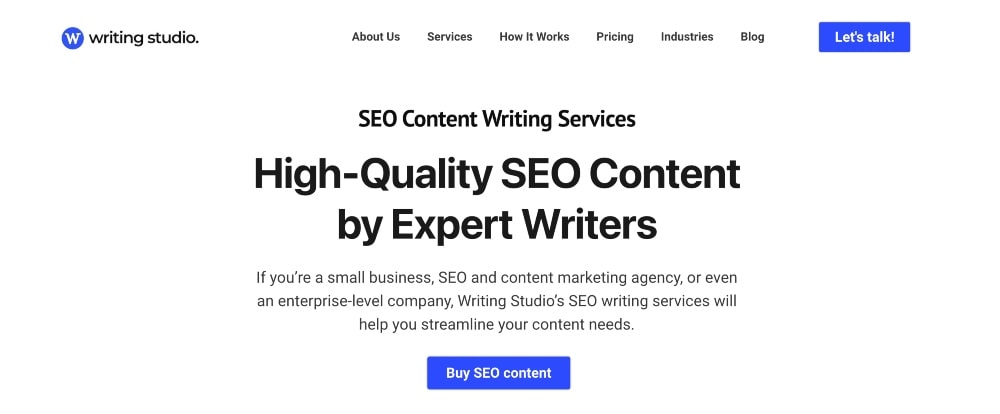 Writing Studio offers content writing services at affordable rates.
Their team can help you create unique, SEO-friendly content for your website or blog.
Whether you need articles, press releases, blog articles, or other types of content created, they will ensure that your website copy is creative, engaging, and SEO-optimized.
They also provide proofreading and editing services to ensure that your content is error-free.
They have a simple pricing strategy that charges you on a per-word basis, depending on what package you purchase.
What They Offer
Their writing services include the following types of content:
Blog post
Ebook
Product Description
Scripts
Technical writing
Web content
Newsletter
8. Verblio
Verblio provides SEO content writing services for agencies, small businesses, marketers, and publishers.
They offer a variety of content types, including blog posts, AI content writing, eBooks, newsletters, podcast summaries, big projects, product descriptions, website content, and more.
They provide content writing in over 38 industries.
What They Offer
Writing services (both AI and human writing)
Full content management, including content strategy, industry research and target keywords, content reviews, and more.
9. Scripted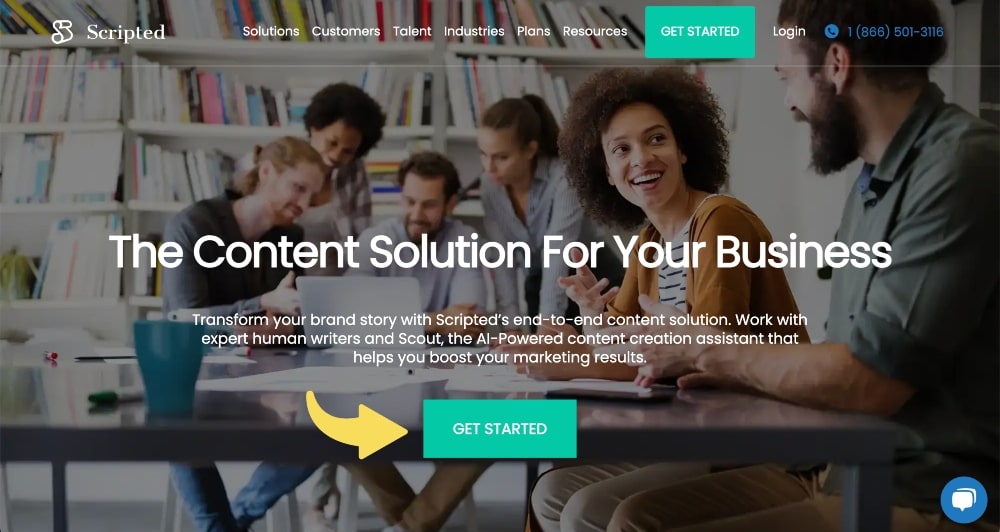 Scripted is the perfect solution for those who are looking to outsource their SEO content needs.
Specifically, they provide SEO content and writing services for SaaS companies, eCommerce, and other companies looking for account-based marketing.
They have an extensive network of writers who specialize in various industries, ensuring that you get the best quality SEO content available.
When it comes to SEO services, they can help with: organic traffic, bounce rates, click-through rates, keyword rankings, backlinks, page speed, and conversion rates.
What They Offer
Content Strategy and Ideation
Content Creation and Workflow
Publishing and Promotion
Performance and Optimization
10. CopyPress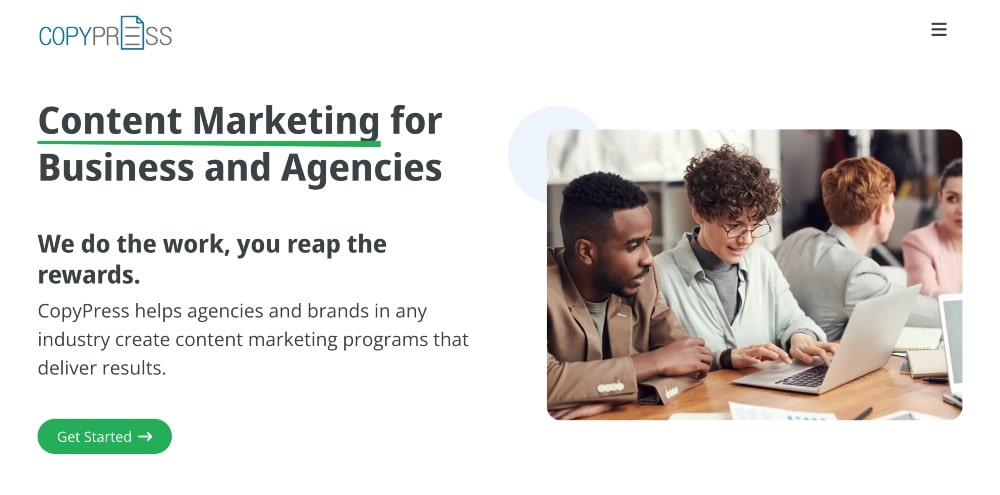 CopyPress is a full-service content marketing agency that provides comprehensive support for all your content needs.
They specialize in SEO, website copywriting, link building, PPC campaigns, social media management, and more.
CopyPress' writers are experienced professionals who can produce custom content that is both creative and SEO-friendly.
They have a wide array of content creation services, from blog posts and website copy to white papers, eBooks, and more.
What They Offer
Content Writing
Content Promotion
International Content
White Papers
Product Descriptions
Articles
eBooks
Blog Posts
11. Content Writers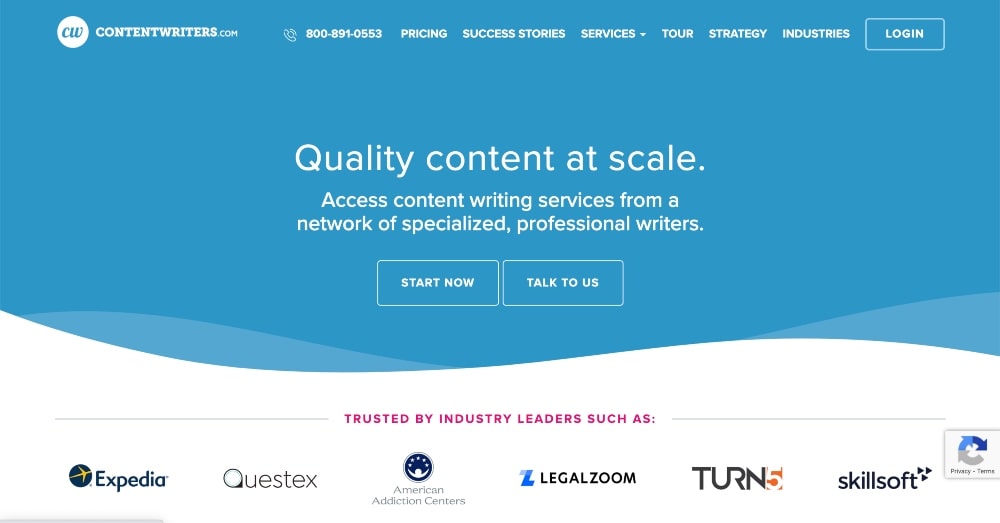 Content Writers provides content writing and SEO services to businesses around the world.
Their team of professional writers is experienced in a variety of industries, ensuring that they can produce the highest quality content for your website or blog.
They also provide detailed briefs for each project, so you know exactly what type of content you will be receiving.
Content Writers offer a wide range of services, including keywords and optimization, content creation, link building, copywriting, and more.
What They Offer
Writing services in any industry
Article writing, evergreen content, and refurbished content
Brand voice
Full-service account management
SEO content, landing pages, and eCommerce content
Other copywriting services
12. The Urban Writers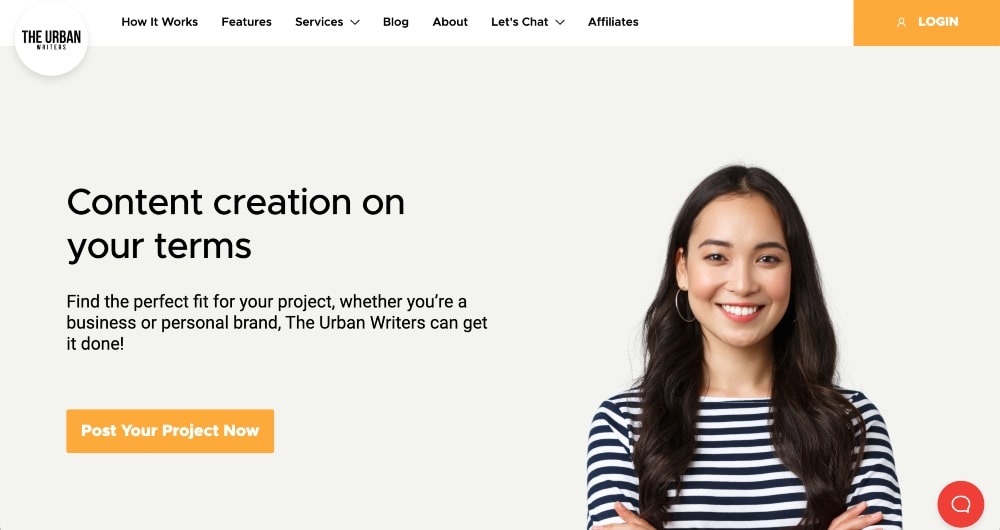 The Urban Writers is a full-service content writing agency. They specialize in creating SEO-optimized, engaging, and high-quality website content.
Through their services, they provide businesses with everything from blog posts to product descriptions and more.
They have an experienced team of writers who can create content tailored to your specific needs.
Depending on what package you choose, you can get SEO articles written for just $.06/word, which makes this one of the best SEO content writing services for affordable blog writing.
What They Offer
Their SEO article writing service includes:
Dedicated SEO content writer
Title and Meta Description
Internal and External Page Linking
Researched FAQ Section
13. Growth Machine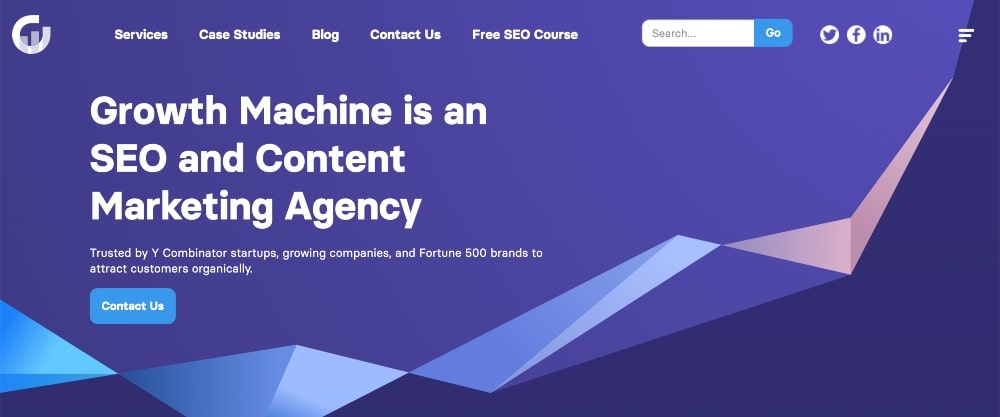 Growth Machine is one of the best SEO content writing services for small businesses.
Their team can help you create SEO-friendly, high-quality content that will attract more customers to your website or blog.
They specialize in creating content for all types of industries, including business and finance, health and wellness, fashion, travel, and more.
Growth Machine can help you create SEO-friendly content including blog posts, articles, product descriptions, website copy, infographics, and more.
They also offer services like keyword research and optimization to help businesses get the most out of their content.
What They Offer
Managed content
Link building
SEO audits
Other services depending on your business needs
14. Grow and Convert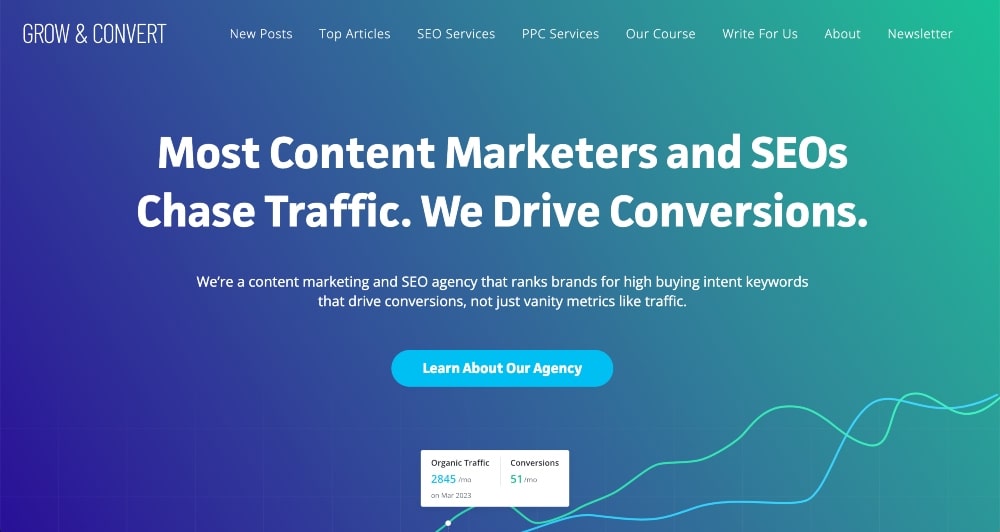 Grow and Convert is one of the best SEO content writing services for businesses looking for "high buying intent keywords that drive conversions, not just vanity metrics like traffic."
Their experienced team of writers create high-quality, engaging content that is optimized for SEO.
They also have a strong focus on research, so you can be sure that your content will be up-to-date with the latest trends and industry standards.
Grow and Convert can help you create content for any type of business, from blogs to websites, e-commerce stores, press releases, white papers, product descriptions, and more.
What They Offer
SEO audits
SEO keywords
Link building
Data on conversions from each blog post
15. ContentLab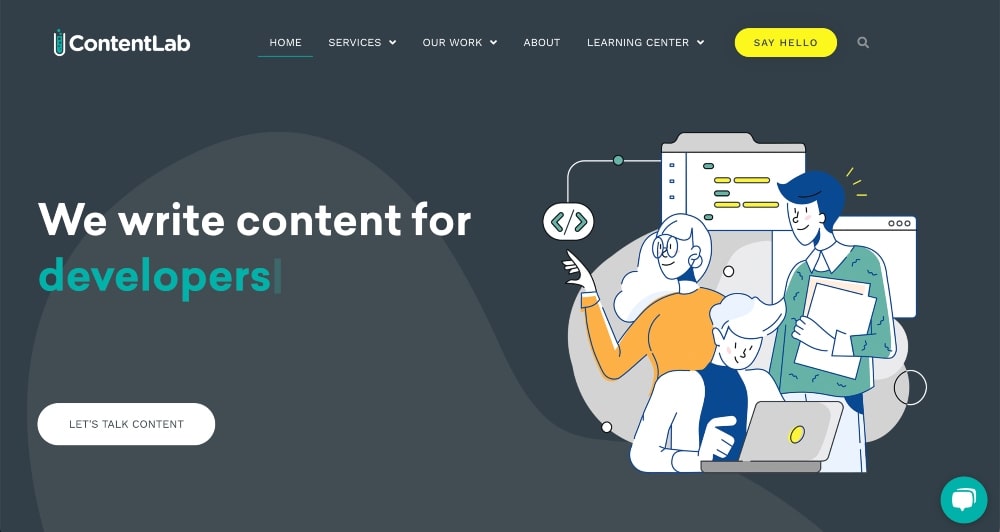 ContentLab is a content marketing agency that provides services specifically to tech companies, software developers, programmers, DevOps practitioners and managers, Software engineers, and Enterprise IT companies
Their team of content creators, strategists, and SEO specialists can help you create high-quality and compelling content that will rank in search engines and attract more website visitors.
They provide SEO copywriting services for all types of industries, including health care, finance, travel, lifestyle, and more.
Their content marketing services include social media optimization, SEO target keyword research, link building. and more.
They even offer an analytics package so you can track the performance of your content in real-time.
What They Offer
Web content creation
Peer reviewed
Code samples
Custom dashboard
Topic ideation
Revisions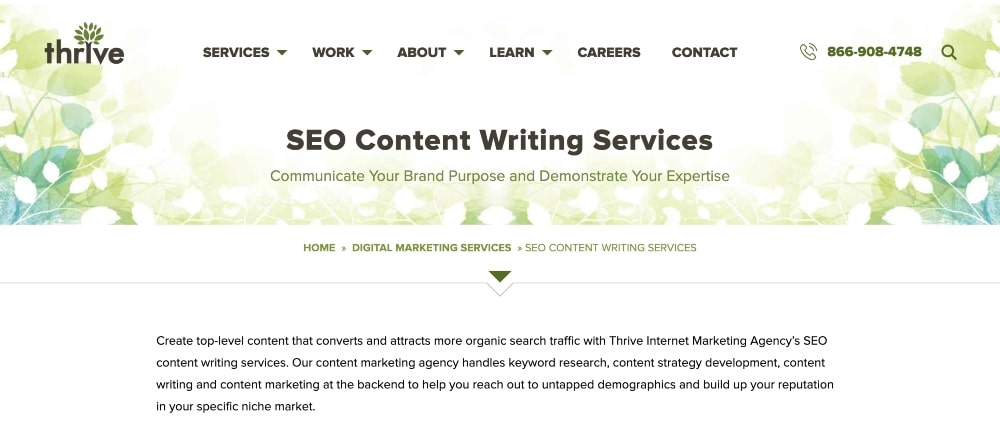 Thrive Agency is a full-service digital marketing agency. They offer everything from SEO writing services to content strategy, web design, and more.
Their team of experienced writers can deliver high-quality content that is optimized for search engines to bring in more site visitors.
Thrive Agency provides both SEO writing services and SEO marketing services. As defined on their website, their SEO marketing services will share your content on various online platforms to "drive profitable customer action."
What They Offer
Content strategy development
Content writing
Content marketing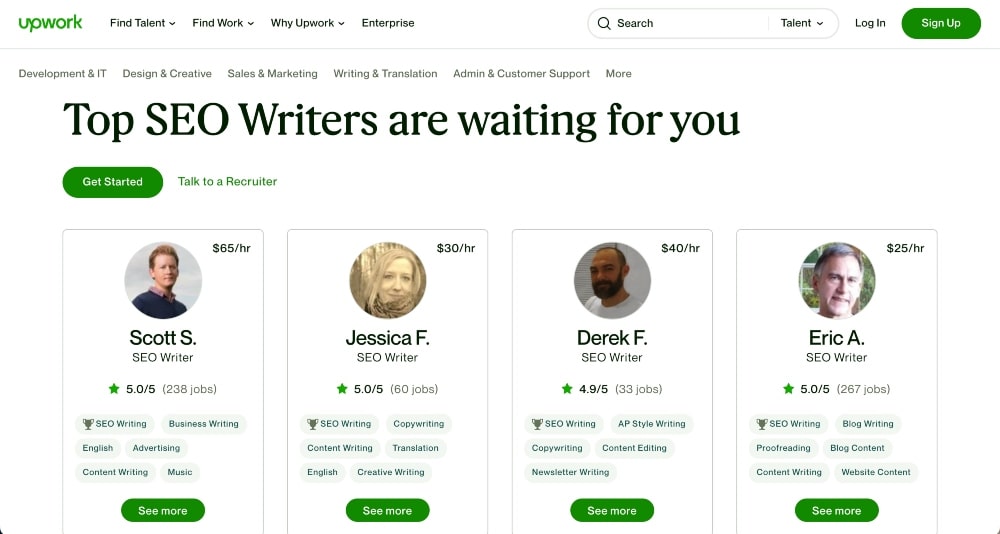 Upwork is a great platform to hire experienced SEO writers and content creators from all over the world. They offer services such as blog writing, website copywriting, article writing, proofreading, editing, and more.
You can find individuals to write blog articles, help with lead generation, create an entire content strategy for you, and provide other content marketing services.
This particular option is great because it allows you to search for the right person that fits within your budget.
It may not be the best option if you want full-service management, but it could be very affordable if you only want help with writing blog content or another specific type of content.
What They Offer
SEO strategy
SEO copywriting
Content marketing
Digital marketing
And pretty much anything else you can think of.
10 Other SEO Content Writing Services
What to Look for in an SEO Content Writing Service
When it comes to finding an SEO content writing service, you want to make sure that you are getting the best quality for your budget. Here's what to look for:
1. Expert Writers
It takes knowledge, skill, and experience to produce SEO content that actually ranks. Good SEO is a moving target, so writers should be kept informed of updates and trends in your particular industry.
They should have an in-depth knowledge of search engine optimization principles and be able to create a content marketing strategy for your business specifically.
You don't just want an SEO keyword writer who does a lot of keyword stuffing and tells you the work is optimized.
2. Quality Content
Remember that you're not just looking to increase brand awareness and drive traffic. Quality content is essential to SEO success but also for connecting to your audience.
Look for a service that can provide you with engaging and informative content that engages your reader while also ranking highly in the search engine results pages (SERPs).
3. Research and Analysis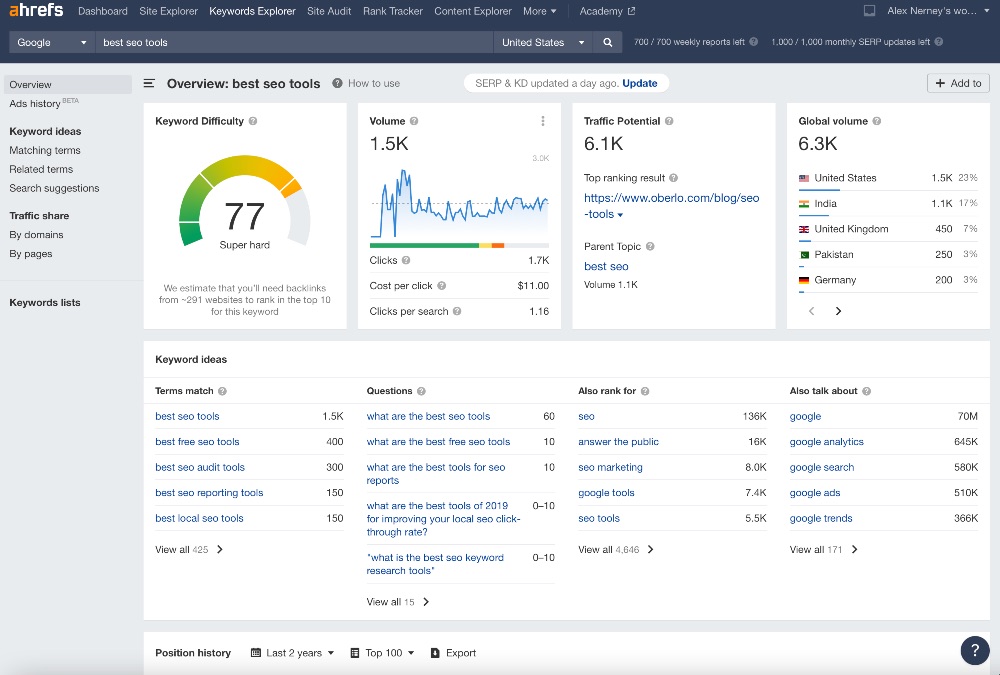 SEO content writing services should have access to the latest SEO tools, such as keyword research and rank tracking, to ensure that you're getting the furthest reach for your content.
Additionally, many content marketing strategies also provide a full analysis of content performance after the content is written.
4. Turnaround Time
Content creation takes time, so it's important that the service provides sufficient turnaround times for each project they take on.
Some writing companies also provide revisions, so budget this into your timetable and deadlines for content.
5. Affordable Pricing
Lastly, consider the pricing of these companies. Most companies charge by word count and the more content you pay for upfront, the cheaper the total per-word price is for your content.
It's often cheaper to buy content in bulk.
FAQs About Content Writing Services
How much do SEO content writers charge?

SEO content writers typically charge anywhere from $0.03 to $0.50 per word, with the average rate being approximately $0.15 per word. However, the cost may vary depending on several factors such as the level of expertise, complexity of the project, and the amount of research required. Some freelance writers may charge hourly rates that range from $50 to $200 per hour.
What is the best SEO content writing service?

The best SEO content writing service should be comprehensive and include keyword research, competitor analysis, content optimization, content marketing, and technical SEO. They should provide engaging content that uses relevant and authoritative sources to provide value to the readers while also ranking better in search engine results pages.
Does SEO include content writing?

Yes, SEO includes content writing as a crucial component. Quality website content is essential for optimizing a website's search engine ranking as it generates more traffic, improves engagement, and boosts the website's authority. Content writing involves creating relevant, valuable, and high-quality content to meet the users' search intent. Search engines like Google value fresh, unique, and relevant content, and optimizing the web pages with relevant keywords, quality links, and appropriate meta tags can help increase their visibility.
Key Takeaways: Best SEO Content Writing Services
The best SEO content writing service is one that offers a comprehensive approach to writing content that's not only high-quality but also optimized for search engines.
This means that the team of writers and editors should have a deep understanding of SEO principles and be able to incorporate them seamlessly into the content they produce.
A good SEO content writing service utilizes targeted keywords and phrases, meta tags, and optimized headlines.
In addition to producing SEO-friendly content, the best SEO content writing service should also offer a range of services, such as:
identifying your target audience,
content strategy development,
and a content marketing strategy.
This will ensure that the content produced is not only optimized for search engines but also relevant and valuable to the target audience.
Make sure to read reviews and testimonials from previous clients and look at the company's portfolio of work before choosing a service.
Ultimately, the best SEO content writing service is one that can help you build your brand, boost your online visibility, and drive more conversions.
Do your research, compare services and pricing, and select a provider that meets your unique needs and goals!