We partner with bada$$ companies that offer products that help our readers achieve their goals! If you purchase through our partner links, we get paid for the referral at no additional cost to you! Read our disclosure for more info.
Let's chat about MailChimp vs. ConvertKit for email marketing software, including why you need an email list and the differences between paid and free software.
The big question on everyone's mind when they are just diving into getting started with an email list is this:
"If there is a free option, do I really NEED to pay for email software?"
The short answer is no. Of course, you don't but we are going to tell you why you should.
Now, this comparison is only of two email marketing services: MailChimp and ConvertKit
In my opinion, these are the two of the best options as far as free and paid options go. I have tried the following over the years: MailChimp, AWeber, Get Response, Active Campaign, and ConvertKit.
ConvertKit is what we now use at Create and Go and recommend after trying all of those, but I wanted to give you a comparison to the best free option out there: MailChimp.
Before I get into it, I want to talk about why choosing the right email marketing service is so important.
Why You Need an Email List in the First Place
In one word, the reason is trust. You can try linking and selling products directly in your blog posts. It's certainly the easiest way to do it, but it's definitely not the best or the most effective.
And the higher the product price, the less this will work. I know. I've tried and tracked the data to prove it.
Linking to products in articles in my health blog worked better because the products ranged from $27-$47. It's far less effective when your products are selling for hundreds of dollars.
You generally can't build enough trust with your audience in the 10 minutes it takes them to read a blog post before you ask them to purchase something.
Now compare that to a 5-7 day sequence of emails in which you can provide valuable content for DAYS before asking for the sale… You will almost always have higher conversions with an email list, regardless of the product price or what you are selling.
If you need some more help with getting subscribers on your blog, make sure to check out our article on how to build an email list.
FREE vs. Paid Software
Before I get into chatting about email marketing services specifically, let's chat briefly about the differences between free and paid software. Spoiler alert: Paid software always comes with more customization and capabilities.
That's just the way it goes, and it's something that you need to understand as a blogger. When you are just starting out, you are likely going to Google whatever you can to find free versions of software for hosting, themes, plugins, email marketing, etc.
That's fine, and it's good to test out the waters with free software. Just go into knowing that the software has limitations and fewer customizations than similar paid software. And you also need to know WHEN it's time to upgrade…
If you reach a point where you are FIGHTING with your WordPress theme day in and day out because you can't get it to do what you want it to do, it's time to upgrade to a paid theme that will let you design your blog exactly how you want it.
It's still perfectly fine to start out with free, and that may be all that is in the budget anyway. Just make sure that you are aware of these limitations and are reflecting on your situation and goals from time to time to make sure that it is still right for you.
The last thing to keep in mind here is that even if you start out with a free email marketing service, you WILL still have to pay for your email list when it grows past a certain point (usually 1,000 subscribers).
But if your list is big enough that you are forced to pay, that's a good thing! It means that your audience is growing and you should be able to monetize it!
Let's first look at some basic similarities and differences in what both email marketing services offer in their lowest-priced plans.
MailChimp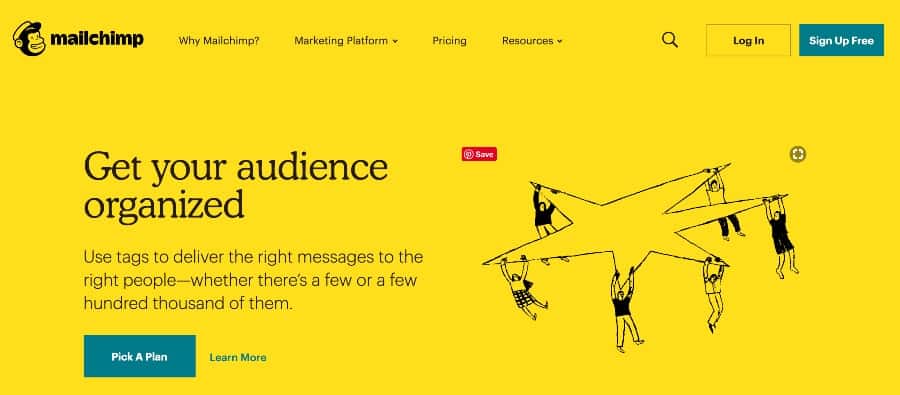 Cost for the smallest plan: Free
Up to 2,000 subscribers
Up to 12,000 emails/month
Customized email broadcasts and autoresponders
Customizable opt-in forms
Reports and insights on the emails that you send
Several steps to edit and save emails
View MailChimp's features here.
ConvertKit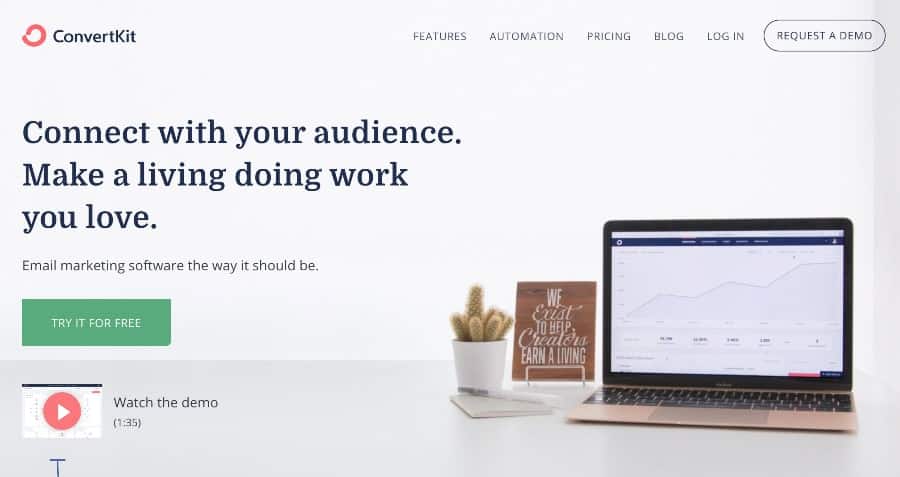 Cost for the smallest plan: $29/month
Up to 1,000 subscribers
Unlimited emails/month
Customized email broadcasts and autoresponders
Customizable opt-in forms
Reports and insights on the emails that you send
Edit and save emails simultaneously in one step on one screen (my FAVORITE feature)
Automated segments and tags (to separate your clients based on who has purchased your products, clicked certain links, etc.)
P.S. ConvertKit actually does offer a free plan. It was designed for new creators looking to create landing pages and collect subscribers for free. You can send one-time broadcasts with the free plan, but you can't set up sequences.
View ConvertKit's features here.
So let's dive a little deeper into some of these points. I won't go over the features that are the same because I don't feel that one is far superior to the other.
Cost and Subscribers
MailChimp is, of course, free up to 2,000 subscribers, and you get 12,000 emails with that. So if you have a list of 1,000 people, you can send 12 emails per month for free. That's 3 emails per week.
This is okay at the beginning if you are only emailing out about new blog posts, but things will get sticky real fast if you are creating any kind of automated email funnel that has several days of emails in it. You will hit that limit very quickly.
ConvertKit offers 1,000 subscribers on the basic plan of $29/month (the next tier up is $49/month for up to 3,000 subscribers), but you get unlimited emails with that. So you can create sales funnels, courses, or other automations without worrying about hitting an email limit. This provides you with a lot more flexibility.
One more thing to keep in mind when doing this comparison:
If your list and business continue to grow, you WILL likely need a more robust email marketing service with advanced features at some point. This means that you will have to transfer your list over to another service at some point anyway, and that can be a pain in the ass. Trust me. I've done it several times.
ConvertKit's free plan allows you to create unlimited landing pages and start collecting subscribers and sending broadcasts for free, but I still recommend signing up for the paid plan so that you can start building out your automated email sequences right away.
Creating, Editing, and Saving Emails
I mentioned it once already, but this is my favorite feature of ConvertKit. No other email marketing service that I have used, including MailChimp, compares when it comes to the email editor.
Here is the deal with all of the other email marketing services that I've used. Let's say that you have 10 emails in a sequence or sales funnel.
Anytime you want to edit or view the content in any of those emails, you have to click on the email, click next through a couple of options ("YES, I WANT TO EDIT THE EMAIL! JUST LET ME IN!"), then you make your changes, and then you go to another screen or two to actually save the email.
Headache central… Why did that take me so long!?
Half the time I go through this process, I realize that I forgot to add one small detail or have to check something else, and then I have to go through the entire process again. 🙄
Compare this to the seamless editing software that comes with ConvertKit… It's ALL on one screen. You can switch through to any of your emails in the sequence, make any changes you want, and save ALL changes at once.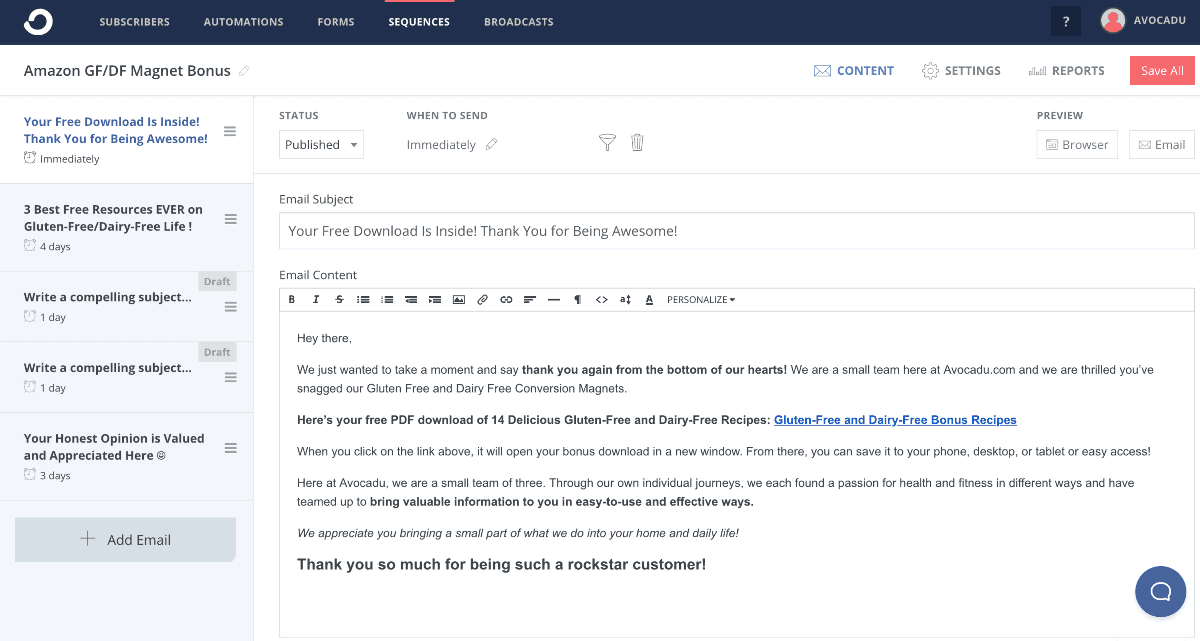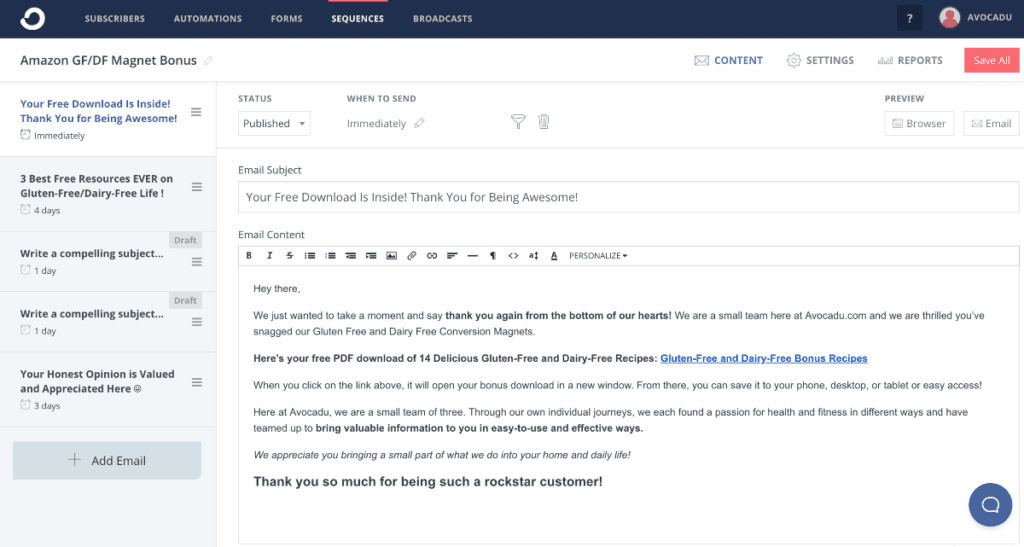 This has saved us SO many hours and SO many headaches.
Automated Segments and Tags
This is a feature that both MailChimp and ConvertKit have but ConvertKit's is easier to use and has more capabilities.
Creating segments allows you to separate your list into groups based on actions they take so you can make sure the people are getting the most relevant emails to meet their particular needs.
For example, when someone signed up for my weight loss email list on my health blog, they were taken through a sales funnel that was designed to sell them on my weight loss program.
If they purchased this product at any point in time, I had automatic rules set up to remove that person from the weight loss indoctrination sequence so they wouldn't receive any more emails trying to sell them the product they just bought.
This automatic rule also placed them in a NEW sequence just for buyers!
The very next email they received said 'THANK YOU for purchasing our product, here are your downloads, here are some additional resources to help you, etc'.
This helps to build trust even AFTER the purchase, and you can also continue to market other products to them.
You can also simply set a "tag" on the customer to label them as a buyer. Tagging buyers in your list purchase ensures that you won't continue to promote a product to someone who has already purchased it.
It's especially important if you ever plan on running discounts on your products. Nothing creates resentment faster than offering a discount to a customer that has just purchased at full price. This will cause broken relationships and lots of partial refunds.
Which email marketing software should I choose?
I've just given you a lot to think about, and I know the decision isn't always an easy one. If paid software isn't in your budget, I totally understand and encourage you to take a look at MailChimp.
But if you want to make the first (and probably best) investment into the growth of your blog, ConvertKit is the way to go. You can also get try it out and get started with the free plan first.
I just wanted to provide you with some additional insight to help you make the decision because we do get a LOT of questions about this.
If you have any more questions about using MailChimp vs ConvertKit for email marketing software, please feel free to leave us a comment or question below!