We partner with bada$$ companies that offer products that help our readers achieve their goals! If you purchase through our partner links, we get paid for the referral at no additional cost to you! Read our disclosure for more info.
Instagram Stories give us a fairly passive way to stay up-to-date with what our friends (and exes) are doing, but there is that pesky problem of our name showing up on their viewer list.
The Instagram story viewer is a double-edged sword because we LOVE to know who is viewing our stories but we don't always want others to know when we're watching theirs!
If you're looking for an easy way to keep tabs on people and view Instagram stories without them knowing, we've got 4 certified methods for you!
Can You View Instagram Stories Anonymously?
If you view someone's Instagram story, they'll be able to see a list of all Instagram users who have seen it, including your name and profile picture.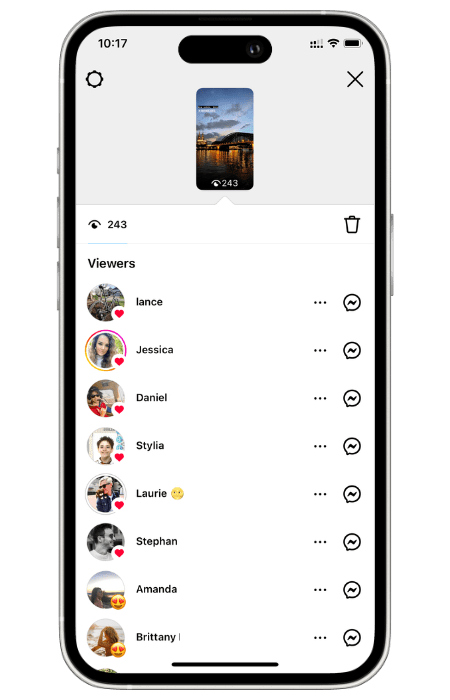 There is a reason that there is no native, built-in feature to watch stories anonymously. It's actually against Instagram's policies.
That being said, there are ways to get around this that are all above board and quite simple to do.
How to View Instagram Stories Anonymously: 4 Methods
The following 4 methods will help you view your ex's insta stories without them ever knowing!
1. Create a New Instagram Account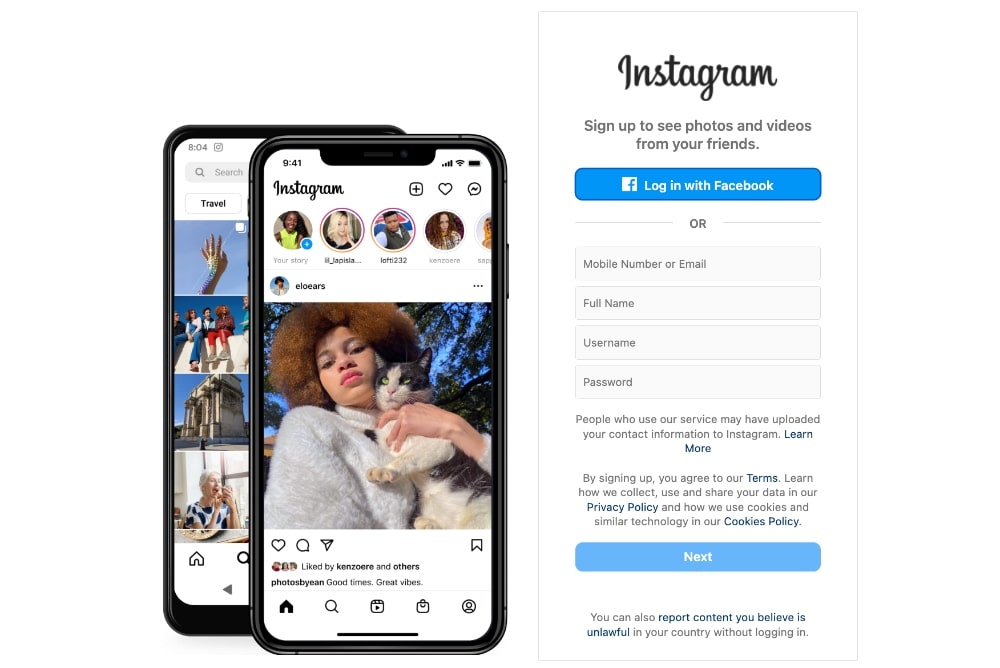 The easiest way to view someone's story anonymously is by creating an entirely new Instagram account.
This is also the best option if someone has blocked you from viewing their stories or hidden their Instagram content from you.
This doesn't have to be a full-on public account with hundreds of followers, it can be just a simple private account that you use for viewing stories only.
My advice here is to make up a fake Instagram username (consider it your spying alias) and put in the bare minimum information on your profile to get started. You don't need to create a full Instagram bio.
I had an ex-boyfriend to this to me once after I blocked him and I only caught him because he didn't use a good enough alias name.
If the person whose story you're trying to view has a public Instagram account, you can simply search for their account and watch their stories.
Public stories can be viewed by anyone as long as they have an Instagram account.
Your new, made-up account will show up as an Instagram story viewer, but they won't know who you are if you used an alias name.
This is a little trickier for private accounts because you will have to request to follow them in order to view Instagram stories.
If they reject your request, you're out of luck with this option and will need to move on to option 2.
2. View Instagram Stories in Airplane Mode
This is a great way to view stories without them knowing, and it is actually quite simple.
Here is the step-by-plan to watch Instagram Stories in airplane mode:
Visit the Instagram profile for the person whose stories you want to view anonymously. Do NOT click on the story yet!
Turn your phone on airplane mode.
Click on their profile picture to access the stories viewer.
After you view the story, close the Instagram app completely and turn airplane mode off.
Because Instagram pre-loads the story when you visit the user's profile, you're able to then watch it after disabling internet access.
But because you don't have Internet access, it doesn't register that you ever viewed the story!
Cheeky loophole, right?
3. Use a Third-Party App
There are lots of third-party apps available that let you view Instagram stories anonymously without having to fiddle with airplane mode or create fake Instagram profiles.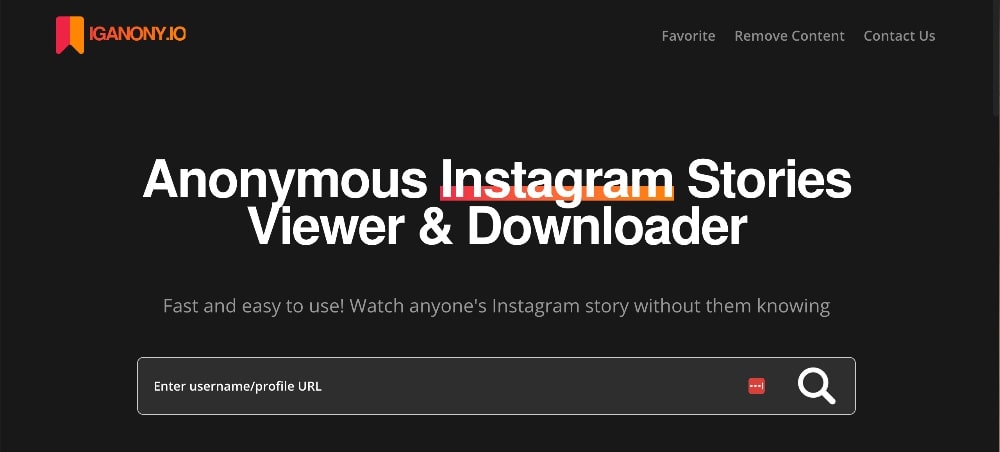 Many of these Instagram viewer apps are also free! Here are few of the most popular options:
These Instagram viewer apps are easy to use and allow you to view any public post anonymously.
Many of them allow you to view stories completely free and completely anonymous right in your internet browser.
Just download the app, search for the user whose story you want to watch, and you're all set!
4. Slide to Preview a Story Without Viewing It
This is a neat and easy trick to check out the first page of someone's Instagram story without it actually registering on the viewer list.
Unfortunately, it doesn't allow you to watch any more than that.
All you have to do is click on the Instagram story for the person before the story you want to watch anonymously.
View their story as normal and then when you're on the last screen of that story, slowly side your finger halfway across the screen while the story is loading.
The "last screen" is the slide before it turns to the next person's story:

Do not tap or click or let go of your halfway swipe or else it will load the full story and then you're busted!
Just halfway slide it so that you can still see the previous story on the screen but you can also see a preview of the upcoming story.
If you do this and an ad pops up next instead of the other user stories, you'll need to do the same action through the ad until you're on the last screen again.
It should look like this: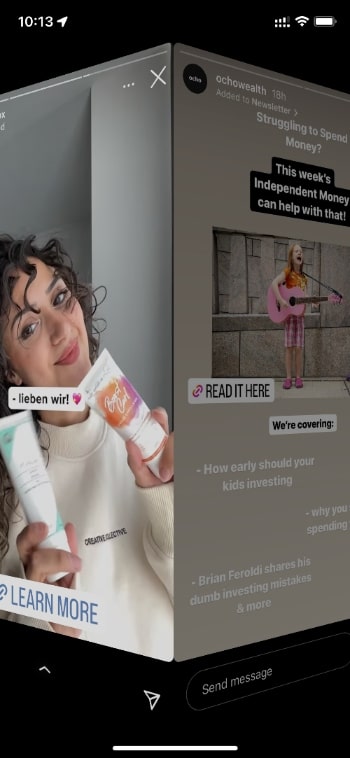 This method is obviously the most dangerous way to watch Instagram stories anonymously because it's easy to accidentally swipe too hard or let go of your swipe and doesn't even allow you to watch the whole story.
I would advise you to try the first 3 methods first!
FAQs About Viewing Instagram Stories
Can I watch an Instagram story anonymously?

You can't view Instagram stories anonymously as a native feature, but there are a few workarounds to do this. You can create a new account with a different name, view Instagram stories in airplane mode, or use third-party apps.
What website shows Instagram stories anonymously?

There are a few websites that allow you to view Instagram stories anonymously, such as IGAgony, Instanavigation, Insta Stories Viewer, and Insta Anonymous. Most of these websites are free and allow you to view Instagram stories right in your browser.
Can I see who viewed my story anonymously?

In most cases, you will not be able to see an anonymous Instagram stories viewer. If they're using a fake account, you will be able to see that account in the Insta story viewer, but you won't likely know how it is if they used a fake name. If they viewed your story on airplane mode, you will not be able to see that they viewed it.
Key Takeaways for an Anonymous Instagram Story Viewer
Viewing someone's Instagram story anonymously can be done if you're willing to put in a bit of effort.
There are a few ways around the Instagram story viewer that shows you Instagram viewers who are watching your stuff.
The most reliable way to do this is to create a new account with a different name and view stories from there. This works best for public accounts.
If their account is private, this can be tricker because you'll have to request to follow them. If they reject your request, you're out of luck.
The next best option is to view stories in airplane mode, but make sure to follow the instructions carefully to make sure you do this the right way.
Another great option is to use third-party apps and websites to watch Instagram stories anonymously.
Finally, you can do the half-swipe method to preview a story but it's easier to mess up with this way and you can't view the full story anyway.
Good luck with your stealth-mode efforts to spy on your friends and exes without them knowing! Everyone is guilty of it at some point!