We partner with bada$$ companies that offer products that help our readers achieve their goals! If you purchase through our partner links, we get paid for the referral at no additional cost to you! Read our disclosure for more info.
Choosing direct mail services is a critical decision for businesses and individuals who rely on mass mailing campaigns to generate leads, promote products or services, and communicate important information.
Direct mail services offer many benefits that make them an attractive option compared to more traditional methods of communication, such as email.
However, there are a few key considerations that need to be taken into account before deciding which service is right for you.
One factor is, of course, the direct mail cost.
Many services offer competitive pricing plans and discounts for larger mailing campaigns, so make sure to compare prices between multiple companies to find the most cost-effective option.
Another important factor to consider is the reliability and quality of the direct mail service, but we've got you covered there.
All of the direct mail services on this list have great reviews and a proven track record of successful deliveries and customer satisfaction.
Most direct companies also offer a wide range of formats including postcards, letters, brochures, flyers, and more. Some even offer personalized messaging and marketing.
One final consideration for some businesses is the ability to track their efforts when implementing direct mail services in order to assess how effective their campaign was overall.
Tracking methods such as unique codes or URLs can help you measure the success of your campaigns by helping you identify leads generated from your direct mail efforts and calculate conversion rates from those leads down the line.
Let's dive into choosing the best direct mail service for you.
If you want to jump ahead, here are our top choices for the best direct mailer services:
What is a Direct Mail Service?
Direct mail is a type of direct marketing that involves the physical delivery of promotional materials, such as brochures, flyers, postcards, catalogs, and other items.
Despite the evolution in the marketing industry, direct mail marketing is still an effective way to reach potential and current customers with information about new products or services.
It has various advantages over traditional marketing methods, such as its ability to target specific audiences and its cost-effectiveness.
In order to be successful with a direct mail campaign, you need to ensure that you are reaching the right target audience and delivering an engaging message.
You need to make sure you take careful consideration into identifying the appropriate demographic audience and customizing your message accordingly so that it resonates.
A well-crafted message usually includes incentives or promotions that will entice potential customers into taking action on your offer.
What Are the Best Direct Mail Services?
Best for: Best overall for high-volume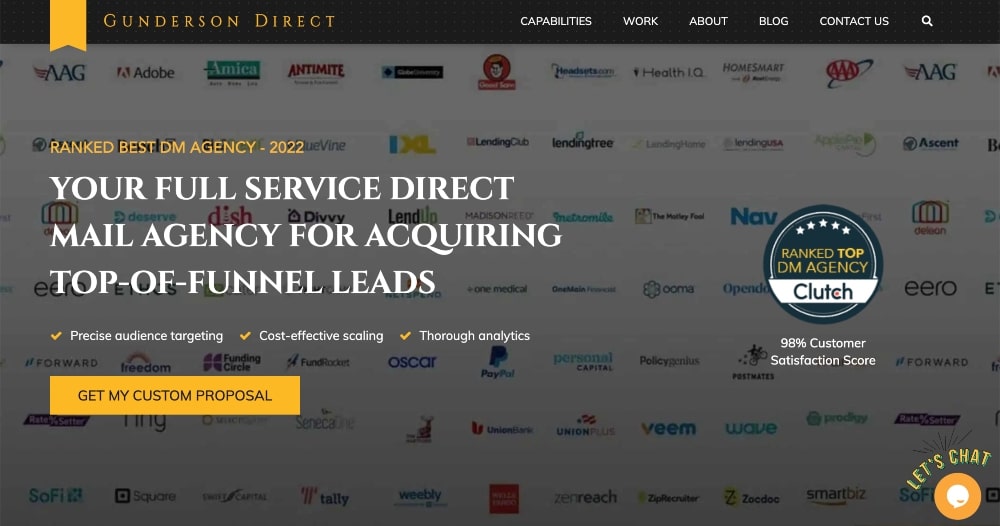 Working with both traditional and digital marketing strategies, Gunderson Direct helps its clients engage with their audiences in effective and efficient ways.
Their services include designing, printing, list management, mailing, and tracking of campaigns.
Gunderson Direct also analyzes customer data to help its clients understand which types of messages are more likely to resonate with their audiences.
Their team of experienced professionals also offers insights into market trends, helping you understand the best way to communicate with your customers and maximize conversions.
Gunderson Direct uses advanced segmentation techniques that allow them to target specific audience groups or individual customers based on their buying habits or interests.
Through this personalized approach, you can deliver tailored messages that will be more effective at engaging customers than generic messaging campaigns.
Beyond just providing services related directly to mailing campaigns, Gunderson Direct also offers support in other areas such as graphic design and copywriting.
Their team of experts can create eye-catching visuals and compelling content that will help ensure the success of direct mail campaigns.
They also offer strategic advice on when it's best to send out promotional materials so they can get maximum ROI from every campaign they launch.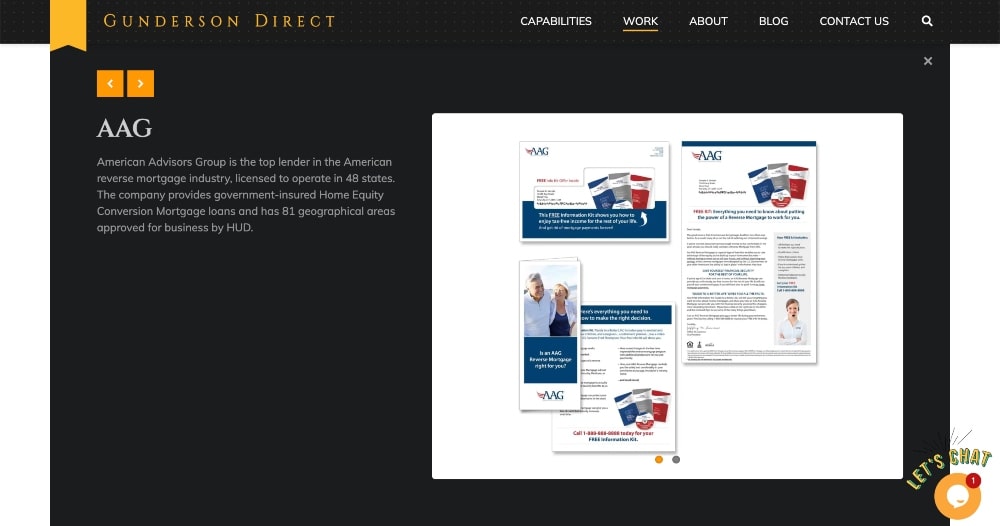 Key Features:
Quality manufacturing and construction
Advanced engineering solutions for specialized projects
Innovative design strategies to maximize value for clients
Comprehensive project management services
Dedicated customer service team
Onsite installation and setup support
Fully integrated inventory management systems
Comprehensive warranties on all products and services provided
Customized product solutions tailored to meet the needs of each client
Pricing:
Contact for pricing.
Our Opinion:
Gunderson Direct is dedicated to providing superior service for every one of its clients no matter what industry they're in or how large or small their company might be.
By offering a wide range of expertise backed by proven marketing strategies, Gunderson Direct has helped countless companies grow their customer base and increase revenue through successful direct mail campaigns.
It's for all of these reasons that Gunderson Direct is our top choice for most high-volume clients.
Best for: Integrating direct mail with digital marketing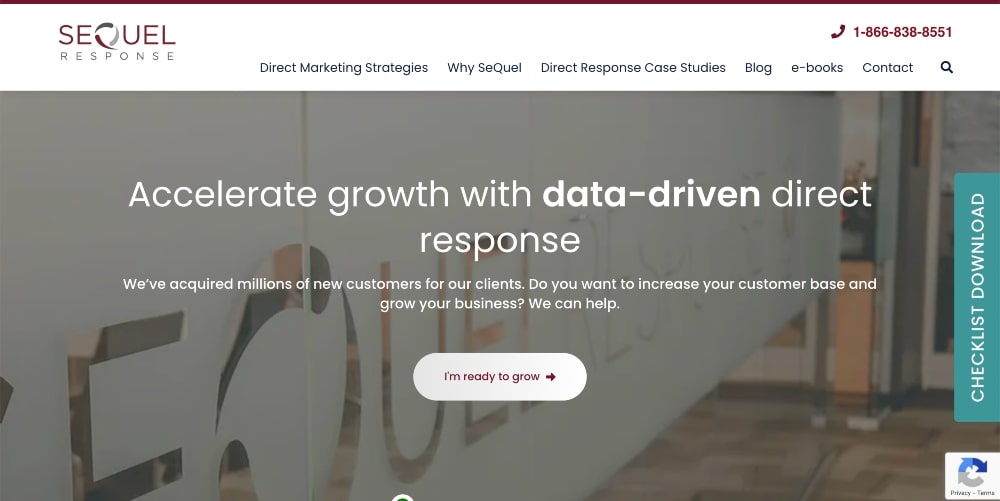 SeQuel Response is a direct mail service that offers an effective way to reach customers with personalized, targeted messages that are tailored to each individual's needs.
You can create and send promotional materials such as postcards, brochures, flyers, catalogs, newsletters, and more with just a few clicks of the mouse.
SeQuel Response allows you to easily manage all of your direct mail campaigns from one central platform.
They offer features such as detailed tracking and analytics to help you understand your customer's habits and preferences so you can better tailor their campaigns for maximum effectiveness.
You can also create customized mail pieces for specific segments of the population or for different groups based on age, gender, or location.
SeQuel Response also provides features like automated follow-up emails which allow you to keep in touch with your customers long after a campaign has finished.
This helps ensure that messages remain relevant even after the campaign has ended, helping to maintain customer engagement over time.
Additionally, SeQuel Response allows you to personalize each piece of marketing material by including images, videos, and other visuals that will be sure to resonate with your target audience.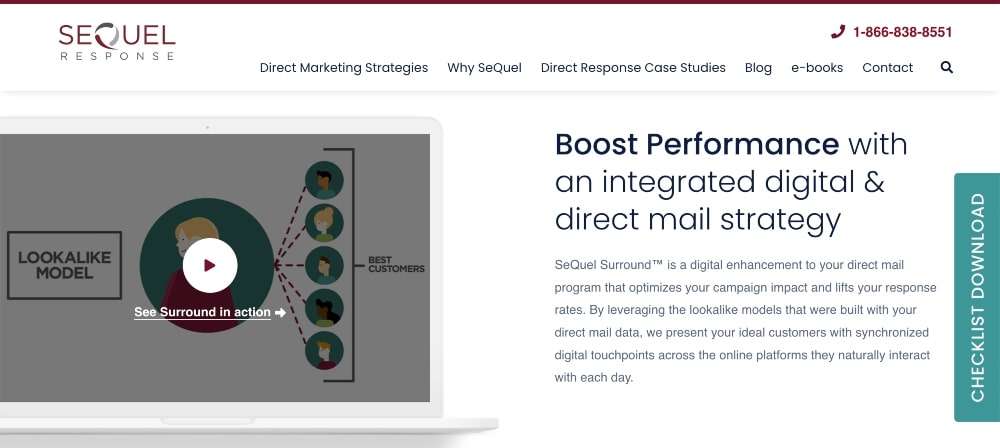 Key Features:
Rapid deployment and set-up
Automated customer communication
Multi-language support
Customer segmentation
Dynamic rule engine for auto-responses
Data extraction from emails and social media messages
Advanced reporting and analytics
Customizable templates for automated responses
Integrations with CRMS, eCommerce platforms, and payment gateways
Pricing:
Contact for pricing.
Our Opinion:
With its wide range of features and personalized marketing options, SeQuel Response makes it easy for any business to reach out and stay connected with its customers through direct mail pieces that have been specifically designed for them.
Additionally, with their digital marketing strategies, you can also reach your audience online and get more from your direct mail campaigns.
Best for: Creating automated campaigns
PostGrid is a powerful direct mail automation solution that helps you streamline and optimize your communications with customers and leads.
It offers a comprehensive range of services designed to help you reach your target audiences efficiently, cost-effectively, and securely.
With PostGrid, you can easily design custom cards, letters, postcards, flyers, and more with the easy-to-use drag-and-drop interface.
PostGrid automates the entire process of sending direct mail, saving you time and money. You can customize your messaging and schedule your direct mail ahead of time.
It also offers an advanced address verification API that lets you validate your address database to ensure high deliverability rates of direct mail campaigns.
PostGrid provides a full suite of analytics tools to help you track performance and optimize your campaigns for maximum impact.
Key Features:
Drag-and-drop interface for designing custom cards, letters, postcards, and flyers
Comprehensive analytics tools to track performance and optimize campaigns
Integration of existing customer lists into PostGrid platform
Automation of mailings with scheduled delivery times
Database security protocols to protect data from unauthorized access
Private full-service printing options for direct mailing needs
Online tracking capabilities to monitor progress
Bulk discounts on high-volume orders for cost savings.
Pricing:
Per Piece Pricing: Up to 500 mailings per month and 50 checks per month
$0.85 /Letter
$0.74 /Postcard
$1.00 /Check
If you need more than that, you'll have to contact them for Enterprise pricing.
Our Opinion:
PostGrid is an ideal choice for you if you want to maximize the reach, effectiveness, and cost savings of your direct mail campaigns.
We like that it offers flexible pricing for smaller campaigns and/or smaller businesses.
Best for: Wide range of services and flexible pricing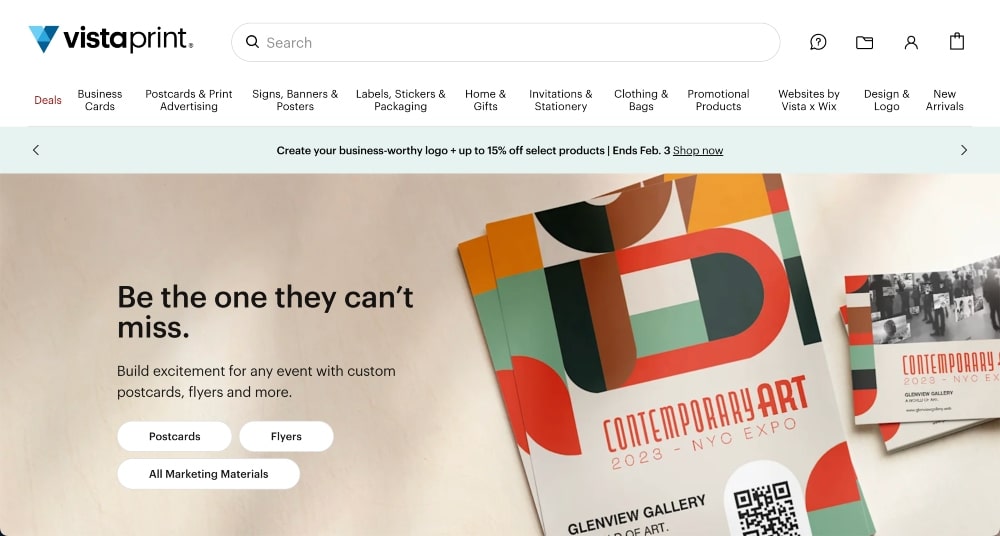 VistaPrint is an international printing service provider with a wide range of products and services tailored to meet the needs of businesses large and small.
The company has been in business since 1999, delivering superior quality prints quickly, conveniently, and affordably.
VistaPrint offers direct mail services to help you easily create, customize, and deliver marketing materials that capture attention and maximize results.
With the ability to print on numerous materials, including paper postcards, flyers, brochures, and stationary, VistaPrint makes it easy to get your message out to potential customers.
VistaPrint's direct mail options give you the flexibility to target specific audiences based on demographic information such as age, gender, or location for maximum impact.
You can use simple drag-and-drop tools for quick customization or go into greater detail with their advanced design capabilities.
VistaPrint also offers other services like logo creation and design services, making it all-in-one printing and design software.
They also provide printing services for a wide variety of items outside of normal direct mail campaigns, including T-shirts, mugs, signs, gifts, business cards, and more.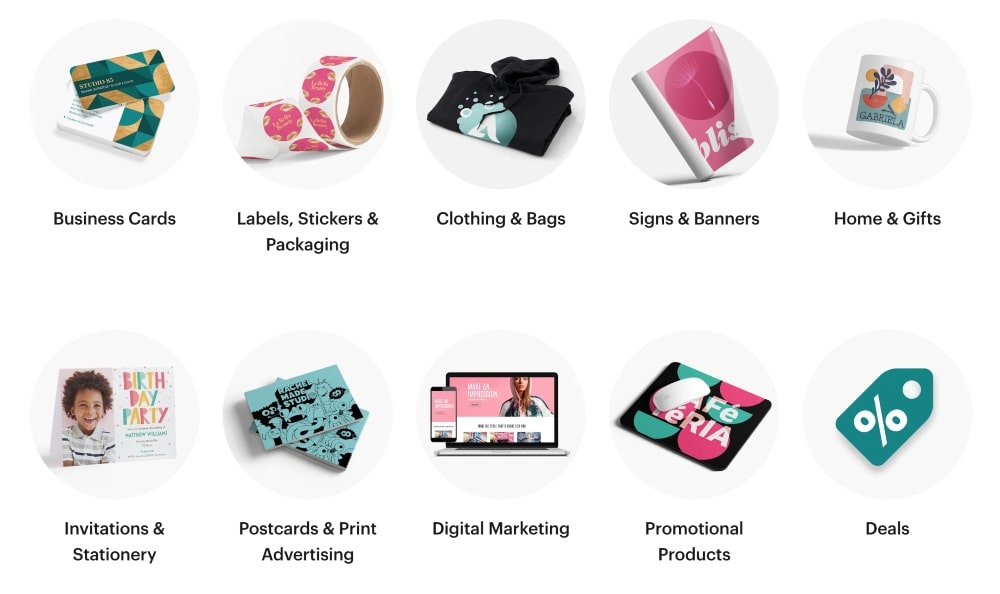 Key Features:
High-quality printing on a wide variety of products
Easy online design tools with templates and customization options
Affordable prices on personalized products
Fast turnaround times for delivery
24/7 customer support service available online or by phone
Powerful marketing solutions to help promote your business, product, or event
Comprehensive range of promotional items and corporate gifts
Pricing:
The pricing for VistaPrint depends on what kind of services you need. Here are a few examples:
Postcards: 50 starting at $24.00
Flyers: 1,000 starting at $49.00
Booklets: 250 starting t $356.16
Brochures: $140.00
Our Opinion:
VistaPrint offers a ton of products and services — the largest offering on this list of best direct mailer services. Whatever you need, it can be done with VistaPrint.
It's for that reason that we chose it, but we also love the flexible pricing. You can price out individual campaigns pretty easily and know what to expect without even having to contact them for a quote.
Overall, they are a great choice for small and large campaigns and provide every service you could possibly need to get started.
Best for: Integrating with Google Ads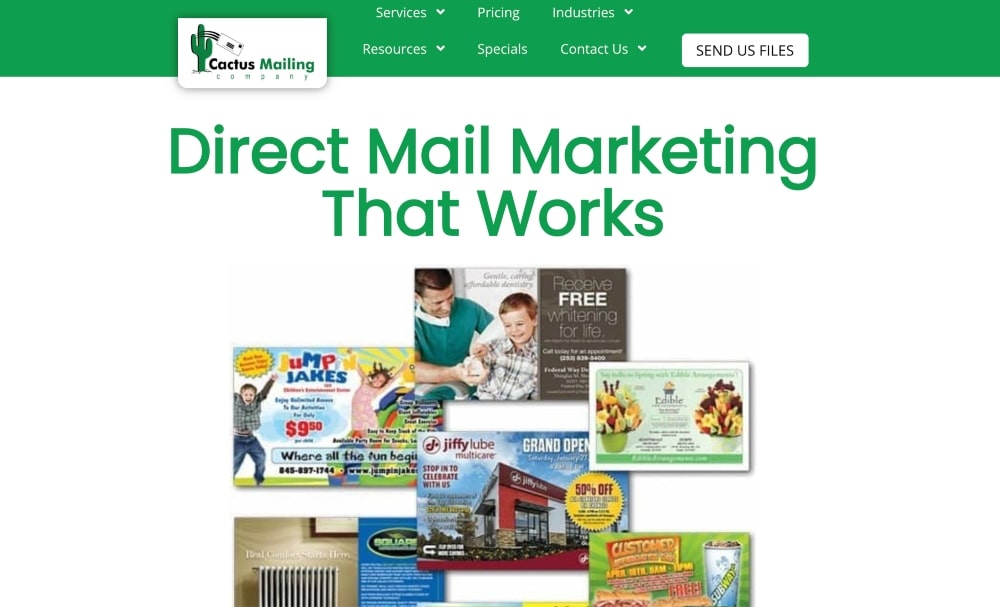 Cactus Mailing services include design and printing of customized postcards, flyers, brochures, and more; postage discounts up to 15%, tracking of delivery status, and more.
Their staff helps to ensure that each customer's direct mail campaign will be successful.
Their creative professionals are ready to help you develop attractive designs for postcards or flyers that fit your brand identity and message.
The company also provides helpful resources like articles about best practices in direct mailing and webinars teaching basic principles of marketing are available online for free.
Cactus Mailing also combines the effectiveness of direct mail with the broad reach of Google Display Ads to increase response rates.
You get all of the benefits of our Direct Mail Postcard services along with Google Display Ads that are precisely targeted towards your postcard recipients.
This synchronized campaign launch amplifies your messaging while providing repetition of the message that helps promote your branding.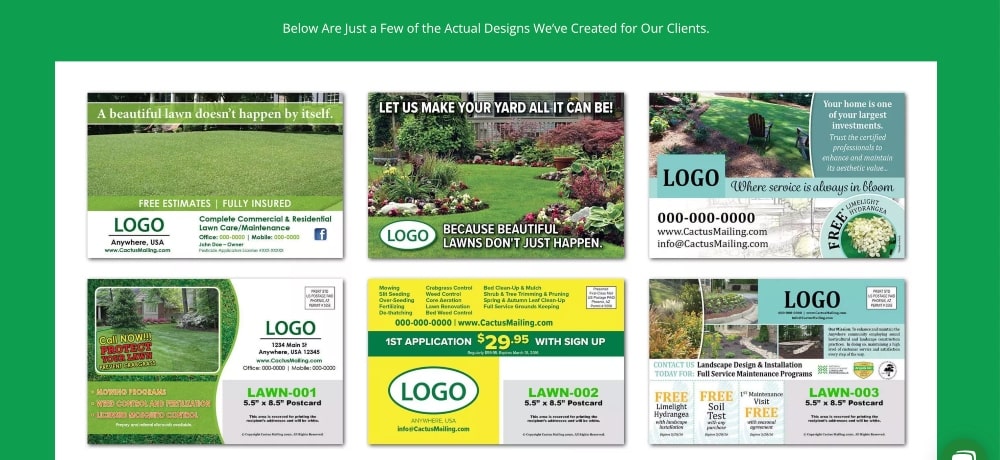 Pricing:
Request a quote for pricing.
Our Opinion:
The standout feature of Cactus Mailing is the combination of direct mail and Google Display Ads to help you increase response rates from your campaigns.
Overall, Cactus Mailing is a great option if you want to maximize the effectiveness of your direct mail campaigns while minimizing costs.
Not only do they offer competitive prices on postage discounts and printing services but they provide comprehensive resources and support as well – making them a great choice to get started with.
Best for: High volume and quick delivery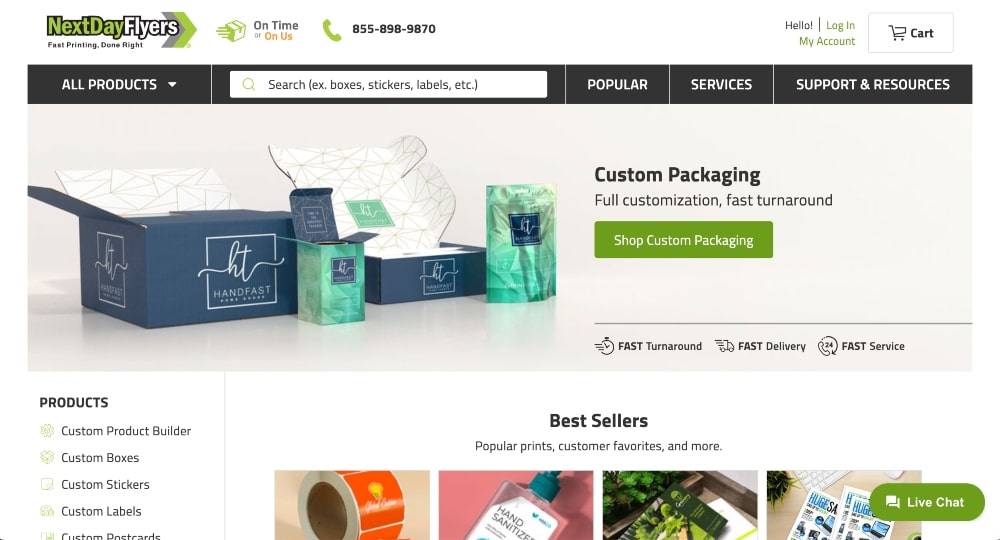 NextDayFlyers, a direct mail service that caters to businesses of all sizes, offers an efficient and cost-effective way to get your message out to potential customers.
With features like customized designs with professional printing, free tracking and reporting, and fast turnaround times, NextDayFlyers is a great option for those looking to send out promotional materials or direct mail campaigns.
With over 25 years in the industry, they offer helpful advice on choosing the right design or format as well as general marketing tips.
They can recommend which type of paper or card stock to select for your specific needs.
As an added bonus, most orders are shipped within 24 hours.
When it comes to pricing, NextDayFlyers offers competitive rates and no hidden fees. Plus, you have the option of ordering in bulk so that every penny counts when it comes time to mail out your material.
You can also opt for delivery options such as express shipping or even scheduled delivery so that you know your material will arrive on time and at its destination safely.
NextDayFlyers has online tools available to help you create your own custom designs and templates without any extra help from professionals or graphic designers.
There's also a library of stock images available, so you can include fun graphics in your materials without having to create them yourself.
Finally, all accounts come with access to an easy-to-use analytics tool that allows business owners to measure the results of their mail campaigns quickly and accurately—helping them make better decisions about future print runs and improve ROI over time.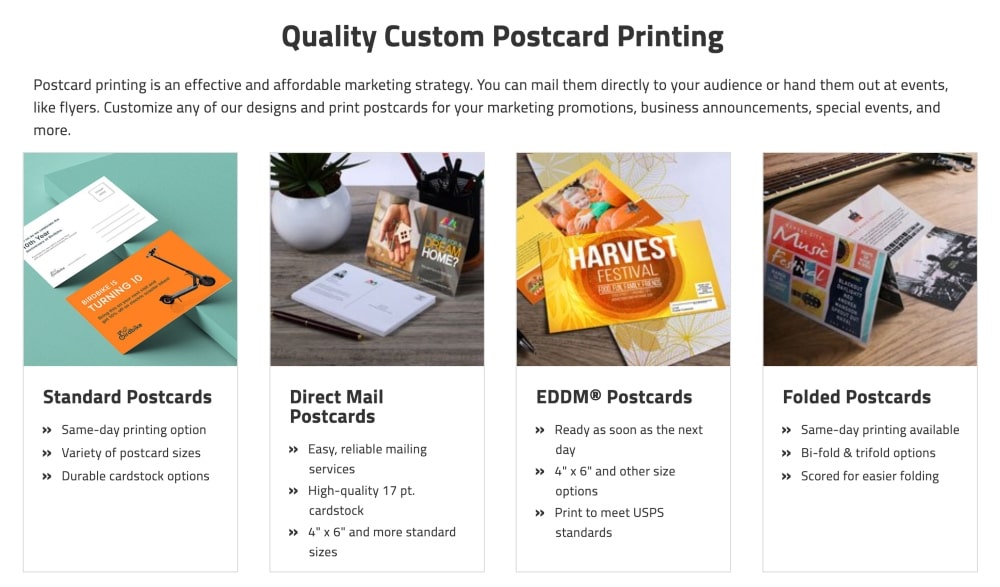 Key Features:
High-quality printing on premium paper stock
Competitive pricing and bulk discounts
Same-day turnaround time available
24/7 customer support
Full design services included with every order
Free shipping within the US
100% satisfaction guarantee
Variety of options including postcards, brochures, flyers, banners, posters, and more
Pricing:
NextDayFlyers pricing varies by piece and quantity ordered. You can view a full-price list on their website.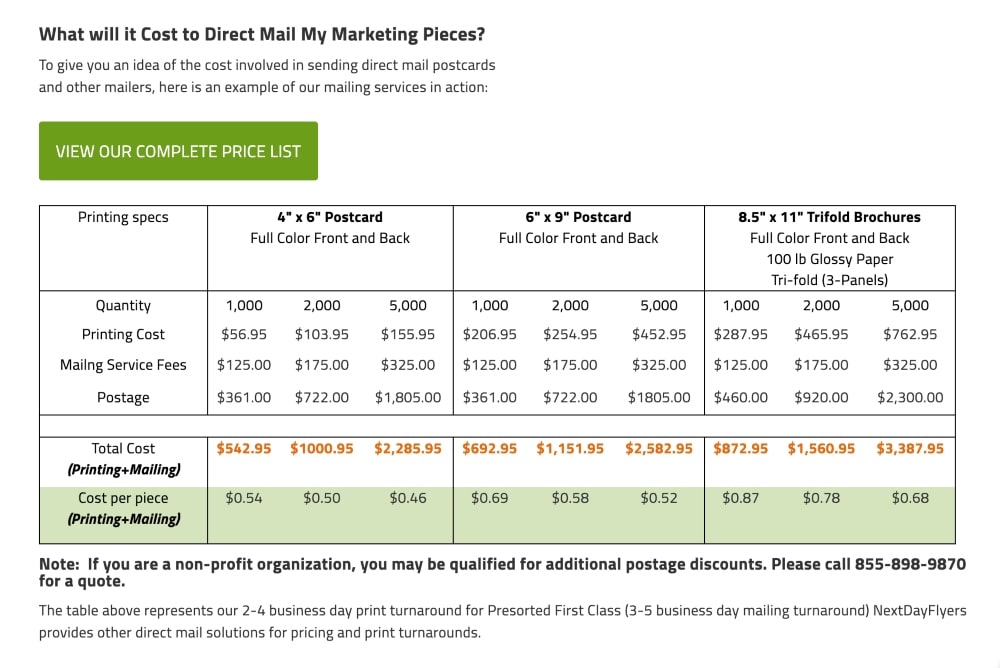 Our Opinion:
Overall, NextDayFlyers has earned its reputation for being one of the best direct mail services out there by providing reliable services at competitive prices combined with fantastic customer service.
They have powerful analytics and tracking tools, which makes NextDayFlyers stand out from other direct mail services.
We think this is an ideal option for larger businesses with high volume and a need for quick delivery times.
Best for: EDDM (Every Door Direct Mail) Campaigns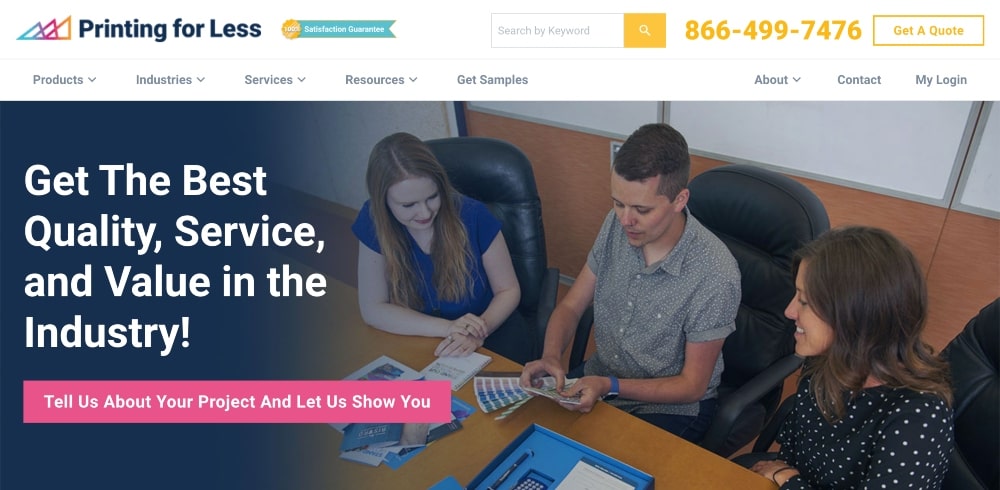 Printing for Less is a direct mail service that provides high-quality, affordable printing services.
They specialize in creating custom-printed materials, such as business cards, postcards, brochures, flyers, and more.
The company has been providing quality printing services since 1994 and is committed to helping businesses achieve their goals through creative print solutions.
From simple projects to complex campaigns, Printing for Less can develop the perfect solution at competitive prices.
Their design tools allow you to easily upload images, change fonts, add text boxes, and more so you can customize your piece exactly how you want it.
Plus, their online ordering system allows you to place orders quickly and easily with no minimums or contracts required.
In addition to its great selection of products and services, Printing for Less also offers free shipping on all orders over $50 and a satisfaction guarantee on all orders.
If you're not completely satisfied with the result, they'll reprint it free of charge.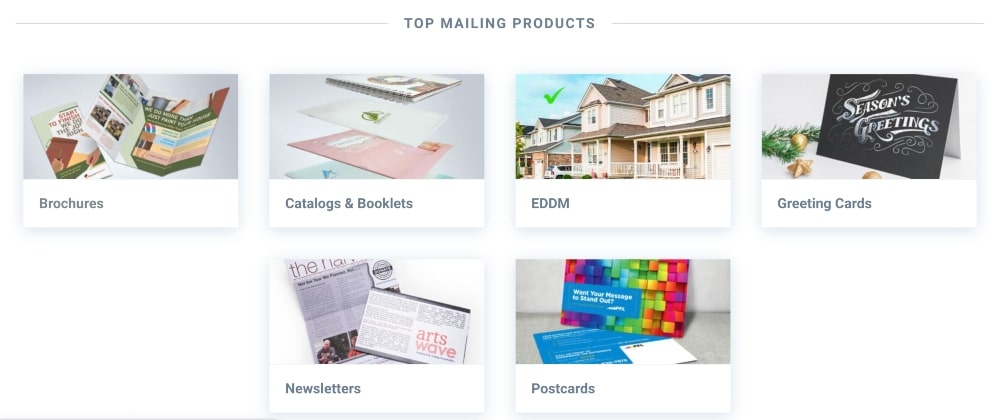 Key Features:
High-quality full-color printing
Fast turnaround times, with options for rush orders
Competitive prices and discounts for bulk orders
Customers can customize their orders to fit their needs
Ability to print on a variety of paper types and sizes
Variety of designs, fonts, colors, and finishes available
Dedicated customer support team available by phone or email
Free shipping on certain orders
Pricing:
Contact to request a quote.
Our Opinion:
With its easy online ordering system and knowledgeable staff ready to help with any questions or concerns along the way, Printing for Less is a great option for direct mail services.
They have an extensive collection of design templates and offer a great guarantee on all products, which makes this an ideal choice for anyone just getting started with direct mailing or who wants to ensure the highest quality.
Best for: Digital marketing retargeting campaigns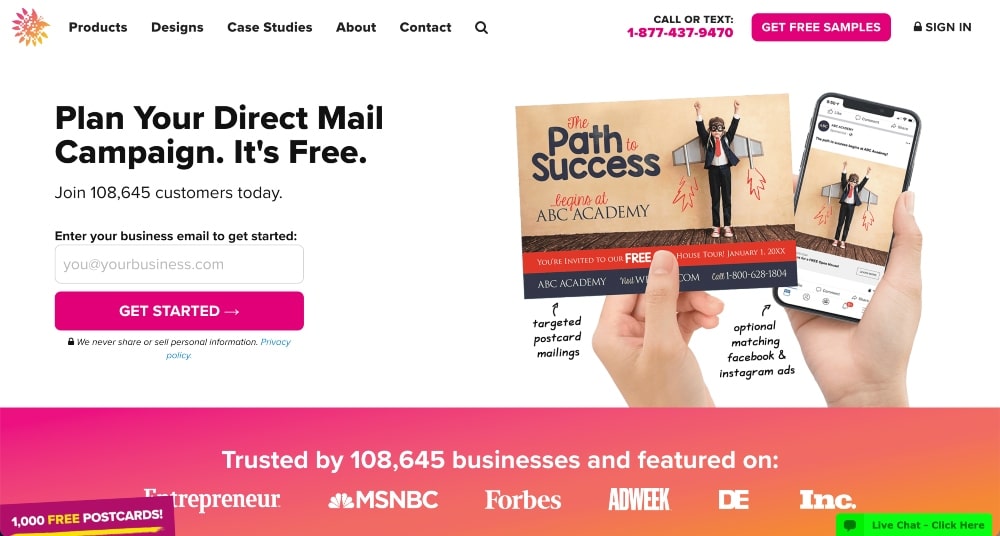 PostCardMania is a direct mail service that specializes in helping businesses reach their customers through the use of postcards, although they also offer other types of direct mail services as well.
The company was founded over 20 years ago, and since then has built a vast network of clients from all over the world.
They offer complete design services, which can you help customize any postcard template to fit your needs.
Their tools also make it easy for you to create targeted mailing lists based on geographic locations, age groups, gender, interests, and more.
One standout feature of PostCardMania is their direct mail retargeting postcards when someone visits your website — further increasing the reach to every customer.
They have an algorithm that matches physical addresses with website users, which allows you to create a retargeting campaign without even having the user's contact information.
The retargeting postcards can be sent out within 1 day of the visitor leaving your website.

Key Features:
Automated direct mail marketing campaigns
Customizable postcard design templates
Targeted mailing lists based on location or demographic criteria
Integration with CRM software solutions
Reports and analytics to track the success of campaigns
Variety of printing options such as gloss, matte, etc.
Affordable budget payments for large orders
Online marketing guidance from expert staff members
Pricing:
Every Door Direct Mail (EDDM) Retail: $0.20/piece
Postcards: Starting at $0.12 (or $.05 for high volume)
Bulk Mailing: Starting at $0.335/piece
Our Opinion:
PostCardMania is one of our top choices for the best direct mailer services because of its retargeting campaigns for website visitors.
If you want to use direct mailing services to increase the reach of potential customers visiting your website, this is the best direct mailer service for you.
Best for: Quick service and fast turnaround time; wide range of products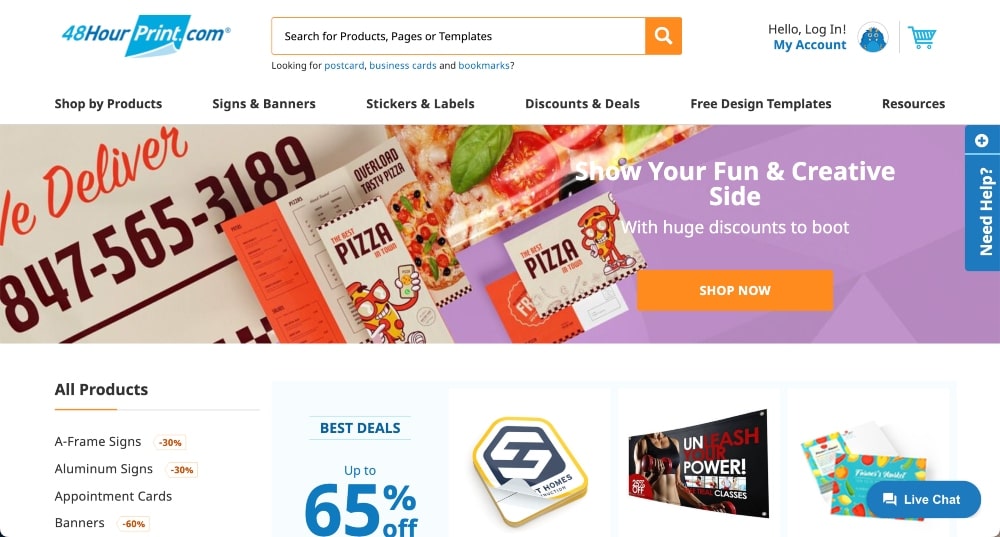 With 48HourPrint, you can easily create custom print pieces, order them in bulk and have them delivered quickly and affordably, often within 48 hours.
The services offered by 48HourPrint are diverse and comprehensive.
You can create brochures, flyers, postcards, business cards, stationery, and more.
All pieces can be customized with logo designs and personalized text to ensure maximum impact with target customers or clients.
One added feature of the service is that you can also order printing supplies such as envelopes and labels in addition to the actual printed pieces.
48HourPrint also offers a number of other features designed to help you save time and money when printing promotional materials, including free design templates and tools.
Once your design is finished, most orders will arrive on your doorstep within just 48 hours!
Like VistaPrint, they also offer a very wide range of products, including signs, decals, posters, tickets, stickers, and more.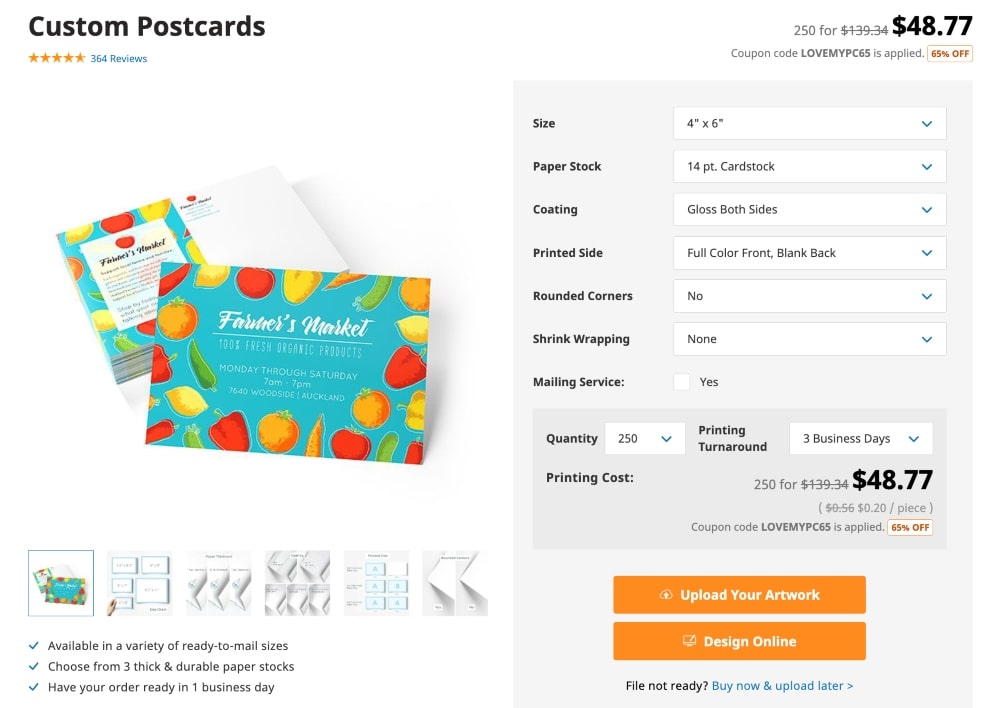 Key Features:
High-quality offset printing with a fast turnaround
Customizable options for binding, paper type, and size
Variety of templates to use as starting points or customize
Online design tools available to create custom designs from scratch
Large selection of colors and fonts for personalization
Ability to upload your own artwork or logo
Comprehensive proofing and editing tools
Affordable pricing plans for any budget or project type
Pricing:
Prices vary based on the product and quantity ordered. Here are some examples.
Brochures: 250 for $170.02
Flyers: Starting at 250 for $54.48
Our Opinion:
48HourPrint is a great option for anyone with a high need for flexibility, customization, and a quick turnaround time. They have a very large product offering, custom design tools, and super quick shipping!
Best for: Budget-friendly and small businesses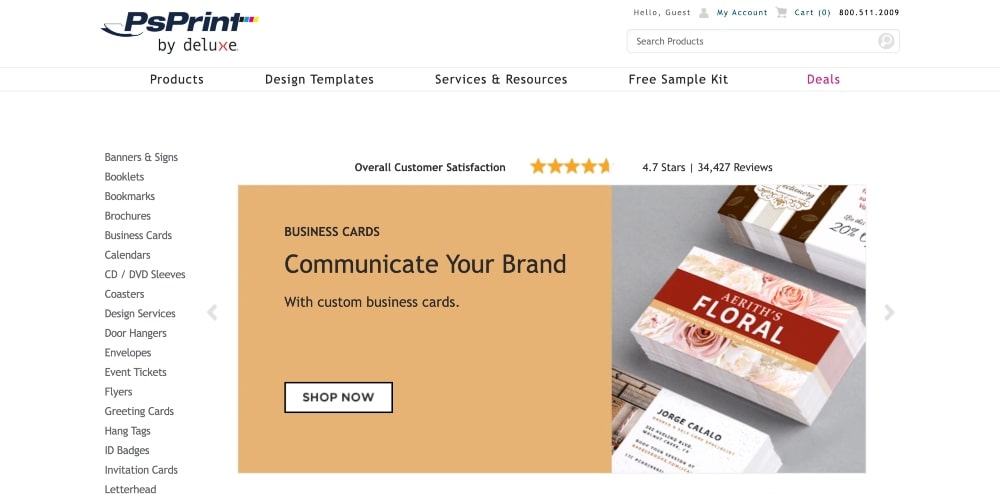 PsPrint is a customer-focused print service that provides high-quality printing options with competitive pricing.
Using PsPrint's online platform, customers can easily upload custom designs or select from a library of customizable templates for postcards, brochures, catalogs, business cards, flyers, and more.
You can also personalize your designs by adding text, images, and logos.
PsPrint's advanced software allows you to instantly see accurate proof of your design before ordering so they can ensure perfect results each time
In addition to providing high-quality prints for all types of materials, PsPrint also offers specialized services such as address validation and automated formatting for large data sets.
This ensures that customer address lists are up-to-date and correct before sending a job off to print.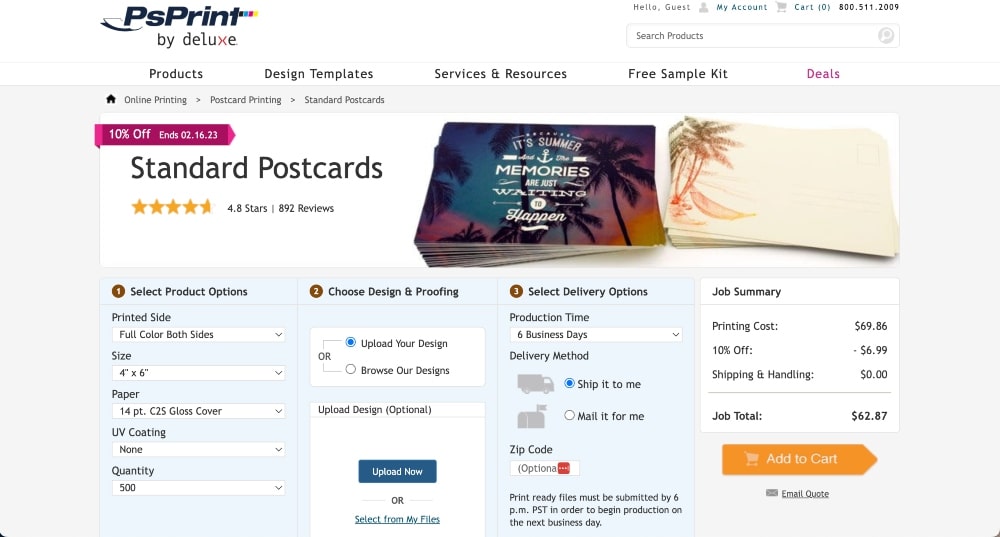 Key Features:
Wide range of products, including flyers, postcards, brochures, and posters
High-quality full-color offset and digital printing
Professional graphic design services (optional)
Customizable templates available on the website
Online proofing system to ensure accuracy before sending your prints out
Offers various discounts and deals throughout the year
Free shipping is available on most orders in the United States
Customer service team readily accessible by email or phone
Pricing:
Pricing varies greatly by the type of product and quantity ordered. All prices are listed on their website.
Our Opinion:
PsPrint is known for having more affordable prices and is therefore a great choice for small businesses or smaller projects. They also offer a wide range of products, which makes it a great one-stop shop for all of your printing needs.
Summary of Best Direct Mailer Services
Direct mail can be used to promote anything from product launches to special events.
When it comes to choosing the right direct mailer service, make sure you're evaluating cost compared to the quality and services offered.
Consider what type of direct mail campaign you might need and how much help you might need with those campaigns because many direct mailing companies also offer those services.
Finally, direct mailers with tracking services can help you monitor the performance of your campaigns and conversions.
Here are our top choices for the best direct mailing service:
With these key points in mind, you can be sure that your direct mail campaigns are successful and effective.
Make sure to choose a direct mailing service that best suits your needs and budget.