We partner with bada$$ companies that offer products that help our readers achieve their goals! If you purchase through our partner links, we get paid for the referral at no additional cost to you! Read our disclosure for more info.
Pinterest can be a really great source of traffic for bloggers, but it's a platform that a lot of people don't really understand when it comes to using it as an asset for your business.
When we first got onto the Pinterest scene in 2016, it honestly wasn't drastically different than it is now. It was easier to get traffic back then, but that's how it is for any platform when you get in relatively early.
At the height of my Pinterest success, our health and wellness website actually got over 500,000 views a month, which is pretty crazy.
This is what really launched our first blog to success because that level of traffic allowed us to test out different strategies for getting subscribers, making money, and so much more. It taught us the importance of getting a lot of traffic from any source.
We actually had one weight loss article go so viral on Pinterest that it resulted in earning $40,000 that month. More traffic to this article led to more traffic to my email opt-in, which led to more people on my sales page.
Now, we haven't seen anything like that happen since then. Things have changed enough on Pinterest that we don't really think an article can go that viral anymore.
But that doesn't mean that Pinterest still can't be a great source of traffic for you, and that's what we're going to talk about in this article.
It's a very different platform than its competitors — Facebook, Instagram, TikTok, YouTube, etc. etc. — and I actually think that this is a very good thing.
Pinterest is a little harder to understand and the algorithm can be a little all over the place, but it remains one of the easiest sources of quick, organic traffic out there.
This is what we tell our students:
As a new business owner, you want and need to get traffic very quickly. Otherwise, you're dead in the water.
Have you ever tried to create a brand new Instagram account and grow it from zero? Tell me how that's working out for you in a couple of years.
Pinterest might not give you hundreds of thousands of views anymore, but it is one of the quickest ways to get your first 1,000 views a month or even 10,000 views a month.
In this article, we're going to cover:
The Basics: How Pinterest works + what you can expect from this platform
What type of content works best on Pinterest
How Pinterest is different than other platforms
How to drive Pinterest traffic to your blog
How to optimize your content for Pinterest
Additional Tools and Strategies for Succeeding on Pinterest
Let's dive in!
Pinterest for Bloggers (The Basics)
Pinterest is a "visual discovery engine" for finding ideas and inspiration on various topics: home, design, fashion, etc. It's a place where users can curate, consume, and share content that they find relevant and important.
The concept was born from those old corkboards we all had hanging on our wall in high school or college:
On Pinterest, you create "boards" where you can pin ideas, products, and content that you like and want to save for later.
For example, one way that a consumer (not a business owner) would use Pinterest is to create a new travel board for planning trips. Let's say you're going to Peru — you look up articles on Pinterest on what to bring, what to expect, how to get around, etc. You save it to your Peru board so you can go back to this content later.
Now, if you're a business owner, it's generally better to stick to the content that relates to your own business. For example, our health and wellness account had boards in the following categories: yoga, healthy eating, diet, weight loss, etc.

These boards are where you can share your own content, so they should be related to the topics and subtopics of your content (ad website).
The "ideas" or content that you save on your boards are called pins.
Here are some example pins from a board titled "Yoga:"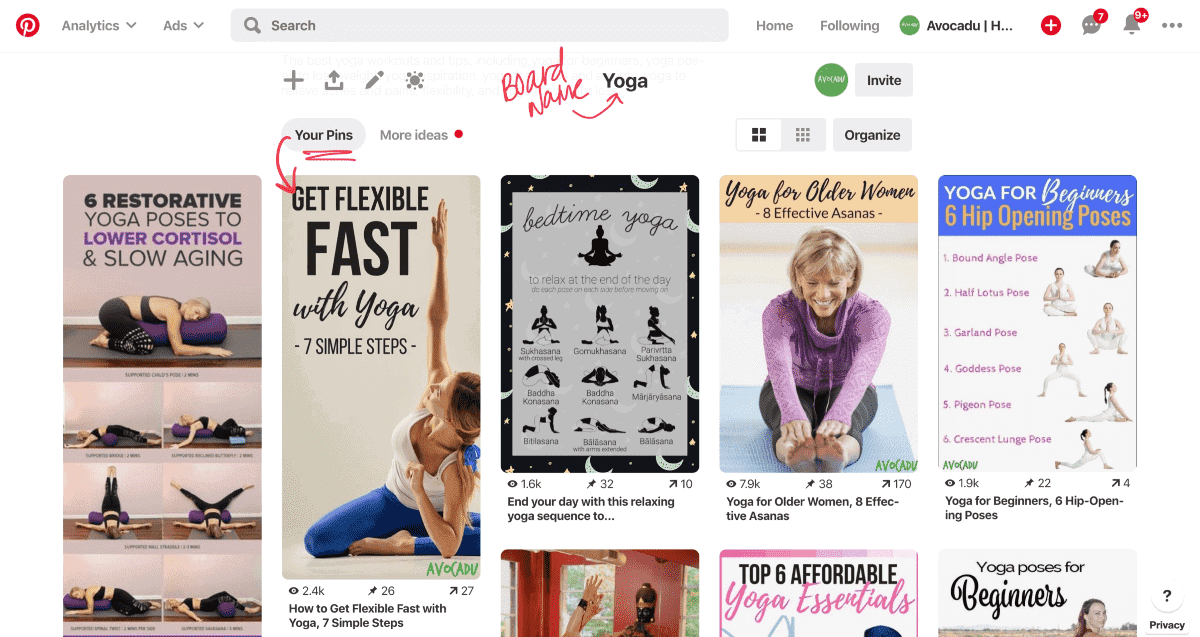 One of the best things about Pinterest is that it provides a way for you to directly link your content on the platform, which makes it easy as possible for people to hop over to your website.
Now compare this to Instagram… You post something on Instagram and you can't include a link in the photo or even in the description (not a clickable link anyway). You can do this on stories now, but even that was reserved only for accounts with over 10k followers for years.
It's very similar on YouTube. You can include links to websites in your description, but it's can be difficult to get people OFF of YouTube and ONTO your website. This is really important when it comes to getting email subscribers or directing people to your sales pages.
On Pinterest, you don't have to sort through videos or descriptions to find links. You can click directly over to a website straight from the content.
Like many other platforms, Pinterest also has a home feed that will show you a combination of content that you follow along with other suggested content and ads.
When you find a pin you like in your home feed, you can click the save button to save it to one of your boards OR you can click it to view the website it's linked to.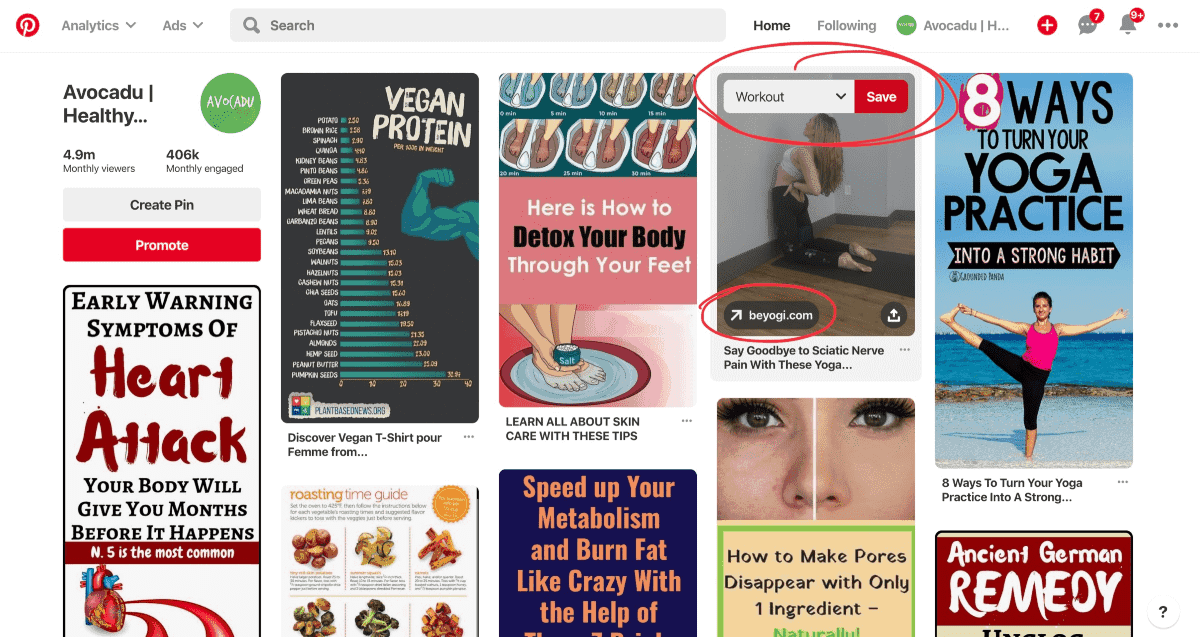 Other Types of Content on Pinterest
Two other types of content that can be found on Pinterest are video pins and idea pins.
These types of pins look very similar to the above content and pins that I just explained, but video pins, of course, display a video rather than a static image. Idea pins can contain either static images or videos, and they more closely resemble Instagram stories. Each idea pin (originally called "story pins"), has a few slides of content you can click through.
The main difference between these two types of content and regular pins are that they make it much more difficult for the user to click over to your website:
Video pins allow links but they are a little more difficult to find. It's not as intuitive to click over as it is with traditional, static-image pins.
Idea pins do NOT allow links to your website at this time. They only allow affiliate links to limited affiliate marketplaces (including Amazon Associates) and a follow button.
It's for this reason that creating either of these two types of content on Pinterest isn't a big part of my strategy at this time. We prefer to focus on content that generates more clicks and web page views.
What kind of content and ideas can be found on Pinterest?
Content on Pinterest spans almost any topic you can think of, but it is skewed toward women because they make up around 77% of its user base.
You can read more about the demographics of Pinterest here.
Popular topics on Pinterest include:
Animals and Pets
Architecture
Art
Cars and Motorcycles
Celebrities
DIY and Crafts
Design
Education
Film, music, and books
Food and drink
Gardening
Geek
Hair and Beauty
Health and Fitness
History
Holidays and events
Now that doesn't mean that content for men doesn't perform well on this platform either. We've had students promoting fitness content for men and we know of a survival blog that was making over a million dollars at one point using mostly Pinterest.
Targeting men on this platform could mean much lower competition and more loyal followers, so don't discount it right away simply because of its user base.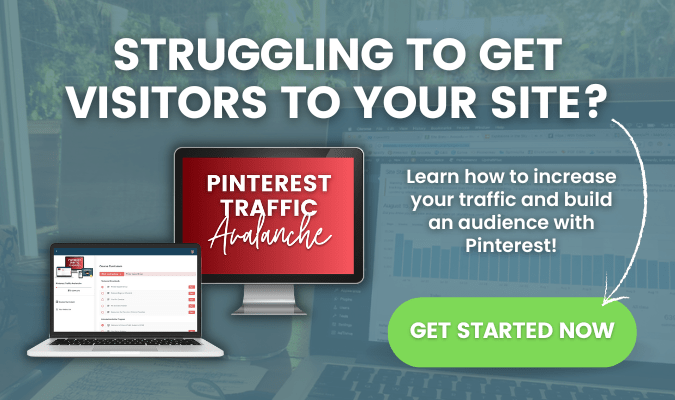 How Pinterest is Different from Other Platforms
Pinterest has some pretty interesting stats business users:
25% of social media marketers are using Pinterest (that's not a lot)
80% of US mothers who use the internet use Pinterest.
89% of users are on Pinterest for purchase inspiration
34% of Pinterest users earn between $50,000 and $74,999 per year.
72% of users are between ages 30 and 64.
Source: Omnicoreagency (check this link for the most updated information).
Here are a few other reasons why this platform stands out for bloggers and content creators:
Pinterest Is Not A "Social" Media
People don't socialize and communicate with each other in the same way that you see on other platforms, including even YouTube, which also isn't a very "social media."
On Pinterest, you can comment on pins, but it's not very common. It's generally just used as a search and discovery tool to find content that interests you. It's not really about sharing this content with other people, although that is possible.
This type of traffic (and Google SEO) is great because it's fairly passive. It doesn't require a lot of you getting on camera and trying to build deeper connections.
This is mostly due to the search feature on Pinterest.
Pinterest is a Search Engine (Partly)
This is the main reason why it's such a great source of traffic for new bloggers and business owners. It means you don't have to work really hard for followers in order to get your content seen by people.
It may be that Pinterest isn't for you in the long term. Our dependency on it certainly has changed over the years, but it can still serve you very much (and much better than other platforms) in the beginning.
You will generally have a lot more organic reach on this platform than others like Facebook, Instagram, YouTube, or podcasting when you're starting out from zero.
Some of these other platforms are really great for connecting with your audience and building relationships, but searchable traffic is more passive and sometimes easier to get.
It really depends on your overall content strategy, but having at least one source of searchable traffic is one of the keys to my success with my blogs.
Oh, and I say "partly," because of the "discovery" aspect of Pinterest. It's not a straight search engine like Google. There is still an element of creativity and connection that comes from creating images and other content on Pinterest. It's a much more visual platform than Google.
But the Pinterest algorithm is also a lot simpler than Google's and because of the lower competition, it's easier to rank for keywords faster on Pinterest. Bonus points if your content also looks amazing and sparks curiosity.
How to Drive Pinterest Traffic to Your Blog: Step-By-Step
The first few steps contain a few tips for getting started on Pinterest and how to set your account up properly and get your website connected. After that, you'll learn how to optimize your account for search.
Finally, we'll follow it up with a few tips on creating your best strategy for Pinterest!
1. Set Up a Business Account and Complete Your Profile
First, head over to the Pinterest homepage and make sure you start a business account. Pinterest will probably prompt you to follow a few topics, so just select a few that are related to your business niche. This will populate related content in your home feed.
Next, head over to your Settings area and fill in your business info. This is a great place to include a couple of keywords related to your business. It will help your profile and content get found in search.
For your profile photo, you can upload one of yourself or create one yourself with a free tool like Canva, which is where we created ours.
The Pinterest profile size is always a square aspect ratio (i.e. 200px by 200px), so any size will do as long as it's a square. Pinterest will resize your photo for you and it will display as a circle.
2. Claim Your Website
When you claim your website, you are showing Pinterest that you own that particular domain and all content from that domain should be associated with your account. Basically, it sets you as the "authority" for that domain.
Claiming your website also gives you access to website analytics so you can get additional information on how people are interacting with your website on Pinterest.
You can read more about how to claim your website here.
You'll probably want to use the option to "Add an HTML tag to your website" because it's generally the easiest but it also gets a bit technical if you don't have any coding skills (i.e. me). Thankfully, you can do this easily with the RankMath plugin, which is a plugin you should be using for SEO anyway. They have both a free and a paid version, but the free version should be sufficient for everything you need.
Follow these steps after installing RankMath to claim your website:
After clicking the button to claim your website on Pinterest, copy the meta tag that pops up (something like this): <meta name="p:domain_verify" content="your-id" />
Copy the characters within the quotations ONLY (highlighted in black below):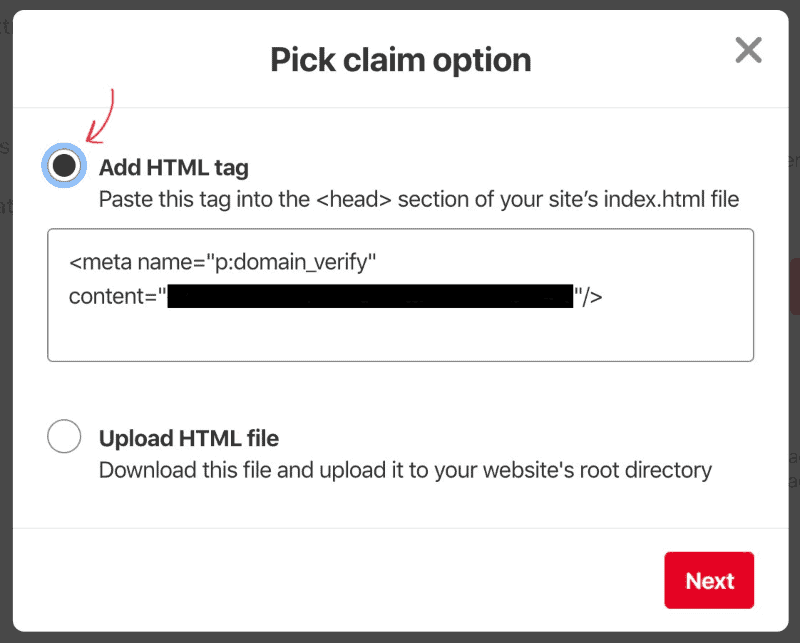 In WordPress, on the left navigation bar, go to RankMath >> General Settings >> Webmaster Tools >> Pinterest Verification ID and paste the meta tag that you copied.
Return to Pinterest and confirm that the website was claimed. It may take up to 24 hours for this to take effect.
You should see a checkmark next to your domain name in your profile settings when your domain name was claimed successfully.
3. Apply For Pinterest Rich Pins.
Pinterest rich pins pull information from your content on display the information on your pins.
This can help boost your pin reach and engagement depending on what type of content you have and what type of rich pins you're using.
These are the different kinds of rich pins and the type of content that is displayed for each type:
Articles: Headlines, authors, and descriptions of the blog article
Recipes: Ingredients, serving sizes, etc.
Product: Pricing, availability, and where to buy
App: Ability to download IOS apps within Pinterest
Most of you will want Article rich pins and that's what I'll show you how to set up now. Make sure that you have FIRST followed the step above to claim your website or this will NOT work.
Follow these steps to enable rich pins on your account:
Visit the rich pin validator and copy any URL from a blog post or page (not your homepage) and paste it into the validator.
Click validate and you should see a confirmation that your pins have been validated.
Click "Apply Now" to finish.
Check the validator again in 24-48 hours to see if it was successful.
You'll see another green checkmark when it has been set up correctly.

Before moving on to the next section, make sure to look over the rest of your profile settings to see that you have notifications and other settings set up the way that you want them.
4. Create a Few Pinterest Boards
As we explained before, Pinterest boards are what house the content that you save on Pinterest. Think of them as a way of categorizing and organizing content (pins) that you save on your profile.
Create at least 5 boards to start with on Pinterest. You can edit your board at any time by clicking on the board and clicking the gray pencil icon at the top of the board.
Make sure to include relevant keywords in the names and descriptions of each of your boards because this helps your boards and content get found better in search.
It's okay to be cute and clever, but the priority should be to include the keywords and make them as clear as possible. For example… Naming a board "Weight Loss" is far better than naming it "Drop Dat Weight!"
While that board title might get you a few chuckles, no one is searching for that term, so you're only going to hurt your overall reach on Pinterest.
We will discuss this and SEO in more detail later on in this article but for now, know that you should include relevant and popular keywords in your board names and descriptions.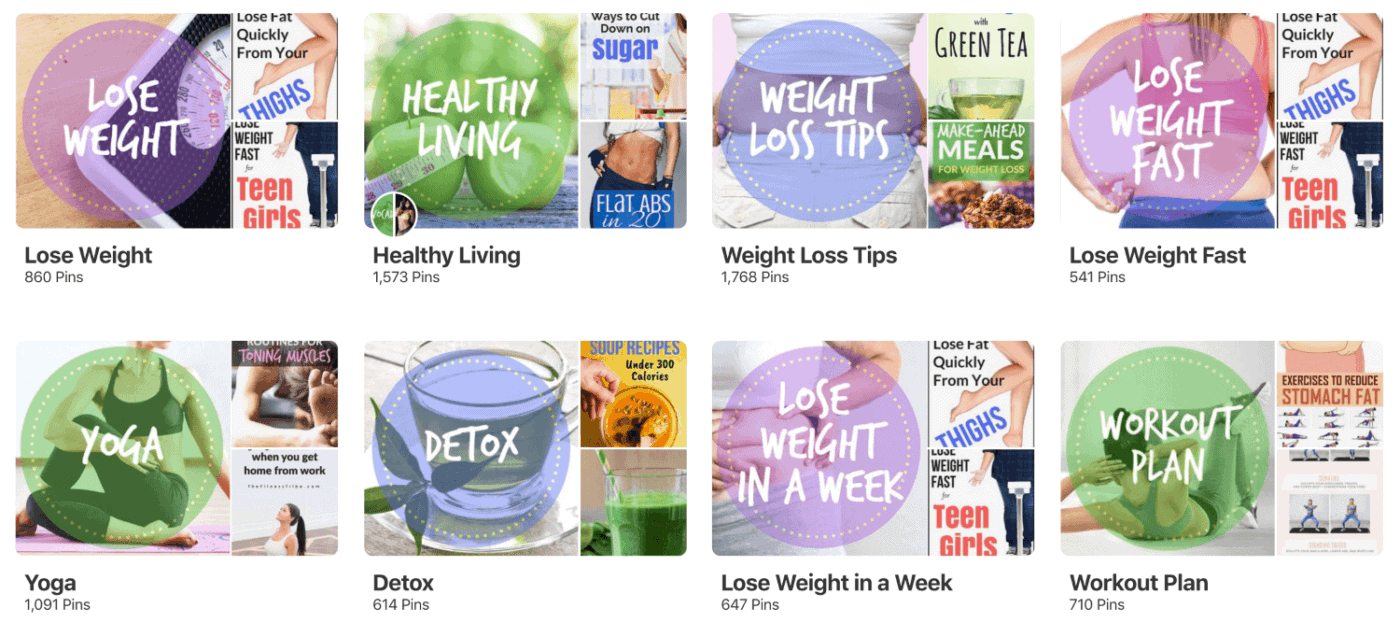 After you save at least 2 pins on a board, you have the ability to set a board cover. Your board cover can be any of the images that are pinned on that particular board.
You can also create custom covers for your boards using Canva, although this is optional and I've never found that it has made any difference on the performance of your account. It looks pretty, but it isn't very functional. The size of Pinterest board covers also changes often and they sometimes look different on desktop than they do on mobile.
To set an image as a board cover, simply upload the image to your Pinterest board and edit the board settings to choose a cover.
5. Follow a Few People or Brands in Your Niche
You should follow at least 5-10 people in your niche for a couple of reasons:
It will populate your home feed with relevant pins to share with your audience.
It will help you keep an eye on your competitors and the content that they are sharing.
Use the Pinterest search feature to search for popular keywords in your niche and then select the "People" filter: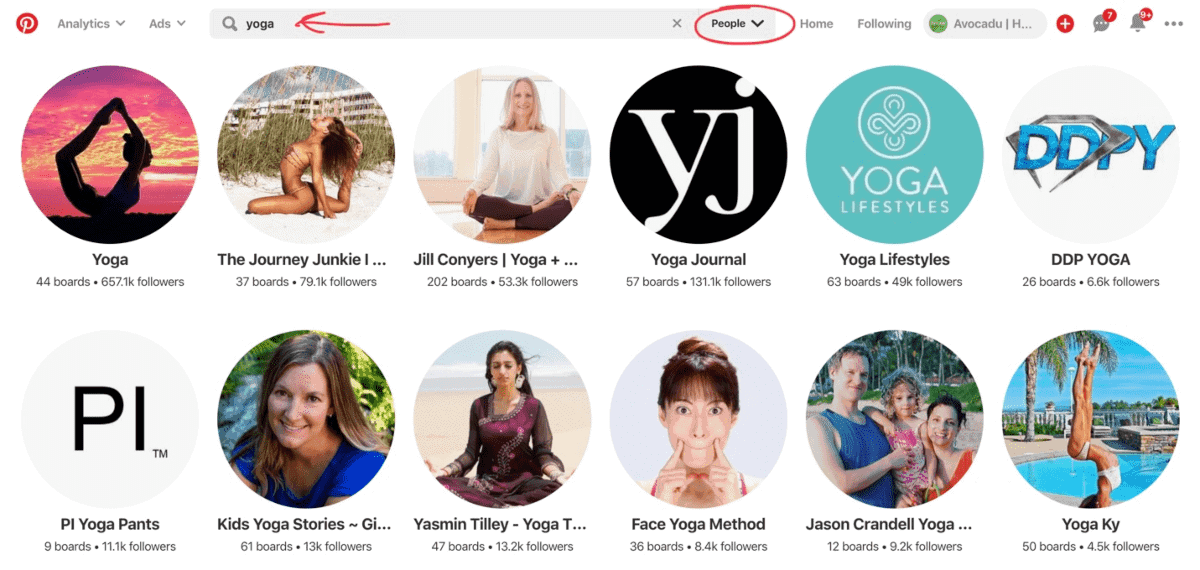 Start by clicking on people's profiles and checking out their content. When you look at someone's profile, make sure to look over ALL of the boards on their account. Some people mix their business accounts with personal boards and pins.
If you follow their entire account, you will automatically follow ALL of their boards. Alternatively, you can also choose to follow only specific boards on their account.
When looking over people's profiles, only follow specific boards that relate to your niche or industry.
6. Create Your First Pinterest Pin
Your images on Pinterest MATTER. No surprise as it's such a visual platform. But this is your one shot to advertise your piece of content. What do you want to say?
Thankfully, you can speak with both images and text here (also video, if that's your thing).
Having popular content on Pinterest is good because it gets you content and also because the more engagement your content receives, the more Pinterest will feature it in people's feeds and the more it will be shared.
Unless you're a pro at Adobe (props to you), the best software for creating pins is definitely Canva. I think this is the 3rd time I've mentioned it in this article now, so you can see how useful it is!
Canva is a free web-based photo creation software that allows you to create beautiful and professional photos, and it's super intuitive and easy to use. (Paid, pro version also available with more features.)
We use it to create:
Pinterest pins
Product images for courses and eBooks
Featured images for articles and podcast episodes
Other images for our sales pages and emails
And literally a million other things!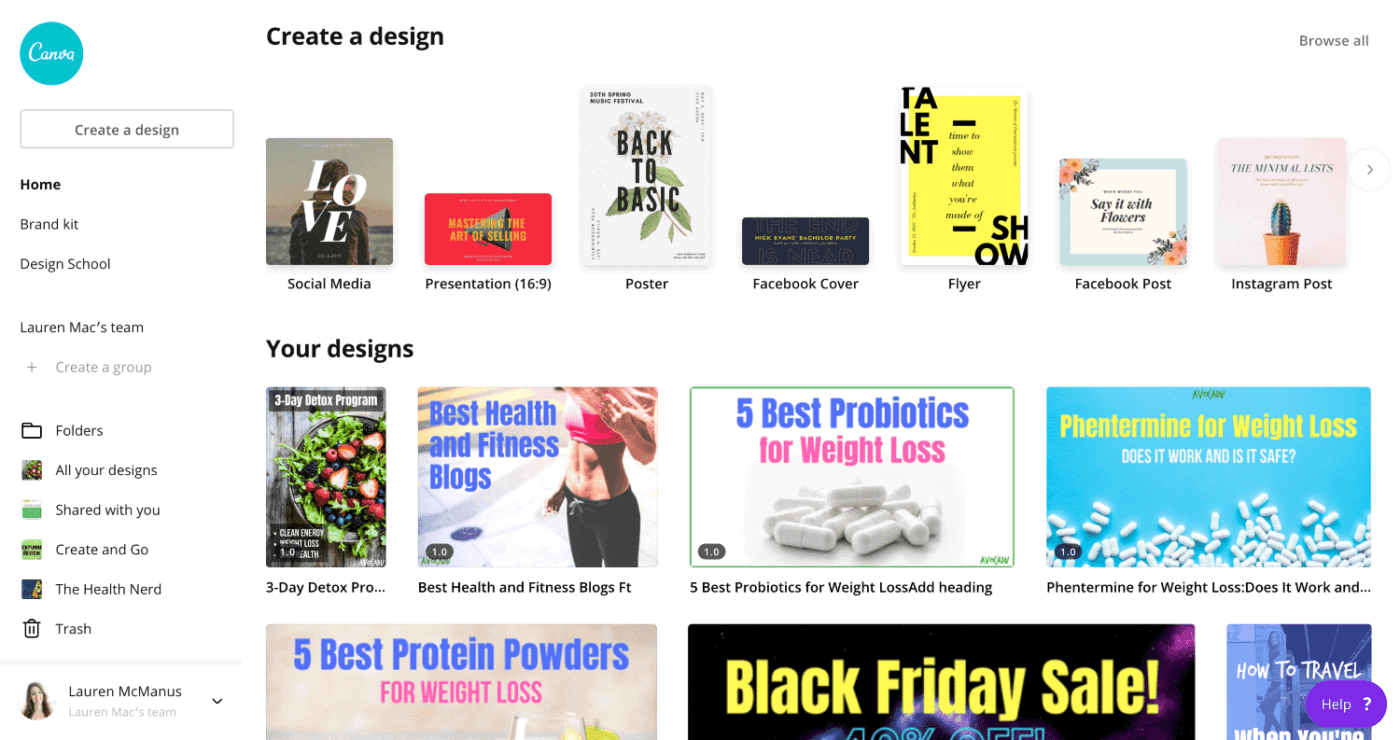 According to Pinterest's creative best practices, your Pinterest pins should be in a 2:3 aspect ratio; i.e.600px by 900px or 1000px by 1500px.
Canva offers some stock photos for free, but you can also download free stock photos from sites like Pixabay or Pexels and upload them to Canva. You can also upgrade to the pro version of Canva for a low price and get access to a TON more stock photos. I do this because it saves me a ton of time.
Related: My Favorite Free Stock Image Sites
You can also add text and other graphics and design to your pins: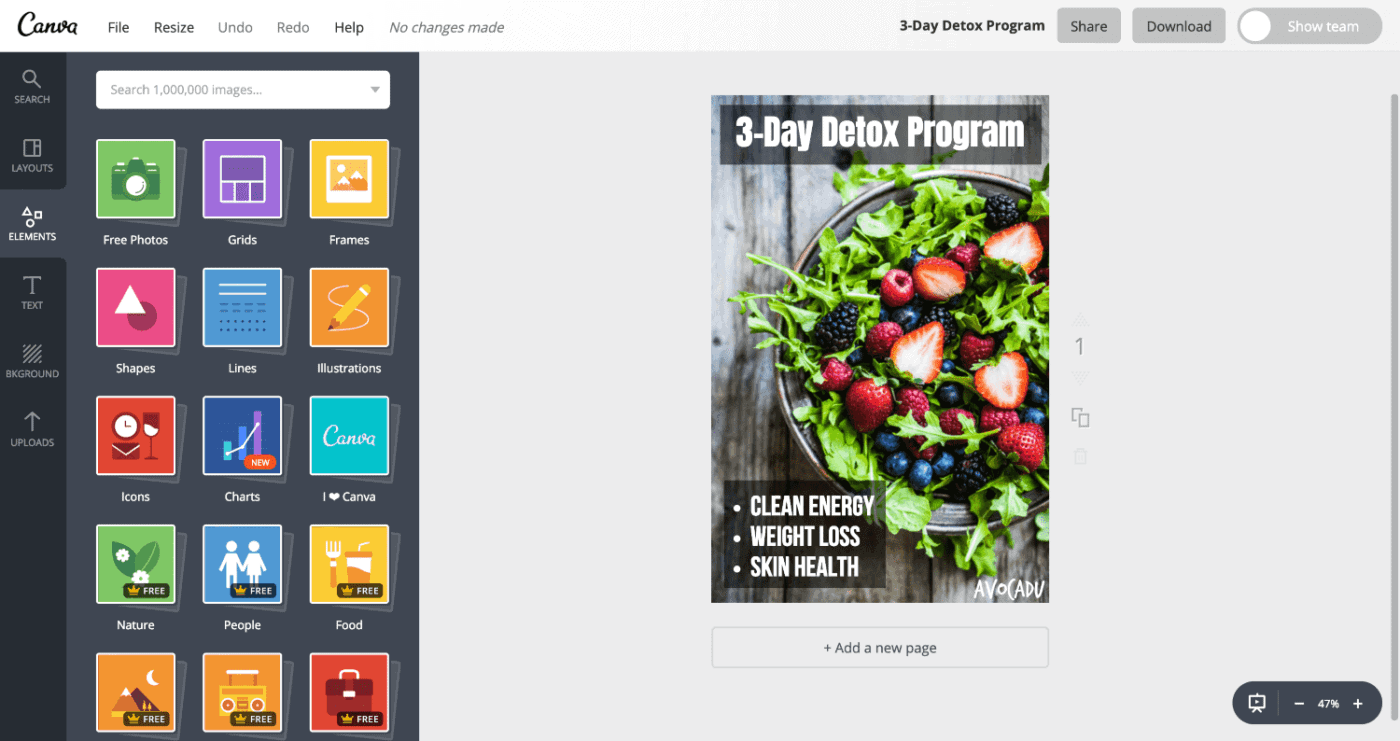 You should create at least 3-5 Pinterest images for every blog post that you have.
That may seem excessive, but Pinterest loves "fresh" content and they prefer you not to re-share the same image more than once. This also ensures that you have a steady stream of new content to share.
Other tips for creating high-performing images on Pinterest:
Add your logo to the top or bottom of your pins.
Consider using the same font text across your entire account for branding consistency.
Avoid using images of people's faces (unless they are your own).
Make sure to use the service below to check your analytics and see which pins are performing the best!
How to Optimize Your Content for SEO
As we stated before, Pinterest is [partly] a search engine, which means that some basic SEO strategies will go a long way toward helping you get your content found on the platform.
There are two different things you have to focus on when it comes to driving traffic with Pinterest.
Pin design (to get clicks and engagement — we covered this above already)
SEO and keywords (to get your content displayed in search results)
Having both of these is what will help you win the game at the end.
The Pinterest algorithm recognizes both of these factors when they rank content on the platform and display pins in search results and in the home feed.
Finding Your Keywords
It's time for some keyword research! The first step in optimizing for SEO is to find your keywords.
You can do this right in Pinterest with the search feature or use a more powerful keyword research tool like Ubersuggest (also free).
When using Pinterest, you will get related and suggested keywords when typing words or phrases into the search bar:

After entering a keyword, you can also see other popular keywords related to your main keyword in the colored boxes below the search bar.

You can click any of these keywords and it will start a new search with both keywords (i.e. yoga + for beginners).
These keywords are what you want to use to optimize your Pinterest profile, including pins, pin descriptions, board titles, board descriptions, and article titles.
We have already briefly discussed adding keywords to your profile and description. This is another way to help you get found in search:

We already discussed this as it relates to your boards too, but here's an example: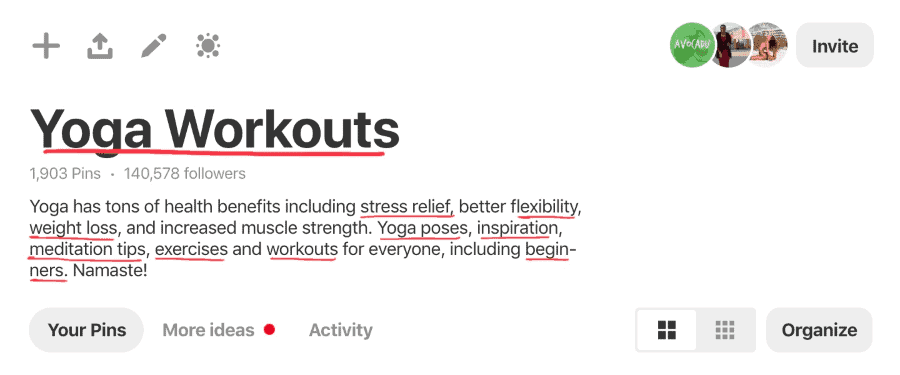 Make sure that your description makes sense and try to avoid keyword stuffing: adding too many keywords that don't make much sense just to get your content ranked.
It's better to have fewer, more important, and relevant keywords than it is to have a ton of keywords that are less related to your topic.
Optimizing Pins and Descriptions
When it comes to your pins, you should include keywords in the following areas:
Pin image itself (Pinterest can read text on images)
In your Pin descriptions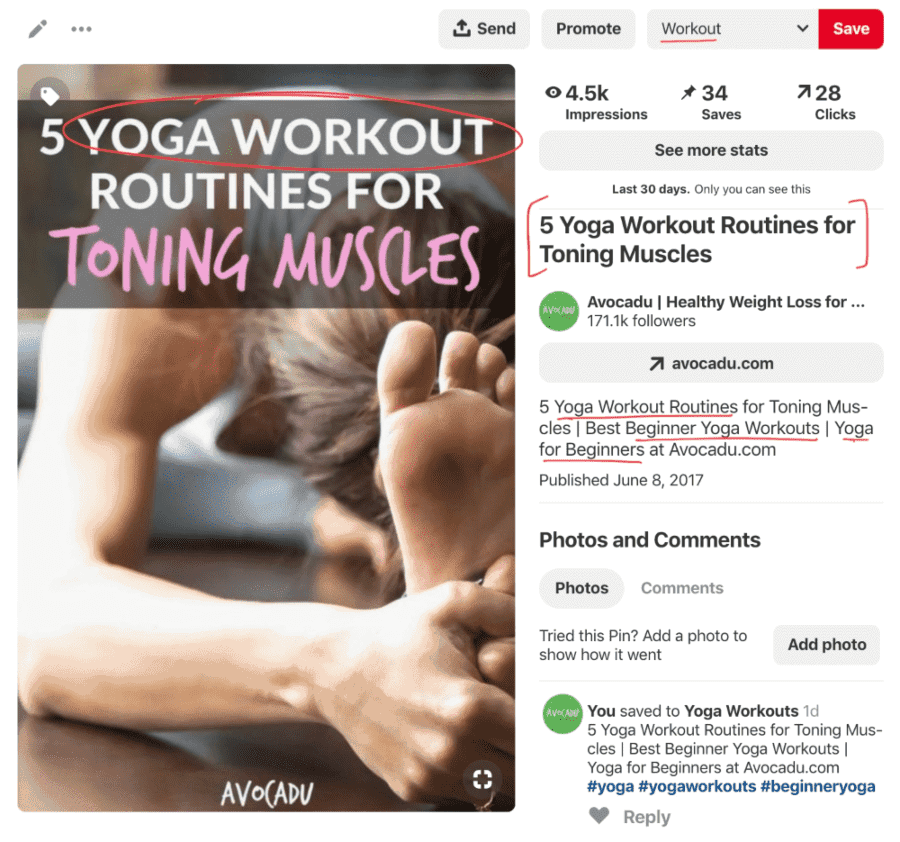 It's important to include your main keyword in a text overlay on the pin image itself. You can do this in Canva when you're creating your pins.
You should also include keywords in your pin descriptions. Some people also include hashtags in their descriptions, but this has never much of a difference on Pinterest because people don't use them to search for content as they do on Instagram.
It's also best to save these pins to relevant boards that share some or all of the keywords. This helps to tell Pinterest what your content is about and that you're saving it in the right place.
Optimizing Your Articles
Pinterest scans pin titles and descriptions to rank them in searches, so it will increase your visibility even more if your post titles and pin descriptions match popular keywords.

Note that you must have rich pins enabled in order for your post titles to display in your pins.
Make sure to include keywords in your article titles and in the meta descriptions for each post (you can use the free RankMath plugin I recommended earlier to do this).
Tools and Strategies for Success on Pinterest
Now that you have gotten your profile set up and some of your Pinterest content created, it's time to get some more eyeballs on that Pinterest! This section contains our best tools and strategies for increasing your blog traffic on Pinterest!
Sign Up For Tailwind
The best tool that you can use to promote and share your content on Pinterest is Tailwind. This is what I personally use, and our affiliate link will get you $30 off if you're a new user!
Tailwind is a software that connects to your Pinterest account and provides the following services:
Schedule pins
Analytics on pin engagement and performance
Tracks new followers
Specific board performance
Collaboration tools for increased engagement
I'll go through a few of these in a little more detail.
Scheduling Your Content on Pinterest
Scheduling your content will save you a ton of time and ensure that you get more engagement on your pins by spreading out your content.
It can be tough to keep track of what you have shared on what board, and this allows you to share content at the best time of day without having to do it manually.
There is also a native scheduler within Pinterest, but the features are a lot more limited and you can't schedule out content very far in advance.
When you add pins to your Tailwind schedule, you can set the boards you want to pin the content to as well as any future date that you'd like to pin it: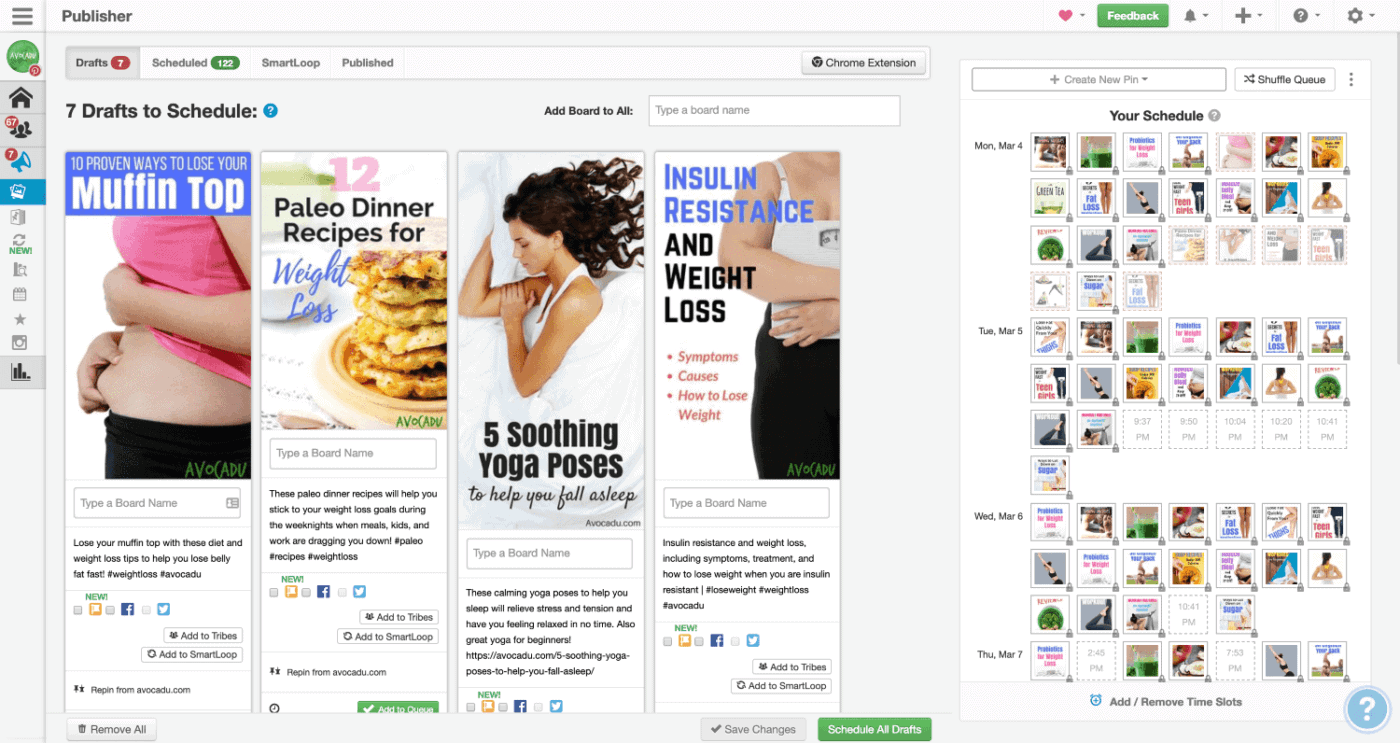 You can also change board descriptions within Tailwind and change the link where the pins direct to if need be. You can also set up intervals on your schedule so you can space out your pins as much as you'd like.
In addition to scheduling your pins, Tailwind also tracks the performance of those pins:
Analytics on Pinterest Pins
The tools that Tailwind offers allow you to track the performance of your profile and your content over time: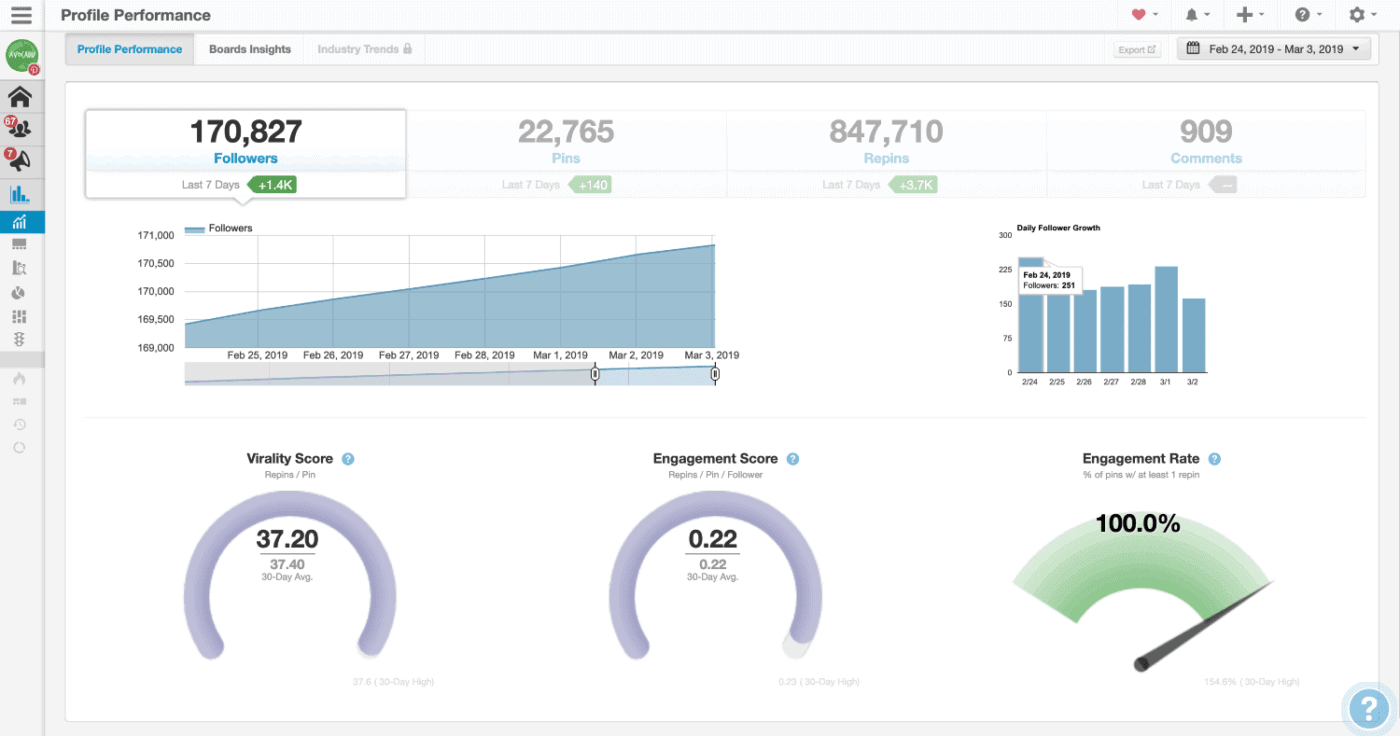 It will show you the average engagement levels of your content and track your follower growth. You can also use the Pin Inspector to view the pins you have previously saved and sort them by date, repins, etc.:
Seeing which pins are getting more likes and saves can help you create better content in the future.
Pinterest has its own analytics on the platform, but the data provided can be a little ambiguous at times. I use it but in combination with Tailwind's analytics.
Google Analytics is also important to use to track actual traffic stats (web page views) to your content.
Tailwind Communities
There are a few other cool features of Tailwind — one of them being Communities.
With Tailwind Communities, you can join groups of other content creators in your niche and share content with them. It's a great way to get additional exposure to your content. It's essentially a share-for-share system in which you upload your pin to a small, targeted group to be re-shared and then you share someone else's pin in exchange.
This can be a really great tool for growth with new accounts because it allows you to get your content seen by more people even if you don't have many followers yet.
We've partnered with Tailwind to offer a $30 credit for new users on top of a free trial if you sign up with our affiliate link.
Social Sharing Icons and Follow Buttons
You can use plugins to add social sharing icons to your articles. Some of them also include a Pinterest hover icon to display over certain images to make it easier for people to share your pins on Pinterest or a separate image that can be shared when someone clicks on the Pinterest share button.
Here are a few popular plugins for this:
There is also another software called MiloTree that allows you to create a custom pop-up on your website that has follow buttons for your social media account(s).
All in all, followers don't matter too much on Pinterest. It's more about sharing engaging content that shows up in search results.
But I also have an article on how to get more followers on Pinterest that you can read next if you're interested.
P.S. Also do check out our full course on Pinterest if you're interested in learning more about the best strategies for growth on Pinterest!
And if you enjoyed this article or have any questions for us, please feel free to leave us a comment below! We'd love to hear from you!