We partner with bada$$ companies that offer products that help our readers achieve their goals! If you purchase through our partner links, we get paid for the referral at no additional cost to you! Read our disclosure for more info.
Are you looking for a new way to spark creativity and make connections with other bloggers? Participating in blog hops could be the perfect solution.
Blog hops are an excellent way to spread awareness of your blog and make meaningful connections with bloggers in your niche.
Blog hops are also commonly known as:
link parties
blog link ups
blog carnivals
linky parties
But what are blog hops? What exactly is a link party?
This article will explain exactly what blog hops are, how they benefit your blog, and why you should consider participating in them.
What is a Blog Hop?
If you're new to the world of blogging, it's understandable you might not know what blog hops are, let alone why they can be beneficial.
Blog hops, commonly called link parties, are online networking events hosted by bloggers to connect bloggers within a specific niche.
Like this one hosted by AlteNew in the scrapbooking niche: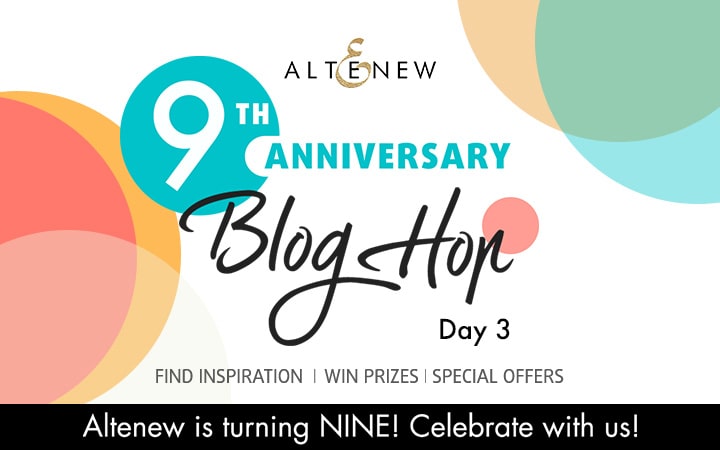 Put another way, blog hops exist as a way to get some additional blog traffic, exposure, and engagement to your website and content.
This can especially benefit new bloggers whose content may not be turning up in search engines yet but who need that initial engagement to get going.
How Do Blog Hops Work?
Typically, a host blogger will create a post or page that invites other bloggers to participate in the event, including guidelines on how to participate.
The guidelines can include:
your blog's URL for a single article that you want to promote
a small blurb about the article
Other requirements such as content type, word limits, social proof, etc.
Once the event is live, the host will publish a static blog hop page with links to all of the participating bloggers' posts – hence why they are called link parties.
Participants can then visit each other's blogs, read their posts, and leave comments or engage with the content in some other way.
To help promote the hop, most events have their own hashtag and graphics, like this one from Stamp Your Art Out:


The primary goal is to provide a platform for bloggers to network and share their content with a wider audience.
Two Types of Blog Hops
There are two main types of blog hops.
Open blog hop – Typically, anyone can join (providing that you provide the requested information).
Closed blog hop – Participants are usually specifically invited by the host.
Most blog hops are open, but hosts may want to keep them closed to create exclusivity or connect bloggers at a certain (perhaps higher) level of success.
Some hosts may sponsor one-time events or even a monthly blog hop, depending on how effective they are and how much engagement the link parties drive.
The Benefits of Participating in a Blog Hop
One of the primary benefits of participating in blog hops is the opportunity to connect with others in your niche.
By networking with other bloggers, you can build relationships, collaborate on projects, and share knowledge and ideas.
Additionally, by sharing your blog posts with a wider audience, you can increase your readership and blog reach.
Blog hops are also a great way to discover new blogs and content within your niche. By browsing through the participating blogs, you can find new sources of inspiration and information.
Can Any Blog Benefit From Participating in Blog Hops
While blog hops can be useful for any type of blog, they are especially effective for more personal blogs (compared to a company blog, e-commerce, etc.).
After all, blog hops are designed to connect individuals and help them build relationships within their blogging community.
A good example of this is the Tuesday Talk blog hop that includes photos of their hosts for a more personal touch.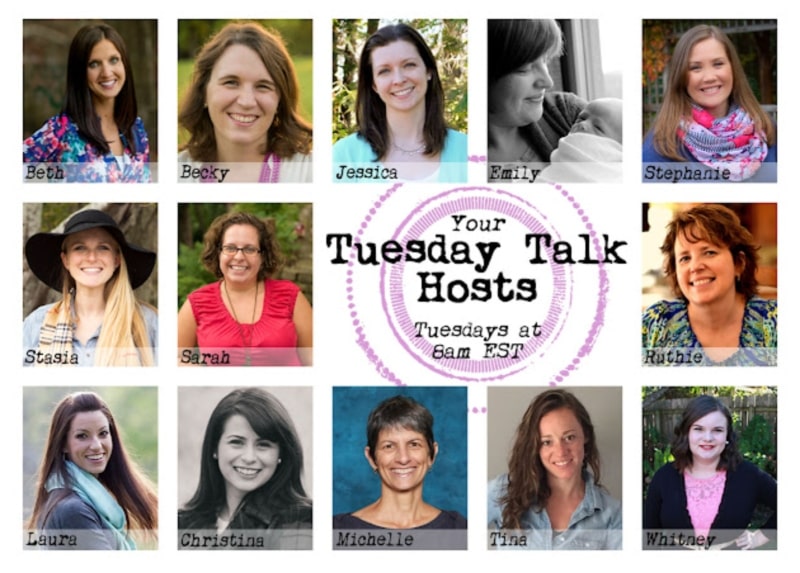 And when you're blogging passionately about your subject, it's only natural you will want to connect with like-minded people.
If your content is written in the third person, or it focuses completely on a company or brand, then blog hops might not be the best option for you.
Then again, if you infuse posts with a personal touch while promoting a product, you could find a blog hop or two to add your links to.
Examples of Blog Hops
There are many different examples of blog hops that cater to various niches and interests. Here are a few examples of types of blog hops you could host or participate in:
Foodie Friday: Aimed at food bloggers and invites them to share their favorite recipes or restaurant recommendations.
Travel Tuesday: As the name suggests, this hop is for travel bloggers who want to share their latest adventures, tips for traveling, or destination guides.
DIY Home Decor: Invites home decor bloggers to share their latest DIY projects, home improvement tips, or room makeovers.
Fashion Friday: For fashion bloggers, this type of hop is an opportunity to share their latest style tips, outfit ideas, and fashion finds.
Mommy Monday: Aimed at mom bloggers who want to share their experiences with parenting, family life, and raising kids.
How to Find Blog Hops
There are several ways to find a blog hop that's right for you, including:
Search Online: One of the easiest ways to find blog hops is to do a search online. Use keywords that are relevant to your niche, such as "travel blog hop" or "food blogger link up", and see what results come up.
Ask Other Participants: Reach out to fellow bloggers in your niche and ask if they know of any blog hops that you could participate in. They may be able to recommend one that they have personally participated in and found to be valuable.
Check Social Media: Many blog hops have their own social media pages or groups where participants can connect and share their posts.
A blog hop directory can be a great resource for finding new blog hops to participate in.
How to Join a Blog Hop
To join a blog hop, follow these general steps:
1. Find a Blog Bop That Interests You
Look for blog hops that align with your specific niche or interests. Once you have found one, read the guidelines carefully to ensure that you understand the requirements and rules for participating.
Guidelines will differ, so make sure to read them carefully. Here is an example of the instructions for Underground Crafter's blog hop: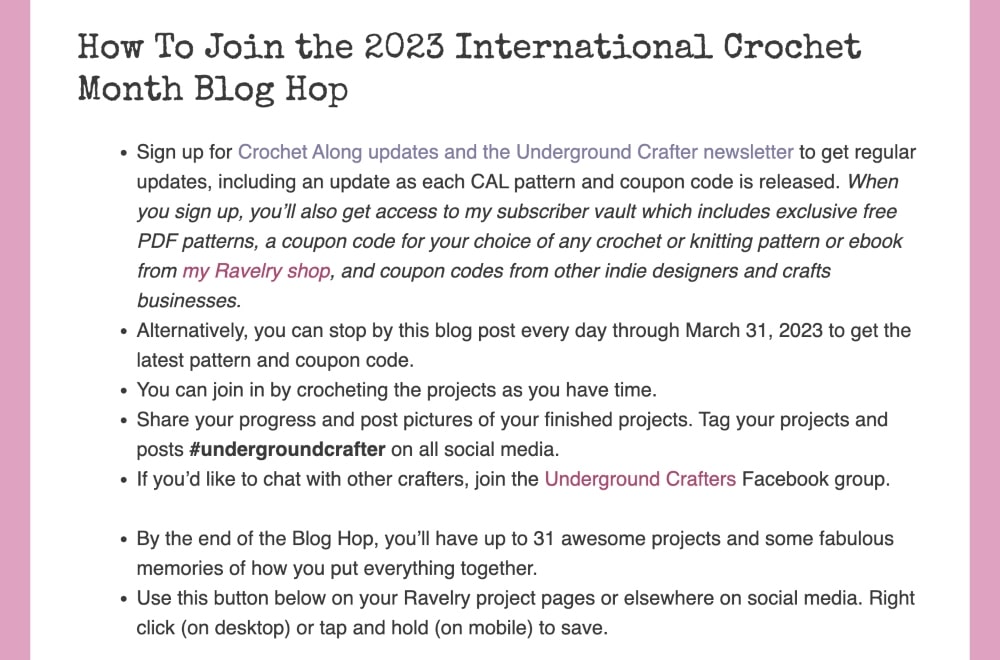 2. Write Your Blog Post
Make sure you write an article that relates to the theme or topic of the blog hop.
It's critical that you follow any specific requirements outlined in the guidelines, such as word count or format. Otherwise, your link could be removed from the hop.
Note that you can only promote a single article within each blog hop.
3. Link Back to the Blog Hop
In your blog post, include a link back to the host blog or the blog hop page. This allows readers to find the other posts in the hop and helps to promote the community.
4. Share Your Post
Make sure to share your post on your usual traffic channels using any hashtags or social media graphics that are associated with the blog hop.
This helps to promote your post and the other posts in the hop.
5. Engage With Other Bloggers
Visit the other posts in the blog hop and leave comments. This helps to build relationships with others in your community and can help to drive traffic to your own blog.
6. Follow Up
After the blog hop has ended, be sure to follow up with any new connections that you have made.
This could include reaching out to other bloggers, subscribing to their blogs, or sending a follow-up email.
How to Host Your Own Blog Hops
If you can't find a great blog hop to join, consider hosting your own blog hop!
Here's a quick step-by-step guide to hosting your own successful blog hop and how to get others to participate in a blog hop that you host.
Determine the Theme and Schedule
Choose a theme that's relevant to your specific industry and niche and that others will be interested in participating in.
Set a specific date or time frame for the blog hop to take place, and communicate this clearly to potential participants.
Create a Landing Page
Create a static blog hop page for the blog hop that outlines the theme, rules, and expectations for participants.
Include a form where bloggers can sign up to participate and provide their blog's name, URL, and email address. This page will serve as the hub for the blog hop.
You can use Google Forms, Typeform, or a contact form plugin.
You can also create a cool infographic like Winter Wonders blog hop hosted by Itchin' for Some Stitchin':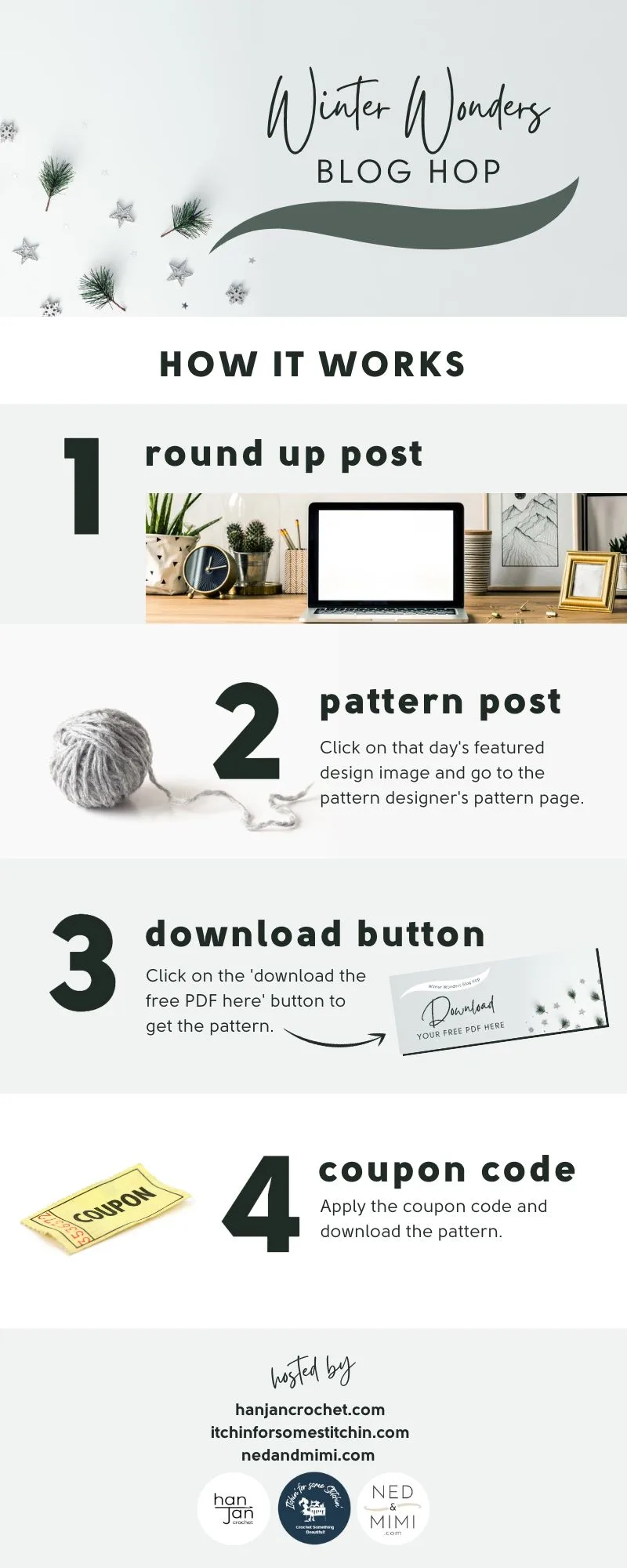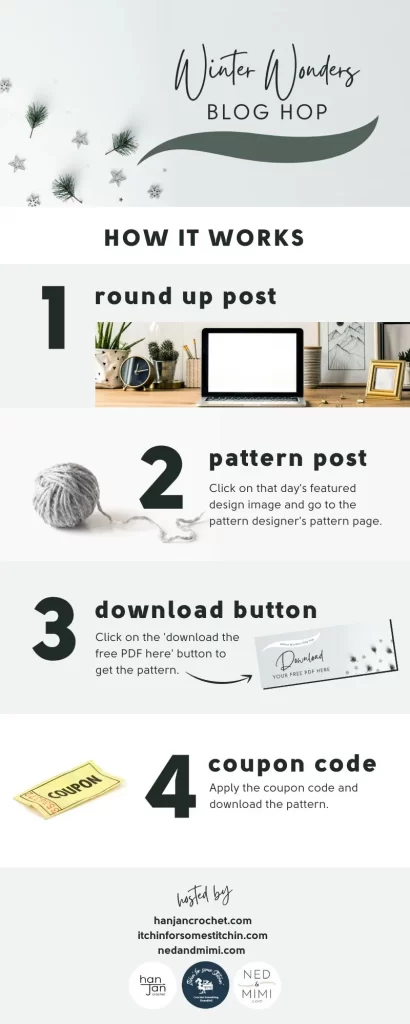 Promote the Blog Hop
Spread the word to your own audience and reach out to other bloggers in your niche and invite them to participate.
Share the landing page on social media and in blogging communities to attract more participants.
Establish Rules and Guidelines
Clearly define the rules and guidelines for participation, including the topic or theme of the blog hop, the length and format of the blog post, and any requirements for sharing and commenting on other participants' posts.
Provide Graphics and Social Handles
Create graphics and social media handles for the blog hop to make it easier for participants to promote it on their own channels.
Provide instructions on how to use these graphics and handles, and encourage participants to share them widely.
Publish the Blog Hop Post
Once the blog hop is live, publish a post on your own blog that includes links to all of the participants' posts.
This page will serve as a roundup of all the posts, making it easy for readers to discover new blogs and content.
Engage with Participants
Throughout the blog hop, engage with participants by reading and commenting on their posts, and sharing their content on your own social media channels.
Encourage participants to do the same, and create a sense of community among the bloggers who are participating.
FAQs About Blog Hops
What are blog hops?
Blog hops, also known as link parties or link-ups, are online networking events to connect individual bloggers and allow them to share content and promote each other's blogs.
What is a blog hop badge?
A blog hop badge is an image created by the host of the blog hop to advertise the event. This should be a simple graphic that includes the name of your blog hop and your brand colors.
How do blogs get noticed?
Blogs can get noticed through various ways, including SEO optimization, social media promotion, guest posting on other blogs, networking with other bloggers, blog hops, and creating quality content that engages readers.
If you can't find blog hops that interest you, create your own!
Marketing your blog is just as important if not more important than writing your content.