We partner with bada$$ companies that offer products that help our readers achieve their goals! If you purchase through our partner links, we get paid for the referral at no additional cost to you! Read our disclosure for more info.
We all have those moments in life that we want to hold on to forever. But how do you keep them alive? With quotes about memories, of course!
From nostalgia and longing for the past, to never forgetting someone's impact on your life, these unforgettable memory quotes will remind you why it's so important to make each moment count.
Here, we've compiled some of the best memories quotes out there – from inspirational words by great authors to funny sayings that bring back fond memories.
If you're looking for other motivational and inspirational quotes, make sure to check out our other popular posts:
Best Memories Quotes for Various Occasions
The following memories quotes are about life, death, new memories, and the old.
Memory Quotes About Life
Wonderful memories can last us a lifetime and make that lifetime full of happiness.
1. "Memory is the diary that we all carry about with us." – Oscar Wilde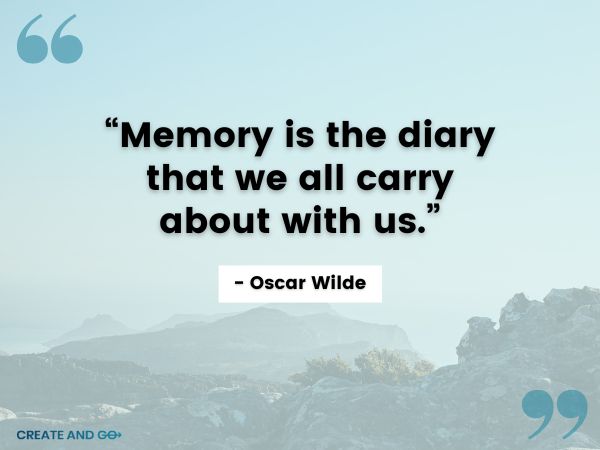 2. "Memories are like stars; you may not be able to touch them but you can always look at them and they will brighten your day!" – Unknown
3. "Don't cry because it's over, smile because it happened." – Dr. Seuss
4. "Life is a journey and memories are souvenirs we take along the way." – Unknown
5. "We don't remember days; we remember moments." – Cesare Pavese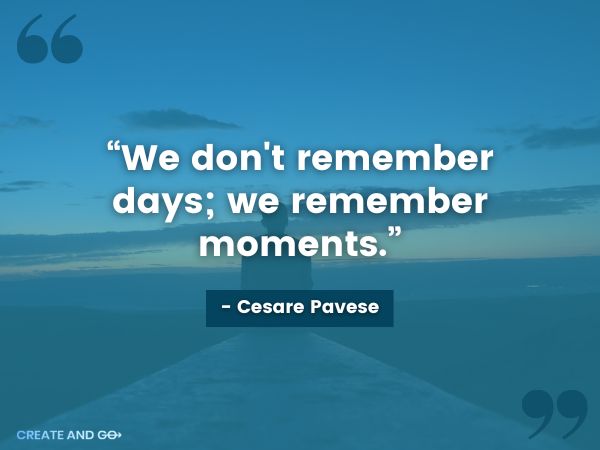 6. "Some memories are realities and are better than anything that can ever happen to one again." – Willa Cather
7. "Memories, like dreams, are tools for understanding life…they provide an entry into the heart of what we have once experienced and helps us make sense out of it after the fact." – Ayelet Waldman
8. "When you have nothing to remember, life becomes meaningless." – Unknown
9. "Life is not measured by the number of breaths we take but by the moments that take our breath away." – Maya Angelou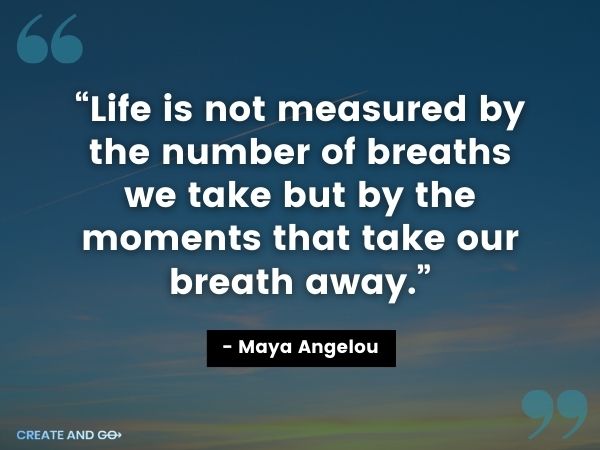 10. "Life is a collection of moments; some remembered, some forgotten, some treasured forever." – Unknown
Memories Quotes About Death
These memories quotes can be used to remember your beloved friends' lives and serve as a positive memory.
Memory quotes have the amazing power to keep our loved ones alive inside of us, even after death.
11. "We remember not the words of our enemies, but the silence of our friends." – Martin Luther King Jr.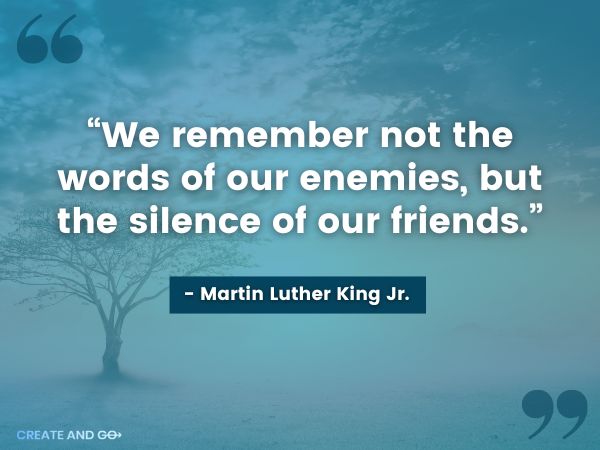 12. "The past is never dead. It's not even past." – William Faulkner
13. "Memories are the treasures that we keep locked deep within the storehouse of our souls, to keep our hearts warm when we are lonely." – Becky Aligada
14. "Death ends a life, not a relationship." – Mitch Albom
15. "Our dead are never dead to us, until we have forgotten them." – George Eliot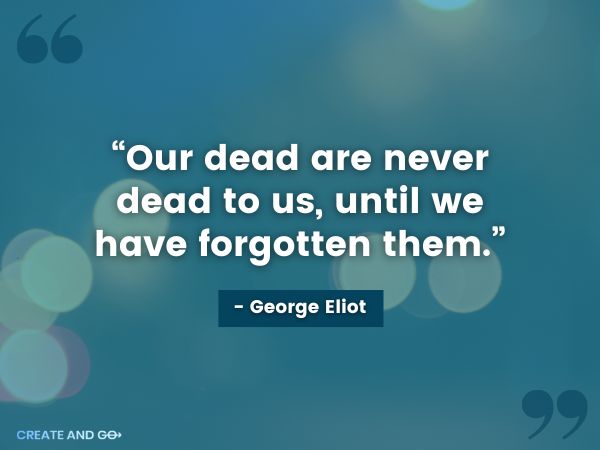 16. "Death is nothing at all. I have only slipped away into the next room." – Henry Scott Holland
17. "Death is not the greatest loss in life. The greatest loss is what dies inside us while we live." – Norman Cousins
18. "To the well-organized mind, death is but the next great adventure." – J.K. Rowling
19. "People die, but memories last forever." – Unknown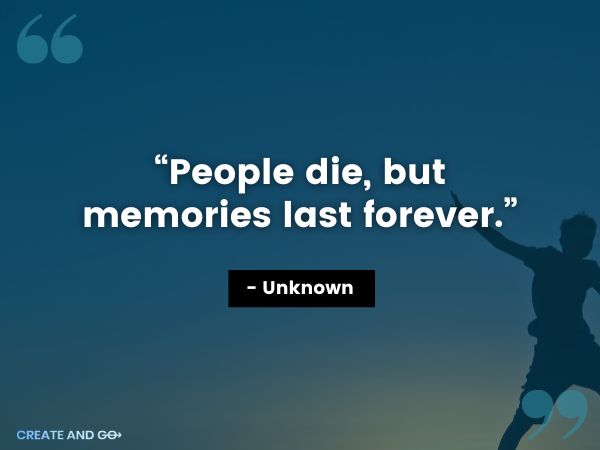 20. "Our memory is a more perfect world than the universe: it gives back life to those who no longer exist." – Guy de Maupassant
Unforgettable Memories Quotes
Keeping a good memory of the past can make it memorable and unforgettable.
21. "We forget all too soon the things we thought we could never forget." – Joan Didion
22. "Some memories are unforgettable, remaining ever vivid and heartwarming." – Joseph B Wirthlin
23. "The only real treasure is in your head. Memories are better than diamonds and nobody can steal them from you." – Unknown
24. "The best way to hold onto memories is to never forget them." – Unknown
25. "Take care of all your memories. For you cannot relive them." – Bob Dylan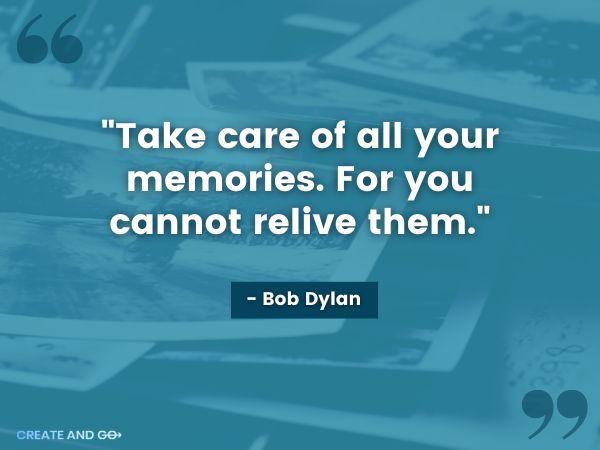 26. "The most beautiful things in life are not things; they are moments and memories that we keep close to our hearts forever." – Unknown
27. "Your memory is the glue that binds your life together, everything you are today is because of your amazing memory." – Kevin Horsley
28. "Every moment has been etched in my memory, like tiny stars shining brightly in my heart forever." – Unknown
29. "Every man's life ends the same way. It is only the details of how he lived and how he died that distinguish one man from another." – Ernest Hemingway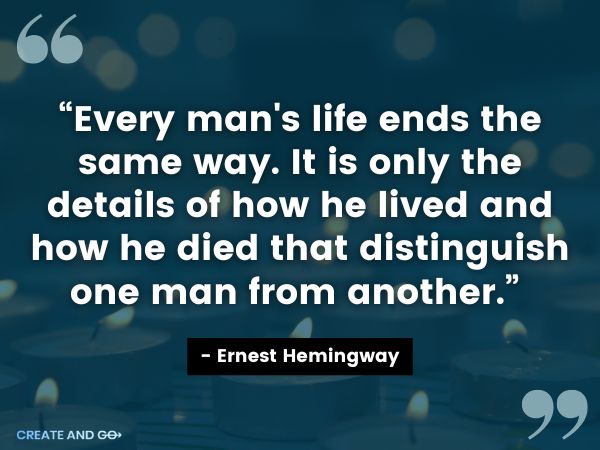 30. "The mind is a powerful tool, and memories are its greatest asset." – Unknown
Happy Memory Quotes
The happiest memories can provide us with a much-needed reminder of the precious moments we've experienced and remind us to savor them as they come.
31. "We didn't realize we were making memories, we just knew we were having fun." – Winnie the Pooh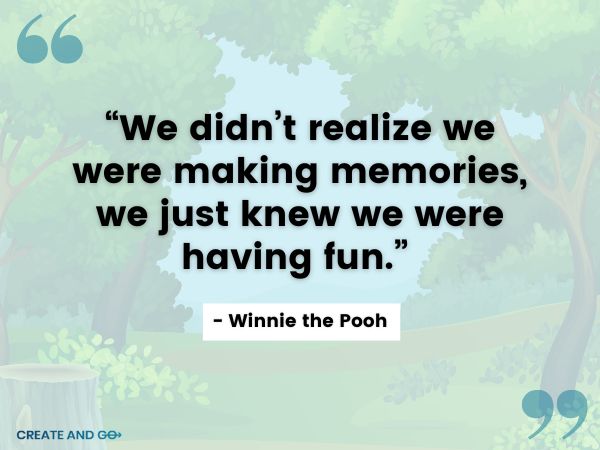 32. Sometimes happy memories hurt the most. – Unknown
33. "The memory of a large number of small delightful moments is what constitutes happiness." – Mary Schmich
34. "The joy of memory makes us rich no matter how poor we are!" – Unknown
35. "Memories are the only paradise from which we can never be expelled." – Jean Paul Richter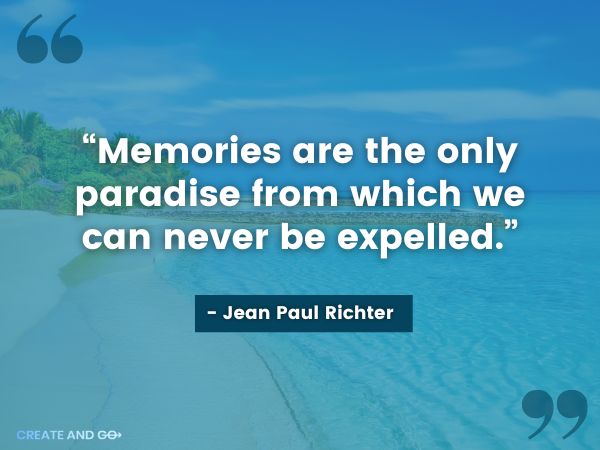 36. "I believe that without memories there is no life, and that our memories should be of happy times." – Lee Radziwill
37. "Memories are the most beautiful things in life; keep them close to your heart so no one can take them away from you." – Unknown
38. "Sometimes memories sneak out of my eyes and roll down my cheeks." – Unknown
39. "The greatest legacy we can leave our children is happy memories." – Og Mandino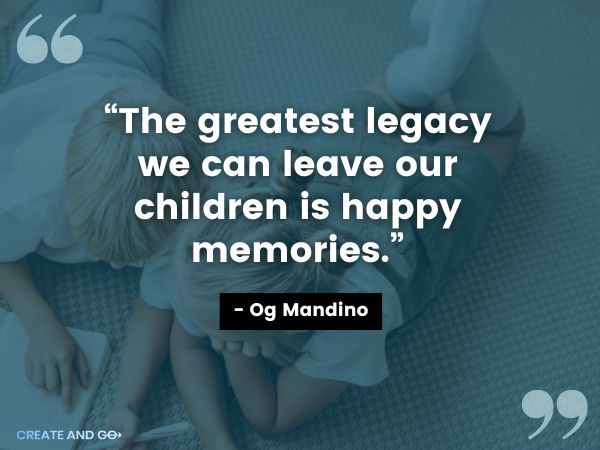 40. "The best days of our lives come when we immerse ourselves in memories and create a story for our future selves to look back upon with pride and joy." – Unknown
Old Memories Quotes
Savor the imperfect experiences that become perfect moments in our minds.
41. "The past beats inside me like a second heart." – John Banville, The Sea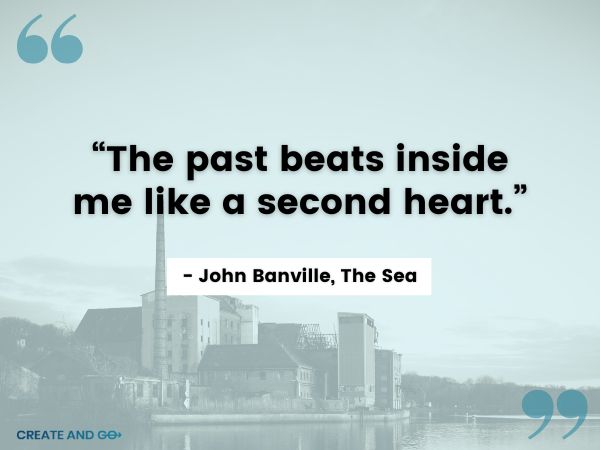 42. "We need old memories to nourish today's hopes." – Unknown
43. "A man's memory may almost be called an etching rather than a painting, because its coloring is seldom very brilliant." – Samuel Johnson
44. "Memories are like shadows; always following us." – Unknown
45. "The past is a place of reference, not a place of residence; the past is a place of learning, not a place of living." – Unknown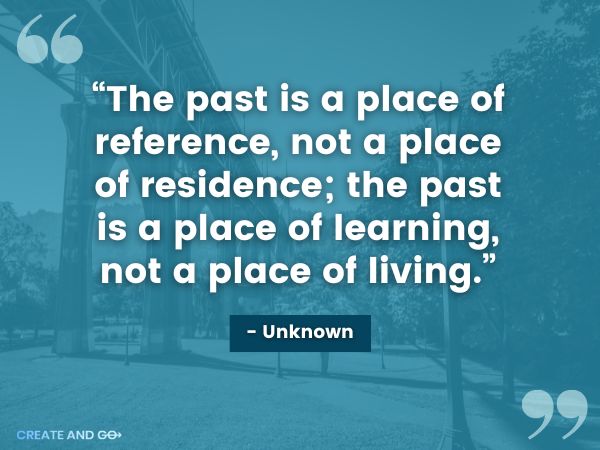 46. "What I like about photographs is that they capture a moment that's gone forever, impossible to reproduce." – Karl Lagerfeld
47. "We are the stories we tell ourselves; our past is the sum of those memories that we choose to remember and share." – Unknown
48. "Nothing is ever really lost to us as long as we remember it." – L.M. Montgomery, The Story Girl
49. "Memories can bring us back to a time when things seemed simpler and more carefree." – Unknown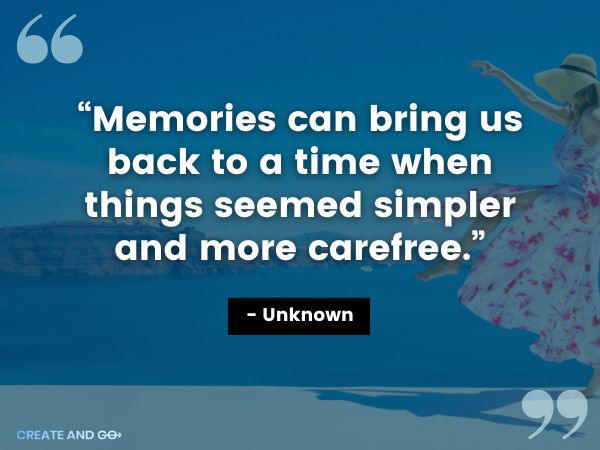 50. "Make room for new memories, but cherish the old ones too." – Unknown
Quotes About Making Memories
Create new and wonderful memories with the people that you love every day.
51. "Humans, not places, make memories." – Ama Ata Aidoo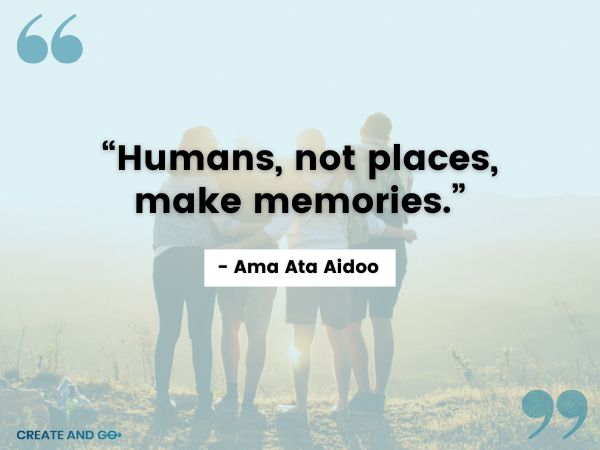 52. "The best thing about memories is making them." – Unknown
53. "The only thing you can never have too much of is memories; so make a lot of them along the way." – Unknown
54. "A moment lasts all of a second, but the memory lives on forever." – Unknown
55. "Memories are made in moments that cannot be bought, only experienced." – Phoebe Hoss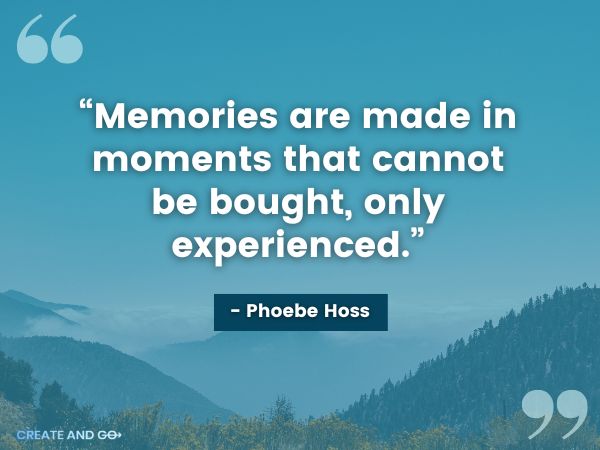 56. "Life moves so fast and time seems so short; be sure to take lots of pictures and slow down the moments of your life!" – Unknown
57. "A memory is a photograph taken by the heart to make a special moment last forever." – Unknown
58. "Making memories with you is my favorite thing to do." – Unknown
59. "Cherish every moment for it will never come again." – Unknown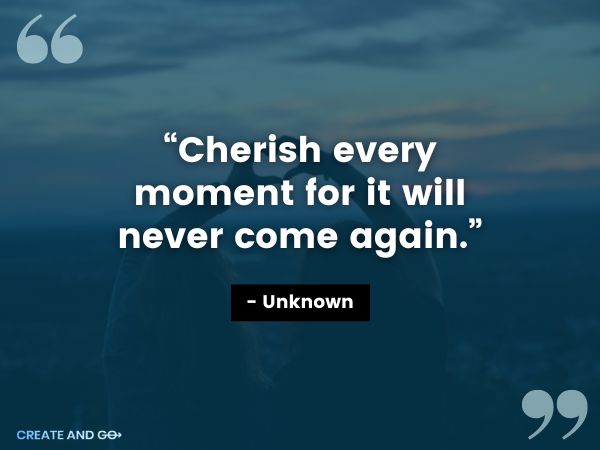 60. "The difference between an ordinary life and an extraordinary one is the memories you make along the way." – Unknown
Bittersweet Memory Quotes
Even bitter memories have a way of bringing us happiness
61. "The past can hurt, but the way I see it you can either run from it or learn from it." – Rafiki, The Lion King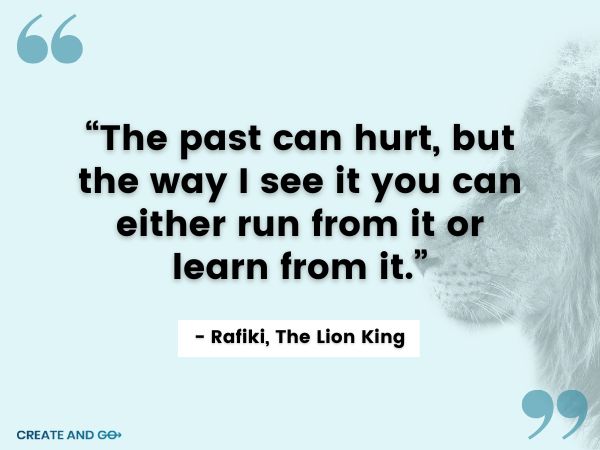 62. "Memories, even bittersweet ones, are better than nothing at all." – Unknown
63. "Things that were hard to bear are sweet to remember." – Seneca the Younger
64. "The worst memories stick with us, while the nice ones always seem to slip through our fingers." – Rachel Vincent, My Soul to Save
65. "Memories warm you up from the inside, but they also tear you apart." – Haruki Murakami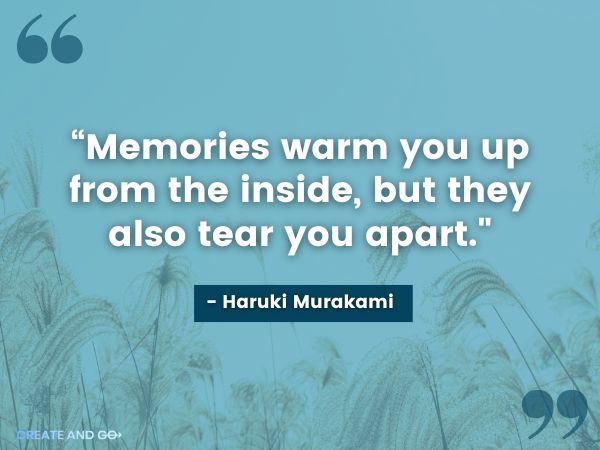 66. "The brightest memories can come from the darkest days." – Unknown
67. "Remember me with smiles and laughter, for that's how I'll remember you all. If you can only remember me with tears, then don't remember me at all." – Laura Ingalls Wilder
68. "No matter how much suffering you went through, you never wanted to let go of those memories." – Haruki Murakami
69. "The worst part of holding the memories is not the pain. It's the loneliness of it. Memories need to be shared." – Lois Lowry, The Giver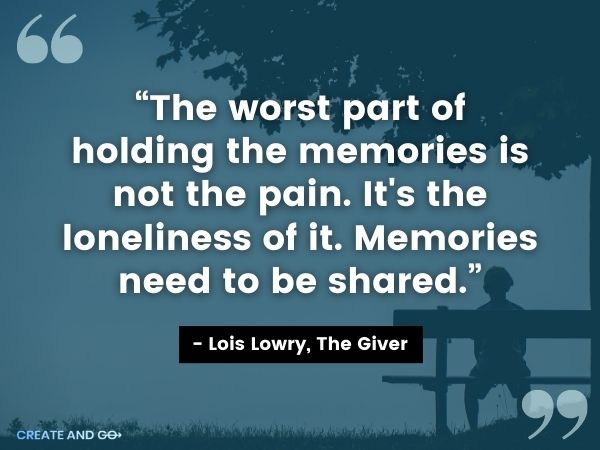 70. "Memories are bullets. Some whiz by and only spook you. Others tear you open and leave you in pieces." – Richard Kadrey, Kill the Dead
Memory Quotes About Love
Loving memories people create become the foundation of their lives and how they see the world.
71. "Memory is a way of holding onto the things you love, the things you are, the things you never want to lose." – Kevin Arnold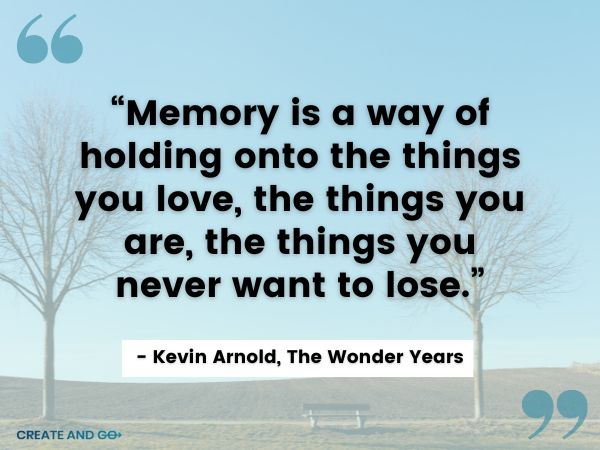 72. "Time passes, memories stay. Cherish the ones you love today." – Unknown
73. "The most beautiful things in life cannot be seen or touched. They must be felt with the heart." – Helen Keller
74. "Every memory has a life of its own and lives on in our hearts forever." – Unknown
75. "The best way to make happy memories is to create them with the people you love." – Unknown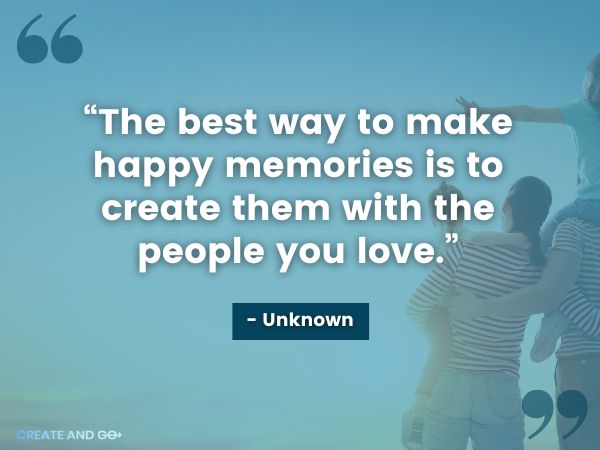 76. "If you live to be a hundred, I want to live to be hundred minus one day, so I never have to live without you." – A.A. Milne, Winnie-the-Pooh
77. "Death leaves a heartache no one can heal, love leaves a memory no one can steal." – From an Irish Headstone
78. "The past cannot be changed, forgotten or erased, but it can be accepted and embraced with love." – Unknown
79. "Love is hard to find, hard to keep, and hard to forget." – Alysha Speer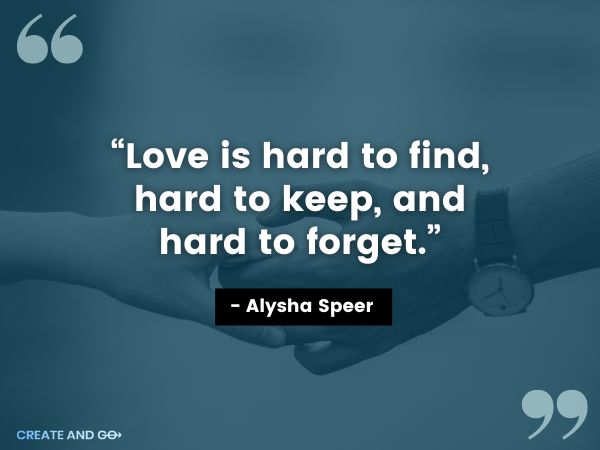 80. "My fondest memories are the moments when I'm surrounded by family and friends that make me laugh and feel loved." – Unknown
Memory Quotes About the Future
These memories quotes are a good reminder that we sometimes need to leave memories in the past and be careful of dwelling on them too heavily in the present.
81. "Memories are the key not to the past, but to the future." – Corrie Ten Boom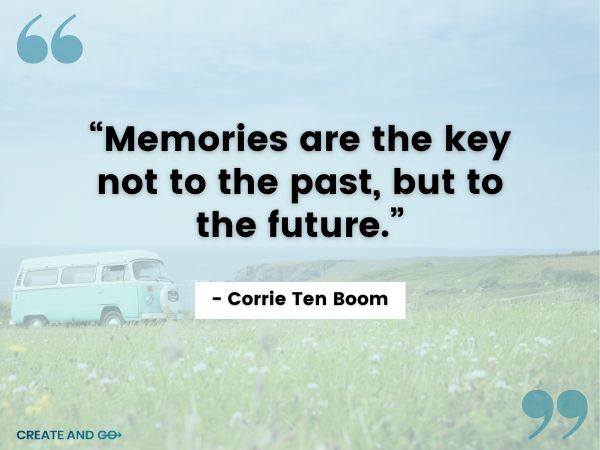 82. "I like to think of life as a puzzle with no missing pieces but rather an endless collection of memories waiting to be discovered and shared." – Unknown
83. "Enjoy good memories. But don't spend your remaining days here looking back, wishing for 'the good old days.'" – Randy Alcorn
84. "Creating new memories is like beginning a new chapter in your life." – Unknown
85. "Memories of our lives, of our works, and our deeds will continue in others." – Rosa Parks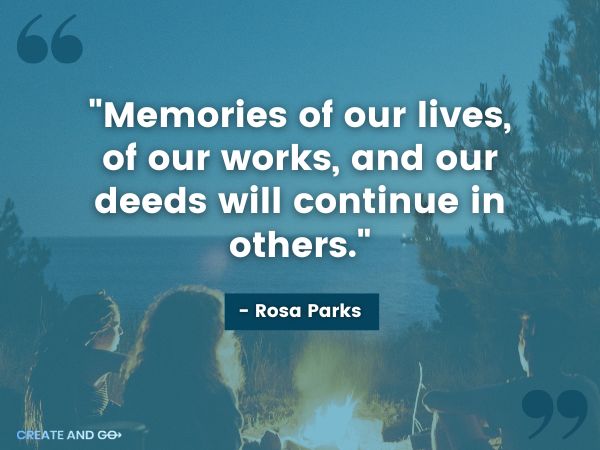 86. "Memories are like salt: the right amount brings out the flavor in food, too much ruins it." – Paulo Coelho
87. "Memories remind us of the roads we have traveled, so that we can savor the moments and plan for the future." – Unknown
88. "Remembering is easy. It's forgetting that's hard." – Brodi Ashton, Everneath
89. "The best part of traveling is the memories you make along the way." – Unknown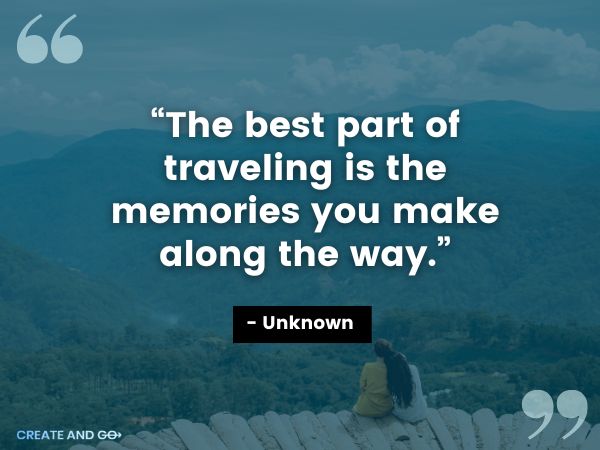 90. "Time moves in one direction, memory in another." – William Gibson
Other Great Memories Quotes
Here are some final quotes about memories that we want to leave you with.
91. "The town was paper, but the memories were not." – John Green, Paper Towns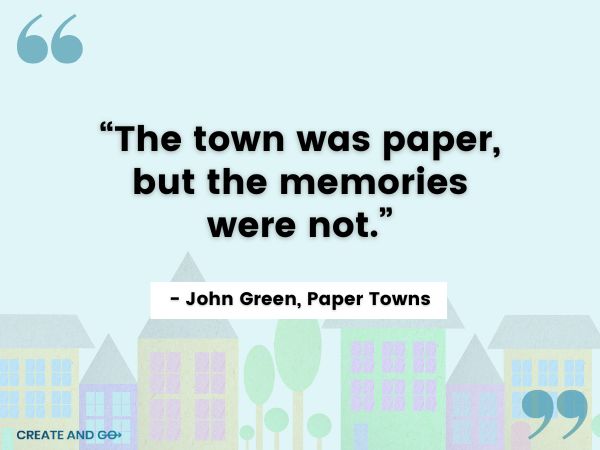 92. "Never let your memories be greater than your dreams." – Douglas Ivester
93. "Without memory, there is no culture. Without memory, there would be no civilization, no society, no future." – Elie Wiesel
94. "Every man's memory is his private literature." – Aldous Huxley
95. "Sometimes you will never know the value of a moment until it becomes a memory." – Dr. Seuss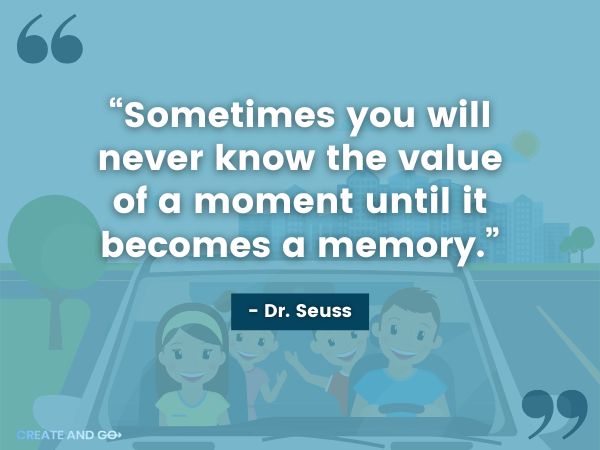 96. "People don't realize that now is all there ever is; there is no past or future except as memory or anticipation in your mind." – Eckhart Tolle
97. "Make peace with your past so it won't destroy your present." – Paulo Coelho