We partner with bada$$ companies that offer products that help our readers achieve their goals! If you purchase through our partner links, we get paid for the referral at no additional cost to you! Read our disclosure for more info.
Are you looking to start your own online store but don't have the capital investment needed?
Dropshipping might be just what you need. It is a great way for entrepreneurs to get into e-commerce and make money without having to invest heavily upfront.
But with so many dropshipping companies out there, it can be hard to decide which one is right for you.
That's why we've put together this list of the best dropshipping companies on the market today so that you can make an informed decision about where to source your products from.
We've taken into account factors such as selection, pricing, customer service, and reputation to create a comprehensive list of the top dropshipping companies.
So no matter what kind of products you're looking for, you can find the best wholesale suppliers here.
Before we dive into the best dropshipping companies, we also want to cover a few other important topics related to dropshipping:
What is Dropshipping?
Costs of Dropshipping
How Much Does a Dropshipper Make Per Year?
8 Best Dropshipping Companies
How to Spot Fake Dropshipping Wholesalers
Tips for Creating Relationships with Dropshipping Wholesalers
Final Tips on How to Become a Successful Dropshipper
Let's start with what is dropshipping and how it works.
What is Dropshipping?
Dropshipping allows individuals to create their own online store, source products from wholesalers, and sell them directly to customers, without ever taking ownership of the products.
This means that entrepreneurs don't have any inventory or overhead costs associated with running an online store.
But the real key to a successful dropshipping business is finding reliable and affordable wholesale suppliers.
Without that, you won't get very far. Before we get into the best dropshipping companies, let's explore some of the costs associated with dropshipping.
Costs of Dropshipping
According to Salehoo's breakdown, starting a dropshipping business will cost you at least $173.
This is a breakdown of starting a website, domain and hosting costs (such as Shopify), necessary apps, and even $100 for ads.
When you're choosing which supplier to use for your dropshipping business, it's also important to take into account the cost of goods.
Depending on the type of products you plan to sell, some suppliers may be more suited to your needs than others.
For example, AliExpress offers low-cost items that are ideal for entrepreneurs looking to offer inexpensive items with a large markup.
However, if you're looking for higher-end items and brands, then Alibaba might be a better choice as their prices are usually higher.
But more on this later as we break down and review each one.
At the end of the day, no matter what type of products you plan to sell, there is a supplier suited to your needs.
How Much Does a Dropshipper Make Per Year?
According to Zip Recruiter, a typical professional drop shipper can bring in an average salary of around $42,778. But there are many factors that can affect this final number.
The amount of money a drop shipper makes depends on several things such as the number of sales they make, their profit margin, and the products they specialize in.
For instance, if you're selling luxury products with a higher markup, then it's likely your profits will be much greater than someone who is just selling generic items.
It also comes down to how hard you're willing to work. As with starting any business venture, there's no limit to how much you can make if you put in the effort!
Is Dropshipping Still Profitable?
Absolutely! Dropshipping is still a very profitable venture and one that entrepreneurs continue to flock towards.
The key to success in dropshipping lies in finding the right suppliers, having an effective marketing strategy, and providing excellent customer service.
If you can manage all of these pieces correctly then you should have no problem making money through dropshipping.
But enough general information, let's start breaking down our favorite picks and get you on your way to making money through dropshipping.
What are the Best Dropshipping Companies?
Here are our top picks for dropshipping suppliers.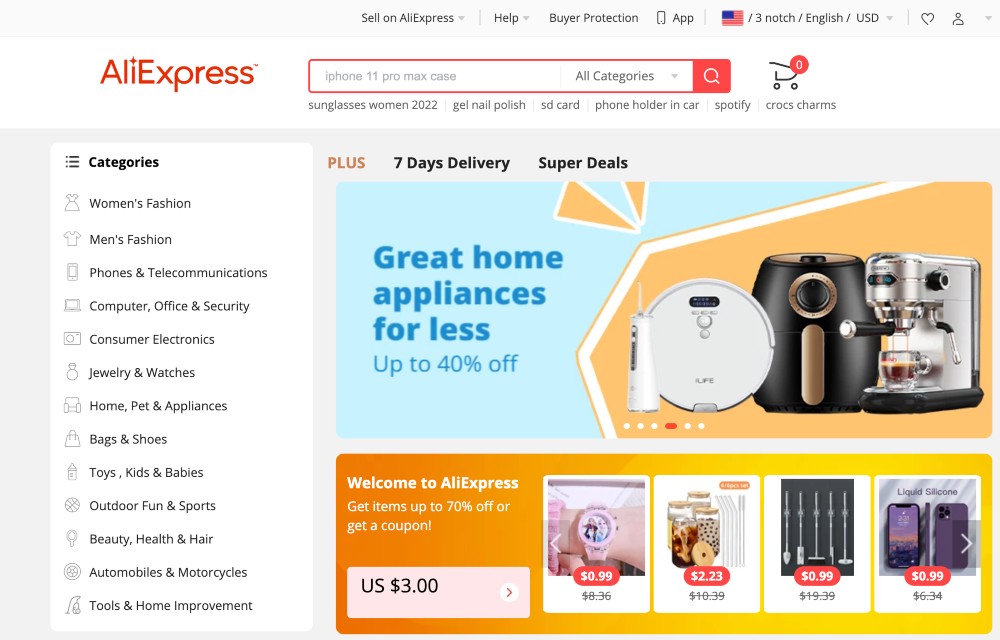 AliExpress is a free, global eCommerce platform that links dropshipping providers and products to other merchants.
Most of the vendors on AliExpress are located in China and stock all their items from this part of the world. They offer a wide variety of products, from electronics to apparel and accessories.
AliExpress offers its services to 254 nations across the globe, including those in the United States.
If you opt for standard shipping on any order, be prepared for a longer wait time – between fifteen and forty-five working days – before your package arrives at its destination. If speed is your priority, however, then premium delivery will have your order delivered within seven to fifteen business days.
There are over 100 million products on AliExpress, in categories such as fashion, toys, consumer electronics, skin care products, jewelry, furniture, and even cars and motorcycles.
Overall, AliExpress is an excellent choice for entrepreneurs looking for low-cost items with high markup potential and international customers. Just remember that shipping times may be longer than expected!
Pricing Information:
The prices are very competitive compared to other dropshipping companies and they provide free shipping in many countries. You can also pay using PayPal or a credit card, making it a great option for entrepreneurs who don't have access to traditional banking options.
The average cost of goods sold through AliExpress is around $1.73 USD, so if you plan to make a healthy profit from your sales then it's important to factor in this when calculating your profits.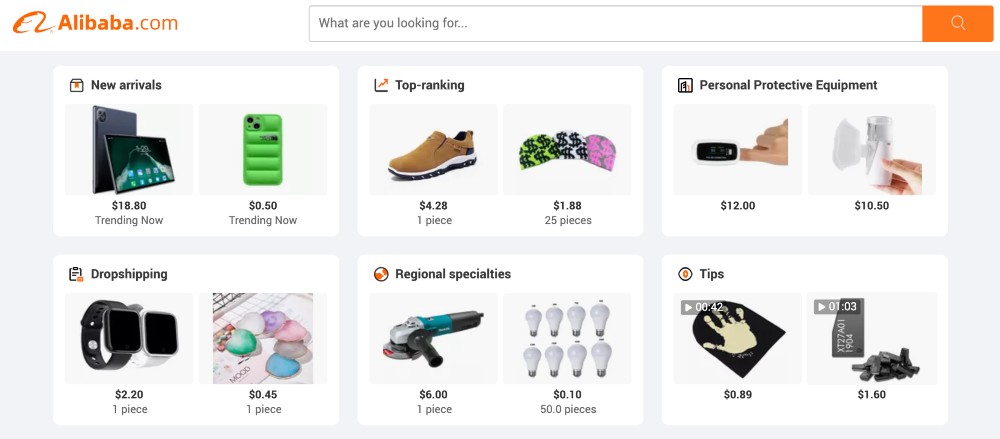 Alibaba is the perfect platform for wholesalers and merchants alike. By linking buyers with sellers, this B2B marketplace makes it easy to acquire bulk goods directly from manufacturers in a hassle-free manner.
Alibaba can assist you in finding suppliers that are able to fulfill orders quickly and reliably – thereby making your dropshipping store run like clockwork!
If you're looking to utilize Alibaba dropshipping, bear in mind that depending on your location, shipping delivery times could range anywhere from a few days up to six weeks.
To save money and expedite the process, consider freight or air shipping as viable alternatives; however, always do your research before making a final decision!
Alibaba is a powerhouse of e-commerce with over 2.8 million suppliers and almost 6,000 different categories to choose from!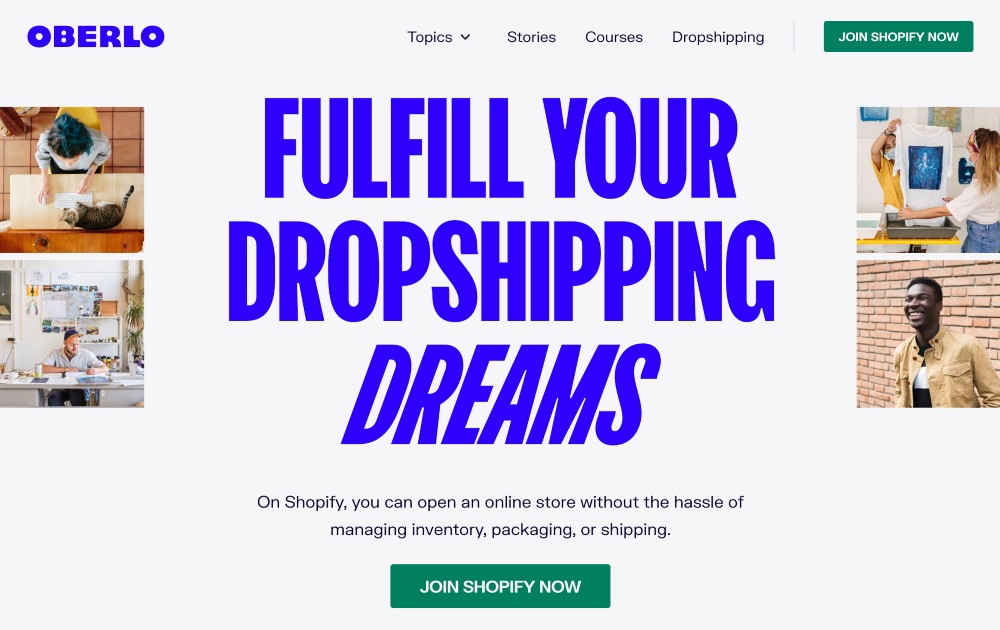 Oberlo is a popular dropshipping app that makes it easy to import products directly into an online store. With Oberlo, you don't need to worry about managing inventory, fulfillment or shipping – as this is all done for you.
The app integrates with Shopify stores, so if you're using this platform then Oberlo could be a perfect choice.
Oberlo has a vast selection of products, ranging from electronics to apparel and accessories.
You can also customize prices, product descriptions, and images with ease – giving you the freedom to create an online store that looks exactly how you want it to.
Oberlo also has a pretty easy-to-navigate user interface, comparable to WordPress.
It's important to note that Oberlo has its own suppliers, but also gives users access to AliExpress supplier selections as well.
Pricing Information:
While Oberlo does have a free-to-use plan, if you want to use more than the 500 limitations, you'll need to look into the $29 or $79 options.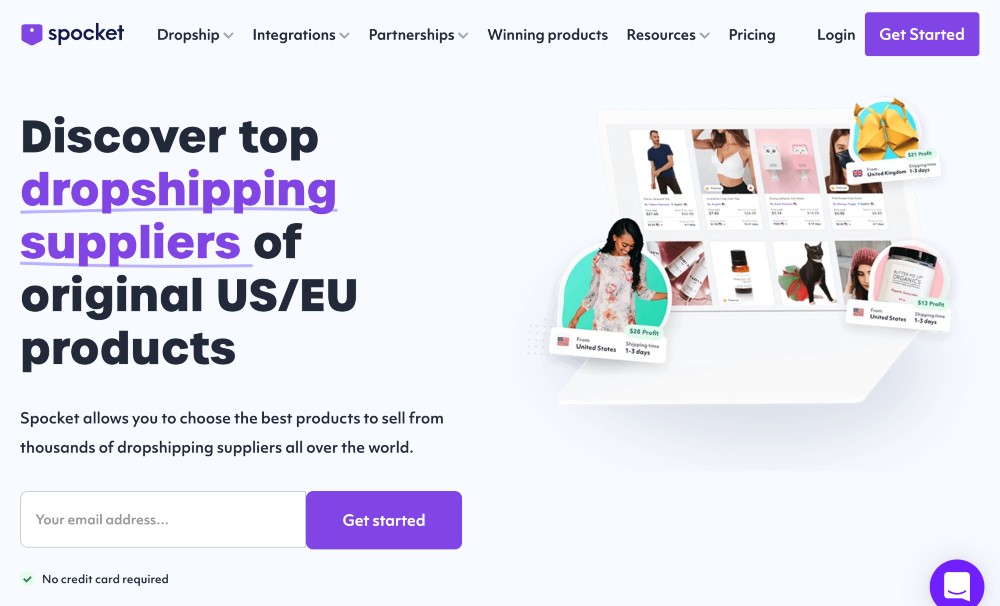 With Spocket, you can find thousands of US and EU suppliers to stock your shop with the latest trending products.
With this powerful dropshipping platform, you'll be able to research items thoroughly before committing—even ordering product samples so that you know what quality and performance are like.
Spocket's platform offers merchants an uncomplicated means to move product information, image files, and variants from suppliers straight into their online stores.
It seamlessly integrates with Shopify, WooCommerce, BigCommerce, and Wix platforms for hassle-free store management.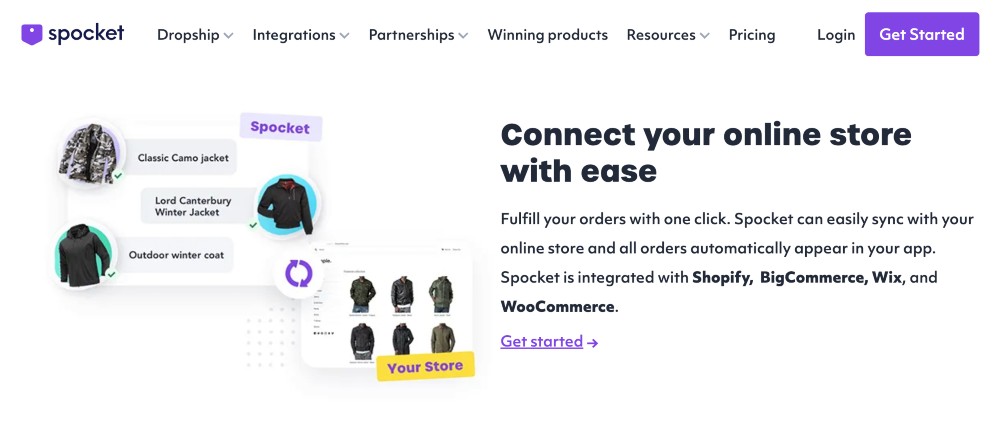 Spocket empowers merchants by providing automated order fulfillment, branded customer invoicing designed to reflect each brand's unique identity, and built-in sales metrics that enable sellers to accurately track the number of visitors, online sessions, and total sales across various platforms such as social media pages.
This versatile solution is perfect for businesses of all sizes, whether you're selling fashion, sports and outdoor gear, tech gadgets, jewelry, or gifts.
Pricing Information:
Spocket offers a monthly subscription option for just $19. Plus, you can test-drive the program with a free trial and access their helpful customer support through live chat, email or in their online help center.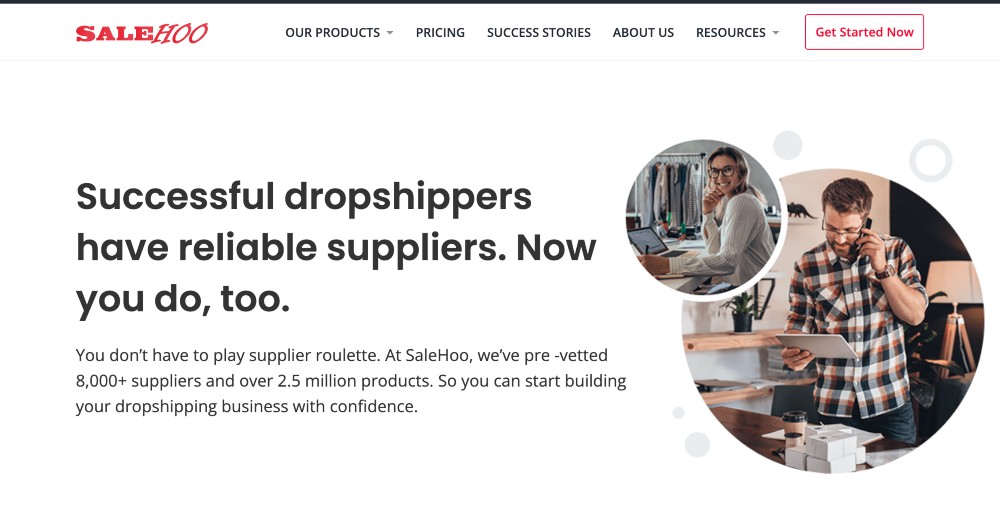 SaleHoo has a plethora of wholesalers that offer dropshipping and caters heavily to eBay & Amazon sellers.
SaleHoo is a one-stop shop for entrepreneurs, serving the US, UK, and Australian markets. Its inventory source is AliExpress, providing you with pre-screened dropshippers from high-demand markets to help ensure profitability.
SaleHoo boasts a vast selection of nearly 8,000 different products and more than 1.6 million products in total.
It includes access to its Market Research Labs tool that allows you to compare pricing, get product insights, and view real-time sales trends—enabling you to make the most informed decisions possible.
Pricing Information:
If you're comfortable paying an annual membership of $67—or only need to use a directory and research tool temporarily—SaleHoo might be worth a look.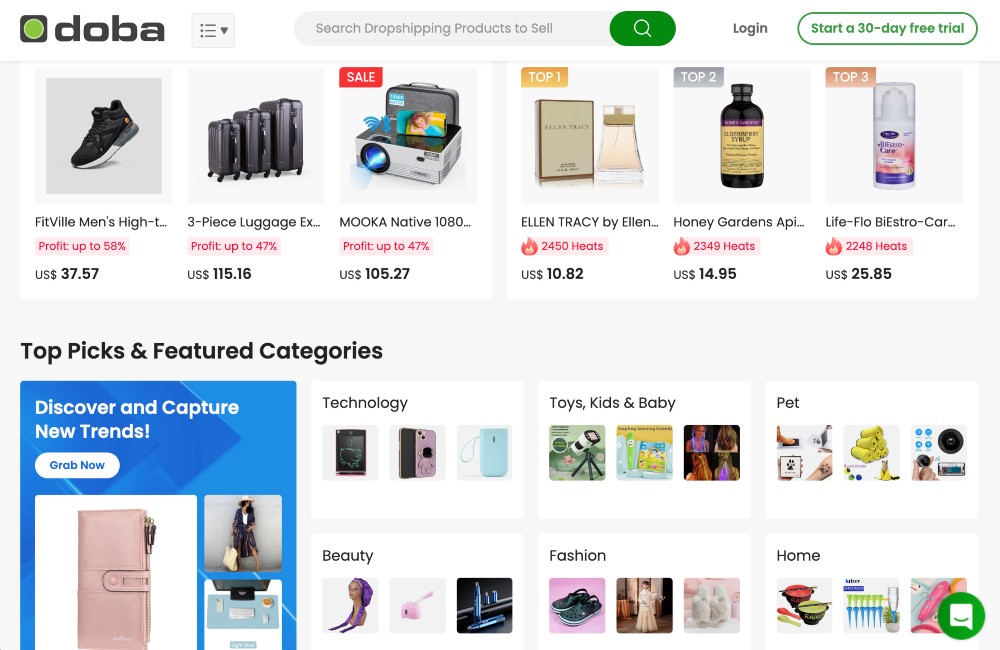 Doba is a dropshipping solution that offers access to over two million products from 165+ different suppliers. This service has been around since 2005 and provides a unique benefit against its competitors—consolidated ordering!
With Doba, you can order multiple items at once without having to individually place orders with each supplier. And it only takes one click from the website's inventory page for your order to be sent across to suppliers and shipped directly to customers.
With membership, there is also the bonus of instantaneous item listing on eBay thanks to the Push-to-Marketplace tool which automates the process for you.
Currently boasting 165 suppliers and counting, Doba's centralized interface makes it easier than ever before for your business needs!
Doba's centralized system offers more convenience than the other dropshipping websites, which we imagine is why the per-month fee is significantly higher than other directories.
If you place a high value on convenience and can find the products you want among their suppliers, Doba's interface may be worth the cost.
Pricing Information:
You do need an Enterprise plan ($249/month) for the consolidated ordering feature, but there are other plans available depending on your needs (starting at $29/month).
Plus, all of their accounts come with excellent customer support via live chat or email.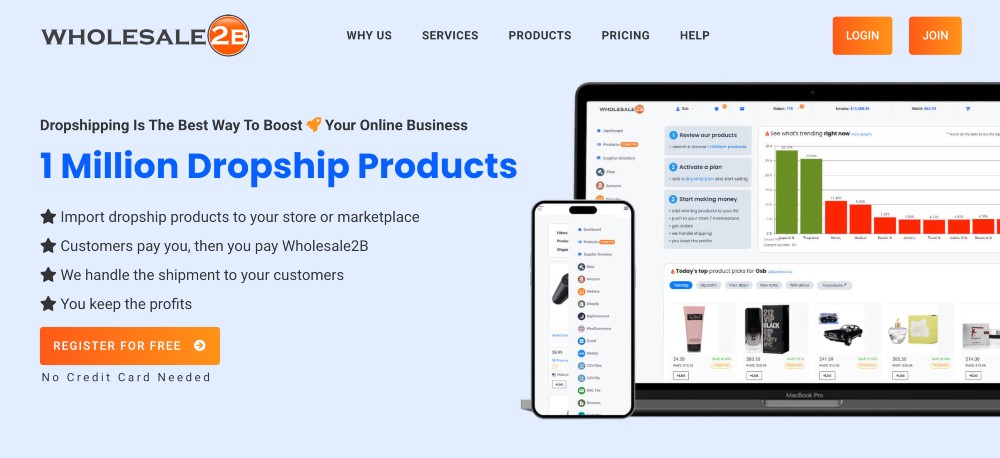 Wholesale2B is another dropshipping supplier that offers access to more than 1.5 million products from 100+ different suppliers.
This platform caters heavily to eBay and Amazon sellers, with the ability to list items on these marketplaces directly from their websites.
Plus, they also offer a few other useful services such as inventory tracking, branding customization, and automated order management.
The only downside is that Wholesale2B doesn't offer any drop-shipping automation or consolidated ordering like some of the other solutions mentioned here do.
Wholesale2B is also only shipping products through Canada and the United States.
By using Wholesale2B, you can enjoy real-time inventory automation that allows orders and tracking updates to be seamlessly imported into your Shopify store.
Plus, it has more than a million dropship-ready products from various categories, making it easy for you to create distinct product collections.
Pricing Information:
The membership plans are quite reasonable compared to other similar services—starting at just $29/month for the basic plan which includes access to all of their products, tools, and features.
Printify is a global dropshipping company that allows entrepreneurs to create and sell custom print-on-demand products (like t-shirts, mugs, and phone cases) through their integrated Shopify app.
If you are an international business looking to produce print-on-demand t-shirts and other products, Printify is your go-to option.
With over 600 product offerings from 67 different print providers, this POD platform has everything that any global enterprise could need for success!
Not only that but Printify even offers its own design tools to help you get a design you really like for your products.
One of the best things about Printify is that you don't have to make an initial inventory investment – your orders can be printed and shipped directly to customers.
When selecting the right Printify provider, take into account factors such as:
Location
Speed of delivery
Limitations on customization and color variants
Print quality (always order samples prior to purchase – we can discuss that further in a bit.)
Feedback from other customers who have used the same service.
Give your store the edge it needs by using Printify's design tool to create mockups of products you intend to list.
You can easily connect your Printify account with popular eCommerce platforms and marketplaces, such as Shopify, Etsy, or Amazon; however, if you don't have an online store, no worries – there is no need for one in order to use Printify!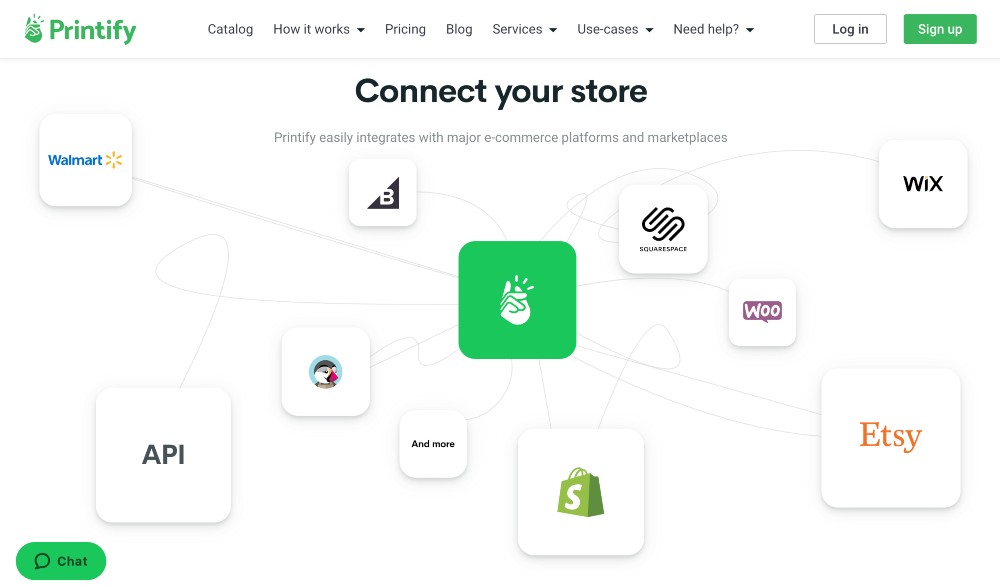 Once a customer has placed an order through your store, the printing provider is notified immediately. Upon payment from you, they begin production and proceed with drop shipping for order fulfillment.
This efficient system ensures that all profits go to you directly; simply rinse and repeat!
Pricing Information:
Printify also boasts competitive prices for all of its products (starting at just $2.50 per item), along with the option to customize delivery options depending on your customers' needs.
How to Spot Fake Dropshipping Wholesalers
One of the biggest issues facing drop shippers is finding reliable, legitimate wholesale suppliers.
Whether you're looking to work with a brick-and-mortar store or an online seller, here's how to tell if they're worth your time and money.
Ask for References
Any honest, reputable supplier will be able to provide customer references—ask for at least three before signing any agreements.
Check Their Credentials
Make sure the business is legally registered and has a real address, website, and phone number.
Legitimate businesses should also list the brands they carry on their websites so you can verify them against official sites.
Ongoing Fees
Fake suppliers may require upfront membership or listing fees and promise huge discounts on products. If a supplier is asking for ongoing fees, it's likely a scam.
No Product Sample Images
Legitimate suppliers will be able to provide you with accurate product samples and details about the items they offer.
Fake wholesalers might send samples that have no relation to what they're selling, or they won't send anything at all.
Sell to the Public
Although some wholesalers may sell to the public, most are for businesses only and you will need to be able to prove you have a legitimate business in order to place orders from them and get "true" wholesale prices.
If a company is advertising as "open to the public" or claims things like "no minimum orders," it's likely not a legitimate dropshipping business.
Get It In Writing
Before working with any wholesaler, get everything in writing—including agreements, terms and conditions, and payment information.
Avoid working with any seller who doesn't offer written documentation of their services or refuses to provide it.
Low Prices
Be wary of low prices or things that seem "too good to be true".
While some wholesale products may have lower-than-retail prices, be wary of sellers offering products at too-low prices. These could be signs of counterfeit items, so do your research before making a purchase.
Customer Service Policies
Check the wholesaler's customer service policies for return/refund policies and make sure they are compliant with international laws if you plan to sell internationally.
Also, look out for prompt delivery times and contact options such as phone, email, and live chat support.
Tips for Creating Relationships with Dropshipping Wholesalers
Once you've found the right wholesaler, it's time to start building a strong relationship with them. Here are some tips for creating a great rapport:
Be Consistent
Show up on time and be reliable in all your communications, from emails to calls and meetings and any other interactions with wholesalers.
Be Honest
Make sure you explain your business model clearly so that the supplier knows what kind of service you expect from them.
Research Suppliers
Research suppliers before contacting them. Doing research ahead of time shows that you know what you're looking for and have done research on their offerings as well as competitors.
Understand Their Needs
Put yourself in their shoes and try to understand what they need out of this relationship. Be prepared to answer questions on how their products will be marketed and used.
And remember that the best business relationships are MUTUALLY beneficial.
Be Flexible
Try to accommodate the supplier's needs wherever possible so you can work out a mutually agreeable arrangement for both parties.
Follow Up
Keep in contact with your suppliers regularly—this shows that you value your relationship, which is essential in building trust over time.
By following these tips when dealing with dropshipping wholesalers, you're sure to have a successful business relationship!
Competition Comparison
Competition-based order placement is a great way to get the most competitive pricing from your wholesalers.
This technique involves placing orders with multiple wholesalers and then waiting for them to compete on price in order to win your business.
First, you'll need to create an inventory list of all the products you want to purchase from wholesalers. Then contact several different suppliers for quotes—you can even ask for samples if available.
Once you have these quotes, compare them side by side and see which one gives you the best deal.
Finally, decide which supplier offers the best value and place your order.
This technique is great for businesses that need to keep track of their costs and get the most competitive prices from suppliers. It also helps build relationships with wholesalers since you'll be placing orders regularly.
By using competition comparison, you can ensure you always find the best wholesale deals available!
Order From the Competition
This is a method we discovered from Shopify.
Struggling to find suppliers for your dropshipping business? Consider the clever yet effective method of ordering from your competition!
Choose a competitor that you believe is dropshipping, and then proceed to place a minimum order from them. Once you receive the package, take a moment to Google the return address and discover who shipped it.
Voila! You're on the right track now.
You may even be able to reach out directly to their supplier!
Final Tips on How to Become a Successful Dropshipper
As with all things, there are certain strategies and tactics that can help you become a successful drop shipper and we will leave you with these tips to help you on your way:
Develop an understanding of the market by doing research, both online and offline.
Find a niche that interests you and is in demand.
Learn about the products you are selling so you can answer customer questions quickly and accurately.
Look for ways to differentiate your business from other drop shippers—perhaps through unique packaging or special offers.
Keep up with industry trends, as this will help you stay ahead of the competition.
Create an efficient system for handling orders and managing inventory.
Test different pricing models to see which ones work best for your business.
Create a thorough business plan that takes into account every aspect of your business.
Build relationships with wholesalers by being consistent and professional in all interactions.
Utilize competition comparison methods to get the best prices from suppliers.
Place orders from competitors to discover their suppliers and potentially build new relationships.
Always evolve and keep a close eye on your business and industry.
Most importantly, never stop learning and adapting! With the right knowledge and attitude, you can be successful in any industry.
Finally, provide excellent customer service to ensure happy customers who come back again and again!
What Else Are You Waiting For?
Dropshipping can be a great way to make money and build an online business. By following the tips in this article, you'll have all the tools necessary to become a successful drop shipper.
Researching your market, finding a niche that interests you, learning about your products, and differentiating your business from others will help you stand out in the drop shipping world.
Utilizing effective strategies such as competition comparison and ordering from the competition will give you a competitive edge.
With dedication, hard work, and consistency, you'll be well on your way to achieving dropshipping success!
So what are you waiting for? Get started today! Good luck!