We partner with bada$$ companies that offer products that help our readers achieve their goals! If you purchase through our partner links, we get paid for the referral at no additional cost to you! Read our disclosure for more info.
Want to know which blogging tools we have used to grow and scale our online businesses to six figures? We've learned a lot and made a lot of mistakes, and every single one of them was 100% necessary to get to where we are today.
Along that journey, I think we've tried every tool, software, gimmick, webinar, launch, and any other magic pill you can think of.
We've probably used at least 5 different email marketing services in our online career.
This list is constantly changing and this article continues to get updated over the years when we try out new tools and replace old ones. We've also included a lot of the tools and resources that we recommend to our students in our blogging courses as well.
Some of these blogging tools are paid tools, but we have tried to provide a free option wherever possible!
Hosting Tools and Resources
The very first blogging tools that we are going to discuss are the ones that make up the foundation of your blog.
Without a great blog hosting plan and platform to run your blog on, you'll never grow as quickly or reach the level of success that you should with the right tools.
1. WordPress
The first step in building your foundation is choosing the best blogging platform to run your blog on. There are a few different options here and you've probably heard of some of them: Squarespace, Wix, Shopify, WordPress, Blogger.
WordPress is hands-down the best platform to run your blog on.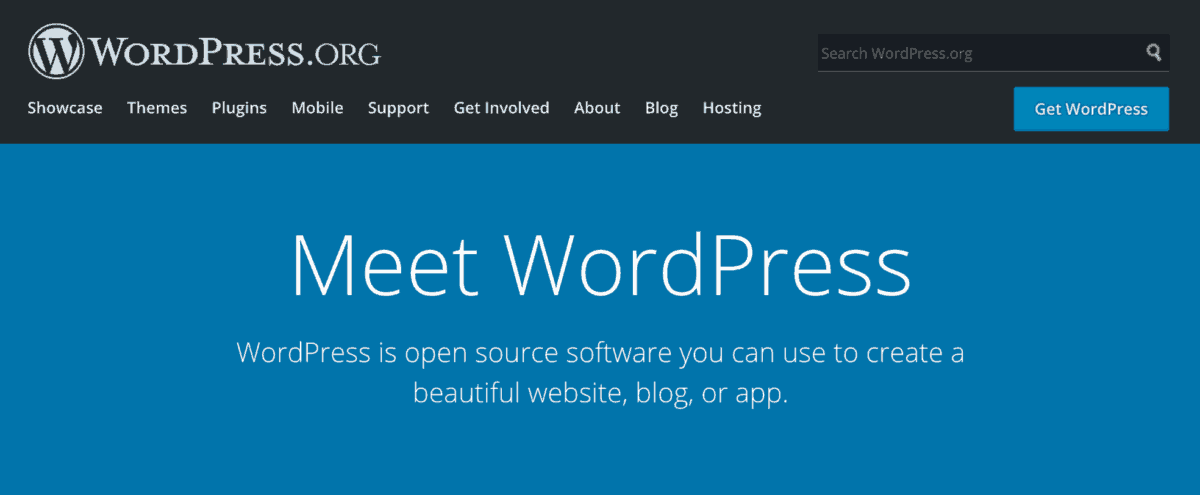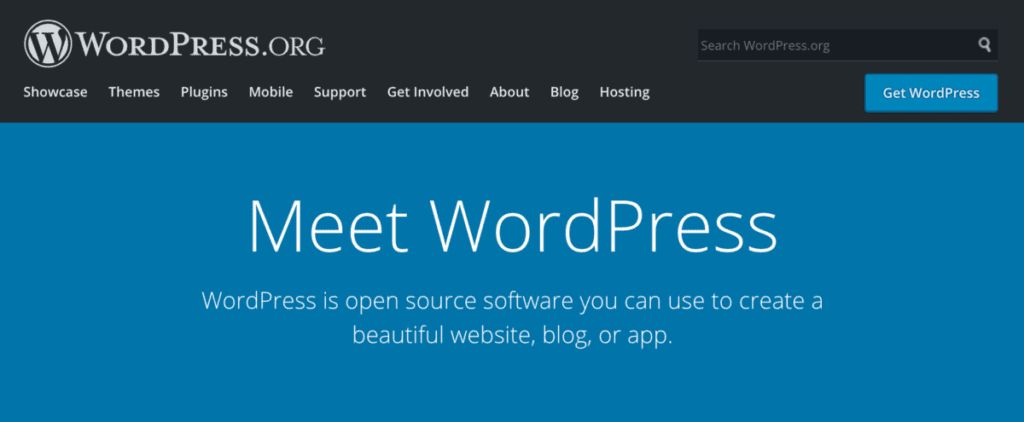 It's the #1 most widely used platform and therefore has the most customizations and add-ons for your blog.
These customizations come in the form of plugins, and WordPress has the most plugins available to help you grow your blog and monetize it.
While platforms like Wix and Squarespace might seem a little more beginner-friendly — at first — you will find the customizations lacking as you begin trying to drive traffic and monetize your blog.
I'm sure there are some out there, but I personally haven't heard of any six-figure bloggers running their blogs on anything but WordPress.
After you've settled on WordPress, the next step is to get a great hosting plan to host your WordPress blog.
2. Bluehost (Beginners)
Bluehost is our #1 recommendation for new bloggers. And we've tried quite a few hosting companies over the years, including Siteground Hostgator, which are the biggest competitors.
Bluehost is also what we personally used for the first two years to take both of our blogs to earn six figures!
It's what we recommend when you're just getting started because you can start your blog for as low as $2.75/month (only through our affiliate link) and they have great customer service!
Related: How to Start a Blog (Best Beginners Step-By-Step Guide)
Blog Design Tools and Themes
Once you've set up the foundation of your blog, the very next step is to design it with a great theme and other customizations!
3. Divi Theme (Beginners)
As a beginner blogger, the two most important factors in choosing a great blog theme include:
User-friendliness — being able to learn the software quickly and not spend hours making the smallest of changes
Customizability — being able to design your blog to look the way you want it to
Divi is the #1 theme on the market for beginner bloggers when it comes to both user-friendliness and customizability.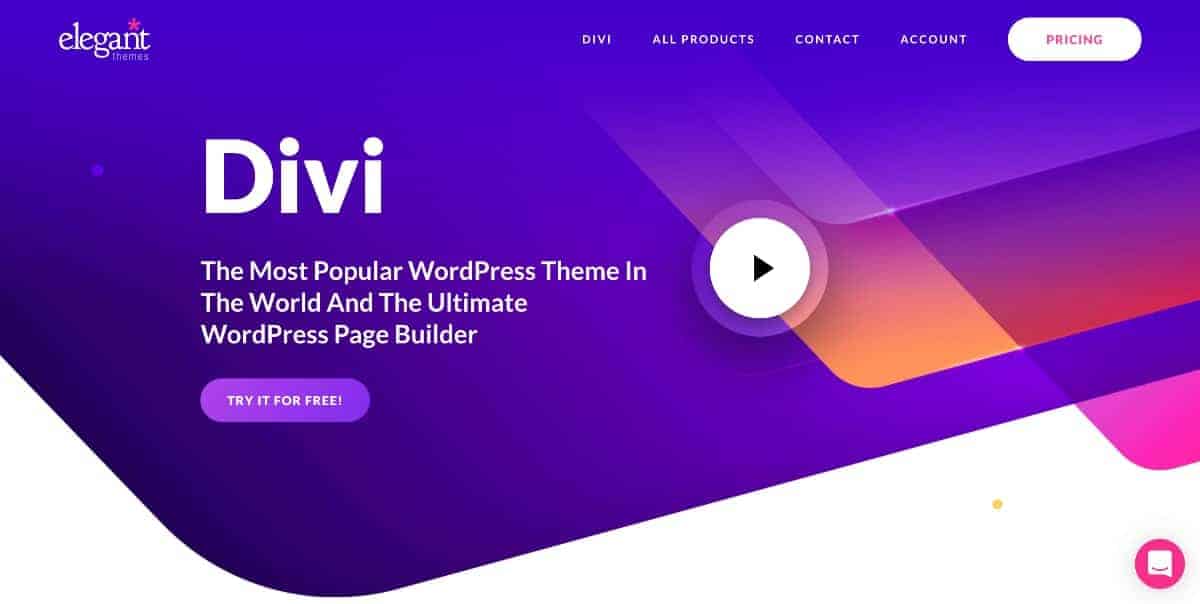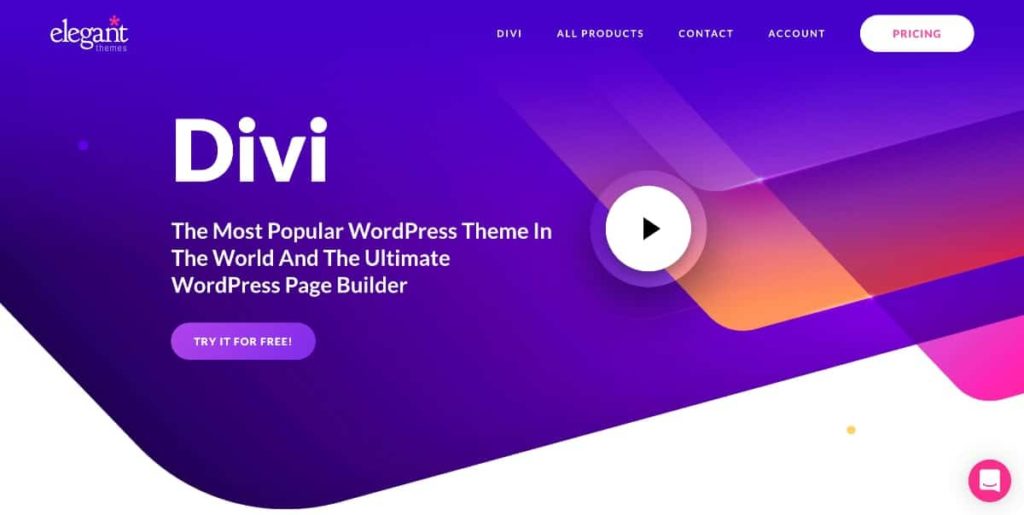 When you purchase Divi, you also get access to the entire Elegant Themes market, which means that you can also choose from over 70 other themes if you decide that you don't love Divi.
This is also the theme that we recommend in our blogging courses and what most of our blogging students start out with.
4. Genesis Theme (Advanced)
Genesis Framework is the #1 fastest theme on the market in terms of website speed.
But that comes with a couple of huge caveats… It's very expensive and NOT very customizable at all.
When we first upgraded to Genesis on our first health and wellness, it looked like crap because we couldn't make the customizations that we wanted.
We later paid a web designer $1,000 to add a lot of custom-coding to design it the way we wanted. And a year after that, we paid even MORE for the current custom design that we have.
We were making over six figures with both of our blogs for several months before we made this investment.
Genesis Framework is only for you if…
You have $150+ to invest in the framework, child theme, and additional plugins for customization — AND the time to invest in the higher learning curve.
You can afford to hire a web developer to help custom code your site.
These next blogging tools are all related to images on your blog and anywhere else you might use them, including product creation, marketing, social media, and more.
They will help you with image creation, design, editing, and compression.
5. Stock Photography Images
Stock photography isn't always a great thing. Some photos are super cringy, but you can also find some that look pretty natural. It's a great substitute for taking your own photos.
It would be nice if you could just search google for images that you want, but you can't. Most images on the internet are owned and protected by copyright laws.
You need permission before you can use them or you could find yourself in the middle of a copyright lawsuit if someone finds you using the image without proper consent.
Stock photos can be purchased (or found for free in some cases) and used freely on your blog, and they also look very professional when you use the right ones.
Now, if you're a professional photographer who wants to take the time and produce amazing photos for your blog… Go for it!
They look MUCH more personal, and it's definitely the better option if you have the time and skills.
But most of you will be more like us and not have the time or the resources to add incredible, personal photography to every post that you write.
Our best recommendations for stock photos:
Although the free options above have far fewer photos to choose from, they're generally perfectly sufficient for most people when you're just getting started.
You might find this resource helpful if you're looking for great free stock image sites.
We personally use Canva for all of our stock images because their Pro plan also provides you with a ton of image customization tools that we use elsewhere in our business.
Image Optimization and Editing Tools
Once you've found some great images to add to your blog, you need to use the following tools to help you edit and optimize them before uploading them to WordPress.
6. Canva (Design)
This is one of my ABSOLUTE favorite tools that we use in our business.
Canva is a free, web-based tool that allows you to easily create and design images for your posts, product images, social media graphics, and more.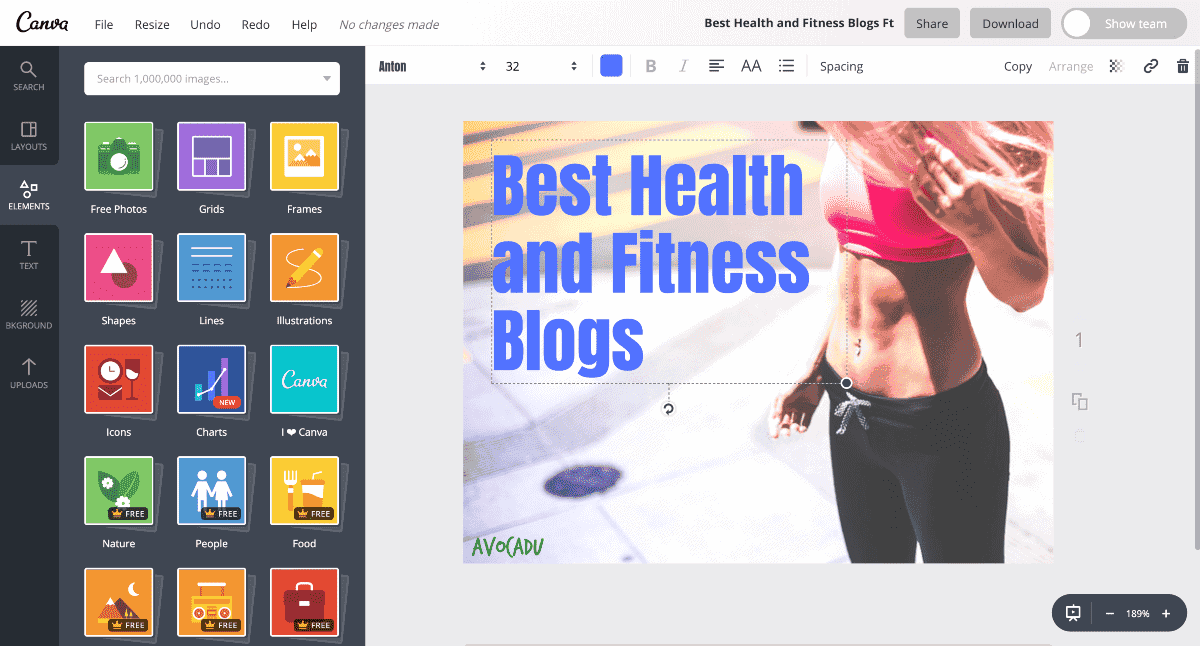 Some of the features include:
Upload images or use their stock images (both free and paid options)
Add text overlays, charts, and icons
Save files as either images or PDFs
Copy your designs and change sizes
And more!
The best part is… It's super easy to use! The learning curve is very small, unlike Adobe Photoshop.
Their Pro Plan also comes with a TON of stock photos and some premium features like automatic resizing and saving with a transparent background.
7. BeFunky (Resizing and Editing)
I use this next tool mainly to resize my images before I upload them to WordPress.
The images that you upload to WordPress should always be the smallest file size because the larger the file size, the more it will slow down your website.
While Canva is really great for creating images, BeFunky is a great free tool for resizing and editing images.
I actually just used it to edit the image from the point above: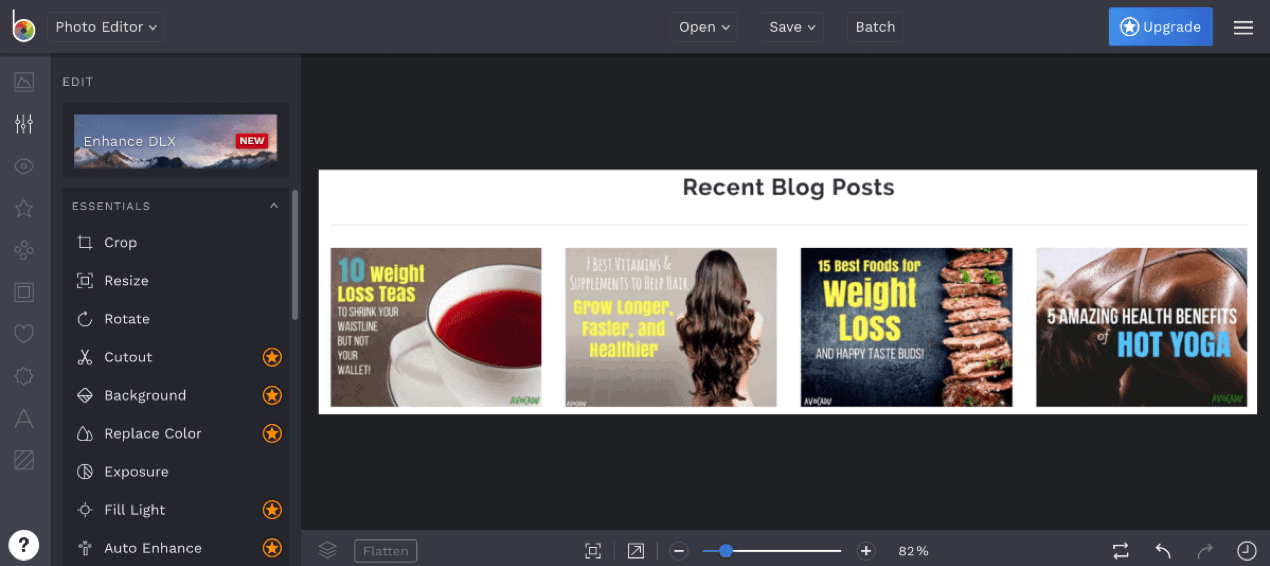 You can also make simple edits like adding borders, text, colors, touch-ups, etc.
On this blog, I take a lot of screenshots to show software (this article is a prime example), and screenshots are generally very large, high-quality photos that take up a lot of storage space.
I use this software to resize the images for my blog so they aren't quite so large.
But after resizing them in BeFunky, there is still another step you need to take to further reduce the file size before uploading the image to WordPress…
8. Optimizilla (Compression)
Continuing with our discussion above about how images can slow down your blog… It's actually not enough just to resize images. You also must compress them to minimize the file size.
Optimizilla is a free tool that compresses your file into a smaller file size so that it takes up less space on your website.
I love Optimizilla because it's a free web-based application that allows you to drag and drop image files very easily and compress them in seconds.
It will automatically compress the file for you — the image in the example below was compressed by 72%: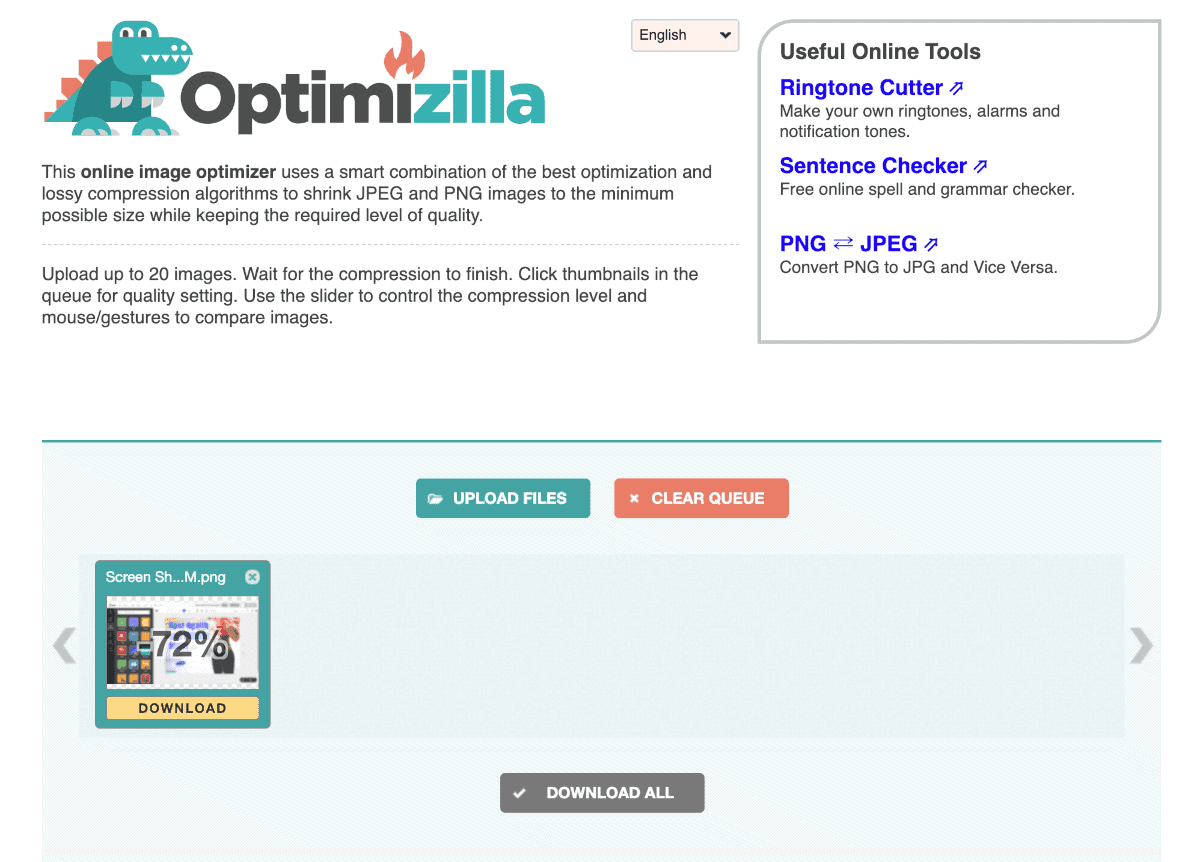 The 72% compression resulted in a reduction in the file size from 455K to 82K.
You can also change the compression settings:
More compression = lower quality but lower file size.
Less compression = higher quality but larger file size.
In addition to this tool, there are also a couple of plugins that you can install on your blog to help with image sizes and compression:
Resize Image After Upload – Automatically resize your images to a specified width and height on your blog to reduce the file size and loading time on your blog.
Optimus – Automatically compresses and optimizes photos uploaded to your blog (sometimes up to 70%)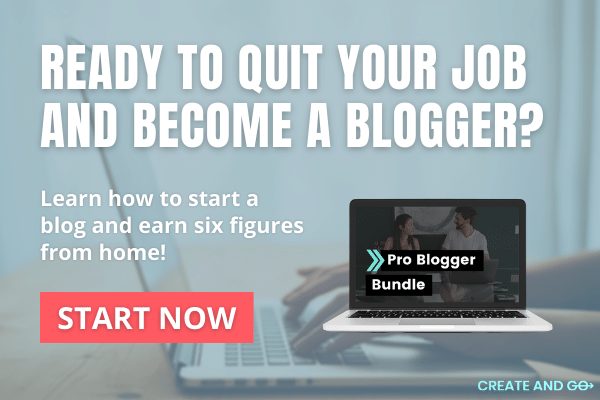 Email Marketing Tools and Resources
If you haven't started building your email list yet, this is the #1 blogging tool you need to implement from this article.
Email marketing is the most important first step you need to take to start making money blogging.
Emails help you connect on a more personal level with your audience and begin building a relationship with them. The trust built in that relationship makes them more likely to buy from you.
9. ConvertKit
So, how do you start building that relationship?
ConvertKit is our favorite tool to build and foster relationships with your audience.
There are a LOT of different email marketing platforms out there and a lot of them are pretty comparable in terms of price and features, but most of them suck in performance.
They try to offer too many features, which makes the software unnecessarily complex and great at absolutely nothing.
The founder of ConvertKit, Nathan Barry, was a blogger himself before he started the company. He designed the platform to work specifically for bloggers — not eCommerce owners, software companies, or anyone else.
My favorite feature of ConvertKit is the ability to edit all of your emails in a particular sequence in one screen: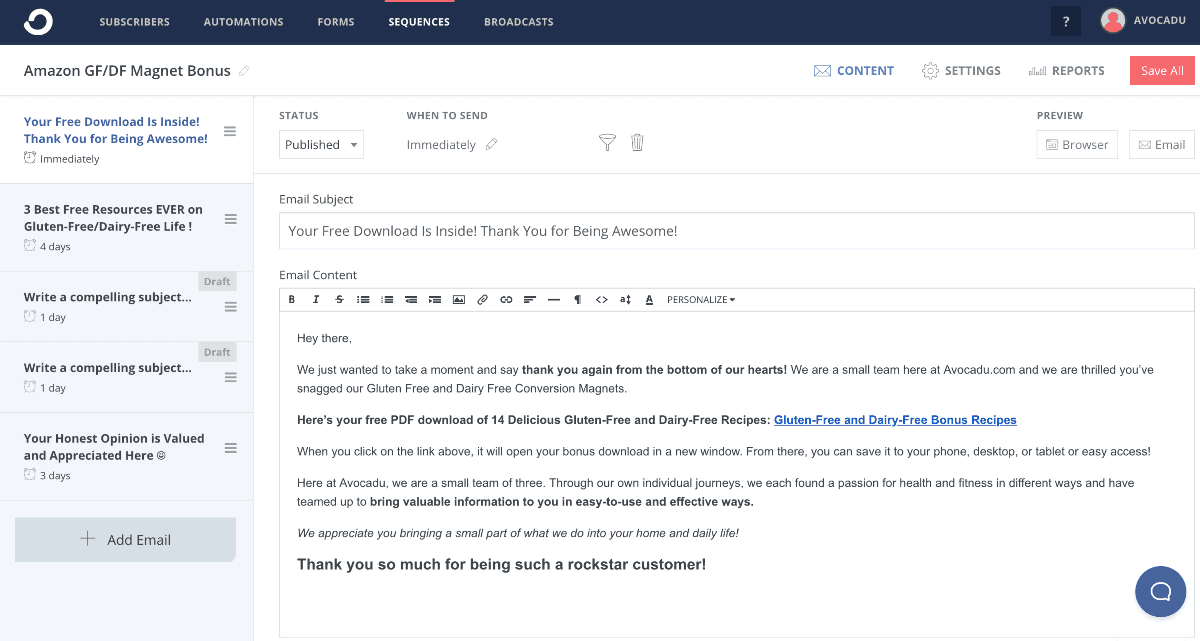 It seems like a no-brainer, but we tried several other email marketing companies that made you jump through several screens just to be able to edit a single email.
This meant a lot of extra time editing emails and it also made it harder to see how your emails "flowed" from one email to the next in a sequence.
The moment I tried ConvertKit out and used this feature, I was hooked. We have used them ever since.
ConvertKit also comes with a ton of customizable landing pages and forms that integrate with WordPress to help you turn more readers into subscribers.
Here is an example of the types of forms you can create with ConvertKit: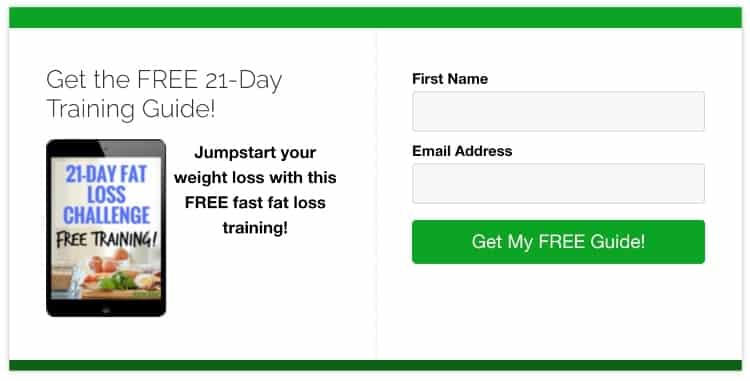 Click here to get your first month of ConvertKit FREE (only through our affiliate link)!
10. LeadPages
Once you're ready to start building your email list, how do you actually people to sign up?
This can be done in a variety of ways, and ConvertKit actually has great landing pages and forms that come with their service. So if you're a beginner blogger, you should start there.
But if you're looking for a way to create more customizable and robust landing pages for maximum email conversions, LeadPages is your best bet.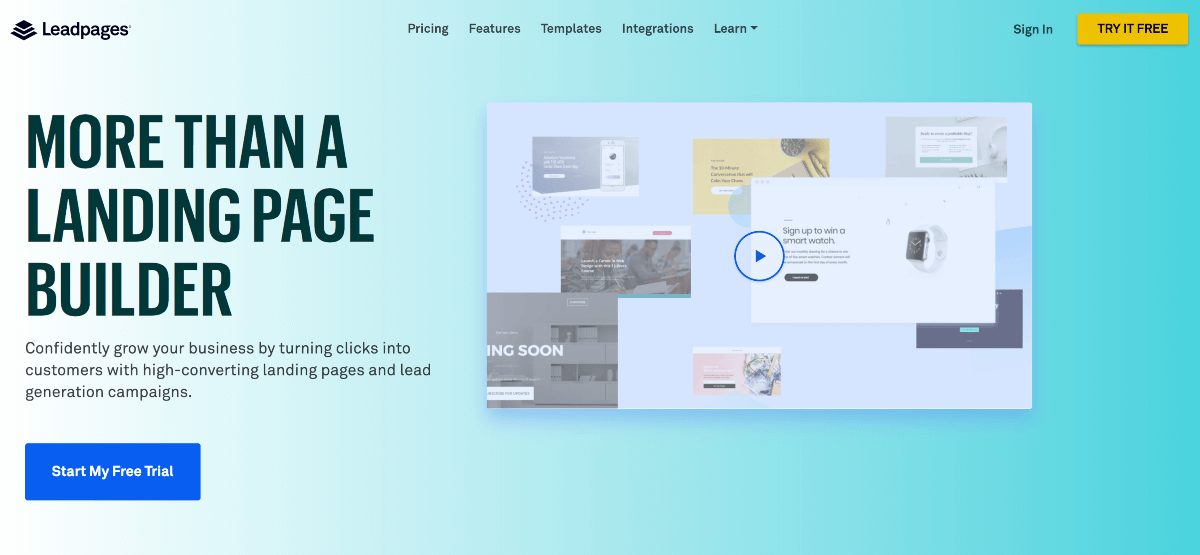 LeadPages is landing page software that allows you to create beautiful landing pages that can be used for collecting emails, selling products, etc.
You can see one of our custom landing pages for our Blogging Bootcamp here.
Most new bloggers add a small "subscribe here" form at the bottom of their posts and then wait for the subscribers to start rolling in…
It doesn't work that way. Most people won't make it to the bottom of your articles to see it.
You can expect about 2% or fewer readers to use a form at the bottom of your posts. A good landing page can convert upwards of 50% or more of those same visitors!
TL:DR: If you're not using landing pages to get subscribers on your blog, you're sitting on money.
Click here to check out LeadPages.
Blog Writing Tools
This next set of blogging tools and resources will help you improve your blog content from top to bottom.
They will help you write better content and headlines for SEO, maximize social media exposure, AND improve the grammar and readability of your content.
11. Grammarly (Grammar and Proofreading)
Have you ever received a comment on your blog from the grammar police?
I think it's quite hilarious when people take the time to read your entire article and then leave a lousy comment letting you know that you misspelled one word along the way.
Sure, I'm happy to fix the error but it's comical to see how much time people spend concerned about other people.
If you're anything like me, you tend to type as you talk and think things out in your head, which means that you tend to make spelling errors and grammatical mistakes often.
I even proofread my content after writing it and usually multiple times but I STILL miss grammatical mistakes.
When you read over your own content, you tend to skim over it because you already know what it says. The alternative is to have someone else proofread your content but this can be costly and more time-consuming.
Grammarly to the rescue!
This software is one of the best blogging tools out there for grammar and proofreading.
Grammarly automatically checks your work for most spelling and grammatical issues and proposes changes to fix the errors:

You can do this by uploading Word documents to their software to proof before adding your content to WordPress or you can use their browser extension and fix corrections right within WordPress:

You can choose to accept their corrections or ignore them.
Now, this is not a complete substitution for proofreading or double-checking your work. It's still a computer checking your work, so it definitely does miss some things.
For example, it often doesn't catch words that are spelled correctly but simply added in the wrong place.
i.e. It wouldn't catch sentence this because spelled correctly all words.
That sentence doesn't make sense and is missing some words but everything is spelled correctly, so Grammarly won't catch it.
You still need to proofread all of your work but it will catch mistakes that you notice or miss, especially if you're a fast typer like me!
Click here to start using Grammarly to proofread your content.
Make sure to also check out our full post on blog writing.
Keyword Research Tools
Keyword research is essential for search engine optimization, or SEO, which is what helps your content get found in search engines like Google (or Pinterest and YouTube).
It's not enough to just write great content. You also need to use the keywords that people are searching for to make sure that your content actually gets seen.
You also don't want to guess what these keywords might be, especially when there are some great keyword research tools out there on the internet.
12. Ubersuggest (Beginners)
A lot of keyword research tools are expensive and pretty complex — aka not ideal for anyone new to the online business world.
Ubersuggest is a completely free keyword research tool that is super simple and perfect for beginners.
To use this tool, simply type in a general keyword related to what you want to discuss. For this example, I used the keyword "Yoga Poses:"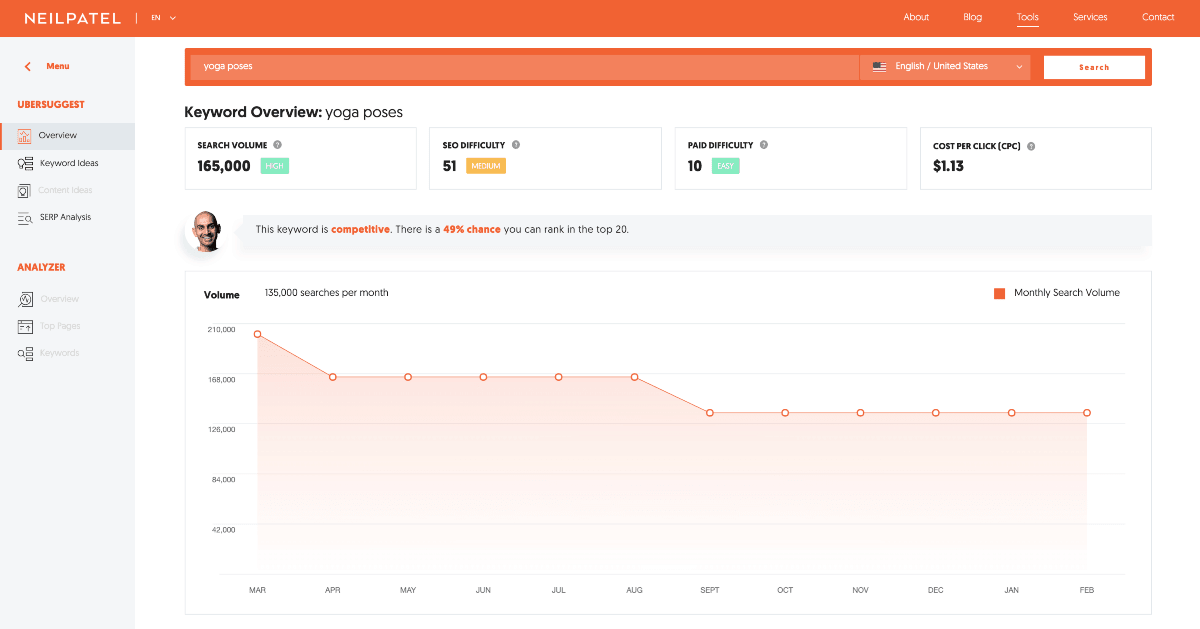 The data above shows me that the keyword "Yoga Poses" has an average monthly search volume of 165,000 and a 'medium' SEO difficulty.
A 'hard' SEO difficulty would mean that it would be pretty hard for me to rank for this particular keyword because it's very competitive. A 'low' score would mean that it would be a great keyword to go after because it's less competitive.
In keyword research, ideally, you would find the keywords with the highest search volume and the lowest difficulty score.
The high search volume means the potential for a lot more traffic and the low difficulty levels means the keyword isn't too competitive and hard to rank for.
Unfortunately, most of the highest volume keywords are pretty competitive, as you would imagine.
You need to find a good balance between search volume and difficulty level, and this is where "medium-tail keywords" and "long-tail keywords" come into play.
Let me illustrate this by taking the above example a step further… If you scroll down, you'll see some additional details about the "Yoga Poses" keyword that we searched for: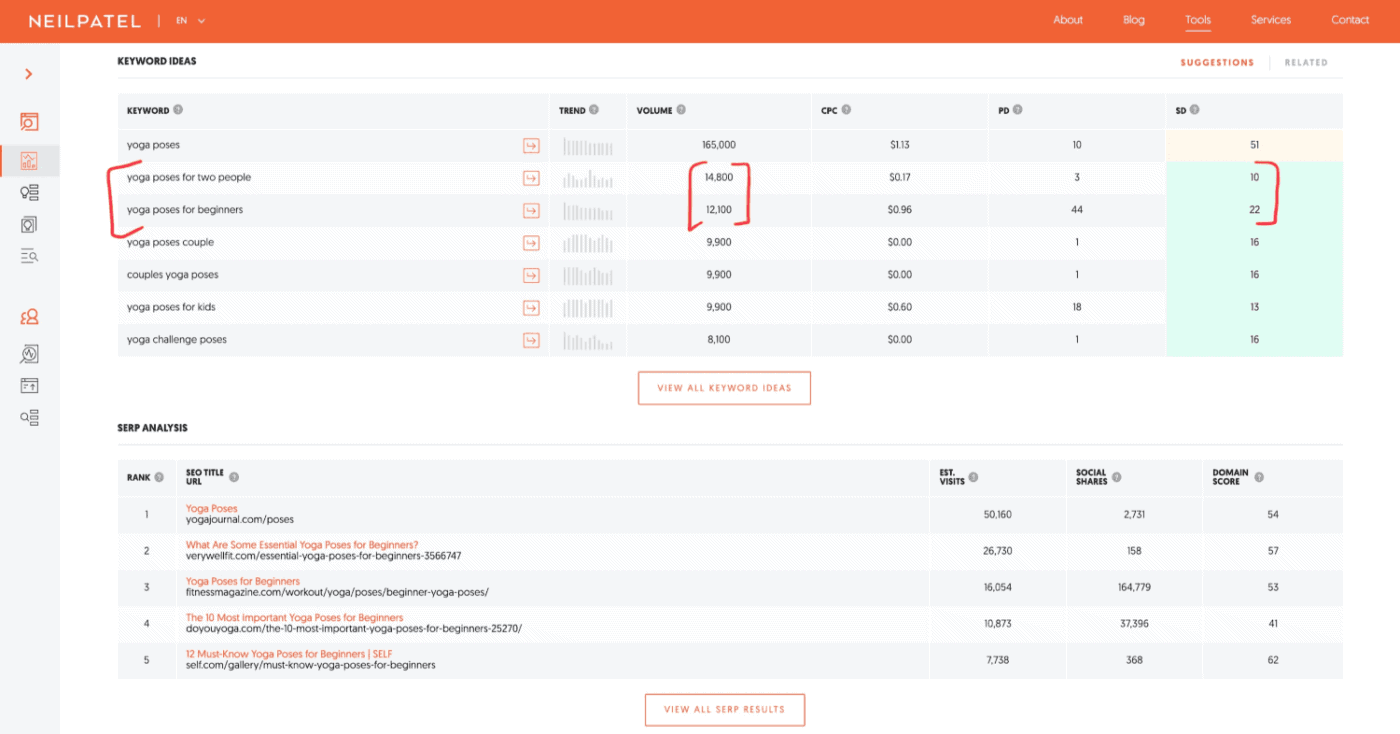 Ubersuggest will show you a comparison of the keyword that you searched for plus related keywords so you can compare and contrast the search volume and difficulty.
I highlighted the keywords "yoga poses for two people" and "yoga poses for beginners" because they had a relatively higher search volume but a relatively low difficulty score compared to the other results.
Rather than trying to rank for "yoga poses," which is pretty competitive, a better strategy would probably be to write a few articles on the other keywords in the list above because while they don't provide as much traffic, they are much easier to rank for.
The traffic from other "lower" volume keywords will end up adding up over time if you can rank for a few of them!
13. Ahrefs (Advanced)
Ahrefs is a very extensive keyword research tool that provides data on certain keywords, including search volume, related keywords, top articles ranking for that particular keyword, and more:
It's our favorite keyword research tool because of the information it provides on your backlinks.
Acquiring backlinks from websites with a high domain authority is one of the quickest and best ways to get more Google traffic.
In addition to the backlink information, it also has a really awesome keyword explorer that gives you a ton of valuable information on the keywords in your niche.
Ahrefs provides details on your domain and your content relating to:
Keywords Analysis – See what keywords you're ranking for and what potential keywords would be valuable for your content
Website Traffic – Number of page visits, what articles people are visiting most, average time spent on your website, etc.
Bounce Rate — Remember what we discussed before about page speed and bounce rate)
Backlinks – Who is linking back to your blog
You can also run "site audits" on your site to see what you're doing right and where you could use some improvement to help boost your SEO score.
Ahrefs is what you want to use when you're looking to optimize what you do and get a competitive advantage over others in your niche.
Click here to check out Ahrefs.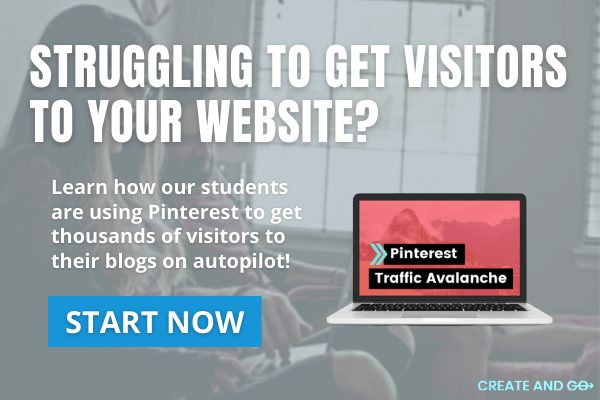 Organizational Tools
The following blogging tools can help you grow your business and save tons of time through improving your productivity and organization!
14. Google Drive (File Storage)
Storytime…
I once spilled an entire glass of sparkling rosé all over my Macbook Pro while trying to take a photo for Instagram.
Yes, seriously… It wasn't my finest moment.
At the end of the day, I was out a few hours and a little more than $1,000.
The good news: I didn't suffer any major setbacks because I didn't lose any of my important files or data. Because none of it was directly stored on my computer.
Google Drive is a really great solution for document storage so that you can access your documents and data from anywhere and won't lose it if something happens to your computer.
Other great options: iCloud storage or DropBox
We used DropBox for a long time but eventually switched over to Google Drive because we were using Gsuite for our work email accounts anyway.
15. LastPass (Password Management)
Do you have any accounts that you NEVER seem to be able to remember the password to?
I have some that I have to reset every time I try to log in because they require me to have some random extra characters I normally don't use or they won't let me use an existing password twice.
Sigh. It frustrates the heck out of me.
LastPass is a tool that stores all of your passwords for you so you can log in anywhere in seconds!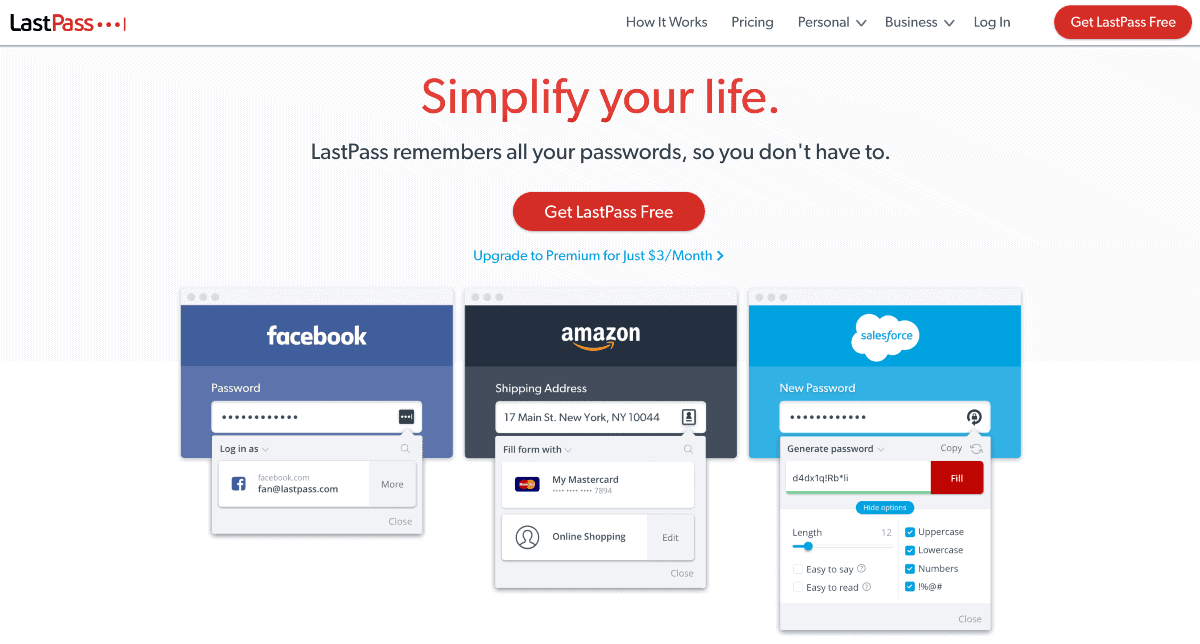 You can still set your own passwords when you create a new login for a site or you can let LastPass generate a more secure password for you.
The browser extension makes it super easy to log in to any site that you have a saved password for. So, when you visit a website, you can click the LastPass icon on the right to pull up your login credentials.
There is also a mobile app version so that you have access to your stored passwords on your phone as well!
I think this is even more important when you are running an online business because the more your blog grows, the more accounts you'll have to set up along the way.
Click here to check out LastPass.
Tools for Growing Your Blog
The next set of blogging tools will help you improve your content and traffic performance to get more visitors to your blog.
16. Tailwind
If you're at all familiar with our content or courses, you know that we recommend Pinterest as one of the best places to start when it comes to driving traffic to new blogs.
Tailwind is the most popular software tool for Pinterest marketing, and it comes with the following features:
Scheduler — to help you keep content organized and schedule it out ahead of time
Analytics — to monitor your performance and help you create better strategies
Collaboration Tools — to help you increase your reach on Pinterest (super important as a beginner when you're trying to get traction on the platform)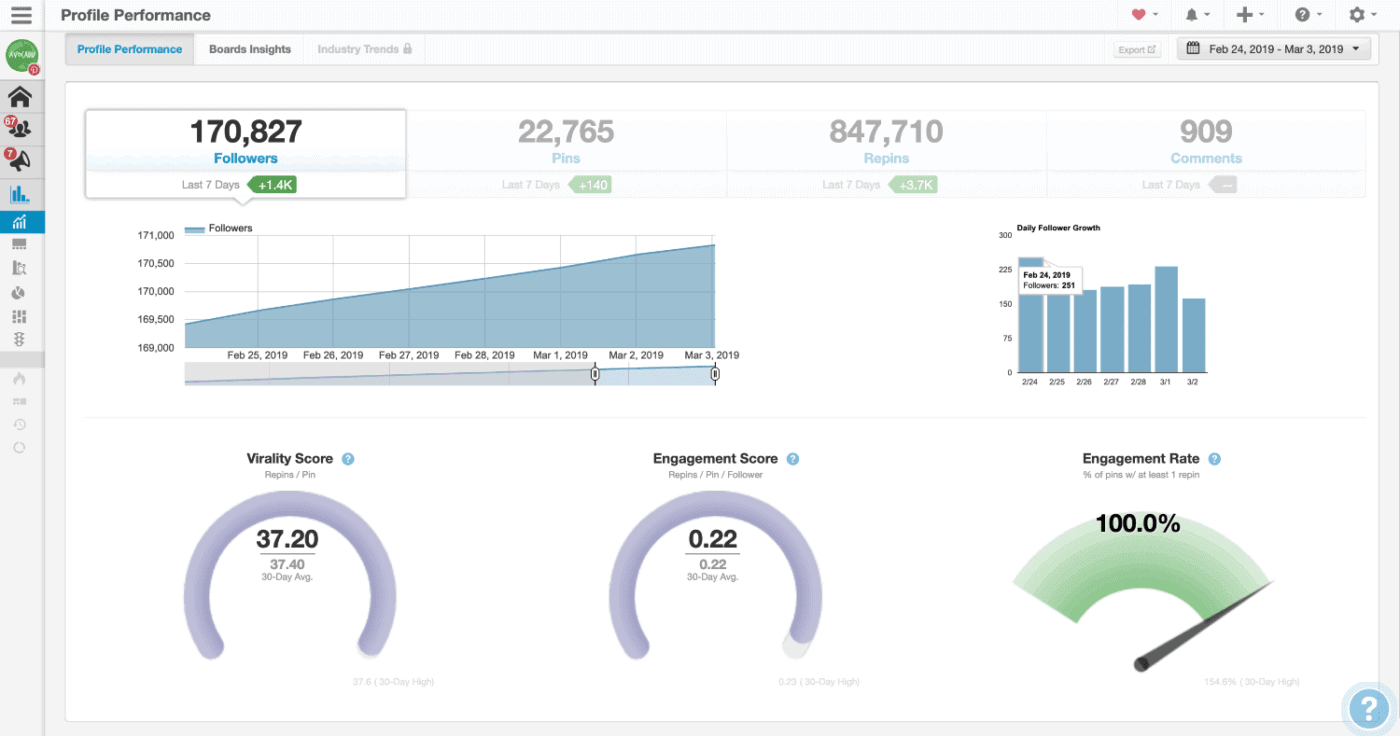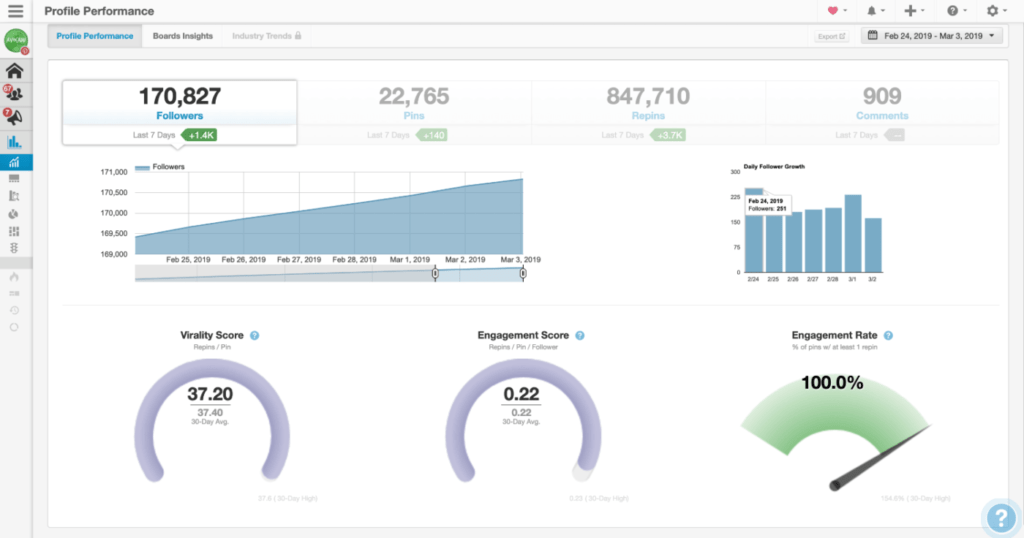 We've been using Tailwind for years now and it has been a vital piece for the growth of our accounts to tens of thousands of followers.
Click here to get a free trial + $30 off your subscription (only through our affiliate link).
17. Rank Math
Optimizing your content for Google SEO is TOUGH work and it's not something that we think most new bloggers should be too focused on in the beginning.
That being said, it's important to take at least a few basic steps to make sure that your content is looking good for Google.
The best tool for this is a free WordPress plugin called Rank Math.
Rank Math gives you a basic overview of how well your posts are optimized for basic SEO principles using a score-based system (out of 100 possible points), paired with a traffic light system:
Green Light — You're in the clear and your post is looking pretty great in Google's eyes.
Orange Light — There is some room for improvement and a few things you need to work on.
Red Light — Your post isn't optimized at all and you have a lot to work on.
Rank Math will also tell you exactly what you need to do to take your posts from low score and yellow or red lights, to a high score and green lights!
It's the best way to put in a little bit of extra work that translates into a lot more optimization for Google traffic.
Blog Tools for Making Money
A lot of the tools above will help you monetize your blog in that they help you optimize content, drive more traffic, etc. But this next blogging tool will directly help you make money.
18. Teachable
Teachable is what we use to sell all of our online programs and courses for both of our blogs. The software comes with everything you need to build and sell your own online courses, including:
Sales pages
Checkout pages
Course curriculum
Affiliate program (so other people can sell your course as an affiliate!)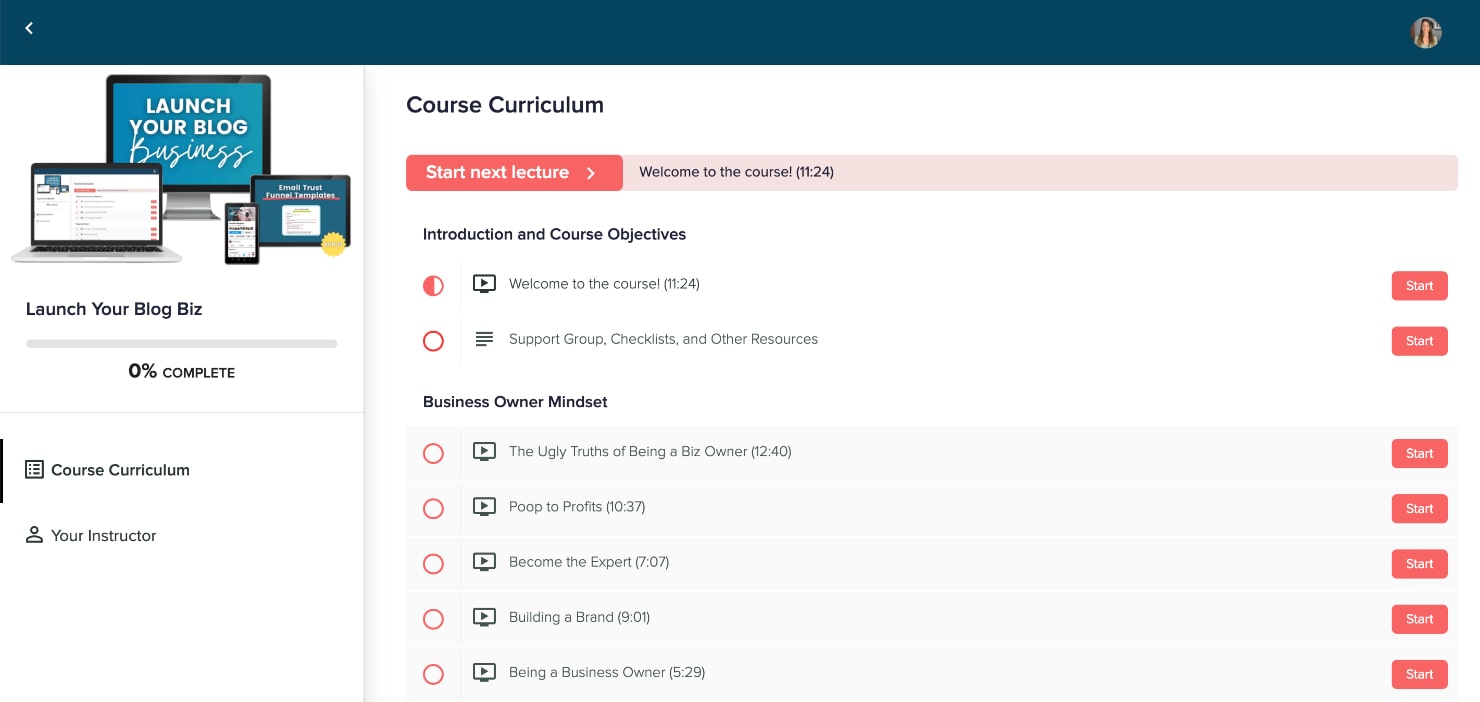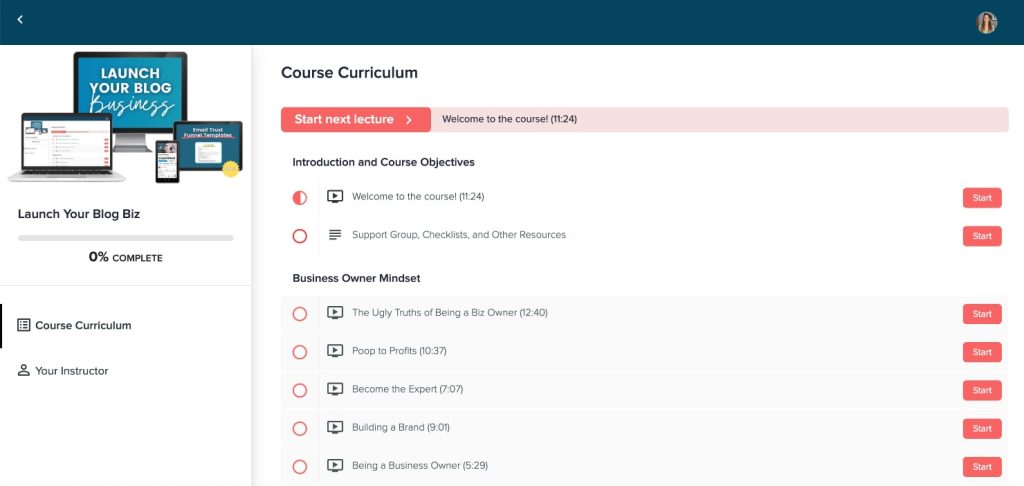 This translates into an awesome user experience for your customers and they get access to the course right away, so you don't have to do anything else!
I met the Teachable team, including the founder of the company, in San Diego at a conference, and they are a really awesome group of people that care about their customers a LOT.
Click here to get your first month of Teachable for FREE (only through our affiliate link).
We hope that providing you with some actionable steps at the end of each blogging tool will help you get a better head start on implementing these tools!
What blogging tool do you think will make the most impact in your business right now? What changes are you going to make after reading this article?
We'd love to hear from you in the comment section below!