In these blog income reports, we report our blogging income and expenses as well as insights to any recent changes we've made on our blogs in the past month.
This is what we will cover in this blog income report (feel free to click and skip to what you'd like to see):
Why We Publish Income Reports
It's a little weird publishing our income reports for all of our friends, family, and loved ones to see, but that's the tradeoff that we accept for the transparency that it provides to our audience.
We never publish to brag – only to show our followers and readers just what is possible with a small blog, some hard work, and a lot of determination!
Alex and I first got into the blogging world with a health and wellness blog. Only after earning six figures with that first blog in its first year did we start Create and Go.
It's from these successes and failures of this blog that we teach at Create and Go.
We are teaching blogging strategies that work in a completely different niche, and we hope this will make it a little more relatable and applicable to your specific niche and blog.
There are a lot of 'experts' out there that are making money online by teaching others how to make money online. Basically, blogging about blogging.
While many of these folks are VERY successful (and good at what they do), it makes their strategies a little less relatable and harder to apply sometimes if you are in a completely different niche.
Yes, we blog about blogging too, but the difference is that we took our first health and wellness blog to $20,000/month and beyond BEFORE we started Create and Go.
We hope that the honesty and transparency that we provide through our successes and failures with our health and wellness blog help you on your blogging journey as well!
Start a Successful Blog Today
If you are interested in starting a successful blog for yourself, we made an awesomesauce tutorial on how to start a profitable blog, starting at just $2.75 per month (this low price is only through our referral link).
September 2020 Blogging Revenues
Before we dive into the specifics, we want to show you some proof of the income that we earned over the past month.
Proof of Income
Here are a couple of screenshots from Teachable and Quickbooks that show some of our sales:
Our income is deposited into our accounts at various points after sales are made, so the above screenshots do not reflect exact sales numbers for the month. They are a representation of a large portion of the income we have made over the month.
Total Revenues from our health and wellness blog and Create and Go: $133,272.99
The number above does not include blogging expenses. Some of the expenses that we incur on a monthly basis include the following:
Income Recap Since We Started
The chart below contains the revenues from both blogs since we started blogging.
Helpful Timeline of Events:
During the months of July – August of 2015, we were working on our first blog that ultimately failed
We started our health and wellness blog in September of 2015 and didn't make any money with it until January of 2016.
Changes in September Since Our Last Income Update
In this section, we'll tell you what we've been up to over the last month!
Recently Published Blog Articles and Podcast Interviews
Latest blog article:
And our latest YouTube video:
And our latest podcast interviews: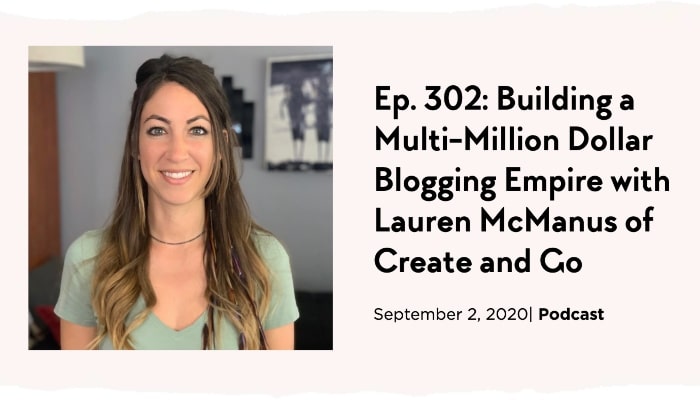 Working and Exploring Around the World
As some of y'all know from following my Instagram updates, I've been traveling full-time for almost two years now — living and working remotely from different countries around the world.
Most of my travels have been with a group called the Wifi Tribe, a global community of co-living and co-working remote workers and digital nomads!
Alex and I first started traveling with the Wifi Tribe over 3 years ago right after we started our first blog. We went to Nicaragua, Bali, Peru, Costa Rica, and Portugal with the tribe!
It's a great way to meet new people around the world and to network with other entrepreneurs, remote workers, travelers, and generally just super awesome people.
I spent the month of September between in London and Portugal
I started off the pandemic somewhat "stuck" in Panama — all domestic and international flights were shut down, as was transportation off the island of Bocas del Toro, where I was staying.
I finally got a humanitarian flight out of there back to the states, where I spent a couple months, and I just recently got to Europe where I'm holed up for a while with some friends.
Next trip up on the docket: I honestly have no idea as it depends on how these travel restrictions pan out over the next few months…
Alex is still posted up in Austin, Texas and loving life with his motorcycle views of downtown.
He travels a little differently than I do these days. He prefers to hunker down in Austin with his friends and work a lot and then take bigger vacation trips every now and then.
His last trip was with my brother to New Zealand!
He still loves to travel, but at a much slower pace.
I have actually have stayed out of the U.S. for almost two years on purpose — because there is a tax break for it if you stay out for a certain amount of days within a year.
And because I find it to be a fun way to experience the world while also getting to work on my online business every day!
What We've Been Working On
Here's an overview of some of the things we've been up to over the past month…
Course Updates
I've been spending the majority of my time updating our blogging courses over the last couple of months!
I've made major updates to the following courses:
We update our courses every few months as our blogging strategies change and improve and as software and social platform updates happen.
It's time-intensive work that requires a lot of quiet, focused time without distractions, so it's been the perfect pandemic work project!
Website Design
You might have noticed that we have redesigned our blog YET AGAIN!
We had it redesigned just a few months ago and to be honest, the project was a disaster. We spent a LOT of money — more than I want to admit to you.
Because we thought that we were getting a very high-level, professional service.
Sadly, it didn't turn out that way. We ended up with a finished product that we weren't really happy with and our contract turned out to be a lot more limiting than we thought.
Anyway, I digress. This is why we stress in our beginner blogger course to not focus too much on web design in the beginning. Your design will change SO much over time!
We hope you like our new design! It's pretty simple, which is what we wanted for user readability and website speed.
COVID-19 Impacts on Blogging
We saw a major increase in blog visitors due to COVID.
Tons of people are choosing to start a blog right now because of salary cuts or worse — unemployment — due to this global pandemic.
What I can say is that as with most other industries out there, there have been both good and bad impacts on the blogging world.
The travel and tourism industry has been hit the hardest by COVID-19. A lot of bloggers in this industry have also seen a massive decline in sales and traffic.
Some other bloggers may see an impact on sales due to reduced spending power of consumers.
But COVID-19 has also led to a MASSIVE shift in consumer behavior due to the #stayathome orders and social distancing.
Software companies and course platforms are BOOMING right now.
With regulations forcing people to stay inside, they can't leave their house to get the normal services that they pay for. To name a few:
Gym workouts (yoga, weight loss, etc.)
Dog training
Church
Language schools
A LOT of bloggers selling online courses have seen a boost in sales and traffic because more people are having to turn to online platforms and courses to get what they need without leaving the house.
People are still spending money and they things to help them fill their time in self-quarantine. Tons of people are taking the time to learn new skills while in self-isolation, including:
Weight loss programs
Yoga programs (I've paid for a course for this for myself already)
Learning a new language (I'm also doing this)
Gaming courses and platforms
Music (my best friend is doing this)
Art
DIY
Gardening
So, is blogging still a good idea right now?
HECK YEAH, it is! But the going still could be tough for you temporarily if you're in the travel or tourism industry.
For everyone that has been affected… Use this time to build your business in other ways:
Create more content
Design a bunch more Pinterest pins
Create an online course (we have a course to help you do this)
Focus on things that will bring your business value in the future, even if you don't see an immediate return on it right now.
That's why I've spent so much time updating our blogging courses!
New to blogging? Get yourself FIRED UP with these awesome resources.
Best Articles If You Haven't Started a Blog Yet
Best Articles for the Peeps Who HAVE Started a Blog
How We Make Money Blogging
Affiliate Marketing Income:
Last month, we made $50,724.78 through affiliate marketing on our blogs. Affiliate marketing just means selling other people's products and courses, and it was how we earned our first $1,000/month blogging.
It's one of the best ways to start making with your blog.
Our Launch Your Blog Biz course will teach you everything you need to know from starting and launching your blog to making $500 – $1000 per month with your new blog through affiliate marketing, free blog traffic, and other strategies.
Digital Products and Services Sold:
Last month, we made $78,081.00 selling digital products and services (eBooks and online courses). This is always going to be where the bulk of our income is made because selling your own products has a much higher earning potential.
If you would like to know how we did this, make sure to check out our most advanced blog monetization course, Six-Figure Blogger.
Note that this is an ADVANCED course. It does not cover the basics of traffic or writing content. It delves much deeper to cover copywriting, sales funnels, email marketing, and more.
If you have any questions about our blog income reports or about blogging in general, please feel free to leave them in the comment section below!