We publish income reports on our blog and I think a lot of people see how much money we make and immediately think, "What does a blogger do?"
Most people are somewhat familiar with the online world these days and they know what a basic website looks like.
But you've probably noticed that terms "blogger" and "blogging" are starting to pop up a lot more lately, especially if you spend a good amount of time on Pinterest.
You've probably seen a few posts about people making an income online and wondered how they do it (and how you can get in on that!).
My boyfriend and co-founder of this website, Alex Nerney, and I started blogging just two and a half years ago with a health and wellness blog called Avocadu.
We were able to quit our full-time jobs and earn more than 4x our previous salaries in our blogging career so far.wh
So, how did we do it?
Here is an overview of what we will cover in this article:
To answer the question of what does a blogger do, you must first understand what a blog is.
What is a blog?
There are tons of different websites out there, including everything from ones that sell T-shirts to ones that display photos or videos.
A blog is a type of website where content is written with the purpose of educating the reader on a specified topic or topics.
They can also have photos and offer products to sell (including T-Shirts), but the written articles make up the majority of the content on the blog.
This article that you are reading right now is a blog post that is part of our blog, Create and Go. Another example is our health and wellness blog, Avocadu.
You can also check out our post for additional information on this topic: What is a Blog + The Difference Between a Blog and a Website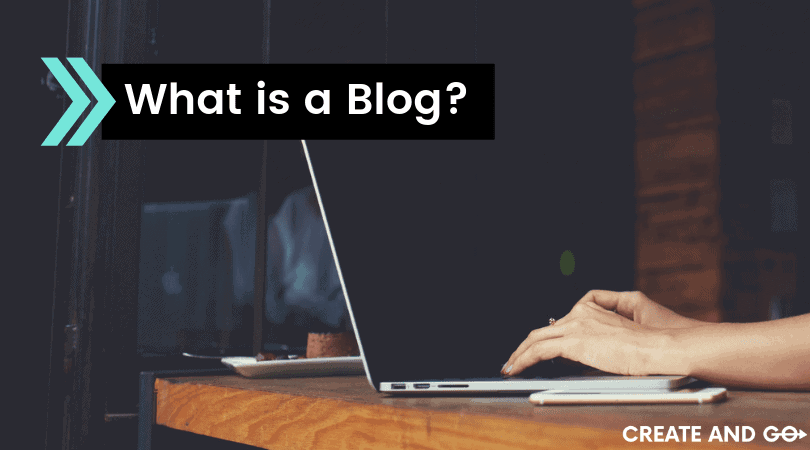 Why start a blog?
Everyone has a different personal reason for starting a blog, but they typically all fall under these broader reasons:
Financial freedom
Time freedom
Desire to travel
Love of writing or teaching
Desire to run your own business
For us, financial freedom and time freedom were at the top of the list.
A blogging career allows you the financial freedom to control your income and the time freedom to work where and when you want.
Whether it's to earn a better income, spend time with your kiddos, or just because you simply can't stand the thought of working a soul-sucking 9-5 job, blogging can provide this freedom.
How much do bloggers make?
Just like with any self-employed business, this depends. Remember that YOU are in control of your income.
How much you work, how hard you work, how much you invest in your blogging, and how badly you want to succeed all factor into your blogging success.
Some bloggers struggle for years and never make it and some bloggers start earning six-figures within just a few months, like we did.
We made over $100,000 with our health and wellness blog in its first year and it's these blog monetization strategies for fast success that we teach on Create and Go.
We now make over $100,000 every MONTH blogging with the revenues of our two blogs combined.
It's important to remember that anything is possible when it comes to blogging. If you had told us two years ago that we would be making that kind of money EVER, I would have laughed in your face.
But we kept our heads down and focused and just kept working and growing – never getting complacent or too comfortable with our earnings.
Okay, so now that we've given you an overview of the blogging world in a nutshell, let's get down to what it really means to be a blogger.
What does a blogger do?
If I'm going to give you a 50,000 foot-overview and put this into the simplest terms possible, I can break down the overall duties of a blogger into three basic tasks:
Write Content
Recommend Products
Sell Products
Now, there is a LOT more to it than that and quite a few things in between, including:
Sales
Marketing
Customer Service
Production
Research and Development
Accounting and Finance
But they all serve the purpose of the three top-level tasks. Let's go into a little more detail to help you understand.
Bloggers Write Content
The primary task of a blogger is to produce content in the form of articles.
Blog content is how you provide value to your audience, educate them on what your business is about, and ultimately build trust with them before you can expect them to spend any money.
You should generally post at least one new article a week, although some people post much more frequently or even less frequently than that. Posting twice a week in the early stages of your blog is a good idea to help it grow faster.
Social media and other traffic platforms like Pinterest, Google, Instagram, and Facebook all favor users that publish new content regularly, which makes it a very important task in your business.
If you're wondering what to write about, don't worry. There are plenty of ways to figure that out. You can run searches and use other software to help you figure it out.
There is never a shortage of topics to write about!
Check out our articles on keyword research and blog writing tips for some additional help.
Remember that writing articles is a large part of what separates your blog from being just a website. It's one of your main jobs as a blogger, and while you can also outsource it and hire writers to write for you, it is still a task that must be completed regularly!
The free content that you provide on your blog is the foundation of your business.
Okay so if I'm offering all of this free content to others, how do I actually make money blogging?
Recommend Products
I use the word "recommend" here because I'm referring to affiliate marketing.
To make money blogging, you don't have to actually sell your own products. You can actually sell products that belong to other people and companies.
This is called affiliate marketing. Let me illustrate this with an example:
Bluehost is the #1 blog hosting site that we recommend when people start a blog.
We are also an affiliate for Bluehost and that link above is called an affiliate link. If you decide to start a blog and sign up for Bluehost through our link, we get a commission off of the total purchase price.
Bluehost pays us this commission because we helped them make a sale by recommending their product to our readers. They have even offered us a special discount pricing of $2.75/month to offer to our readers to help us make sales.
Think of it like a business partnership. We could have this partnership with any other hosting company, but we chose Bluehost because it is what we personally use to host our blogs.
Make sure that you only recommend products that you use and/or truly believe in.
Perhaps one of the easiest ways to make money blogging with affiliate marketing is through the Amazon Associates Program.
You can actually recommend Amazon products in your articles and receive a small commission on the purchase price if anyone purchases from your articles.
You can make a great income from your blog by recommending affiliate products to your audience and some people make six figures from their blog with affiliate marketing alone.
But there is one final step if you want to truly SCALE your income.
Sell Products
The final frontier of monetizing a blog and taking it to truly crazy and unpredictable heights is to sell your own products.
What kind of products are we talking about?
Well, they could be digital or physical. We specialize in and teach about how to create and sell digital products – aka information products like eBooks and eCourses.
Selling physical products can be a lot trickier and riskier because you generally have to manage inventory, packaging, shipping, returns, etc.
We chose to go the route of offering digital products because the process is much simpler.
The first two digital products that we created were two weight loss eBooks/programs that we currently sell on Avocadu.
On this blog, Create and Go, we sell four courses on blogging:
Alex and I created all of these eBooks and online courses ourselves, including the writing, designing, sales pages, marketing, etc.
These products are what make up the vast majority of our blogging income. We still do recommend affiliate products (like Bluehost blog hosting), but it makes up a MUCH smaller percentage of our total income.
When you sell your own products, you control every part of the process, including the product price, costs, sales, marketing, and more.
Now, we call it the final frontier because creating your own products can be very time-consuming and you still have no guarantee that you will be able to sell it effectively.
We recommend starting out with affiliate marketing first because it will help you learn more about your target audience, the products they are most interested in, and how to sell those products to them.
What else does a blogger do on a daily basis?
As a blogger, you're generally a one-man show. Your tasks will vary from day-to-day but as we said before, they generally revolve around the three top-level tasks discussed above.
Here are some of the general tasks a blogger does on a daily and/or weekly basis:
Production:
Writing blog articles
Writing emails to your audience
Creating your own products
Research and Development:
Finding new topics to write about
Researching articles to learn new strategies
Taking courses to invest more in your learning
Sales and Marketing:
Writing content designed to help sell products (affiliates or your own)
Writing emails designed to help sell products (affiliates or your own)
Creating sales pages for your products
Customer Service:
Communicating with people that purchase your products
Providing additional help and support for your products
Accounting and Finance:
Keeping track of your blog spending
Keeping track of your blog revenues
Reporting your blog profits on your tax return
The above tasks are ones that you will likely encounter at some point in your blogging business. Note that some of them can certainly be outsourced.
You can hire a writer to write your articles for you, although we don't recommend doing that until later on (if at all). If you don't have any desire to write, you're probably looking at the wrong career.
You can also hire a virtual assistant to help you out with customer service or an accountant to manage your finances.
Many of the tasks required in the blogging industry can be outsourced, but keep in mind that you will be doing ALL of them yourself in the beginning – as you should be to learn the process before outsourcing.
How do you become a blogger?
I hope I haven't scared you away yet!
The first step in becoming a blogger is to figure out what to blog about. You will want to select a profitable blog niche based on what you are passionate about or a topic that you are very interested in.
There are tons of successful blogs in various niches, so stick with something that you know and are comfortable talking about. People will know if you try to be anything that you're not.
If there are multiple topics that you want to talk about that are somewhat related (like parenting, DIY home projects, etc.), that's okay too. You can create a lifestyle kind of blog and discuss a few topics.
Your blog will change and evolve over time, so you don't have to be 100% stuck on an idea before starting and you really shouldn't be.
Once you've decided what you write about on your blog, the next step is to GET STARTED!
We have a step-by-step tutorial for how to start a successful blog in under 10 minutes that will walk you through the process.
If you're still feeling a little unsure about the process and need some more time, we recommend signing up for our FREE 7-Day eCourse on How to Start a Blog.
It comes with videos and written content that will walk you through the process in more detail. You'll get each lesson one day at a time so that you don't get overwhelmed and have more time to process everything.
Okay, that's it for this article on what does a blogger do, guys! We hope you enjoyed it!
If you enjoyed this article on what does a blogger do or have any questions for us, please feel free to leave us a comment below!