We partner with bada$$ companies that offer products that help our readers achieve their goals! If you purchase through our partner links, we get paid for the referral at no additional cost to you! Read our disclosure for more info.
You've heard about the benefits of self-hosting and are ready to transfer a free blog to WordPress.org but are afraid of losing your blog content.
Well, we're going to give you step-by-step instructions for a smooth transition!
It can be confusing to start a blog let alone create a new one and making sure that you don't lose any of the work you've put in so far.
You have domains and hosting to worry about as well as themes and design and so much more!
The good news is that the transition is really much simpler than you would think, and we're going to show you how to do it in 5 simple steps!
This article is going to show you how to set up your new self-hosted blog with Bluehost because it's our #1 recommendation for hosting.
But the process is the same after you've signed up for a new hosting plan even if you choose a different company, so you can jump down to exporting files if that's what you decide to do.
We're also SO pumped you've decided to make the transition to a self-hosted blog because that means that you are one HUGE step closer to becoming a professional blogger!
Just to make sure you're on the right track and feeling good about your decision, let's chat briefly about WHY this is such a great decision!
Why Transfer a Free Blog to WordPress.org?
As we explain in our article on the differences between WordPress.com and WordPress.org, there are quite a few reasons why self-hosted is the way to go.
Free platforms come with serious limitations, with one of the biggest limitations being how you can monetize your site.
Some of the other limitations of free blogs include:
Less space (limits the content and media you can have on your blog)
Can't put ads on your site (one of the easiest ways new bloggers monetize)
Less control of the design of your blog (can't upload custom themes or plugins)
You don't own your domain name (unless you purchase it separately)
And more!
With WordPress.org, you can monetize however you want to, upload any custom themes and plugins to design your blog exactly how you want to, and you can get a free domain name when you sign up with Bluehost below!
Free blogs are really designed more for hobby bloggers that aren't looking to many any money from them.
If you are looking to turn your blog into a full-time business, you WILL need self-hosting when you're ready to get serious about it.
Get Your New Hosting Plan
As we said before, Bluehost is our #1 recommendation for hosting for new bloggers.
Bluehost is the most affordable with the best customer service, and it's also what we used to take both of our blogs to six figures
Click here to get started with Bluehost (opens in a new tab).
You will then be taken a list of pricing options: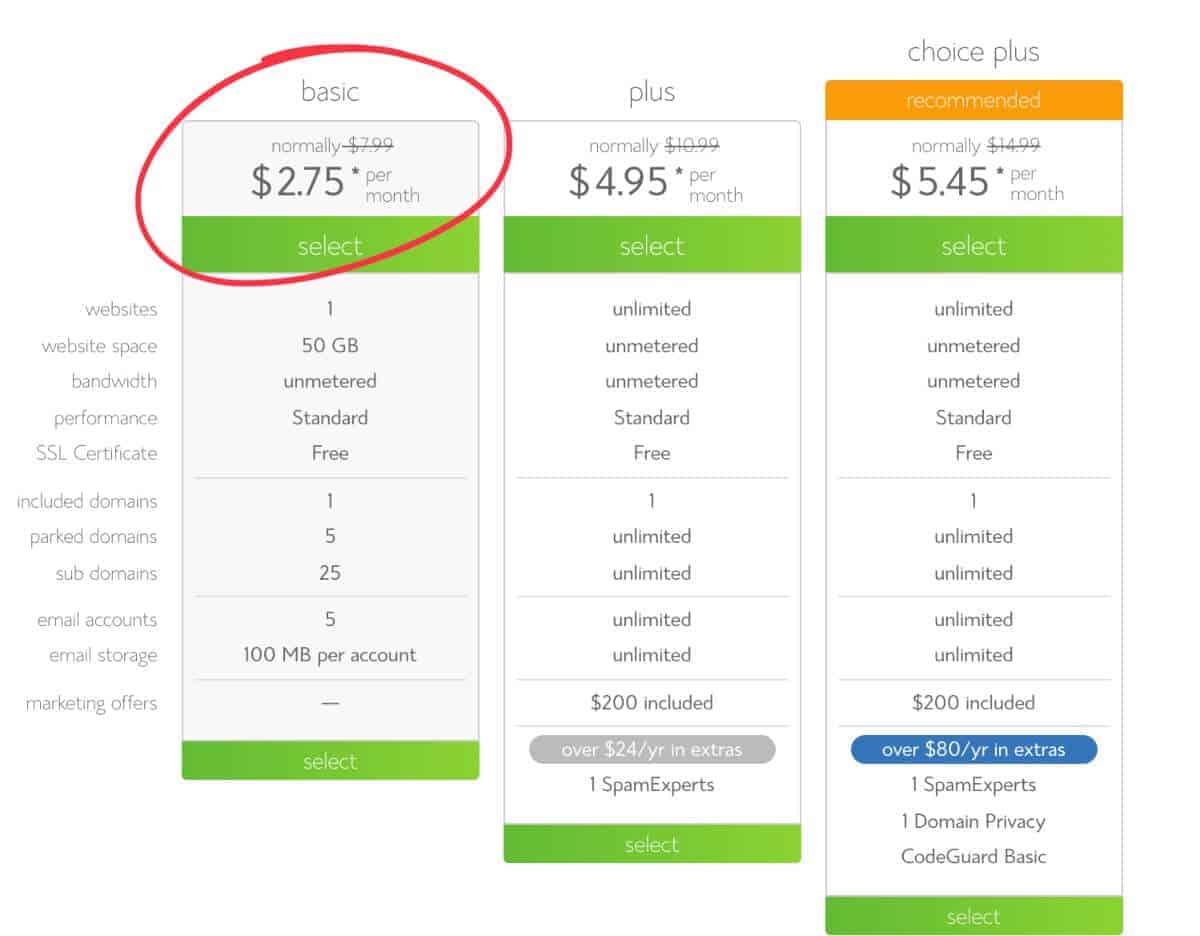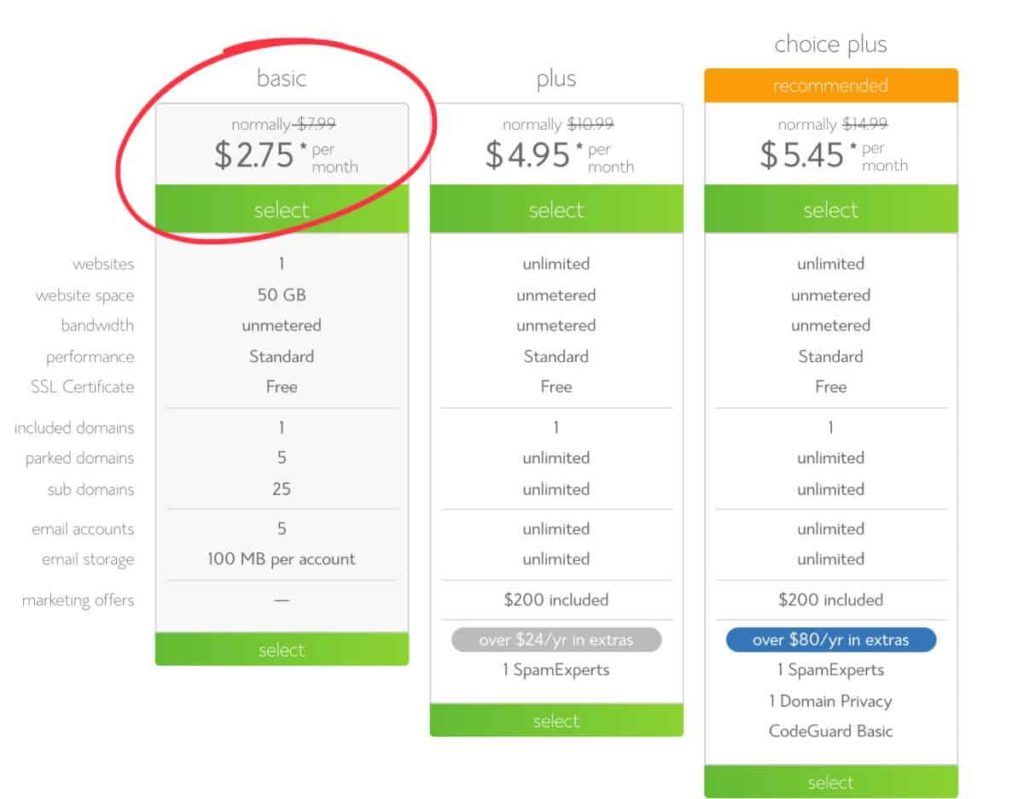 Next, you can choose which pricing plan is right for you, although you most likely won't need anything above the Basic Plan, so we suggest you start with that.
After you've selected your plan, it's time to enter your domain name.
If you are using a free blogging site, you don't own the blog name that you have been using (unless you purchased it separately).
Most of you will simply enter your new domain below — enter an existing blog name on the right side ONLY IF you purchased it separately from a registrar.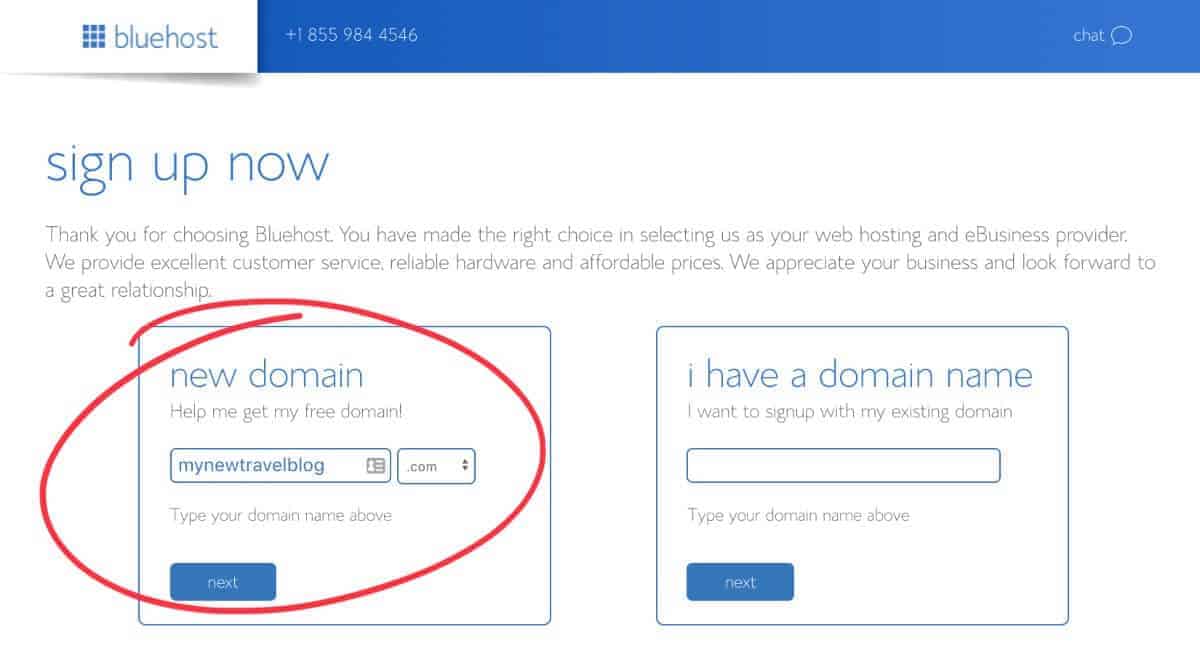 If it says that your domain name has been taken, simply try another one. You can also read our post on choosing a great blog name if you need any additional help with this step.
Next, you can fill in your contact information and select your hosting package and package extras.
The only box that you need to have checked for package extras is for Domain Privacy Protection.

It costs an extra $.99 cents/month, but this ensures that your information stays private. Otherwise, when someone looks up who owns your website, they can see your name, physical address, and more.
You don't want your cell phone and mailbox blowing up with sales calls and promotions!
Finally, add in your credit card details, check the standard Privacy Policy and Terms of Service, and hit the submit button!
Congratulations, you now OWN your first blog!
If you get promoted to purchase any "premium services," simply click No Thanks and move on to installing WordPress below.
Install WordPress
Okay, we're almost nearing the step where it's time to transfer your free blog. First, we need to install WordPress on your new blog!
Bluehost has made it easier than ever to install WordPress with their new one-click install! Simply create a new password, check the boxes to agree to their terms, and log in!
When it asks you to select a theme, click "Skip for Now" because we will address that AFTER we transfer your free blog content over!
From here, Bluehost will set up WordPress on your blog. After that is done, it's time to get ready to transfer a free blog over!
Export Files From Free Blog Site
First, we will need to export your old files from your free blog. We will show you how to do this on WordPress.com and Blogger.
Login to your WordPress.com dashboard, and go to "Tools" –> "Export."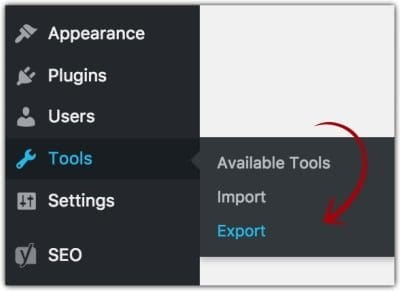 The next steps will differ depending on whether you are planning to transfer a free blog from WordPress.com or Blogger.
Exporting files from WordPress.com
From the export screen, click "Export" next to the free option to create an XML file.
Next, select "All Content," click "Download XML File," and save the file on your computer.
Exporting files from Blogger
From your Blogger dashboard, go to "Settings" –> "Other." Then click on "Back up Content," and save the file on your computer.
Import Files to New Self-Hosted WordPress Blog
After you have exported your files, log in to your NEW WordPress.org dashboard that you just created with Bluehost.
You can do this by logging in at Bluehost.com or by going to your blog's URL with wp-admin attached to it (i.e. https://yourblognamehere.com/wp-admin) and then entering your password.
From your new WordPress dashboard, go to "Tools" –> "Import."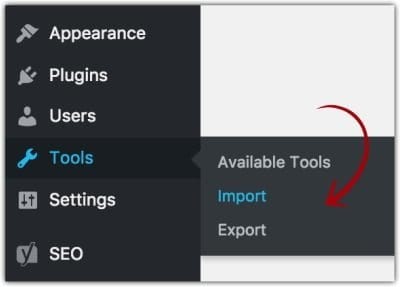 The next steps will differ depending on whether you are planning to transfer a free blog from WordPress.com or Blogger.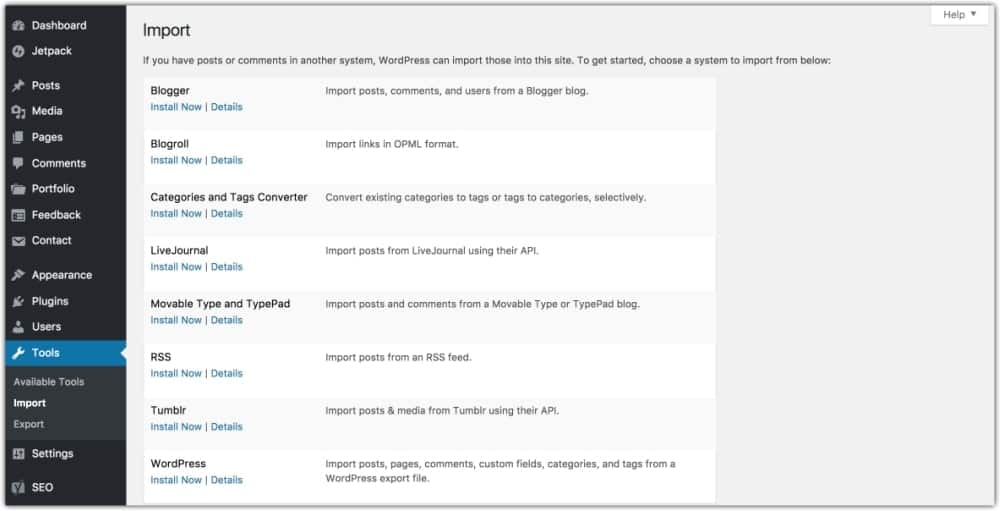 Select either Blogger or WordPress from the options on this page and click "Install Now," which will install the plugin required to import the old blog files.
When the installation is finished, the text will change to "Run Importer." Click this, and then upload your previously exported files from your computer.

The file should take a couple of minutes to upload depending on how large the file size is, and then you're almost finished!
Make sure to read over the section on WordPress themes below and then the final section on other considerations.
Design Your New Blog
One of the advantages of transferring a free blog to a self-hosted blog is that you can upload your own custom theme to design your blog!
WordPress does have a few free themes that you can choose from, so you can definitely play around with those first to get an idea of how the themes work.
Free themes are a great place to start if you're a beginner blogger or on a serious budget, but they will lack some of the tools a paid theme gives you.
If you free stretched at this point, we get it.
Rock a free theme for a month or so and get used to the platform.
If you have the extra $50 – $100 to invest and want to get your blog looking the way you want it to in less time with fewer headaches, then go for a paid theme.
Our #1 recommendation is Divi Theme because it's the most customizable AND beginner-friendly theme on the market.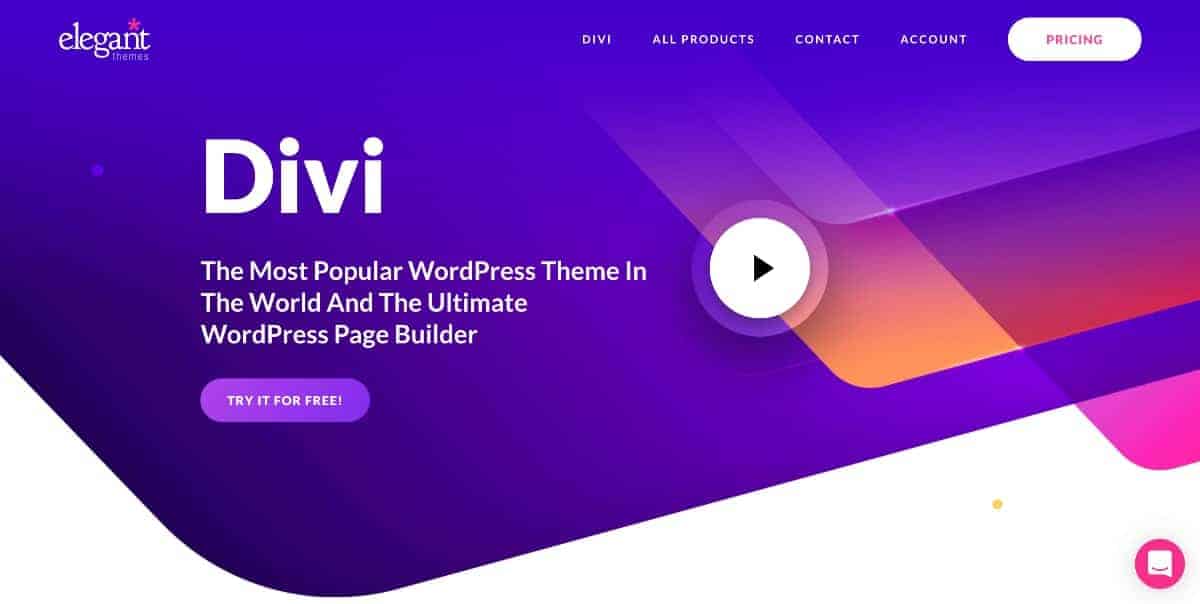 This is the theme that we recommend in our blogging courses and our students absolutely love it because they can design their blog exactly how they want it.
They also have a no-questions-asked, 30-day money-back guarantee so there is absolutely no risk to try it!
When you purchase Divi, you also get access to the entire Elegant Themes market, which includes over 70 other themes to choose from if you don't end up loving Divi.
Other Considerations
IF you were using Blogger, you will need to update your permalinks (or URLs to your blog). Follow the instructions below do to this.
Go to "Settings" –> "Permalinks."
Choose Month and Name from the permalink options.
If you had subscribers on your previous WordPress.com blog, you can transfer them over using JetPack's Subscriber Migration Tool.
You can download JetPack here or search for it in "Plugins" on your WordPress Dashboard.
Set your WordPress.com blog to "private" so that no one stumbles upon your old blog now that you have created the new one.
From your WordPress.com dashboard, go to "Settings" –> "Reading" and set your old blog to private.
If you internally linked your posts on WordPress.com, make sure to change those links to reflect the new URL with your new domain name.
You don't want posts to contain links to your old blog! You can do this inside the post editor for individual blog posts.
You may or may not need to set up redirection as well. If you posted links on social media (like Pinterest) that are still generating new website views, you need to redirect links from the old blog to the new one.
If you were transferring a free blog from Blogger, you can download and install the

Blogger 301 Redirect

plugin to your NEW blog to do this. Follow the instructions in the plugin carefully after installing.
If you were using WordPress.com, you can either change the homepage or write a post on your old blog explaining your move and including the new domain name for your new blog OR you can set up a

Site Redirect

that costs $13/year.
Well, if you've made it this far, congratulations! You have a new blog set up!
It's time to start designing, writing new posts, and getting ready to launch your new blog!
You can also check out our article on WordPress plugins for blogs that will help you with some of the content and design work.
Lastly, if you enjoyed this post on how to transfer a free blog to WordPress.org (self-hosted) or have any questions about the process, please feel free to leave a comment below!